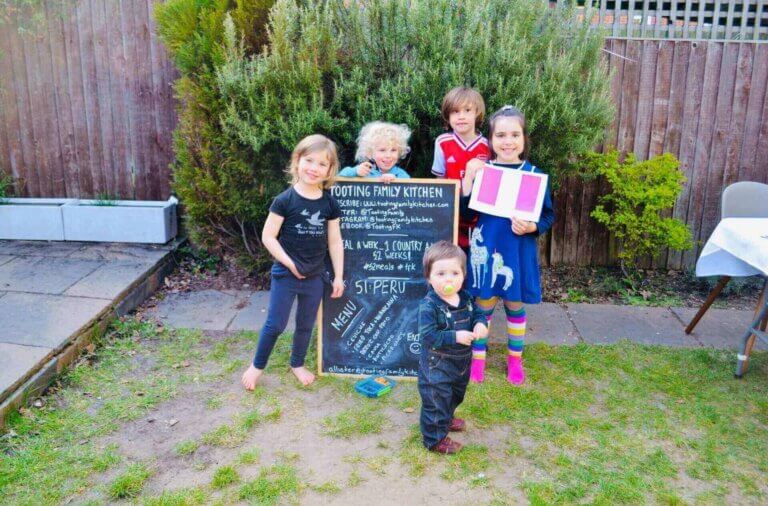 Week 51 and we return to South & Central America for the final time following our trips to Chile, Argentina, Venezuela, Brazil, and Mexico! For our penultimate meal we are incredibly excited to visit the magical land of Peru and celebrate this amazing country with our great friends Paul and Yazmin, and their wonderful children. Given Yazmin is Peruvian the pressure was certainly on in the kitchen this week!
We have never been to Peru but intend to one day, and most likely with our dinner guests today. It is a country that fascinates me, and I have always found something magical about it – the sort of place that may be conjured up in an expressive and excitable child's vivid imagination. Picture taking a journey through lush rainforest which covers 2/3 of the county and which is the start point of the world' largest river, the Amazon River. Picture travelling through the snow-capped Andes Mountains, the 2nd highest mountain range in the world. Picture walking across the Atacama coastal desert which in some places is so dry it has had 1 inch of rain in the last 30 years. Picture the deepest canyon in the world, the Cotahuasi Canyon, twice the depth of the Grand Canyon. Picture the world's highest sand dune, the Cerro Blanco, standing at an incredible 3,860 feet from base to summit. Throw in a few stop offs…to swim with pink dolphins perhaps? To visit a local Shaman, of which there are more than any other country apart from India? Or perhaps a quick trip to Vinicunca, the rainbow mountain, a mountain of 7 distinct colours like no other! All that we are missing are giants and unicorns, although they do have 7.5million Alpacas and given Machu Picchu was built by hand on an 8000 ft mountain ridge…who knows?!
This incredible country of diverse landscapes is quite literally one of the most bio-diverse on the planet and is made up of 90 distinct microclimates. It is home to a staggering 25,000 plant species making up 10% of the world's total, including the Puya Raimondii, the world's tallest flowering plant. It has more distinct fish species than any other country and ranks 2nd for distinct species of birds including the world's largest, the Andean Condor, standing at 4ft tall with a wingspan of up to 14 feet. It lets itself down when it comes to amphibians and mammals though, coming in at a disappointing 3rd on the planet for distinct species! You may be surprised to hear that in addition to the animals that one may expect to find lurking in the lush rainforest, slivering across the arid sand dunes or battling the elements of the snow-capped mountains, Peru is also home to Penguin colonies! It's nearly as if they stopped off on their way to Antarctica and thought, "this aint bad, lets chill here for a bit".
The Peruvian's are a pretty peaceful bunch. Certainly, if their legendary soccer player, Teófilo "El Nene" Cubillas, widely considered the country's greatest athlete is anything to go by, this is true. In a truly illustrious career, the attacking midfielder and free kick specialist racked up 100s of goals for club and country yet received only 1 yellow card over his 25 years of competitive football. Things were very different however in the 14th and 15th centuries when the Inca Empire, which arose from the Peruvian highlands in the early 13th century, was at its peak. Known for their fearsome warriors, the Incas built an empire through force and diplomacy that rivalled any the world has seen. The Inca's left an artistic legacy of incredible architecture, textiles and ceramics that remain widely visible to this day and an infrastructure network comprising of 1000s of kilometres of roads. It could also be the case that relay races may have been inspired by Peru. Chasquis (or runners) were the some of the most highly trained and physically fit 'messengers' of the Inca Empire, tasked with running through a relay system of up to 240km in a day carrying important messages or gifts. It is thought that on occasion they would be tasked to bring fresh seafood from the coast to be eaten by Inca nobility residing inland…an ancient Deliveroo!
Peru is fast becoming one of the world's top gastronomic hot spots and is the location of 2 of the world's top 10 restaurants. Its cooking techniques and unique flavours owe much to its cultural diversity. From pre-Hispanic cuisine to the concepts and dishes introduced from the Spanish colonization of the 16th century to the big culinary influences from China and Japan, it's no wonder that Peru is attracting some of the world's top chefs to train. Our local friend Ana grew up by the coast in Lima and spoke to us about the hugely diverse food scene. She believes much of it is down to its incredible biodiversity and having such unique ingredients from the rainforest, the oceans, and the mountains. I can understand how she misses the colourful markets and getting fresh fish and seafood straight from the fishing boats moored up to sell their catch. Our dinner guest Yazmin also grew up in Lima and is understandably immensely proud of her national cuisine. She specifically remembers how fresh and healthy the food was with staples being quinoa, sweet potato and fish often seasoned with lots of lime. Food was such a big and special part of her childhood and she has many amazing memories, often centred around food. Hopefully, we have done Peruvian food justice and have created another happy food memory for Yazmin today!
Tooting Family Kitchen cooks Ceviche, Anticuchos, Cassava Fries & Huancaina, Arroz con Pato, Causa, and Picarones with Syrup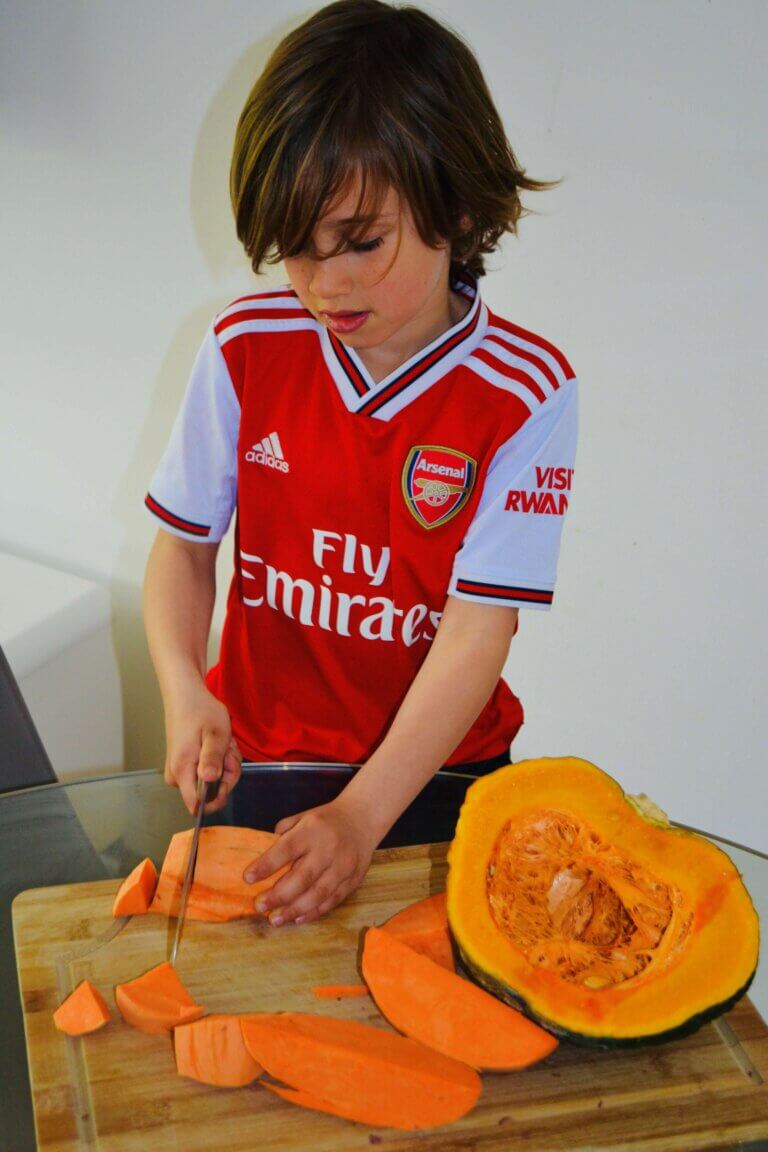 Getting the cassava fries ready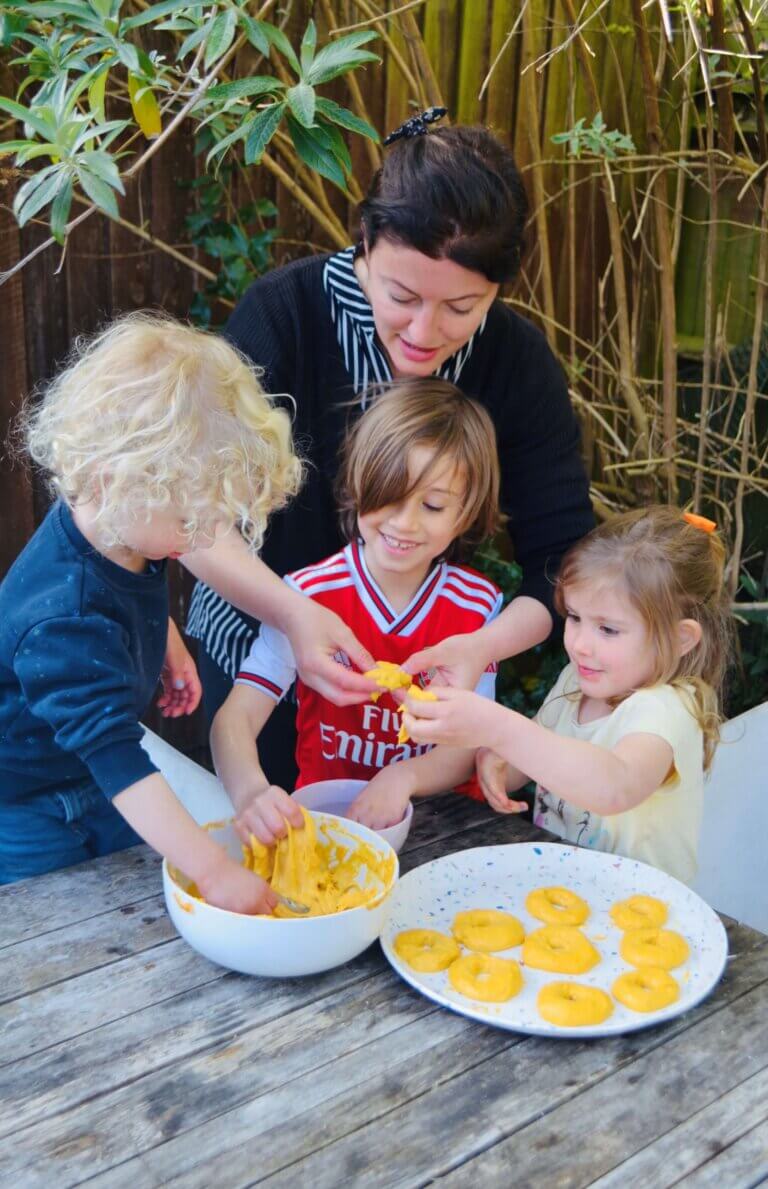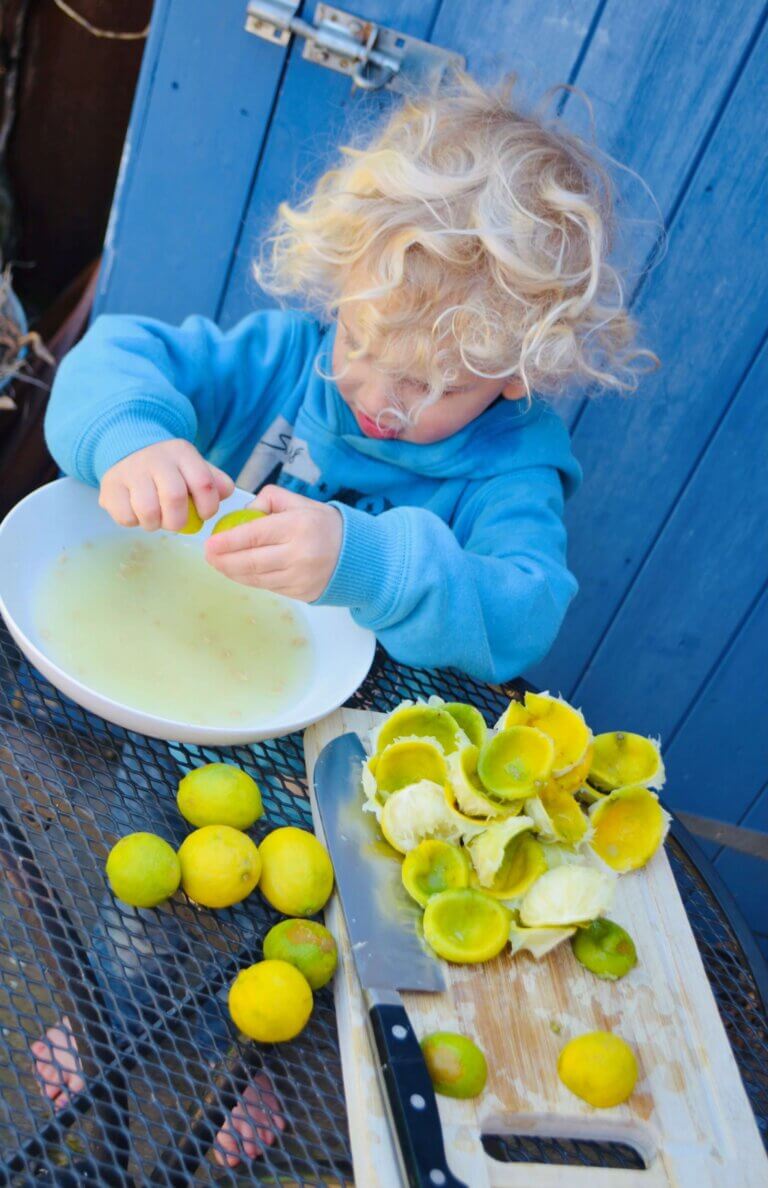 Prepping the causa filling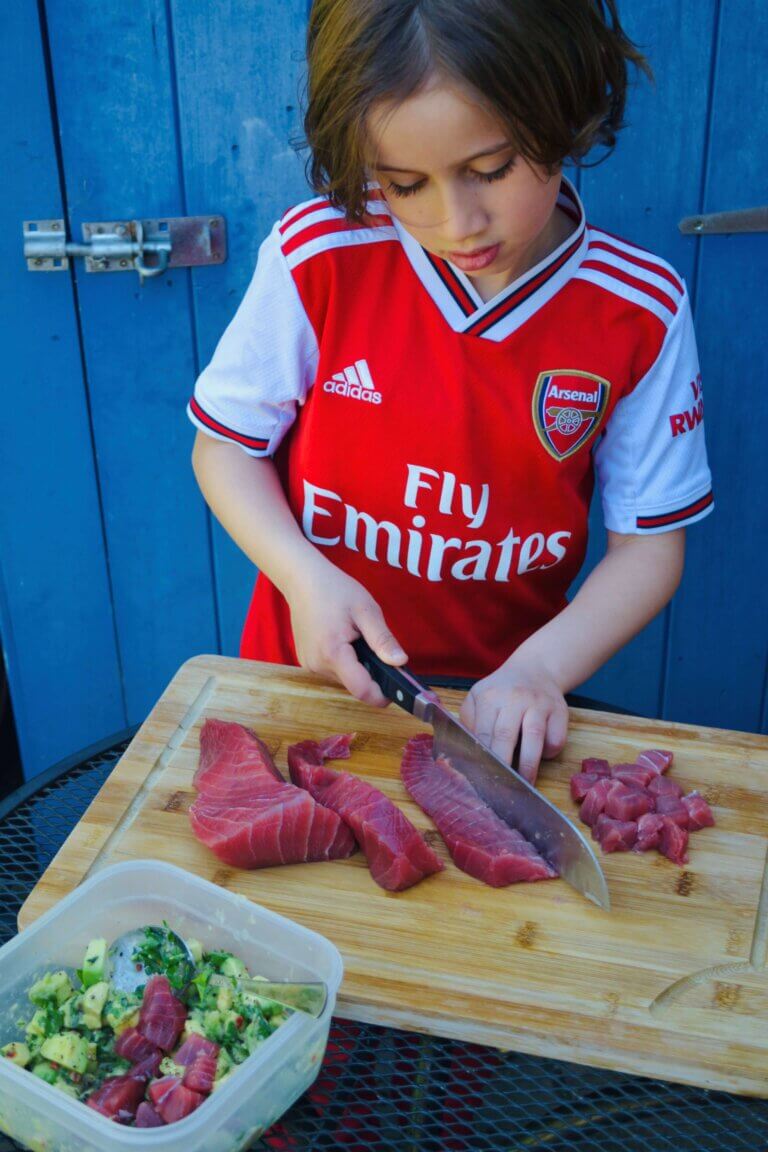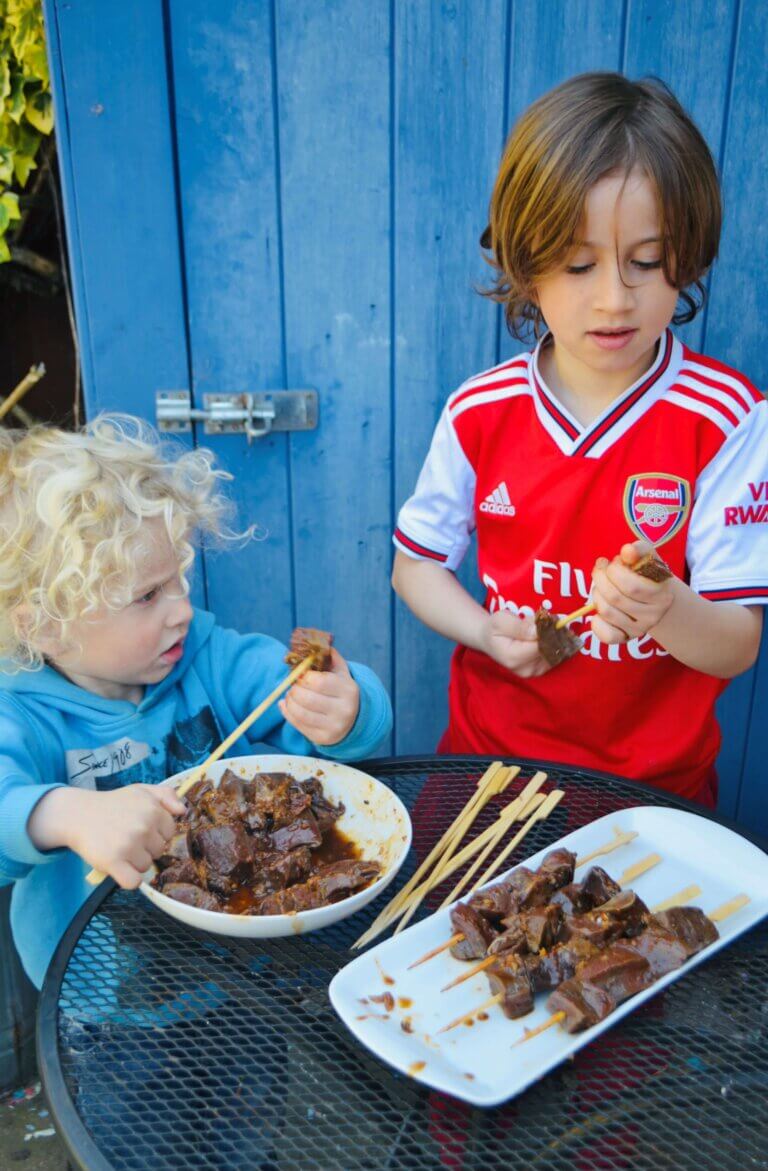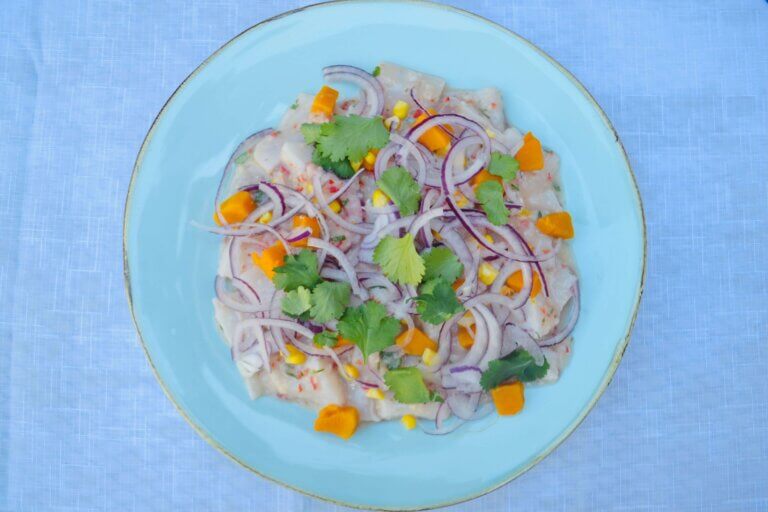 500g of sea bass fillets
1 red onion, very thinly sliced
1 red chilli, de-seeded and chopped
Juice of 10 limes
Salt
Sweet potato, peeled, cut into cubes and boiled
1 corn on the cob, cooked
Handful of coriander leaves
1 clove of garlic, minced
1 inch of ginger, grated
First make the tigers milk by blitzing the lime juice with 3cm piece of sea bass along with the garlic, ginger and chilli. Taste for seasoning and place in the fridge.
Place the thinly sliced red onion in iced water for 10 mins before removing and pat drying.
Cut the sea bass into bit size pieces and when ready to serve seasons the sea bass with a little salt before mixing the fish with the tigers milk and laying out on platter,
Scatter with a couple of heaped tbsps. of the cooled sweet potato and the corn and then top with the onion and coriander.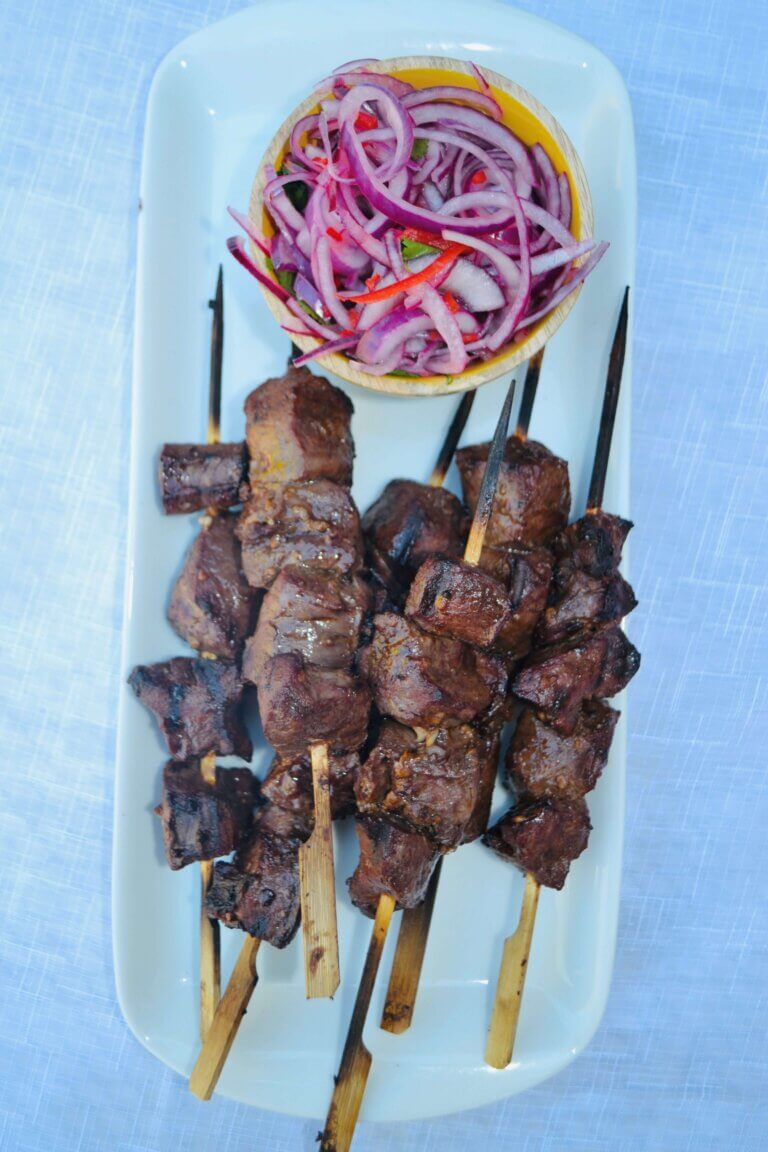 1.5kg of cow's heart, cut into bite size chunks
½ cup of red wine vinegar
4 tbsp olive oil
2 tbsp aji panca paste
3 cloves garlic, minced
Handful of chopped parsley
1 tsp ground pepper
1 tsp salt
Mix the marinating ingredients together well – blitz in a food processor if easier. Add the chopped cows heart and leave to marinate for around 30 mins.
Add 3 or 4 pieces to pre-soaked wooden skewers and grill over hot coals for around 2 mins each side. These are best served medium and if cooked too long will be quite tough. Serve with salsa criolla.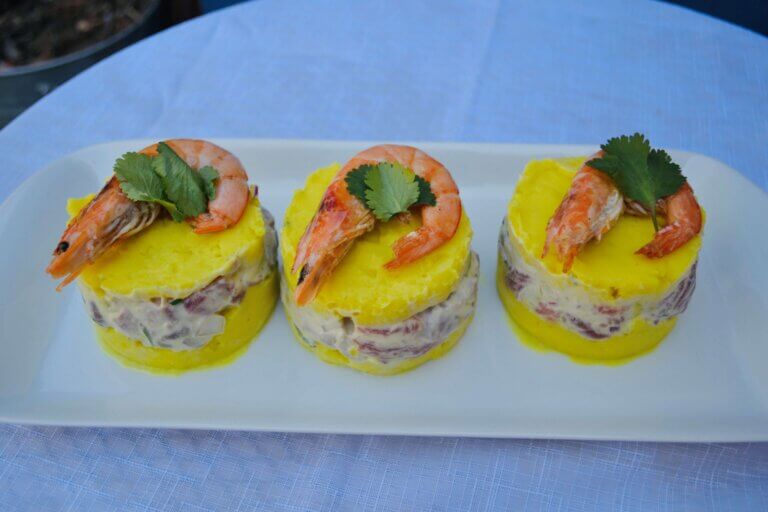 Potato
1kg of Yukon Gold Potatoes, peeled and chopped
50ml olive oil
50ml lime juice
2 tbsp aji amarillo paste
Salt and pepper to taste
Filling
250g fresh tuna, cubes
2 tbsp mayonnaise
2 limes, juiced
½ red onion, finely diced
Handful fresh parsley, finely chopped
1 ripe avocado, cubed
Toppings
King prawns cooked
Boil the potatoes and mash with the olive oil, lime juice and chilli paste and check for seasoning and leaving to cool.
Mix the filling ingredients together
Using a desert ring or similar cooking mould add a layer of potato followed by a layer of the filling and topped with another layer of potato.
Return to the fridge until ready to serve – toped with a king prawn!
Cassava fries & huancaina dip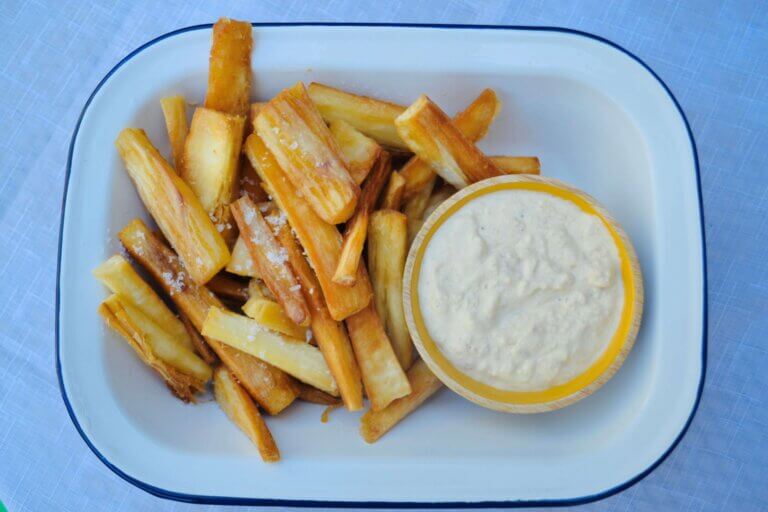 Cassava fries
2 large cassava
Salt
1 litre of vegetable oil
Huancaina dip
3 tbsp. olive oil
1 medium red onion, finely chopped
3 cloves of garlic, minced
4 heaped tbsp of Amarillo chilli paste
250g of ricotta cheese
100ml of evaporated milk
4 Jacobs crackers (or similar)
1 lime, juiced
1 tsp sea salt
1 tsp black pepper
Cassava fries
Wash and peel the cassava then chop into quarters before boiling in salted water for approx. 20 minutes until tender.
Allow to cool and cut into large square cut chips.
When ready to cook deep fry in vegetable oil until golden brown – will need to do so in batches. You can fry these straight form frozen if you want to do stage 1 & 2 in advance and/or make extra.
Huancaina dip
Heat the oil in a pan and gently fry the onion garlic and chilli until starting to turn golden. Remove from the heat and cool completely before blitzing with all the other ingredients in a food processor. Add the lime juice at the end and taste for seasoning. You can also add a little olive oil for the texture. Chill in  the fridge until ready to serve.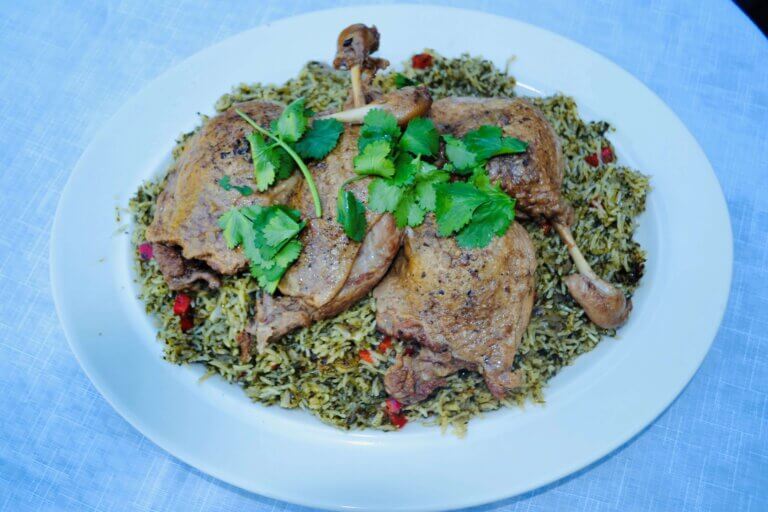 Duck
4 duck legs
3 tbsp olive oil
1 onion, finely chopped
6 cloves of garlic, minced
1 bunch of thyme
2 cups of white wine
1 litre of stock
Salt and pepper
Rice
¼ cup of olive oil
3 cups of basmati rice, washed and air dried
2 red onions, finely chopped
6 cloves garlic, minced
4 heaped tbps aji Amarillo paste
2 large bunches of fresh coriander leaves
200ml beer
3 cups of cooking liquid from the duck (fat skimmed)
Season the duck well with salt and pepper. In a large heavy bottom pan with lid brown off the duck and remove to a plate. In the same pan fry the onion and garlic until starting to turn golden and then add the duck back to the pan.
Add the wine and cook on a high heat until reduced by ½ then add the stock and thyme and simmer with the lid in for approx. 2 hours or until the duck is beautifully tender.
Whilst its cooking blitz the coriander in a food processor with a little water to make a puree. Gently fry the onions and garlic until translucent and then add the coriander and chilli paste and fry for another min before adding the rice and coating well.
Add the beer and boil for a couple of minutes and then add the stock and cover and gently simmer for another 10 mins. Turn off the heat and leave the lid on allowing to steam for another 20 minutes.
When ready to serve fluff up the rice with a fork and serve with the duck legs on top with some scattered coriander.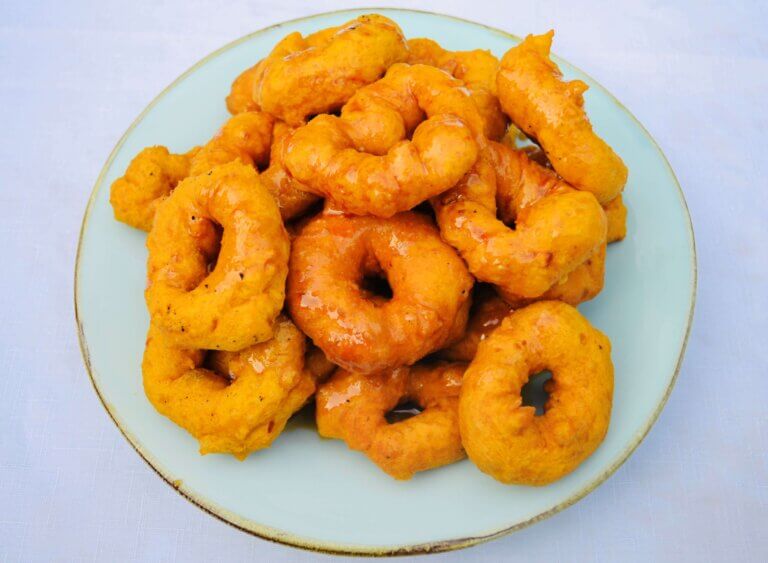 Picarones
500g peeled and chopped pumpkin
500g peeled and chopped sweet potato
2 tbsp sugar
2 tbsp active dry yeast
500g self-raising flour
1 stick cinnamon
2 star anise
1 tbsp cloves
1 litre of vegetable oil for frying
Syrup
3 cups of light brown sugar
1 fig leaf (optional if you can source)
1 cinnamon stick
2 star anise
1 tbsp cloves
1 cups of water
Peel of 1 lemon
In a large pan of boiling water simmer the pumpkin and potato for 15 mins (or until tender) along with the star anise, cinnamon and cloves.
Reserve the cooking liquid and allow the pumpkin and potato to cool and steam off slightly before blitzing in a food processor.
Add the yeast and sugar a cup of the luke warm liquid and leave to stand for 15 mins before mixing well with the potato and pumpkin mixture.
Fold in all the flour until you have a smooth dough before covering and leaving to rest for 2 hours (it should double in size).
Whilst resting make the syrup by adding all the ingredients to a pan, bringing to the boil and simmering for 20 mins until the sugar is completely dissolved and you have a syrup consistency.
When ready to fry make rings from the dough mixture (size of onion rings) and fry until golden brown. Cook in batches before removing to kitchen paper to dry and serve drizzled with the syrup.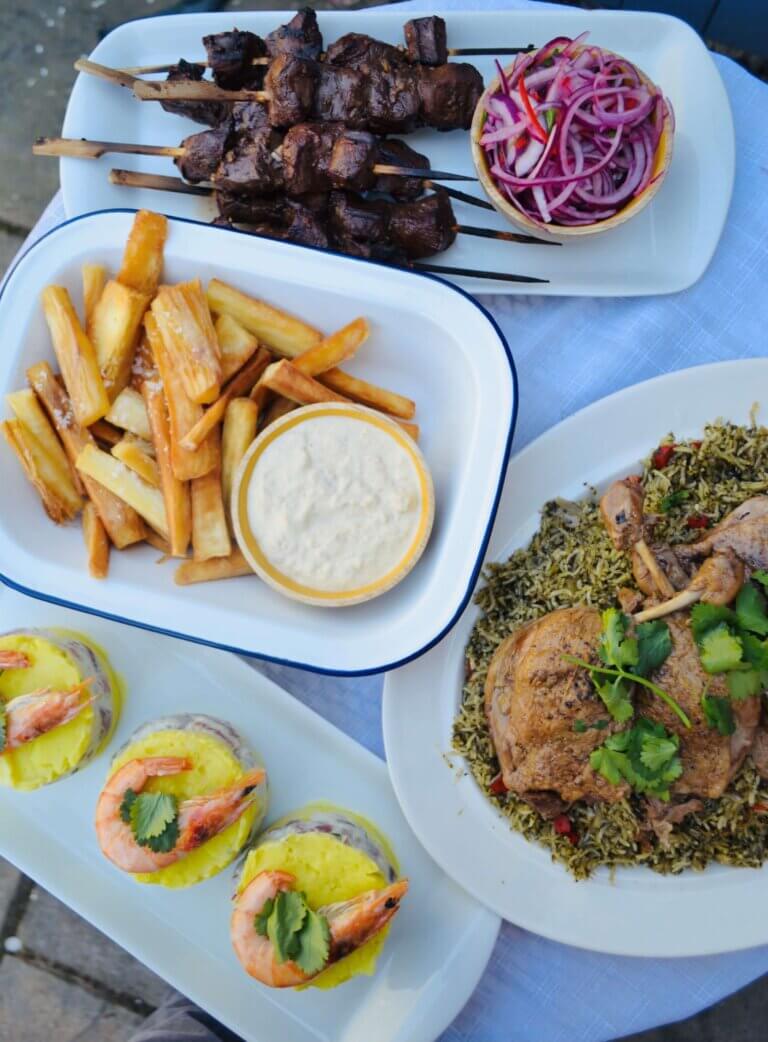 Back for seconds of ceviche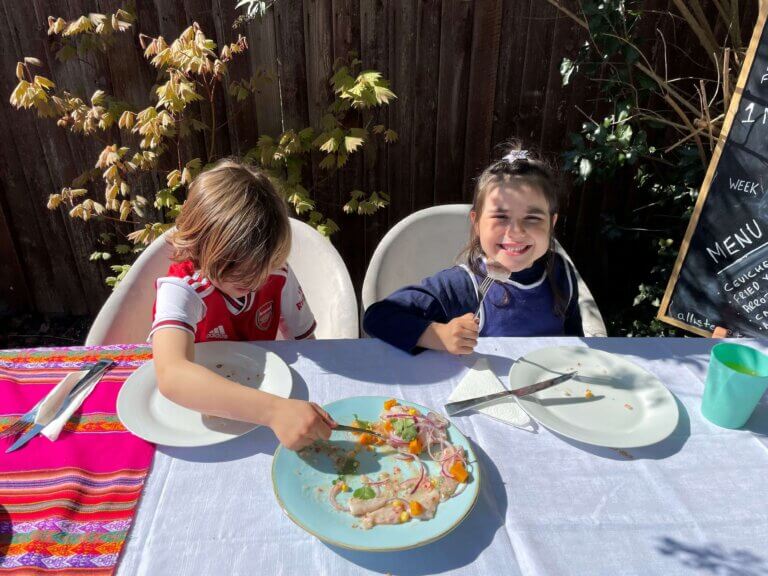 Tucking into the anticuchos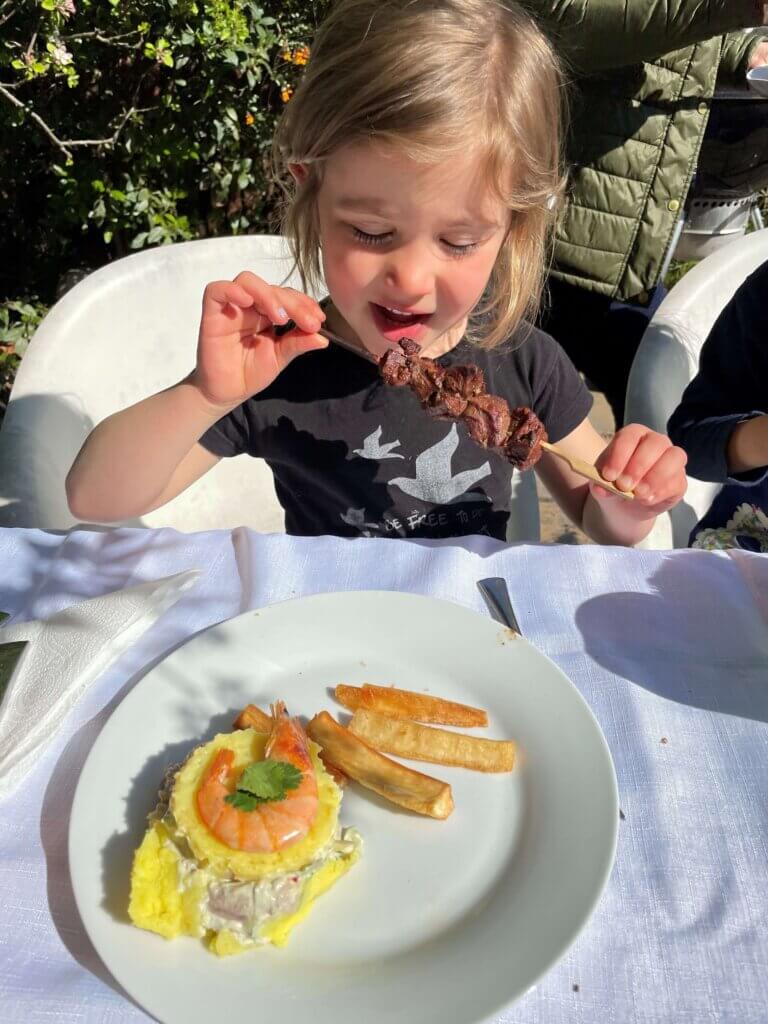 The judges were expecting a high standard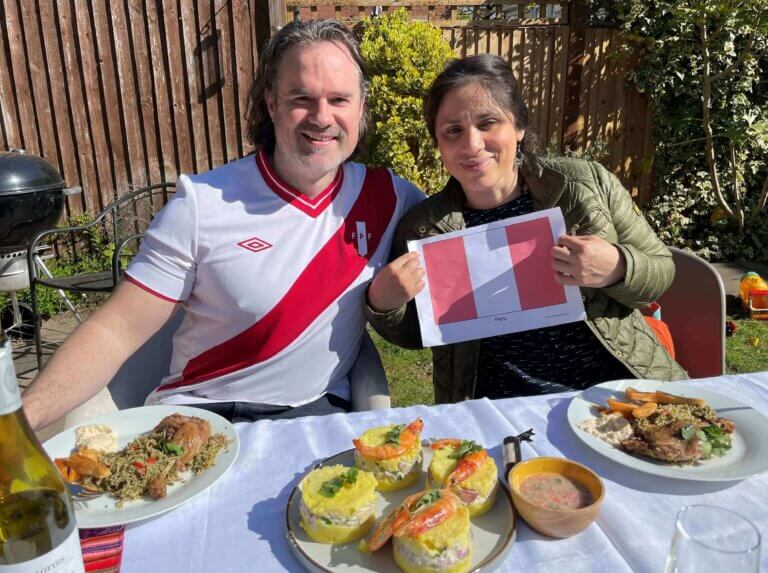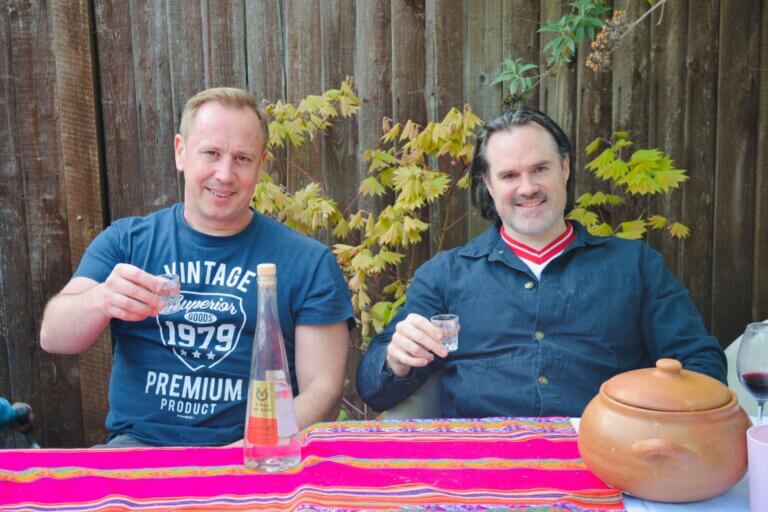 Great meal, great company!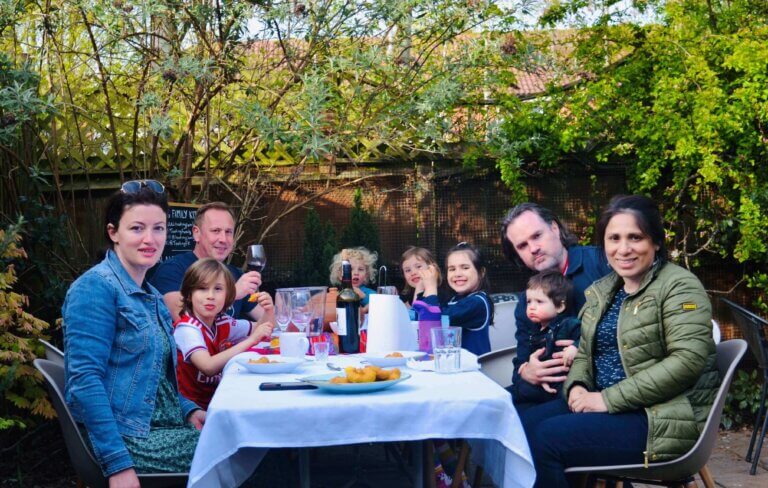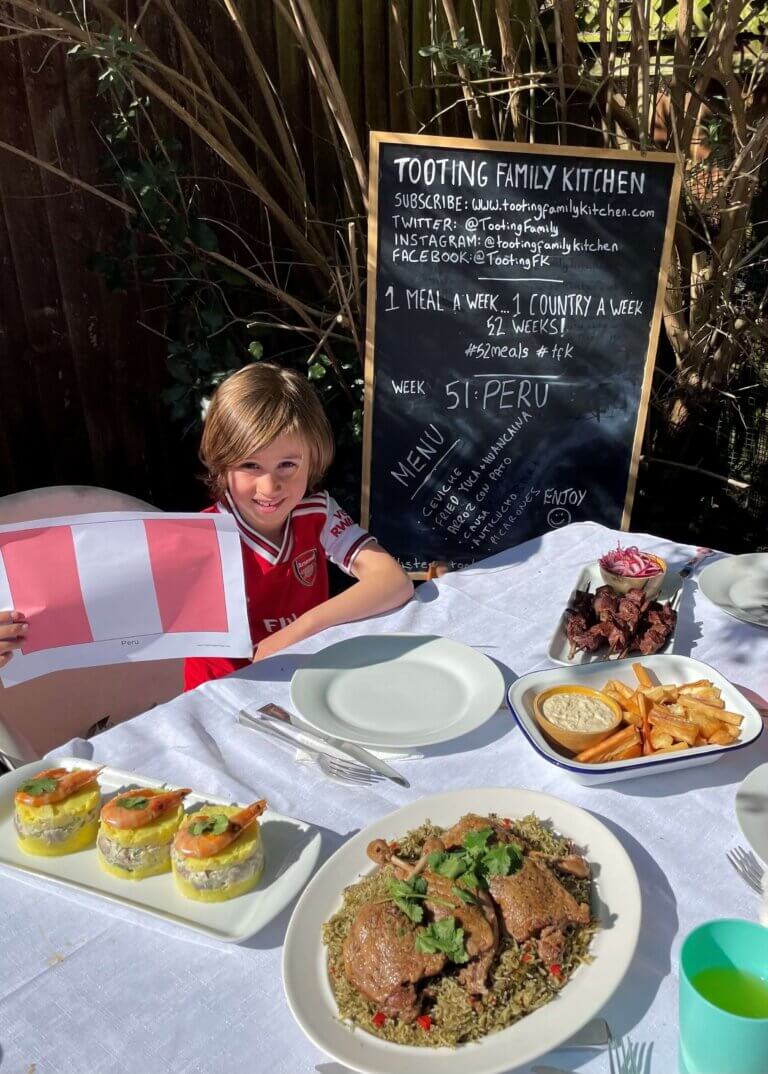 Thank you Peru, that was epic! 
Next week we are excited to head to India for our final destination!!! … please don't forget to SUBSCRIBE (scroll to bottom) & SHARE and if you have any International Food ideas or recipes from around the world you wish to share please do drop us a line
Check out other destinations here.
You can also follow us on Instagram, twitter and Facebook
See you next week!
Tooting Family Kitchen
#tootingfamilykitchen #getkidscooking #familycooking #homecooked #worldfood #americanfood #usa #kidscooking #getkidscooking #familycooking #internationalfood #CookingBuddies