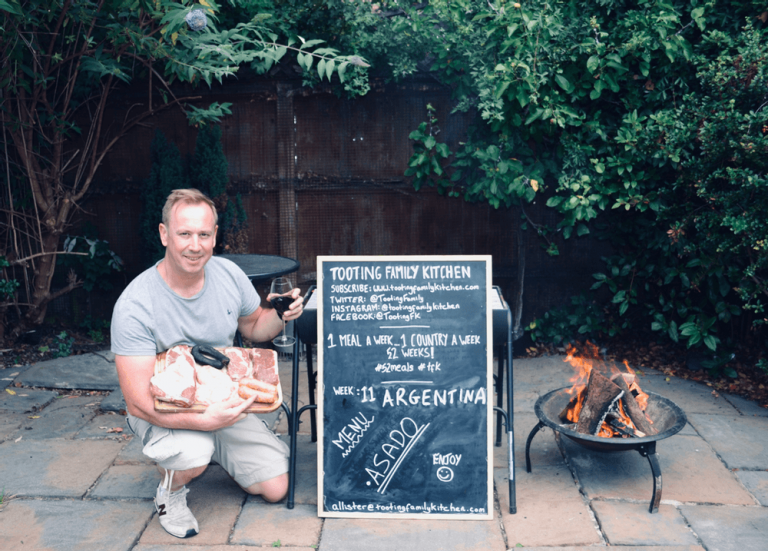 Welcome to Week 11 of our 52 Weeks Challenge and joining us as we continue our journey of Fun Family Cooking. This week we return to South America following our epic Chilean Feast, to visit Argentina, fire up the Parilla and cook a traditional Argentinian Asado.
To say I have been excited about Tooting Family Kitchen visiting Argentina is an understatement. I was asked by a friend recently, "what will you write about? you have had a connection with most of the other countries you have covered so far"…whilst it is true that I have not been to Argentina yet, it is a country I feel I have a strong connection to and the reason for this is clear when you type "Argentinian" into Google and see the top search results of: food; people; bbq; malbec; grill and footballers. Need I say more!
Any country that produces (arguably) some of the best wine, steak and footballers in the world is a country doing something right in my book and on this note, whilst I struggled to get my eldest as excited at the prospect of cooking copious amounts of red meat and Daddy enjoying some fine Argentinian Malbec, the words "Lionel Messi" had him fully engaged all week.
At the centre of Argentinian gastronomy lies the humble Asado. Many may describe the Argentinian Asado as a type of BBQ but for Argentinian's it's much much more than this. It's a ceremony, a tradition and a celebration all rolled into one. Ironically the cooking style is very simple, but also very long, which draws out the event and allows those taking part to really savour the whole experience. Watching the meat being slow cooked whilst enjoying fantastic wine and the company of friends and family, whilst snacking on empanadas and other light bites until the serious meat starts appearing, really takes some beating. For me this is the ultimate dining and socialising experience; something I have been trying to perfect for years and is what I think, gives me a strong connection to a country I have never been to…if they hold this tradition so dear and take it so seriously, we are going to have a lot in common! Any tee-total, vegetarian, football hating Argentinians reading, I promise you I can also converse on other topics 😊
One of my favourite restaurants in Tooting is Barra10, a little piece of Argentina in the middle of the hustle and bustle of our local 'Broadway Market'. Barra10 serves up amazing cuts of Argentinian beef alongside other delicious dishes such as oxtail nuggets, provoleta, grilled octopus and of course an amazing chimichurri sauce made to their own recipe. Needless to say I have been doing my research meticulously at Barra10 over the last couple of years and finally I am ready to go it alone…not to say I will stop visiting!
Barra10 is run by husband and wife team Daniel, from Buenos Aires, Argentina and Marión from Nayarit, Mexico. Daniel has been kind enough to share a few tips for our Asado and even the recipe for their very own delicious chimichurri sauce. I hope I have replicated something that would get the Barra10 seal of approval! He also told me that's it traditional for the Asado chef to get "unaplauso para elasador" which means "hand clapping for the grill chef"…just when I thought my connection to Argentina could not get any stronger I am now due a round of applause at the end of the meal…this just gets better and better.
There are 3 key things to consider when cooking a traditional Argentinian Asado:
The Fire – The Wine – The Meat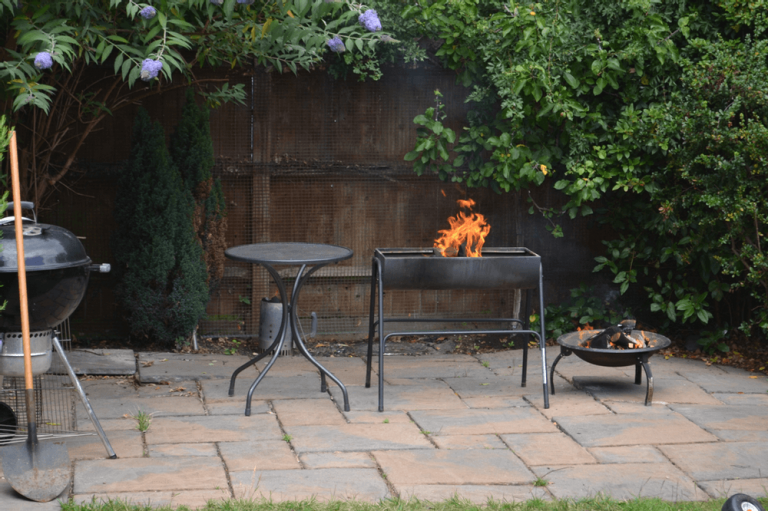 In Argentina Asados are mostly cooked over wood or natural wood charcoal (not briquettes). 'Quebracho' is a very aromatic Argentinian wood which gives a distinctive flavour, however is difficult to source in London, so a mix of decent lumpwood charcoal and a few logs of another aromatic wood can be used to replicate. Once the fire is lit it is left for a good hour or so until the embers have really burnt down and the flames have died off. At this point the embers are distributed along the base of the grill where it's possible to make a high heat and a low heat side – especially if you don't have grill bars that you can lift up and down. Flames are the enemy of an Argentinian Asado and a traditional Parilla will have 'V' shaped bars along which the fat can drain, rather than leak on the embers causing flames which burn the meat. The meat can be seared on the high heat and then left to cook slower on the low heat.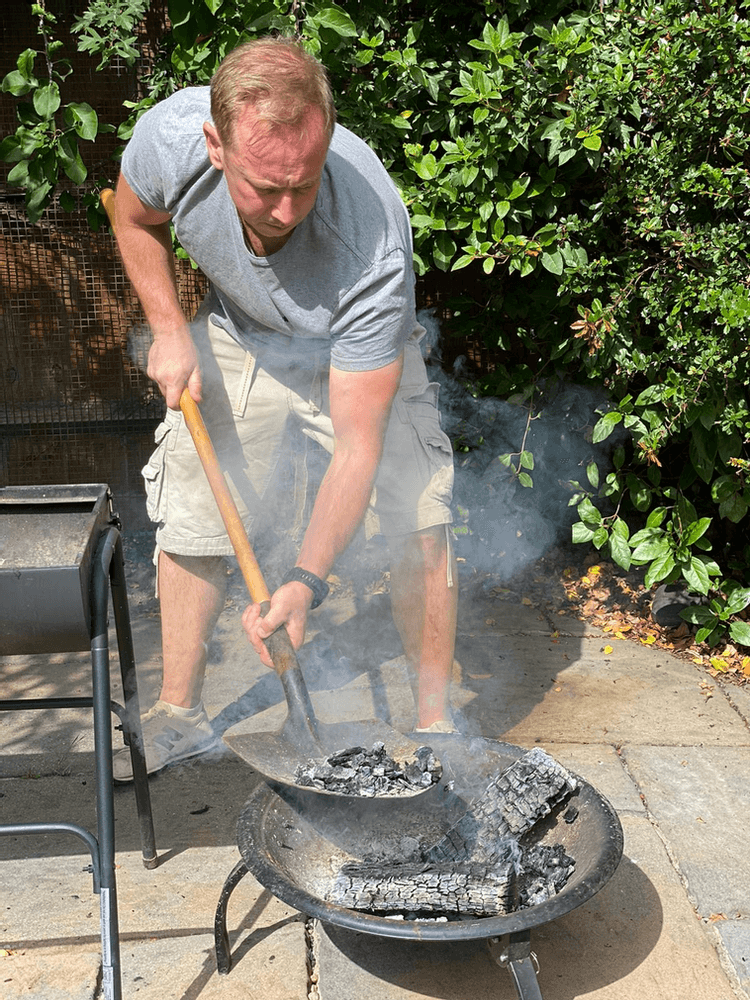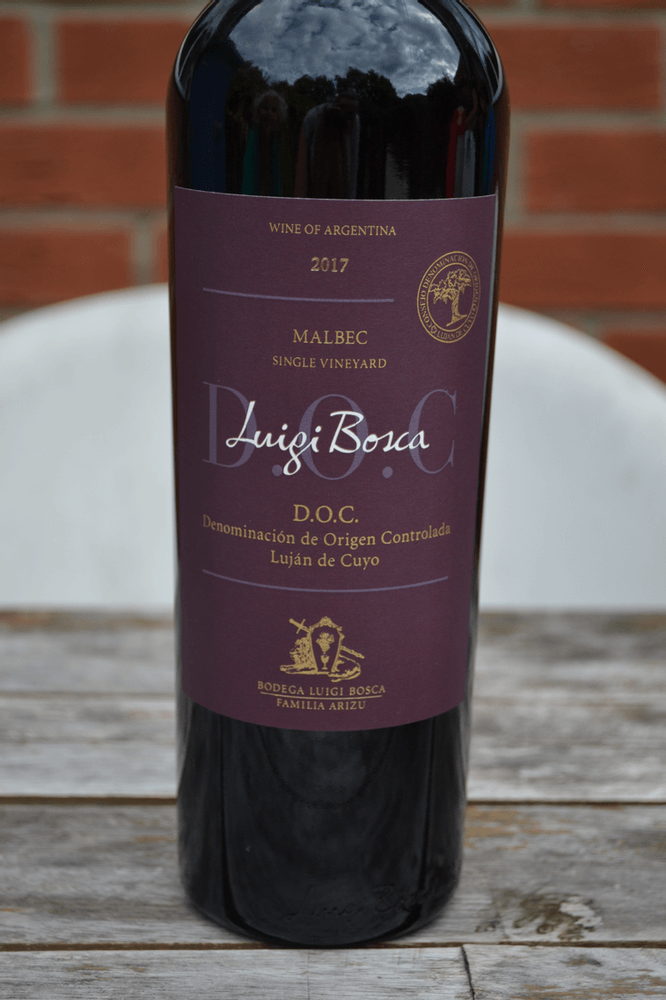 Argentina is the worlds 5th largest producer of wine and whilst I don't know a great deal about it, I have always found a full bodied Argentine Malbec a bit of a 'go to'! Argentina's most highly rated Malbec wines originate from Mendoza's high altitude wine regions of Luján de Cuyo and the Uco Valley. Fortunately for me we had experts at hand locally at The Wine Tasting Shop who were able to guide me to a nice Luigi Bosca Malbec, grown on 70 year old vines, 960m above sea level before being matured in oak for 14 months – a bit of a leg up from a standard bottle in our house but this is going to be special!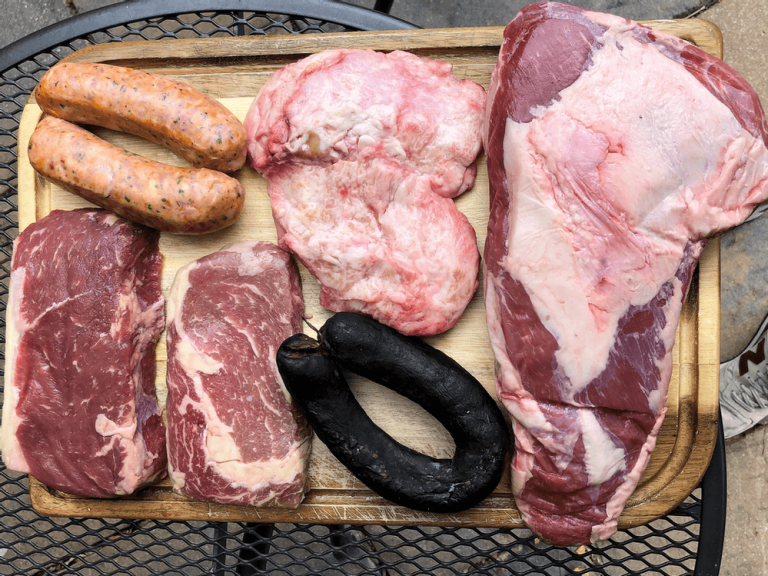 A typical Asado will consist of beef, offal, chorizo (sausage), morcillo (blood sausage) and provoleta with the meats and cheese hitting the grill in that order, as per the length of time they need to be cooked for. For the beef, Asado de Tira (short ribs), Vacio (flank or bavette), Ojo de bife (rib eye) and Colita de Cuadril (tail of rump) are preferred cuts. Unfortunately you can't get Argentinian short ribs here in UK because it has bones in and can't be imported, but I have managed to get a cracking selection of Argentinian beef (tail of rump, rib eyes and sirloin steaks), offal (sweetbreads) and Argentinian style chorizo sausages from Casa Argentina and have thrown in some black pudding for good measure.
Provoleta is an Argentinean variant of Provelone cheese. It is a whole cows milk cheese with semi hard texture and is best (in our opinion) grilled on the grill/parilla in a cast iron or heat proof dish until soft and gooey. Serve as an appetizer or as a side dish with some crust bread.
Chimichurri Sauce - courtesy of Barra10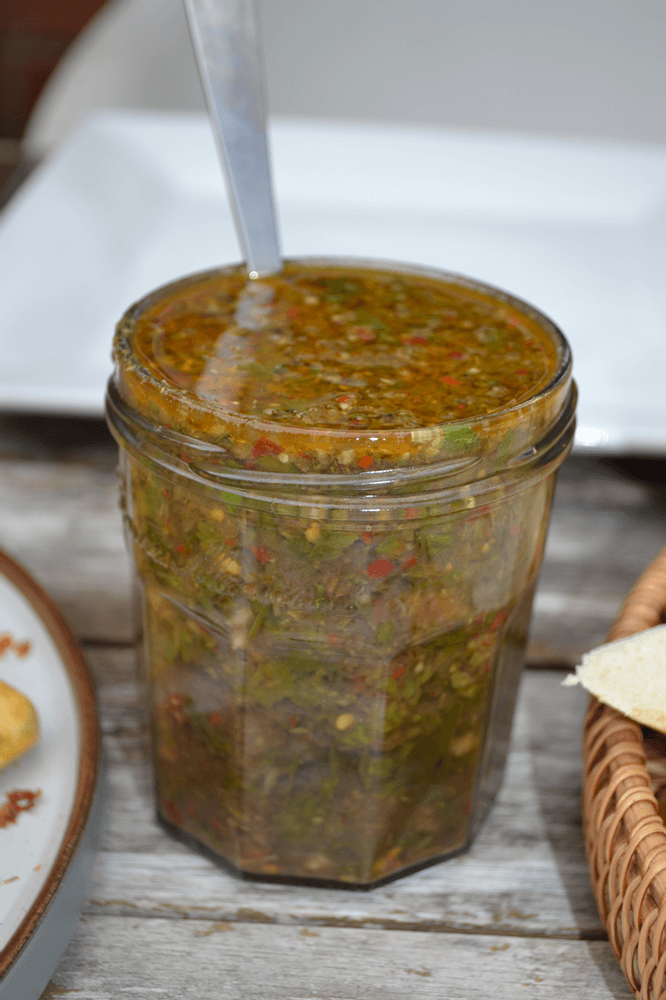 Chopped Parsley 1 handful
Oregano 4 Tbsp
Garlic 4 cloves
Dry Red Hot Chilli Flakes 1 Tbsp
Cumin 1 tsp
Salt 1 or 2 tsp
Pepper 1 tsp
Bay Leaf 1
Hot Water 1 cup
Red Wine or White
Distilled Vinegar 1/4 cup
Rapeseed or Sunflower Oil 1/4 cup
Soak all the dry spices, garlic and parsley with hot water in a container and leave it at room temperature to ferment for 1 day. Pour the fermented mix in a bowl and add the vinegar, salt and mix it all with a whisk. Then add the sunflower oil or rapeseed oil until emulsified.
Notes: The quantity of water is approximately until you cover the dry ingredients. The vinegar quantity has to give the sauce a mild acidity but it must not be a main ingredient like in a vinaigrette. It's not recommended to use olive oil if the chimichurri is going to be used for red meats.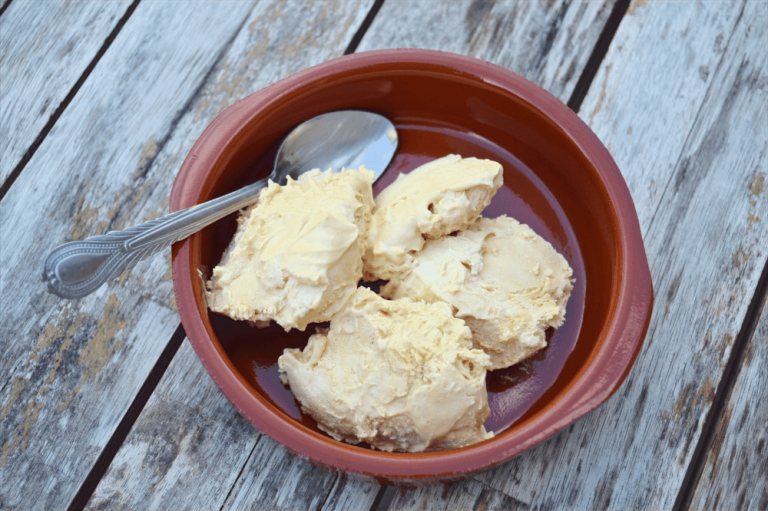 Dulce de Leche basically means sweet milk in Spanish and is a widely eaten confectionary eaten globally but especially in Latin America. To make a really quick and easy ice cream simply put 1.2 litres of double cream into a food processor (2 x cartons from our local supermarket) until it has stiff peaks and mix in a 450g jar of Dulce de Leche (the size of the jar in our local supermarket) before putting in the freezer to set…kids love it!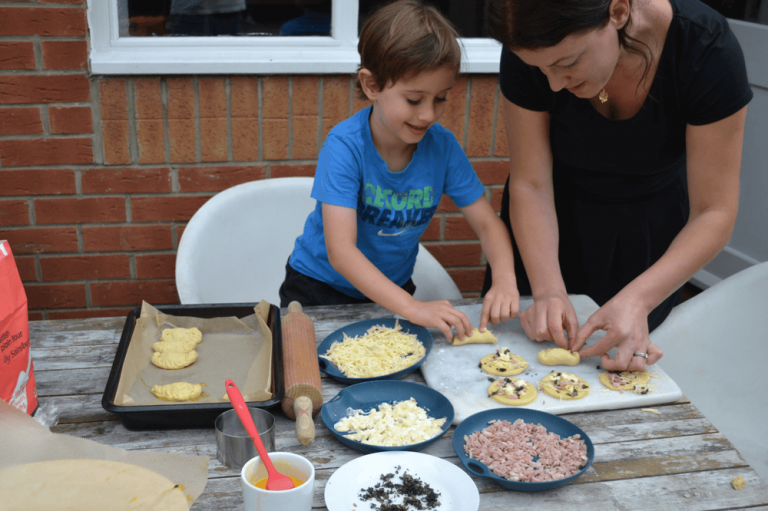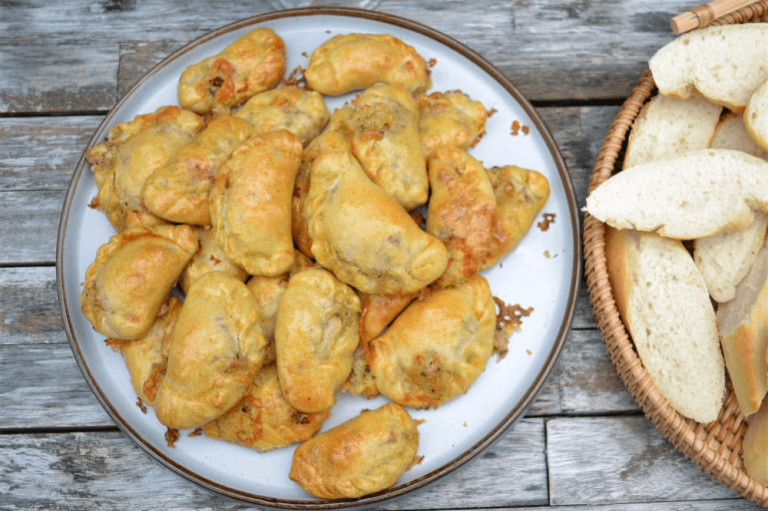 For the pastry:
200g unsalted butter
Salt to taste
5 cups of plain flour + extra for dusting surface
Extra melted butter for brushing
For the filling:
100g brie
100g cheddar
100g chopped ham
Handful of chopped parsley
Combine the flour salt and butter and mix together before gradually adding warm water (approx. 2 cups) until a dough like texture is achieved that no longer sticks to fingers. Leave the mixture to rest covered with a damp cloth for 30 mins.
Separate the dough into lemon size portions and roll out and cut into spheres of approx. 8cm diameter.
Put a heaped tsp of the filling mixture into the centre of each sphere and fold to the centre and crimp the edges together.
Brush the empanadas in melted butter and cook in preheated oven at 180 deg for approx. 25 minutes or until golden brown.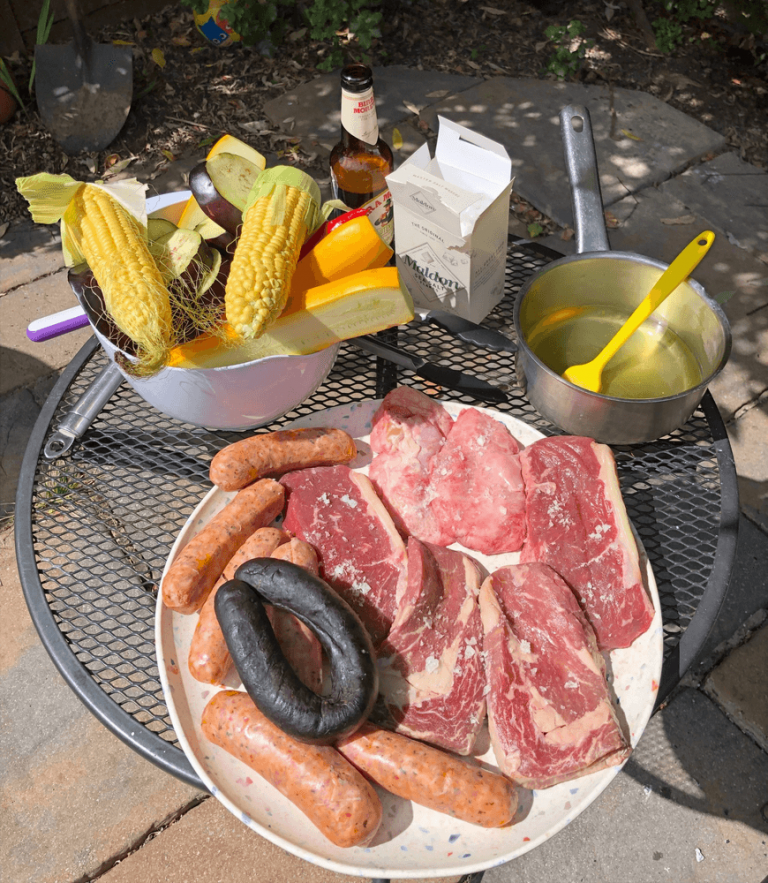 It's always best to get the food prepared for grilling before you start – leaves more time for socialising! I always feel with good steak you should do very little with it and this is certainly the Argentinian way. When, with what, and how much to season steak is a contentious issue. I usually like to season around 30 minutes before cooking with plenty of good sea salt and pepper. Daniel advises to season with a good sea salt just before grilling and a top tip from Argentinian restaurants, also passed on to me from Daniel, is to brush the meat with melted beef dripping before and after grilling, to give an extra nutty fat kick and a shiny presentation…which is what I will do 🙂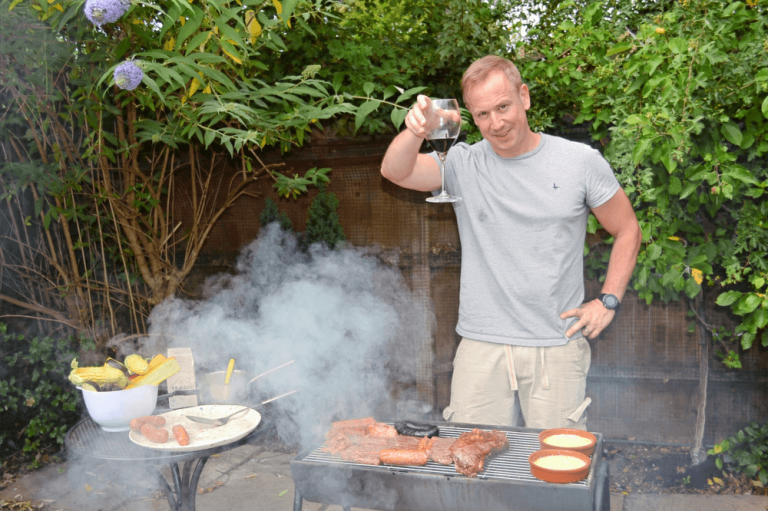 Cooking meat the Argentinian way is 'lower and slower' than most other bbq cooking techniques and once the meat has been sealed on high heat it should be left to cook over a low heat nice and slowly and allowed to rest following the cooking. Start with the bigger, thicker cuts and and then move them down the grill to the cooler temperatures and add the offal and then add the morcilla, black pudding and provoleta. To give an idea the 1kg tail of rump was left to cook for over 40 minutes after searing and was served 'medium'. my usual method of cooking on my trusty Weber would have been approx. 20 mins.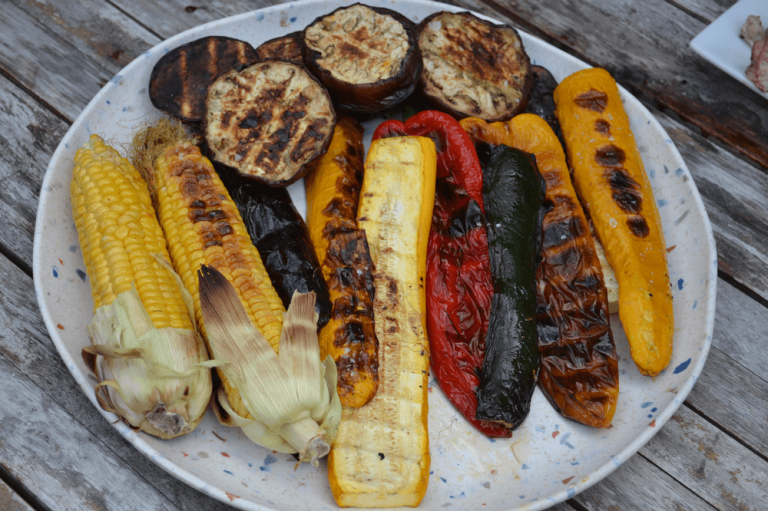 Depending on grill space get these cooking when the meat is resting. I have always followed a tip I read from Jamie Oliver and that is to grill vegetables dry and drizzle with a good quality olive oil AFTER cooking, which I really recommend.
Carving up the rested Argentinian meat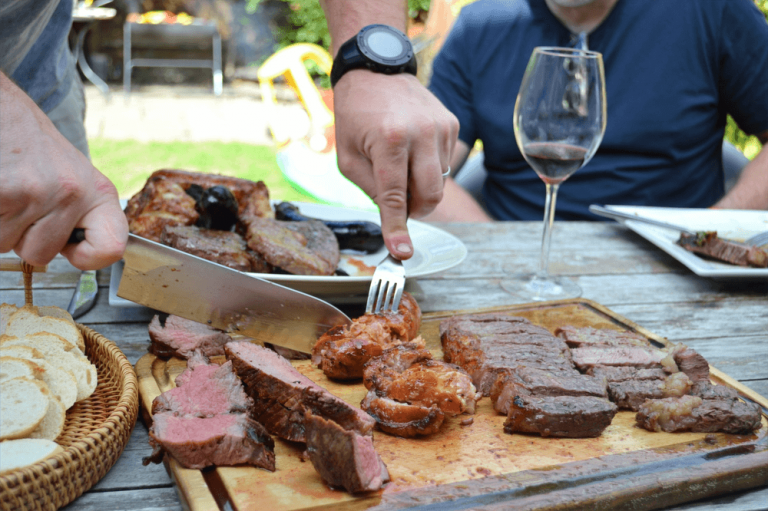 The Argentinian way is to carve up the meat, sharing the various cuts and eating with sliced baguettes and chimichurri. Very different to the notion of having a huge slab of meat land on your plate to dig into (which is also great) but leads to a more social experience.
More beef - sneaky Spanish T-bone snuck it's way in!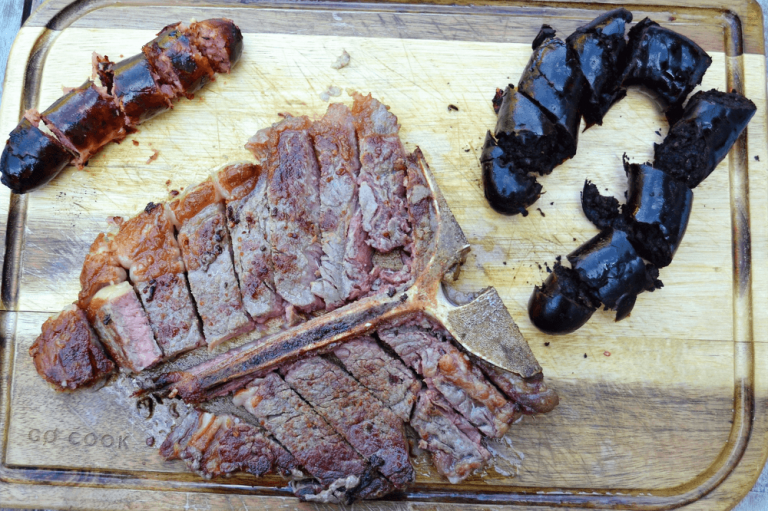 Steak - the Argentinian way!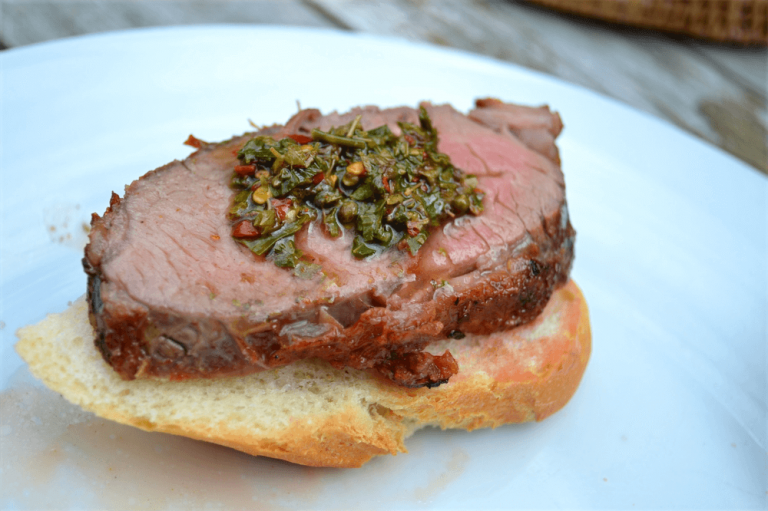 Needed reinforcements for this meal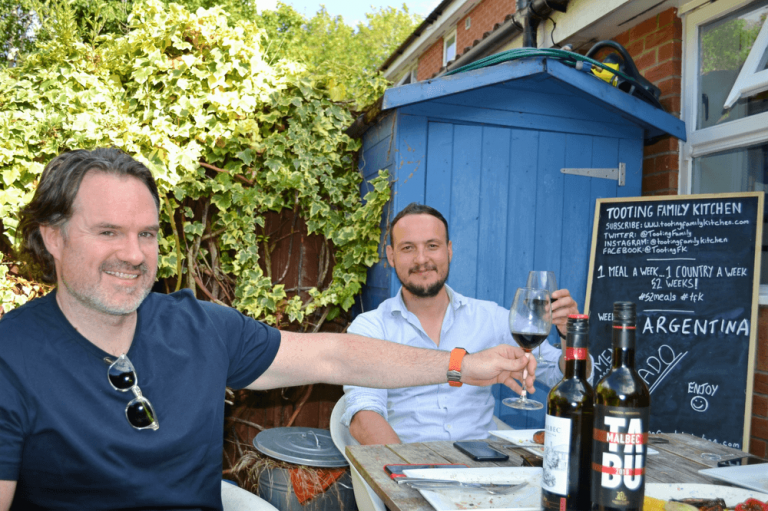 Going down well with the eldest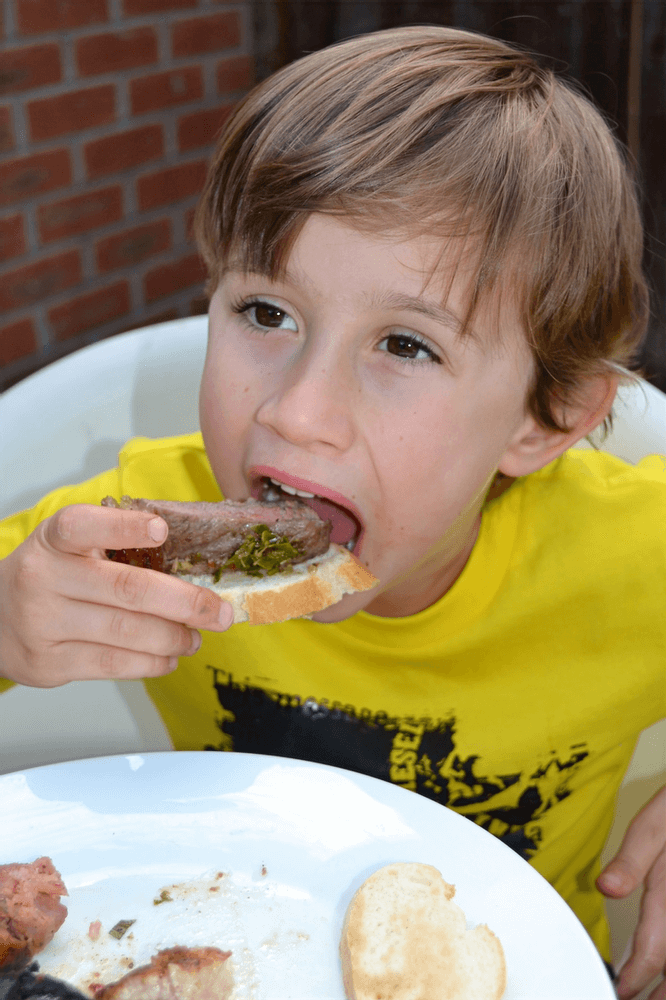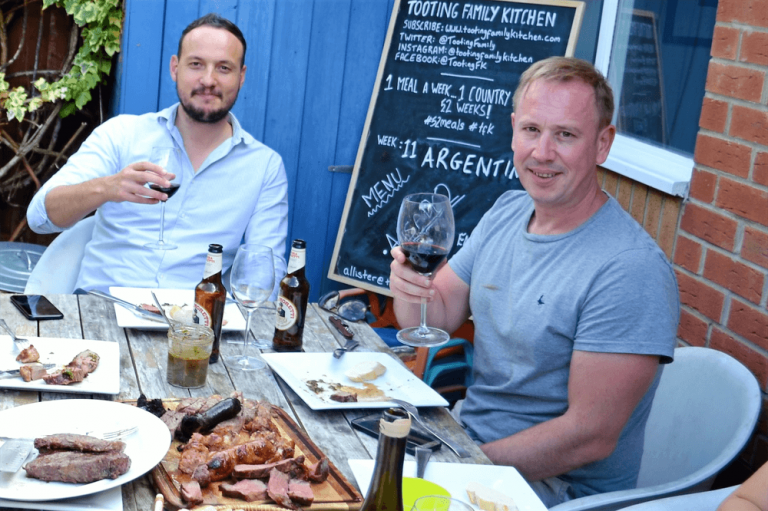 Joe clearly has eyes on Auntie Eva's empanada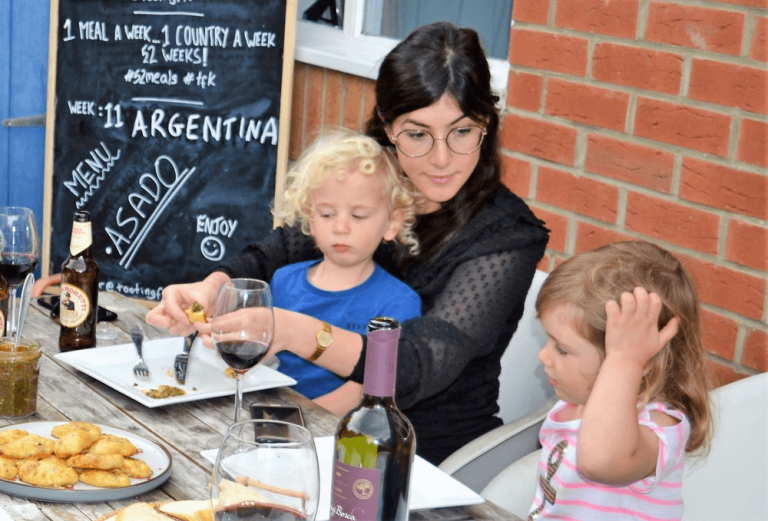 Joe clearly has eyes on Auntie Eva's empanada