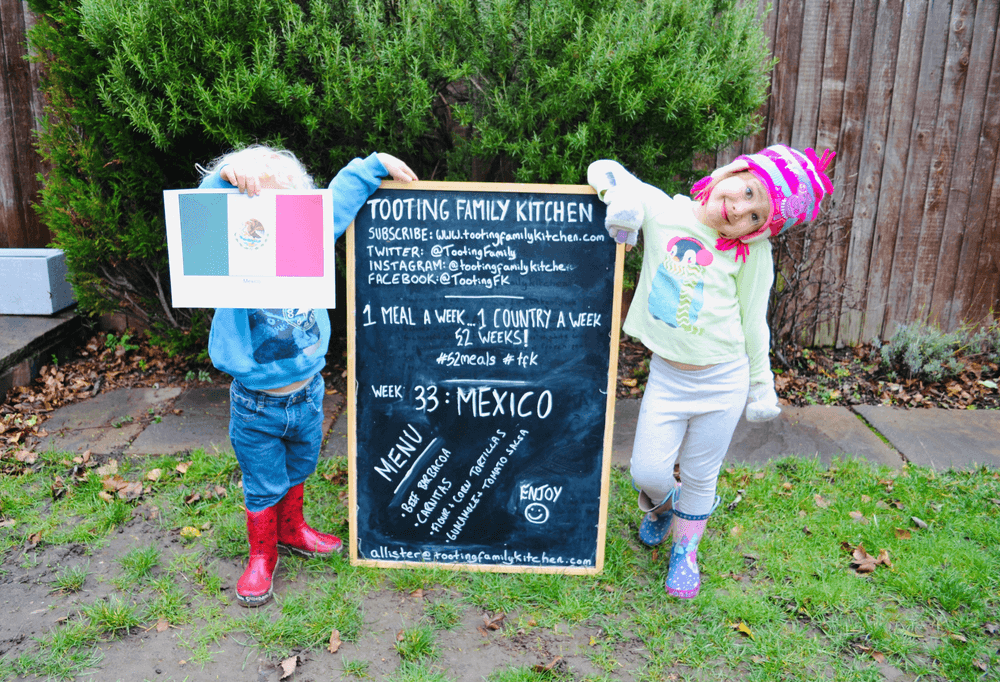 Thank you for joining Tooting Family Kitchen for Week 33 of our 52 Meals Challenge. If you are hitting our blog for the first time, welcome! We are on a culinary journey, exploring different cuisines from around the world to get kids cooking and learn about different International Cuisines and Cultures – celebrating Diversity through Food.
We have set ourselves a challenge to cook 52 Meals from 52 Countries in 52 Weeks, sharing our family cooked recipes and experiences as we go. If you like our content please do share and subscribe (at bottom of the page) to ensure you don't miss out on future family cooking destinations – we promise we won't spam you, just a weekly reminder when we publish our latest International recipes 😊
Delighted to hit Mexico for the the final meal before we hit the busy culinary Christmas period! It's a joy to return to the Americas which has been a real highlight of this project, and follow up on the delicious Tooting Family Kitchen Feasts from Chile, Argentina, Brazil and Venezuela!
Mexico is a huge country, currently the 13th largest in the world, however, if we went back a couple of centuries it would have been bigger still, with a territory spanning what is now Guatemala, Nicaragua, Belize, El Salvador, Honduras and parts of the US including Texas, Arizona and New Mexico. If its borders remained the same today it would have been the 5th largest country in the world – bigger than the whole of Europe! It is a country of real extremes featuring deserts, mountain ranges, volcanoes, rainforests, tropical beaches and crystal clear waters, scattered with nearly 1,400 Islands. Mexico's economy is also the 11th largest in the world and it is widely expected to be in the top 5 by 2050! Approx. 800,000 US citizens live in Mexico and some recent trends have shown more Mexican's and their US born children leaving the US for Mexico, than Mexican's migrating to the United States…which can be pretty ironic!
Being a proud Englishman I am used to a good stereotype! If I am not sipping on a cup of tea (with a saucer) with my little finger sticking out, chomping on a cucumber sandwich, chatting about the weather and saying things like "jolly spiffing to see you old chap", I am downing 10 pints in an old school London boozer singing about football before having a scrap! This is of course ridiculous…who eats cucumber sandwiches?! Mexican's are of course no stranger to a stereotype either, but fortunately I have a good Mexican mate in Jorge, and am able to dispel a few myths. Jorge does not have an overgrown handlebar moustache, nor does he wear a sombrero and/or drink tequila during the day…I am little disappointed to say! There seems to be fascination with all things Mexican in the UK and it's probably fair to say that much of the view either emanates from US political rhetoric or Hollywood and our fascination with drug cartels (or perhaps a combination of both). Can you name the current Mexican President? Do you know who El Chapo is? I was guilty of only knowing the latter… and despite all those gun fights we are so familiar with seeing on out TV screens, there is only one gun store in the entire country and 90% of fire arms are smuggled in from the US.
If there is one word to describe Mexico it is busy! It has the busiest and most frequently crossed border crossing in the world with approximately 350 million people travelling back and forth each year. It has the most airports on the planet with approx. 1,700. Mexico City is the most populous metropolitan area in the Western Hemisphere and is also reported as being the most traffic congested city in the world, in addition to being home to the world's largest fleet of taxis! According to the OECD, Mexico is the hardest working country in the world when assessed by average hours worked per worker and despite all of this rushing around and working, they found time to get in the record books for the most people kissing at the same time, with an incredible 40,000 people puckering up in Mexico City on Valentine's Day in 2009…wonderful stuff!
The stereotypes mentioned earlier can easily transcend their cuisine and what people often consider to be Mexican food is often Tex Mex, prime-examples being chilli con carne, fajitas, most burritos, nachos (and the use of cheese generally) and often the use of wheat flour instead of maize flour. Of course all these things can be delicious in their own right, but when I think about Mexican food I think about punchy, zesty, colourful and fresh ingredients including avocado, chillies, limes, coriander, maize and tomatoes. Beef, although we have used it today in our Barbacoa, is a more recent addition and traditionally lamb and goat were much more frequently used being easier to come by. Mexican food is iconic and is one of only 3 cuisines in the world considered to be Intangible Cultural Heritage by UNESCO (France has been rejected twice!) and so to live up to another English stereotype (sarcasm)…absolutely no pressure on Tooting Family Kitchen today, none at all!
Tooting Family Kitchen cooks a Mexican inspired Feast of Wheat and Corn Tortillas, Beef Barbacoa, Carnitas, Guacamole and Roasted Tomato Salsa.
Checking out the new ingredients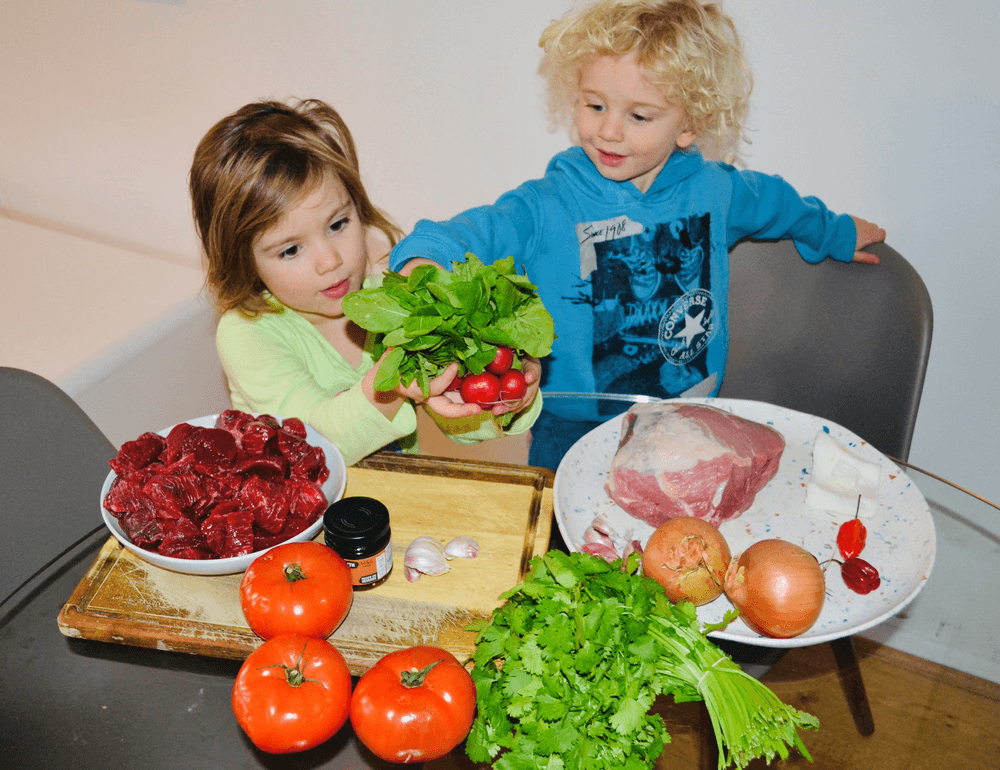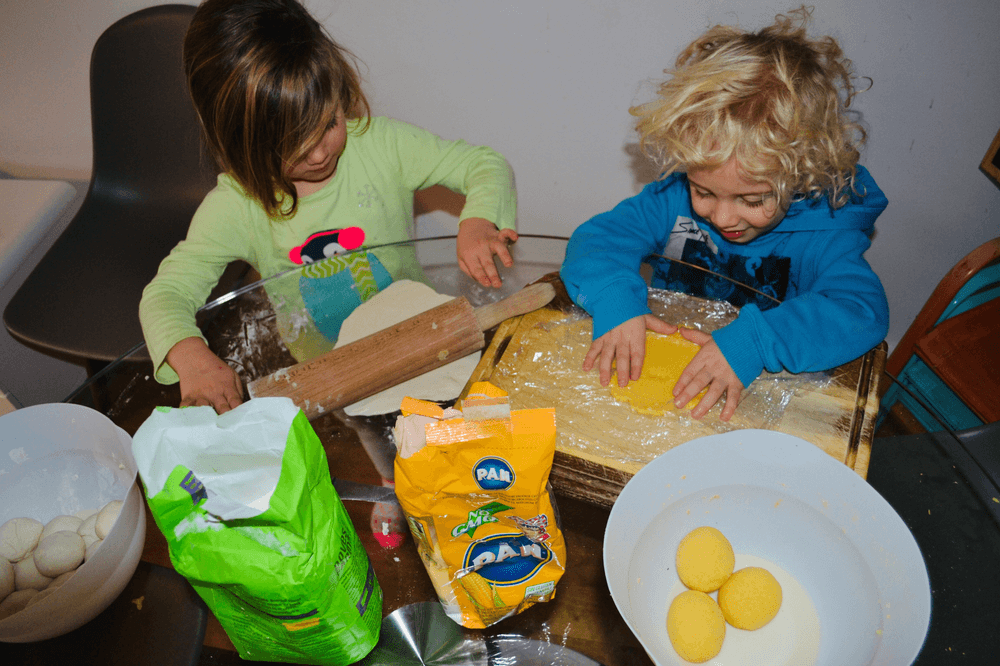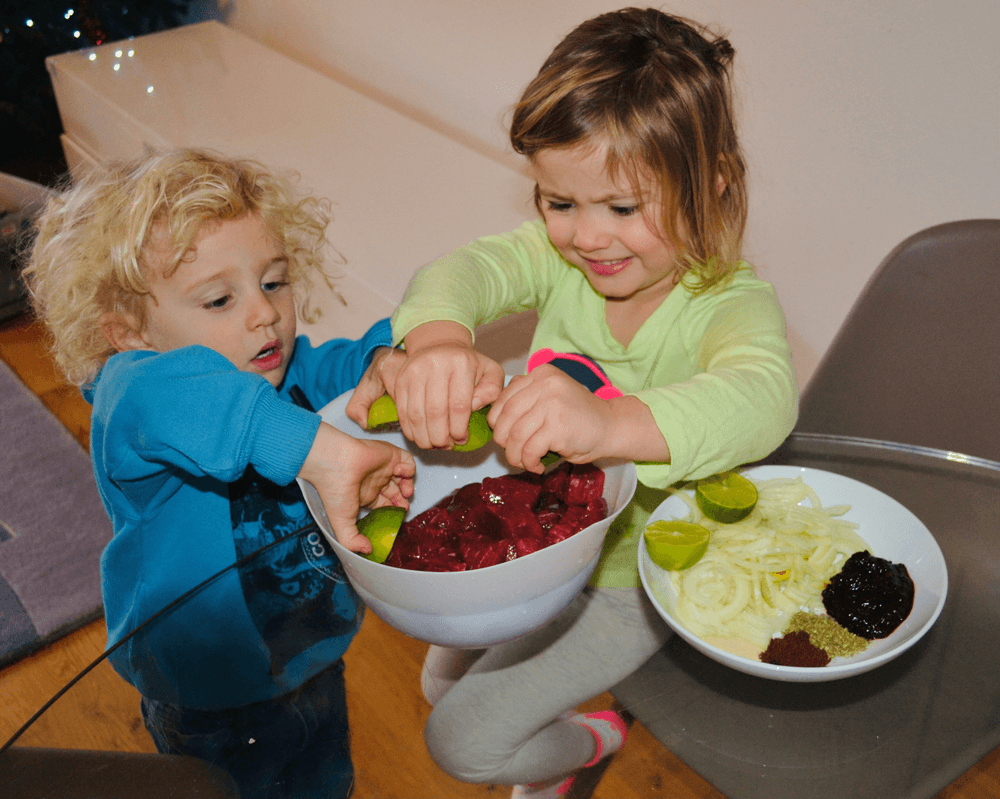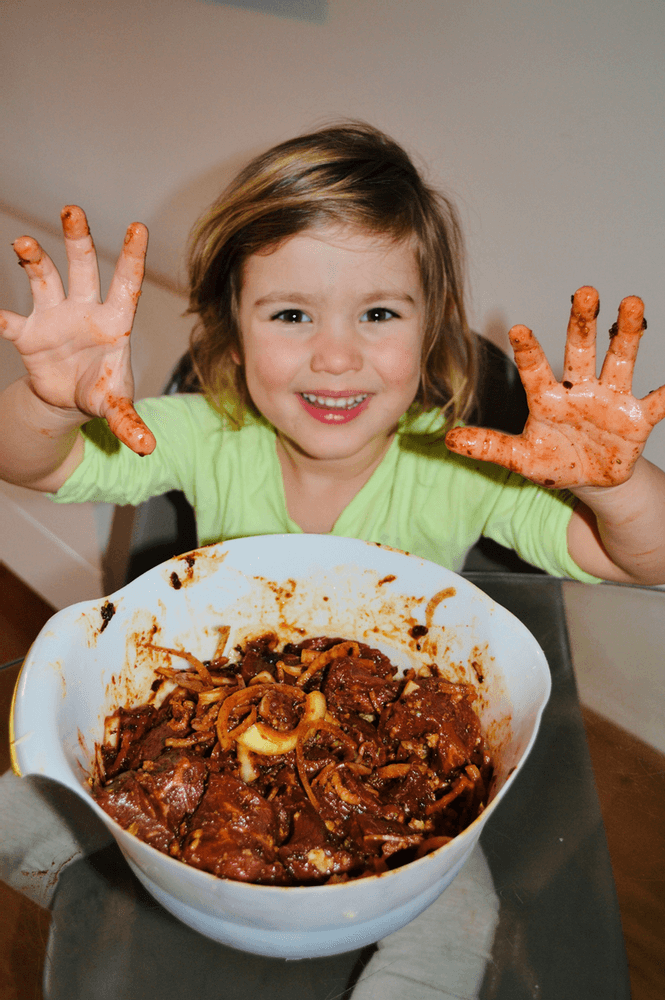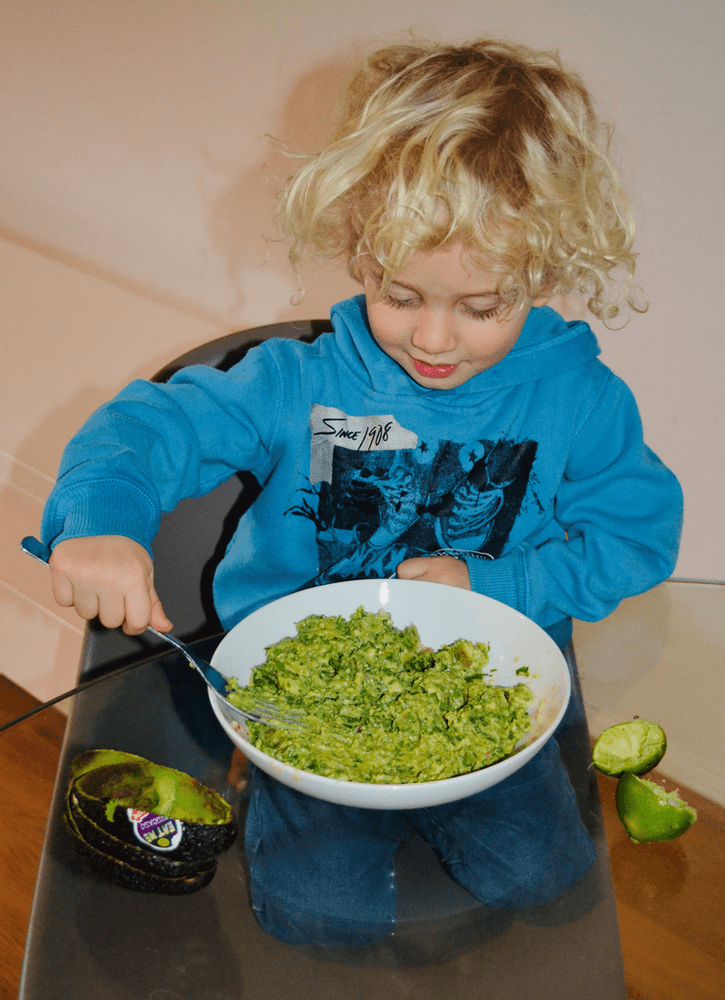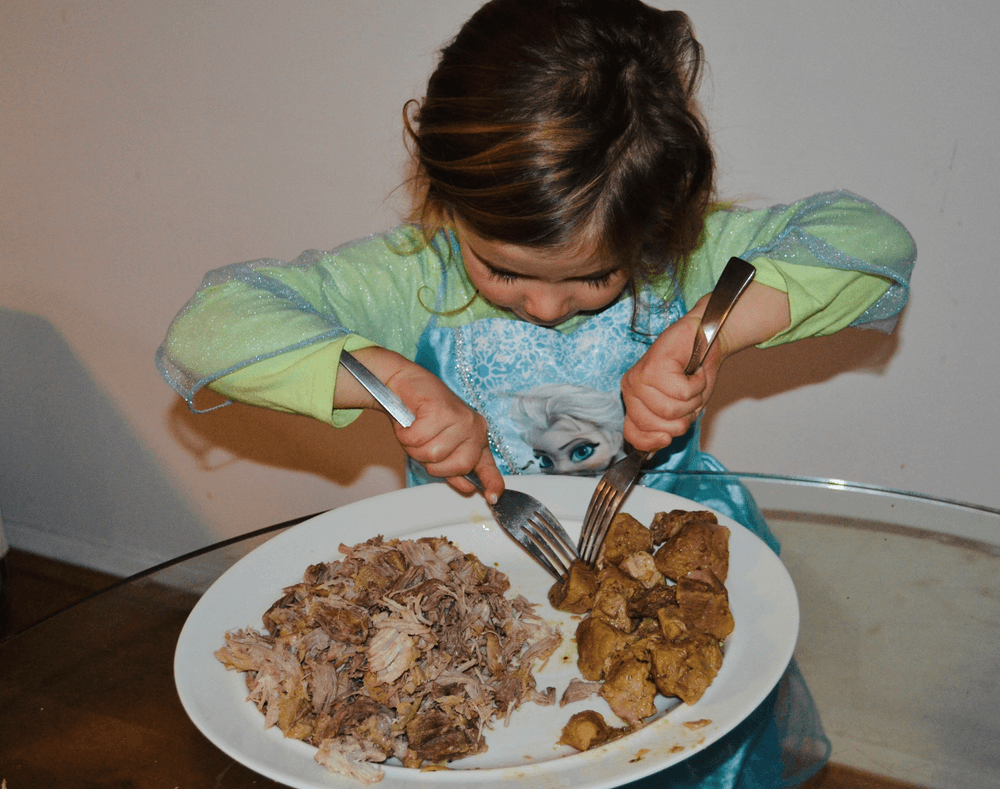 Looking in soooooo good!!!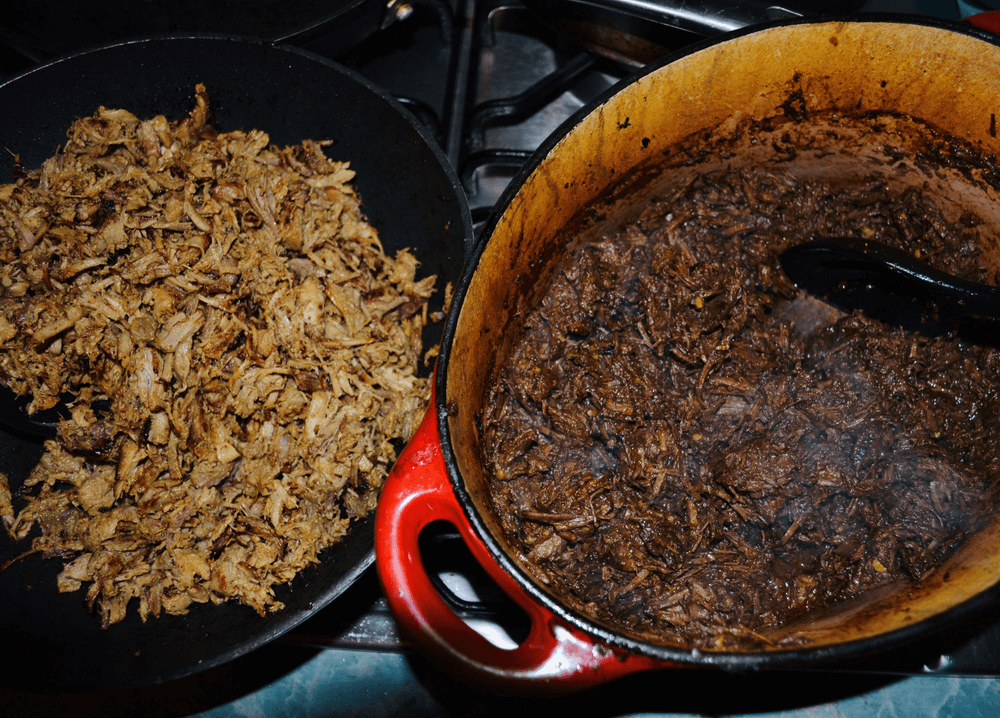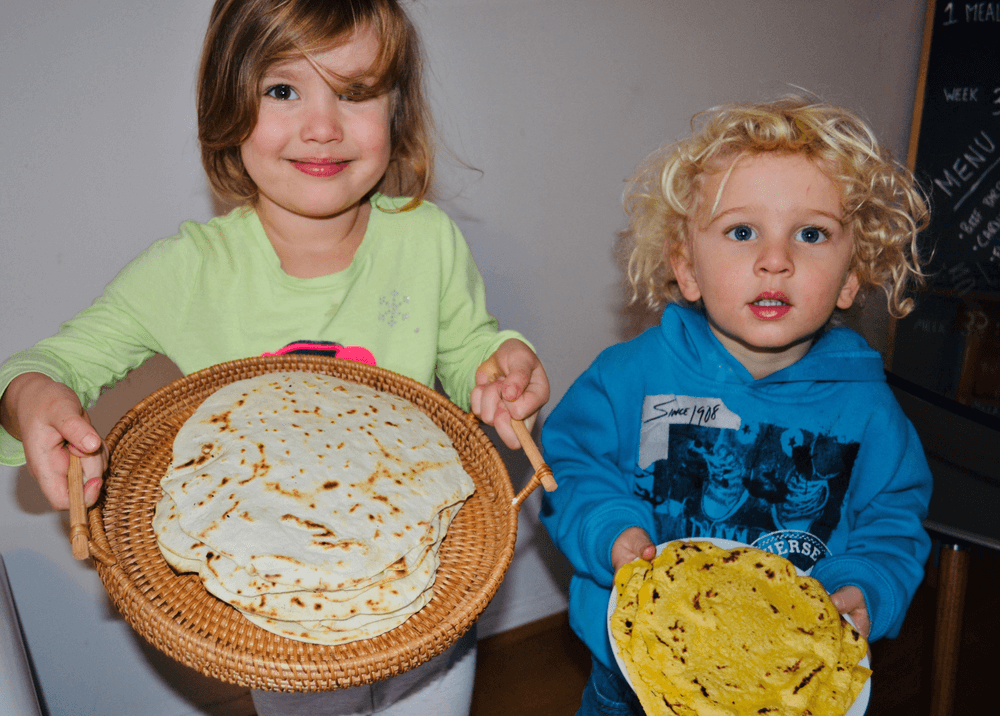 450g plain flour
1 tsp of fine salt
4 tbsp. vegetable oil
250ml of warm water
In a large bowl combine the flour, salt and oil and then combine with the water until well mixed. Remove from the bowl and start to knead on a lightly floured surface for 5 minutes until soft and smooth – return to bowl and leave to rest covered with a damp cloth for 20 mins.
Cut the dough into 16 pieces keeping the pieces you are not working with covered. Roll each piece out into a disc around 2mm thick, should be approx. 15cm diameter and in a hot pan dry fry for approx. 1min on each side or until or until brown spots and bubbles starts to appear.
Wrap in foil to keep warm and soft.
250g maize flour
1 tsp fine salt
350ml of lukewarm water
1 tsp olive oil
Mix the flour and salt and then combine with water and oil until mixed well. When combined it should be soft but not sticky – if sticky add a little more flour, if too hard add a little more water. Kneed on a lightly dusted surface for a couple of minutes, return to bowl and cover with a damp cloth and allow to rest for 20 mins.
Cut the dough into 12 portions and whilst working with one keep the remaining ones covered. Place each portion in between 2 pieces of cling film and roll out to approx. 15cm diameter.
Heat each tortilla on a hot dry pan for approx. 1 minutes each side or until it is starting to colour and bubble up. Cover with foil to keep warm.
Beef Barbacoa and Carnitas
1.5kg beef brisket
I onion, sliced
4 cloves garlic, minced
2 tbsp ancho chilli paste
1 tsp ground cloves
100ml red wine vinegar
3 limes, juiced
500ml beef stock
Salt and pepper
Cut the beef brisket into 5cm pieces and mix the onion, garlic, ground cloves, chilli paste, vinegar and lime together and combine with the meat. Leave to marinade in the fridge – ideally overnight.
When ready to cook pre-heat oven to 150C and remove the beef from the marinade and keep to one side. Heat a little oil in a heavy bottom oven proof dish with a tight fitting lid and brown off all the beef in batches and keep to one side. Add a glass of water to the pan and scrape off all the bits stuck to the bottom and then add the marinade, stock and beef and bring to the boil.
Place in the oven with the lid on – add a layer of tin foil if there are gaps and cook for approx 3 ½ checking half way and toping up with a bit of water if necessary.
Once cooked remove the beef from the cooking liquid and shred with 2 forks. Return to the liquid and mix well. It should be moist but not swimming in liquid – if so boil it off for a little and allow to reduce.
Serve with the tortillas alongside the carnitas, guacamole, tomato relish and pickled red cabbage with fresh limes and coriander.
1.5kg pork shoulder
1 onion, chopped
4 cloves garlic, chopped
1 glass of orange juice
1 glass of water
2 tsp dried oregano
1 bay leaf
250g lard
Cut the pork shoulder into 5cm pieces and season well. Put it into a heavy bottom pan with lid and our over the orange juice, water , onion, garlic, oregano, bay leaf and lard and bring to the boil before adding lid and lowering the heat so the dish is just simmering.
Cook the meat for around 2 hours after which most of the liquid should have evaporated. Remove the pork and shred with 2 forks and continue to simmer the left over juices until the excess water has been evaporated. Return the shredded pork and fry in the remaining fat and solids until browned.
Serve with the tortillas alongside the beef barbacoa, guacamole, tomato relish and pickled red cabbage with fresh limes and coriander.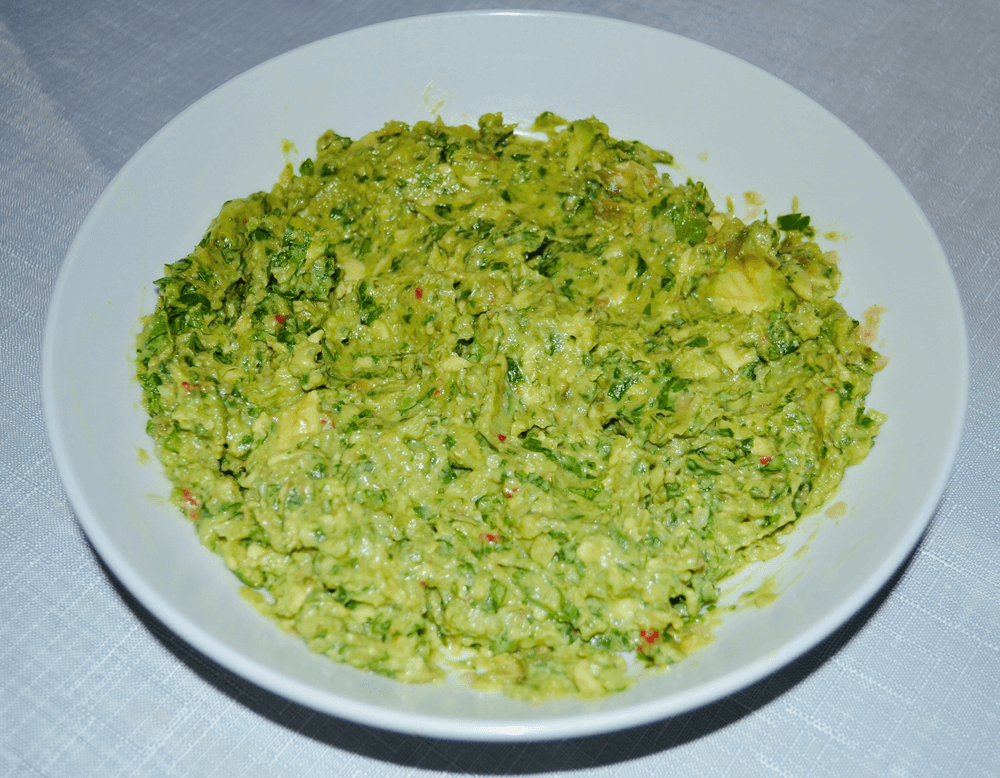 2 large ripe avocados
1 red onion, finely chopped
Juice of 2 limes
1 jalapeno chilli or ½ scotch bonnet (de-seeded and finely chopped)
Large handful of chopped coriander
½ tsp of fine salt
Add the chopped chilli, onion and salt to a pestle and mortar and pound until smooth. Scoop out the avocado flesh and mix together mashing the flesh with a fork and combining well.
Mix with the lime juice and chopped coriander and serve.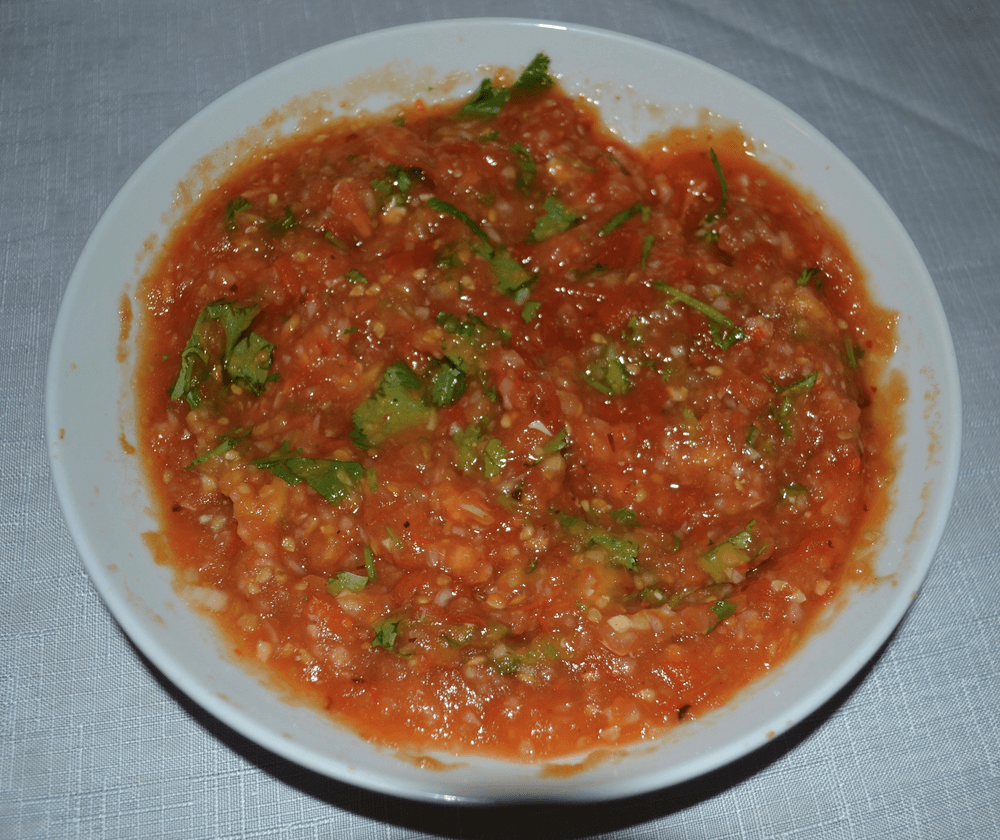 5 large ripe tomatoes
2 cloves of garlic, skin on and slightly crushed
2 jalapeno chillies or 1 scotch bonnet
½ tsp fine salt
½ onion, finely chopped
1 handful coriander, chopped
Juice of 1 lime
Place the tomatoes, garlic and chilli on a roasting tray and roast in a pre-heated oven at 180C for 25 mins. Remove and allow to cool before chopping the tomatoes, removing the skins from the garlic and stalks from the chillies and giving everything a few pulses in a food processor – not too much as you still want to the dish to have texture.
Mix in the chopped onions, coriander and lime juice and chill until ready to use.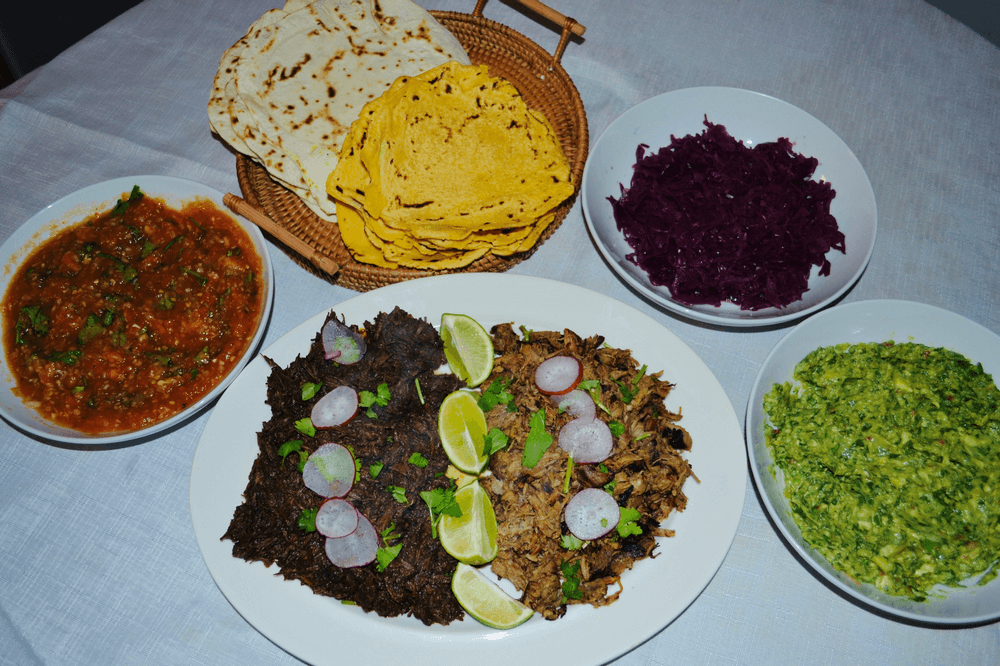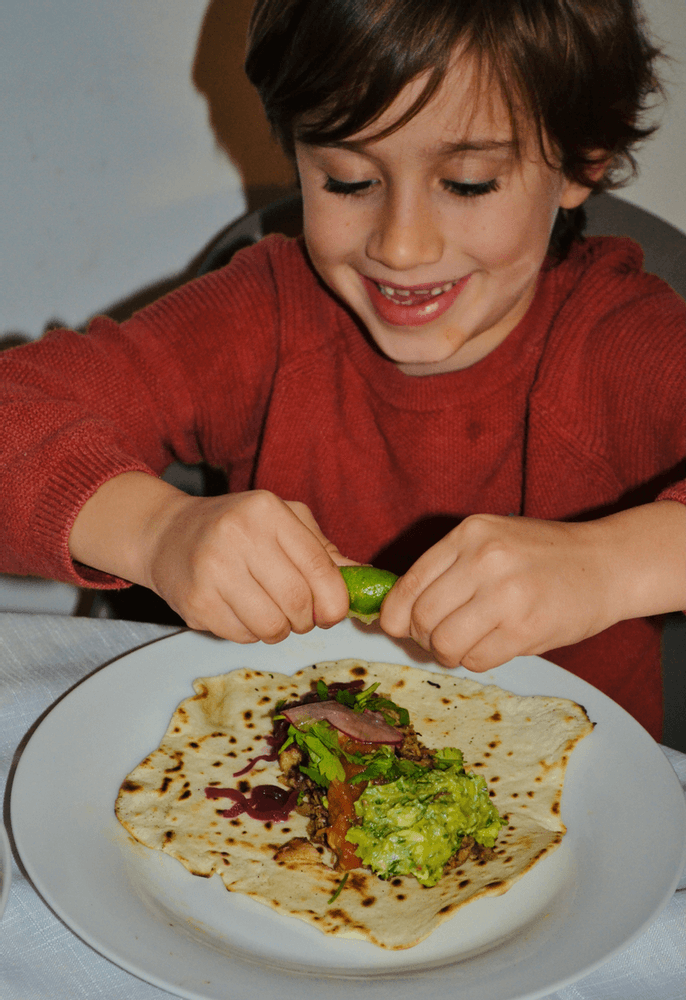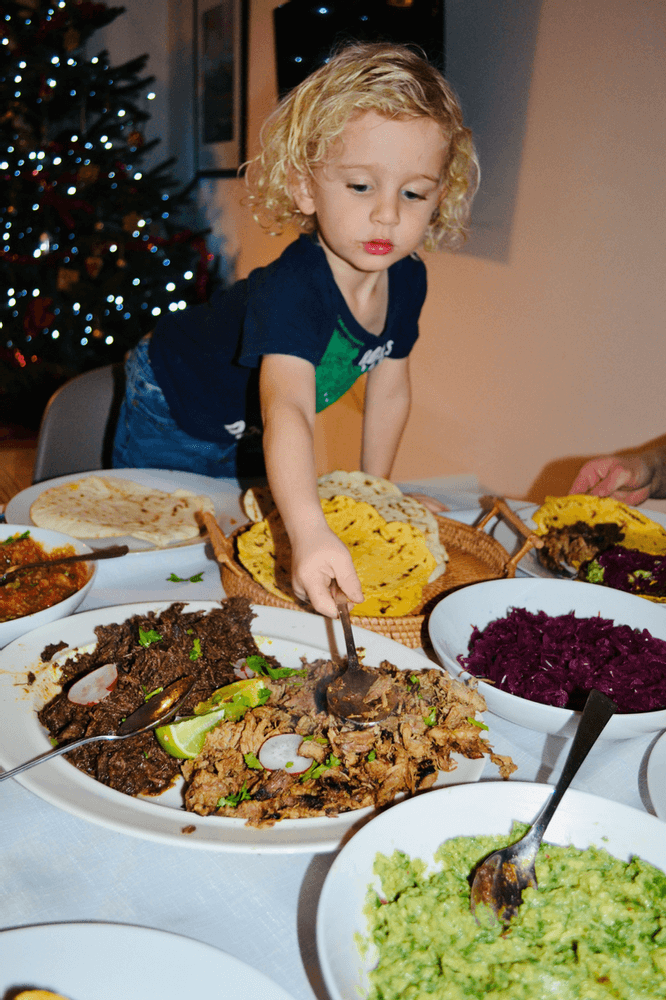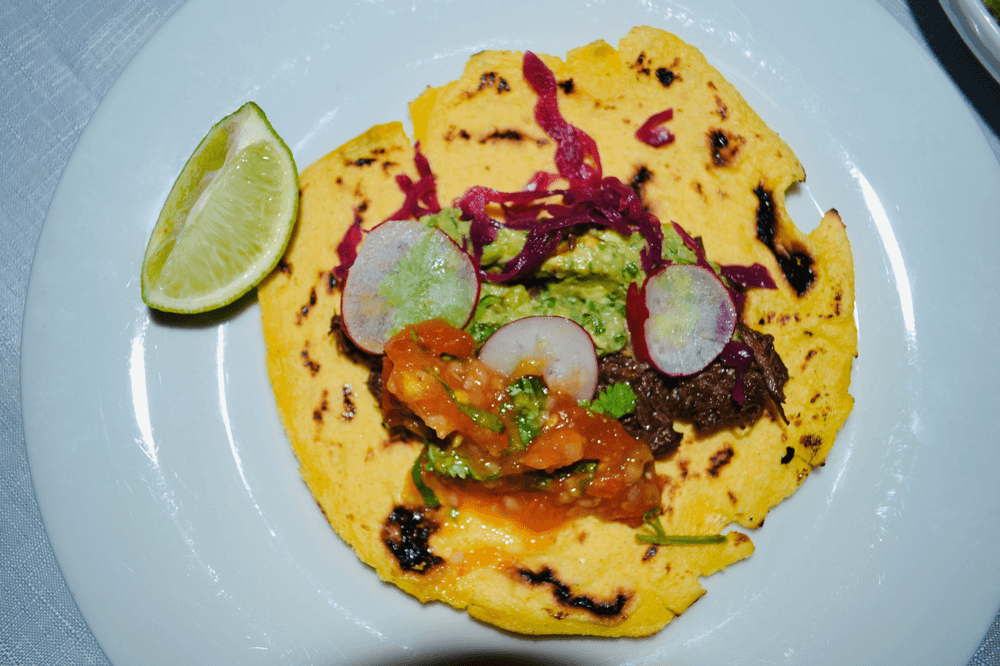 Mexico - that was amazing!