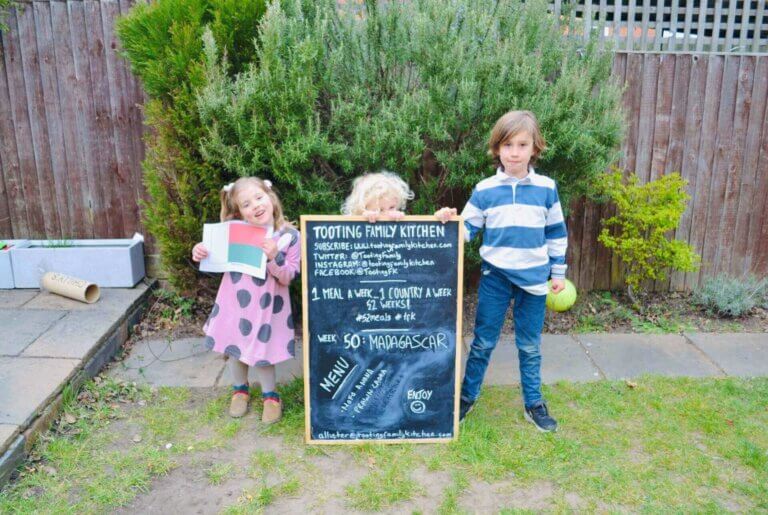 Week 50 and as we near the end of our 52-week culinary journey we hit Africa for the final time to visit Madagascar and cook up a Malagasy meal.
For all the kids out there Madagascar is a real place and not just the setting of one your favourite movies! It is the 2nd biggest nation Island in the world and was formed when it split from India 88 million years ago. A seemingly illusive island despite its size, it took 300,000 years to discover and despite its proximity to East Africa, just across the Mozambique Channel (making it 12 time closer than to Borneo), the first settlers were of Malayo-Indonesian descent. To this day many Malagasy do not typically identify as African, although immigrants from Eastern Africa have now settled throughout the country.
Madagascar is a hugely diverse place and cultural differences are recognisable across the country. There are 18 recognised Malagasy ethnic groups/tribes with varying beliefs and traditions. The island nation was absorbed into French Colonial rule for much of the 20th century and many Malagasy were conscripted to fight for France in World Wars I and II. To this day around 60% of visitors to the country are from France, followed by Germany. Religion is closely followed in Madagascar with the majority identifying as Christian and Sunday mass is often closely observed, however it is mixed with their traditional animist beliefs. A key example of this is Zanahary, that many refer to as the creator God, having collaborated with the earth god Ratovantany to create humanity. Another tradition followed by many is Famadihana, known as 'turning of the bones'. The bodies of ancestors are exhumed from family crypts and re-wrapped in Fresh cloth before being carried over the heads of the family as they dance to live music around the tomb. It represents a celebration of the life of the dead person, so they don't feel forgotten by their descendants.
Sadly, many people in Madagascar live in extreme poverty with children being hardest hit, especially in rural areas which is home to approximately 80% of the population and is largely unable to sustain itself. The island nation's unique geographical location makes it particularly susceptible to cyclones and in addition, ever-increasing water levels have made farming and fishing immensely difficult, for which so much of the population is dependant. Water scarcity and sanitation is a huge problem but one fantastic organization that seeks to give everyone across the globe access to clean water, toilets, and proper hygiene, including those in Madagascar, is WaterAid. Today we donated to support the amazing work they are doing. Have a read about the WASH project here with the option to make a donation: https://washmatters.wateraid.org/blog/integrating-child-health-and-water-sanitation-and-hygiene-in-madagascar
One potential solution to help Madagascar protect its environment and provide a financial boost to the country's economy is ecotourism. Madagascar is considered to be a megadiverse country and many scientists estimate that approximately 90% of the plants and 85% of the animals found there are endemic, meaning they cannot be found anywhere else on the planet. Due to the fact it has developed its own unique ecosystems since its land split all those millions of years ago, it is considered an eco-paradise for outdoor enthusiasts, although the only animals from the Madagascar movie that actually live there are lemurs (of which there are around 70 different species). If you like to take a walk on the risky edge of the 'wild side' however, for a large island Madagascar has very few animals considered dangerous to humans!
Malagasy cuisine reflects the foods eaten by immigrants from Southeast Asia, Africa, India, China and Europe who have settled there over the years. The base of nearly all meals however has remained a dish of rice with an accompaniment, a laoka, which in our case is the prawn curry being the laoka to the coconut rice. Sweet and savoury frittas such as mofo anana, meaning leafy greens bread, are also common throughout the island, especially as a street food and as one would expect from its geographical positioning, Madagascar is a heaven for seafood lovers! We hope we have done Malagasy cuisine justice today.
Tooting Family Kitchen cooks Mofo Anana and Coconut Rice with Prawn Curry and Sakay.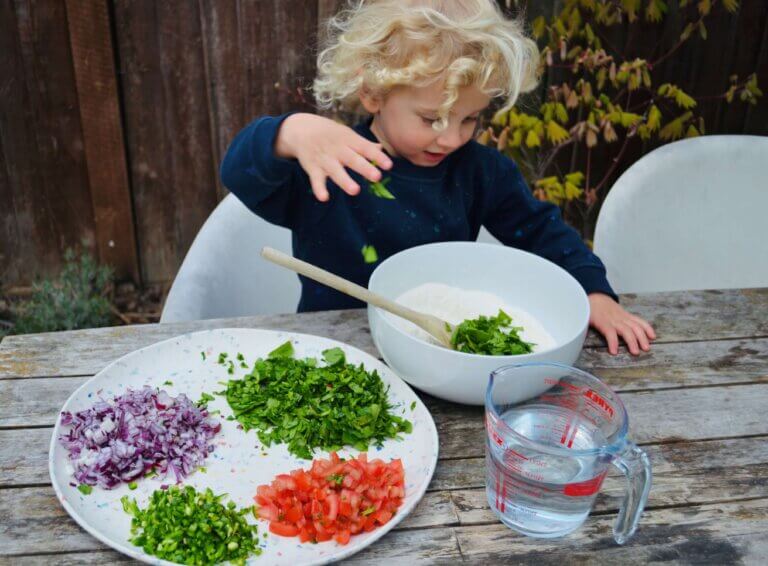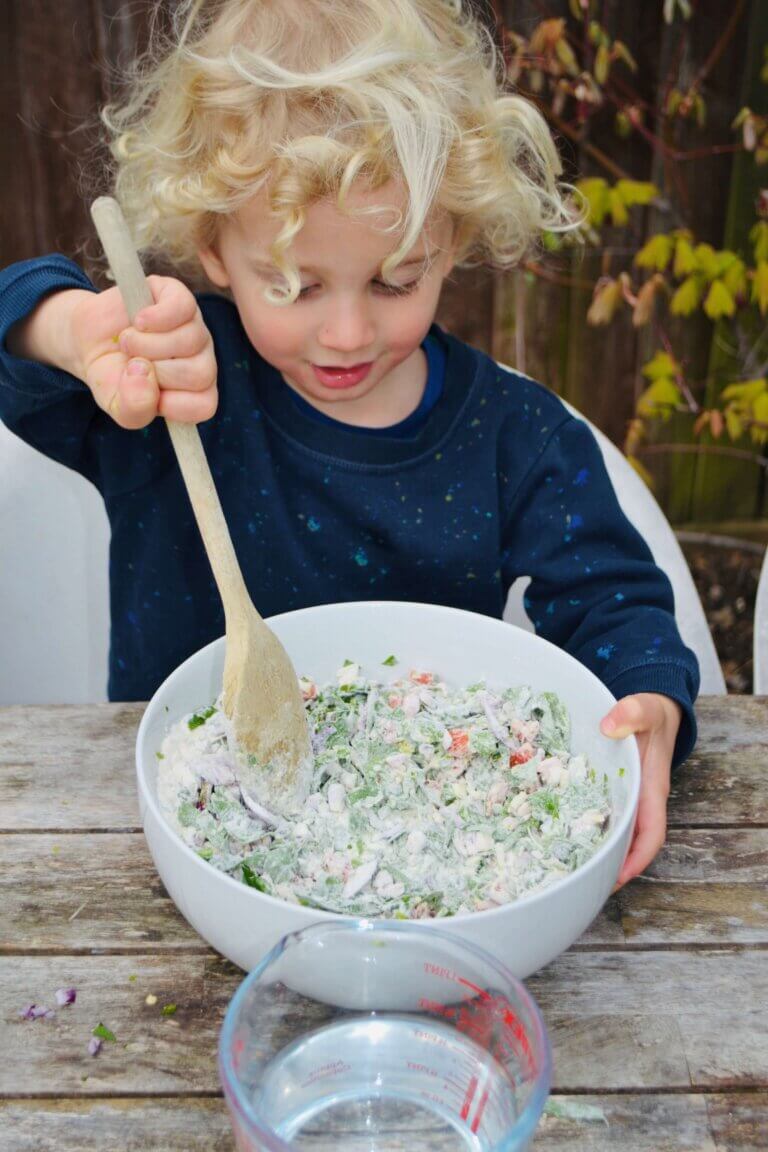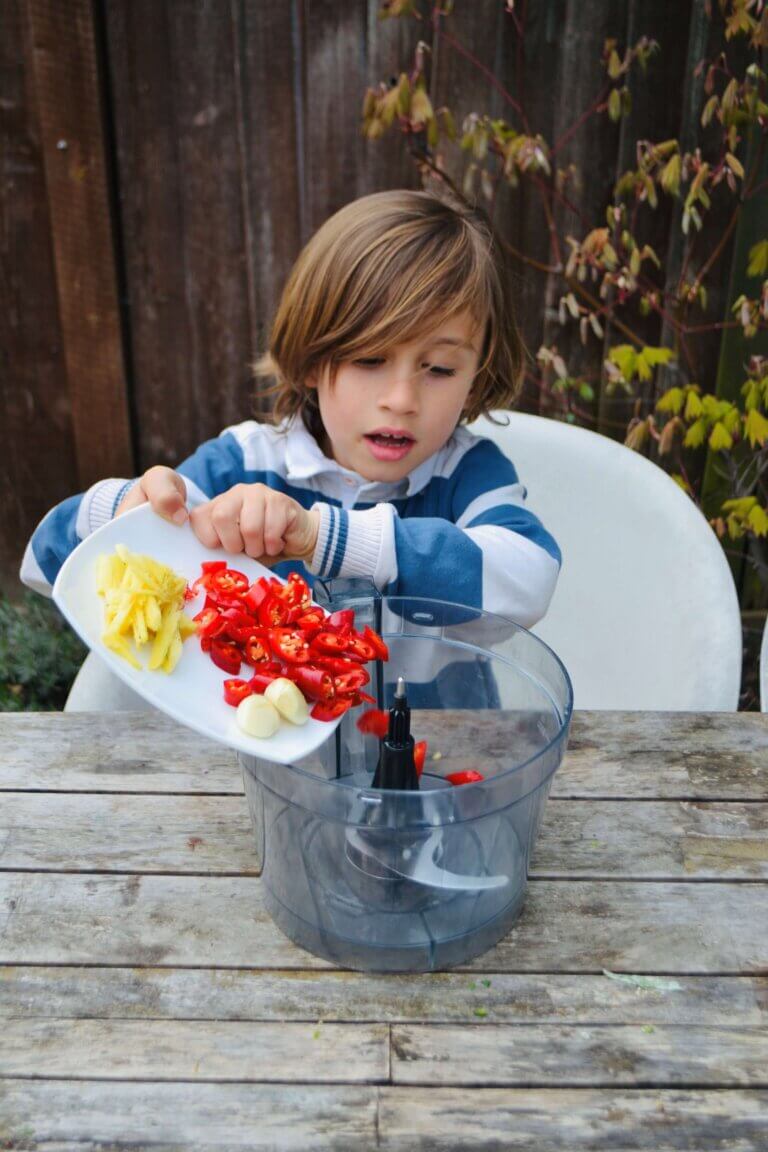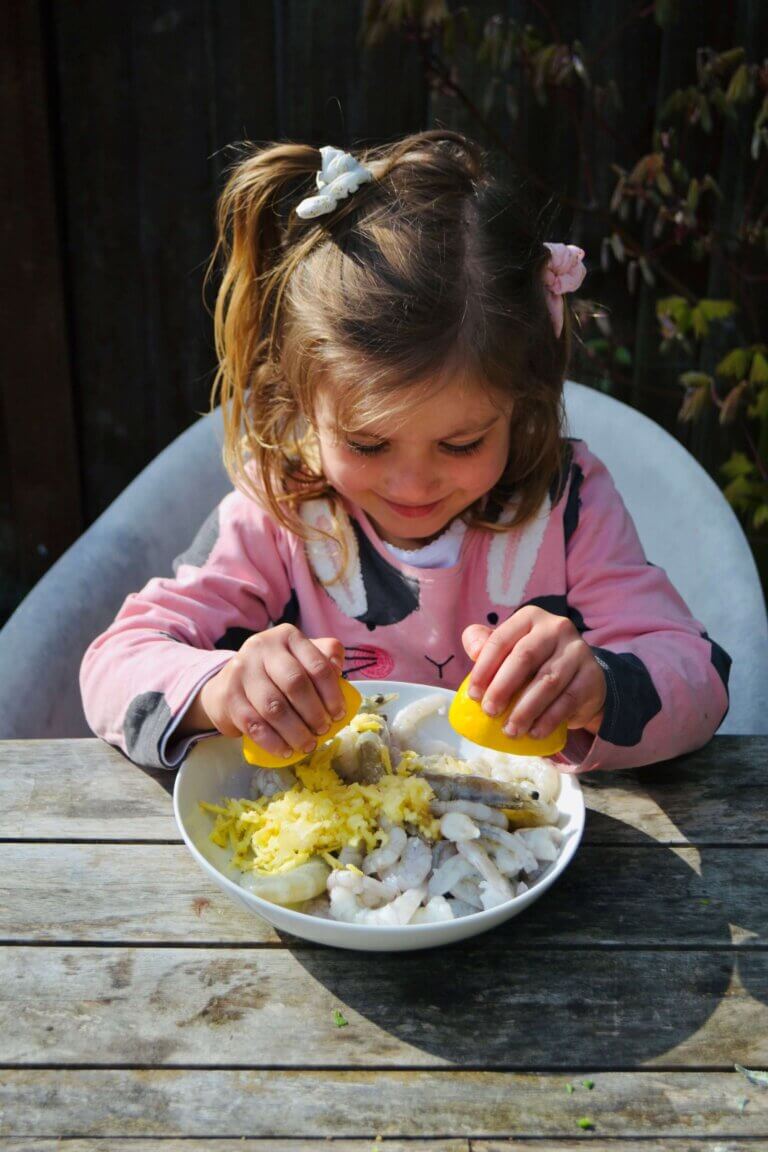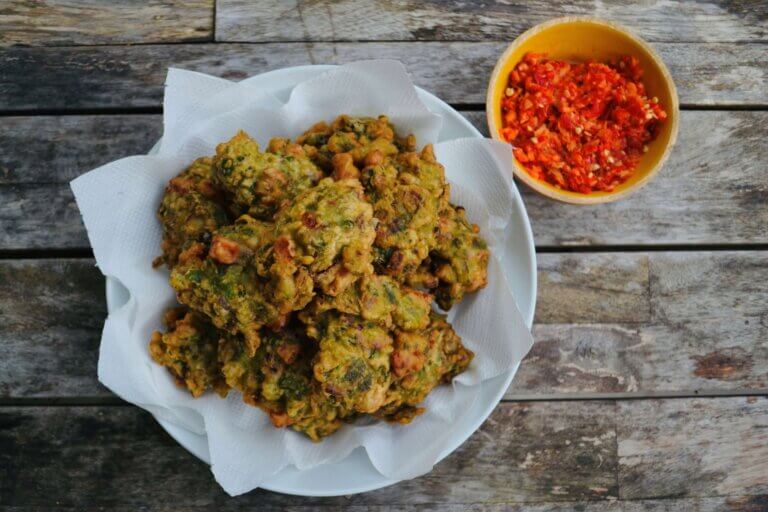 250g plain flour
1 tsp salt
1 tsp baking powder
1 tsp chilli powder
½ tsp pepper
2 large handfuls of baby spinach, finely chopped
1 red onion, finely chopped
4 green chillies, finely chopped
2 tomatoes, chopped
Approx. 300ml of water
Vegetable oil for deep frying
Mix the flour, salt and pepper, baking powder and chilli powder on a bowl and then combine well with the spinach, onion, chillies and tomatoes.
Gradually add the water and combine well until you have achieved a thick batter (may use a bit more or less than 300ml).
Heat a litre of vegetable oil in a large heavy bottom pan and spoonful of batter at a time ensuring you turn each fritter until golden brown. Most likely have to do in batches of 6 or 7.
Remove with a slotted spoon and drain on kitchen towel before serving.
Prawn Curry and Coconut Rice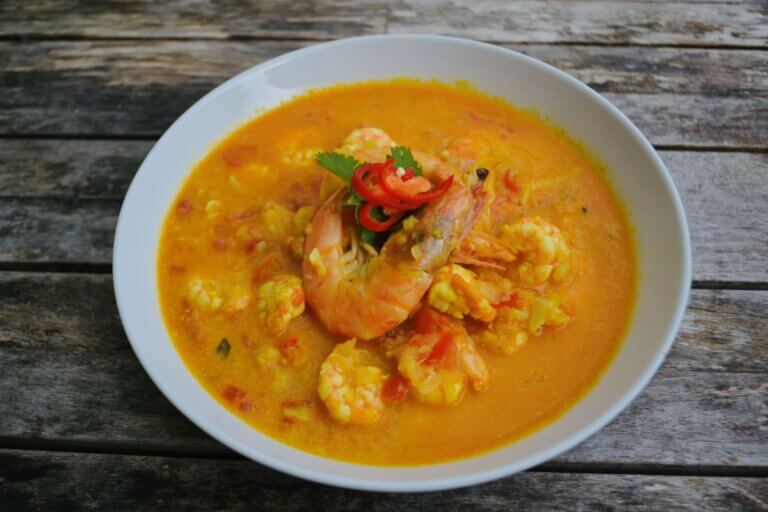 Prawn Laoka
 500g of prawns
2 tbsp coconut oil
1 onion, finely chopped
4 cloves of garlic, minced
2 inch ginger, grated
2 tomatoes, chopped
1 tsp turmeric
200ml of coconut milk
200ml of fish stock or water
Juice of 1 lemon
Salt and pepper for seasoning
Coconut Rice
2 cups of basmati rice
1 cup of water
1 cup of coconut milk
1 tsp of salt
1 tbsp olive oil
Prawn Laoka
Heat the coconut oil in a large wok and gently fry the onions until starting to go golden brown. Add the ginger and garlic and cook for another minute before adding the tomatoes and turmeric and turning the heat up and cooking for 2 or 3 mins until they have broken down slightly.
Add the stock and coconut, bring to the boil and then reduce to a simmer and leave to cook for 10 mins before chucking in the prawns and cooking for a further 5 mins or until cooked through.
Squeeze in the lemon juice and taste for seasoning.
Coconut Rice
Wash and rinse the rice and allow to air dry.
Add the water and coconut milk to the pan along with the rice salt and olive oil and give a quick stir and bring to the boil before lowering the heat to a gentle simmer and covering. Simmer for 10 mins and turn the heat off keeping the lid on and allowing to steam for another 15 mins.
Fluff up the rice with a fork and serve.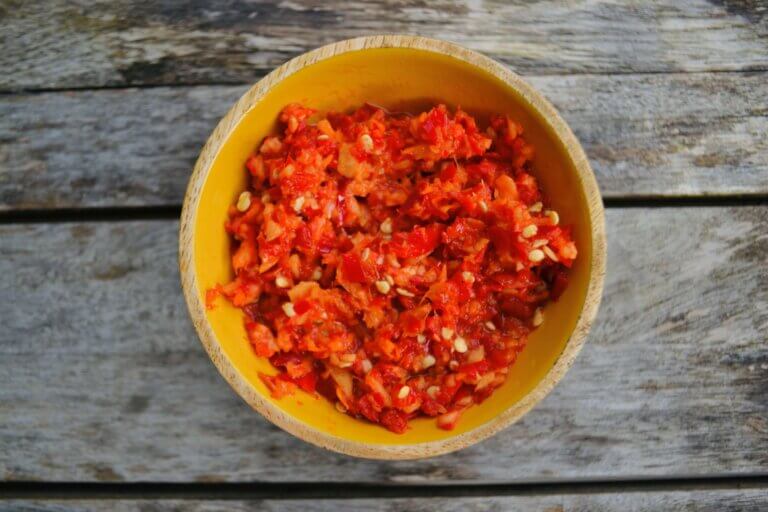 10 red birds eye chillies
2 garlic cloves, peeled
1 inch of ginger, peeled and sliced
1 tbsp – 10 tbsp depending on your preferred texture/consistency
Salt to taste
Put the chillies, garlic and ginger into a food processor and blitz whilst gradually adding the olive oil until you have the consistency you want.

Mofo Anana going down well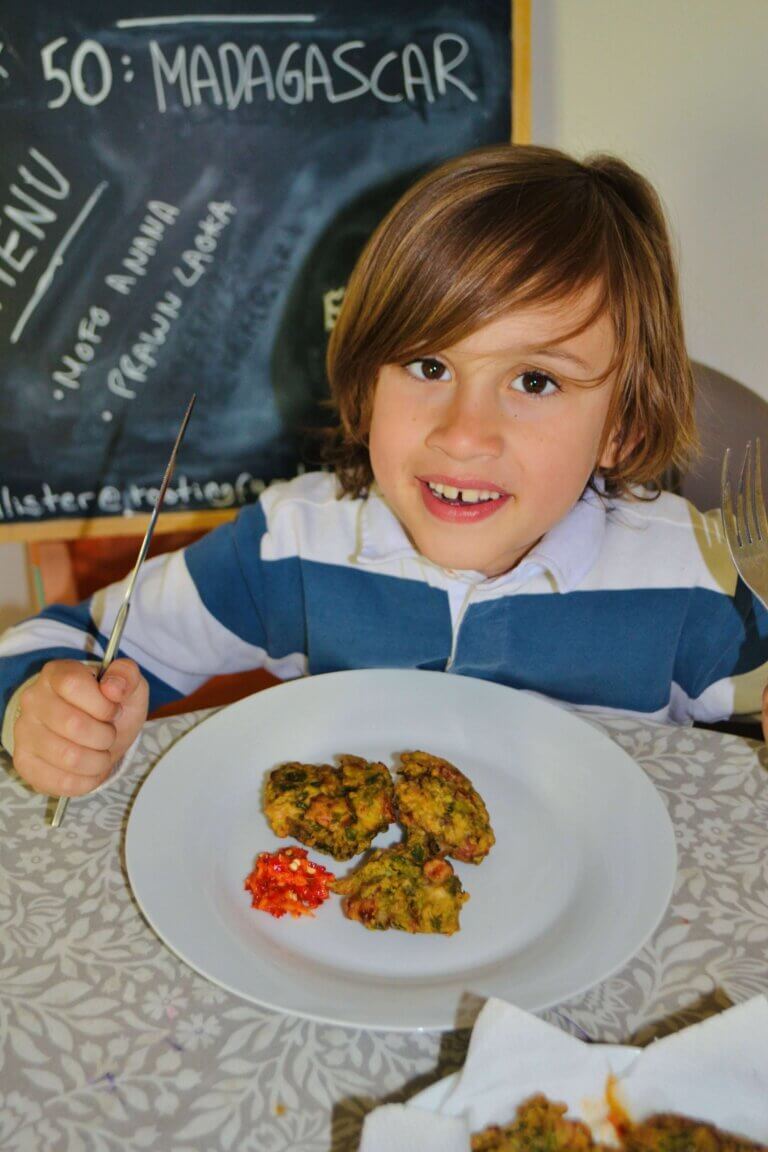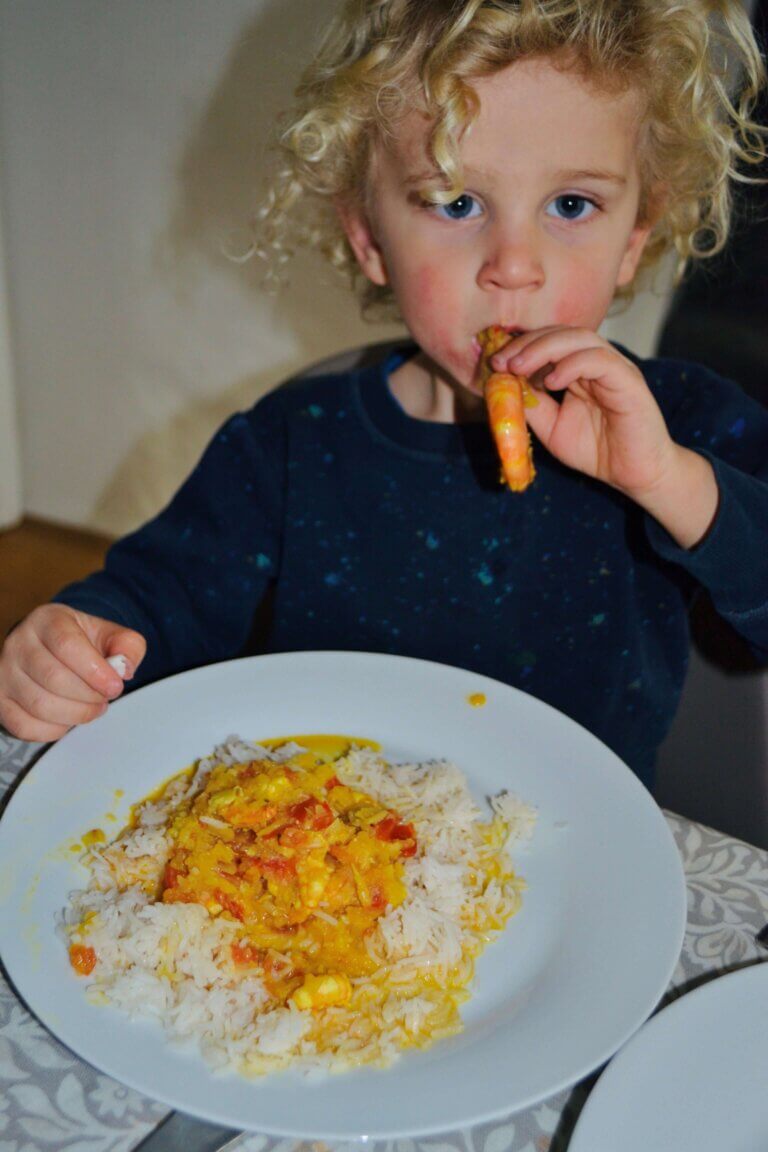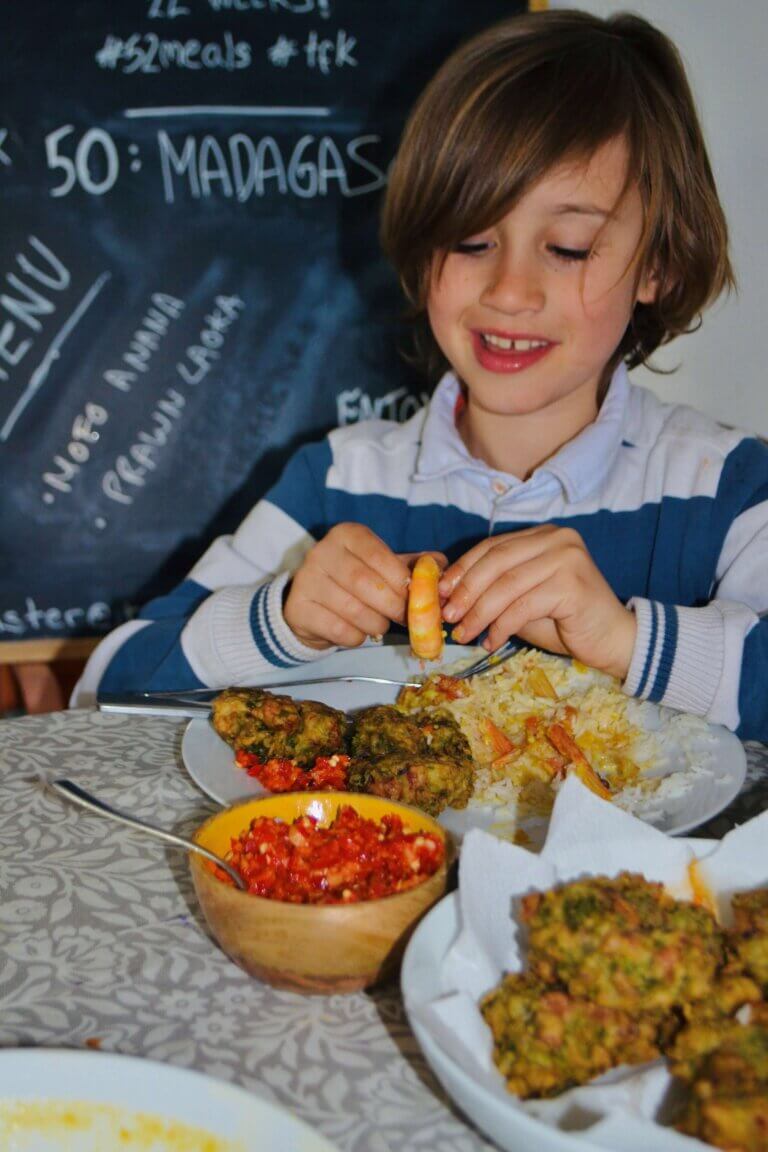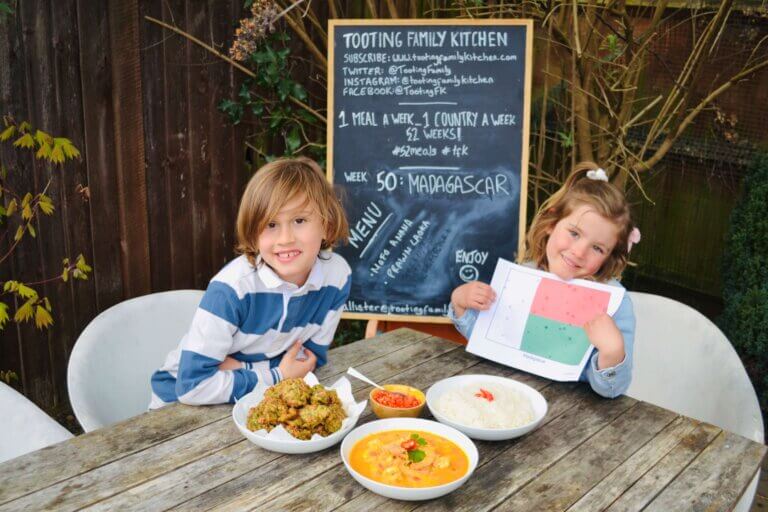 Thank you Madagascar, that was epic! 
Next week we are excited to head to Peru!!! … please don't forget to SUBSCRIBE (scroll to bottom) & SHARE and if you have any International Food ideas or recipes from around the world you wish to share please do drop us a line
Check out other destinations here.
You can also follow us on Instagram, twitter and Facebook
See you next week!
Tooting Family Kitchen
#tootingfamilykitchen #getkidscooking #familycooking #homecooked #worldfood #americanfood #usa #kidscooking #getkidscooking #familycooking #internationalfood #CookingBuddiesMada