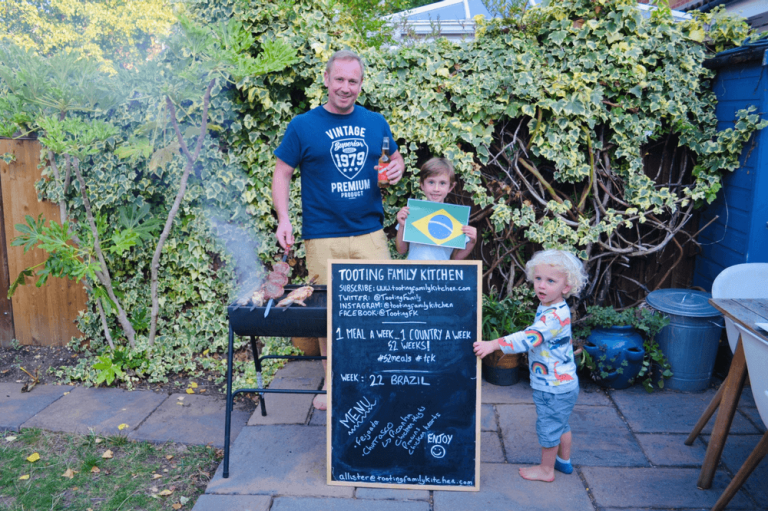 Thank you for joining Tooting Family Kitchen for Week 22 of our 52 Meals Challenge. If you are hitting our blog for the first time, welcome! We are on a culinary journey, exploring different cuisines from around the world to get kids cooking and learn about different International Cuisines and Cultures – celebrating Diversity through Food.
We have set ourselves a challenge to cook 52 Meals from 52 Countries in 52 Weeks, sharing our family cooked recipes and experiences as we go. If you like our content please do share and subscribe (at bottom of the page) to ensure you don't miss out on future family cooking destinations – we promise we won't spam you, just a weekly reminder when we publish our latest International recipes 😊
Following on from the 'cool' Jamaican theme last week, we hit another country that has a very similar cool vibe to it in Brazil. When I think of Brazil I think of beautiful free-flowing football, yellow shirts and Pele, I think of colourful vibrant carnivals, I think of beaches, rainforests and UNESCO World Heritage sites and like Jamaica, another iconic flag that is just cool and doesn't look out of place as a fashion accessory. Brazil is a country that has many social and economic challenges and yet despite this, it continues to be a place that comes across as full of positive energy and cheerfulness, especially when it comes to celebrations and creative arts. When people think of Brazil they often think fun!
The exuberance of the modern way of Brazilian life can perhaps be traced back to their cultural routes and the influence of indigenous Indians, Africans and (arguably) the more dominant Portuguese culture from which their language, main religion and many of their customs have originated. The diversity of their cultural background has had a huge influence on some of their infamous celebrations, such as the Carnival of Brazil, but also their music, dance and of course their gastronomy.
I have noticed since starting this cooking challenge that often the dishes/meals that I identify as being most representative of a country (or at least what are most in my cooking comfort zone) are not always what the locals will consider as being most representative. I was chatting to a nice Brazilian lady earlier in the summer at a school drop off, who asked me if I was doing Brazil in the challenge…I said "of course" and she asked what I was cooking…excitedly I said "Churrasco" and her face dropped a little. I guess as an Englishman, perhaps it's like having everyone talk about fish and chips as if that's all we have to offer and I certainly don't want to be that guy…although fish and chips are amazing!! I do try (perhaps sometimes fail) and keep a balance of what we really want to cook and what is most representative of a nations food. She told about Feijoada which is widely considered to be the national dish – a black bean and meat stew often using a big variety of pork and/or beef products including trimmings (ears, tail and feet), ribs and salted and smoked products too. It's often eaten as a celebratory dish and given the success of their football team with an incredible 5 World Cup wins, it has been paired with a lot of football (soccer) games…is it a coincidence that my eldest had the football training session of his life after eating this??
Being a massive fan of BBQ'ing however, Brazil was one of the ones I have been really looking forward to. Cooking over coals/wood is one of my greatest pleasures and given the time of the year and the weather forecast, this looked like it could be the last opportunity of 2020 to get the outdoor grill lit up and turn my garden in Tooting Bec's very own little churrascia. Churrascia's are the restaurants that have become quite familiar here in London. They serve grilled meat (often offering as much as you want) and the waiters move around the restaurant with long skewers slicing the meat onto customers plates. The serving style is called espeto corrdo or what is more familiar here, rodizio and the meat is traditional cooked on a rotisserie over hot coals.
This infamous style of barbequing is called Churrasco, the Portuguese and Spanish name for beef or grilled meat more generally. Churrasco is a prominent feature of the cuisines of other South American countries and the Picanha steaks, which are probably the key dish in Churrasco, come from the rump cap muscle which is so popular in Argentina and Uruguay too, as we discovered when cooking our Argentinian Asado in week 11. What is perhaps more unique to Brazil is grilling the meat on the long skewers directly over the hot embers and when most people in the UK think of Brazilian food, its likely to be picanha steaks, lined up on a skewer, bent in the distinctive horseshoe shape, beautifully crisp on the outside and deliciously pink on the inside….it's hard to think of anything more appetising!
We hope our churrasco and feijoada have done Brazilian cuisine justice – we certainly enjoyed it!
Tooting Family Kitchen cook Bobotie, Tomato Bredie and CHAKALAKA!
Checking out the Feijoada ingredients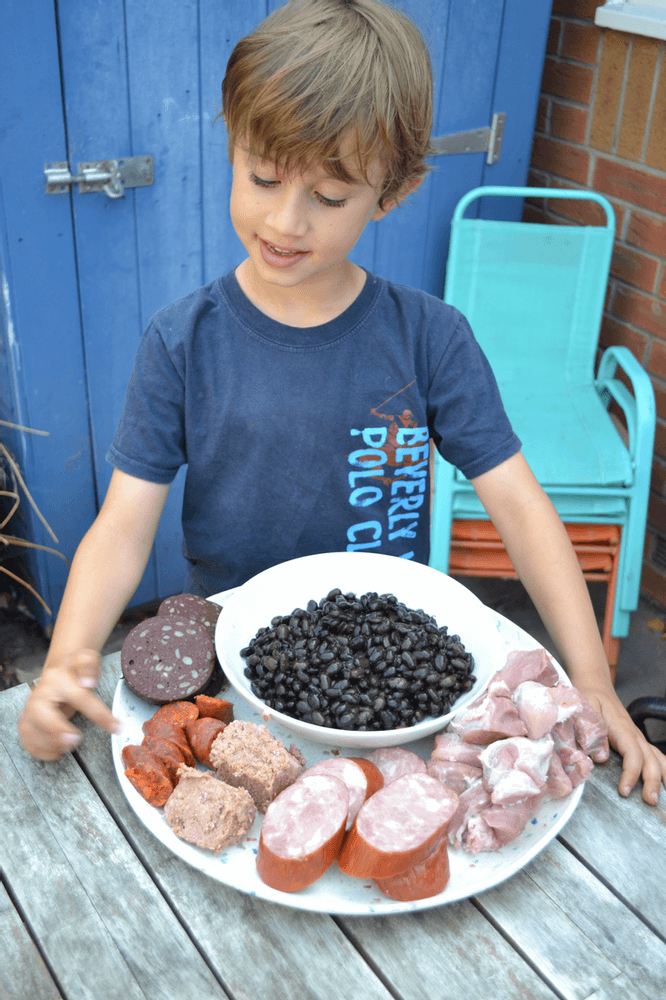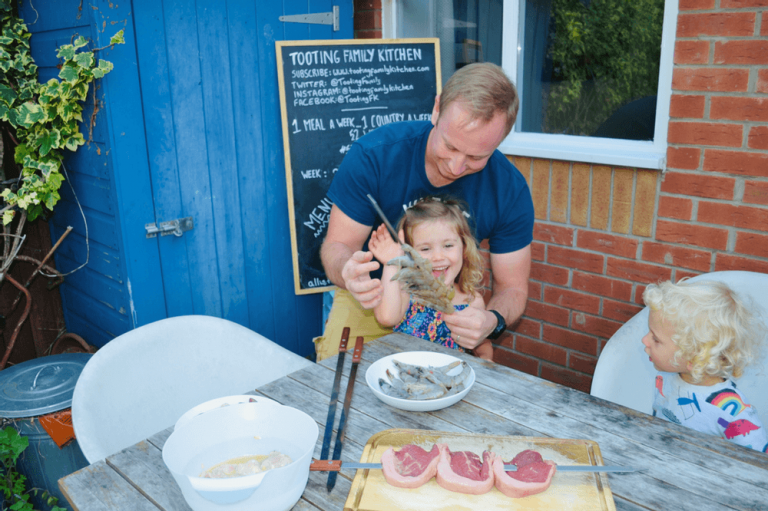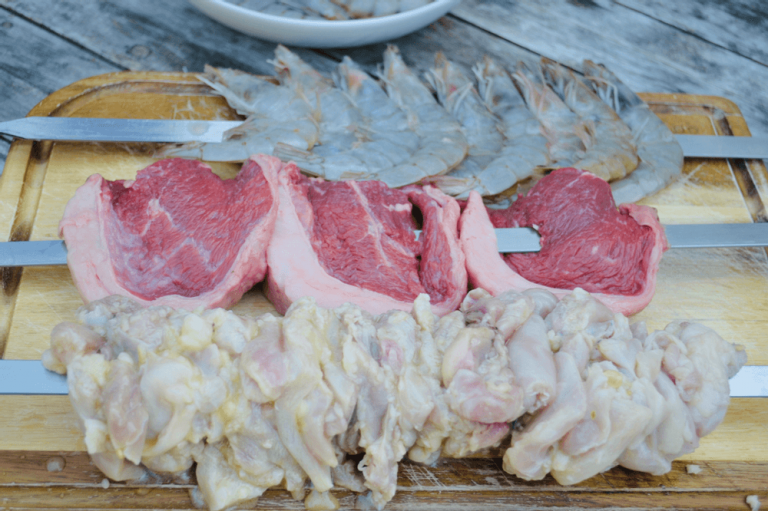 Getting seriously hungry now!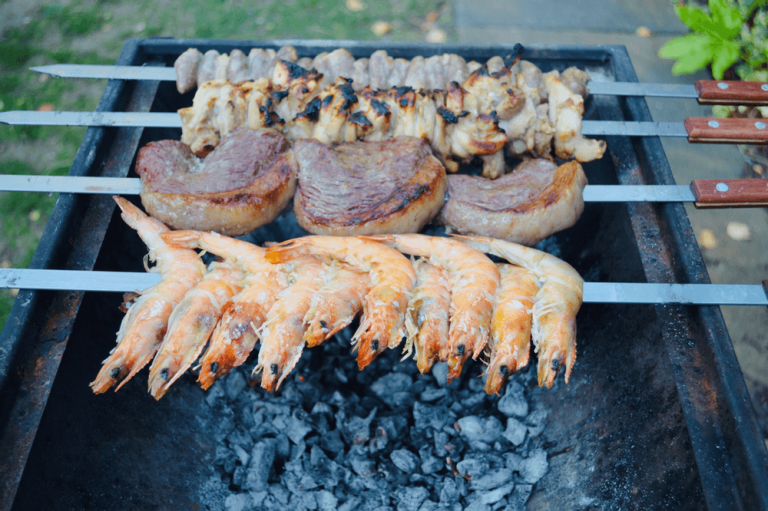 Our Brazilian style Churrasco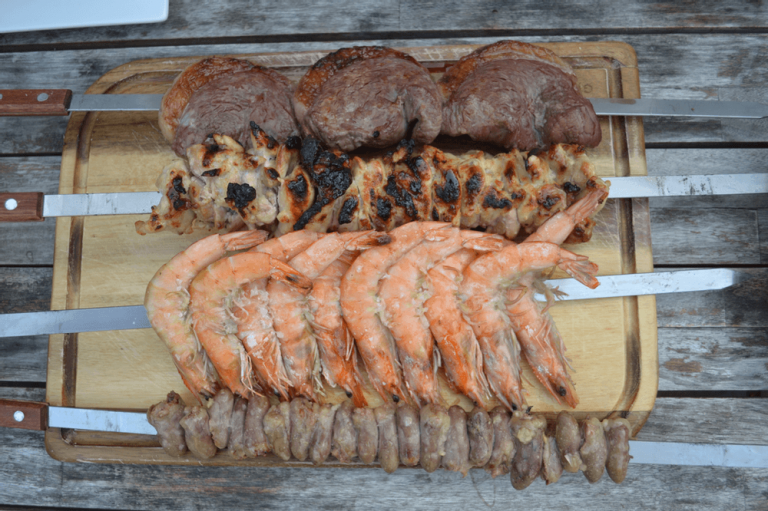 Meats:
3 Picanha steaks (approx. 250g) each
1kg chicken thighs, skinless and boneless and chopped in 4 pieces
250 g chicken hearts
8-10 King Prawns (raw and shell on)
Marinade:
4 cloves garlic, finely chopped
1/4 cup chopped fresh cilantro or flat-leaf parsley (optional)
1/2 cup fresh lime juice
1/4 cup extra virgin olive oil
Coarse sea salt and freshly ground black pepper
Make the marinade by combining all the ingredients and whisking together. Marinade the chicken thighs and chicken hearts (separately) for at least 2 hours in the fridge.
Season the picanhas well with good quality sea salt and sprinkle a little of the King Prawns.
Skewer the chicken thighs, chicken hearts, picanha's and prawns (as shown in the pictures) on wide surface extra-long skewers
Build a wood or charcoal fire in a bbq that will allow the skewers to completely rest across from side to side and sit above the burning embers. Start with the chicken thighs and keep rotating every couple of mins on medium heat– you can control the heat with a stick by raking the embers. Once this has been cooking for 20 mins move down the grill (to lower heat) and add the beef to a high heat. Again keep rotating until nicely seared on the outside and then move down to a lower heat with the chicken and add the prawns and chicken hearts which should only take around 5 mins on a high heat. It may take a little practice but aim to get all the meats crispy on the outside and the beef medium rare on the inside. The prawns…just cooked through!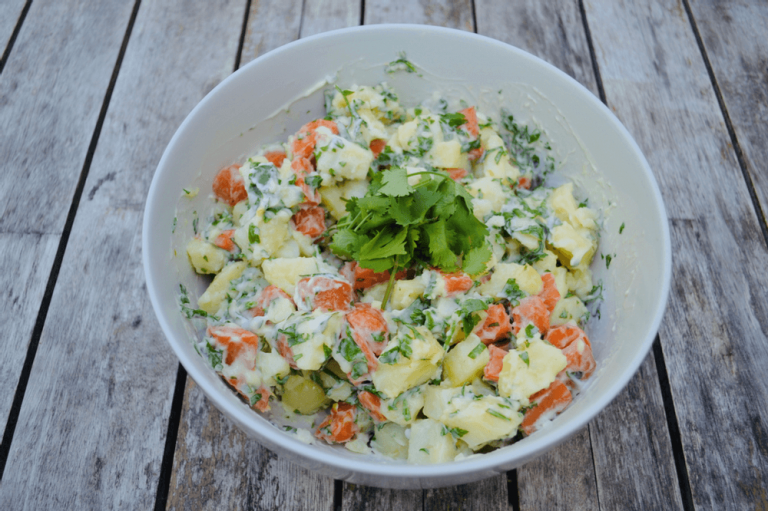 500g potatoes, peeled and cubed
500g carrots, peeled and cubed (to same size as potatoes)
1 cup of mayonnaise (homemade preferred)
1 bunch of parsley, finely chopped
Squeeze of lemon
Salt and pepper to taste
(We like this quite simple but additional you can add frozen peas, bell peppers, eggs, green beans, olives….anything you like)!
Boil the carrots and potatoes together until tender, approx. 10 mins) and allow to cool.
Mix the mayonnaise with the parsley and combine with the potatoes and carrots and finish with a squeeze of lemon and a garnish of parsley.
Serve straight from the fridge so nice and cold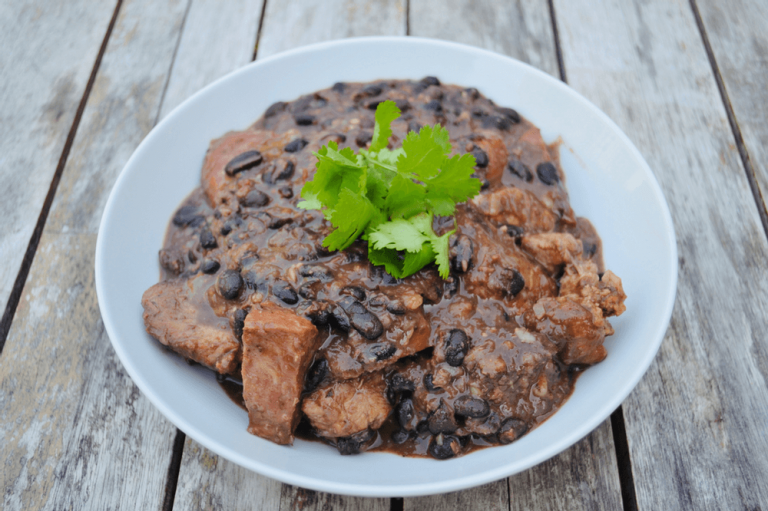 500g pork shoulder
250g chorizo
250g smoked sausage
250g black pudding
250g corned beef
1 large onion, chopped
5 cloves garlic, minced
1 tomato
2 cups of beef stock
1 tsp of ground cumin
2 tins of black beans (drained)
Salt and pepper to taste
1 lime
Heat a little oil in a heavy bottom pan with lid, brown off the chorizo followed by all the meats in batches removing and putting to one side when evenly browned off on all surface areas.
Add the onion and garlic to the pan and fry until translucent and then add the chopped tomato and cook for a couple more minutes.
Add the meat back to the pan and cover with stock and cumin. Bring to the boil and then simmer with the lid on for at least 2 hours until the pork shoulder is soft and tender. Add the beans and cook for another 10 mins. Check for seasoning and add a squeeze of lime (or more for taste)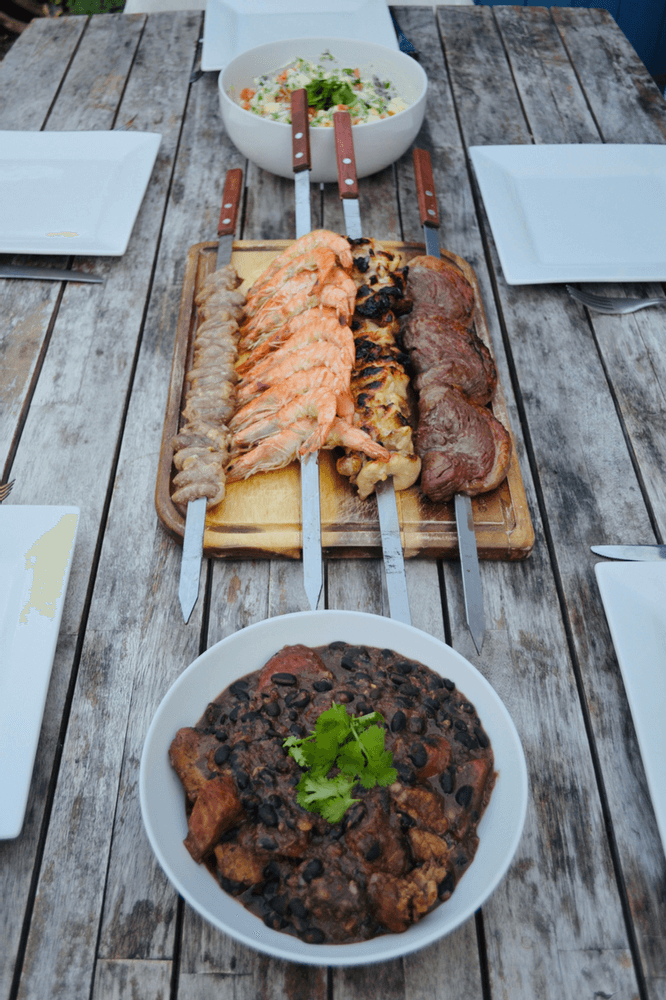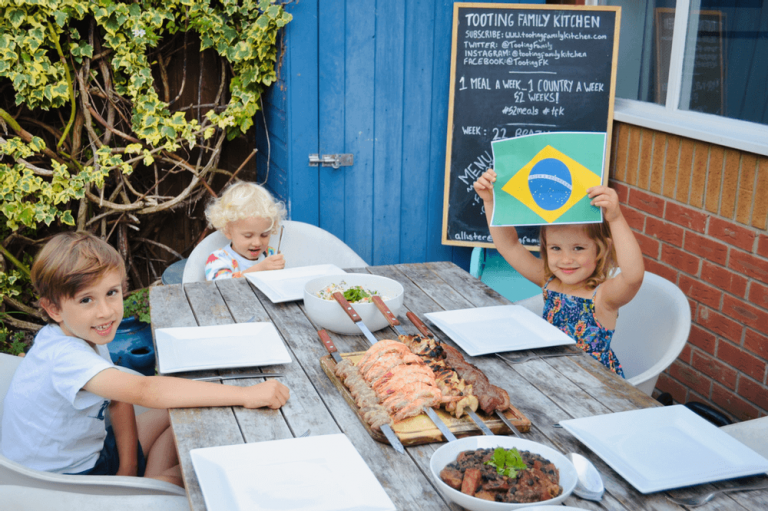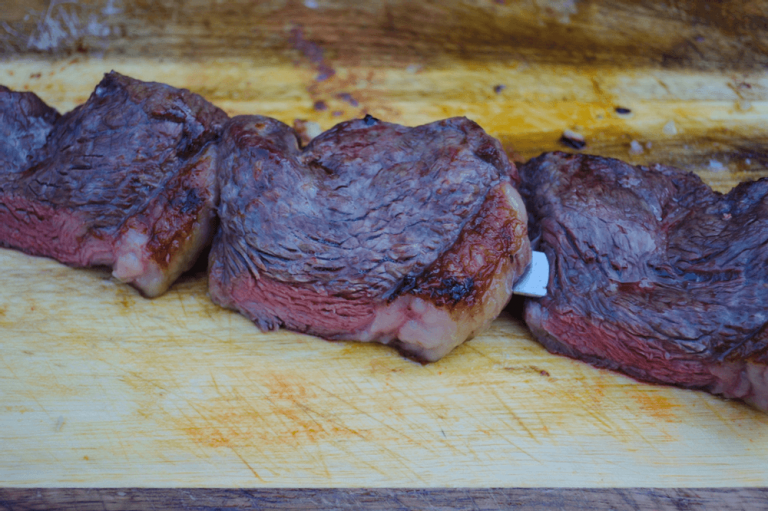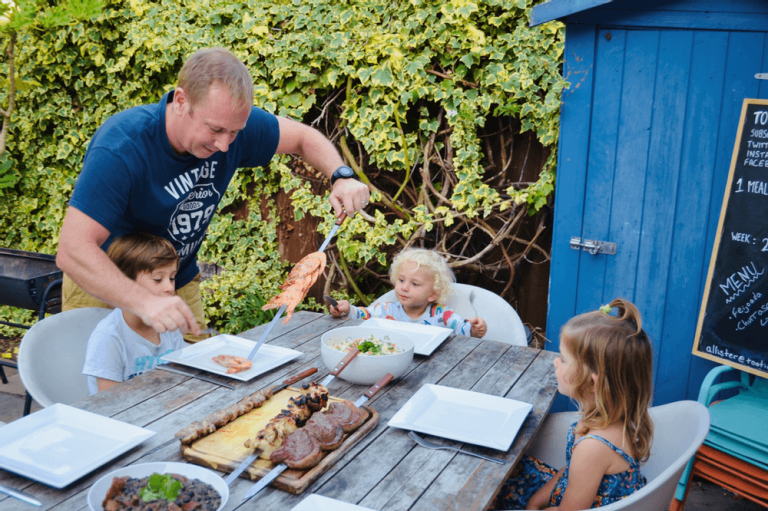 He loves sucking the heads...definitely the most flavour!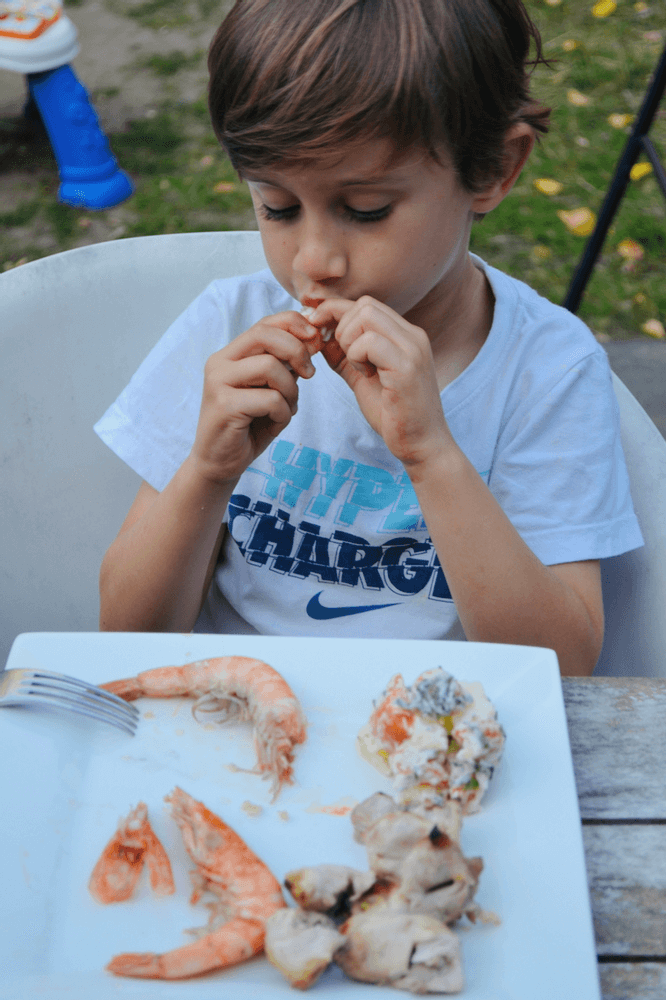 Feijoada with a Brazilian beer!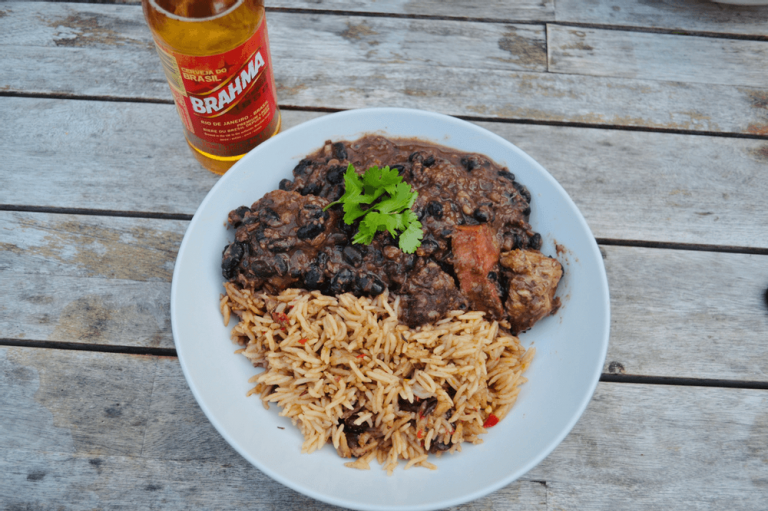 Can't wait to get the shell off!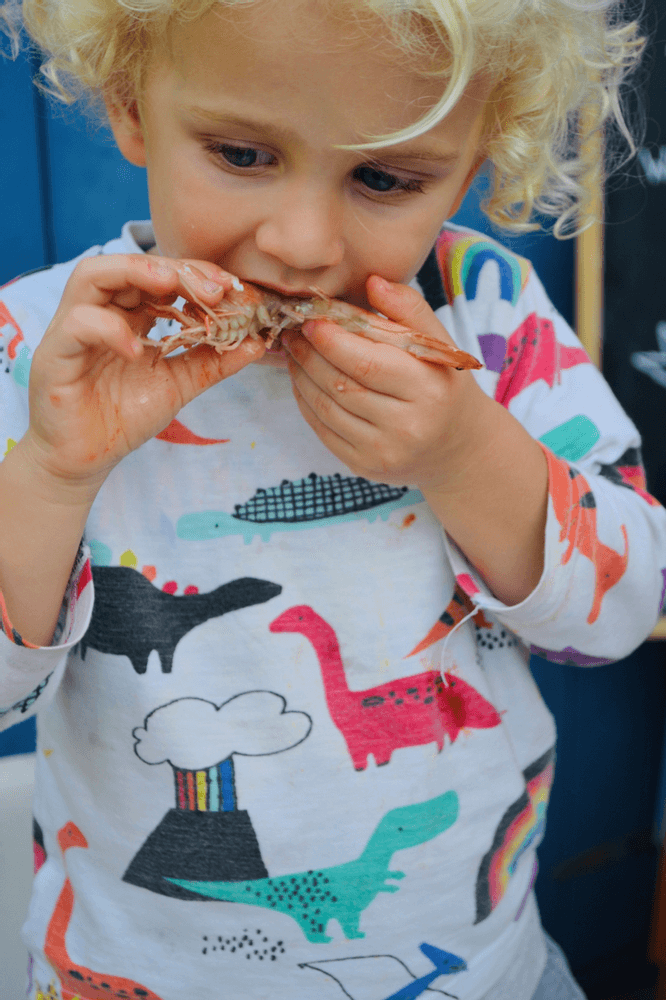 Brazil - that was amazing!