Tooting Family Kitchen cook up a Caribbean Family Feast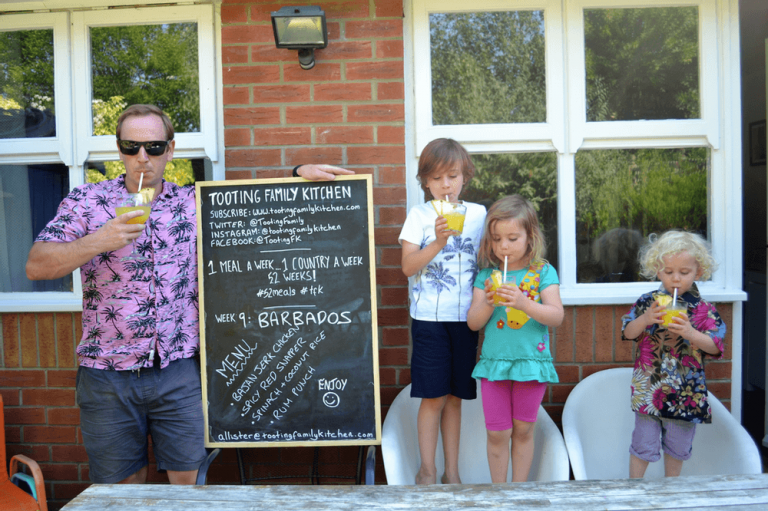 Thank you for joining Tooting Family Kitchen for Week 9 of our 52 Meals Challenge. If you are hitting our blog for the first time, welcome! We are on a culinary journey celebrating diversity through food from our little corner of Tooting. We have set ourselves a challenge to cook 52 Meals from 52 Countries in 52 Weeks as a family, sharing our recipes and journey as we go. If you like our content please do share and subscribe (at bottom of the page) to ensure you don't miss out on future destinations – we promise we won't spam you, just a weekly reminder when we publish our latest country 😊 Next week we get the spices out for a Pakistani Feast!
Now it's time to don the flip flops and take our first step onto the beautiful white sands of the Caribbean. We hit the island of Barbados to see what gastronomic delights this tropical paradise has to offer and to cook up a Caribbean Family Feast.
There is a saying in the military "Prior Preparation and Planning Prevents P**s Poor Performance" …the 7 Ps! Growing up and discovering what life has to offer teenage boys with one of my best and oldest friends Adam, this saying always resonated with us deeply. As evidenced in both of our best man speeches for each other, we did grow up fast and enjoyed/enjoy/plan to change…next year, fairly hedonistic lifestyles, so much so we never ever wanted the fun to stop! Following the '7 Ps' there was only one thing for it, we marry sisters!! It took a while but that we did, although not sure the girls fully understood our plan, as shortly after Adam and Leda disappeared to live in Australia…we clearly didn't have the 'buy in' we hoped for and maybe spoke about 'going to the pub' a little too much. Adam was a master of the 7 Ps and it's not difficult to see why if you have met his wonderful mother Jane. For the last few months of lockdown Jane has had the incredible misfortunate of being holed up in her beautiful Barbados home sipping rum punches; walking the white sands and eating fresher than fresh seafood and fish straight from those pristine Caribbean waters, an excellent application of Prior Preparation and Planning…
Jane has been splitting her time between Barbados and England with her Bajan partner Tony for nearly 2 decades and the chilled out and relaxed way of life is so evident with both her and Adam, so much so it has defined much of the time that Adam and I spent together throughout our 20s. Invariably when returning from being stationed overseas I would crash at Ad's flat in Camberwell and the fun we had would often follow a Barbados/Caribbean theme. Adam would always keep a bottle of Mount Gay Barbados Rum from his latest trip in reserve for my visit and we would drink rum, listen to Reggae and Ska full blast, before heading out to what was the Prince of Wales pub in Camberwell to drink Red Stripe and eat Jerk Chicken with Rice & Peas…good times!
Jane & Tony living the dream!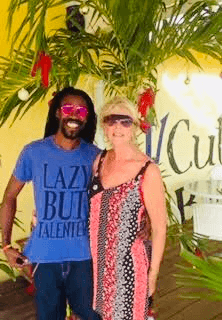 These days Barbados has a wealth of world class restaurants and hotels serving amazing international cuisine where it's not uncommon to rub shoulders with celebrities and well known sports people. These venues do have the price tags to match however, but if you know where to go, and eat where the locals eat, you can enjoy stunning fresh food at very reasonable prices. At Jane and Tony's local eatery (and rum shop) 'The Breadfruit Leaf' it's possible to have a wonderful meal for 2 and a couple of cold beers for £6…presumably regular visitor Wayne Rooney will be spending much more than that dining just around the corner at the Sandy Lane Hotel. It is an island of extreme contrast where you can rub shoulders with all sorts of international travellers and locals throughout the course of the day.
Much of the cuisine in Barbados revolves around the fish and seafood that swim in its Caribbean waters which is plentiful and can be inexpensive. Flying Fish is common but hard to come by in the UK and of course would not be as fresh! Marlin, Barracuda and Amber Jack along with something called Dolphin (a type of Mackerel and NOT Flipper Jane assures me) are all plentiful too. Throughout the region people like their food spicy and hot pepper sauce is a staple in all Bajan kitchens. Jane also told me about Pudding and Souse which is a must for Bajan's on Saturdays. It is a traditional dish of pieces of slow cooked pigs head and trotters in pickle with sweet potato stuffing and boiled bread fruit. Interestingly Jane's Grandpa loved trotters as does my Father. I have always associated it as old school London food along with eels and mash (which I would still eat with my Dad) but now the top restaurants in London are introducing trotters; pigs brains and cheeks etc on to their (very expensive) menus.
Jamaicans call Bajan's 'Small Islanders' which when comparing Barbados to Jamaica is accurate, but as Jane points out good things can come in small parcels! She tells me Bajan's have a unique sense of humour and are not afraid to screech with laughter at themselves and would have hysterics at someone slipping on a banana skin. Having met Jane's partner Tony on numerous occasions over the years he has always made me feel absolutely hilarious I must say, even without my banana skin prop!
I do look forward to discovering more about Caribbean food and the people. My sister-in-law Jonelle is American but of Caribbean decent being the daughter of parents from St Vincent and the Grenadines and my wife and I have a few friends from Jamaica so we look forward to taking Tooting Family Kitchen to explore these Islands fully along the way.
For our Barbados Family Feast we have taken some inspiration from Jane and Tony and cooked Traditional Bajan Pudding and Souse along with some other Caribbean classics: Jerk Chicken (which originates from Jamaica but is quite widely eaten across the Caribbean), Spicy Grilled Red Snapper along with sides of Butter Fried Plantain, a Mango Salsa and Spinach and Coconut Rice and of course washed it all down with a Bajan Rum Punch…skip the Mount Gay Rum for the kids 😊
We hope you enjoy our Caribbean Family Feast, it is best accompanied by some Reggae or Ska music and colourful shirt!
Sam and Joe preparing the Jerk Chicken for our Caribbean Family Feast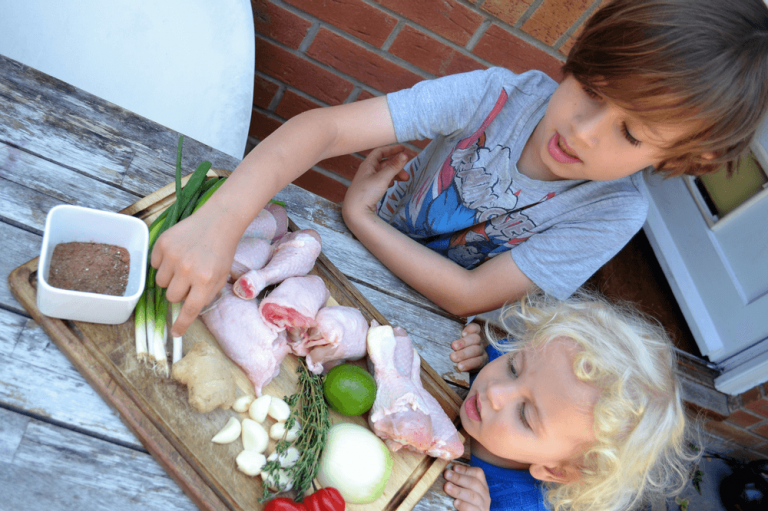 The Pudding and Souse Ingredients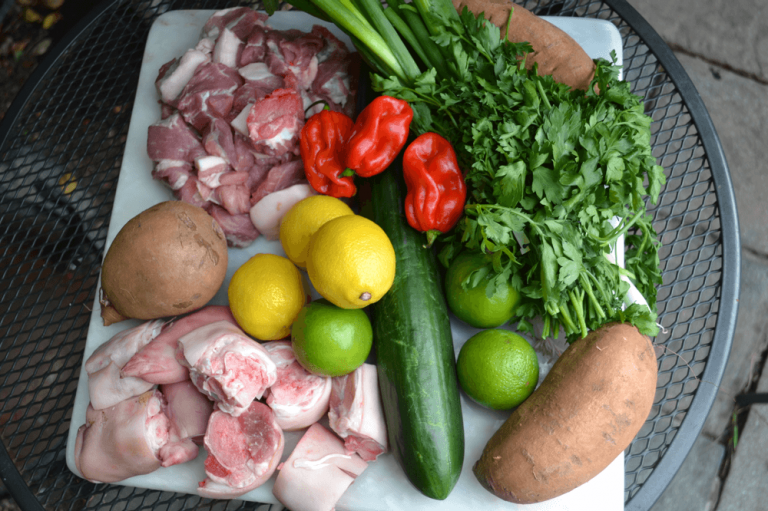 Let's get the Jerk Chicken marinating!!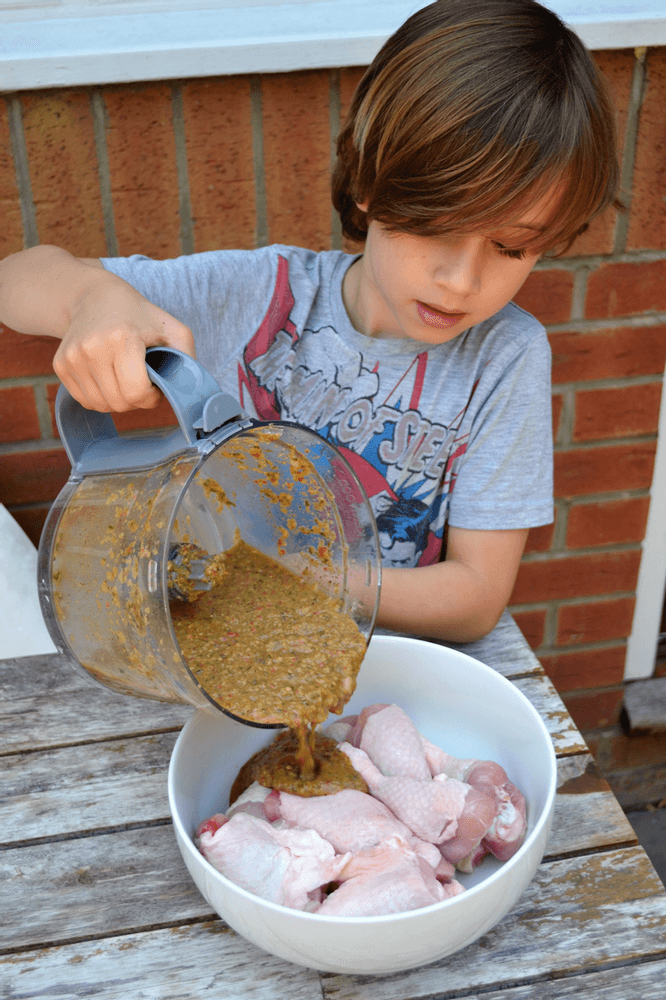 Taking control of the Spicy Grilled Red Snapper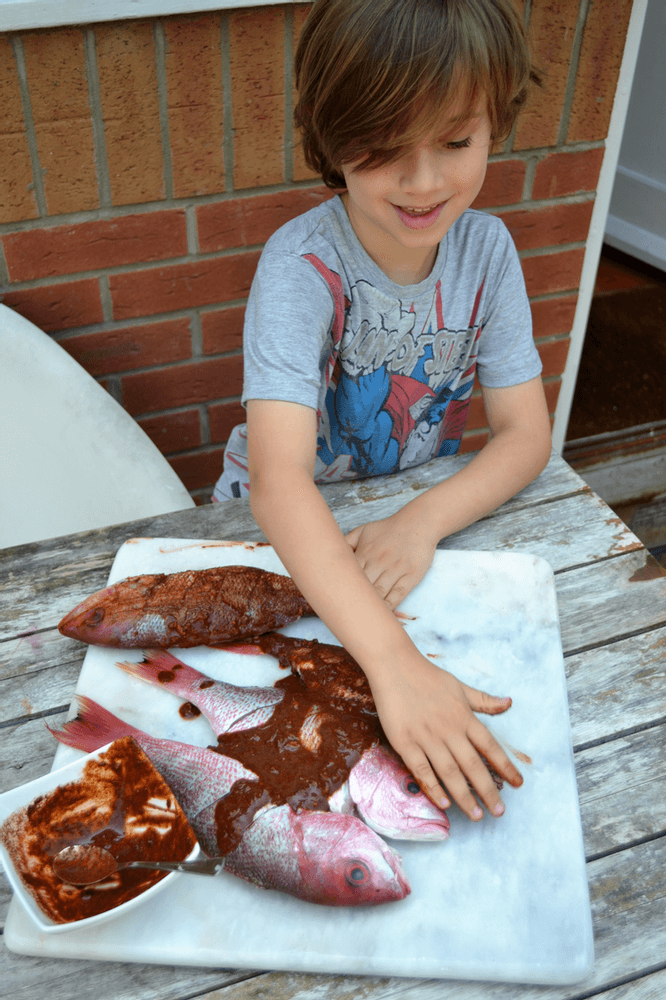 Taking control of the Spicy Grilled Red Snapper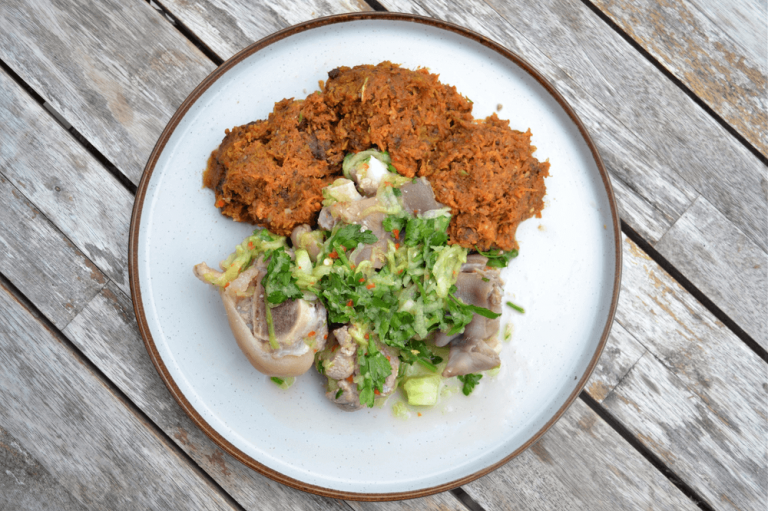 I followed this fantastic video by Tinaraine do check out her other recipes and subscribe to her channel as she cooks some beautiful food. The only addition I made was to put 250g of black pudding into the pudding mixture which worked well for me 🙂 I also used 1kg of pork shoulder and 8 pigs feet. Do try it out!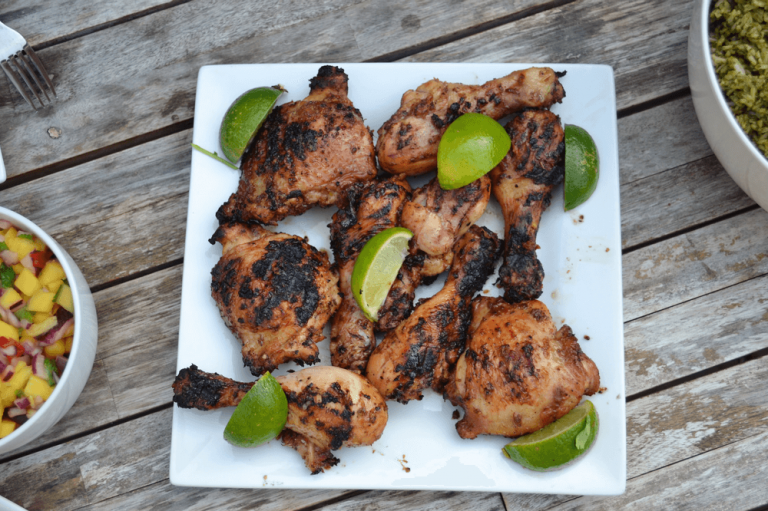 1kg of chicken, drum sticks and thighs
½ cup of soy sauce
50 ml sunflower oil
1 onion, chopped
6 spring onions, chopped
Bunch of thyme, leaves
1 bulb of garlic, peeled and chopped
2 inches of ginger, peeled and chopped
2 scotch bonnet chillies, chopped
1 tsp ground cloves
4 tbsp ground allspice
2 tbsp brown sugar
1 tbsp black pepper
1 tsp salt
1 tsp cinnamon powder
2 limes, juiced and zest
Put chicken into a deep plastic dish, blend all the ingredients into a paste adding oil at the end whilst pulsing to get the right consistency but not too watery. If you prefer your jerk very dark you can go add a little browning and of course add more or less chilli 😊 Pour the mixture all over the chicken and leave to marinate in the fridge overnight.
Heat the bbq and cook on direct heat for a 2 mins each side with the lid on before moving to indirect heat for 25 mins or until cooked through basting with the remaining marinade a couple of times during the cooking. Served garnished with lime and coriander.
Spicy Grilled Red Snapper - the centre piece of our Caribbean Family Feast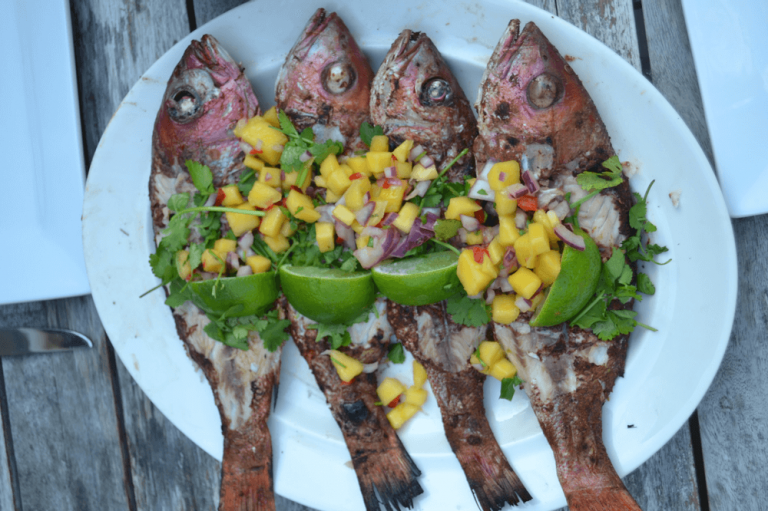 4 medium sized Red Snapper (you could use sea bass or bream which are far easier to come by in the UK)
50ml of sunflower oil
3 lemons, juice and zest
3 tbsp minced ginger and garlic
Bunch of fresh thyme leaves
2 tbsp paprika
1 tbsp all spice powder
½ tsp ground cloves
Salt and pepper to taste
Make 2 or 3 incisions on each side of the fish into the fleshiest part of the belly to allow the marinade to get in.
Mix the remaining ingredients together until fully combined and cover the fish ensuring to rub into the cavity and incisions. Leave to marinate for at least an hour in the fridge.
When ready to cook remove from fridge and cook on direct heat for approx. 3 mins each side or until fully cooked through, with the lid on. Serve dressed with lemons and mango salsa.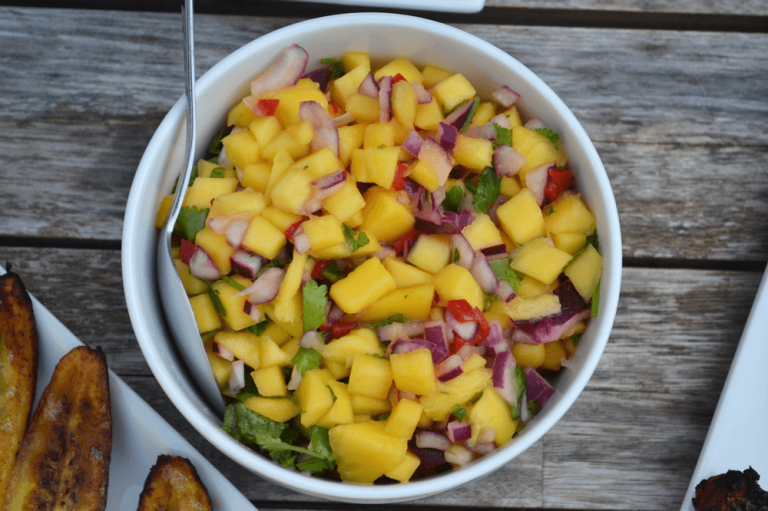 2 ripe mangoes, cut into small cubes
½ red onion finely chopped
1 red chilli, de-seeded and finely chopped
Handful of chopped coriander leaves
2 limes, juiced
Combine all the ingredients, toss in the lemon juice and scatter with the chopped coriander leaves.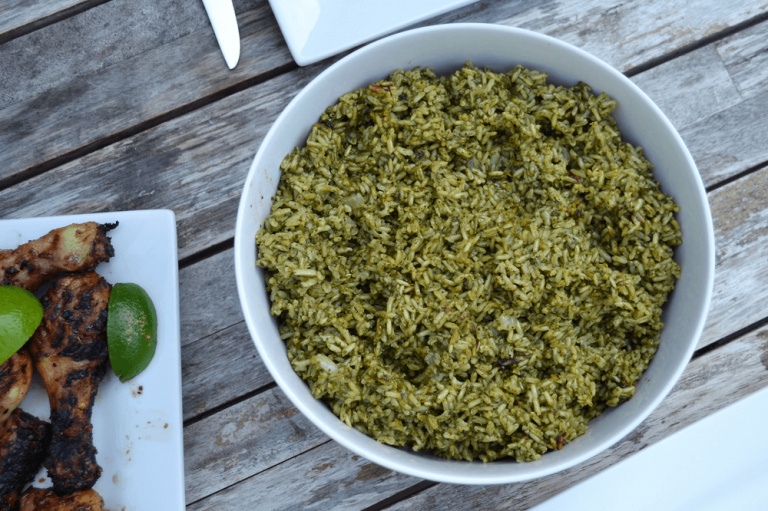 2 cups brown rice, washed
2 tbsp coconut oil (or sunflower oil)
1 medium onion, chopped
6 cloves of garlic, minced
1 packet (150g) of baby spinach leaves
2 tins of coconut milk
3 cloves garlic minced
2 limes
Wash and rinse the rice well and leave to drain and air dry. Heat the oil in a large pan with a close fitting lid and add the onions and garlic and gently fry for a couple of minutes. Whilst frying blend the spinach leaves with the coconut milk until the mixture is smooth – and green!
Add the rice to the onion and garlic mix and turn up the heat and stir ensuring all the rice is coated in the oil. Add the coconut milk mixture and bring to the boil. Put the lid on and gently simmer for 20 minutes. Remove from the heat and allow to stand and steam for a further 10 minutes keeping the lid on. .
When finished squeeze over the lime juice and fluff up with a fork.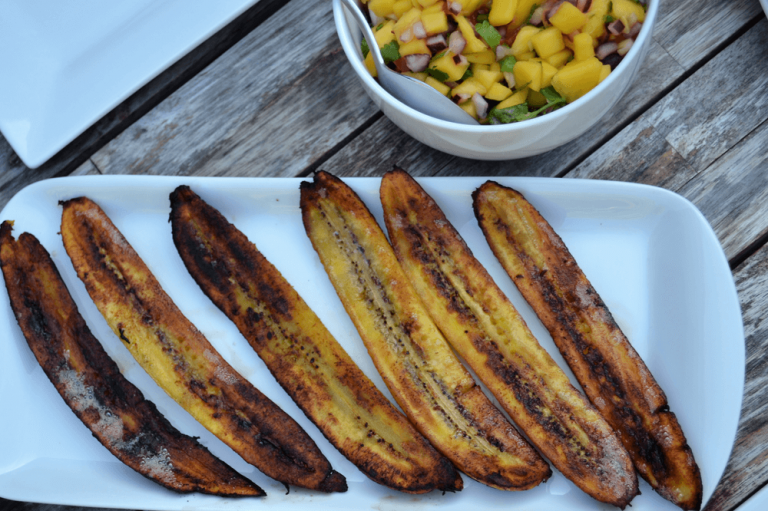 You will often see ripe and un-ripened plantain side by side in the numerous African and Caribbean shops across London. Generally speaking the ripe plantain are for grilling or frying and the un-ripened are for boiling. We grilled our plantain for our trip to Nigeria so on this occasion we wanted to try butter-fried as per Jane's suggestion and the Bajan way. Simply peel and cut the plantain horizontally and fry in butter until it is turning a nice golden brown, approx. 5 mins. Simple and delicious!
Bajan Rum Punch - Cheers!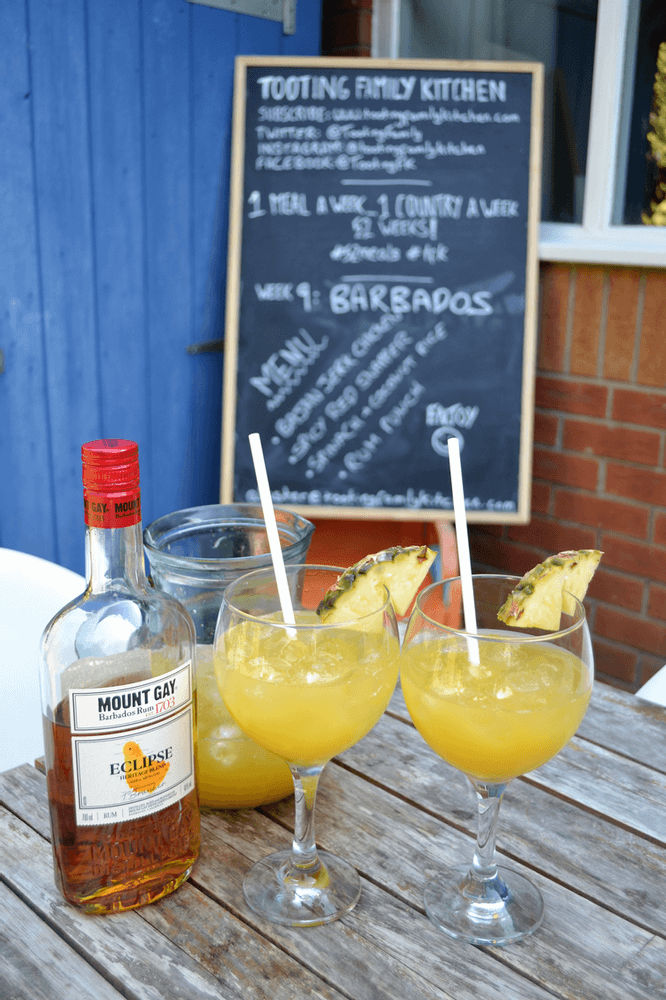 ½ cup of Mount Gay Rum
1 can of coconut juice
1 cup of pineapple juice
½ can ginger ale
3 limes, juiced
Fresh pineapple slice to garnish
Lots of ice
Combine the rum, coconut juice, pineapple juice, lime juice and pour over lots of ice
Serve over pineapple garnished glasses (with more ice) and top up with a dash of ginger ale!
Our Caribbean Family Feast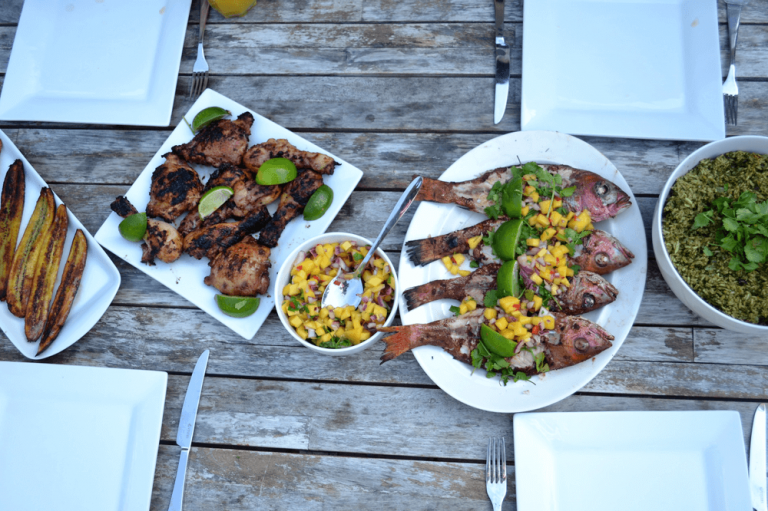 The Jerk Chicken went well with the Rum Punch and some Ska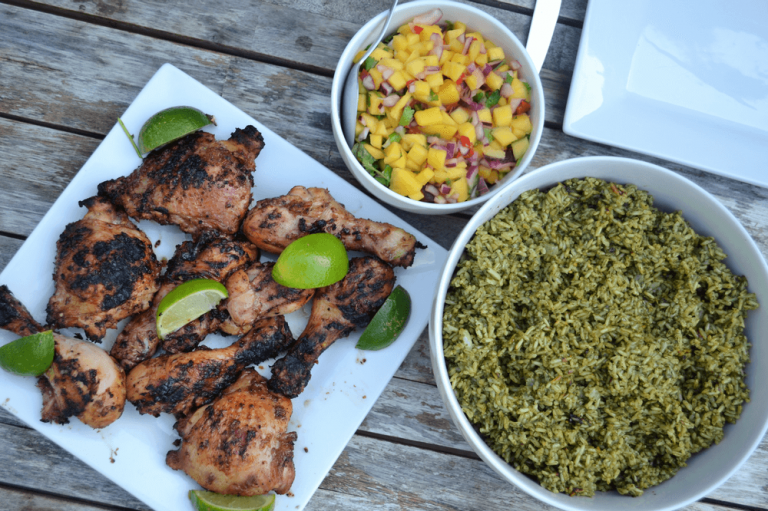 Sam getting to grips with the heat of the Jerk Chicken...he had the option of non spicy!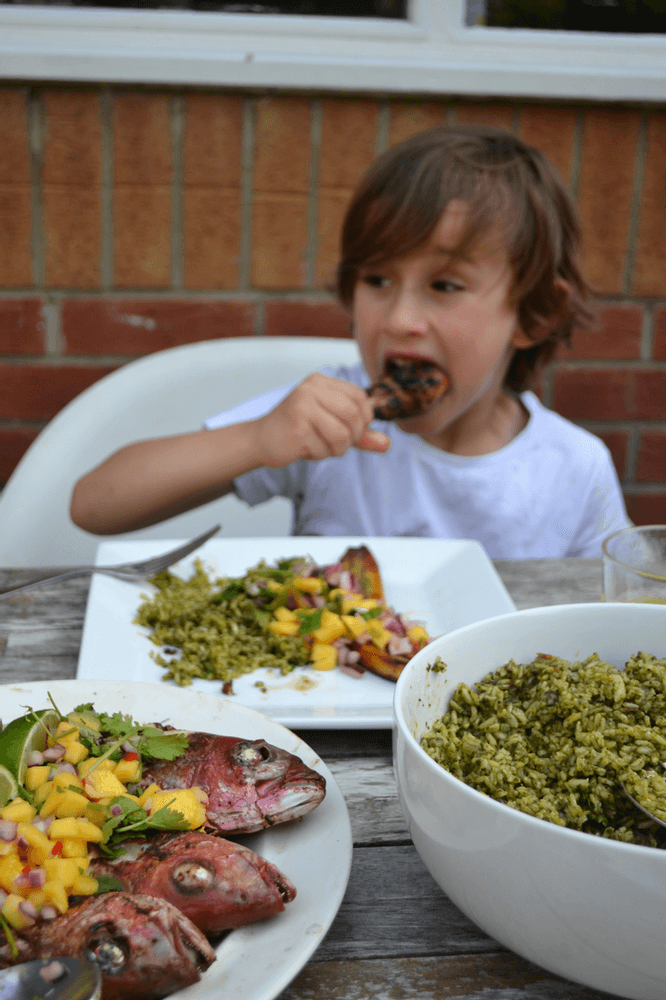 Boom! Barbados...that was mega!