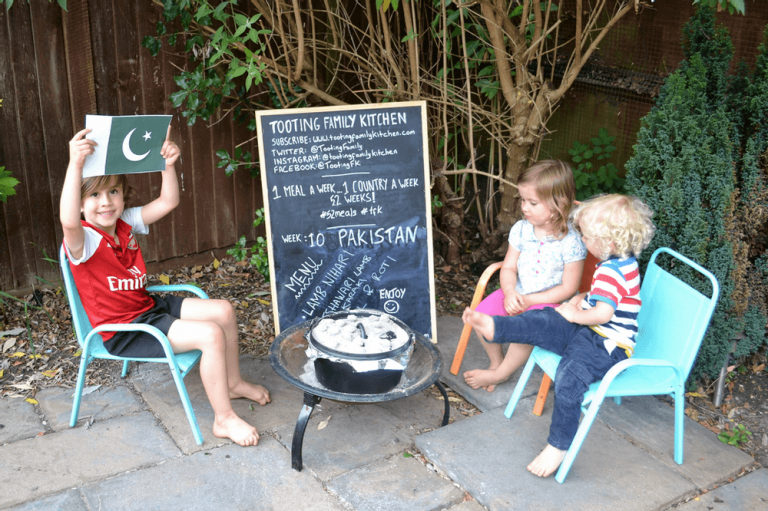 I have been very excited for Tooting Family Kitchen to visit Pakistan. The very essence of this project is to celebrate diversity through food and much of the inspiration for this comes from living in the exciting and vibrant multi-cultural hub that is Tooting, recently hailed in the Lonely Planet as one of the top ten places to visit – IN THE WORLD (as my good friends in South-East London love me reminding them of). Tooting is known for its British Asian community. According to Wiki as of 2011 in the Tooting ward, 9% of the population is Indian and Pakistani each, while 7% is Other Asian, with Urdu and Gujarati widely spoken among these. It has gained the nickname "land of the curry mile" due to the concentration of South Asian restaurants. The multi-cultural spirit is strong where people of different faiths and cultures really make up the heart and soul of this truly wonderful neighbourhood.
Two of my favourite Tooting Pakistani Restaurants are Lahore Karahi (a family run restaurant serving authentic Pakistani food since 1995) and Namak Mandi, specialising in food from Peshawar. Peshawar is also the birthplace of Jabron Hashmi who I would like to dedicate this post to and who I will be thinking of when I tuck into our Pakistani Family Feast a little later…especially the Peshawar Lamb Karahi.
Lance Corporal Jabron Hashmi
April 1982 - July 2006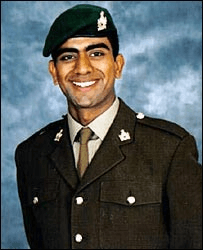 Lance Corporal Jabron Hashmi was born in Peshawar, Pakistan, and moved to the United Kingdom with his family when he was 12. He joined the British Army in 2004 successfully completing his training for the Intelligence Corps before being attached to 14 Signals Regiment, of the Royal Signals in January 2006 before being sent to Afghanistan. It was on this tour of duty operating as an Electronic Warfare linguist-analyst in the district of Sangin, that Jabron was killed in action when their detachment was hit by a rocket propelled grenade tragically killing Jabron, fellow detachment member Peter Thorpe and a locally employed linguist.
Jabron's commanding officer at the time described him as: "enthusiastic, confident and immensely popular and displayed all the qualities of a first class soldier", which is a truly accurate reflection. There would have been far easier career paths for a Muslim British Pakistani man but as his family said, he wanted to use his background and position to contribute at a time when there existed a lack of understanding of cultures, ideologies and religious identities. His older brother Zeeshan who also served in the Intelligence Corps said "Jabron was a committed soldier and a committed Muslim. He was fiercely proud of his Islamic background and he was equally proud of being British. He went to Afghanistan hoping to build bridges between the east and the west."
I am proud to have called Jabron a colleague and be a part of the same brotherhood (along with his elder brother Zeehsan) of people who have served in the British Army, the Intelligence Corps and 14 Signals Regiment. I remember a very likeable and chatty guy (perhaps a bit mischievous), who always had a smile on his face to go with his gentle and warm persona. To me he was a guy who clearly took life in his stride and didn't take himself too seriously but at the same time had strong values, beliefs and was committed to these and fiercely proud. He was proud to put on that uniform; proud to be a British Pakistani; proud to be a Muslim…so many things that can be conflicted but Jabron clearly was not, and to me that takes courage. Jabron is missed by many but leaves a legacy behind that I know his family and friends are extremely proud of. I would have loved to have got to know him better when I followed in his footsteps to 14 Signals Regiment, but I know he is in all of our thoughts as are his proud family.
As mentioned, Jabron grew up living with his family in Peshawar, a 10/15 minute walk from 'Lamak Mandi' the street/ neighbourhood that is famous for making Peshawari style lamb and tikka and that one of my favourite Tooting Pakistani restaurants is named after. Jabron and his brother Zeeshan were both big fans of a dish called 'Peshawari Lamb Karahi'. Zeeshan kindly sent me this video which was filmed just a few minutes' walk from their home and I can't watch without getting extremely hungry! Jabron loved the dish so much that Zeeshan learnt how to cook it himself when they first came to the UK and would often cook it at Jabron's request. Zeeshan tells me that lamb fat is key for an excellent outcome! He also told me it's easy to cook if you follow the video?!?! I tried my best Zeeshan 😊
Along with the Peshawari Lamb Karahi I have also cooked Lamb Nihari. A Pakistani slow cooked type of stew that is often (not always) referred to as the national dish…will just leave that there 😊 Pakistani's are big meat eaters but there is certainly room for a Dal and of course some Roti to mop up all those lovely juices!
Abigail learning the Nihari spice mix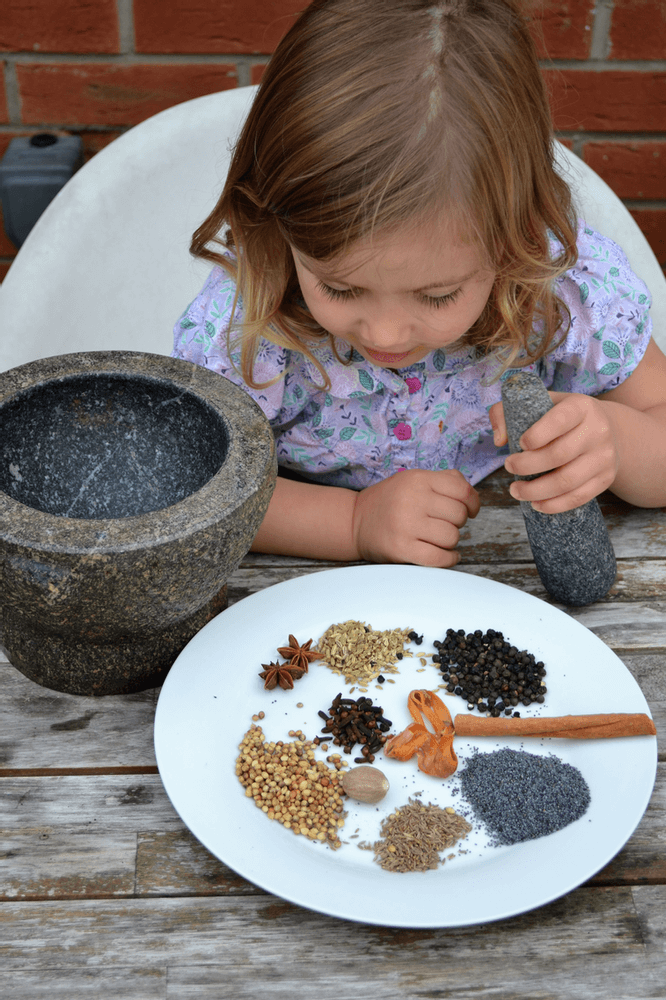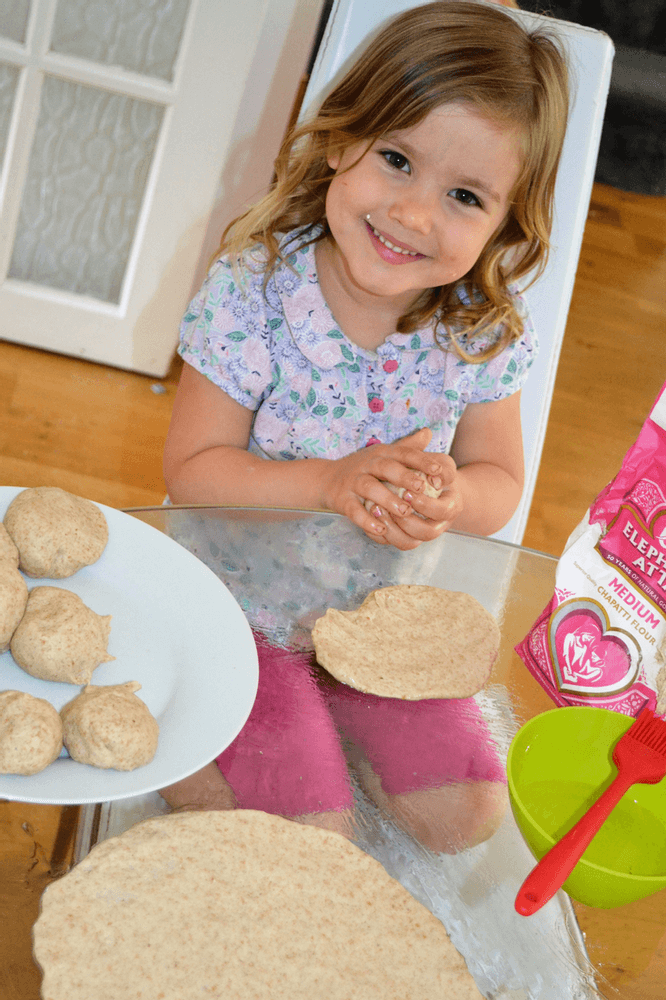 Getting to know the ingredients for the Lamb Karahi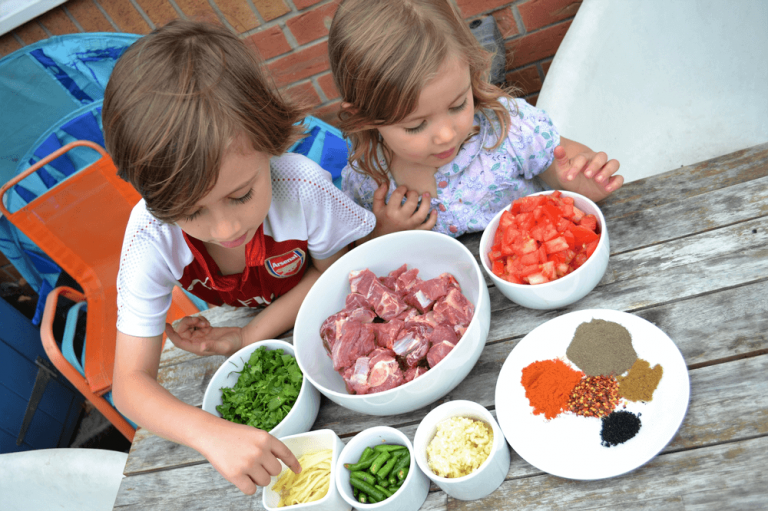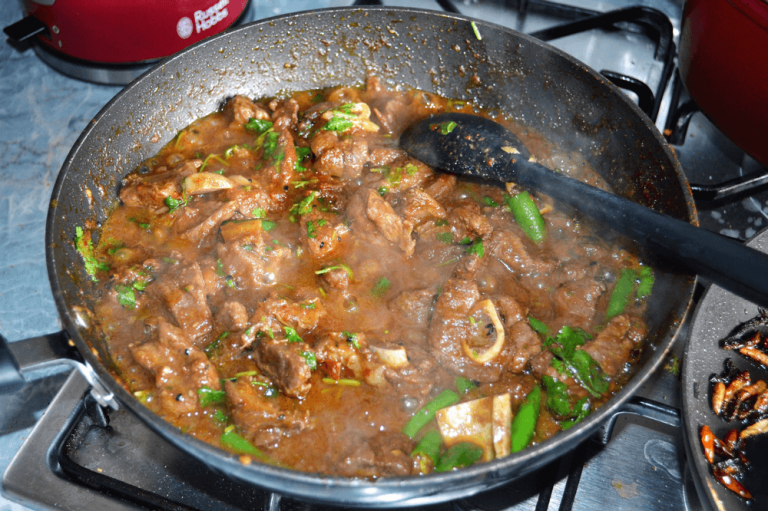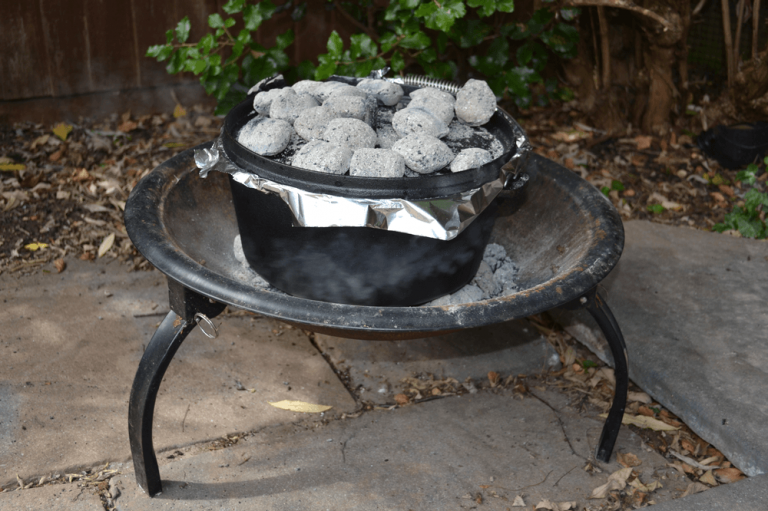 Boom! The smell is incredible after 3 hours bubbling away!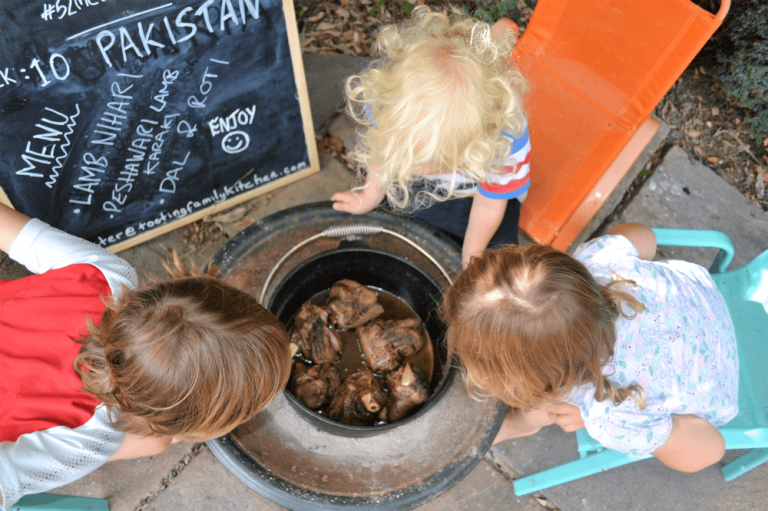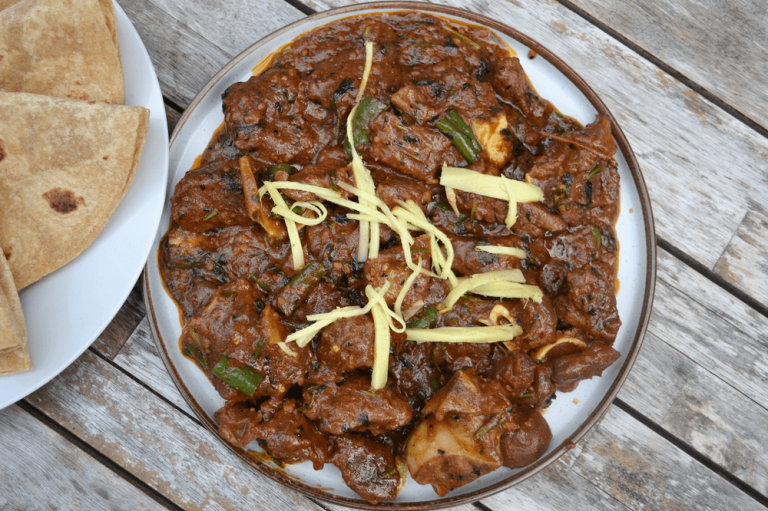 1kg lamb, bone in and chopped into chunks
3 tbsp lamb fat or ghee, oil
6 large tomatoes, roughly chopped
3 tbsp garlic, minced
2 inches ginger, minced
1 tbsp chilli flakes
1 tbsp ground pepper
1 tbsp coriander powder
1 tbsp cumin powder
1 tbsp chilli powder
1 tsp turmeric
2 cups of water
1/2 cup of yogurt, slightly beaten
4 green chillies, chopped
Handful of chopped coriander
Fresh ginger to garnish
Heat the fat/ghee or oil on a wok or a karahi and fry the lamb on high heat until it is browned off slightly before adding the minced ginger and garlic continue to fry for a minute.
Add all the spices and the water, bring to the boil and allow to simmer with the lid on for approx. an hour ensuring there is enough water in the pan.
Add the tomatoes and turn the heat up to high continuing to cook off and let the water escape and the dish to thicken.
When the majority of the water has dissipated take out some of the sauce in a cup and mix in the yogurt and then stir this back into the dish (this should stop the yogurt curdling). Stir in the chopped chillies and coriander and continue to cook for another 5 mins with the lid off.
Garnish with the fresh ginger cut into slivers.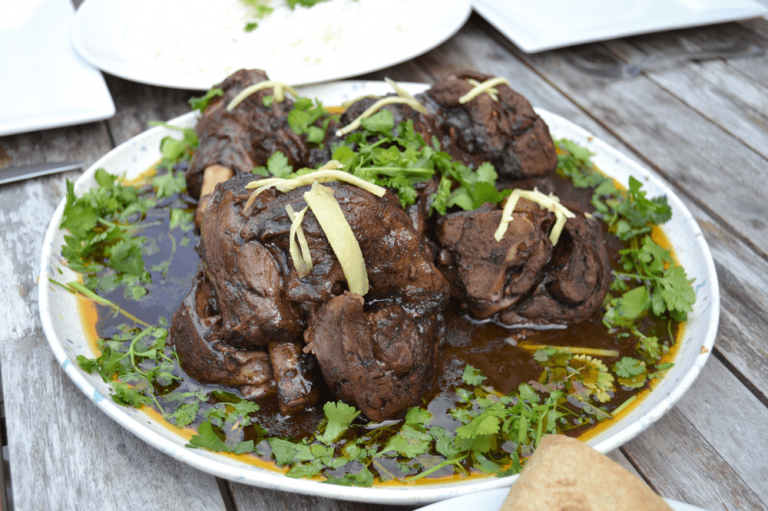 6 lamb shanks (reduce ingredients if using less)
3 tbsp of ghee or oil
1 tbsp garlic, minced
1 tbsp ginger, minced
Spice mix (ground in a pestel and mortar)
2 tbsp fennel seeds
2 cinnamon sticks
15 cardamom pods
3 star anise
2 tbsp coriander seed
2 tbsp cumin seeds
3 mace
1 tsp of nutmeg, grated
2 tbsp poppy seeds
15 cloves
2 tbsp peppercorns
Remaining ingredients
2 tbsp chilli powder
1 tbsp salt
3 tbsp plain flour, made into a paste with ½ cup of water
1 bunch of coriander, chopped
Ginger, cut into match sticks to garnish
Heat the ghee or oil in a large heavy bottom pan with lid and briefly fry the garlic and ginger paste before adding the lamb and browning off on all sides (may be easier to do in batches). Add the ground spice mix along with the chilli powder and salt and continue to fry ensuring the lamb is coated on all sides.
Fill the pan with water until the meat is submerged, bring to the boil and then simmer for a hour with the lid on. At this stage I removed the lamb and sieved the mixture before adding the liquid and lamb back to the pan (this is optional). Add the flour/water mixture to the pan and stir.
Cover again adding more water and cook on low heat for at least 2 hours (at this stage you could cook in the oven, on the stove or on coals). We cooked on a thin layer of hot coals for 3 hours and the meat was falling off the bone.
Serve garnished with chopped coriander and the fresh slivers of ginger.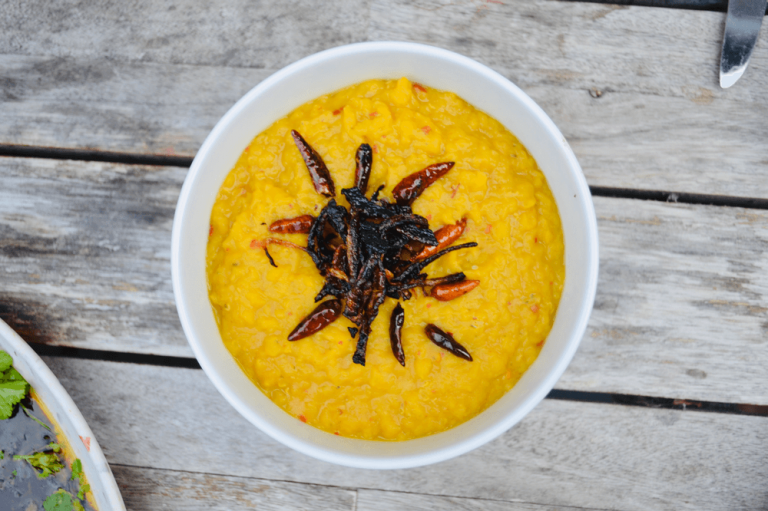 2 cups of red lentils, washed and soaked
3 cups of water
1 tbsp of chilli flakes
1 tsp of turmeric powder
2 tsp of salt
2 tbsp oil
½ onion, sliced
Handful of dried chillies
In a heavy bottom pan add the lentils, spices and water (as per instructions) and bring to boil before simmering for 12 – 15 minutes, until tender.
Add another cup of water and continue to simmer for another 10 minutes. You can mash the lentils a little or a little (or not at all) depending on how you would like the texture. Likewise you can adjust the water depending how dry/moist you would like it.
In a sperate pan heat the oil and fry the onions and dried chillies to use as a garnish for the dish.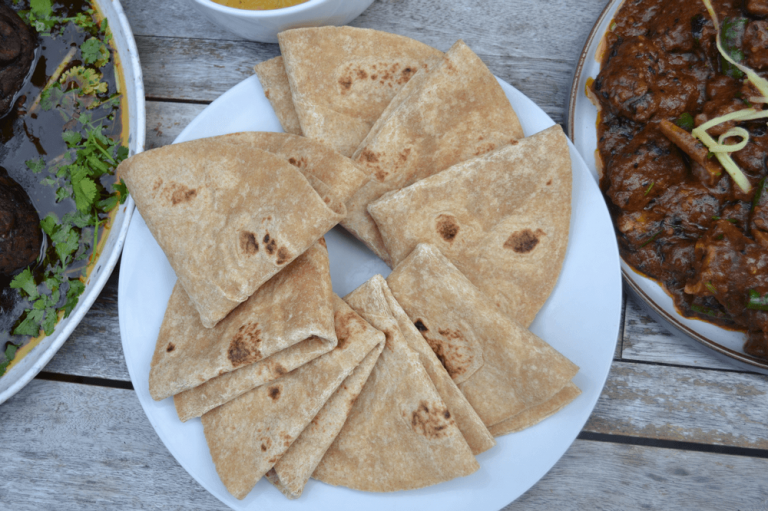 Making Roti is an art form and takes lots of practice (we are at the very start of the learning curve)! Traditionally they are made on a Tawa or baked in a Tandor.
2 cups of Atta flour or whole wheat flour
Warm water (approx. 1 cup)
In a large bowl add the flour and slowly start adding the warm water whilst mixing with your hand. When the dough starts to form stop adding water and start to knead with your fists and hands wetting your hands as you go. Continue to knead for at least 10 minutes before covering with a damp cloth and allowing to rest for 30 mins.
Separate the dough into lemon size portions and roll out into circles approximately the size of a plate on a lightly flour dusted surface.
Fry in a dry pan turning every 30 seconds and pushing down into the pan. You should start to see brown spots appearing and air bubbles form. You can give these a quick brush with melted butter of ghee and stack up in advance.
Our Pakistani Family Feast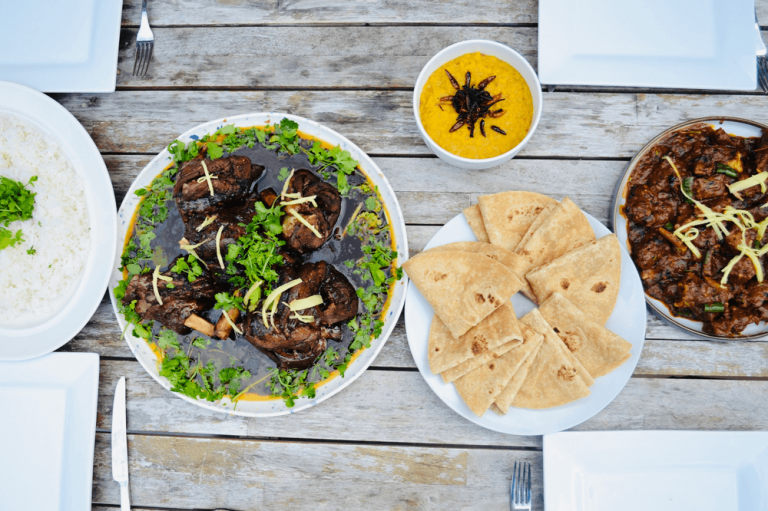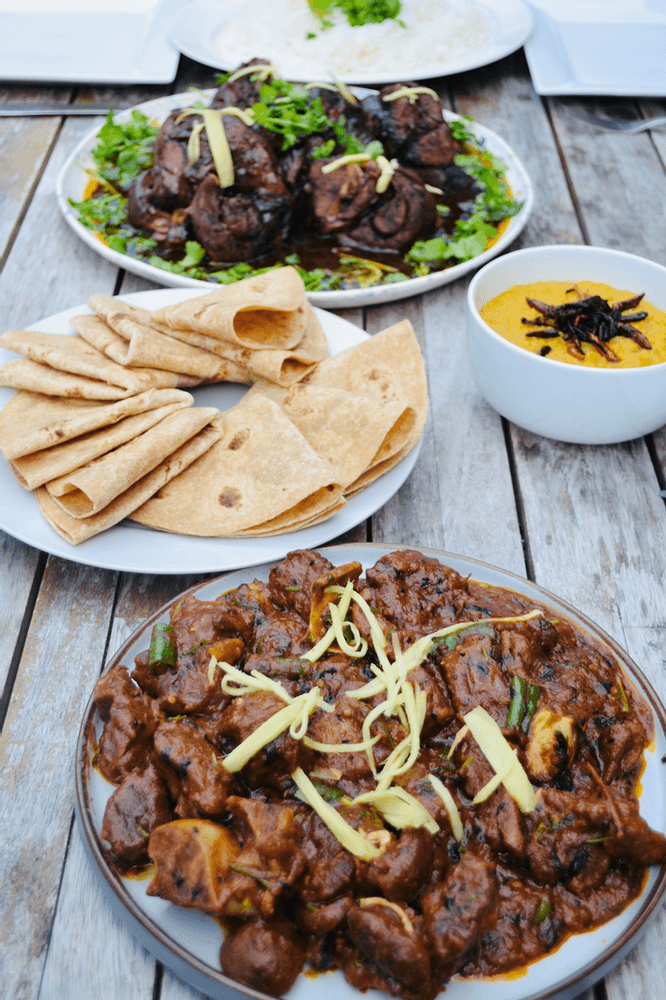 I can already tell we will eat a LOT of curries together as he gets older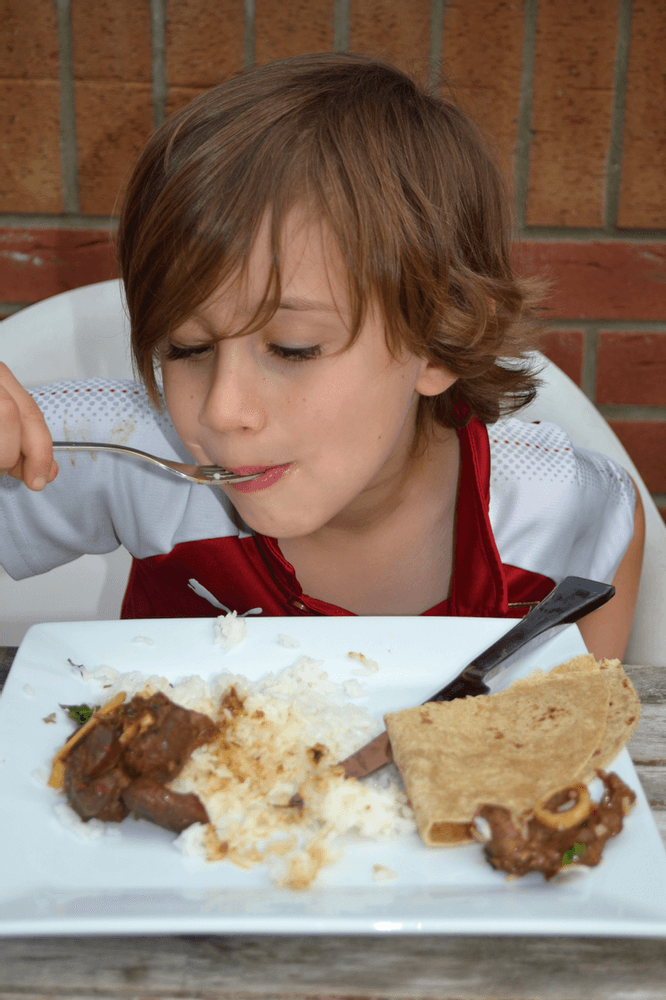 Starting to handle the heat well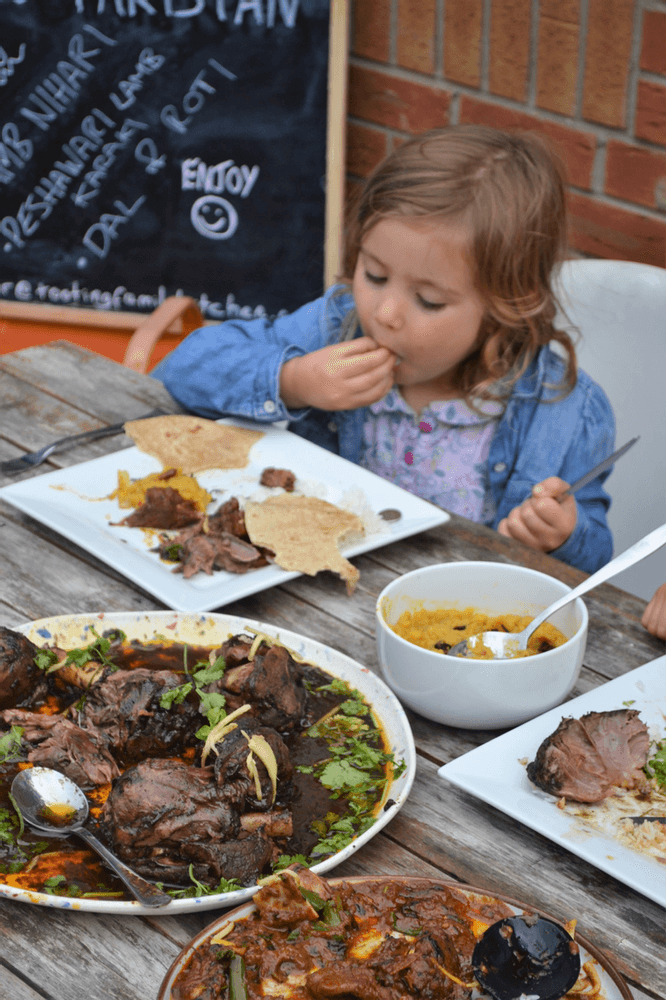 Family feast going down well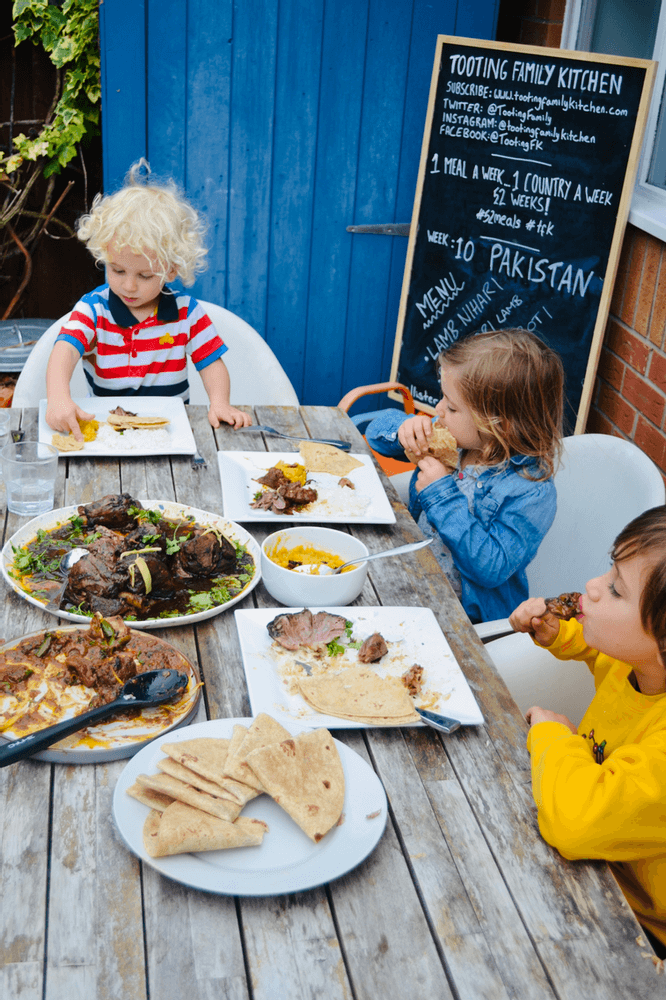 Success - Pakistan gets a thumbs up!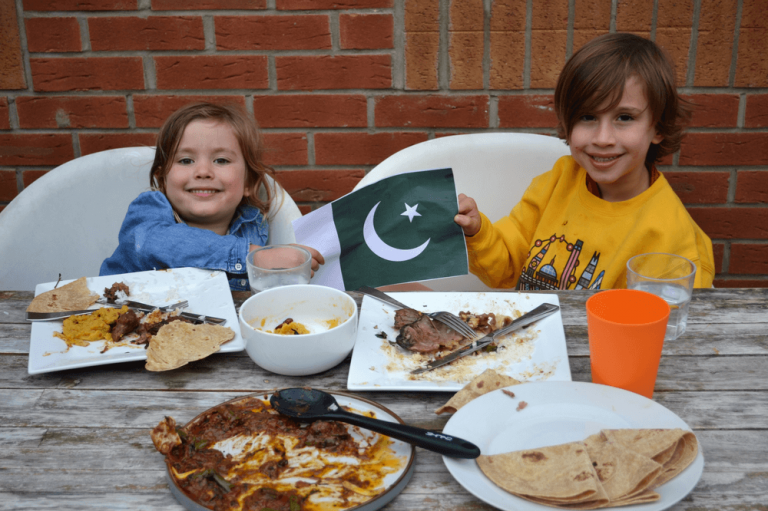 Abigail's turn with the flag!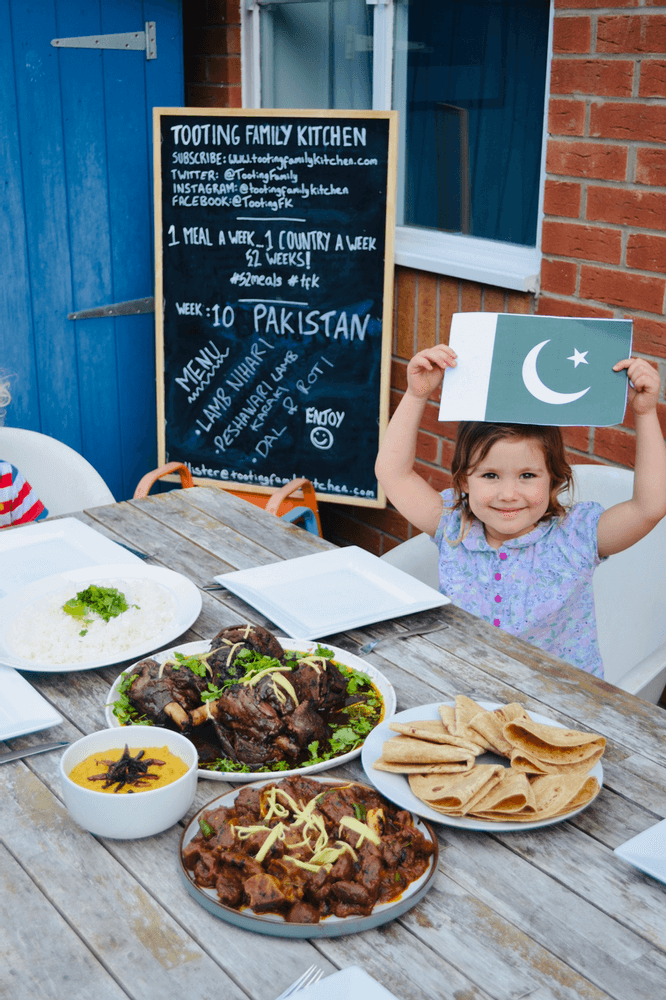 Food is best shared - take away for my godparents, the inspiration behind our Greece post.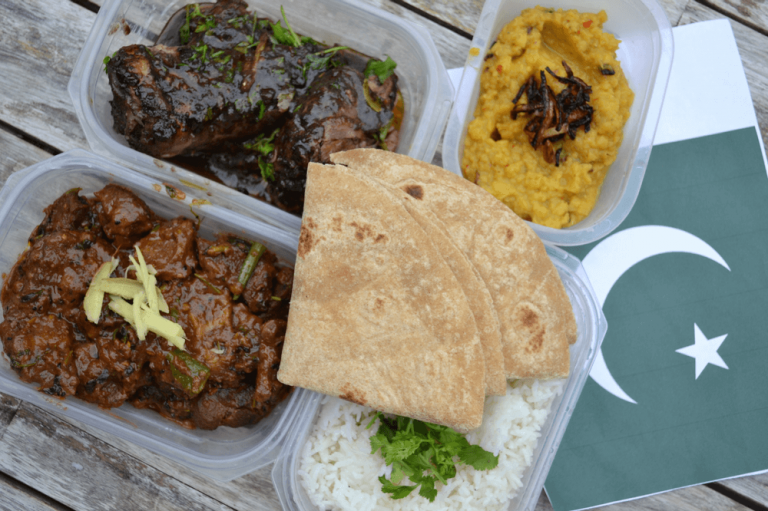 This is for you mate. Rest easy.