Tooting Family Kitchen prepare an Omani Family Feast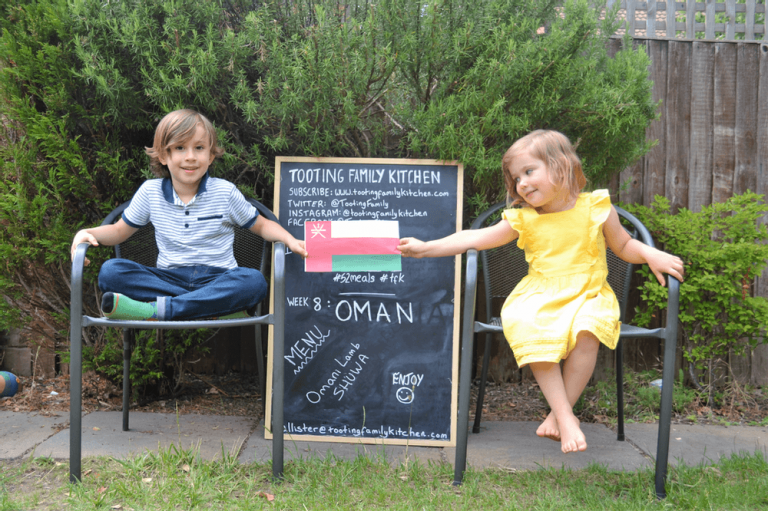 Thank you for joining Tooting Family Kitchen for Week 8 of our 52 Meals Challenge. If you are hitting our blog for the first time, welcome! We are on a culinary journey celebrating diversity through food from our little corner of Tooting. We have set ourselves a challenge to cook 52 Meals from 52 Countries in 52 Weeks as a family, sharing our recipes and journey as we go. If you like our content please do share and subscribe (at bottom of the page) to ensure you don't miss out on future destinations – we promise we won't spam you, just a weekly reminder when we publish our latest country 😊 Next week we are cooking up a tropical feast as we visit the beautiful Island of Barbados.
This week we are incredibly excited to finally arrive in the Middle East and take our first step in exploring Middle Eastern Cuisine by visiting the beautiful country of Oman. I am no stranger to the Middle East but my first encounter with the region was indeed through Oman, so it seemed the obvious place to start. It was 2001 and as a serving British Army soldier I was sent for a 3 month stint as part of a huge military desert training exercise. It turned out to be an incredible 3 months in an incredible country and I will always treasure the many memories I have from living under canvas in the Gulf of Oman Desert.
Hitting the port of Salalah for the first time before heading into the desert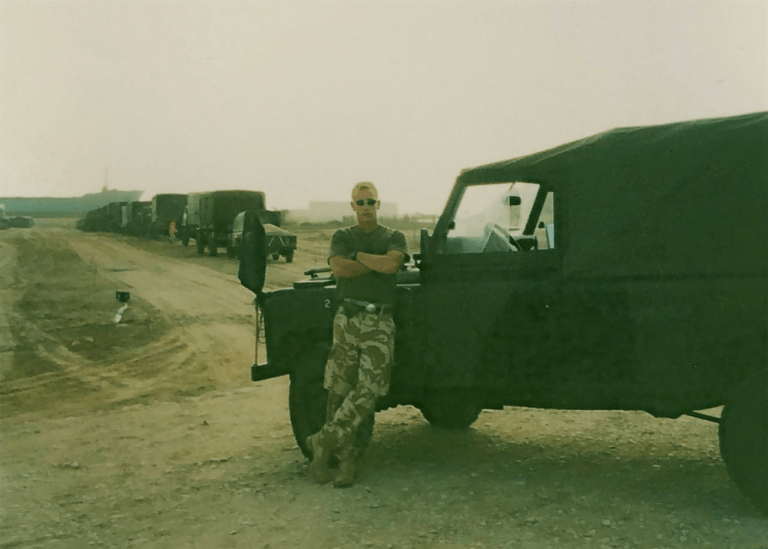 One of the things that made it so special for me was that it represented so many 'firsts'…first time in a desert; first time experiencing near 50 degree heat; first military deployment; first time encountering flesh eating camel spiders and poisonous scorpions and the first time seeing 'Steps' live in concert! Yes, surreal should be defined as several thousand testosterone filled (mostly) young men, in military uniform, weapons booked into the armoury, congregating by a make shift stage and watching the teen British dance/pop band Steps boogying away whilst singing their cover of the Bee Gees' hit 'Tragedy'. I felt for 'Lee' and 'H' that day (a little bit)! It's just not what the crowds wanted and although Geri Halliwell did her best to turn things around on stage, the tone had been set. I have always wondered what the person who booked them was thinking, or whether there was mischievous sentiment behind it. As I type are they recounting the time they booked Steps to perform in the Omani Desert for a few thousand soldiers who had been roughing it in the and heat for weeks and having a good laugh? If so I have to say…fair play.
Sadly I cannot guarantee that Steps will have the same impact on your Omani experience if you were to visit, but what I can guarantee is an incredibly welcoming and beautiful country. The desert landscapes are as stunning as the star filled night skies. The lush beautiful green south provides an incredible contrast to the endless desert and again, the extensive coastline and it's 3000km of rugged and pristine beaches and crystal clear waters adds just another layer to this incredibly diverse country. Think desert camps under the stars; think unspoilt coast lines brimming with wildlife; think mountains protruding from the desert with pomegranate fields and rose gardens; think an incredibly warm and welcoming population who are well known for their hospitality – this is Oman. If you have not been to the Middle East I can't recommend Oman highly enough as a start point.
Omani cuisine is largely representative of its diverse population and its geographical location having been a vast trading empire. It's positioning at the intersection of spice trading routes has had a big influence on its heavily spiced meats and it is also known for the dazzling array of fish and seafood (including Omani lobsters), coming from his pristine waters. However for our Omani Family Feast we have chosen to cook arguably the most important dish of Oman's cultural heritage, the famous Omani Lamb Shuwa! Omani Shuwa (Shuwa means grilled meat in Arabic) is a traditional Omani dish of lamb or goat that is marinated in spices before being wrapped in banana leaves and slow cooked in an underground oven, sometime for up to 2 days!! This favourite Omani dish is often made for very special occasions, especially during Eid where it is prepared on the 1st day and shared between families on the 2nd or 3rd day.
I was forbidden from digging a big hole in our garden unfortunately, but we did replicate on the BBQ for 5 hours. Please check out the fabulous cook Dine with Dina who creates some incredible Omani and 'Middle Eastern meets West' fusion dishes and who's Omani Lamb Shuwa Recipe inspired our menu today 😊
Quick spice lesson on what is going to marinate the Omani Lamb Shuwa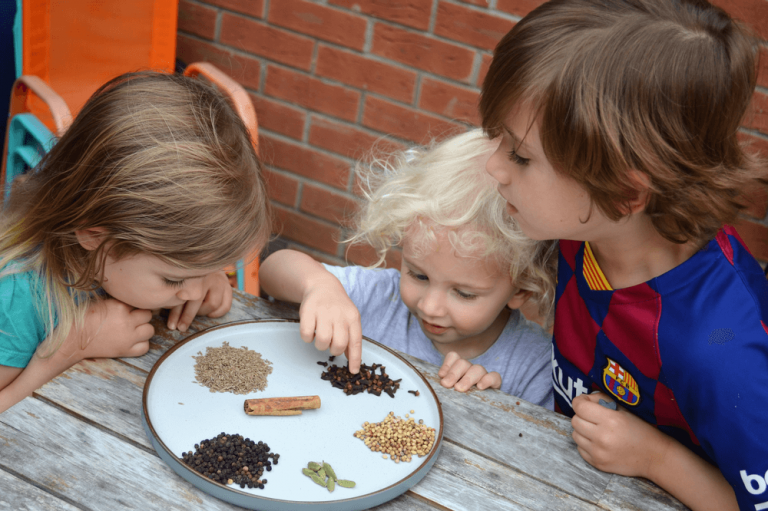 The aroma of the Omani spice mix is as intense as Abigail's concentration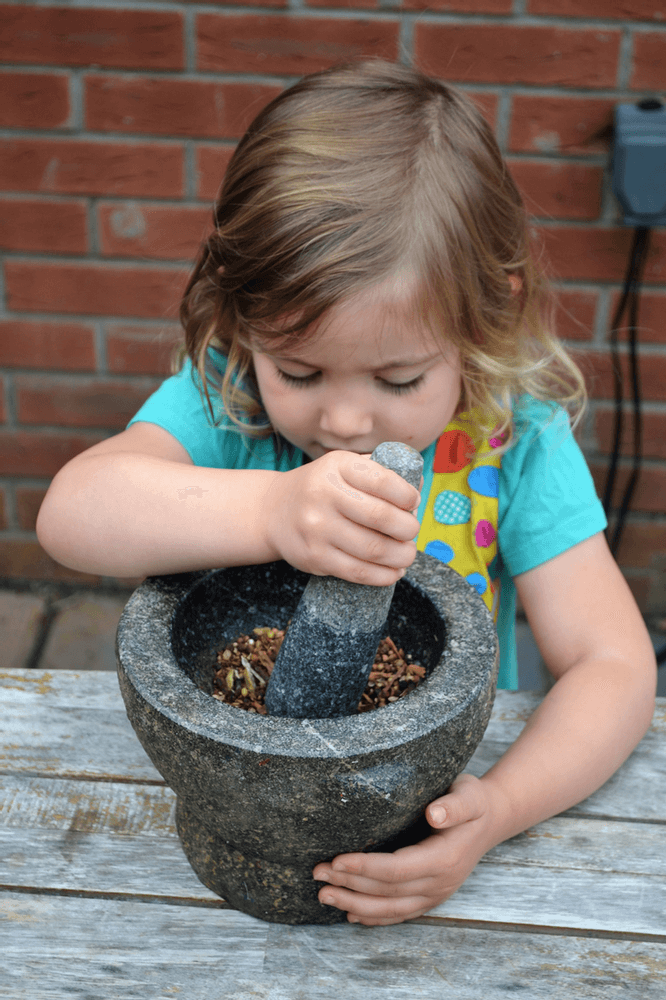 Preparing the Lamb Shuwa with our Omani Spice Mix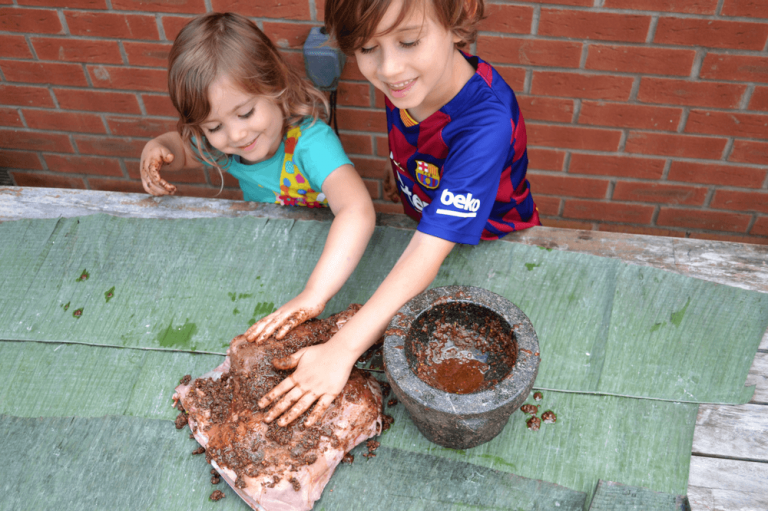 Up early to get the Lamb Shuwa cooking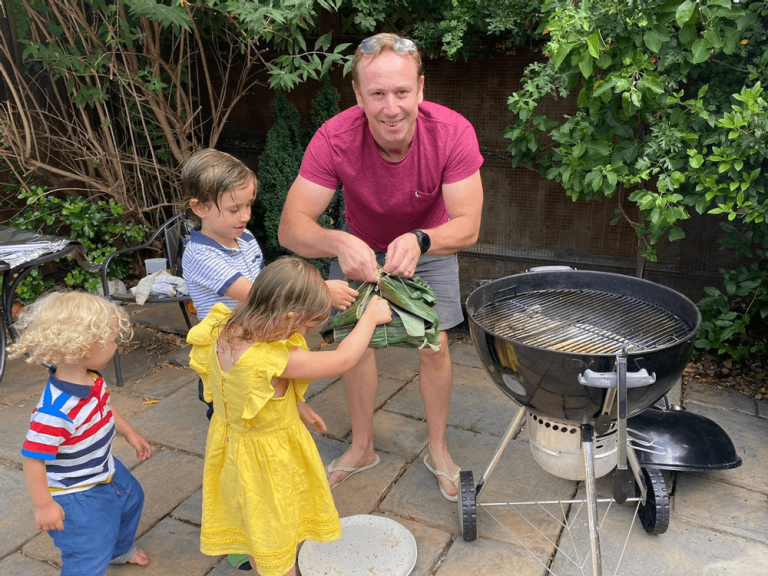 Fast forward 5 hours! Leaving to rest whilst cooking the rice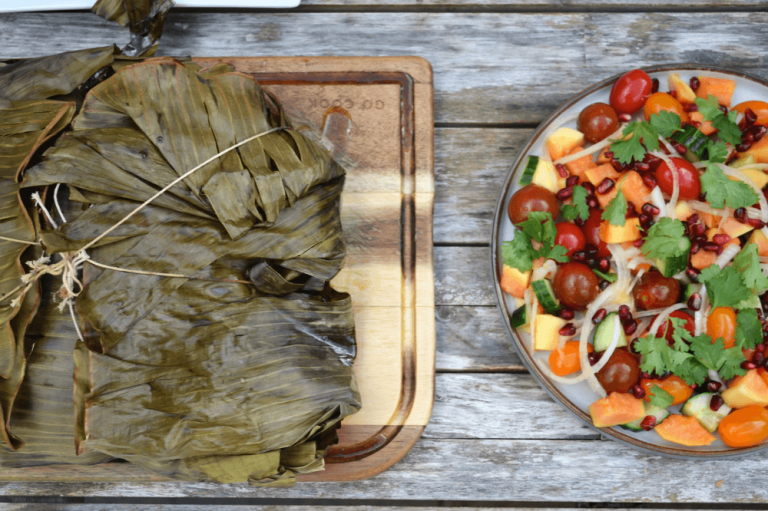 The aroma of the Omani Spices when opening the banana leaves was incredible!!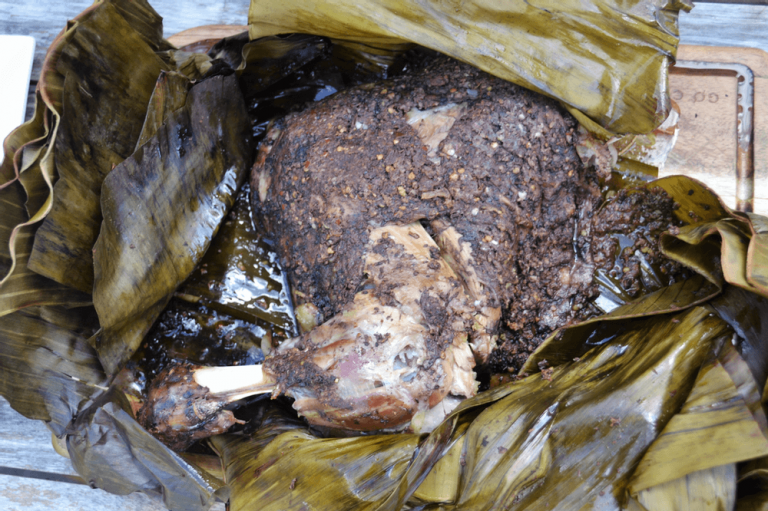 Tooting Family Kitchen present our Omani Lamb Shuwa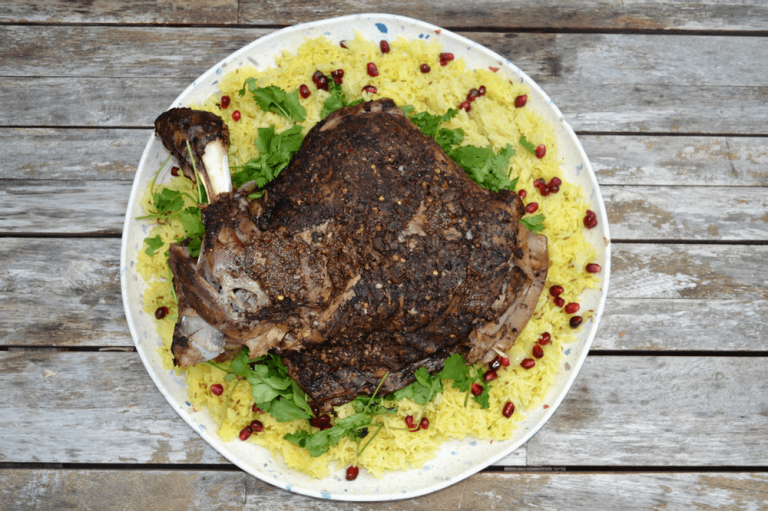 1 large shoulder of lamb
3 tbsp white wine vinegar
3 x limes, juice and zest
5 tbsp of olive oil
1 tbsp sea salt
1 cinnamon stick
2 tbsp black peppercorns
2 tbsp cloves
2 tbsp cumin seeds
2 tbsp coriander seeds
5 dried chillies
5 cardamom pods
1 tbsp nutmeg powder
Banana leaves
In a hot dry frying pan heat all of the spices until starting to smoke and empty into a pestle and mortar/spice grinder to make a fine powder before mixing with the vinegar, lime juice, salt and oil to make a paste.
With a sharp knife makes some incisions all over the lamb to allow the spice mix to penetrate and place the lamb on at least 2 banana leaves before marinating the lamb with ALL of the paste ensuring you cover all the surface and rub into the incisions. Fold over the banana leaves ensuring it is an air tight parcel, tie with string and place in the fridge to marinate overnight.
Remove the meat to allow to get to room temperature an hour before cooking and light the bbq. Separate the coals so that you have space to cook on indirect heat and carefully place the wrapped Omani Lamb Shuwa on the bbq. It's important that its air tight so you may have to additionally wrap in foil. Place the lid on the bbq and bring the temperature down by closing the vents slightly – you will need to monitor the temp and keep at around 140 and cook the lamb for 4 – 5 hours ensuring your leave to rest for 30 mins (in the parcel) whilst you make the rice.
Serve on the rice on a bed of coriander, dressed with pomegranate seeds before pulling the meat apart with 2 forks.
3 x cups of white long grain rice
4 x tbsp sunflower/vegetable oil
1 x onion finely chopped
3 x star anise
1 x cinnamon stick
1 tbsp of cumin sees
5 x cardamom pods
1 x tsp yellow food colouring
3 x cups of water
Salt to taste
In a heavy bottom pan with a lid heat the oil and then fry the spices for approx. 30 seconds until aromatic. Add the onion and fry for another minute until translucent and add the rice ensuring to fully coat in the oil.
Add boiling water, salt and food colouring and gently simmer with the lid on for 20 mins or until cooked. Leaving the lid on remove from heat and allow to steam/rest for 10 mins before fluffing up the rice with a fork and removing star anise and cinnamon.
Omani Lamb Shuwa and Papaya and Tomato Salad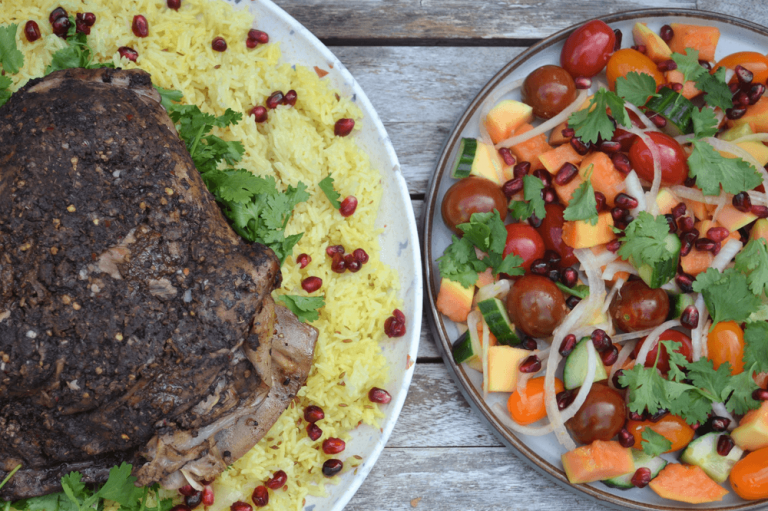 2 x papaya, chopped
1 kg tomatoes, assorted
1/2 white onion, finely sliced
1/2 cucumber, chopped
Handful of caoriander leaves
Handful of pomegrante seeds
Juice of 2 lemons
Combine papaya, tomatoes, white onion and cucumber and toss in the lemon juice before dressing with the coriander leaves and pomegrante seeds.
They fought for the bone - Joe won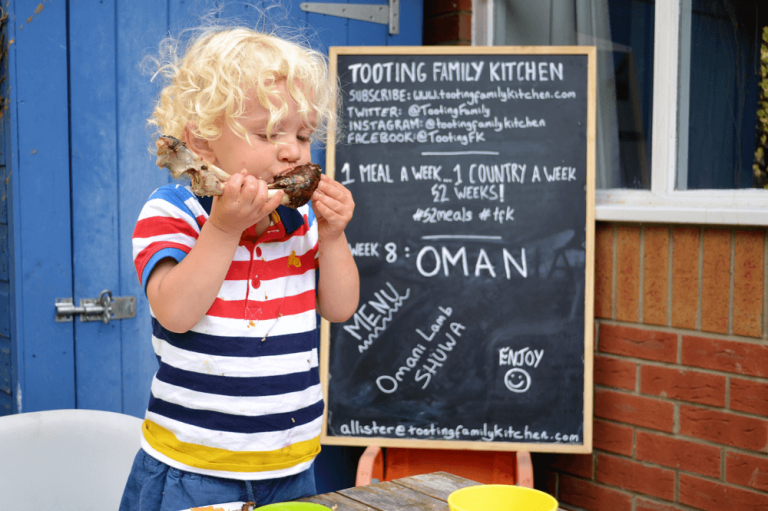 Abigail wanted to ditch the cutlery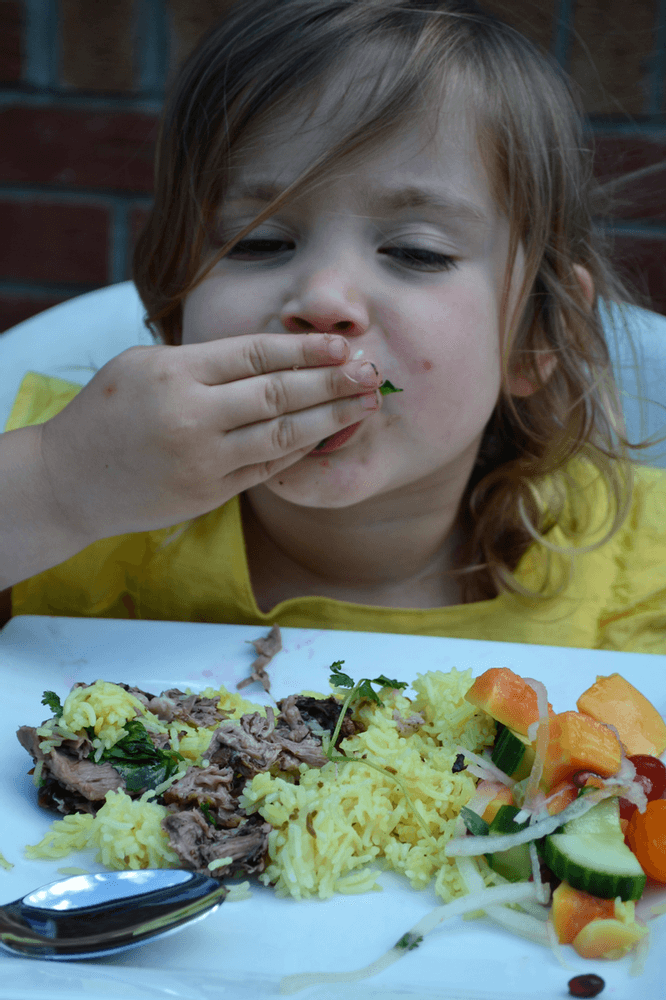 Thank you Oman - that was delicious!