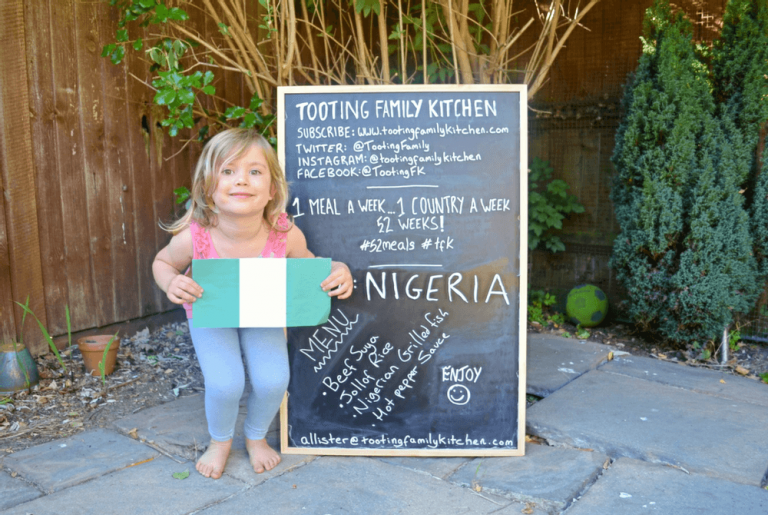 Welcome to Week 7 of Tooting Family Kitchen's culinary journey. This week we hit Western Africa to cook up a Nigerian Family Dinner of Beef Suya, Jollof Rice, Spicy Nigerian Grilled Fish and Hot Pepper Sauce (Ata DinDin) and what a fiery feast it was!
West African food perhaps flies under the radar of mainstream dining in the UK when compared to the cuisines of India, Pakistan and China. Nigerian and Ghanaian restaurants in particular exist in numbers but have yet to transcend cuisines the same way that others have. It does feel this is changing at last and new chefs and restaurants such as Ikoyi and Zoe's Ghana Kitchen that are popping up frequently are re-aligning traditional recipes with modern twists and cutting edge cooking techniques, which will hopefully bring the diverse and exotic ingredients forward into the forefront of British gastronomy.
Nigeria seemed like the obvious place to start the African leg of our global culinary adventure. Living in the wonderfully diverse South London, one of the larger immigrant groups is from Nigeria, in particular in Peckham, dubbed "Little Lagos", with many Nigerians and their British born descendants choosing to settle there. In addition I was heavily influenced by my 6 year old who covered Olaudah Equiano at school last year and who had quite the impact, so much so he asked a rather confused Santa Clause whilst perched on his knee last Christmas if he knew him or Nelson Mandela – they hadn't been acquainted much to Sam's disappointment.
It's not difficult to see the ingredients that make up Nigerian food through the bustling markets and shops selling all manner of vibrant and colourful African food stuffs. They are as dazzling as the bright African clothes worn by worshippers that are so visible across South London on a Sunday morning, as they make their way to their places of worship. It's heavily spiced and uses oils to create deep and intense sauces that are balanced but fiery and have an intense depth that sets all of the senses alight.
Picking a menu for our Nigerian family dinner was tough and although I was hugely tempted with an Egusi Soup and Pounded Yam, I just had to fire up the BBQ and get some beef and tilapia marinating for a fiery beef suya and spicy grilled fish with a beautifully explosive hot pepper sauce, along with the Nigerian staple of Jollof Rice!
I do hope that Nigerian cuisine and West African food in general, does become more mainstream in British gastronomy. It's punchy, bold flavours and vibrant and colourful ingredients present such an exciting food playground for chefs to explore and develop modern twists on some of the more traditional recipes and cooking concepts and it will only enhance the already wonderfully diverse food scene of London in particular, that makes it such a great place to live.
If this has inspired you to delve a little deeper into Nigerian cuisine check out Kemi Oyedepo who shares plenty of amazing looking and relatively easy to follow dishes.
Checking out the Tilapia for the Spicy Nigerian Grilled Fish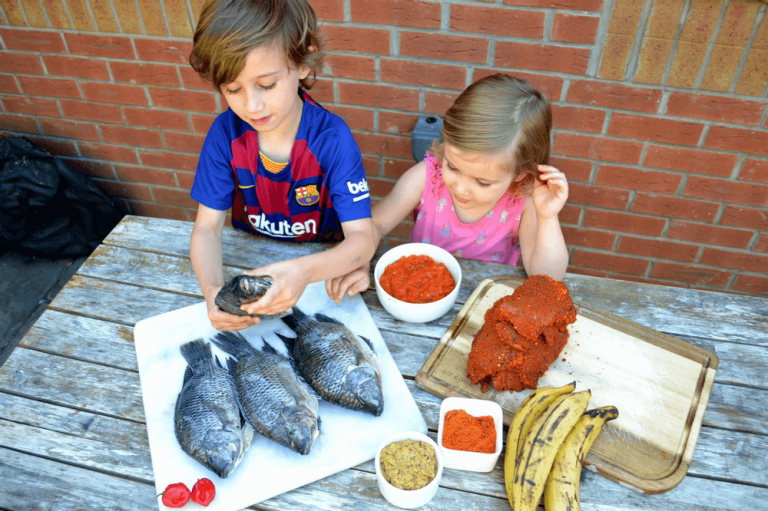 Threading the Nigerian Beef Suya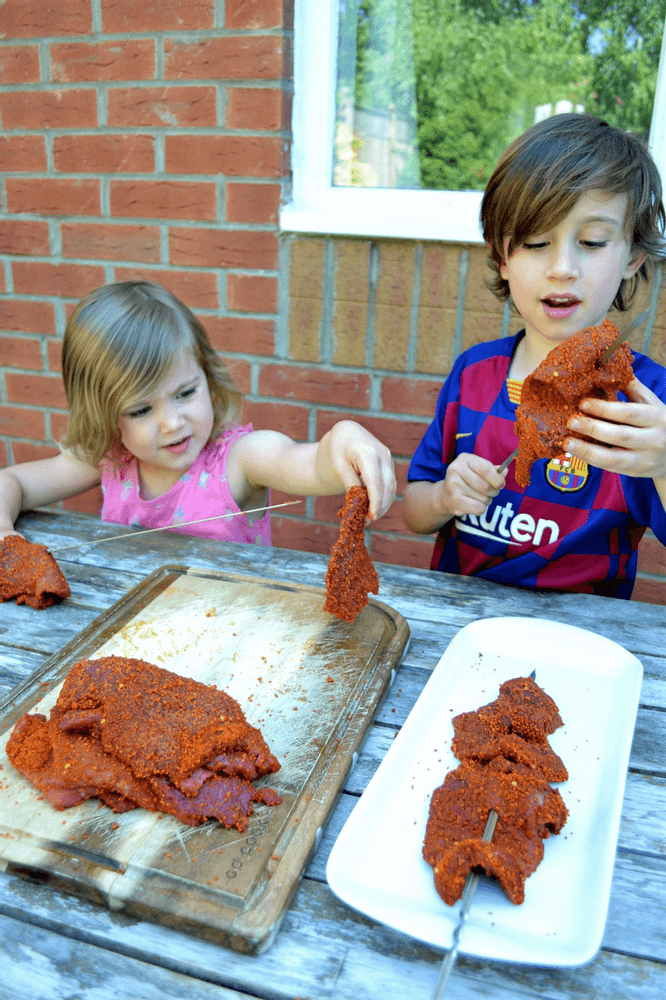 Cooking off the Nigerian Jollof Rice and a side of Plantain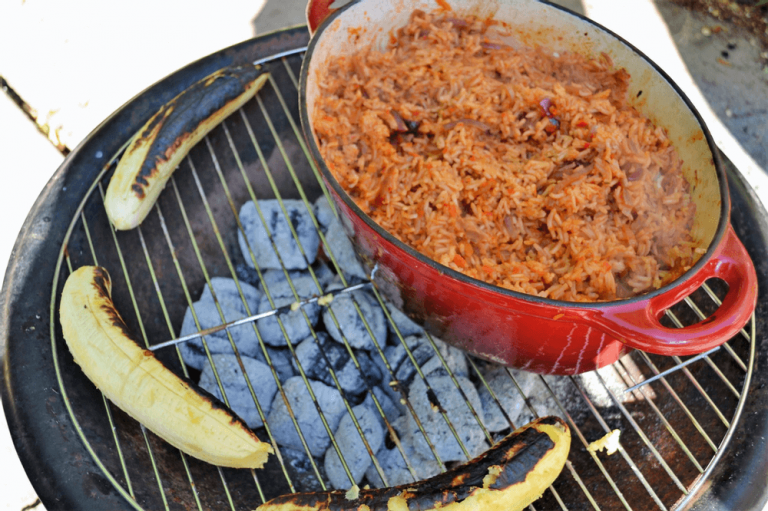 4 tbsp of sunflower oil
3 x red onions
4 x tbsp tomato paste
1 x tin of chopped tomatoes
2 x red bell peppers
3 tbsp ginger and garlic paste
2 x scotch bonnet chillies
2 tsp cayenne pepper
2 tsp white pepper
2 x bay leaves
2 tsp onion powder
2 tsp dried thyme
3 x cups of parboiled long grain rice
2 cups of chicken stock
Heat the oil in a large heavy based pan with lid and fry half of the chopped onions until translucent. At this stage add the tomato paste and continue to gently fry and stir for approx. 10 mins.
Blend the bell peppers, remaining onions and scotch bonnets and pour into tomato paste mixture continuing to fry for 3 minutes before adding the spices and stirring into the mixture. After another 2 minutes add the tinned tomatoes and a cup of water and allow to gently cook for 20 minutes.
Whilst cooking wash and parboil rice for 5 minutes and when the 20 mins is up add to the pan with the chicken stock, cover and cook for another 20 mins before removing the lid and giving it a stir. If necessary add a little more water and replace lid and cook for a further 10 mins before removing from heat and allowing to rest/steam for 10 mins.
Grilled Spicy Nigerian Fish with Spicy Pepper Sauce (Ata DinDin)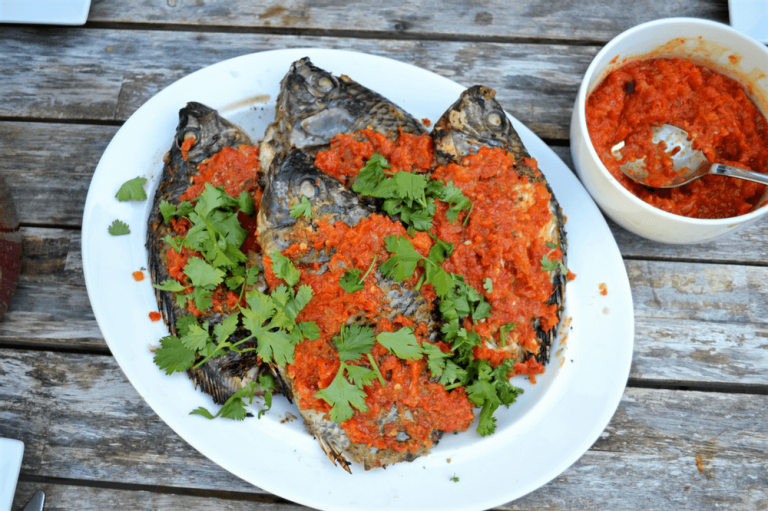 Nigerian Spicy Grilled Fish
4 x Tilapia fish (or sea bass/bream)
Olive oil
4 x tbsp of minced ginger and garlic
2 x medium onion, finely chopped
2 tsp dried thyme
2 tsp cayenne pepper
2 tsp dried chilli flakes
2 tsp salt
1 x lime, zest and juice
1 x scotch bonnet, finely chopped
Clean the fish thoroughly or ask fishmonger to do this for you and make some incisions into the belly of the fish to allow the marinade to take full effect.
Blend the rest of the ingredients into a smooth paste and rub into the fish leaving to marinade for at least an hour in the fridge.
Grill on high heat for approx. 5 mins each side or until cooked through. Optional to baste with the hot pepper sauce throughout the cooking or use as a sauce at the end (or both).
Spicy Pepper Sauce (Ata DinDin)
3 x red bell peppers
3 x scotch bonnet chillies
2 x medium red onion, finely chopped
3 x clove of garlic
1 inch ginger
1 x stock cube
½ cup of vegetable or sunflower oil
Salt to taste
Blend the pepper, scotch bonnets and garlic and ginger into a rough paste.
Heat the oil in a heavy bottom pan and fry onions until translucent then add blended mixture, salt and stock cube and gently simmer for approx. 20 minutes until thick and darkened in colour. You can drain off any excess oil at this stage.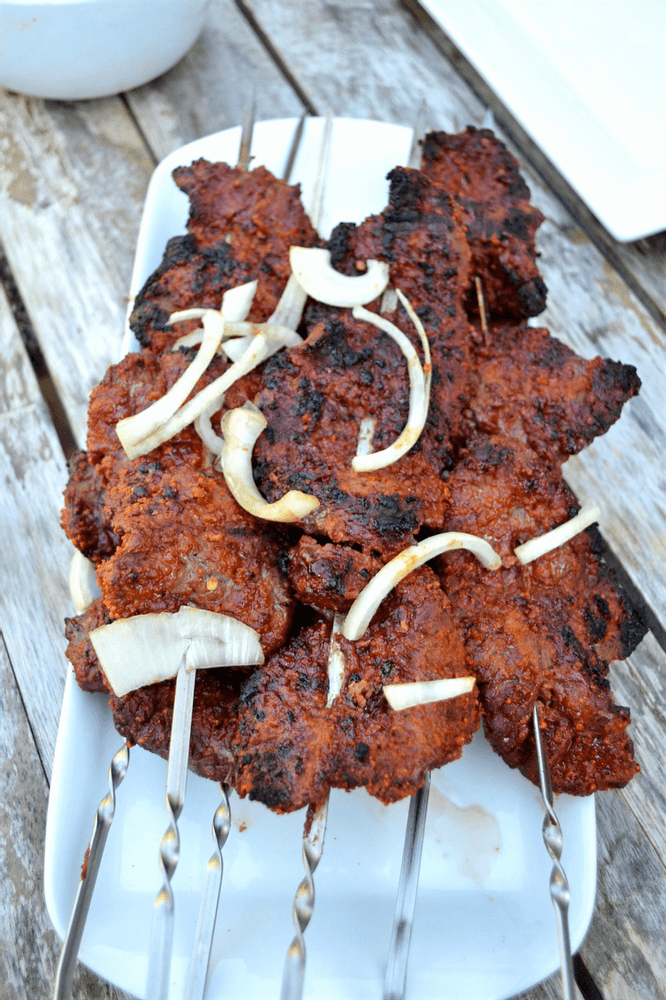 1 kg of beef sirloin or topside
1 cup dry roasted peanuts
2 tsp on paprika
2 tsp of onion powder
2 tsp of ground ginger
2 tsp of garlic powder
1 tsp of cayenne pepper
1 tsp of salt
1 tsp pepper
1 tsp of dried chilli flakes
1 tsp of dried thyme
1 x onion, chopped
Handful of chopped coriander
Blitz the peanuts in a blender and then add all the spices until combined
Cut the beef into thin long strips and (covering with cling film) flatten out slightly with a rolling pin or heavy object before rubbing with oil and salt and covering in the peanut mixture. Leave to marinate for at least an hour but ideally overnight.
Thread the beef onto long metal skewers and grill on high direct heat for 2 mins each side (more if the slices are thicker). Serve scattered with chopped onion and coriander.
A Nigerian Family Dinner of Beef Suya and Jollof Rice, Grilled Nigerian Spicy Fish and Hot Pepper Sauce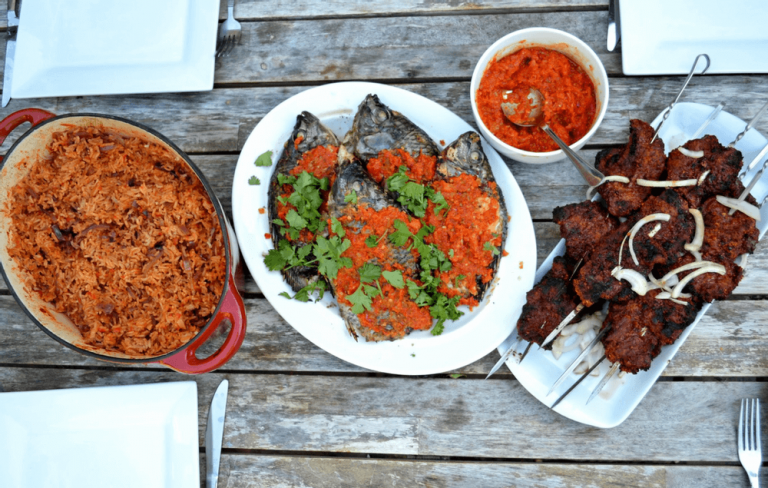 I was so looking forward to tucking into this delicious Nigerian Feast - it didn't last long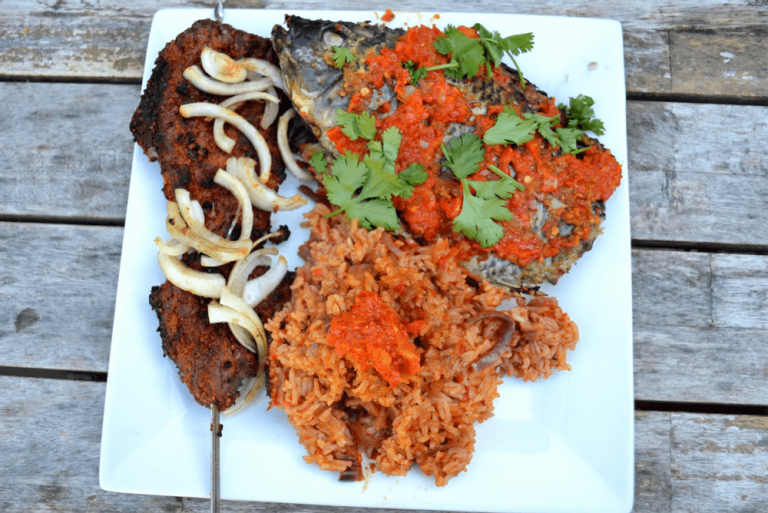 Abigail ditched the cutlery to get tucked into her Grilled Nigerian Spicy Fish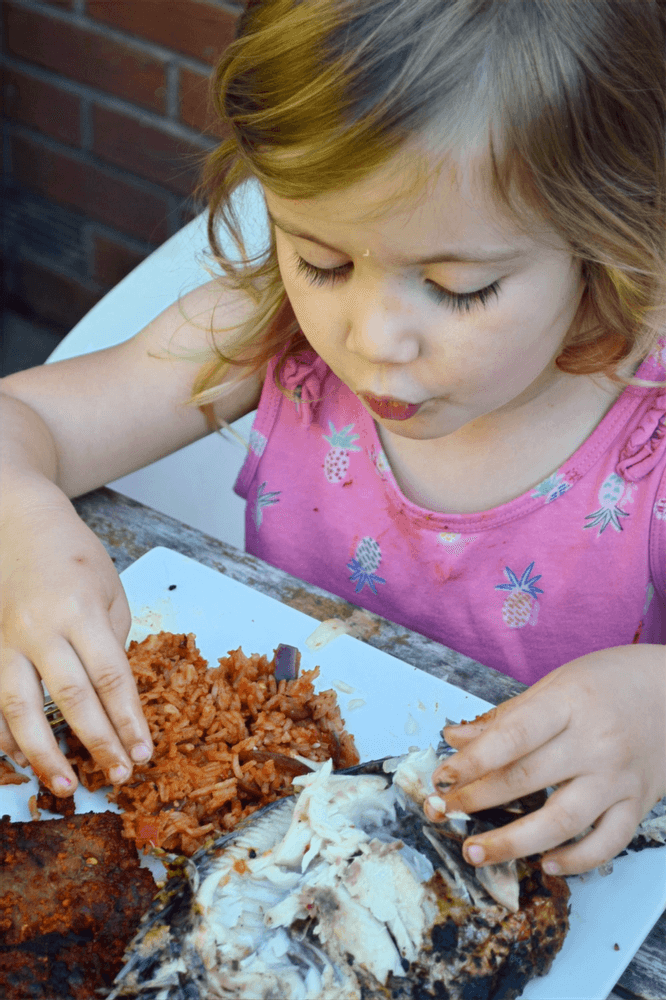 Thank you Nigeria - that was banging!