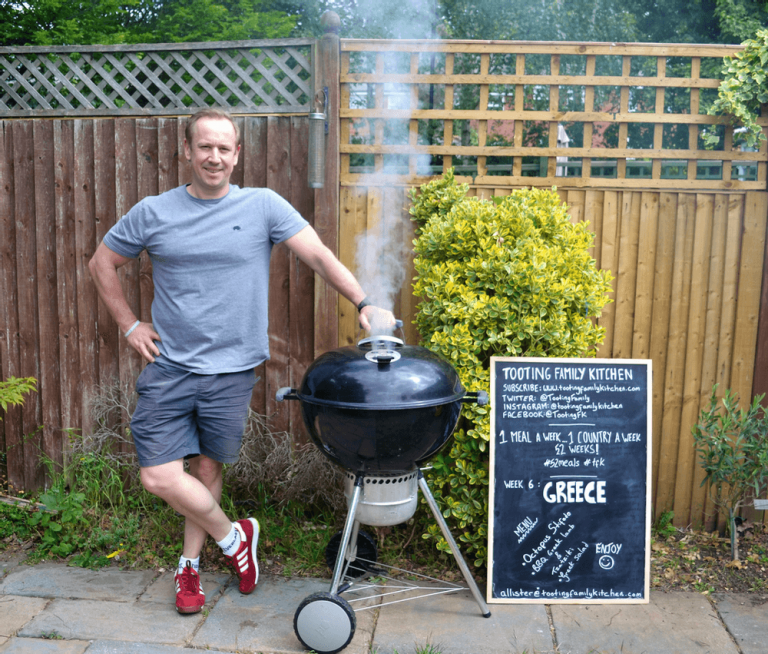 Tooting Family Kitchen welcomes you to Week 6 of our 52 Meals Challenge when we visit Greece, the cradle of Western Civilisation, to cook up a traditional Greek Family Feast.
If anyone was to ask me where my 2nd favourite place on the planet is (after Tooting of course), I would most likely say the coastal village of Old Epidaurus in the Peloponnese Region of Greece. It has always been a big part of my life and subsequently my families lives, since holidaying there as a small child. The connection is through my Godparents, Tony and Angela. Tony grew up in Limerick and I am sure will be a source of inspiration when Tooting Family Kitchen hits Ireland, but Angela grew up in the small village of Legurio, just tucked behind Epidaurus in the hills. Over the years I have holidayed there with my parents and brother as well as independently, I married my wife there and was joined by many of our family and friends and subsequently all 3 of our children have enjoyed happy times there too. The pleasure I get from watching them pick fresh figs in the morning for breakfast from the same trees I did as a child sums up my connection (and perhaps the cuisine) of this magnificent little corner of the Peloponnese.
Angela about to cook her legendary Greek Octopus Stifado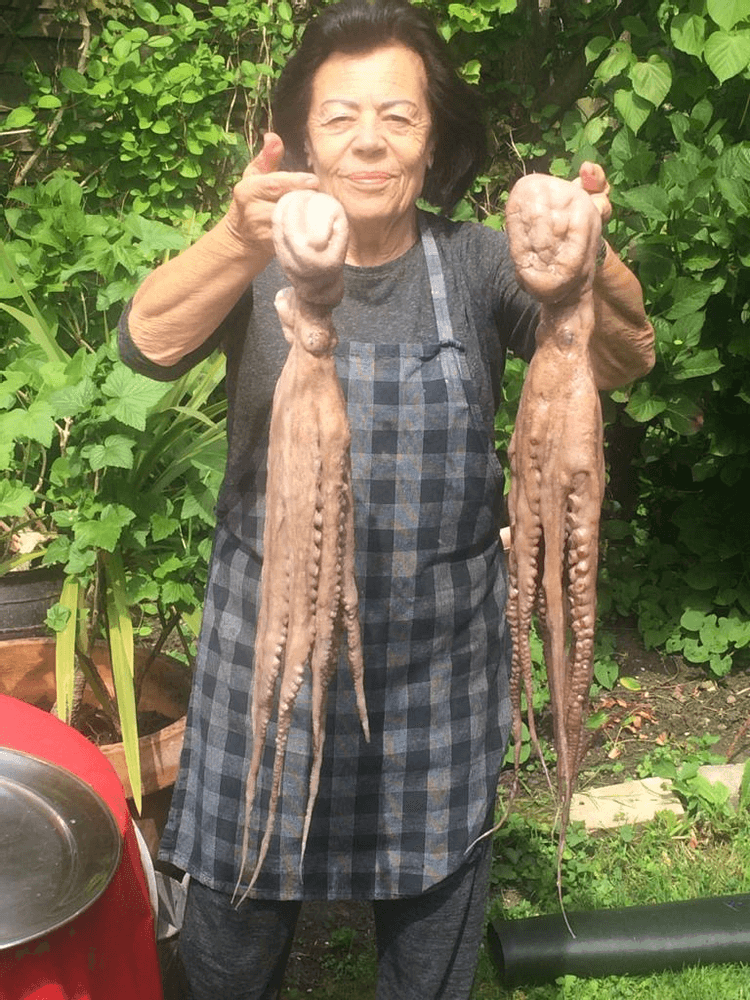 The Peloponnese is an incredibly beautiful mountainous peninsula overflowing with history. The simple way of life is encapsulated by the unspoilt terrain and it doesn't take much to imagine the legendary battles involving Athens and Sparta, the conquering Romans, and the Venetians and Ottomons, when travelling through the region. It's difficult to think of many places in the world that have changed less in a 1000 years and to me this is what makes it truly magical. It provides the perfect backdrop to explore Greek food and the simple way of life transcends its cuisine which has altered little over the centuries.
At the centre of Greek family food is the humble olive. Everywhere you look there are 1000s of acres of olive trees producing arguably the finest olives in the world and it's difficult to find traditional Greek recipes that don't make full use of their remarkable olive oil, not least the great Greek Salad. Traditional Greek food is about letting simple local ingredients shine. Meat and fish grilled on open coals with lemon, oregano, and olive oil along with a Greek salad (no lettuce or peppers!) are the order of the day whenever we visit. I take comfort that the meat is from animals that have grown naturally and grazed on the surrounding lands and the fish have not long come out of the sea. When meat and fish taste this good it's a crime to overpower their amazing flavours.
Lamb is of course synonymous with Greek cuisine. A platter of lamb chops is always going to be one of the first things we order when we hit Epidavrous and as we make the beautiful drive from Athens down through the Peloponnese, it is often the thought of it that causes me to gently push down on the accelerator. Greek Octopus Stifado however is meal that for me brings out the best in Greek home cooking. Anyone that knows Tony and Angela will be aware of Angela's legendary Greek Octopus Stifado and it's always a top request from her own family. I don't think anyone will cook it better than Angela, but she has kindly shared her recipe and I just hope we do it justice along with our BBQ Greek Lamb Pittas and Tzatsiki.
Octopus Xidato and Ouzo... a cheeky appetizer and aperitif before cooking our Greek Family Feast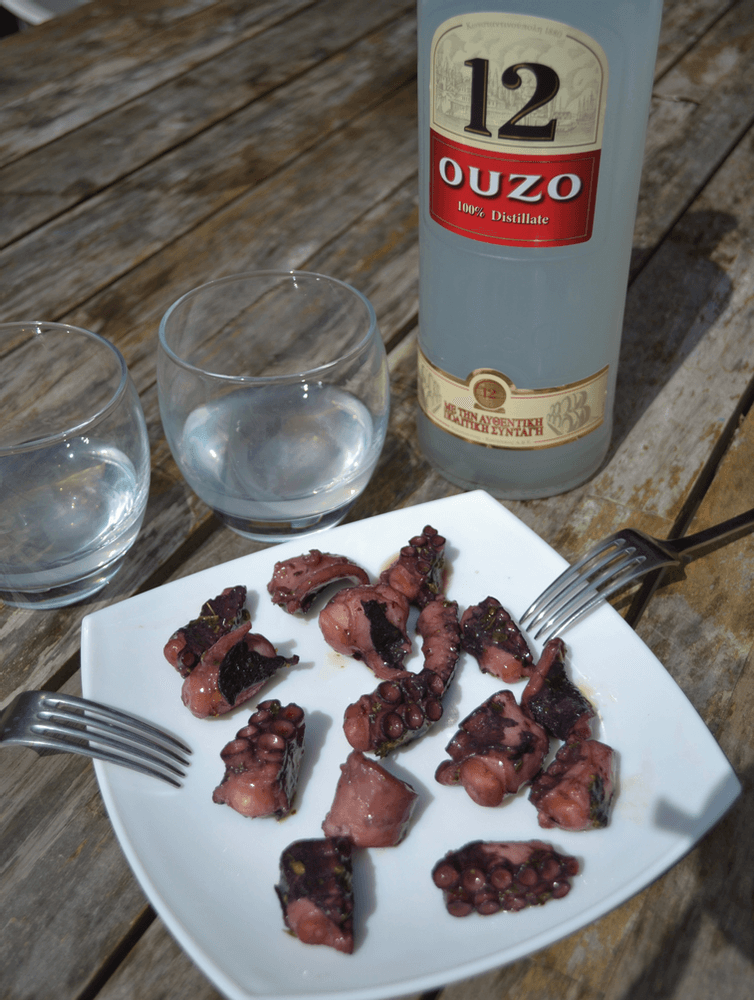 It's impossible not to get excited with ingredients like this!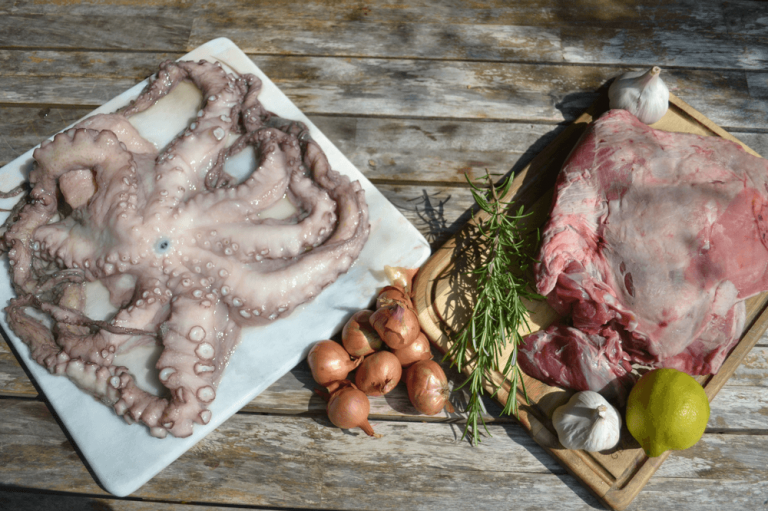 The family getting to grips with the octopus before preparing the Greek Octopus Stifado
Making the Greek marinade for the authentic Greek Lamb Pittas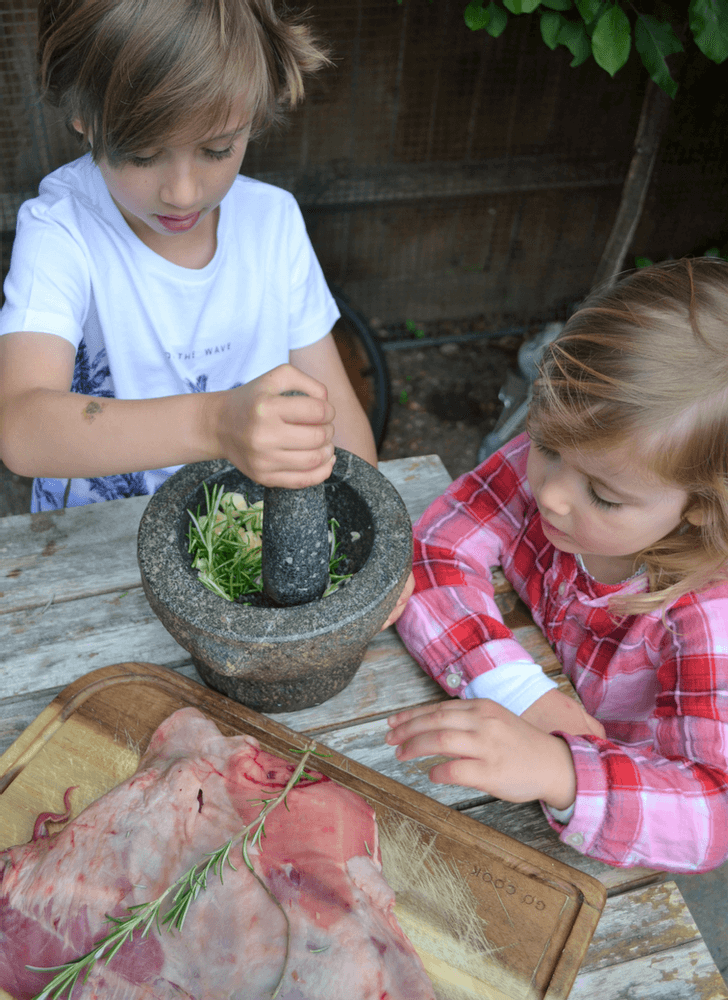 Grilling the meat for the Greek Lamb Pittas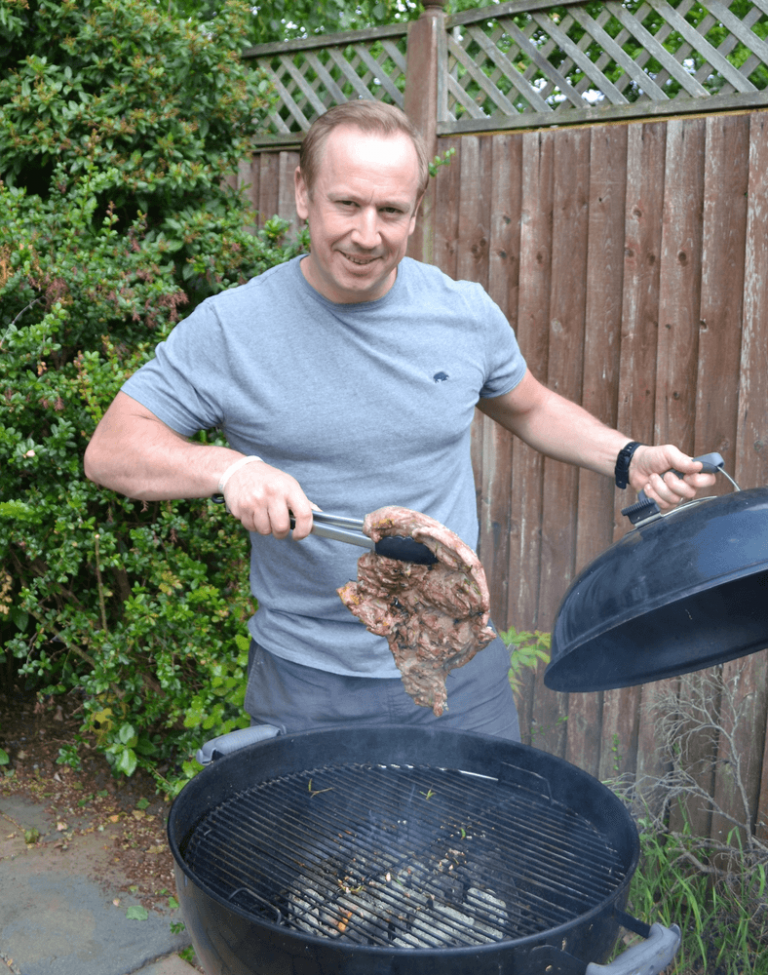 Greek Lamb Pittas with Tzatsiki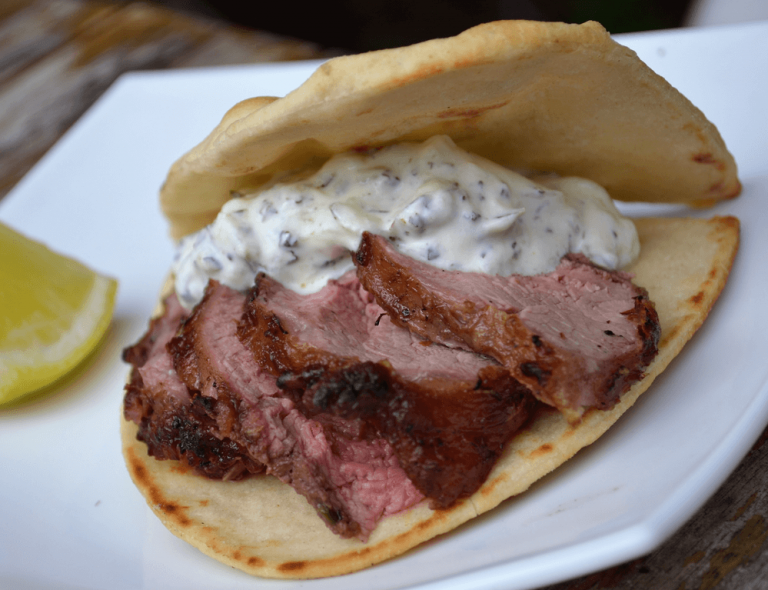 Butterflied lamb shoulder
1 x lemon, zest and juice
5 x cloves of garlic
Handful of rosemary
Good quality olive oil
Salt
Pitta breads
Ask the butcher to butterfly the lamb shoulder. For this recipe I chopped in half which was approx. 1kg, but it was a large piece of lamb and you can choose the piece accordingly. Crush the garlic and rosemary in a pestle and mortar and mix with the lemon zest and juice and olive oil and rub into the meat at least an hour before but ideally overnight. Before cooking season well with sea salt.
On a pre-heated bbq cook the meat for 2 mins on each side over high, direct heat. Remove from the heat and cook on indirect heat with a drip tray filled with water underneath for 20 mins ensuring that the lid is on the bbq with the vents open. Remove from the heat and rest, loosely covered in tin foil for 10 mins whilst you toast the pittas on indirect hear for a couple of minutes.
Carve the meat and serve in the toasted pittas with tzatziki.
½ a cucumber
3 x cups of Greek yogurt
3 x cloves of garlic, minced
1 bunch of mint, finely chopped
Good quality olive oil
1 tsp of sea salt
Deseed the cucumber and then grate. Squeeze out the moisture by twisting in a clean tea towel and then mix together with the yogurt, mint, garlic and salt and leave in the fridge to chill. Garnish with olives and a drizzle of olive oil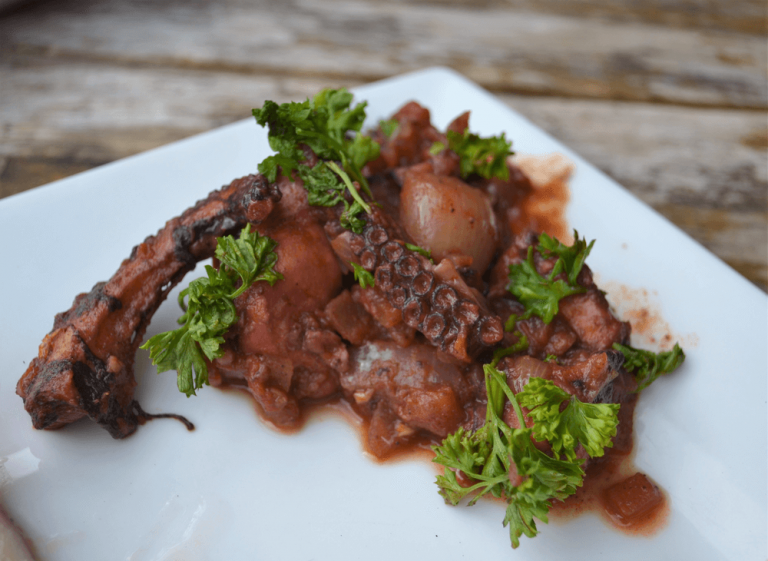 2kg octopus
1-2 onions
1-2 cloves of garlic
2-3 bay leaves
Olive oil
1 tsp all spice
Pepper
1 tin chopped tomatoes
1 small glass of red wine
2 tbsp of vinegar
500g of shallots
Cut the octopus into large pieces and place in a saucepan without water, cover and cook on a low heat stirring occasionally. After 10 mins throw some of the water out and add a little red wine, cover and simmer until soft.
Boil the shallots for 8 – 10 mins, drain and keep to one side
In another saucepan gently fry onion and garlic in a little olive oil then add chopped tomatoes, all spice, pepper and vinegar and cook for a few mins. Then add the octopus pieces with a small amount of its juices, add the shallots and cook for just a few mins.
I like to keep some of the octopus cooked for the Greek Octopus Stifado back for the Octopus Xidato as it is so great as an appetizer
Octopus
Small glass of red wine
Olive oil
Vinegar
Oregano
Cut the octopus into large pieces and place in a saucepan without water, cover and cook on a low heat stirring occasionally after 10 mins. Throw some of the water out and add a little red wine, cover and simmer until soft. Put in a deep dish and have with olive oil and oregano.
Our traditional home cooked Greek family dinner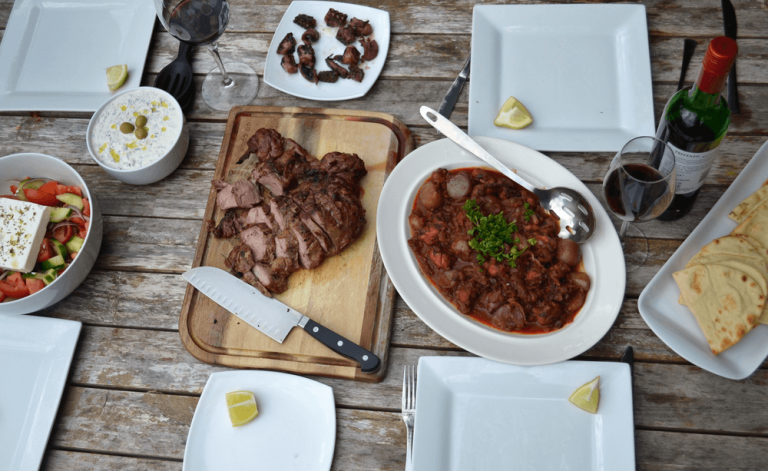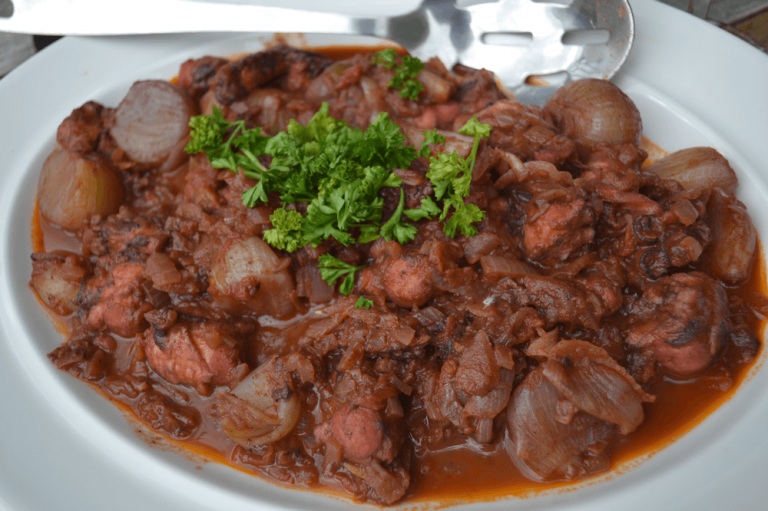 The face says it all for a successful Greek family dinner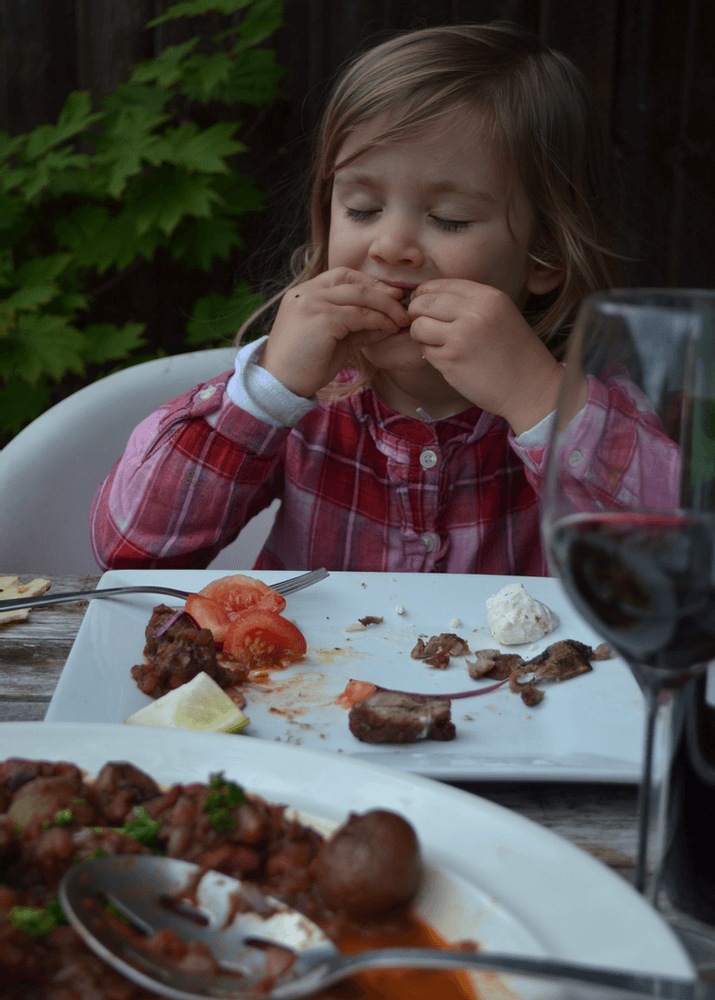 A very successful trip to Greece for our traditional homecooked Greek Family Feast