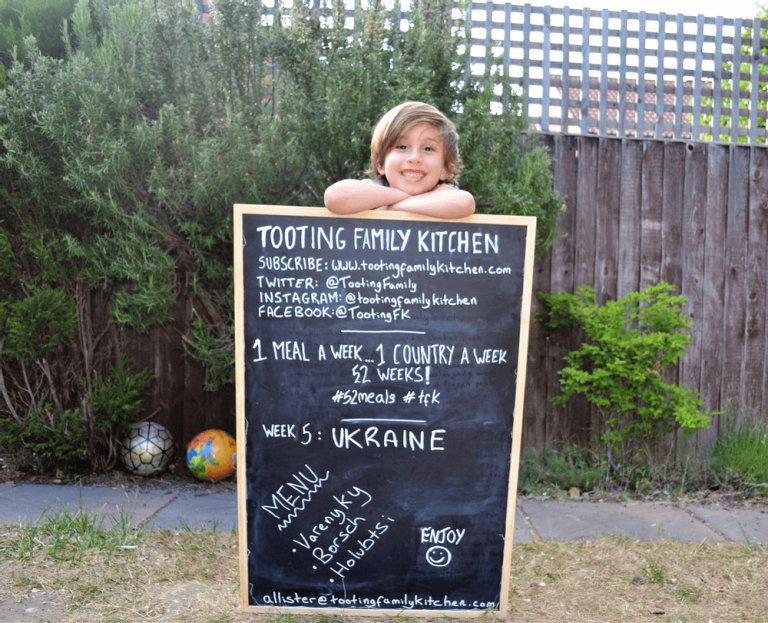 Tooting Family Kitchen welcomes you to Week 5 of our 52 Meal Challenge where we cook up a Ukrainian Family Feast we hope you will enjoy!
For 18 months of my life I was called Oleg. It was during my military days and I was on an 18 month full time intensive Russian language course. The idea was that people didn't have to be concerned about using rank in the class room when given an alias…given it was just me and my mate John (aka Sergei) on the course though, it was a bit weird really and to this day if I hear someone shout Oleg I will turn around. I always wondered why we couldn't pick our own names but I did ask – apparently 'Night Hawk' isn't very Russian!
Part of the course involved me (and my alter ego) living for a period in Ukraine. I was housed with a wonderful elderly couple in a tiny flat within a high rise on the outskirts of the city. I mention their age as anyone with any notion of modern history will appreciate the tough times the Ukrainians have been through. Life for them was hard but they always had a smile on their face and I learnt about the culture, the people, the history and authentic Ukrainian cuisine first hand. The home cooked food was basic but boy, could they make cabbage, potato and beetroot taste good! and at the end of the meal the Horilka (homemade vodka) would come out and the three of us would share a drink and toast 'Na Zdorovie'. Good times that I will never forget and meals that I will rate higher than the best Michelin starred food I have ever had the pleasure to taste. I will add that the only place I ever had a Chicken Kiev, in Kiev, was in an Irish Bar!
Ukraine is often referred to as "The Breadbasket of Europe" and its cuisine largely comes from humble peasant dishes born from its extremely fertile black soil using its abundance of grains, potatoes, cabbages and beets, all of which we have used in our Ukrainian family dinner. Varenyky is a Ukrainian filled dumpling similar to Polish Pierogi. It can be filled with various fillings but I love the simplicity of potato and onion! Borscht again has versions throughout Eastern Europe and although very popular in Russia and Poland, Ukraine is considered by many as the birthplace. Finally Holubtsi – there is always a place in an authentic Ukrainian home cooked dinner for meat stuffed cabbage and it's a great way to use up ingredients.
If you like our traditional Ukrainian food and are inspired to delve deeper into Ukrainian cuisine follow Olia Hercules and take a look at her awesome book Mamushka, which inspired some of these recipes.
The Dishes: Ukrainian Borscht with Varenyky and Holubtsi
Preparing the Traditional Ukrainian Varenyky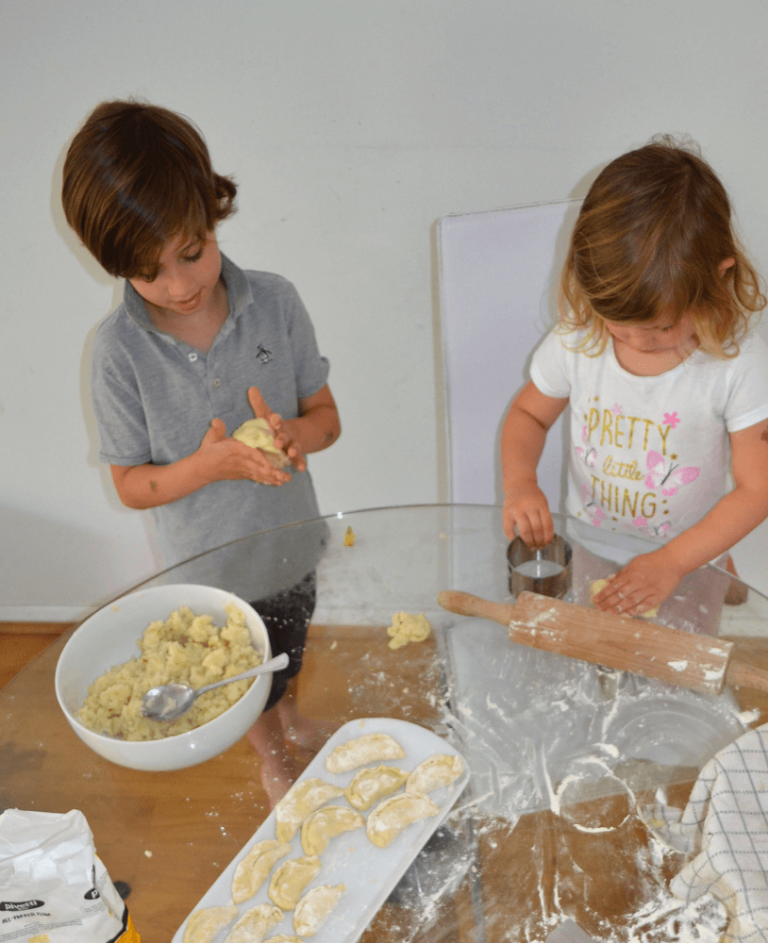 Filling the homemade Ukrainian Stuffed Cabbage - Holubtsi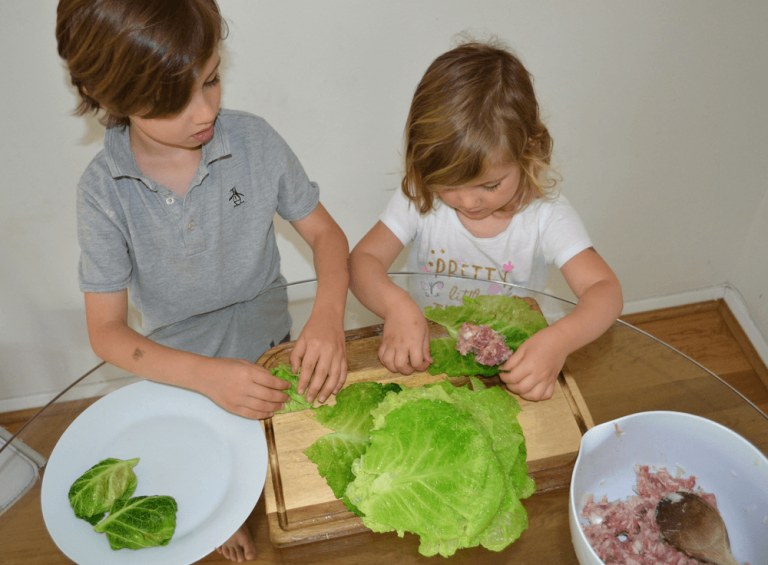 Traditional Ukrainian Borscht
1 onion, chopped
2 sticks of celery, chopped
1 cup cabbage, shredded
2 tbsp olive oil
4 cloves garlic, minced
1 ltr stock
1 tbsp tomatoe puree
1 tin of tomatoes
3 large beetroot
1 medium potato
1 bunch of chopped dill
Salt and pepper to taste
Gently fry the onion, celery and cabbage in the olive oil until translucent. Add the garlic and fry for a minute and then add the tomatoe puree and stir into a paste before adding the tomatoes and stock.
Bring to the boil and gently simmer for 10 mins whilst peeling the carrot, potatoes and beetroot. Cube the potato and 2 x beetroot and shred the remaining beet and carrot.
Add the remaining vegetables to the pan and simmer for approx. 15 mins until the potato and beetroot are tender.
Stir in the dill and serve with sour cream.
Varenyky – Ukrainian Filled Dumplings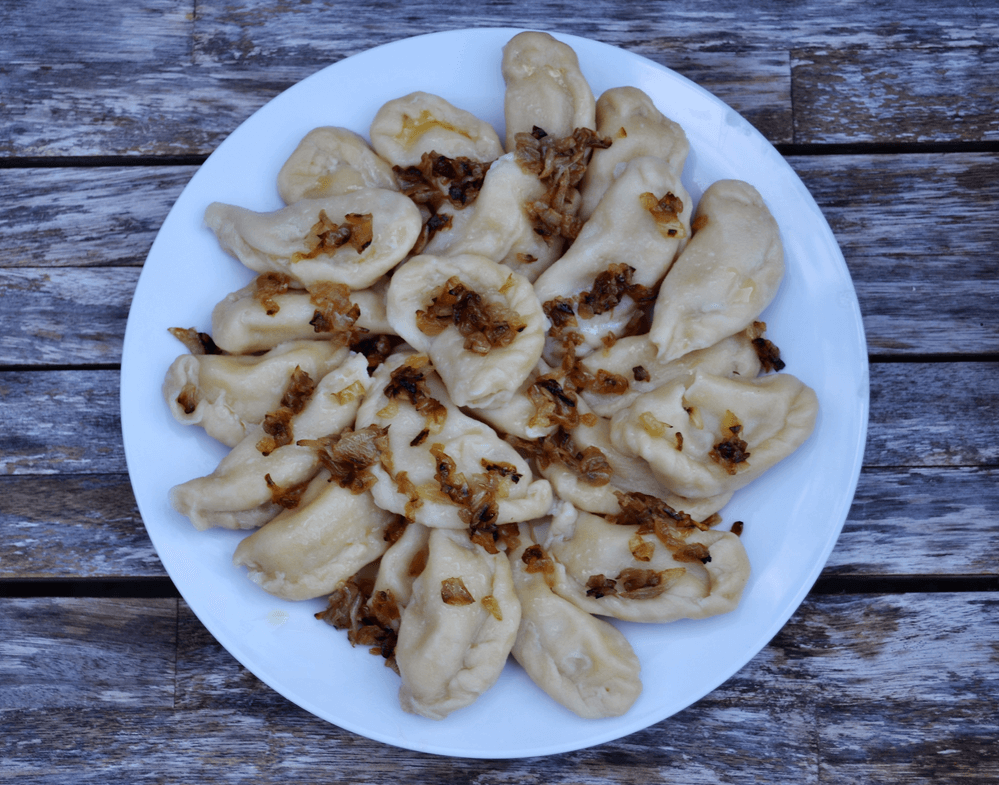 Varenyky dough
300g plain flour
½ tsp salt
1 egg
1 cup of water
Varenyky filling
4 medium potatoes, peeled and cubed
1 large onion, chopped
Salt and pepper
Olive oil
3 tbsp butter
Combine the flour and salt and mix together the slightly beaten egg and water. Gradually add the water mixture to the flour until combined and the mixture stops sticking to fingers. Knead on a flour dusted surface for 10 mins and rest covered in a damp tea towel.
Bring a saucepan of water to the boil and let the potatoes simmer for 15 mins or until tender. Whilst cooking gently fry the onion until golden brown.
Drain and mash the cooked potatoes, add salt and pepper to taste and and mix with half the onion and 1 tbsp of butter. Set aside.
Divide the dough in half and then half again. Keep going until you have portions the size of table tennis balls. On a flour dusted surface roll these out and cut into discs approx. 8cm diameter.
Place a tbsp of potato mixture onto each disc and fold in half using some water to seal the edges and pleat, lightly dusting as you go.
When ready to cook boil for approx. 3 minutes in salted water – likely to be in batches. If you have a pan big enough they should float to the top when done. Remove with a slotted spoon and allow to steam off before coating with the remaining melted butter and topping with the remaining onions.
Traditional Ukrainian Stuffed Cabbage - Holubtsi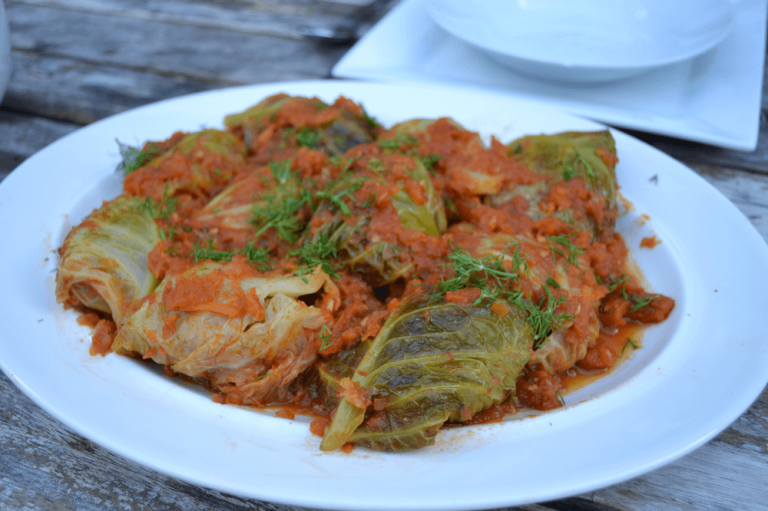 1 large cabbage, savoy or similar
3 tbsp olive oil
1 large onion, chopped
1 large carrot, grated
3 cloves garlic
1 tbsp tomato paste
2 tsp sugar
1 tin tomatoes
200 ml water
3 x bay leaves
Salt and pepper
200g minced beef
200g minced pork
50g raisins, chopped
1 cup of parboiled long grain rice
Handful parsley
1 egg
1 handful chopped dill
Remove the large outer leaves of the cabbage cutting away the thicker part of the stork until you have approx. 12 leaves. Blanch in boiling water for 2 mins and allow to cool. Carefully cut away more of the tough part of the stork so the leaf is pliable.
In a heavy based pan with a lid fry half of the onion and the carrot in the oil until translucent and then add the garlic and continue to fry for a minute. Add the tomato paste and stir and then add the sugar, frying for another minute until it starts to caramelise a little. Add the remainder tomatoes, water, salt and pepper and bay leaves and simmer for 15 mins. Remove bay leaves and use a stick blender to make the mixture a little smoother.
In another pan gently fry the remaining onion until translucent adding garlic for the last minute and allow to cool. Mix the pork, meat, onion and garlic mix, egg, raisins, rice and salt and pepper until well combined.
Separate the cabbage leaves and place a well heaped tbsp of mixture in each leaf folding over all the sides so sealed along the bottom and then place into the pan with the sauce carefully so the parcels form a single layer. Simmer gently for approx. 30 mins or until cooked through giving the pan a little shake every now and then to ensure they don't stick. Serve the stuffed cabbage topped with the chopped dill and sauce from the pan.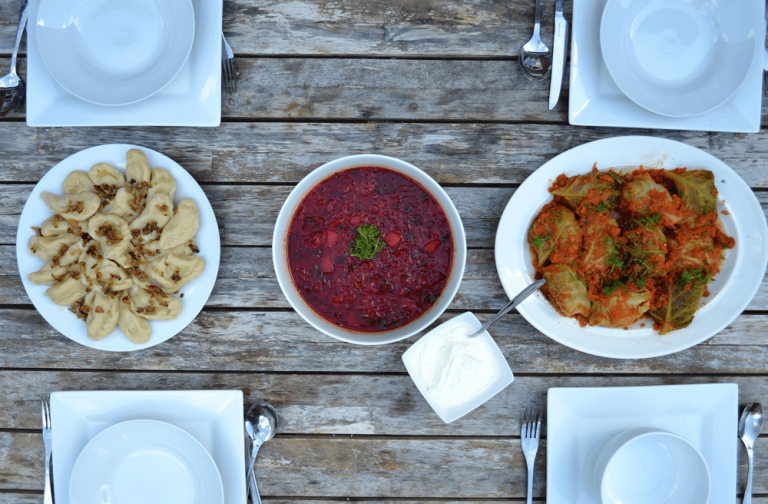 Top marks for the traditional Ukrainian Borscht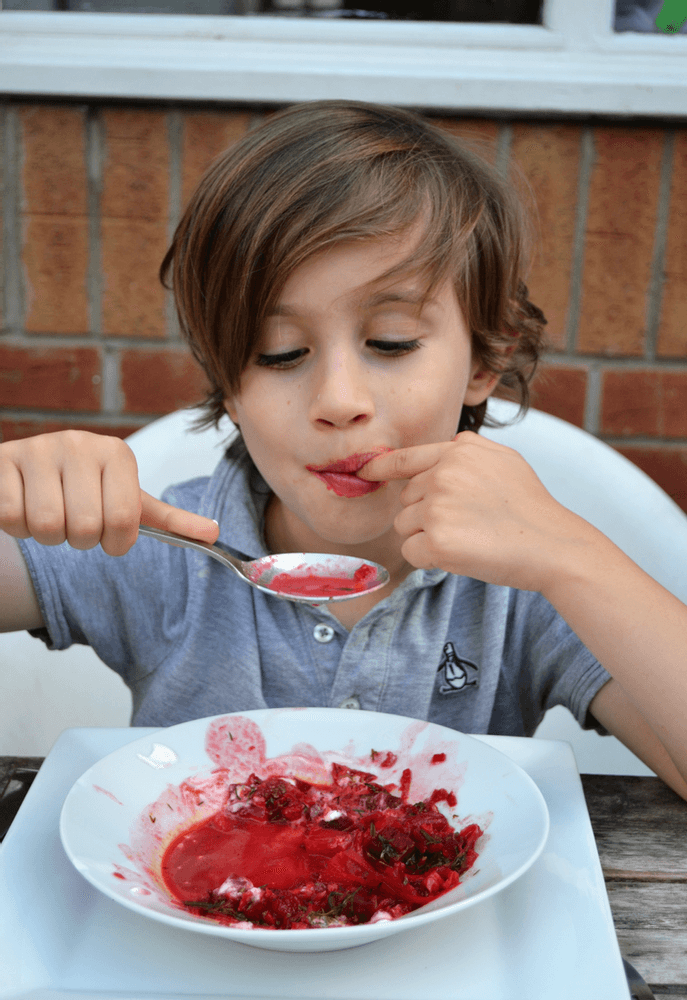 The Borscht is looking to be a family hit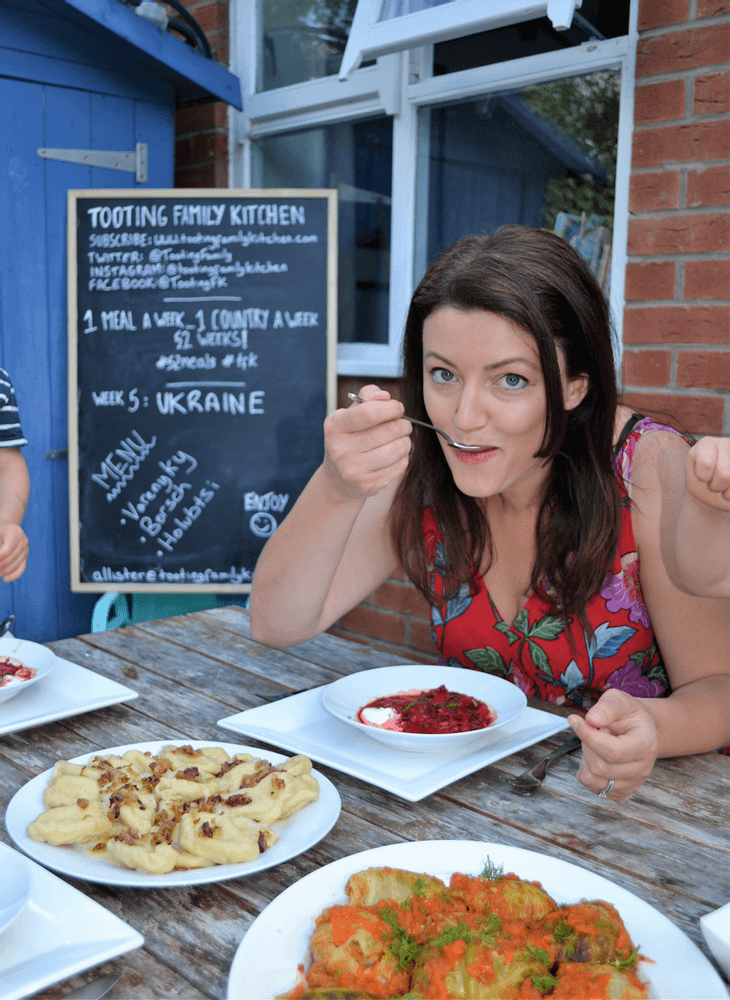 Abigail gave the traditional Ukrainian family cooked dinner the thumbs up!