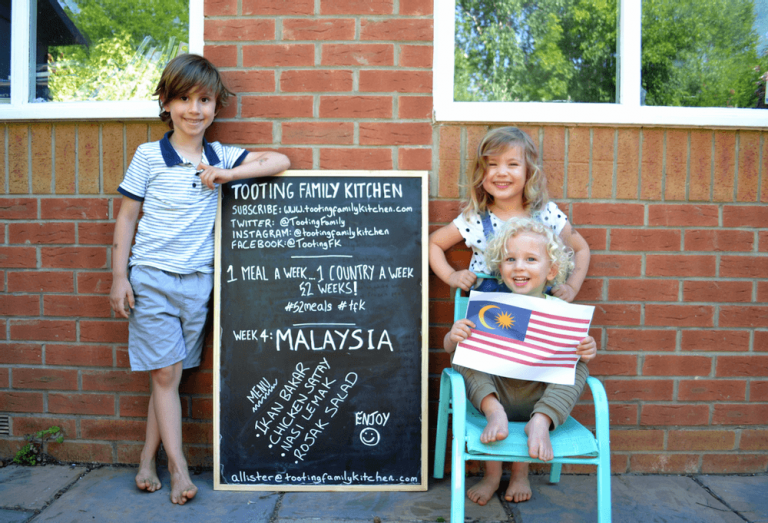 Selamat! And welcome to Week 4, Meal 4 of our 52 Meal Challenge! Today brings Tooting Family Kitchen to the vibrant and beautiful corner of South East Asia that is Malaysia. A land of stunning beaches, vibrant cities, beautiful rainforests and unbelievable food, which is representative of its diverse population…diversity at its best!
I have never been to Malaysia and although I am familiar with a few dishes, I needed to do some background reading and research before planning the menu for this week's meal. On discovering that Malaysia's cuisine is a diverse mix of South East Asian Malay flavours along with a heavy influence of Chinese and Indian food and cooking techniques, I was excited to say the least. Not since the 2003 – 04 Arsenal F.C season and the partnership of Thierry Henry and Dennis Bergkamp has a partnership been so mouth-watering!
To say I have been struggling with a menu is an understatement. I asked friends, I asked family, I joined Malaysian social media groups to get expert advice and the enthusiastic and energetic recommendations were endless, thank you all! Nasi Lemak, Nasi Kandar, Roti Canai, Laksa, Rendang, Mee Goreng…all looked amazing and I advise you all to check them out, but for today I've chosen Ikan Bakar with Coconut Rice, Chicken Satay and a Malaysian Rojak Salad.
Ikan Bakar stood out immediately, it's a grilled or bbq'd fish wrapped in banana leaves and cooked in a Malaysian Sambal sauce, this sauce is incredible and really encapsulates the flavours and aromas of Malaysia, although don't leave the lid off the belecan (roasted shrimp paste) for too long! TIP: make up a batch of Sambal and you can use it to stir fry with prawns, marinate meat, use as a dipping sauce or just have with (coconut) rice…master it and you will be dining in a Kuala Lumpur street food market all week!
Coconut rice seemed an obvious one, it's simply delicious on its own or as an accompaniment and is a large part of what many consider to be the Malaysian national dish, Nasi Lemak. Chicken Satay I chose largely to convince myself of how good it can be. I have always considered it to perhaps be the dish that no Malaysians eat, but what they think Brits want to eat. I spent a lot of time travelling around Thailand trying to convince the restauranteurs to give me EXACTLY what they were giving to the locals! Nah…I wasn't going to fall for this chicken skewer dipped in peanut butter. The joke's on me though as cooked properly and authentically it's delicious and they do eat it in Malaysia! Finally Malaysian salad, the combination of lime juice, fish sauce and palm sugar is just bliss, and as a dressing to this vibrant salad with coriander and Thai basil with the slight crunch of peanut, it will take you to a far away land, whatever the weather is like here!
So before we get to the cooking 3 interesting facts about Malaysia:
The shortened Malaysian greeting 'Salemat', means 'Safe'. It is usually followed by the time of day (morning, afternoon etc.)
Malaysia's population is around 31 million but only approximately 60% are Malay
Malaysia is home to the world's largest cave, it could accommodate roughly 40 Boeing 747's
The dishes: Ikan Bakar, Coconut Rice, Chicken Satay & Malaysian Rojak Salad
Investigating the ingredients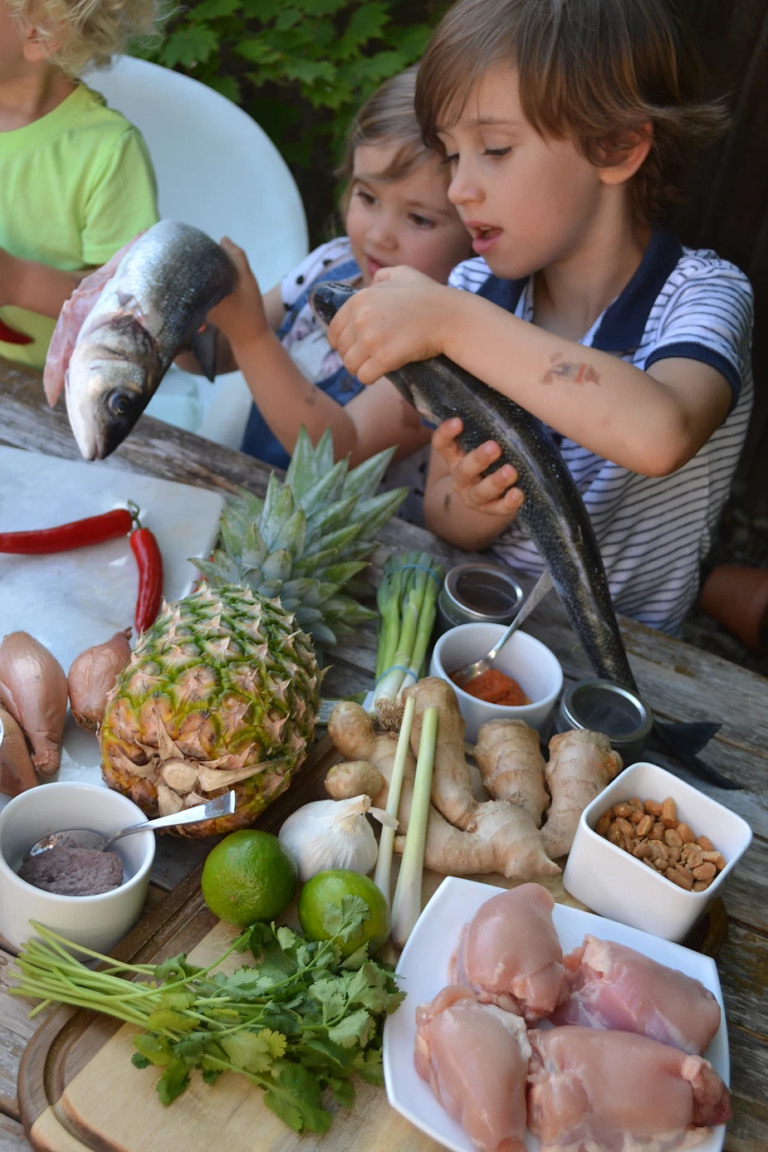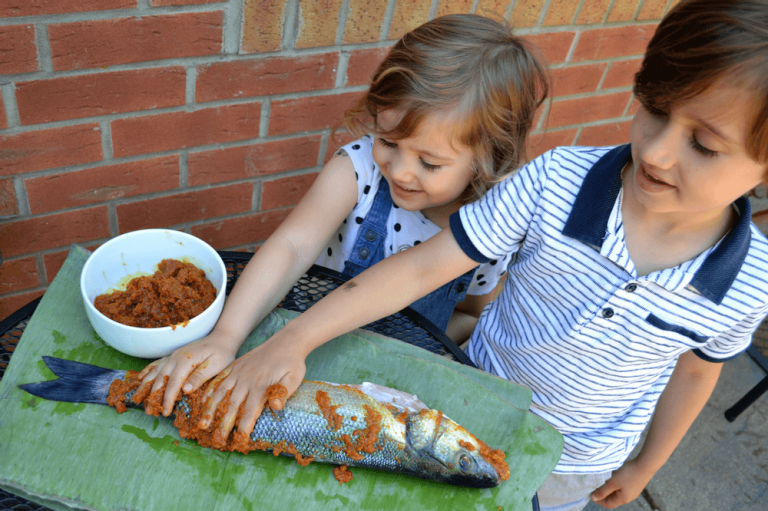 Getting ready for the barbie!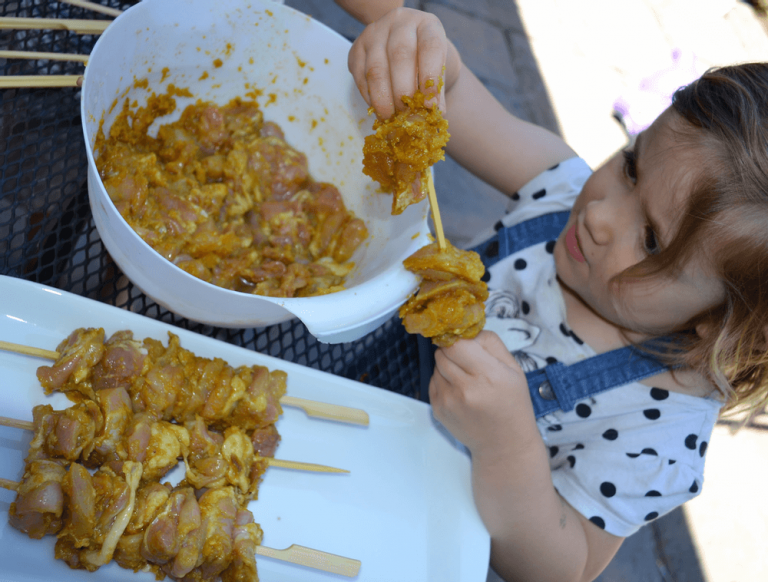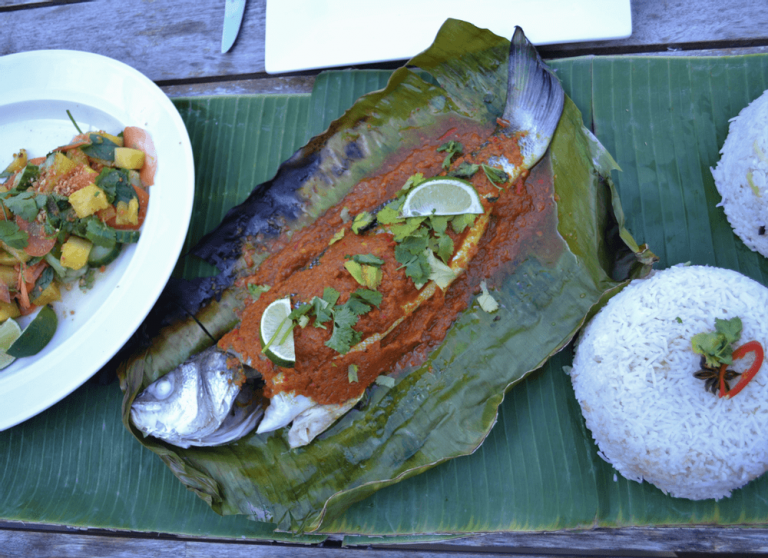 l looked at a lot of ideas for this, but this recipe from Malaysian born Australian MasterChef winner Diana Chan takes some beating and inspired this dish.
2 x sea bass (1kg each) or similar fish
Banana leaves
Sambal paste
3 shallots, chopped
3 garlic cloves, chopped
5cm ginger, peeled and chopped
3 lemongrass stalks, chopped
1 tbs belacan (roasted shrimp paste)
6 long chillies, seeds removed
2 tbs tamarind paste
1 tbs palm sugar
1 tsp tumeric
Sunflower oil, 50 ml
Handful of coriander, stalks included
Blitz the shallots, garlic, ginger, lemongrass, belecan and chillies in a food processor until combined into a paste.
Heat the oil and fry the paste for a couple of minutes before adding the tamarind, sugar, a pinch of salt and a couple of glugs of water and continue to cook and stir until reduced (approx 3 or 4 mins) and leave to cool. This can be made in advance.
Place each fish on 2 x pieces of banana leaf and cover in the sambal paste and then loosely cover in 2 more pieces of banana leaf before wrapping in tin foil.
Cook on a pre-heated bbq for approx. 20 minutes before removing and leaving to rest for 10 minutes in packaging before opening and discarding foil and top layer of banana leaf and dressing with coriander and lime.
2 cups basmati rice, washed and rinsed
1 ½ cups coconut milk
½ cup of water
5cm ginger, cut into strips
1 cinnamon stick
3 star anise
6 cardamom pods
1 tsp salt
1tsp sugar
1 red chilli
Coriander
Add all the ingredients apart from the red chilli and coriander in a wok or saucepan with tight fitting lid, bring to the boil and gently simmer for 20 mins. Turn off the heat leaving lid on to steam for 10 minutes before fluffing up the rice and placing into a bowl/mould. Serve topped with chilli, coriander and a start anise.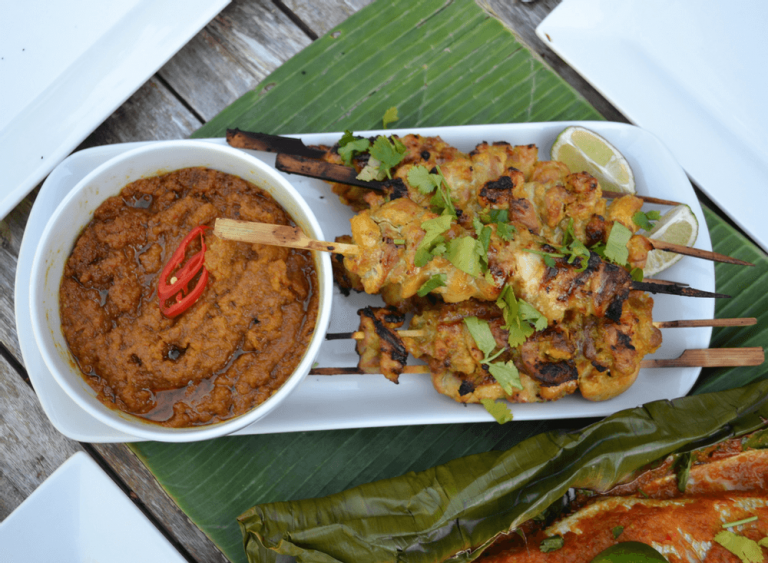 Chicken
800g of chicken thighs, boneless and skinless and cut into small (bite size) pieces
Marinade
1 onion, chopped
5 garlic cloves, chopped
2 cm ginger, peeled and chopped
1 lemongrass stalk, finely chopped
1 tsp ground coriander
1 tsp cumin
1 tsp chilli powder
½ tsp turmeric
Salt
80g of palm sugar, or dark brown sugar
Satay sauce
200g dry roasted peanuts, blitzed in food processor
200g of coconut milk
50g of palm sugar, or dark brown sugar
2 x tbsp of tamarind paste
2 tsp chilli powder
100ml of water
Juice of ½ lime
1/2 tsp salt
Blitz all the marinade ingredients in a food processor until combines into a smooth paste. Leaving 2 heaped tbsps. to one side mix remainder well with the chicken and leave to marinade in a fridge, ideally overnight.

 Mix all the satay sauce ingredients together in a saucepan along with the leftover satay marinade and bring to the boil before gently simmering until the sauce thickens, approx. 5 mins.
Thread the marinated chicken on skewers (if wooden make sure they have been soaked in water to prevent catching alight). Should make around 10 skewers.
Bbq the skewers for around 2 mins each side on direct heat and an additional 10 mins on indirect heat before serving with pieces of lime and sprinkled with coriander alongside the satay sauce.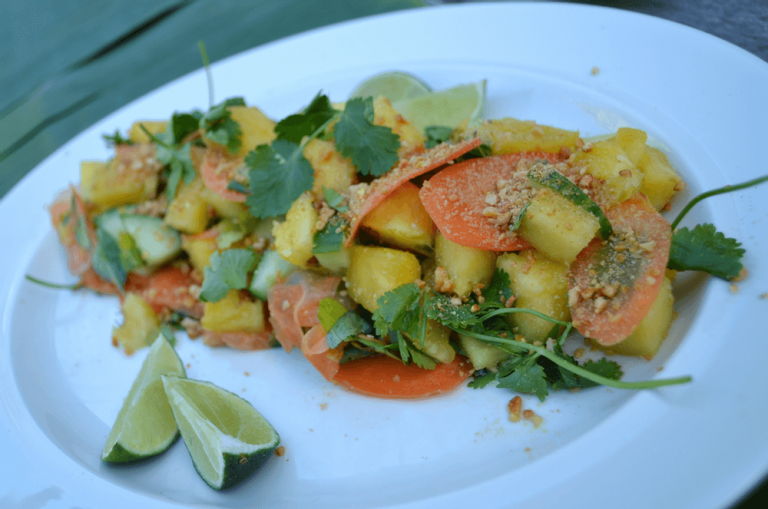 1 pineapple, peeled and chopped
½ cucumber, chopped
2 carrots, finely chopped in a mandolin
1 spring onion finely chopped
Handful of thai basil leaves
Handful of coriander leaves
Handful of roasted peanuts, blitzed in food processor
1 lime,
2 tbsp fish sauce
2 tbsp palm sugar
Combine the pineapple, cucumber, carrot, spring onion, coriander and basil half of the peanuts. Mix together the dressing of lime, fish sauce and sugar and toss the salad topping with remaining peanuts and coriander.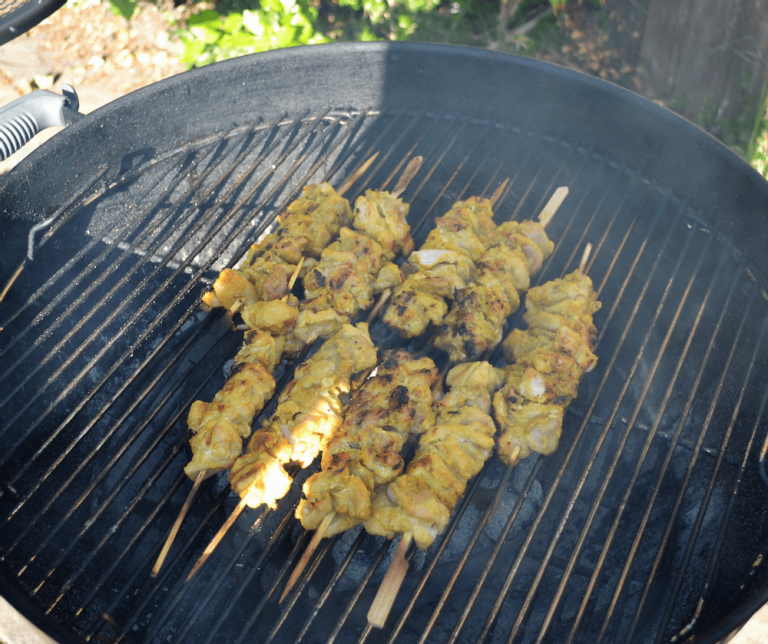 The aromas when you take off the banana leaf!!!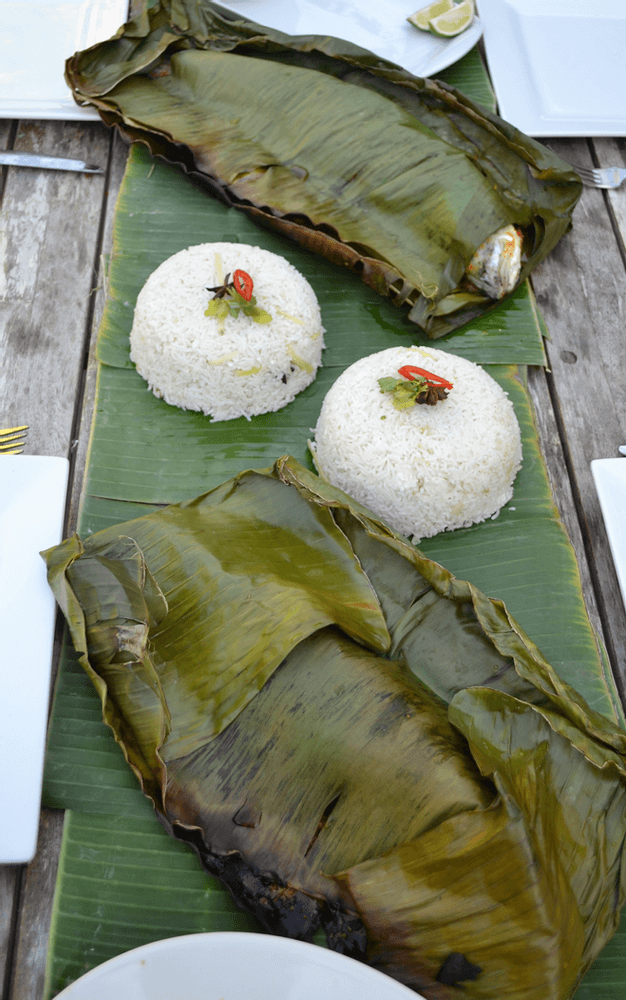 Malaysian dinner for the family!