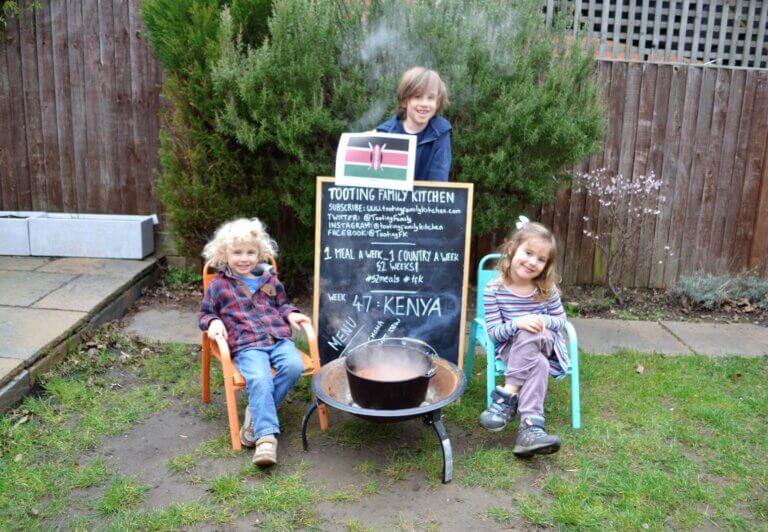 Week 47 and we return to Africa to visit The Republic of Kenya to find out a little more about the country before we cook up our Kenyan Feast!
Kenya is a country known for its hugely diverse heritage and a culture that is a rich collection of various practices and customs representative of its population. Kenya's closest relationships are with its fellow Swahili speaking neighbours in the region of the African Great Lakes, but it also enjoys good relations with the UK since its independence in 1962 and remains part of the Commonwealth of Nations. In many ways Kenya is one of the more familiar African countries to us Brits. Being far more accessible through its huge tourism sector and having never experienced an event of major civil unrest, it is generally seen as a politically stable country.
My eldest was particularly excited to visit and learn more about Kenya this week. Being very excited about wildlife and animal facts and knowing that Kenya is home to 'the big five' of Lions, Elephants, Leopards, Rhinos, and Buffalos, he couldn't wait get stuck into learning more. Kenya is one of the world's favourite safari destinations and its breath-taking landscapes and national parks provide a habitat for most animals found in Africa from aardvarks to zebras! Sitting on the equator and experiencing two major seasons, wet and dry, there is the opportunity to see different aspects of the regions amazing wildlife and in particular the incredible wildebeest migration…and my eldest's latest birthday wish! It is the world's largest overland migration involving 1.5 million wildebeest (give or take) and 200,000 zebras making a perilous journey of 800km whilst being stalked by 3,000 lions – a trip that is likely to prove fatal for 250,000 wildebeest and 30,000 zebras…they don't call it The Great Migration for nothing! I am still holding out for a few balloons and a McDonald's Happy Meal for his 7th.
As a sports loving county who host arguably the world's most popular marathon (in a competitive sense), it is no wonder that Kenya's long distance running always springs to mind when thinking about Kenya. Their incredible achievements in distance running are unsurpassed and none so more than the legend Eliud Kipchoge – not many will argue against him being the greatest marathon runner of the modern age. Many scientists and researchers over the years have tried to account for their dominance and generally factors such as being born at altitude, high-protein low-carb diets and high physical activity from an early age in terms of manual work (namely through farming) and distance travelled to and from school (often up to 10km a day) are all contributing factors. Whatever it is, they have a winning formula and can be hugely proud of their achievements!
The 2011 census recorded approximately 140,000 Kenya born people resident in England, around half of which live in London. Famous Britons born in Kenya include Richard Dawkins, Chris Froome, Sir Nilesh Samani, Sir Tejinder Virdee and Baroness Prashar. Kenyans are known for their dress sense and although there is not one particular traditional dress, largely because there are at least 70 different ethnic communities, dresses are often bright, vibrant, decorative and cheerful! The population of Kenya is very young and approximately 60% of the population are under 24…being the 31st largest population in the world, that is a lot of young people! Hopefully, the young population will continue to push its modernization, especially around women's rights. Kenyan men can still have multiple wives and arranged marriages and dowry's (often in the form of livestock) are still common, but equally this has prompted inspiring acts such as Umoja Uaso, the extraordinary and inspiring women only village. Notably too, the first African woman to win the Nobel Peace Prize was Kenyan, Professor Wangari Maathai, who won in 2004 for her "contribution to sustainable development, democracy and peace."
There is no one dish that represents Kenyan cuisine, but the most common food staple is ugali which we have cooked today and similar in part to the banku we cooked for our visit to Ghana. Different communities have different foods, but goat is often on the menu and the unofficial dish is nyama choma (roasted meat) which is simply cooked, usually over an open fire, and often accompanied with ugali and a salad common throughout the Great Lakes region, kachumbari.
We hope we have done Kenyan food justice today!
Tooting Family Kitchen cooks Nyama Choma, Curried Goat Stew, Ugali and Kachumbari
Checking out the goat ribs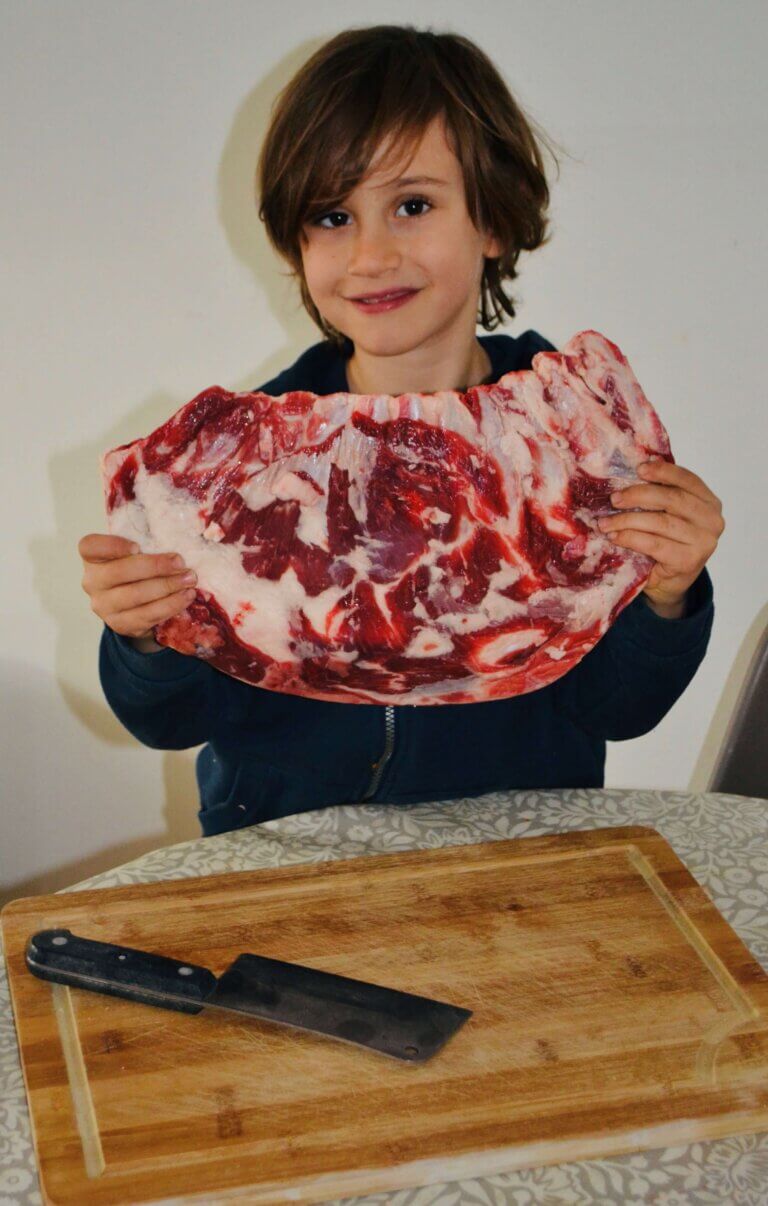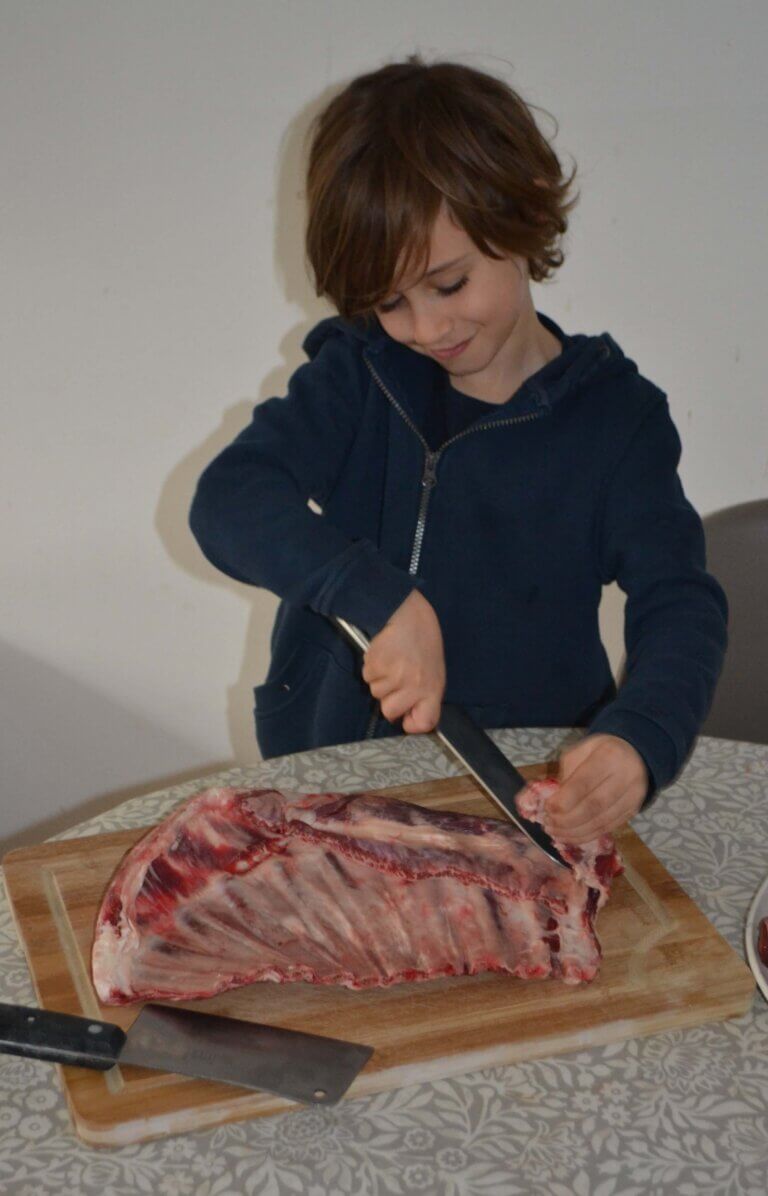 Checking on the curried goat stew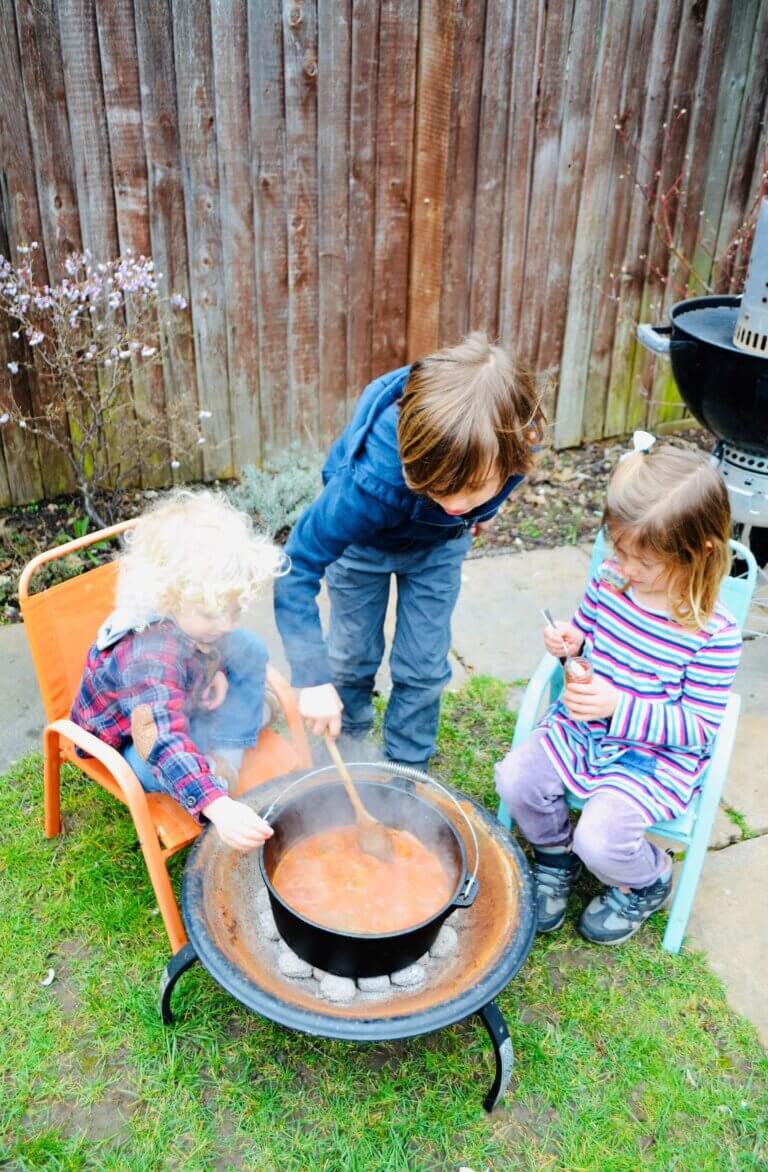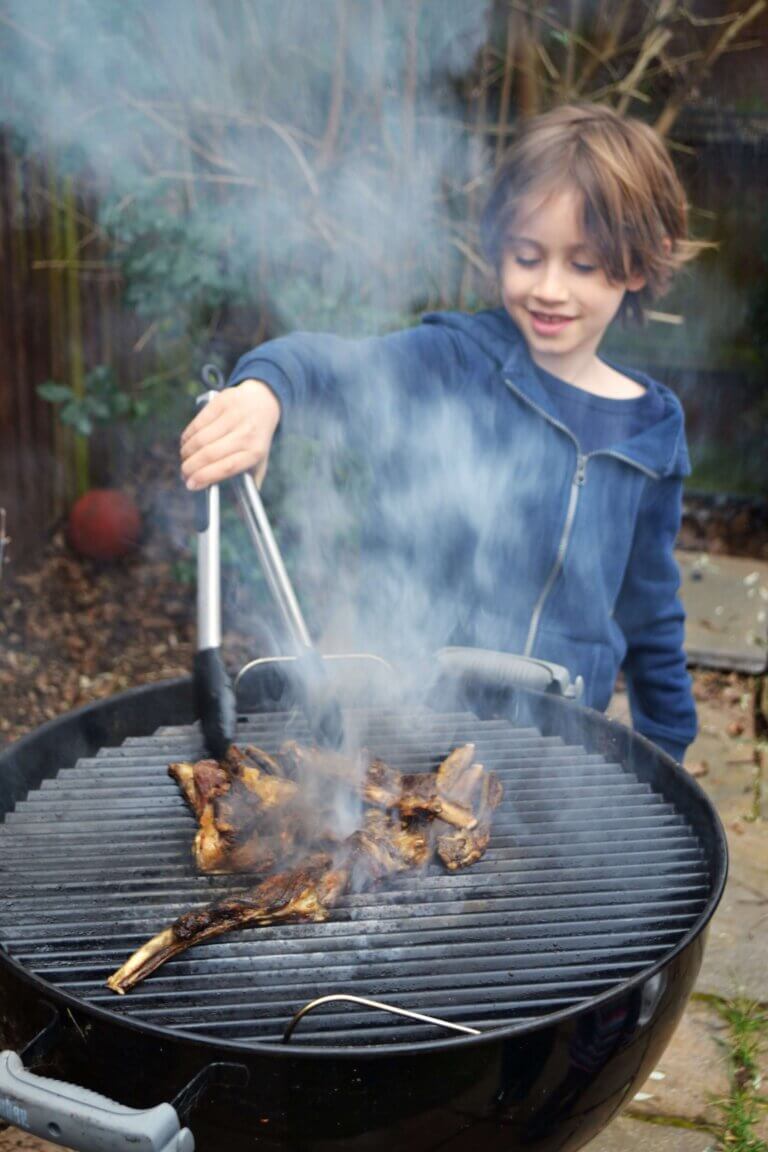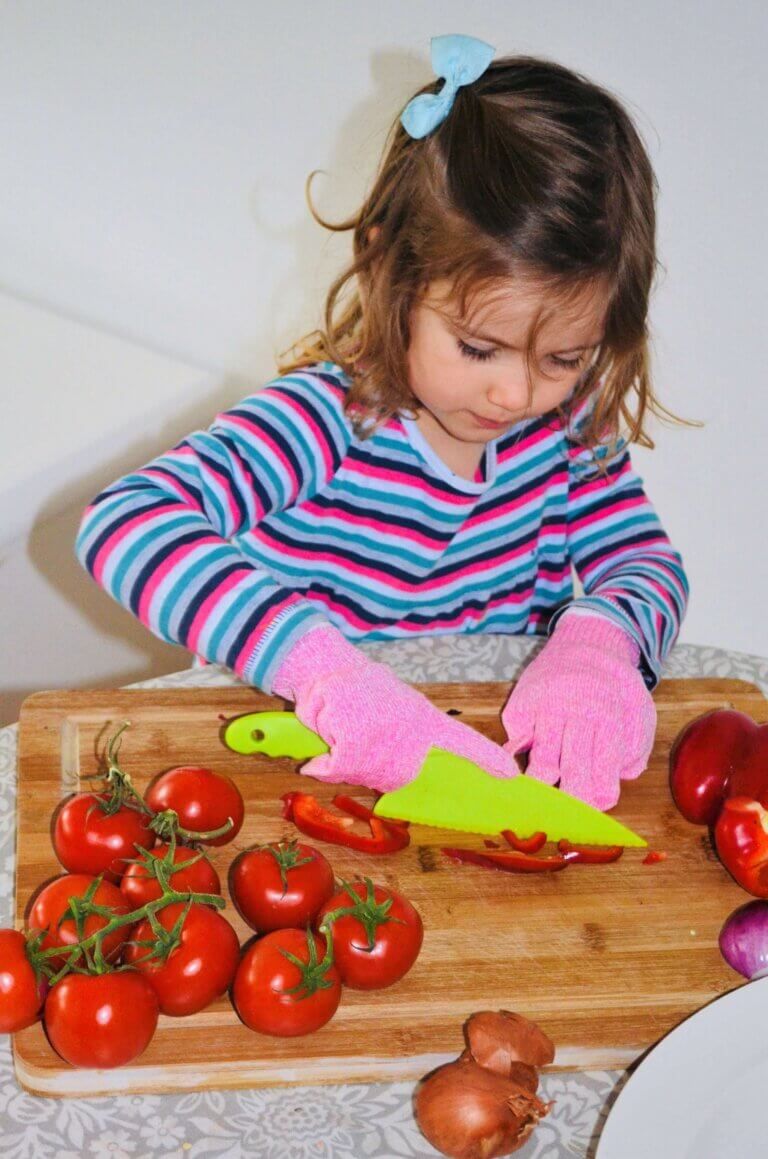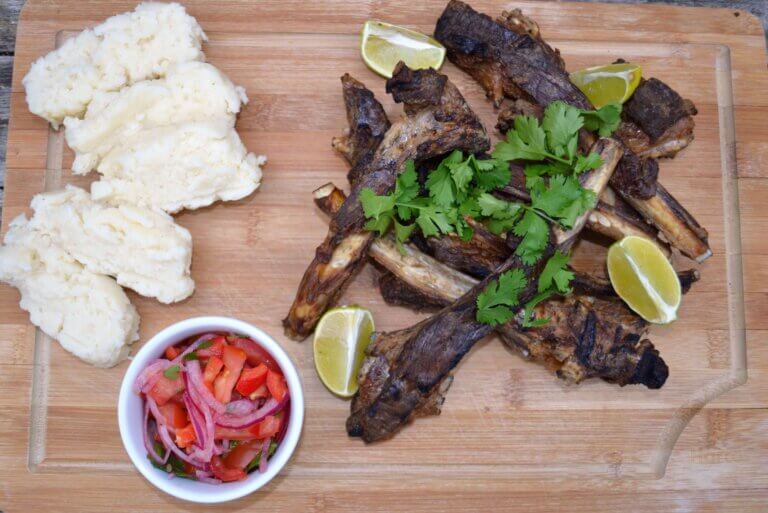 1kg of goat meat (we used ribs)
3 tbsp oil
Salt
The usual method would be grill this low and slow to get the goat meat tender. A cheat that we often use with ribs to keep them from drying out is to put on a rack on a baking tray adding a cup of water to the bottom. Cover in town foil and cooking and cook in the oven at 130C for 90mins – the equivalent would be cooking over indirect heat keeping the heat as low as possible for the same time and basting in salt water every now and then.
When ready to finish off grill on direct heat until the ribs are browned off nicely and the fat has caramelized.
Curried Goat Stew and Ugali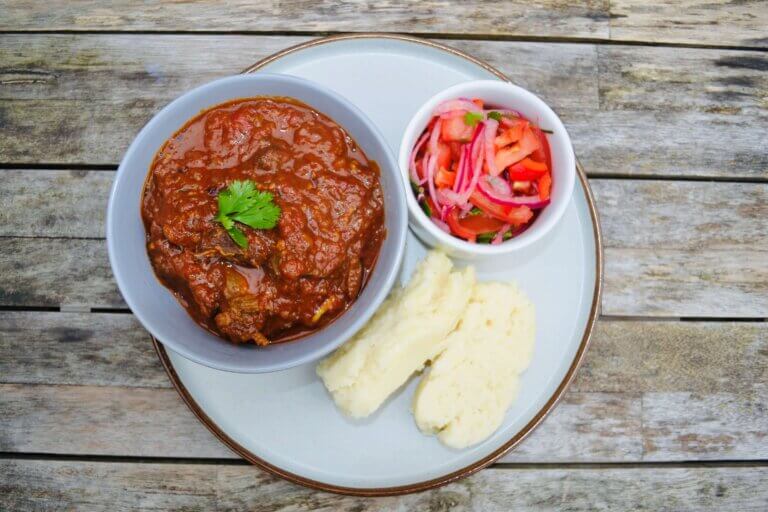 Curried Goat Stew
3 tbsp oil
1kg goat pieces, bone in
1 onion, sliced
3 large cloves of garlic, minced
1 inch ginger, grated
2 tins chopped tomatoes
1 tbsp tomato paste
1 tbsp curry powder
1 tsp smoked paprika
1 tsp white pepper
1 bunch of thyme (tied)
400ml of water or stock
Ugali
3 cups of white cornmeal / maizemeal
6 cups of water
1 tsp fine salt
Curried Goat Stew
Season the goat pieces with salt and heat the oil and a large pot. Brown off all the goat until down and all sides and then remove and put to one side (may have to do in batches).
In the same pot fry the onions until starting to go golden and then add the ginger and garlic and continue to fry for a minute.
Add the curry powder, paprika and pepper and continue to cook and then add the tomato paste and a splash of water and make a paste.
Add the goat back to the pan and coat well then turn up the heat and add the tomatoes, water and thyme.
Cover and allow the simmer gently for at least 3hrs until the goat is tender and coat through. Check for seasoning and serve.
Ugali
Add the water and salt to a large pan and bring to the boil.
Gradually whisk in the corn meal which will thicken quickly. Reduce the heat and keep stirring with a wooden spoon and add a little more water and place the lid and allow to cook for 5- 10 mins.
Tip out the mixture and shape into individual balls or into a log and slice into pieces.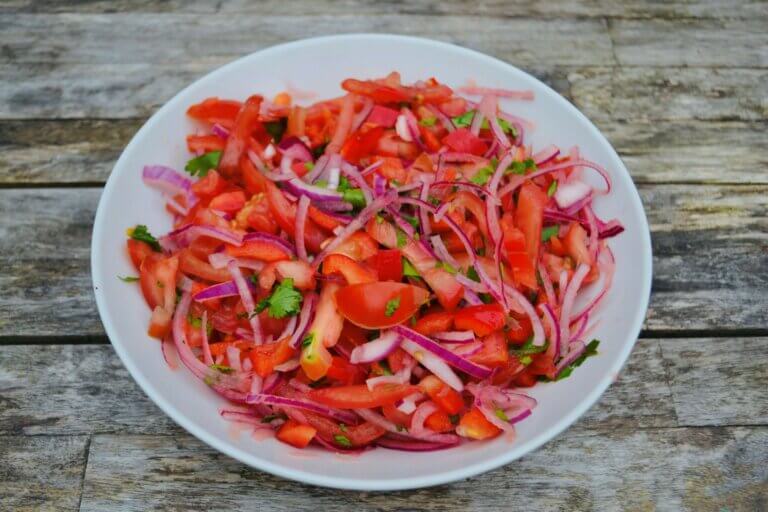 1 red onion, finely sliced
2 large tomatoes, chopped and drained well
1 red pepper, finely chopped
1 red chilli , finely chopped
1 tsp salt
4 tbsp white wine vinegar
1 lemon, juiced
2 tbsp coriander
Add the sliced onions to  a bowl and pour in the vinegar and leave for a few minutes to remove acidity.
Add the tomatoes, red pepper, chilli and slat and combine and stir in the lemon juice and season to taste.
Refrigerate and ready to serve stir in the coriander.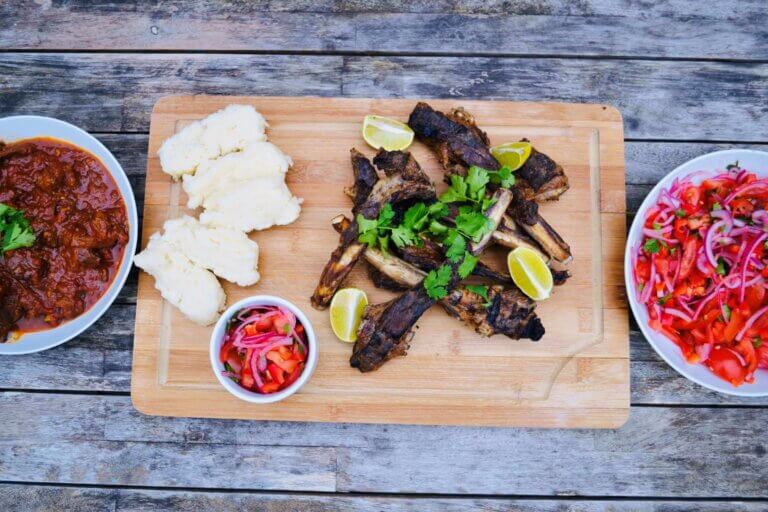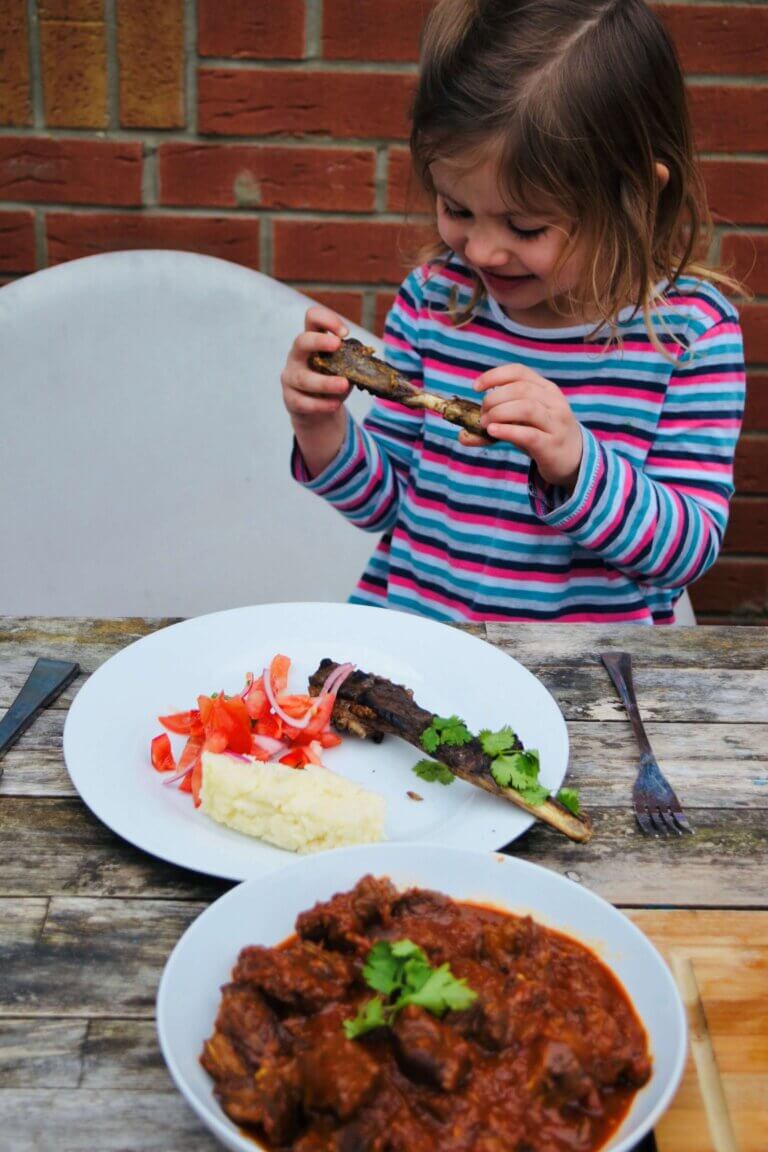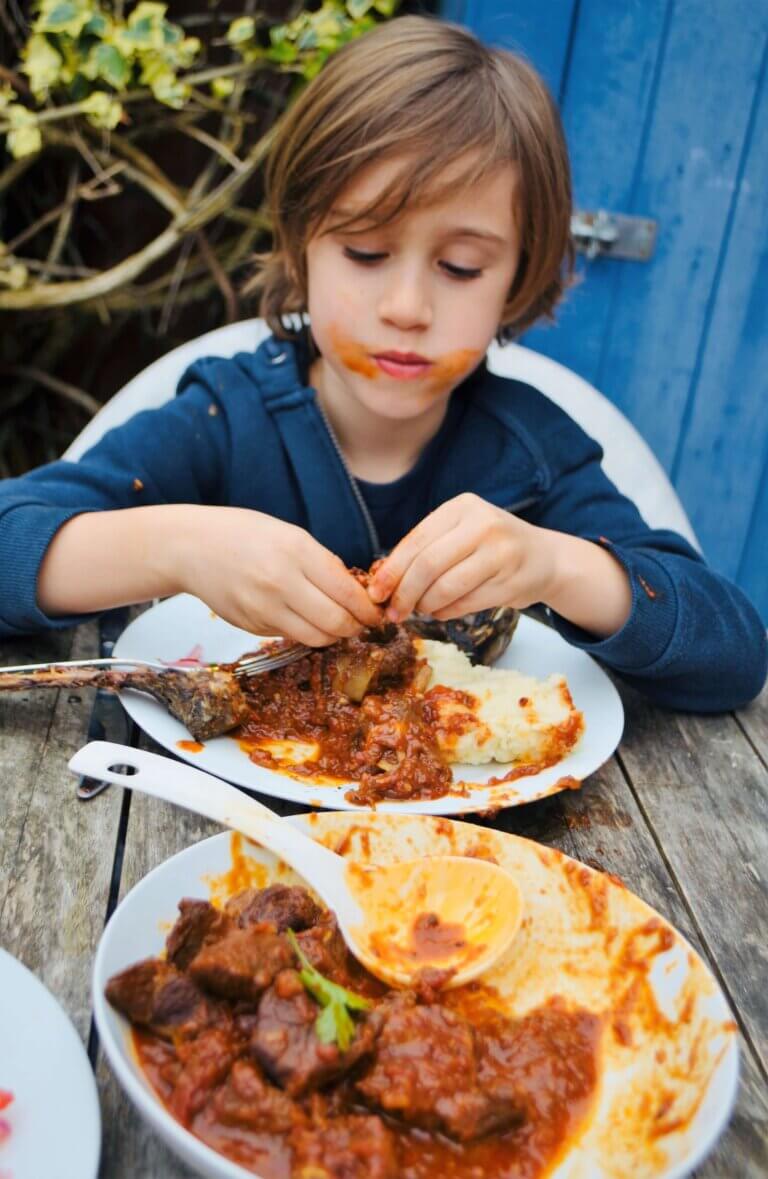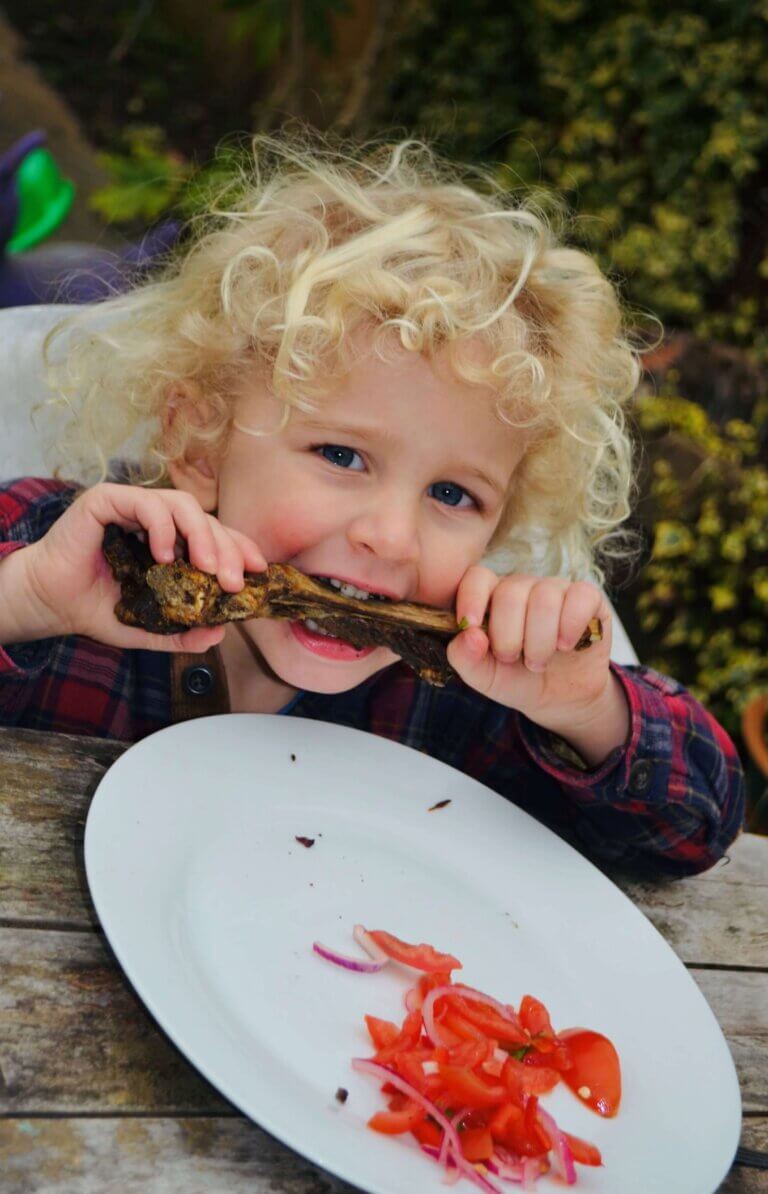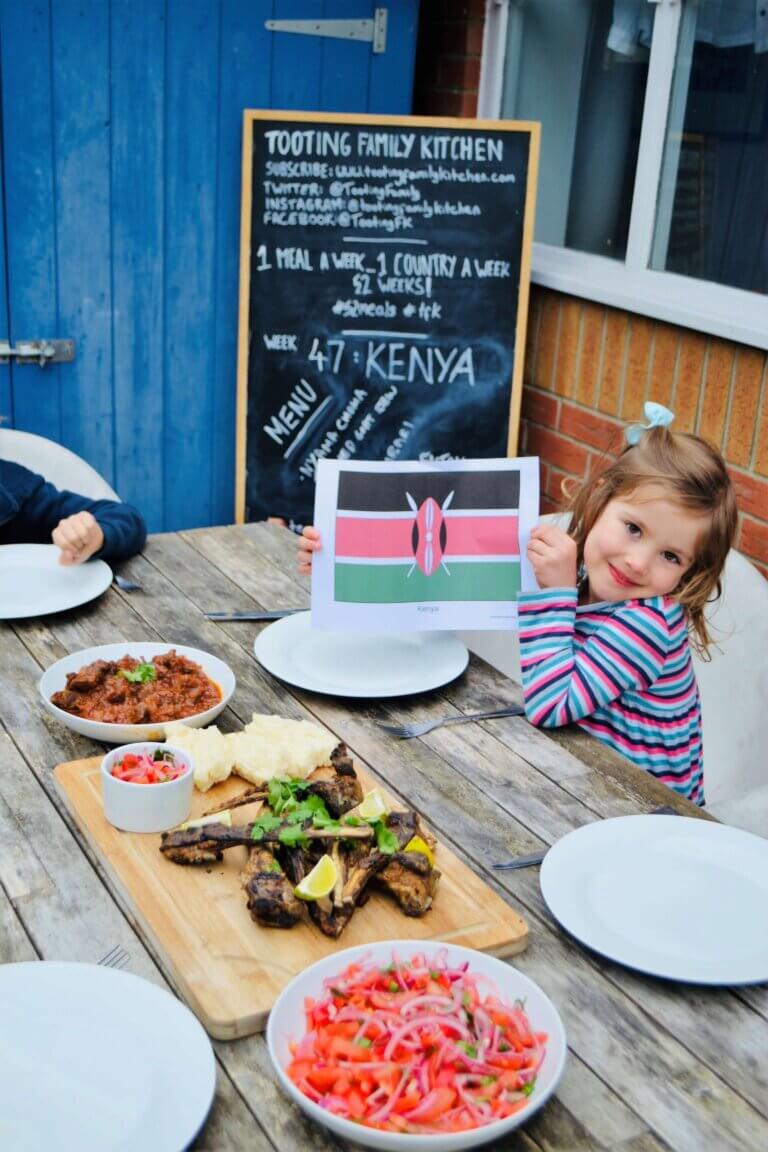 Thank you Kenya, that was epic! 
Next week we are excited to head to Indonesia!!! … please don't forget to SUBSCRIBE (scroll to bottom) & SHARE and if you have any International Food ideas or recipes from around the world you wish to share please do drop us a line
Check out other destinations here.
You can also follow us on Instagram, twitter and Facebook
See you next week!
Tooting Family Kitchen
#tootingfamilykitchen #getkidscooking #familycooking #homecooked #worldfood #americanfood #usa #kidscooking #getkidscooking #familycooking #internationalfood #CookingBuddies