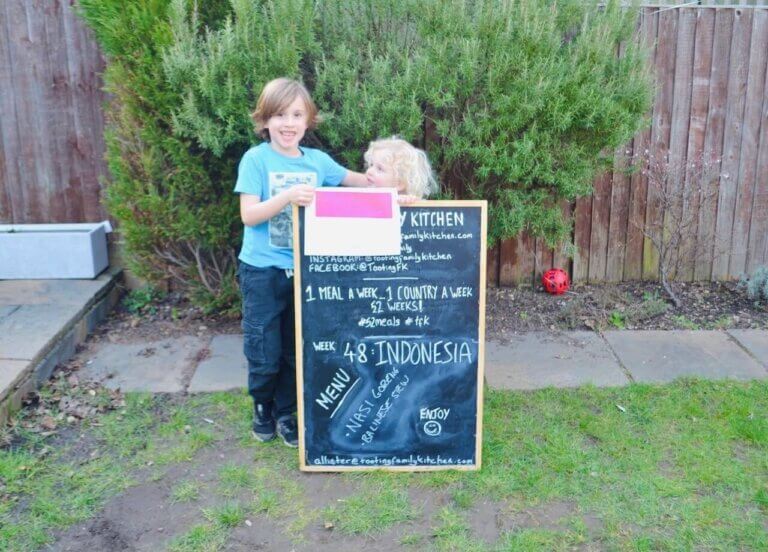 Week 48 and we are super excited to return to Southeast Asia for the final time. This week we check out Indonesia and get the kids cooking an Indonesian feast.
It seems apt to finish the Southeast Asian leg of this 52-week celebration of diversity by visiting a land that is diverse like no other. Indonesia is the world's largest island nation. An archipelago of approximately 18,000 unique islands which make up this geological marvel spread out along the equator. A super exotic country where the Pacific and Indian Oceans meet and which is home to 127 active volcanoes (more than any other country in the world), which all contributes to this being one of the most biodiverse locations on the planet, and yet outside of the honeymooner's favourite hotspot of Bali, many know little about the place.
The first things to note about Indonesia are a) It has a lot of people b) It has a lot of young people and c) It is the world's most populous Islamic nation. Its population is only surpassed by China, India and the USA with an incredible 275 million people and it is thought that approximately 165 million are under 30, with a median age of around 28 years (by comparison the USA is around 36). The population quite literally doubled in 40 years between 1970 and 2010 making it a very busy and a very young place. Approximately 85% of Indonesians are Muslim and predominantly Sunni, however the constitution recognizes religious freedom, and 6 religions are officially recognized: Islam, Protestantism, Catholicism, Buddhism, Hinduism, and Confucianism. Interestingly Hinduism accounts for approximately 1.5% of the countries religious beliefs, although it is practiced by 87% of the population in Bali, which is why we also have a pork dish in today's menu representative of this beautiful island.
The total number of islands in Indonesia is hotly disputed, namely due to some islands only appearing at low tide and depending on the surveying techniques used. Travellers however can experience completely different cultures, foods, dialects, and customs depending on the shores they step foot in. It is home to the world's second, third and sixth largest islands and the world's most populous island, Java, has a population of 139 million people with approximately 84 million speaking Javanese. That is more speakers than the entire population of the UK for what is not even recognised as the country's official language. To really sum up the diversity of Indonesia one can look at the sprawling metropolis of Jakarta, home to over 10 million people and over 40 skyscrapers reaching more than 200m tall. In 2017 alone five 200-meter-plus skyscrapers were built and yet head east to provinces such as Papua and it is estimated you can find (if you look hard enough), nearly 50% of the worlds uncontacted tribes, some of which were fierce head-hunters in times gone by…and I am not talking about recruitment! If you are planning to island hop leave some room in the luggage for a few phrase books as approximately 700 languages and dialects are spoken across the archipelago with 270 dialects being spoken in one province alone!
The infamous Krakatoa eruption of 1883 is arguably the most famous in history and certainly produced one of the largest sounds, rupturing people's eardrums over 40 miles away. With 127 volcanoes remaining active, it is a fact of life that millions of people are living within proximity of volcanoes which could erupt at any time. It was only 2 years ago that tourists in Bali got a fright with the eruption of Gunung Agung, but fortunately nothing eligible to go in the history books. It is home to the world's largest volcanic lake, Lake Toba and it is believed that the eruption which caused the lake, threw so much debris into the atmosphere that it caused 1000 years of cooler temperatures across the planet. In the centre of this lake alone is the island of Pulau Samosir, home to the Batak people and a new island pushed up by volcanic activity.
If the volcanoes do not dominate the incredible scenery and landscapes the animals and fauna do. It is the only place in the world to see Komodo dragons in the wild. They do occasionally attack people but are not nearly as dangerous as the many cobras that live there, and I certainly would not want to have come face to face with what the Guinness Book of World Records lists as the longest captured snake, the 32ft reticulated python found on the Indonesian island of Sulawesi in 1912!  I would however, very much like to meet an Orangutan and Sumatra and Borneo (Borneo being shared with Malaysia and Brunei) are the only places in the world where it is possible to see these beautiful creatures in the wild. If you do find yourself trekking through the most heavily forested place on earth outside of the Amazon, and you come across a strange smell akin to rotten meat, don't panic…it may not be a 30ft python's leftovers but in fact could well be the world's most odorous plant. The Amorphophallus titanium found in Indonesia releases such a foul odour when it blooms it can be smelled half a mile away.
As you would expect Indonesian cuisine is a diverse reflection of its 1300 or so ethnic groups and consists of around 5,350 traditional recipes. It is certainly one of the world's most vibrant and colourful cuisines and we hope we have done it justice today!
Tooting Family Kitchen cooks Nasi Goreng, Sambal and Balinese Pork Stew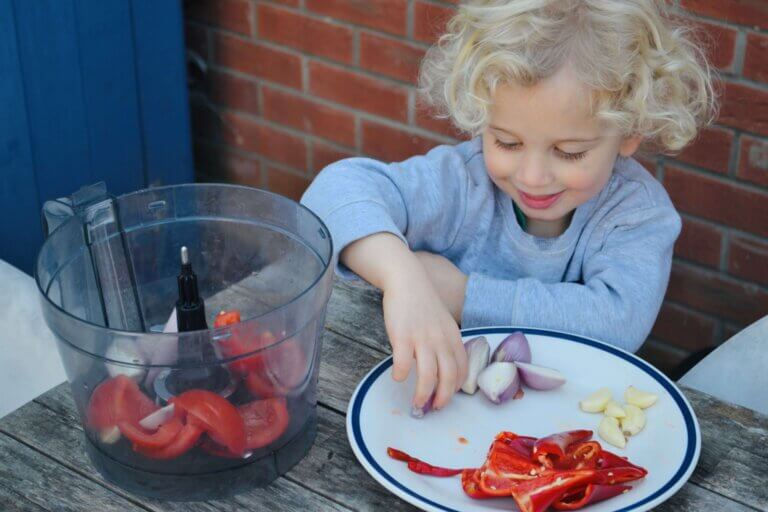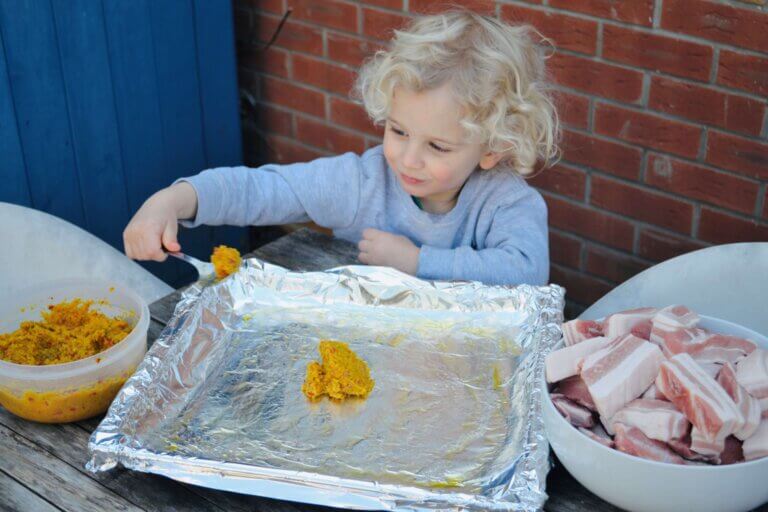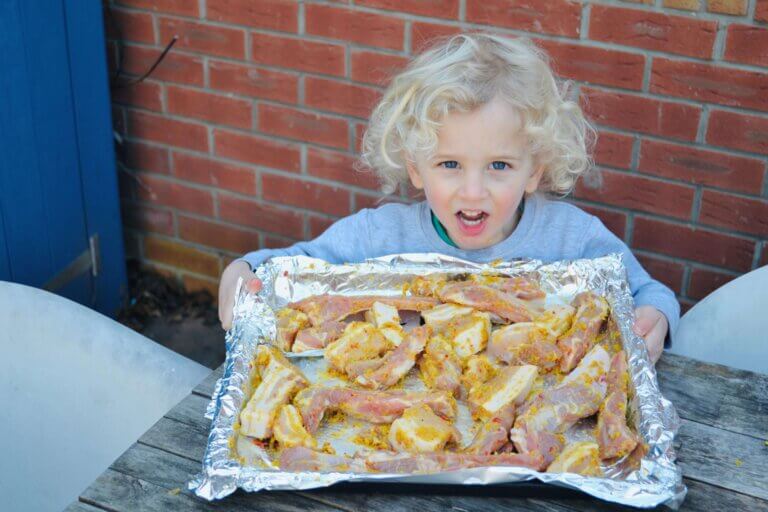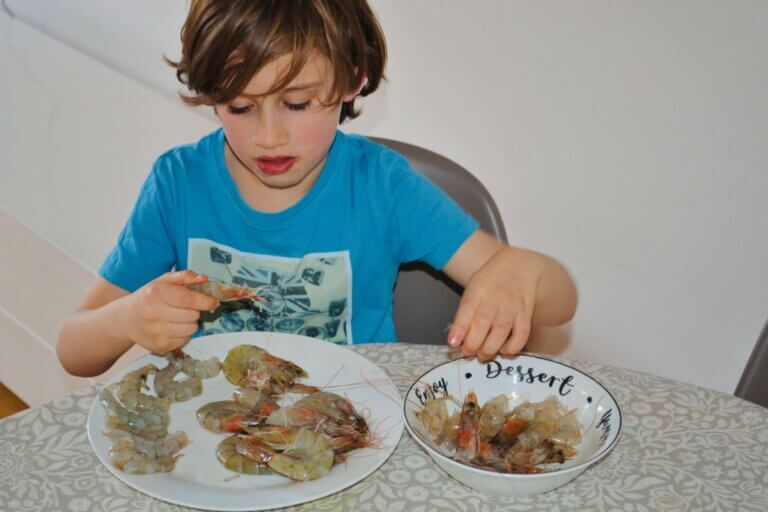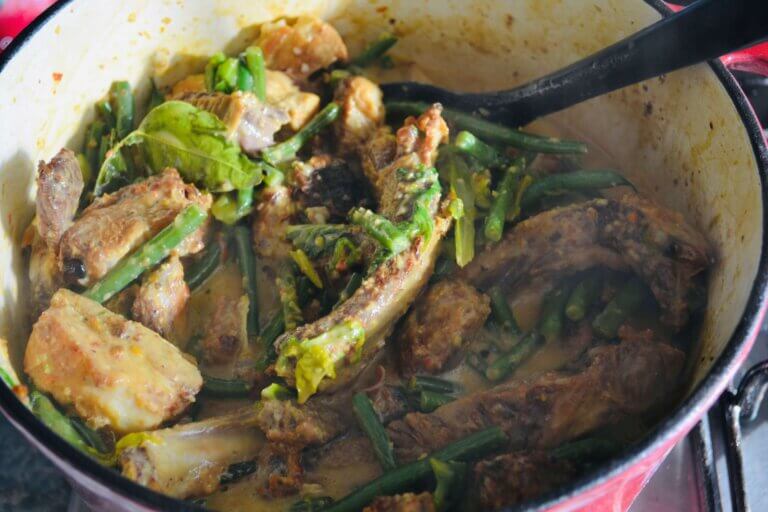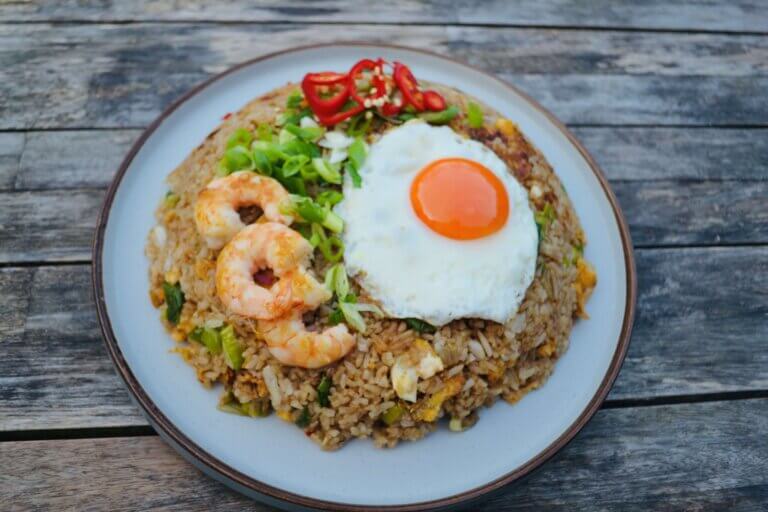 250g jasmine rice
3 tbsp canelo oil
2 cloves garlic, minced
2 eggs, lightly beaten
4 tbsp soy sauce
2 tbsp pomegranate molasses (or brown sugar)
4 spring onions, chopped
1 red chilli, finely chopped
Paste
4 shallots, chopped
2 tbsp canelo oil
2 tsp shrimp paste
2 cloves garlic, chopped
1 red chilli, de-seeded and chopped
Toppings
Fried egg
1 red chilli, sliced
1 spring onion, finely chopped
Handful of cooked prawns
Rinse the rise and then cook according to instructions before allowing to cool.
Place all the ingredients for the paste into a blender and blitz until smooth.
Heat the oil in a wok or large frying pan and gently fry the garlic until starting to brown slightly, lower the heat and then pour in the eggs and cook until they are starting to set before gently breaking up with a wooden soon. Continue to fry for another minute and then story in the paste and continue to cook for another minute.
Start to add the rice breaking up with a wooden spoon as you go and finely add the soy, molasses, spring onion and red chilli and fry for 2 minutes before checking for seasoning.
Add your chosen toppings and serve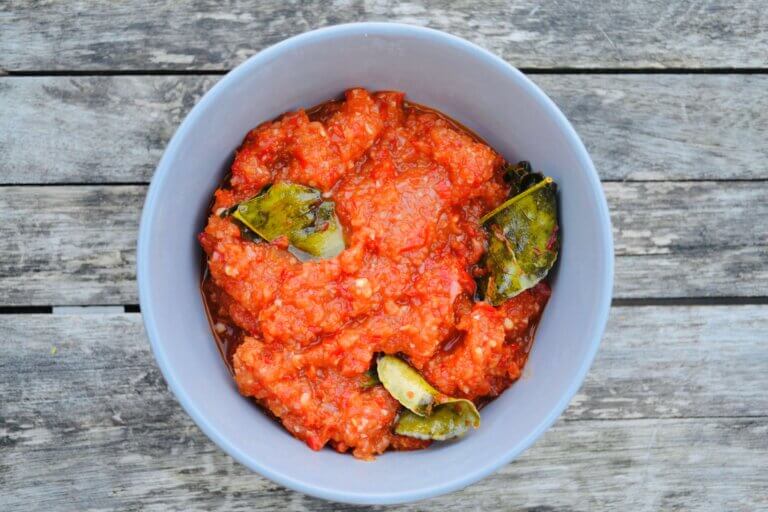 10 red chillies, de-seeded and chopped
3 shallots, chopped
2 cloves garlic, chopped
1 large tomato, de-seeded
3 tbsp canelo oil
5 kaffir lime leaves
2 tsp sugar
1 tsp salt
1 lime, juiced
Place the chillies, shallots, garlic and tomato into a blender and blitz until just starting to become smooth.
Heat the oil in a wok and add the contents of the blender along with the sugar, salt and lime leaves and continue to gently fry for around 5- 10 minutes or until most of the excess liquid has evaporated leaving a thickened paste.
* recipe inspired by Anna Friel's recipe in Jamie Oliver's Friday Night Feast
400g skinless boneless pork belly cut into strips
600k pork ribs
3 tbsp olive oil
300 g green beans, cut in half
½ a Chinese cabbage, shredded
6 kaffir lime leaves
2 x 400 g tins of light coconut milk
500g jasmine rice
4 limes
Paste
20g fresh turmeric, peeled and sliced
80g ginger, peeled and sliced
400g shallots, chopped
1 bulb of garlic, chopped
2 red bird's-eye chillies, de-seed and chopped
3 red chillies, de-seeded and chopped
1 tablespoon each of black and white peppercorns, crushed
5g palm sugar
1 tsp shrimp paste
Make the paste by adding the turmeric and ginger to a dry pan and fry for a couple of minutes until they start to release their oils. Turn the heat off and out to one side.
To make the paste, peel and finely slice the fresh turmeric, then scrub and finely slice the galangal. Place in a dry frying pan for a few minutes, or until they start to release their oils, then turn the heat off.
Add all the paste ingredients to a blender and blitz until smooth (alternatively if you have time use a pestle and mortar). You won't need all the paste so freeze half.
Keep 2 tbsp of past to one side and massage the rest into the pork belly and ribs. Place on a foil lined baking try and drizzle with oil. Cover with tin foil and cook in a pre-heated oven at 180 C for 90 min. Remover the foil and give the tray a good shake and cook uncovered for another 30 mins.
When the meat has finish cooking remove from the tray and place in a wok with the green beans, lime leaves, reserved paste and coconut milk and gently mix together and bring to the boil
Reserving 2 tablespoons of the remaining paste for later, place the rest in a large roasting tray. Add the meat and massage in all those lovely flavours. Drizzle with olive oil, then cover with a sheet of wet greaseproof paper and a layer of tin foil.
Cook in the oven for 2 hours, or until beautifully browned and gnarly, shaking the tray halfway and removing the greaseproof and foil for the final 30 minutes.
Chop the Chinese long beans into 7cm chunks (if using), halve the squash across the middle, then roughly shred the cabbage. Remove the meat tray from the oven and place over a medium heat on the hob. Stir in the veg, lime leaves, reserved paste and coconut milk, and gently mix together and bring to the boil before simmering for 15 mins or until the sauce has thickened. Check for seasoning.
Serve with the cooked jasmine rice on banana leaves with lime wedges for garnish.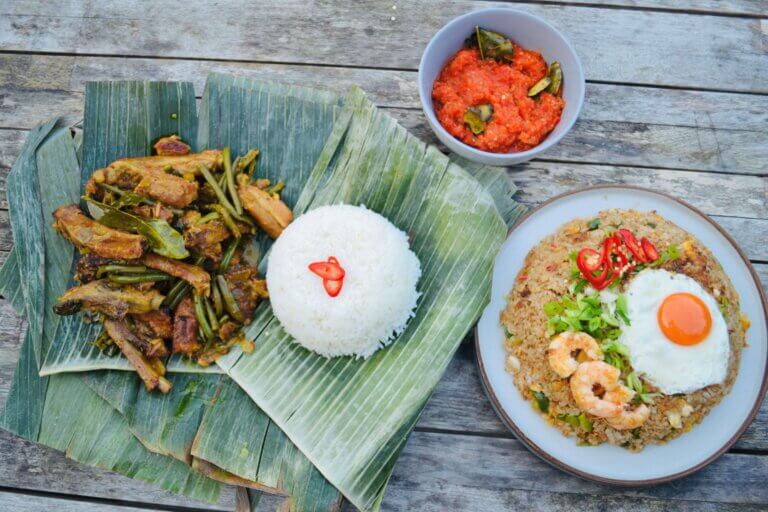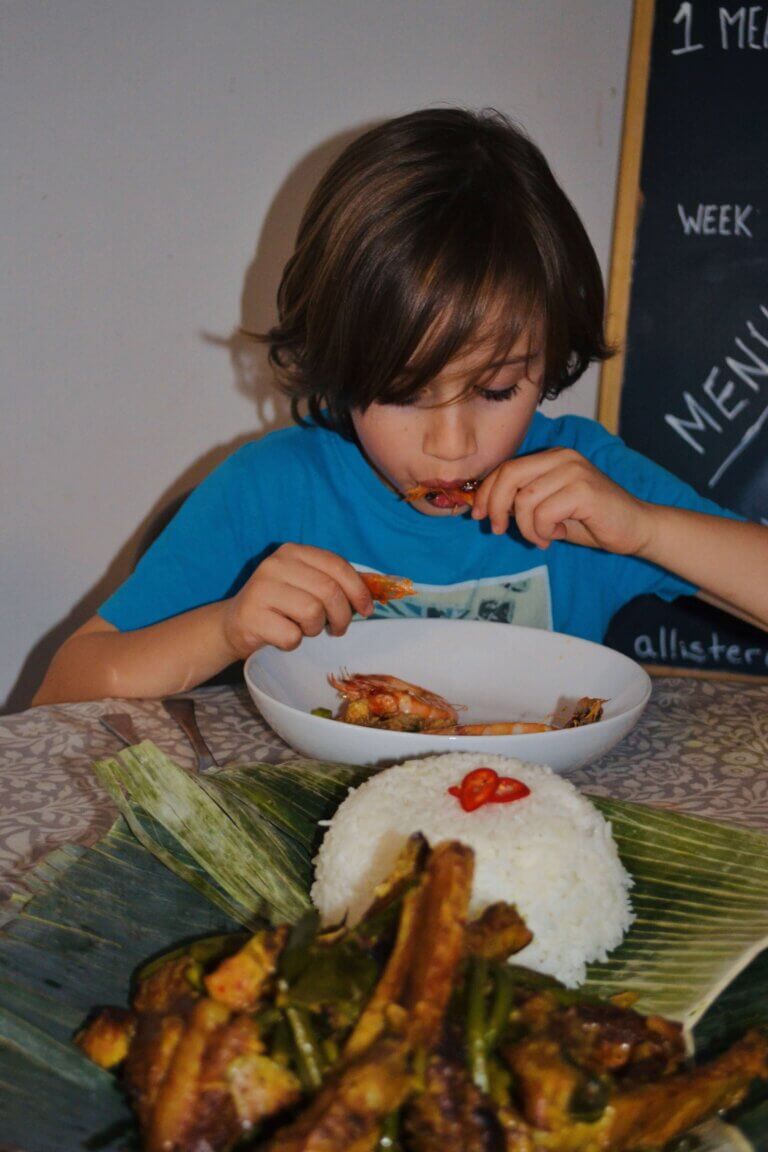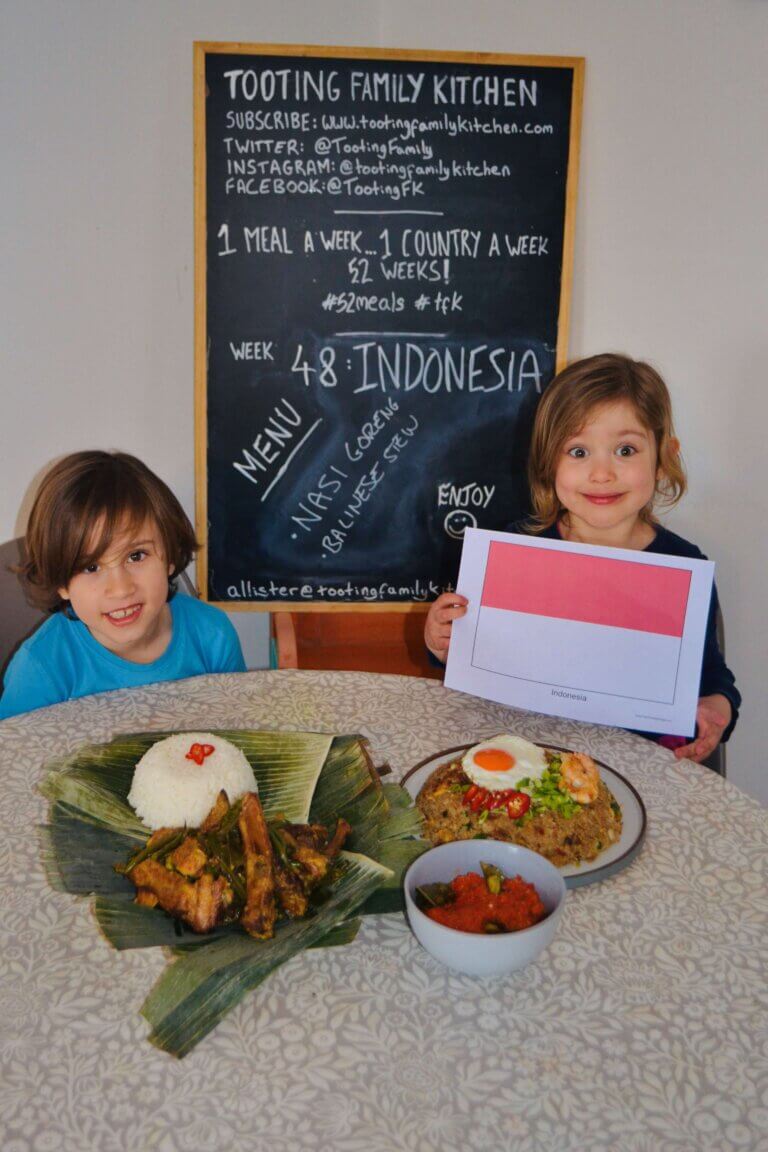 Thank you Indonesia, that was epic! 
Next week we are excited to head to Sweden!!! … please don't forget to SUBSCRIBE (scroll to bottom) & SHARE and if you have any International Food ideas or recipes from around the world you wish to share please do drop us a line
Check out other destinations here.
You can also follow us on Instagram, twitter and Facebook
See you next week!
Tooting Family Kitchen
#tootingfamilykitchen #getkidscooking #familycooking #homecooked #worldfood #americanfood #usa #kidscooking #getkidscooking #familycooking #internationalfood #CookingBuddies