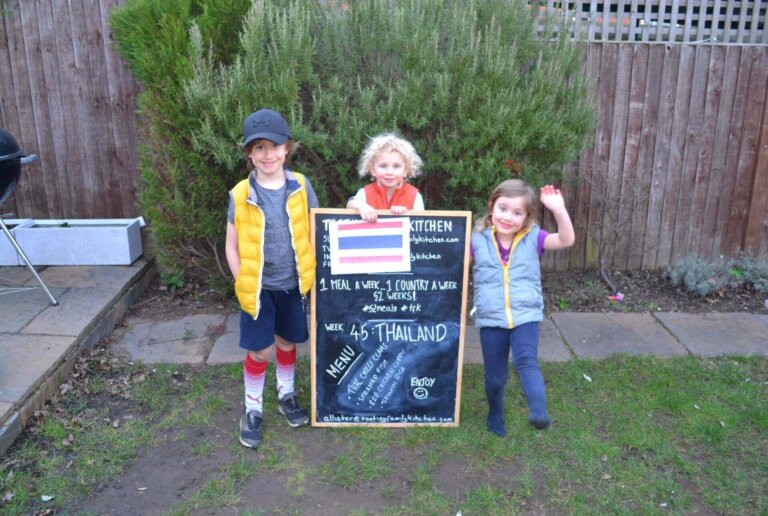 Week 45 and this is a big one! Very excited to return to South East Asia and take on Thai food…a regular in the world's top 10 cuisines, home to the world's most visited city and the top destination for all British gap year students!
I must be honest and say it was the last statistic on the list that put me off visiting Thailand in my 20s. Having joined the Army at 18 I missed out on the whole gap year experience, but I saw many friends and acquaintances go and never come back the same….at least for a few days. The cynic in me would dread hearing about how Tom had 'found himself' whilst spending 3 days up a palm tree with a monkey called Derek, or Steve had decided he was now committed to opening a scuba school having had a 'calling', or Chris had decided to adopt Buddhism (for a week) for reasons he did not quite know, but felt it was pretty cool. Worse still was hearing about all the friends they had made for life (which turned into a brief email exchange on return) and seeing yet another picture of a boat party whilst having everyone named…in turn…slowly…and of course they were all such free spirits! Fortunately, the cynicism was well placed and slowly but surely the yoga memberships expired, the random bits of facial hair were shaved off, the cotton bracelets perished, and before I knew it the lads were back…complaining at the barman for their Stella not being served in a Stella glass, at optimum temperature, by a barmaid named Stellar! Yep, Thailand was not going to get its hands on me with its mind-altering powers!
Thailand and I continued to evade each other for nearly 14 years until my time in the Army was up. Despite having had a very fulfilling military career the liberating feeling of stepping past the armed guards for the last time from my base in Gloucester, to head back to my girlfriend (now wife) in London, was like none other. My guard being down and awash with emotions I got back to Esmeralda that day and pretty soon we had booked 3 weeks in Thailand…I was ready for it…random facial hair, bracelets, battered straw hats…bring it on Thailand! And just like the other 16 million tourists a year I was NOT going to be a tourist…I was different!
Thailand blew us away. What a place, what a holiday, what an experience! I spent most of the trip kicking myself for not visiting Thailand (or indeed South East Asia) before. It was incredibly cheap, stunningly beautiful with an incredibly peaceful culture and the food was just amazing…as a holiday destination it was close to be being perfect. In a whirlwind 3 weeks we used rickshaws, gondolas, buses, and ferries to see the jungles of the north, the national parks of the Malay Peninsular and the Islands either side with their endless beautiful beaches. My moustache was coming along nicely, I had several bangles and my plans for a scuba school were being finalized – the only problem was the millions of other non-tourists planning on doing the same thing!
There are over 1,400 islands in Thailand, 35,000 temples and it has a population of approximately 65 million of which around 90% are Buddhist. At one time of day all men had to become a Buddhist monk for a period of time before they turned 20, kind of like a national service! It is regularly voted as one of the friendliest countries on earth and is often known as the "land of smiles", because of their peace loving culture. Thailand is also the only country in Southeast Asia that has failed to be colonized by a European country and in fact it's native name, 'Prathet Thai' means 'land of the free'.
Even for those who have not been to Thailand, the stunning scenery has been well depicted on our screens as a stunning backdrop to numerous films such as The Man with the Golden Gun, The Beach and The Deer Hunter. The luscious jungle and pristine waters provide a habitat to about 10% of the planet's animal species and is home to the world's smallest mammal, the bumblebee bat, as well as the world's largest fish, the whale shark and more birds than that of America and Europe combined! Stay long enough and you may come across the biggest lizard in the world, the monitor, which can grow up to 7 feet or even the mudskipper, which is a fish that absorbs oxygen through its skin and as such can walk up the beach and even climb trees…thankfully this does not grow to 7 feet!
The food in Thailand needs no introduction and its fresh, vibrant, punchy flavours have made it one of the world's favourite cuisines with its unique blends of the 5 tastes: sweet, sour, bitter, salty, and spicy! Dishes are very open to interpretation and cuisine can be very regional but Pad Thai, Red Curry and Tom Yum Soup are on most people's radar although my favourite dish from our travels and one that I cook at every opportunity is clams in roasted chilli paste… washed down with a cold beer. Give it a go and let us know what you think – just don't forget the Thai basil 🙂
Tooting Family Kitchen cooks Hoi Lai Pad Nam Prik Pao, Pla Nung Khing and Kaeng Phet
Checking out the ingredients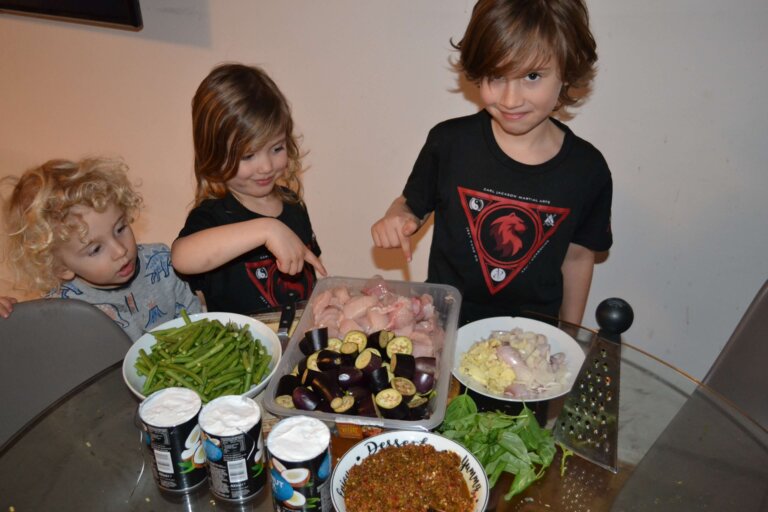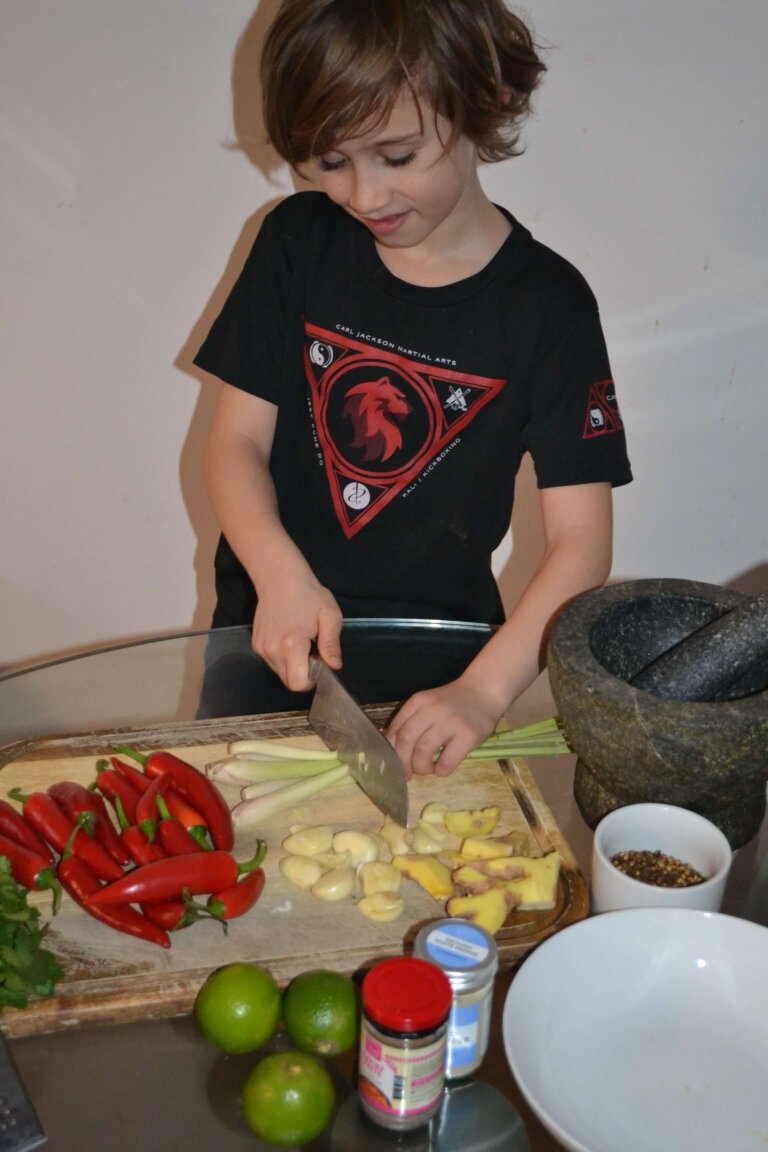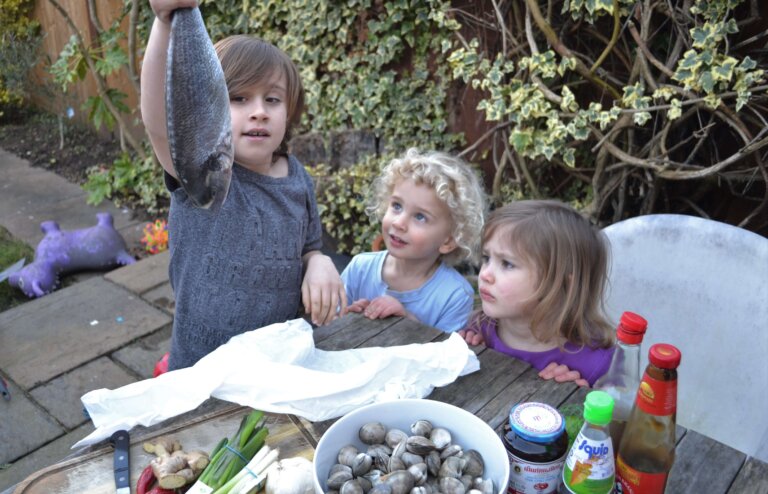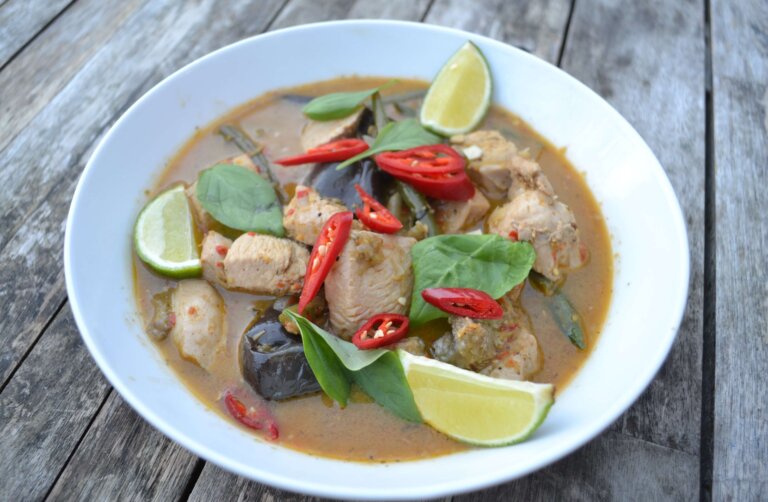 Chilli paste
1 tsp cumin seeds (dry roasted and ground)
1 tsp coriander seeds (dry roasted and ground)
1 tsp of white pepper
10 red chillies (crushed in pestle and mortar)
4 large cloves of garlic, crushed
4 lemon grass stalks, chopped
Handful of coriander, chopped
1 line, zest and juice
2 inch ginger, grated
1 heaped tbsp of shrimp paste
3 tbsp canelo oil
Curry
3 tbsp canelo oil
3 shallots, finely sliced
3 large cloves of garlic (6 small), finely sliced
1 inch ginger, cut into thin match sticks
3 heaped tbsp chilli paste (above)
2 x 400ml can of coconut milk
2 tbsp fish sauce
1 tsp soy sauce
1 tsp palm sugar (or soft brown sugar)
8 Thai egg plant (if can't find use baby purple aubergines) cut into chunks (optional if you don't like aubergine)
4 chicken breasts, chopped into bite size pieces
250g of vegetables (baby corns, mangetout, green bean cut in half)
Handful of Thai basil or coriander (optional)…Thai basil for me is one of my favourite flavours but quite distinctive.
Fresh red chilli and lime wedges to garnish
Blitz all the ingredients in a food processor until smooth – if you have time use a pestle and mortar for the chillies.
Heat the oil in a pan and add the shallots and gently fry for 2 or 3 minutes until translucent before adding the ginger and garlic and frying for a further minute. Add the 2 tbsp of chilli paste to the pan and fry for a minute adding a splash of water if too dry – ideally you want to make a smooth wet paste.
Add the fish sauce, soy, sugar and coconut milk and simmer gently for 5 minutes before adding the aubergine (if using) and chicken and continue to simmer for 10 mins. Add the remaining vegetables and cook for a further 5 minutes.
Take off the heat and stir in the Thai Basil and allow to stand for a few minutes with the lid on.
Taste and add more fish sauce if requires and serve along side jasmine rice garnished with fresh red chilli and lime wedges.
To make the paste, put the cumin and coriander seeds in a small dry frying pan and toast over a medium heat for 30 seconds until fragrant. Transfer to a heavy pestle and mortar and grind as finely as possible.
Meanwhile, roughly chop the red chillies, leaving the seeds in (they add vital heat to the dish) and put in a mini food processor with the soaked dried chillies and 1 tbsp of the soaking liquid. Blend to a purée and set aside.
Add the rest of the paste ingredients to the pestle and mortar, one by one, making sure each ingredient has been pounded to a paste before adding the next. Finally, pound in the puréed chillies. (Alternatively, put all the paste ingredients into a small food processor and whizz to a paste.)
To make the curry, heat the oil in a wok or frying pan and fry the shallots for 5 minutes until softened. Add the garlic and fry for 30 seconds more. Add 4 heaped tbsp of the curry paste and fry for 1 minute, then add ½ tbsp fish sauce, the palm sugar, lime leaves, coconut milk, 150-200ml water and the aubergines. Bring to the boil, then reduce to a gentle simmer and cook for 5-10 minutes. Add the chicken and cook for another 10 minutes. Add the beans and cook for a further 5 minutes until tender.
Remove from the heat, taste and add more fish sauce if needed, then stir in the herbs and serve with steamed or coconut rice and lime wedges to squeeze over.
*you can substitute chicken for prawns and allow 5 min cooking time and/or use which vegetables you prefer in particular aubergines which many people may prefer to leave add and perhaps add more of the green veg and/or baby corns.
Clams in Chili Sauce and Thai Basil (Hoi Lai Pad Nam Prik Pao)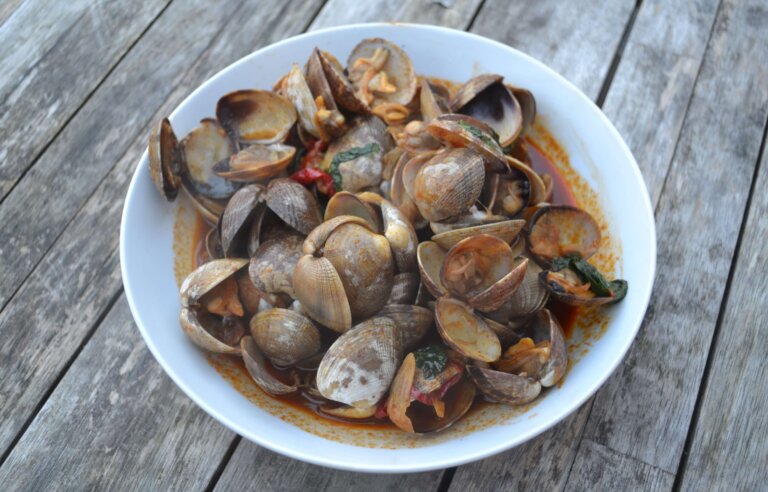 1kg of clams, inside shells and cleaned
2 tbsp oil
2 red chillies, sliced (seeds in or out is optional)
3 large clove of garlic (or 5 small) thinly sliced
2 tbsp Nam Prik Pao (roasted Thai chilli paste)
1 tbsp fish sauce
1 tsp soy sauce
1 tsp of oyster sauce
1 tsp of soft brown sugar
Handful of fresh Thai basil leaves
Heat the oil in a wok and gently fry the garlic for a minute before adding the chillies for another minute and then add the Nam Prik Pao and swirl in the pan for 30 secs before adding the fish sauce, soy, and oyster sauce and a splash of water. Combine the ingredients and if too dry add a further splash of water.
Turn up the heat and toss in the clams combining well with the mixture and then put on the lid and leave until all the clams are cooked and the shells are open (approx. 4 minutes). Remove from the heat chuck in the Thai basil leaves and serve (don't for get to discard any clams whose shells have not opened).
Steamed Ginger Fish (Pla Nung Khing)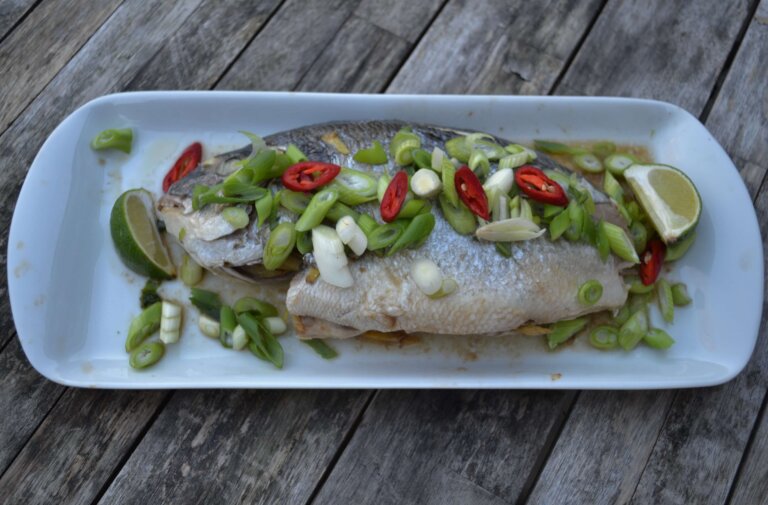 1 Sea Bass or Bream (approx. 700g)
7cm ginger cut into match sticks
1 tsp sea salt
1 tbsp oyster sauce
1 tbsp fish sauce
1 tbsp soy sauce
1 tsp sesame oil
4 spring onions, chopped
1 red chilli. chopped
Sprinkle the cleaned and prepped fish with the salt and stuff the ginger inside.
Mix the oyster, soy and fish sauce with sugar and rub over the fish on the plate you are going to steam the fish in so as to retain the excess.
Steam the fish for approx. 20 mins or until cooked through.
Garnish with the chopped chillies and onions and drizzle with the sesame oil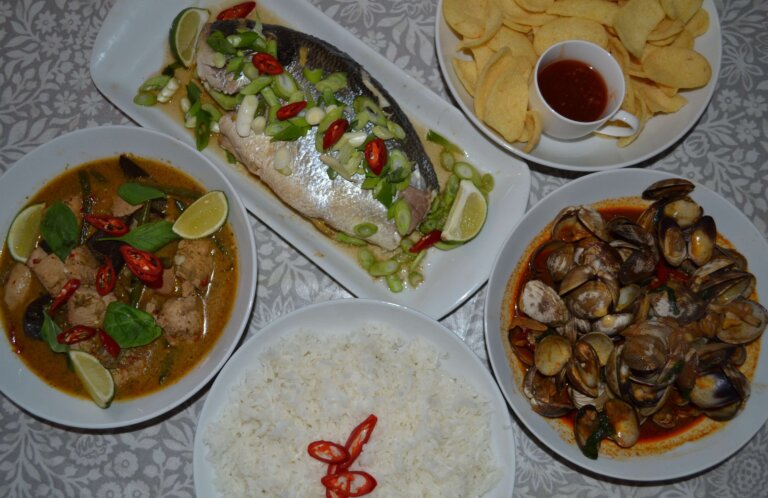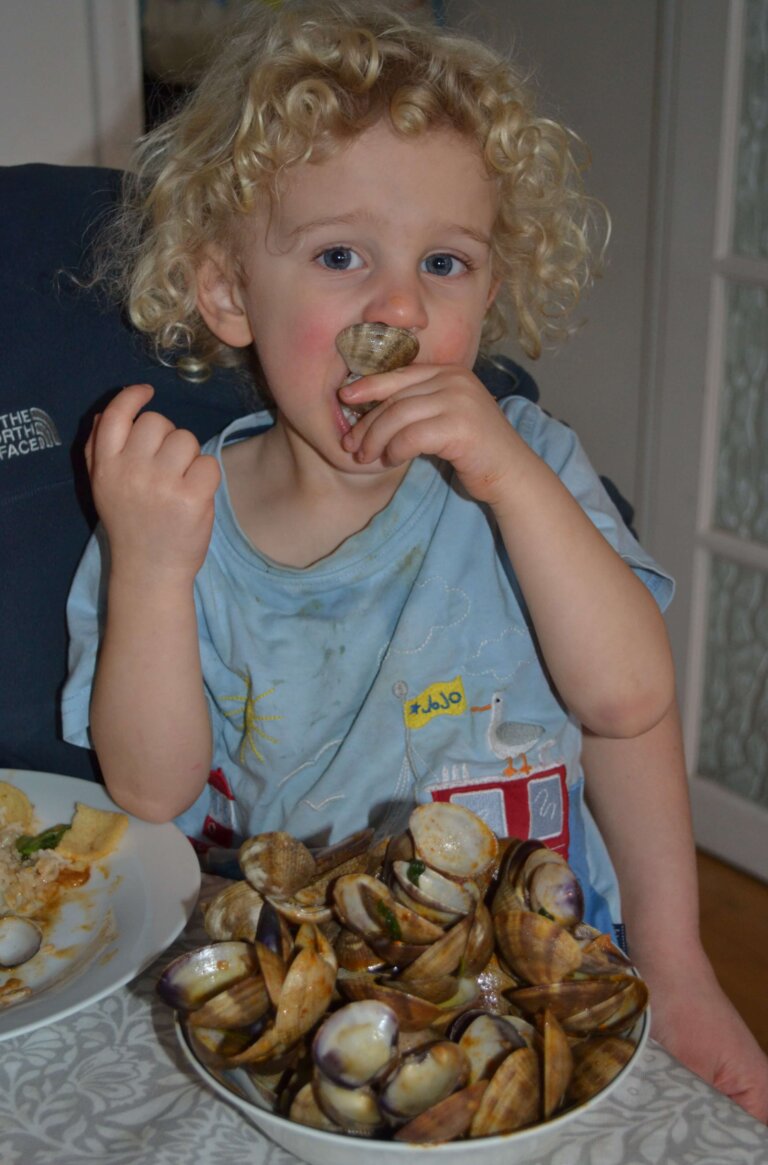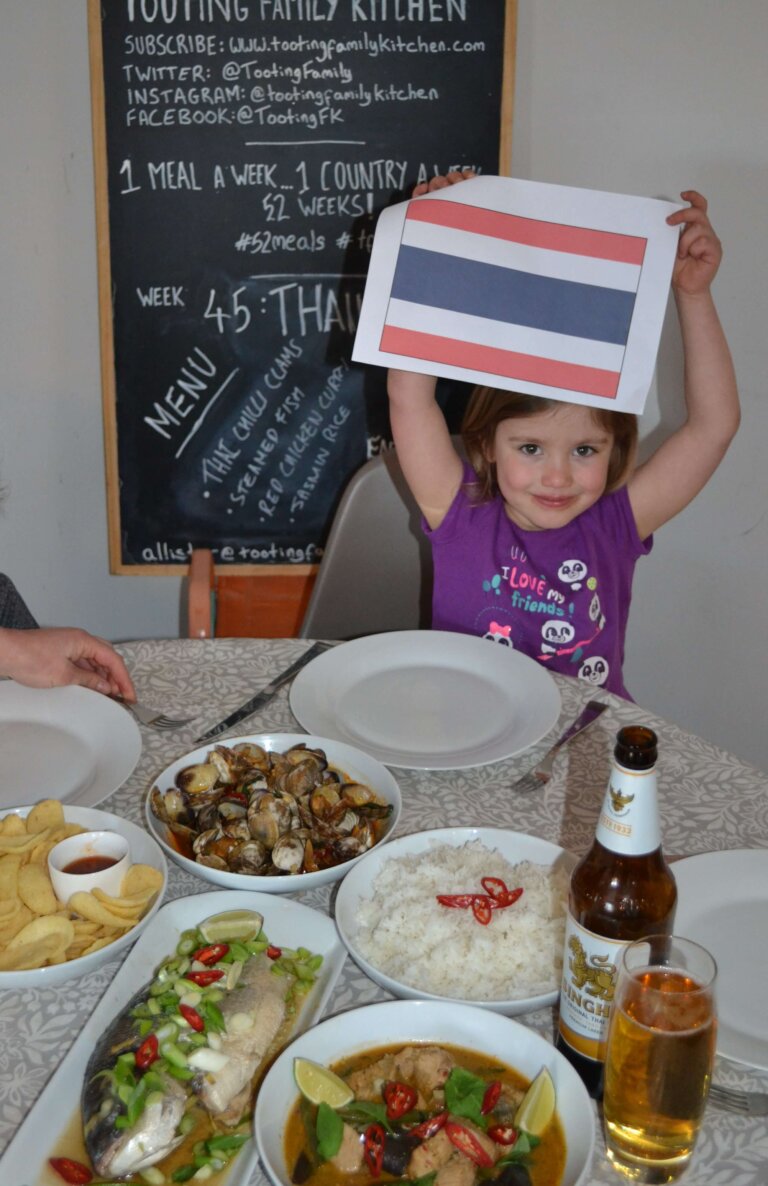 Thank you Thailand, that was epic! Can't wait to explore more of your cuisine.
Next week we are excited to head to France!!! … please don't forget to SUBSCRIBE (scroll to bottom) & SHARE and if you have any International Food ideas or recipes from around the world you wish to share please do drop us a line
Check out other destinations here.
You can also follow us on Instagram, twitter and Facebook
See you next week!
Tooting Family Kitchen
#tootingfamilykitchen #getkidscooking #familycooking #homecooked #worldfood #americanfood #usa #kidscooking #getkidscooking #familycooking #internationalfood #CookingBuddies