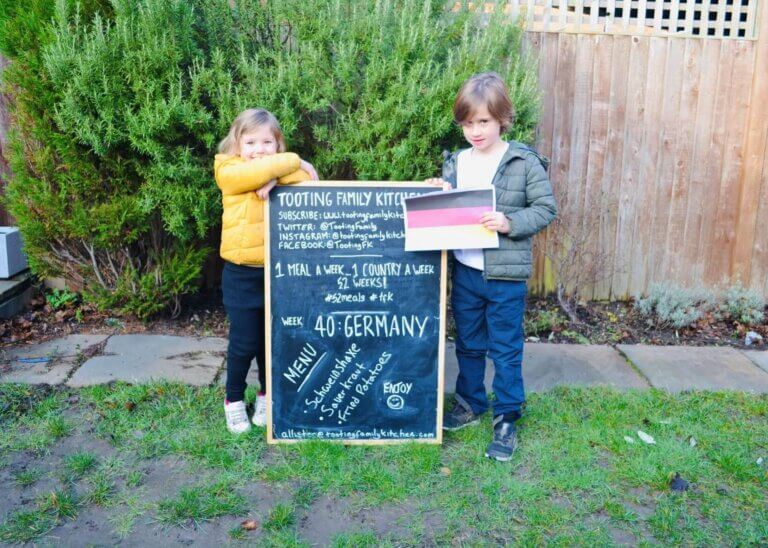 Tooting Family Kitchen hits another milestone as we take on our 40th country this week and return to Europe to check out Germany and cook up a wholesome, warming German feast that's guaranteed to keep the cold out!
I have been super excited to hit Germany this week and return to the country that was the location of my first overseas posting as a young 20 year old soldier fresh out of training! It remained a home (of sorts) for 4 years and the amazing cities of Monchengladbach (and it's football team) and Düsseldorf in particular, will always be the subject of many (mostly hazy) great memories! Germany was also where my brother, Oliver called home until very recently, when he swapped nearly 20 years of living in Bremen for the bright lights of Miami.
As an excited 20 year about to live abroad with a steady wage and a load of mates, I remember the excitement being difficult to contain, with much of that excitement being around one topic…beer! Germany has approximately 5000 varieties of beer and is the 3rd highest consumer per capita. It is home to the largest beer festival on the planet, Oktoberfest (in September, naturally) and it is often served in 1 litre steins…and if this wasn't enough to excite a fresh faced young soldier, in Bavaria beer is officially recognised as being food!
There could only be one thing that was going to dampen my spirits on arrival to the new Regiment and that was a break-down of the new laws of land. I knew the German's were sticklers for a good rule when I had visited my brother in Bremen a couple of years earlier and made a mistake of crossing the road on a red light! Despite there not being a car in sight and the only thing moving (apart from me) across that dry tarmac was the tumbleweed, my blatant disregard for the law of the land caused outrage from the German's waiting patiently for the lights to change and they were not afraid to let me know of their disapproval! Feeling a little disorientated by the confrontation, I must have changed my course a little and strayed onto the part of the pavement that was a slightly lighter shade of grey…big mistake…and my ears are still vibrating from the frantic bell ringing and dressing down I received!
Yes, they love a rule and I distinctly remember being told about the 'on the spot' fines which, if you did not have enough money to pay, could be another punishable offense in itself – a big concern for young soldiers who live like rock stars for the 3 days after 'pay day' and are totally skint for the remaining 27 or so! Any notion of arguing with the police was immediately whisked away from us however, as we were reminded that this is a country where you are breaking the law by addressing a police officer with the more informal version of you, "du" and giving someone 'the middle finger' can land you a criminal record. Finally, we were warned of the most serious law breaking offence of them all, the one that could really land us in hot water…mowing the lawn on a Sunday! That said, there was a glimmer of light in the briefing and as freedom is considered to be a basic human instinct in Germany, if you do try and escape from jail (for giving someone the middle finger whilst mowing your lawn on a Sunday and calling the police officer a less formal version of 'you') you will not get punished for it!
Germany is a powerful country of course and one that throughout history has often been dubbed the country of poets and thinkers, due to the many famous historical figures that have had an influence on how the world interacts and thinks, such as Schmidt, Heine and Hoffman. It is also a nation of innovation, technology and engineering, famous for its car manufacturing 'vorsprung durch technik' and also inventions that have a profound effect on our daily lives today, including the x-ray machine, diesel engine, paraffin, aspirin and pregnancy tests, as well as my favourite, the fake bus stop, built around the corner to nursing homes that have residents with dementia that sometimes try to tun away!
Despite the innovation Germany has a definite sense of traditionalism and this is one of the things that kept my brother living there for 2 decades. He tells me that he loves the way they preserve their old towns and centres and how people demonstrate their love of traditionalism by the Christmas markets and other unique town festivals, where people gather to drink Gluhwein. People are more traditional in their daily life too and prefer to go to shops to buy goods as opposed to buying on line and pay with cash as opposed to a credit card – something he finds strangely endearing and is perhaps at odds with the behaviour of other world leading economies. He also points out the quality of life that can be achieved without having a super-high income with particular reference to the health system, child care, lack of university fees and most importantly, the football (Werder Bremen) where the atmosphere is always fantastic, "in a country where recycling and separation are a big things, sustainability and solidarity are evident". 
There are many things I miss about living in Germany but its mostly food and drink! I like to think I tried a fair few of their 1000 varieties of sausage and made a dent in the 800 million currywursts consumed annually, but my favourite has always been Schweinshaxe, roasted pork knuckle, with a big pile of German style fried potatoes and another big pile of sauerkraut washed down with a few German beers! Indeed, I returned to Dusseldorf in more recent years for a cherished trip with my brother-in-law, Miri and my late father-in-law, Martin and we virtually lived off it for 3 days! If there is one thing to avoid however it is boar – be sure to give this a wide berth if you see it on the menu. Since the 1986 Chernobyl nuclear accident and resulting slow spread of radiation, wild radioactive bores have been discovered roaming Germany and should be avoided at all costs – even by the most adventurous diners!
So without further ado, in the words of JFK… "Ich bin ein Berliner"…"I am a jelly donut"!
Tooting Family Kitchen cooks Schweinshaxe (German Pork Hock) with Fried Potatoes and Sauerkraut
Getting the knuckles ready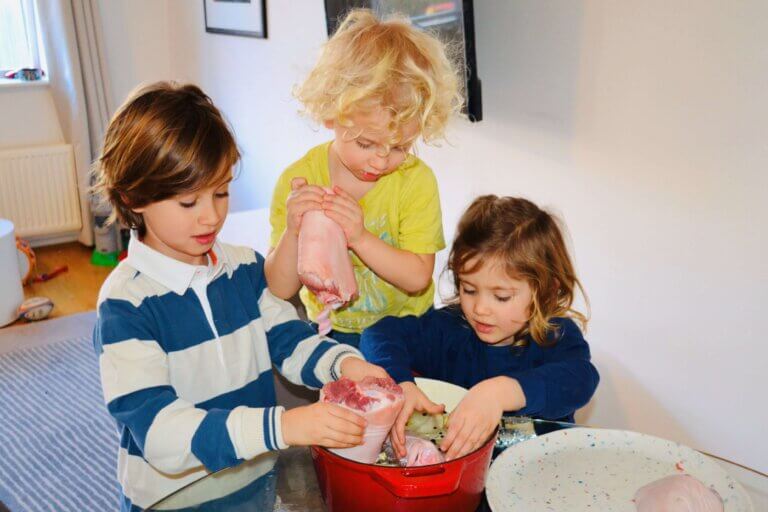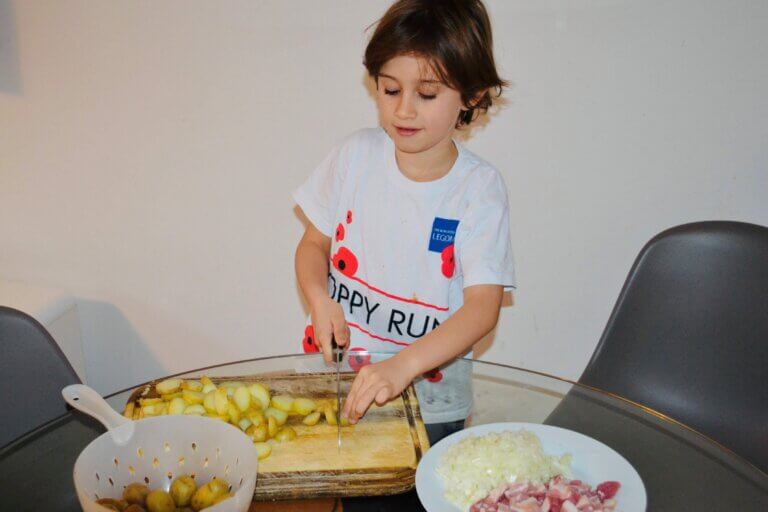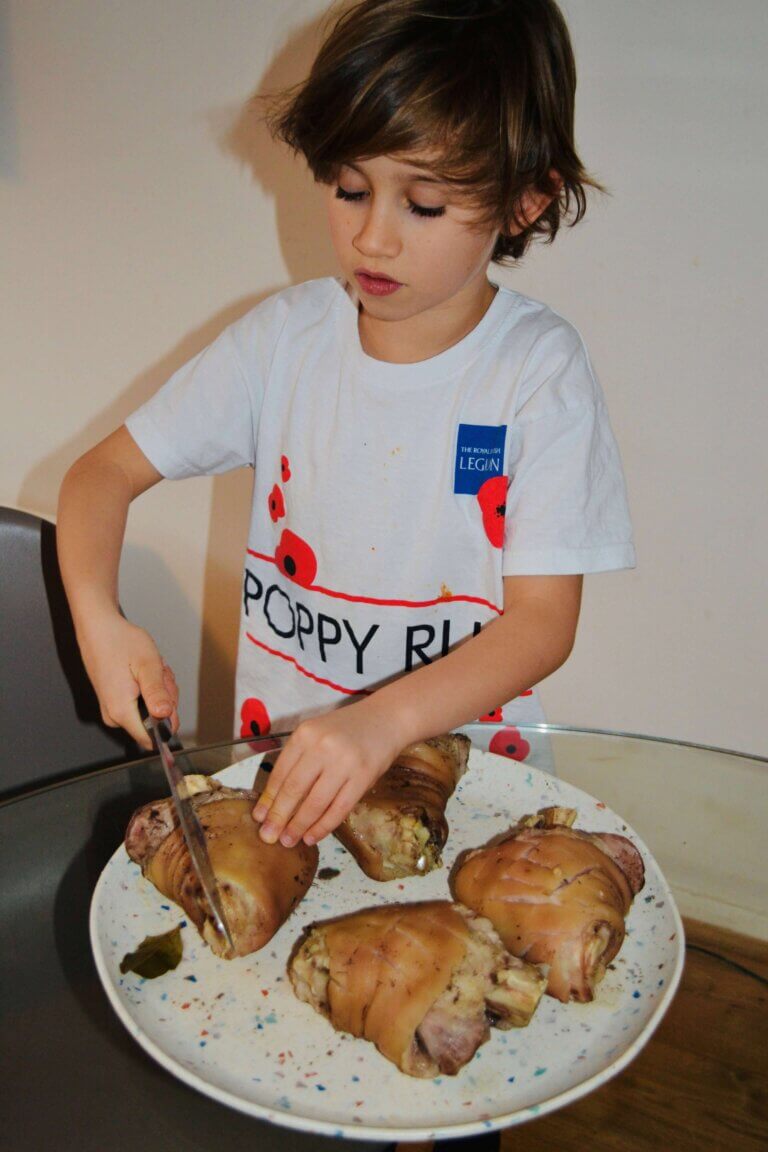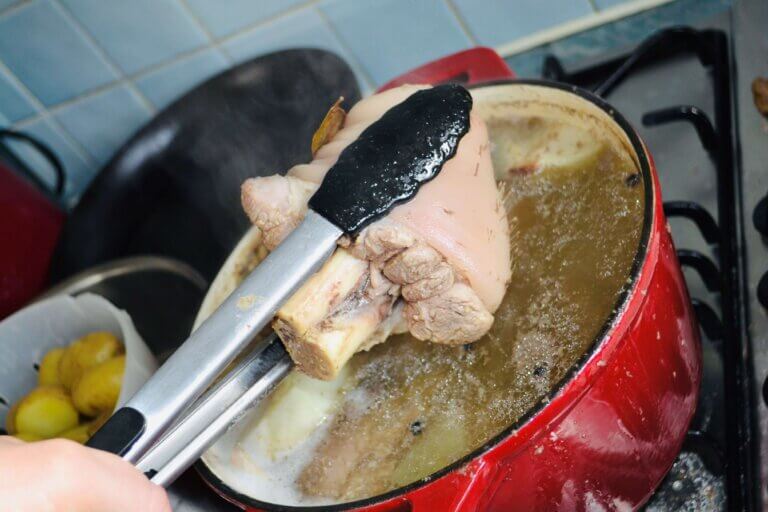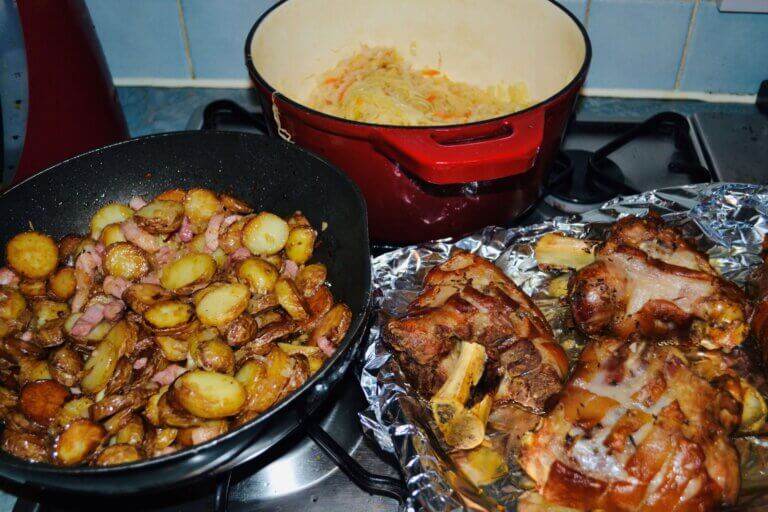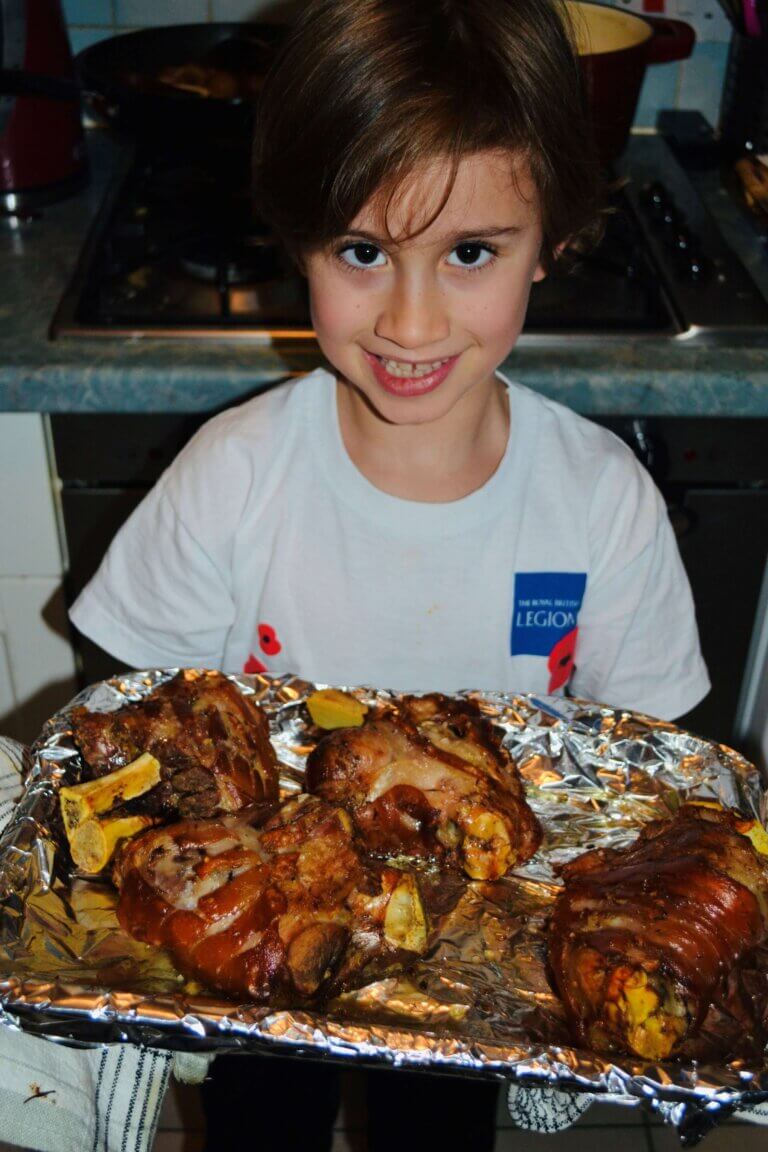 4 uncured pork knuckles
1 large onion, quartered
1 stick of celery, roughly chopped
1 tsp black peppercorns
1 tsp juniper berries
2 bay leaves
1 tbsp caraway seeds
Sea salt
Water
Fill a large heavy bottom pan or Dutch oven ½ full of water. Add the onion, celery, pepper corns, juniper berries and bay leaves and bring to the boil before reducing heat to a very gently simmer and submerging the pork knuckles – leave to cook for approx. 2 hours topping up with water when necessary.
When finished cooking remove the pork knuckles and leave to cool for a bit before scoring the skin with a sharp knife and rubbing in some sea salt and caraway seeds.
Place the pork knuckles in a foil lined baking tray and place in the top of a pre-heated oven to top whack 240 C and reduce heat to 180 as soon as they enter the oven. Roast for approx. 1 hr or until the skin is nice and crispy on the outside.
Serve alongside Sauerkraut and German style fried potatoes.
Fried potatoes German style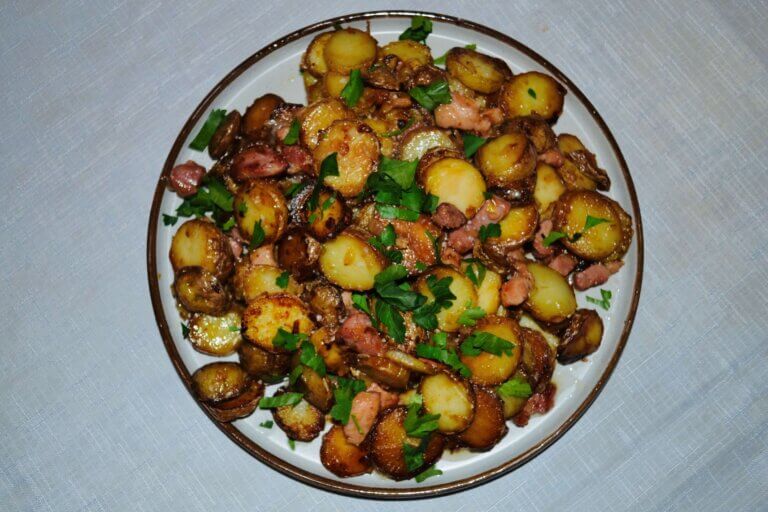 1kg of new/baby potatoes
200g of chopped bacon or lardons
3 tbsp of pork fat/butter or oil
1 onion, finely chopped
Salt and pepper
Chopped parsley
Clean the potatoes and chop any large ones in half. Bring a large pan of water to the boil and cook the potatoes for approx. 12 min or until cooked through – drain and put to one side and allow to cool. When manageable chop in to 5mm pieces.
Fry the lardons in a dry pan for a minute and then add the onions. When the lardons are starting to brown remove with the onions and put to one side.
Add the extra pork fat to the pan and when hot add the potatoes in a single layer (may need to do in batches) and fry for approx. 5 minutes on each side before adding the bacon and onions and cooking for a further 5 minutes.
Sprinkle salt and garnish with some chopped parsley and serve.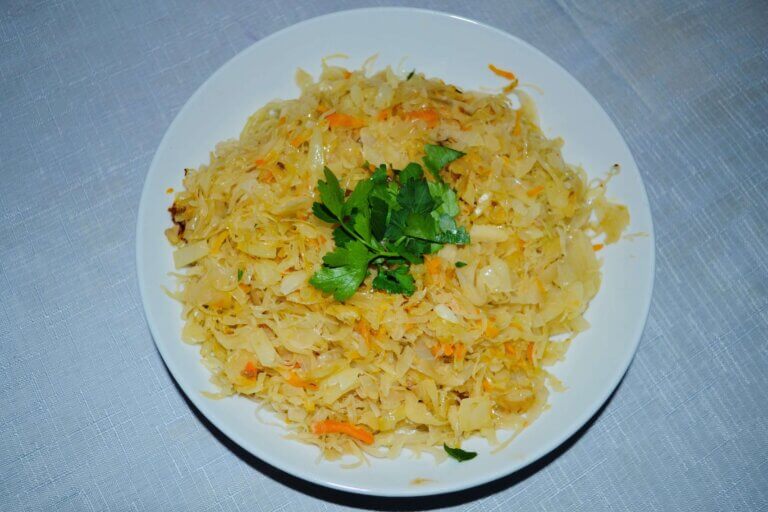 1 large jar of sauerkraut, drained
1 large onion, thinly sliced
1 tbsp pork fat/butter/oil
Heat the oil in a heavy bottom pan and add the onions and fry for a couple of minute before adding the sauerkraut.
Add the sauerkraut and continue to fry for 5 minutes before placing the lid on and 50 ml of water and steaming for another 5 mins.
Serve with the pork knuckles and fried potatoes.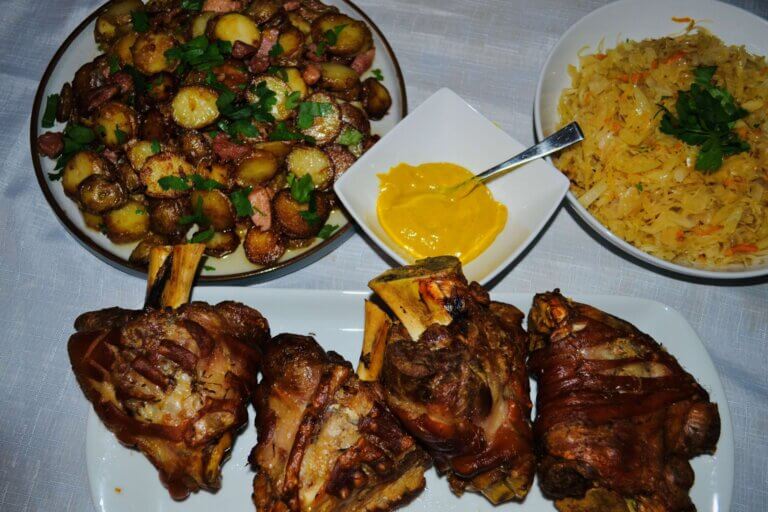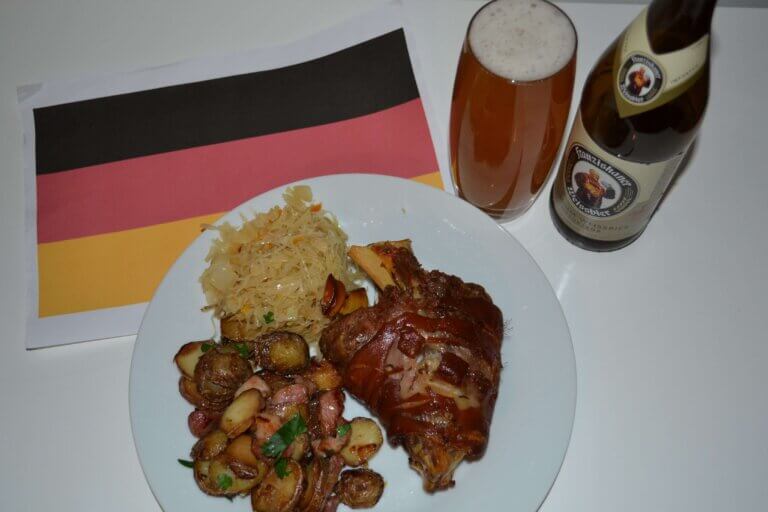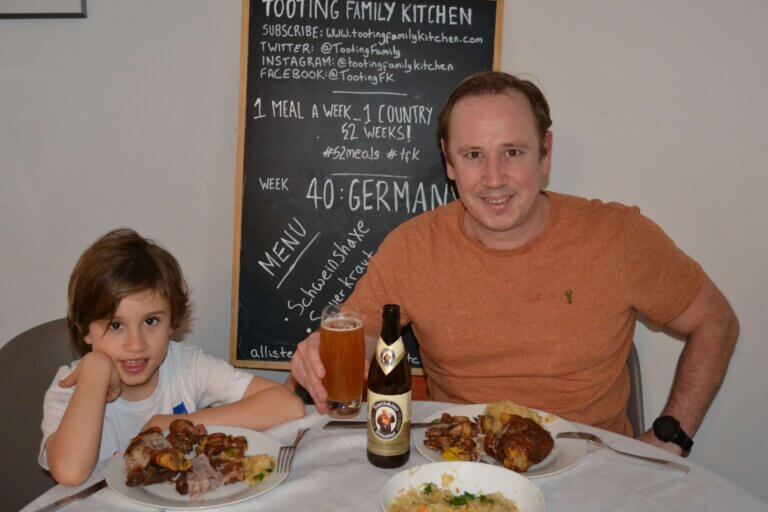 Every little bit of meat!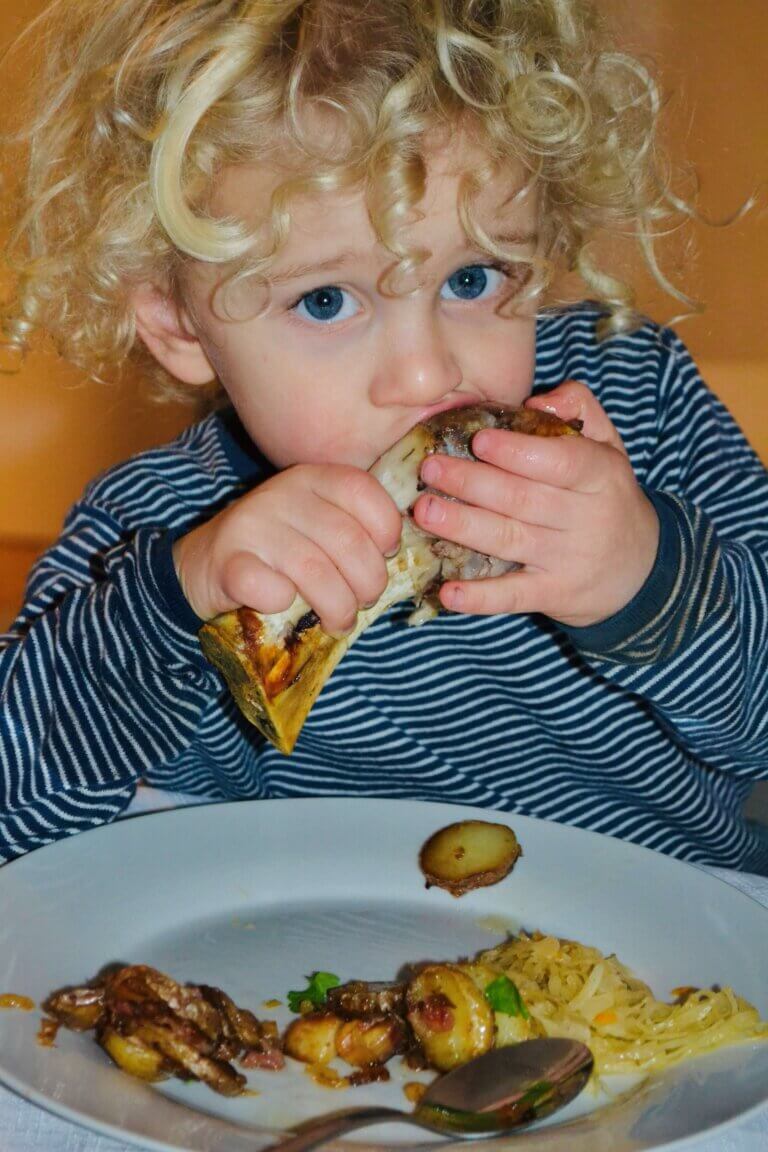 Before scrapping the cutlery!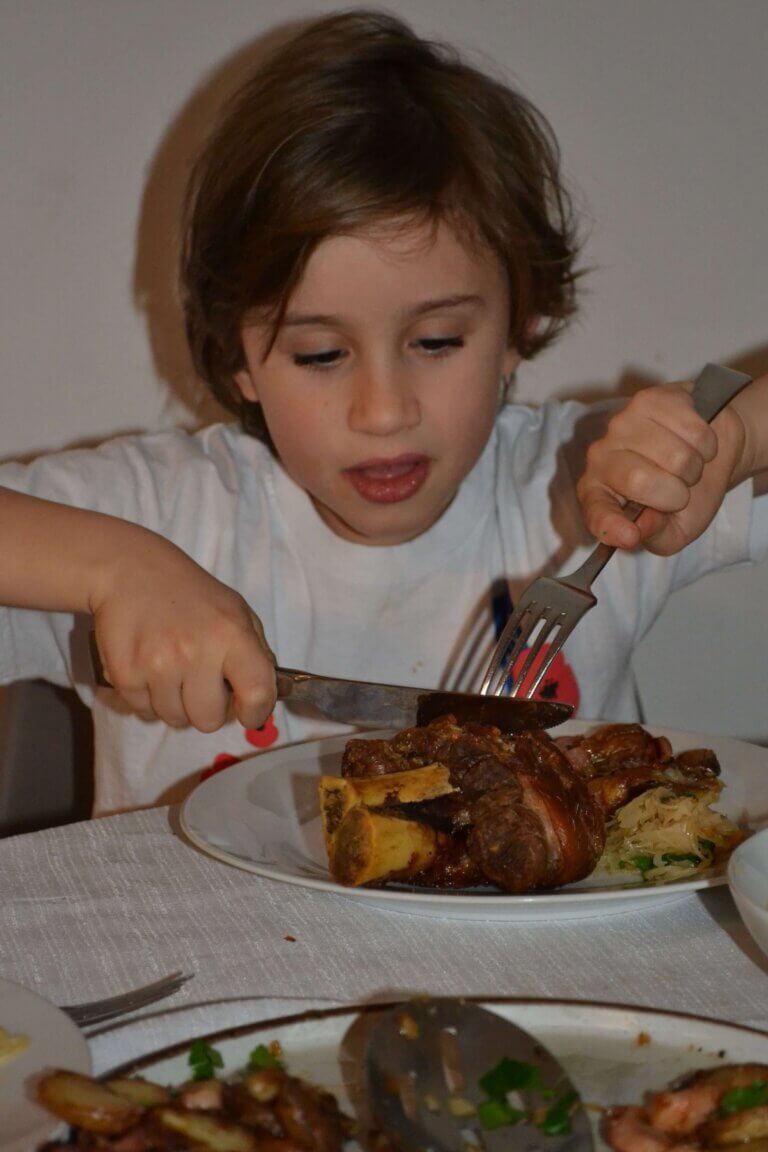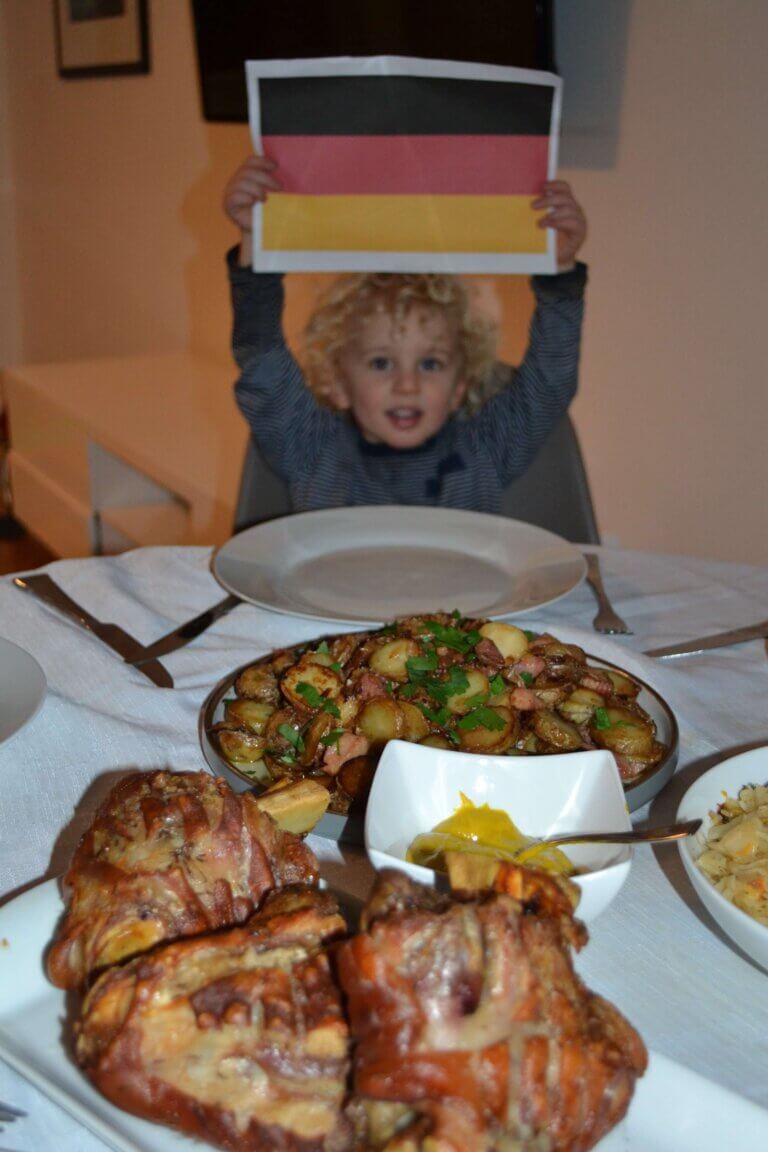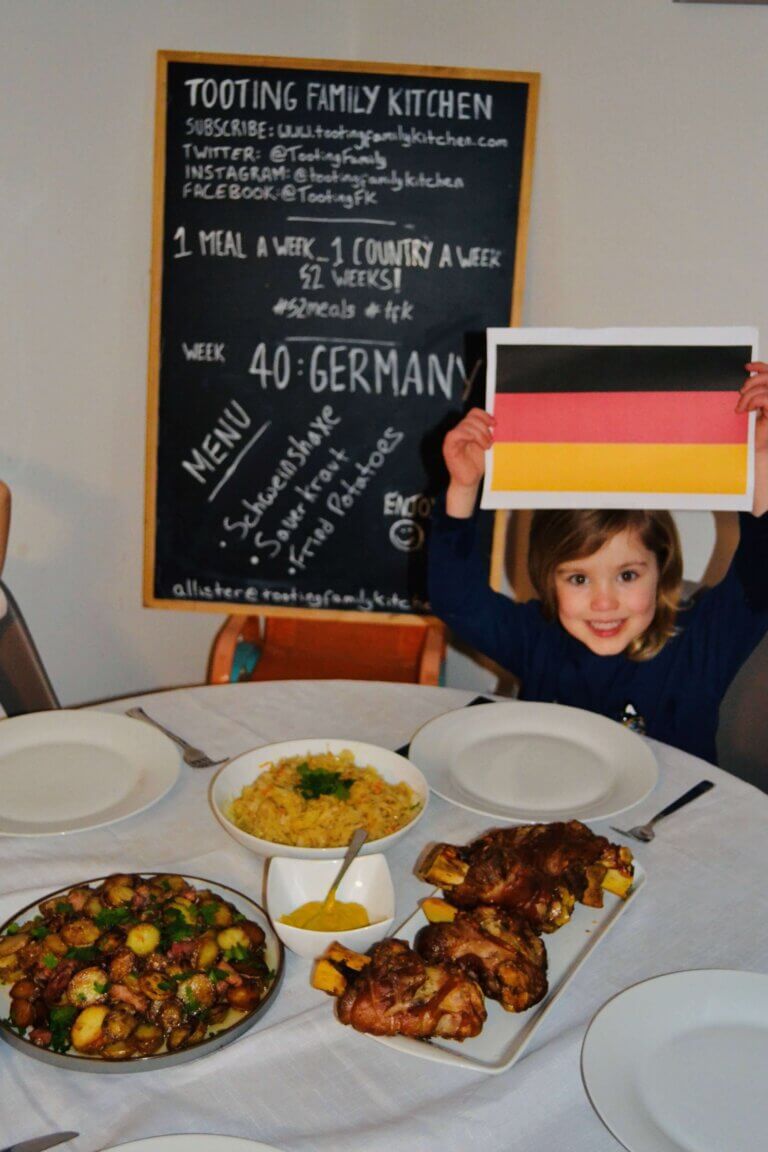 Thank you Germany, that was epic! Can't wait to explore more of your cuisine.
Next week we are excited to celebrate the Super Bowl and head over to the USA!!! … please don't forget to SUBSCRIBE (scroll to bottom) & SHARE and if you have any International Food ideas or recipes from around the world you wish to share please do drop us a line
Check out other destinations here.
You can also follow us on Instagram, twitter and Facebook
See you next week!
Tooting Family Kitchen
#tootingfamilykitchen #getkidscooking #familycooking #homecooked #worldfood #germangood #germany #kidscooking #getkidscooking #familycooking #internationalfood #CookingBuddies