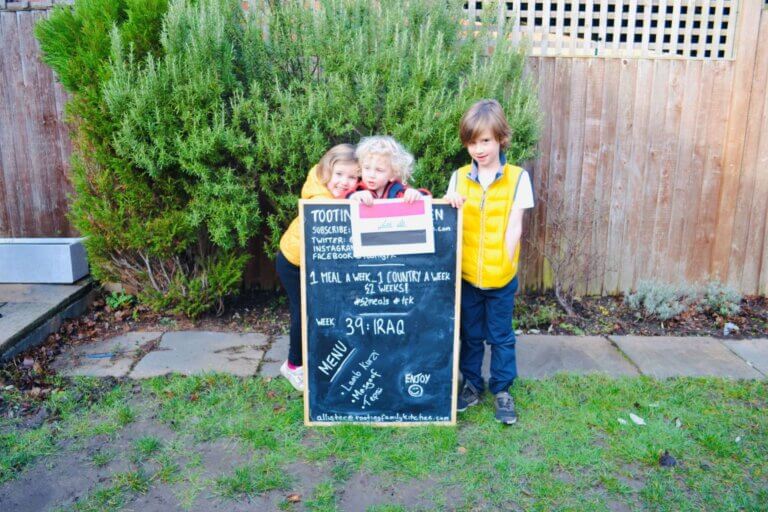 We have been excited to return to the Middle East for Week 39 of our 52 weeks Challenge and particularly excited to visit Iraq, often called the cradle of civilization, being the birthplace of the complex urban centres that we now refer to as our cities.
Iraq has a rich and complex history largely due to its positioning between the Tigris and Euphrates Rivers. The region of Mesopotamia, which roughly equates to modern day Iraq, was the home of great empires including the Babylonians, the ancient Sumerians and the Assyrians and latterly the Greeks, the Romans, the Persians and Ottoman Turks. Its modern history has not gotten much less complex since it passed from Ottoman to British control before gaining its independence in 1932. In 1958 the Monarchy was overthrown, and it became a Republic. Soon after, the world witnessed the rise to power of Saddam Hussain followed by the Iran/Iraq War, the invasion of Kuwait, the Gulf War and finally the Iraq War and its ongoing aftermath along with the rise of ISIS in the region.
Today Iraq is essentially 2 different countries, representative of the 2 main ethnic groups that live there (the Arabs and the Kurds), with Kurdistan autonomy now being enshrined into the new Iraqi constitution. Although Iraq's population is approx. 96% Muslim it is important to note that they follow two distinct traditions, Shia and Sunni Islam. The vast majority of the population are Shia, although historically the rulers have been Sunni which has further added to division within the country.
Having spent a year in Iraq it is clear to see what a beautiful country it would have been (and in many ways still is) without the decades of internal and external conflict it has endured and the subsequent drain on its economy and resources. From the beautiful mountains of Kurdistan (where it is possible to go skiing), to the barren desert that covers half the country, to the marshlands of the south, its territories are as diverse as its population. There was a time when Basra was referred to as 'Venice of the East', due to its meandering rivers and canals and Baghdad was a modernizing city with plazas, boulevards, and public pools. The 'Marsh Arabs' continued their centuries old way of life in the southern marshes, the Kurds lived relatively happily in the north, enjoying their unique culture, as did the dwellers in the western desert, with the country living in relative harmony.
It is a country of real extremes and from experience I can tell you that I have been very, very hot, very very cold and very very wet. Temperatures can reach 50 C but temperatures of -17 C have also been recorded. It has a wet and a dry season and between November and April the country can get 40 inches of rain and sandstorms that are visible from space are not uncommon. In 2015 an exceptional weather phenomenon even created a river of ice flowing through the desert!  If you can cope with these desert conditions bear in mind it is also home to the saw-scale viper, which many scientists believe to be the world's most dangerous snake and if you consider cooling off in a river be careful, sharks are known to swim up-stream from the Persian Gulf!
The Iraqi's were certainly a clever bunch and some of the world's most important inventions such as the wheel, maps, the calendar, time and even the first schools originated there. It is a country of strong traditions and it can still be common for brides and grooms to marry their cousins although arranged marriages are becoming rarer. Families are generally large and live together under one roof which grows over time. Their hospitality is unrivalled regardless of their wealth and if someone admires an Iraqi's possession it is common for them to insist upon that person taking it…if you are seeing an opportunity here be aware, it can be considered rude to heap praise on someone's property for this very reason!
Iraqi food is deeply routed in dozens of ethnic groups entwined throughout its history. One thing that we are likely to be familiar with here is liquorice which is a distinctive plant grown in Iraq – a degree of separation is required however from a schoolboy in shorts chomping away on 'all sorts' from a white paper bag to the warriors of the region's ancient armies that found chewing it kept them from getting thirsty! The Iraqi's love their seafood which is strange for a country with only 58km of coastline on the northern Person Gulf, and their national dish is Masgouf which is butterflied fish, usually carp, which in Iraq can grow up to 300lbs and swims (with the sharks) up the rivers and marshes from the Persian Gulf. Quzi, a celebratory dish which often involves stuffing an entire lamb and serving on a bed of rice is the ultimate way to entertain one's guests and Tepsi baytinijan is a popular aubergine-based casserole that is just delicious. One thing is important to remember when dining in Iraq, whilst it is not necessary to use cutlery… don't ever eat with your left hand!
Tooting Family Kitchen cooks Quzi, Masgouf and Tepsi
Checking out the ingredients!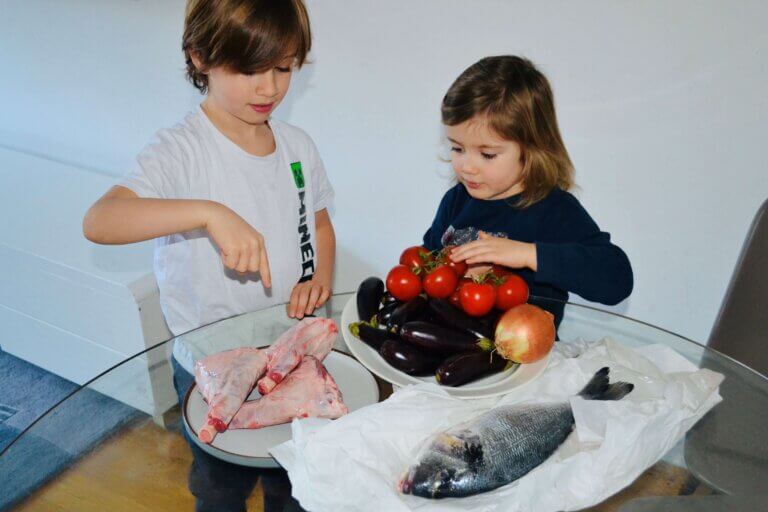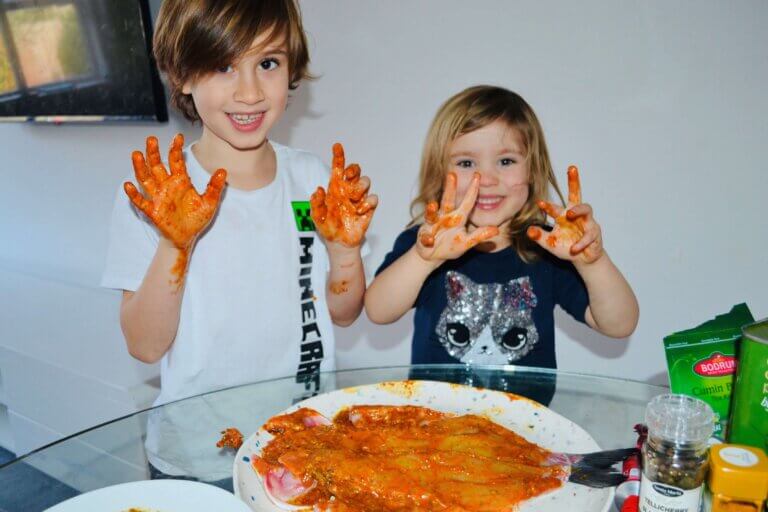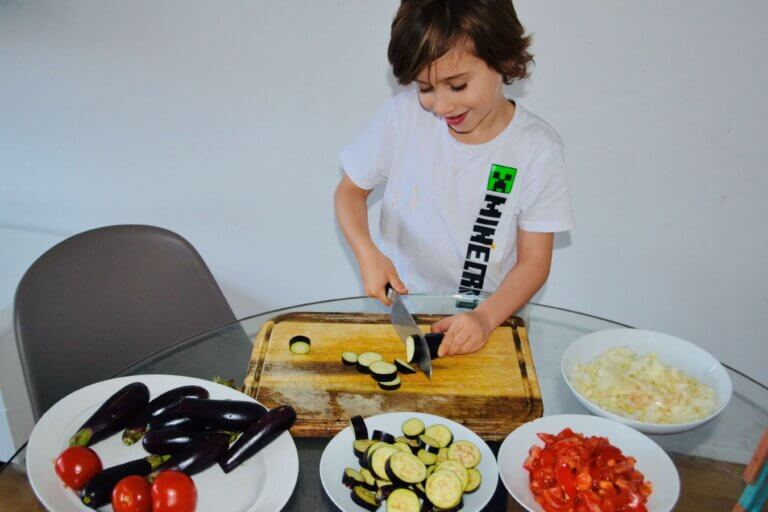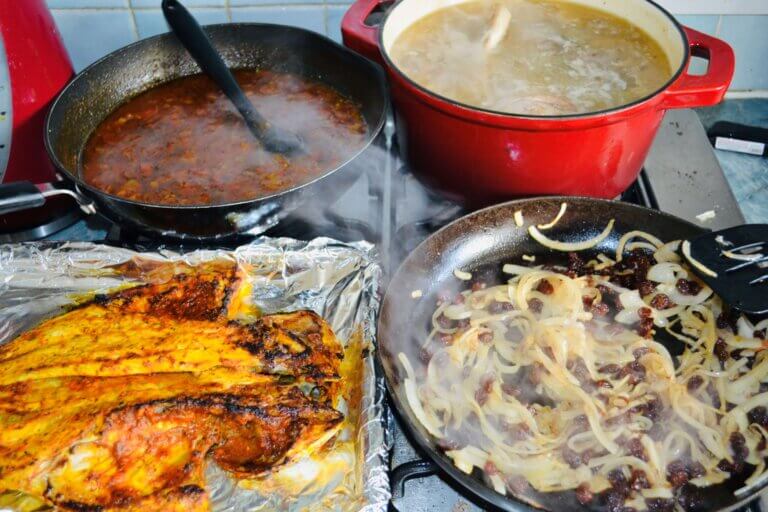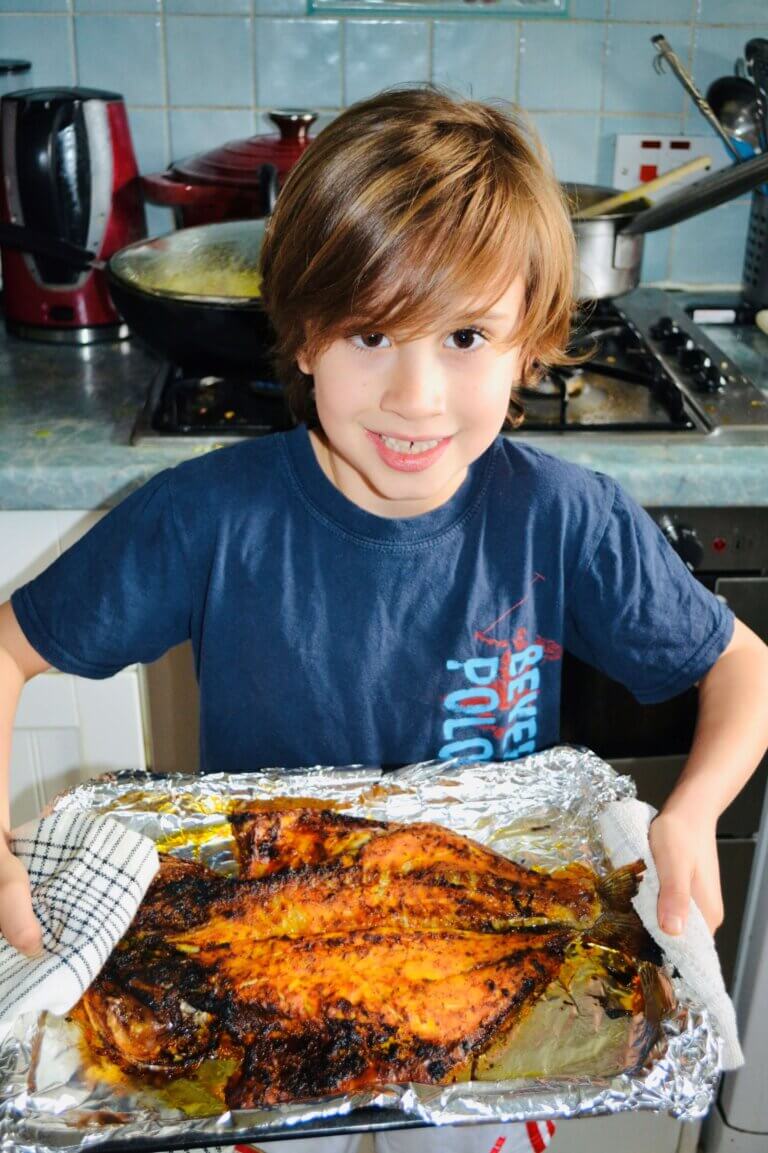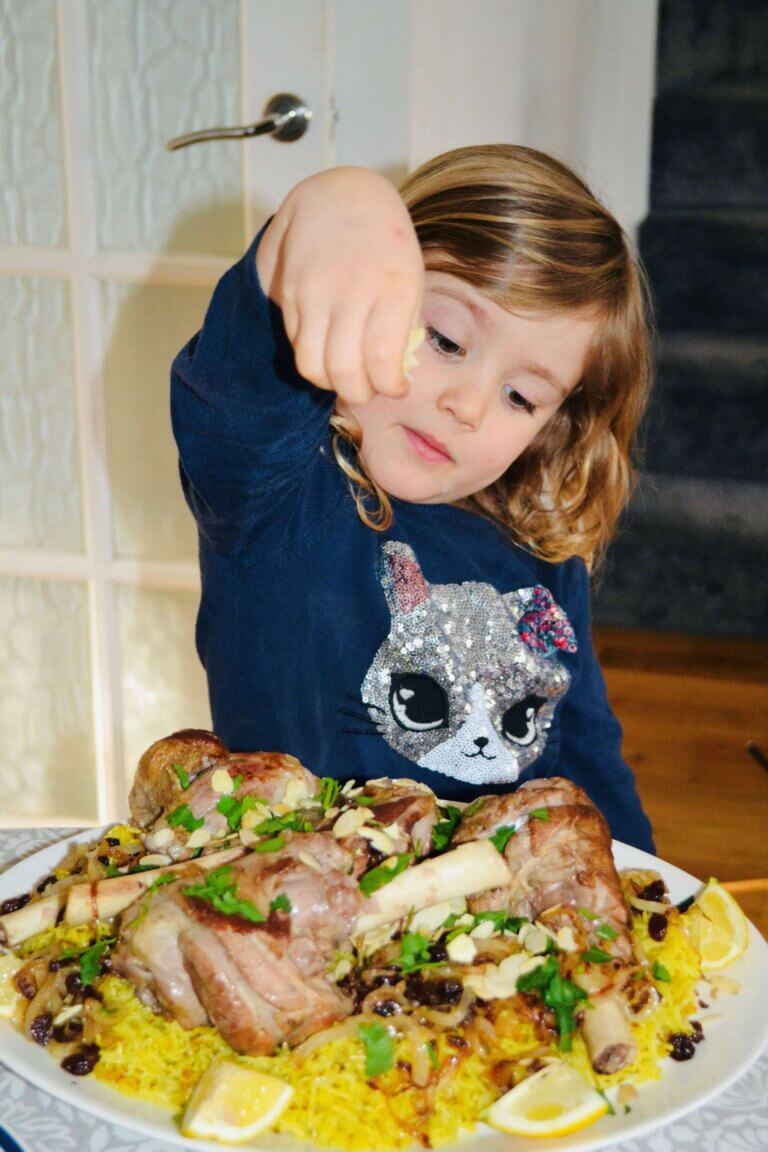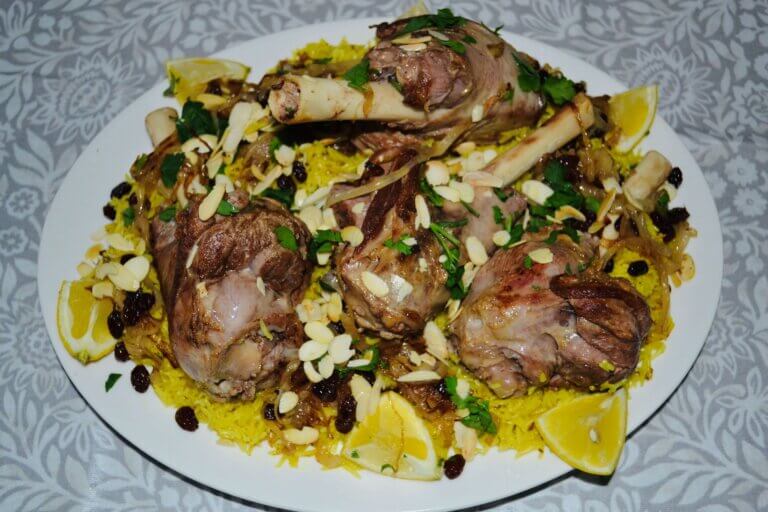 Meat
4 lamb shanks
Olive oil
4 cloves of garlic, peeled
1 onion, peeled and quartered
6 Cardamon pods
2 Bay leaves
1 tbsp pepper corns
Salt and pepper
Rice
2 cups basmati rice
6 tbsp. oil
1 onion, chopped
5 cardamon pods, slightly crushed
1 tsp chilli powder
1 tsp turmeric
1 cinnamon stick
1 tbsp. ground cloves
2 cups of stock from the lamb
Garnish
1 onion, sliced
1 handful of raisins
1 handful of blanched almonds
1 handful chopped parsley
Lemon wedges
In a large pan or dutch oven heat the oil and brown off the seasoned lamb shanks all over and remove.
In the same pan add the onion, garlic, pepper corns, bay leaves and cardamon pods ad top with boiling water until the shanks are covered. Simmer the shanks for at least 3 hours  or until the meat is tender and soft. You may need to top up with water occasionally.
Whilst it is simmering wash the rice and leave to dry. Heat the oil in a pan with a lid and then add the cinnamon stick, cardamon pods and fry for 30 seconds before adding the onions and gently fry for 5 mins.
Add the turmeric, chilli powder and cloves and then the rice and coat well in the onions and oil and continue to fry for another 3 mins before adding 2 cups of the cooking liquid from the lamb.
Bring to the boil and simmer for 10 mins with the lid on and then turn the heat off and allow to steam for another 15 mins.
Heat a little oil in another pan and fry the sliced onion for the garnish for 2 mins before adding the raisins and gently frying for another 5 mins until the onions are nicely browned. Remove the onions and raisins and if you prefer toast the blanched almonds for a couple of minutes.
Fluff up the rice with a fork and serve with the lamb shanks and garnish with the onions and raisins, almonds, parsley and lemons.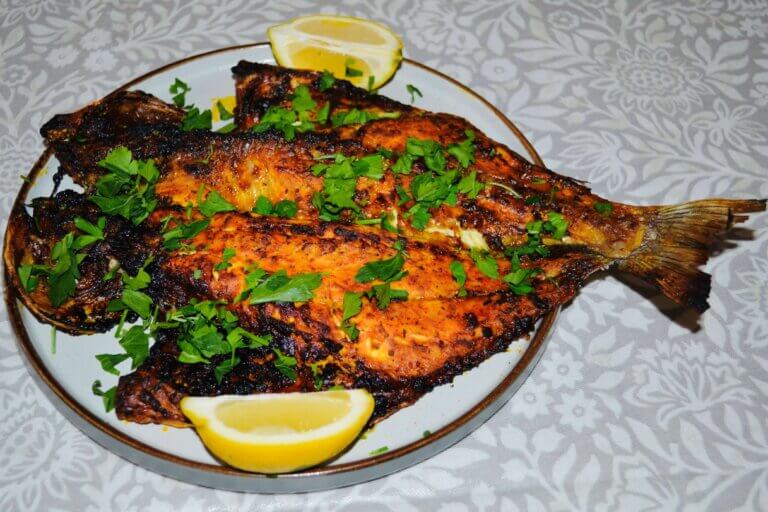 1 large sea bream (traditionally carp)
2 tbsp Olive Oil
1 tbsp tomato paste
2 cloves of garlic minced
Juice of 1 lemon
1 tsp mixed herbs
1 tsp turmeric powder
1 tsp paprika
1  tsp cumin powder
Salt & Pepper
Ask the fishmonger to butterfly the fish or do yourself by slicing through the belly. Mix the remaining ingredients together and rub over both side of the fish until well coated. Marinate in the fridge for at least 30 mins.
Pre-heat the grill and place the fish on a lined baking tray – you need to grill this for about an hour so be careful with the hit and keep the fish as far away from the grill as possible (specially at the beginning). Check on it regularly to make sure marinate is not burning.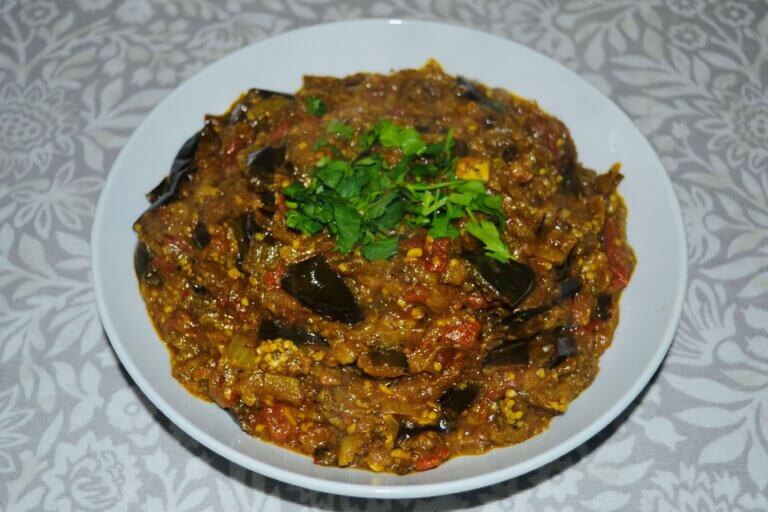 600 aubergines (we used baby ones), sliced
6 medium tomatoes, roughly chopped
Sea salt
5 tablespoons olive oil
1 large onion, thinly sliced
6 cloves garlic, minced
1 tsp chilli flakes
1 tsp turmeric
1 tsp cinnamon powder
4 tbsp pomegranate molasses
2 cups of water or vegetable stock
Freshly ground black pepper
Fresh chopped parsley to garnish
Preheat the oven to 180C. Toss aubergines slices well in olive oil and season with sea salt. Place evenly across baking tray and bake for approx. 30 mins turning once.
Spread the eggplant on the prepared baking sheet. Sprinkle with 1 teaspoon salt and 1 tablespoon of the oil. Bake for 40 minutes, stirring gently every 10 minutes to prevent sticking. When the eggplant is completely soft, let it cool to room temperature.
Whilst cooking heat the olive oil in a pan and add the onions. Fry for a couple of mins and then add the garlic and chilli flakes and spices for a min and finally tomatoes.
Cook the tomatoes for around 10 mins until they have broken down a bit and then stock and pomegranate. Simmer away for around 15 mins.
Remove the aubergines from the oven and add to the mixture and continue to simmer for another 15 minds adding more stock of necessary.
For texture if it's your preference you can mash the aubergine a bit in the pan. Check for seasoning and serve scattered with parsley.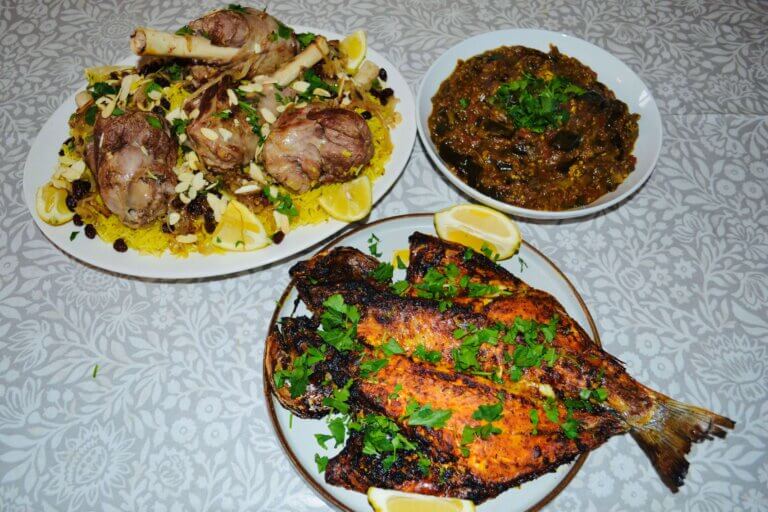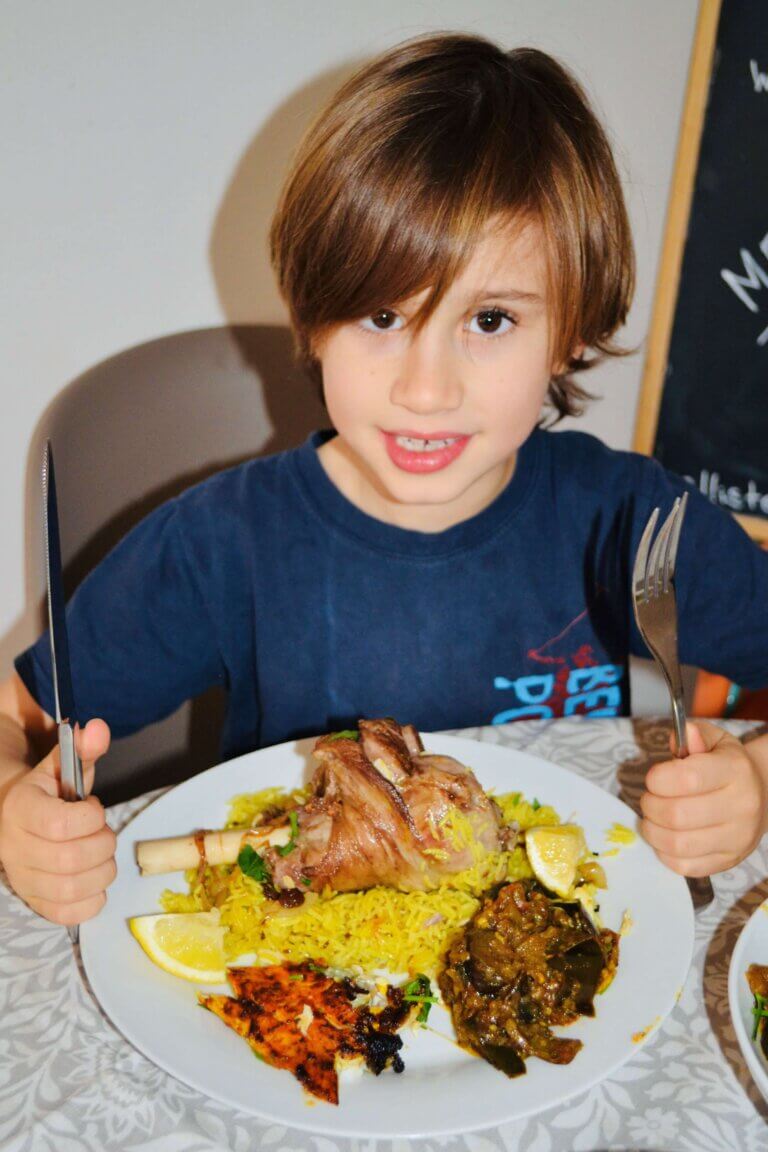 Who needs a knife and fork?!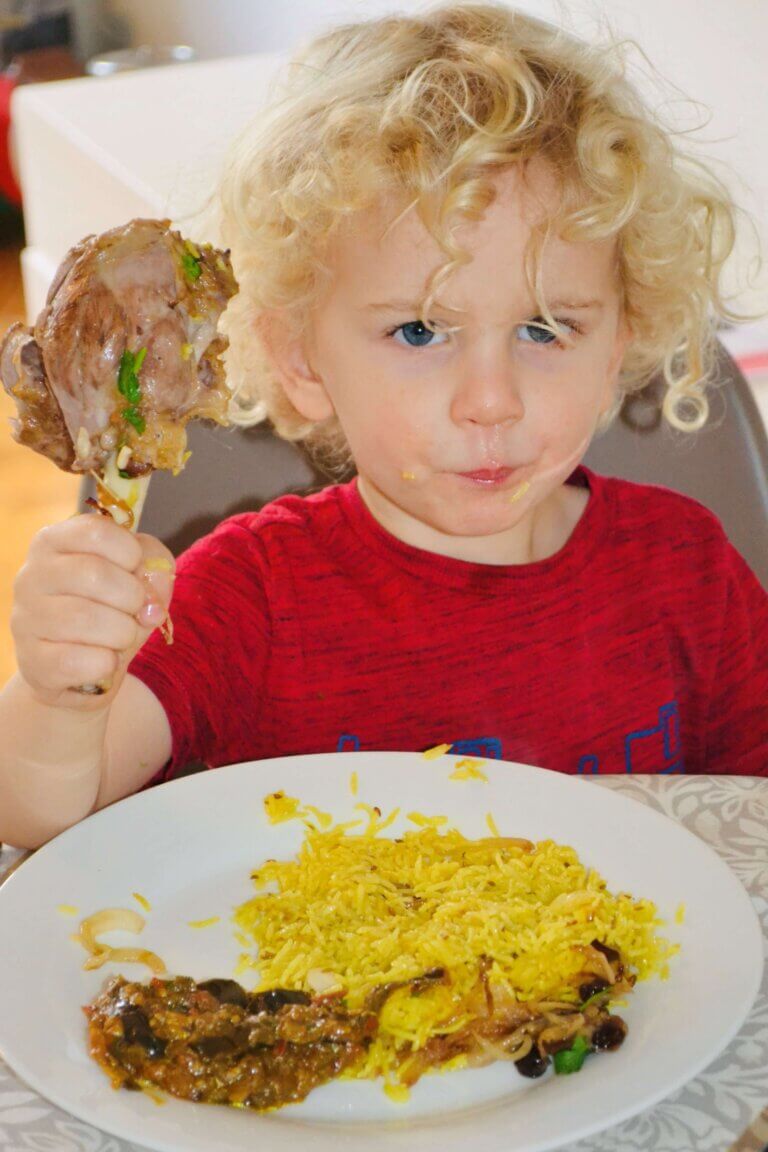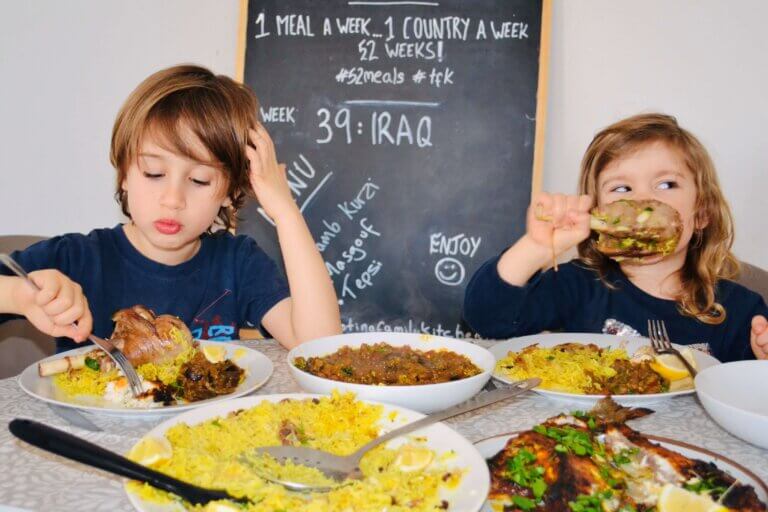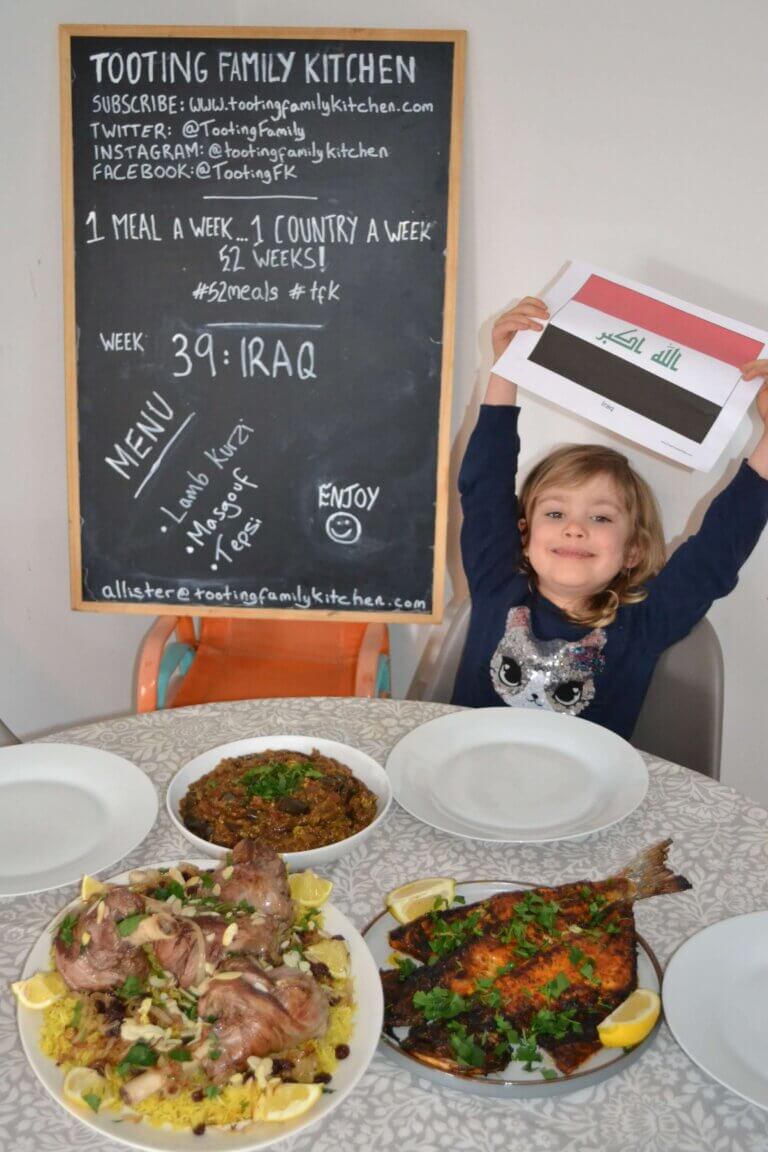 Thank you South Korea, that was epic! Can't wait to explore more of your cuisine.
Next week we are excited to cook up some Korean food … please don't forget to SUBSCRIBE (scroll to bottom) & SHARE and if you have any International Food ideas or recipes from around the world you wish to share please do drop us a line
Check out other destinations here.
You can also follow us on Instagram, twitter and Facebook
See you next week!
Tooting Family Kitchen
#tootingfamilykitchen #getkidscooking #familycooking #homecooked #worldfood #koreanfood #southkorea #kidscooking #getkidscooking #familycooking #internationalfood #CookingBuddies