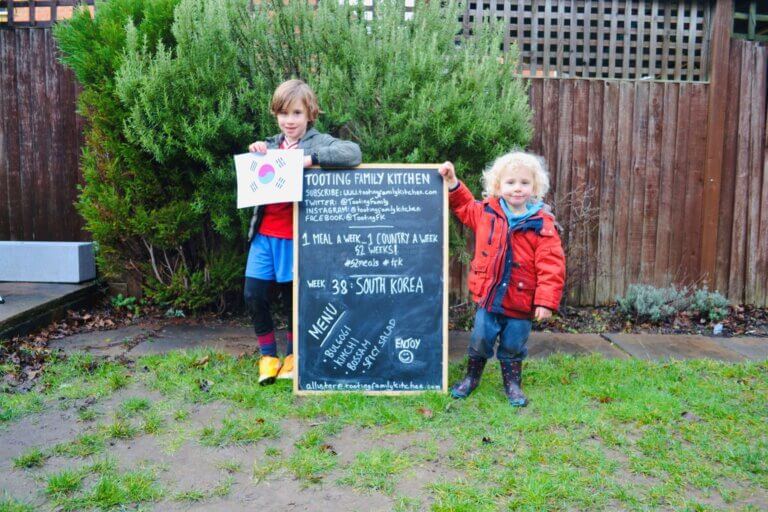 Week 38 of our 52 Weeks Challenge and we are very excited to return to Asia to explore South Korea and get the kids cooking some delicious Korean food.
Although I have not yet been to South Korea I have always been intrigued by this remarkable county and have had a real appetite to learn more – and of course check out the food! It is a country which shares one of the world's most heavily militarized borders, it is considered to be the breakdancing capital of the world, about a third of South Korean women are said to have had surgical enhancement and about ¾ of South Korean men undertake a grooming treatment at least once a week…and I think we all know exactly what we were doing on that memorable summers day in 2012 when we heard those unforgettable words for the first time…"Oppan Gangnam style"!
Most people's experience of South Korea will be of its capital, Seoul, and will often be in the form of a 1 or 2 day transit stop over. In 2014 Seoul received over 10 million visitors making it the world's 9th most visited city and 4th largest earner in tourism. It is a city of stark contrast where shiny skyscrapers meet Buddhist temples, interspersed with high-tech subways, street markets and palaces, however, the small proportion of visitors that leave the city to explore more of the country will find a breath-taking natural landscape across a country that is over 60% covered in forest.
We all know South Korea is a haven for the tech addicts amongst us with the worlds fastest internet speed and the highest percentage of users. Satellite TV is everywhere from buses and taxis to dentist chairs and restaurants and if something can be automated there is damn good chance it will be…including remote controlled toilets with heated seats! There is more to the country than the tech scene however and it has been making waves across the world through its music and films, making Oscar history in 2020 with 'Parasite' by winning 4 and becoming the first non-English speaking film in Oscar history to win an award for Best Picture.
Despite being a highly developed country and the 5th largest importer in the world, South Korea certainly maintains a sense of uniqueness and not just through K-pop, breakdancing, film and their beauty industry. Blood groups are taken very seriously and considered by many to have a direct influence on personality characteristics which can even influence romantic compatibility. If blood groups align than a shopping trip may be on the cards as many couples choose to wear matching outfits and it's not uncommon for shops to sell outfits in pairs for devoted couples, however, finding time for dating can be a struggle due to the culture of working overtime. In 2018 the Government in the capital introduced a new initiative to force its employees to leave on time by powering down all computers at 8pm!
Whilst the relations and history between North and South Korea need no introduction, what may surprise some is the unintentional wildlife sanctuary that has evolved along the Demilitarized Zone, or DMZ , which is the border separating the two countries. This plot of land running 155 miles long and over 2 miles wide has barely been touched by humans for over 60 years and is home to a reported 5,000 species of plants and animals, many of which are protected, endangered animals such as the Siberian musk deer and Asiatic Bear – I'm sure there is a metaphor in there somewhere!
South Korea is now a major player on the world food scene. It made the Michelin guide in 2016 and now has approximately 24 Michelin starred restaurants. Korean food can be complex and has evolved over centuries of social and political change. A staple in Korean cuisine is Kimchi (which we have attempted today) and of which there are 250 varieties, but the delicious dishes than can be considered Korean are endless and we have barely scratched the surface. One thing is for sure, with South Korea sharing the 2017 accolade of 'lowest obesity rates in the world' with Japan, one could be forgiven for going back for seconds.
Tooting Family Kitchen cooks Bulgogi, Bossam, Kimchi and Spicy Salad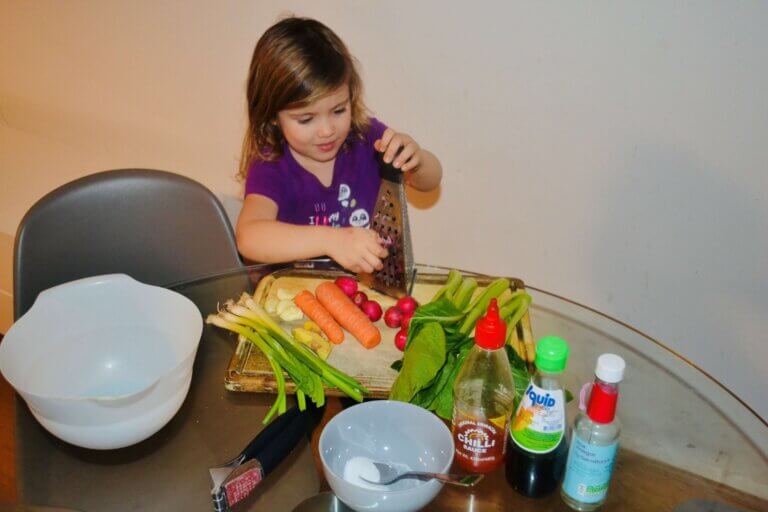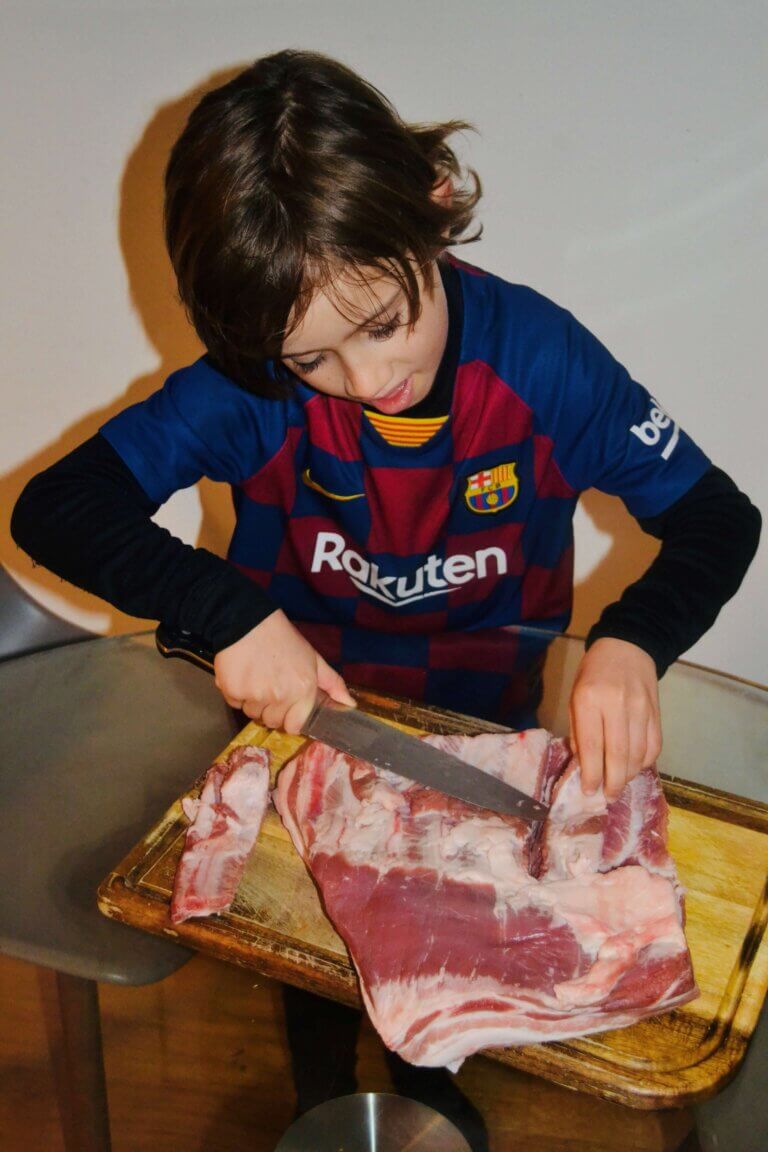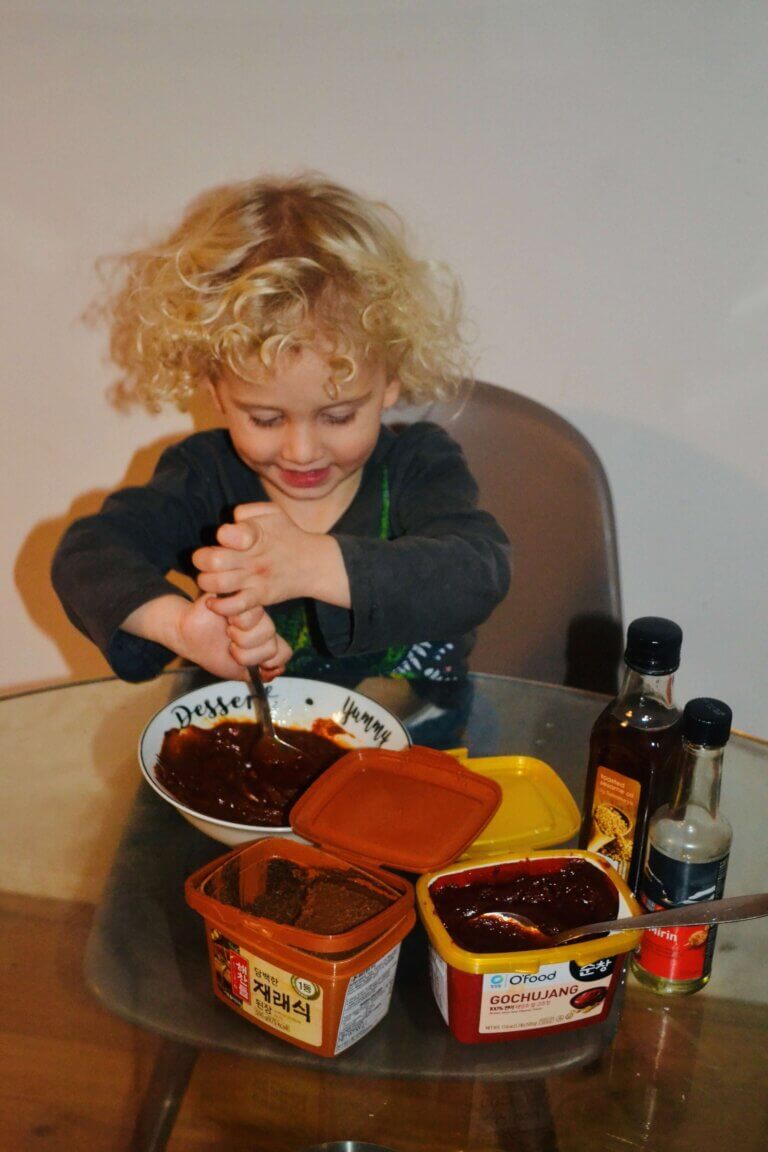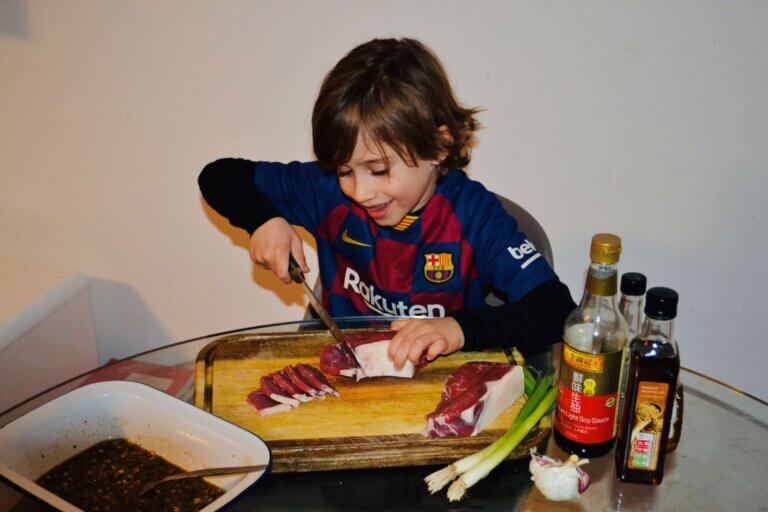 Getting the beef marinating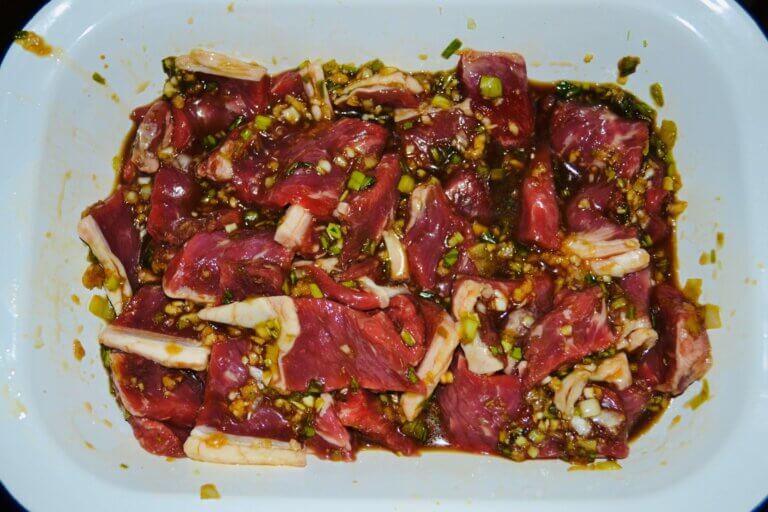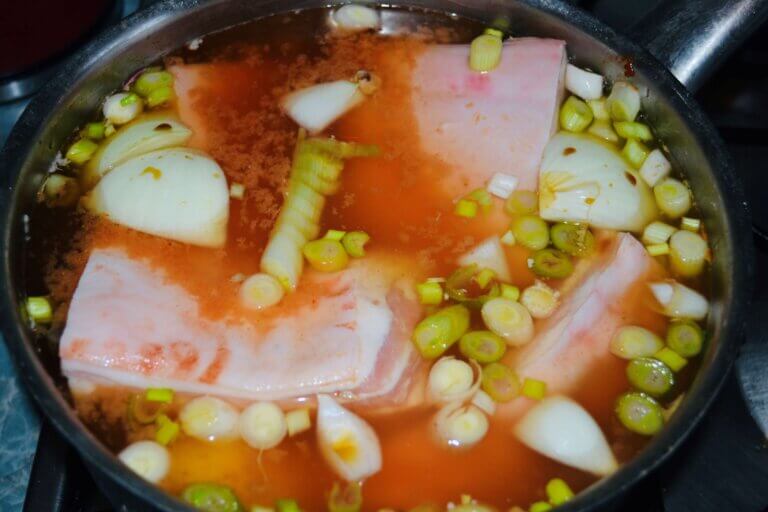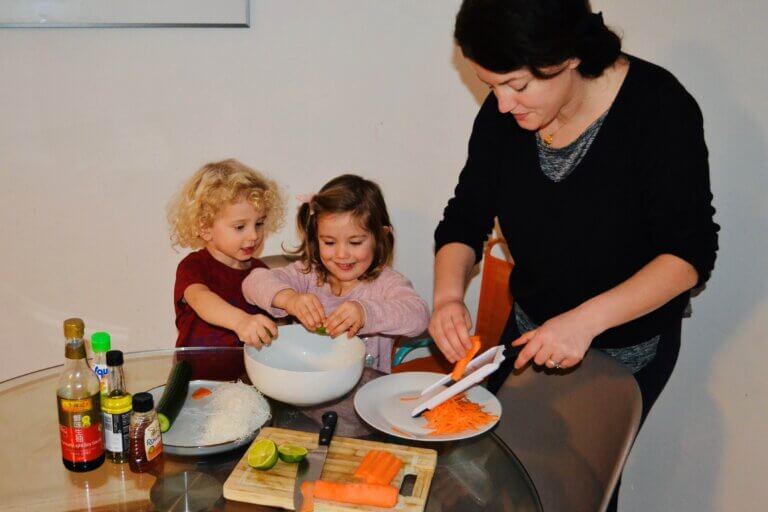 Bossam (Pork Belly Wraps)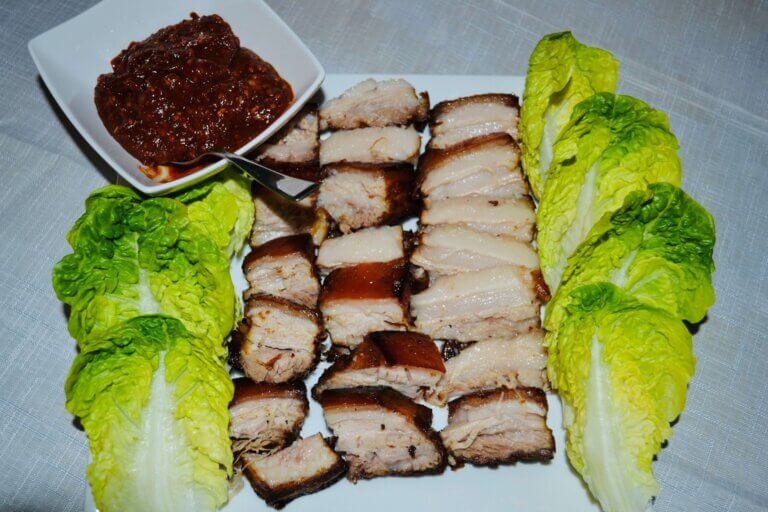 1 kg piece of pork belly
3 inch of ginger, roughly chopped
8 cloves of garlic, roughly chopped
1 onion, quartered
5 spring onion, chopped
3 tbsp doenjang
1 tbsp gochujang
3 tbsp soy sauce
2 tbsp honey
Sauce
2 tbsp doenjang
1 tbsp gochujang
1 tsp sesame oil
3 cloves of garlic, minced
1 tsp crushed and roasted sesame seeds
Fill a large pan with lid with water and the ginger, garlic, onion, spring onions, doenjang, gochujang, soy sauce and honey an finally the pork belly, bring to the boil and reduce to a simmer and cook with the lid on for approx. 2 hours topping up with water if needed.
When cooked remove the pork belly (the rest can be discarded) and place in a preheated oven at 180 to roast for 30 mins or until the meat is nicely caramelized.
Whilst cooking make the sauce by simply combining the ingredients, cook your rice and prepare the lettuce leaves.
When the pork is finished cooking slice it up and serve alongside the rice, sauce and lettuce leaves.
Bulgogi (Korean Beef BBQ)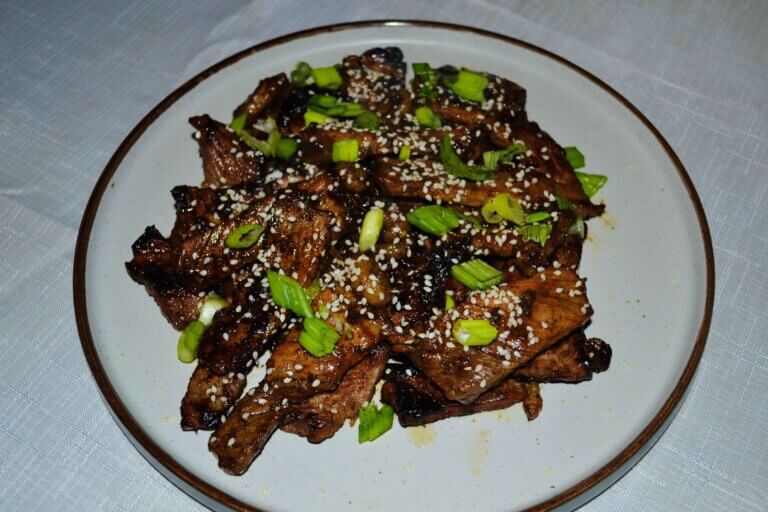 500g of sirloin steak
4 cloves garlic, minced
1 inch grated ginger
3 spring onions, finely chopped
1 tbsp gochujang
4 tbsp soy sauce
2 tbsp honey
1 tbsp mirin
1 tbsp sugar
1 tbsp sesame oil
1 tsp pepper
Sesame seeds for garnish
Freeze the sirloin steaks for an hour so they are easy to slice, trim some of the excess fat off and slice thinly.
In a bowl mix together the remaining ingredients well and marinate the meat overnight.
When ready to cook remove the meat from the fridge and remove excess marinade. Stir fry, grill or bbq until the meat is cooked through and caramelized on the outside. Sprinkle with sesame seeds and chopped spring onions and serve alongside lettuce leaves to wrap.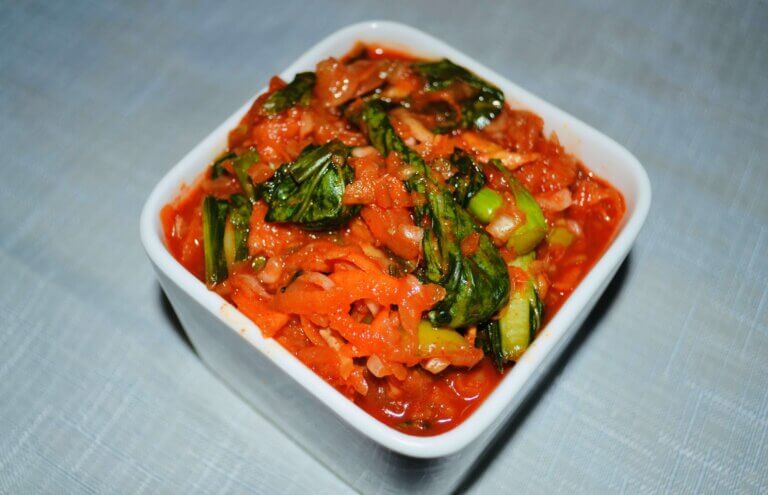 1 Chinese cabbage, cut into bite size pieces
4 cloves garlic, minced
2 inch ginger, grated
3 tbsp rice vinegar
2 tbsp fish sauce
2 tbsp sriracha
1 tbsp gochujang
1 tbsp sugar
6 radishes, grated
4 spring onions, finely  chopped
2 carrots, grated
Mix the garlic, ginger, rice vinegar, fish sauce, siracha, gochujang and sugar together in a bowl and out to one side.
Slice the cabbage into bite sized pieces and  mix together with the other vegetables.
Mix the paste through the chopped and shredded vegetables and put the mixture into jars. You can serve this immediately or leave to ferment overnight at room temp before putting it in the fridge. The longer you leave it the better it should taste – up to a max of approx. 10 days.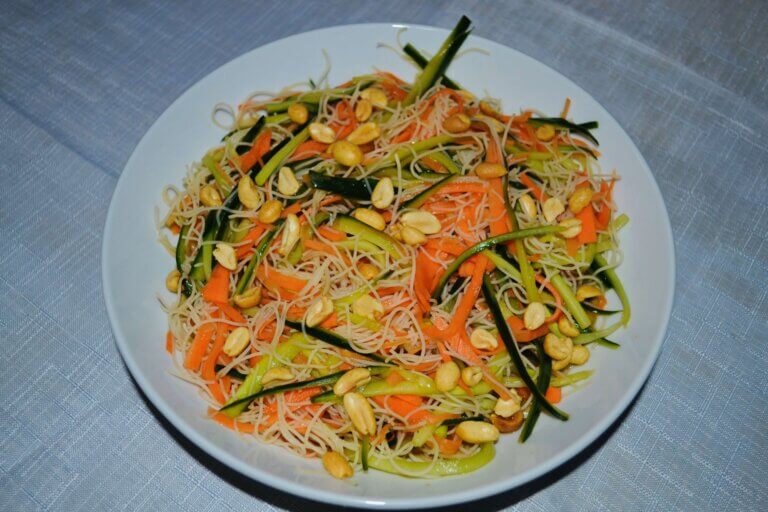 200g of cooked rice noodles
½ cucumber, de-seeded and julienned
2 carrots, julienned
1 tbsp gochujang
Juice of 1 lime
2 tbsp fish sauce
1 tbsp mirin
2 tbsp of rice wine vinegar
3 tbsp roasted peanuts
Combine the noodles and julienned carrots and cucumber and make a dressing by whisking together the remaining ingredients.
When ready to serve toss the salad through the dressing and garnish with the peanuts.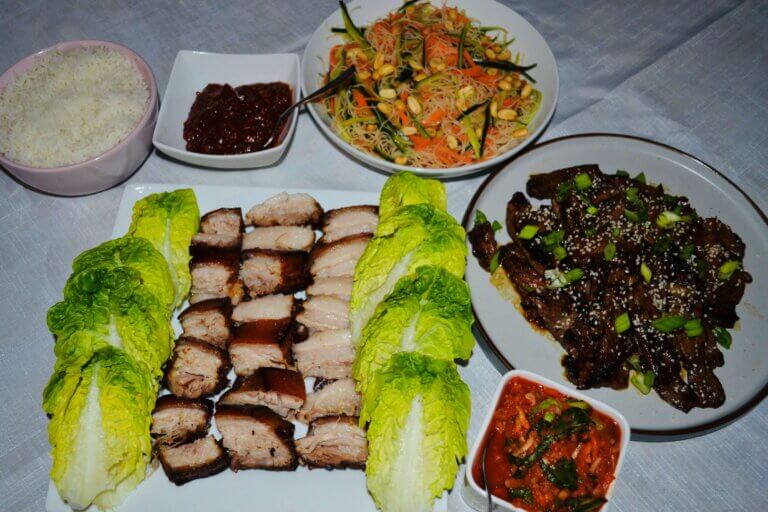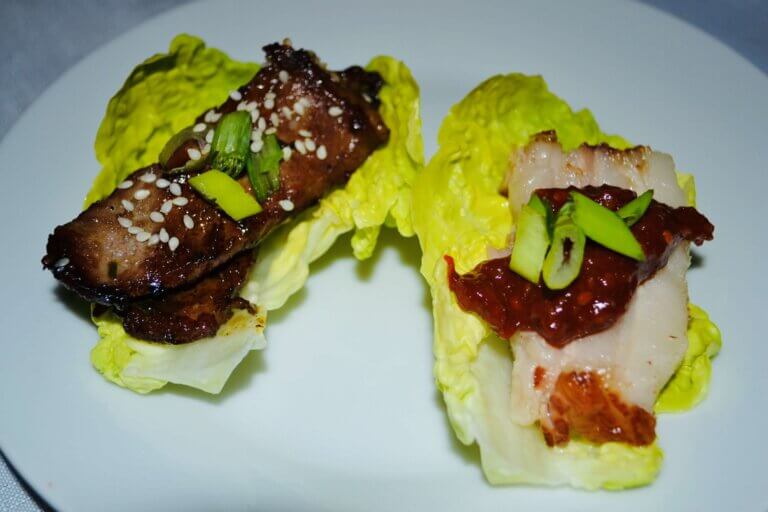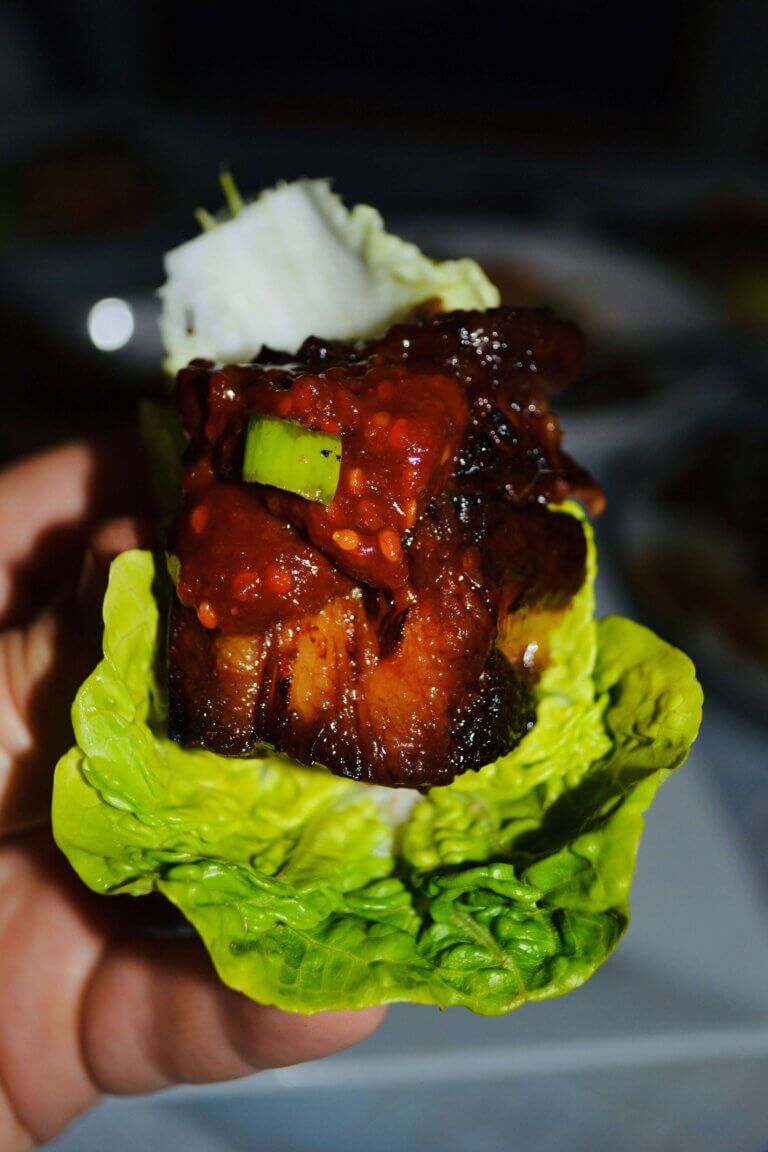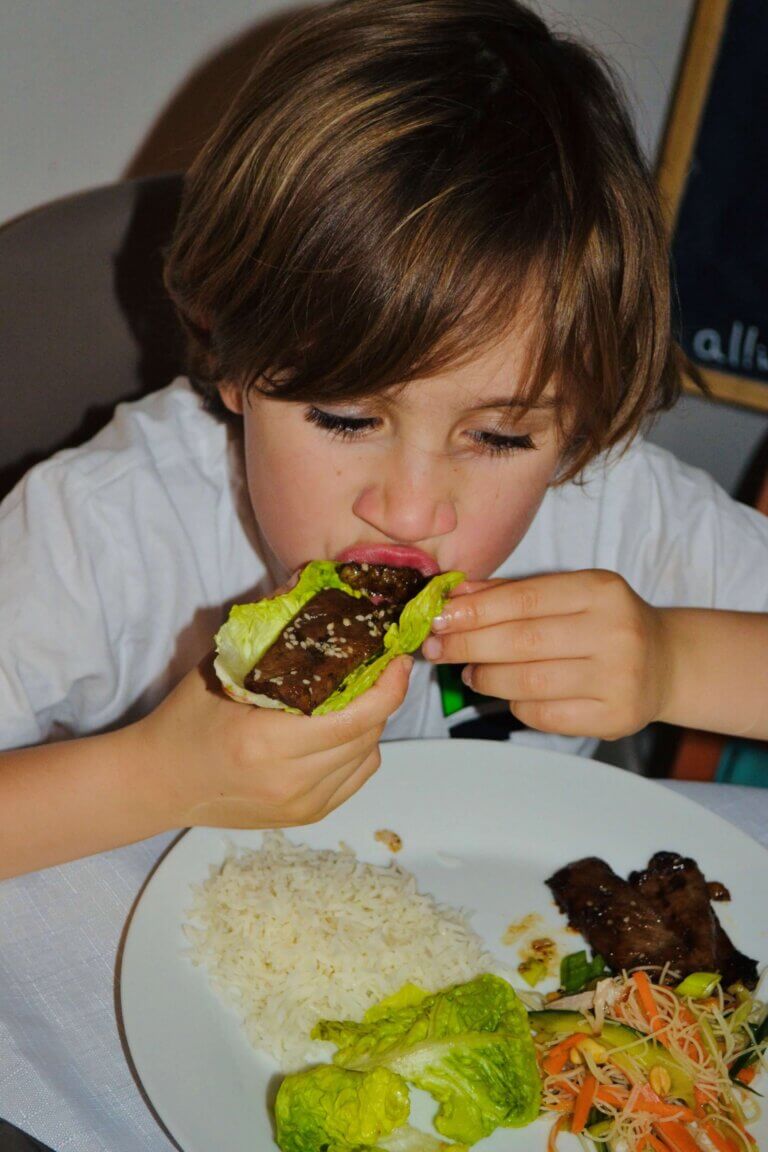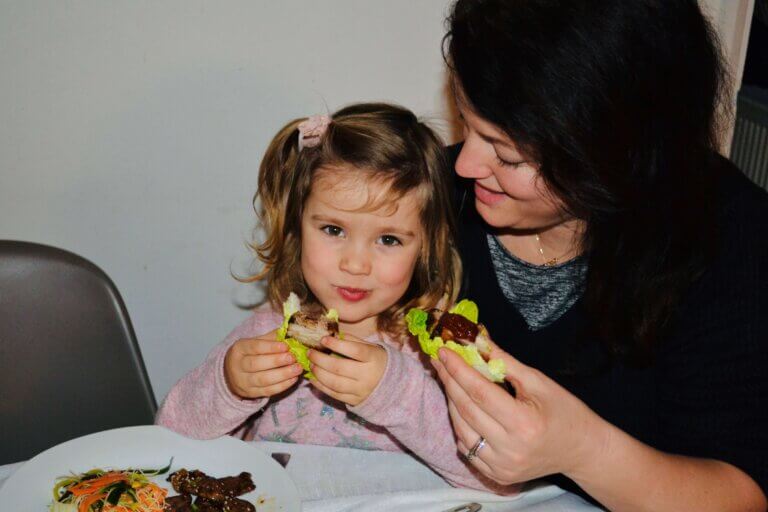 Our Korean food was epic!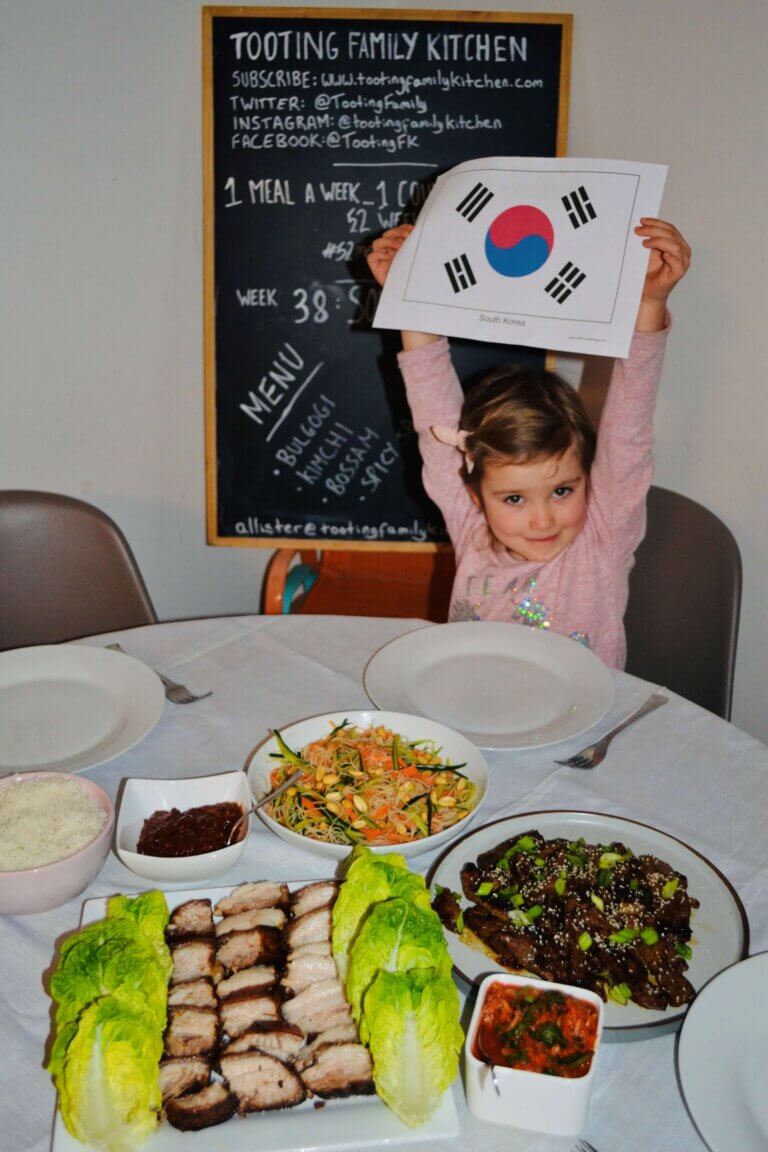 Thank you South Korea, that was epic! Can't wait to explore more of your cuisine.
Next week we are excited to cook up some Korean food … please don't forget to SUBSCRIBE (scroll to bottom) & SHARE and if you have any International Food ideas or recipes from around the world you wish to share please do drop us a line
Check out other destinations here.
You can also follow us on Instagram, twitter and Facebook
See you next week!
Tooting Family Kitchen
#tootingfamilykitchen #getkidscooking #familycooking #homecooked #worldfood #koreanfood #southkorea #kidscooking #getkidscooking #familycooking #internationalfood #CookingBuddies