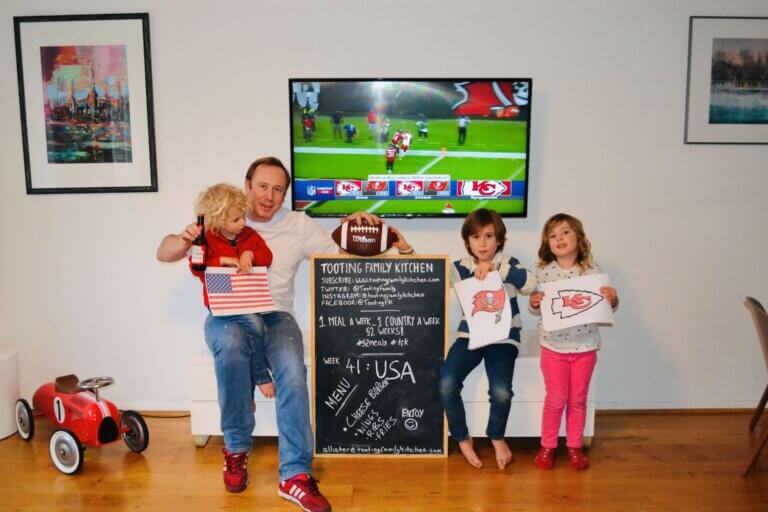 Super excited to hit the USA for Week 41 of our 52 Weeks Challenge and cook up an indulgent feast to celebrate Super Bowl 2021…Go Bucs!
In case you are not aware…America is a pretty big place with a big personality to match! The biggest economy, the biggest military superpower, the largest exporter of entertainment, the most Olympic gold medals, the most billionaires and 9 of the 10 largest companies on the planet…all part and parcel of a country that is responsible for approximately 21% of energy consumption globally. Love them or loathe them, in the words of Ron Burgundy, they are kind of a big deal!
I love America! Although It's fair to say that due to the circumstances of my visits, it would be pretty hard to formulate a bad impression. A handful of trips to New York, a road trip around Florida, a wedding on Laguna Beach in Orange County and a few days in LA, all trips with the sole purpose of having fun. It was never going to be a tough nut to crack, so long as I had saved up quite a few bucks before the visit! The underlying adjective to describe each trip is certainly 'indulgent' and every time I return I feel like I need a mini break to get over the excessive nature of the eating, drinking, socialising, sports events and the general explosion to the senses you get from doing cities like New York, LA and Miami on foot, especially when it's the first time! Like many things American, it's not for everyone, but New York is certainly for me and second only to the greatest City in the world…London 😊 There are a million reasons why I love New York but to summarise – it has an energy like no other city I have been to and one that is strangely addictive. In the same way I dream about returning to Italy and sitting under the Tuscan sun, sipping chilled wine and eating fresh pasta, I also dream about grabbing a stacked 'pastrami on rye' and eating on the go, whilst making my way through the hustle and bustle towards Greenwich Village. The latter often comes out on top…perhaps this just makes me weird! Fortunately Miami is a pretty cool city too and is now home to my brother Oliver and his American wife, Jonelle and I can't wait to get over there for some Cubano sandwiches!
Indulgent travels aside and I certainly have an affinity with the Americans, as will anyone from the military who has served alongside them in hostile environments. As soldiers you don't make the decision on where you are sent, you go where you are told and Americans and Brits often find themselves working side by side, when we have to have each other's backs and always have done. I have been fortunate enough to serve with the Americans on a few occasion and although I say "indulgent travels aside", the Americans don't go anywhere without some of their (indulgent) home comforts! Seeing a shipping container converted into 'Pizza Hut' being air dropped by helicopter into a war torn military base is a pretty surreal (albeit welcome) experience. Not quite as surreal as working with some Americans in a dusty, desert outpost on 'surf n turf' night and eating BBQ steak and lobster whilst wearing flack jackets and helmets with mortar shells incoming…an unforgettable dining experience which certainly took the edge off the imminent risk to life! I was also fortunate to escape the daily bombardments of rockets and mortars we faced in Iraq in 2006/07 to work with the Americans again, this time taking a short trip to Qatar to work with the US Navy, flying (ironically) on their 'spy planes'. I can honestly say I have yet to see a salad bar as long as the one in their 'cook house'…even the Ben and Jerry's counter had you in sweat by the time you finished walking from one end to the other. But even more mind blowing than the salad and ice cream, was the way I was welcomed by the team, and even by the American ex-pats and tourists in Dohar, who would invariably pick up the tab on the restaurant bill where we were eating if they recognised we were military…despite obvious fierce resistance! Never have I been treated so well in my professional life than when I was when working the US military and I will always be grateful for that.
Ready for take off with the US Navy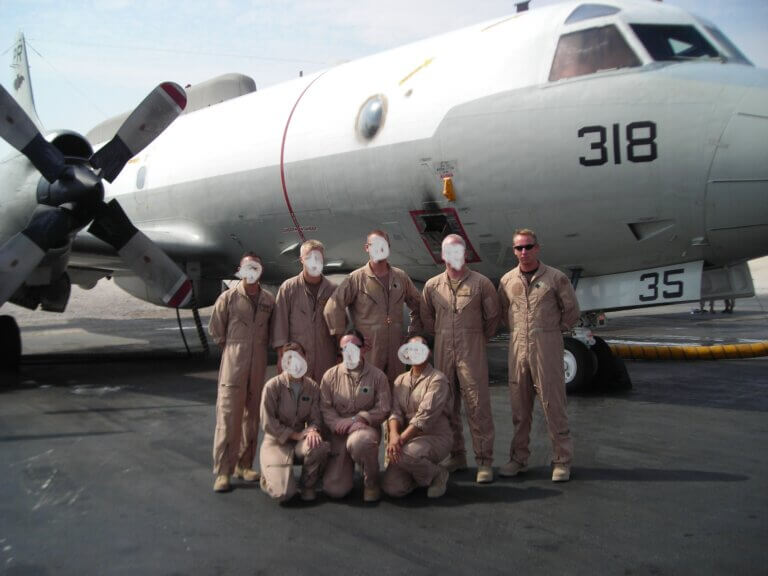 On to the sport and it's fair to say this week has been an absolute struggle having stayed up to the early hours of Monday morning to watch my first ever Super Bowl and suffer the consequences of having to home school, work and cook (a lot), in the immediate aftermath! According to a Forbes article I read, the US comes out as the 4th cleverest nation on the planet when considering a mix of average IQ, Nobel Prizes won and school test rankings – I do feel like they should add another column to this… 'ability to understand American Football Rules'…and maybe even 'understanding of the American Voting System'…all of which have left me pretty baffled in recent months! The fatigue (of watching and trying to understand) was worth it  and although it was strangely different to watching the (real) football in North London, with a load of blokes wearing flat caps, having a pie at half time and hitting the boozer for some post game analysis (which invariably involves complaining about the players and the referee), it was great in a blinged-up, excessive, all-American kind of way!
Needless to say with a Super Bowl, comes a Super Bowl feast and fortunately here in Tooting (which joins neighbourhoods in New York and Seattle in being in the world's top 10 coolest, according to Lonely Planet), we have The Southern Kitchen churning out some incredibly diverse real Southern food reminiscent of the owner's time spent living in Virginia! Fortunately Rich is a mate and having spent a fair amount of time studying, and testing his ever changing, diverse menu for this week's American feast, I have gone with cheeseburgers, ribs, wings and fries…..oh come on…everyone loves a cliché!!!
Tooting Family Kitchen cooks Cheesebugers, Wings, Ribs, Fries and Mac & Cheese!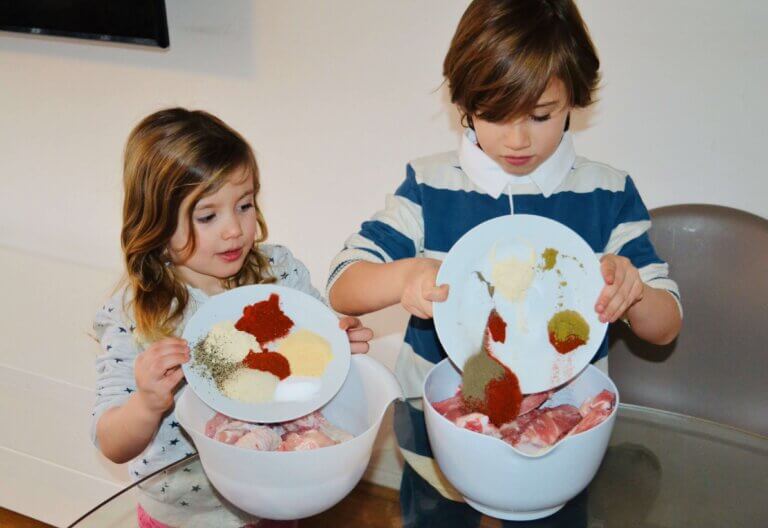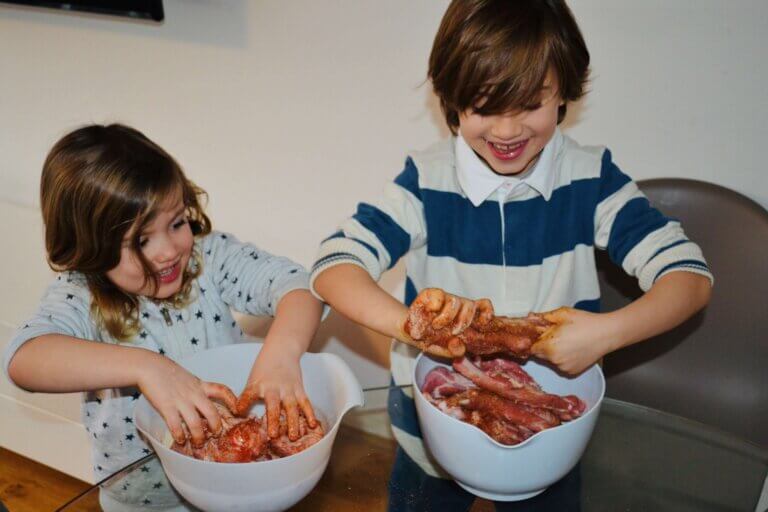 75% Chuck 25% Rib Eye burger mix!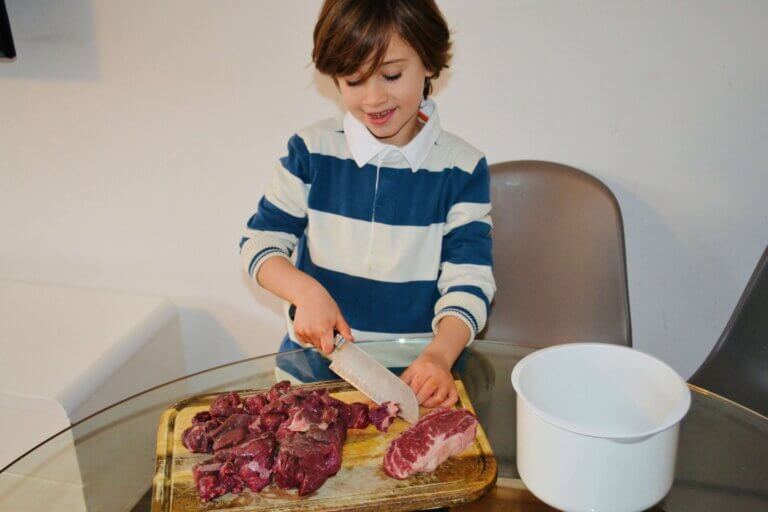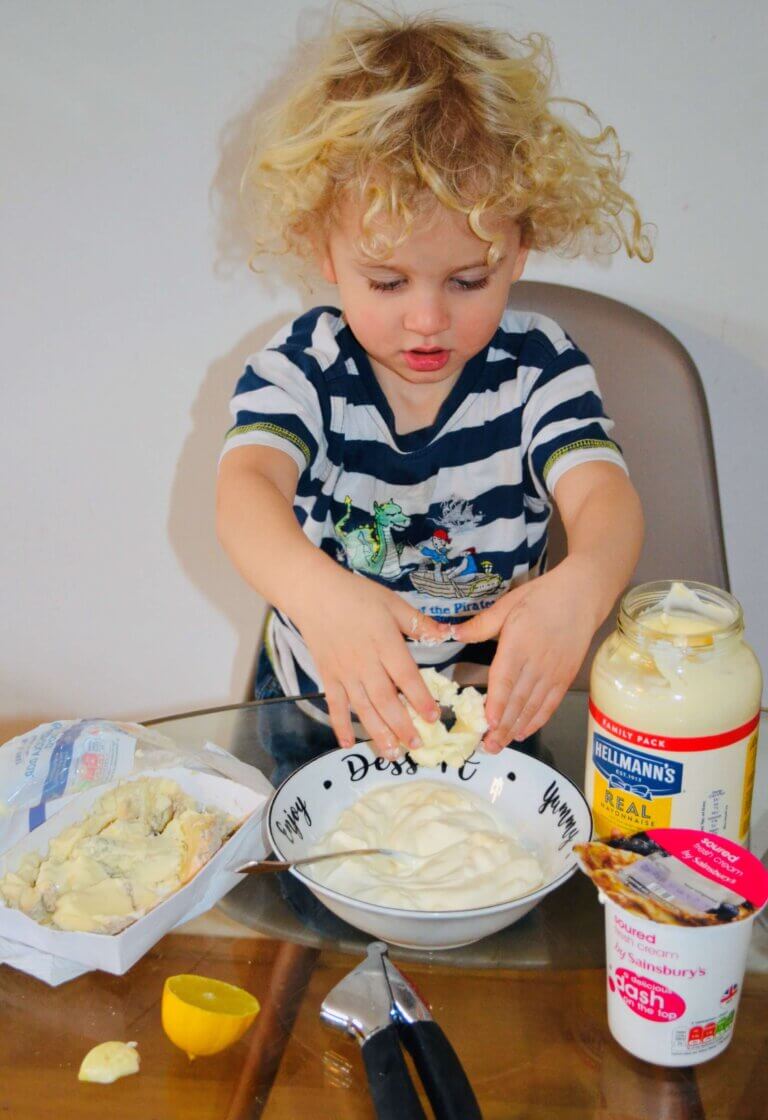 Getting the mac n cheese ready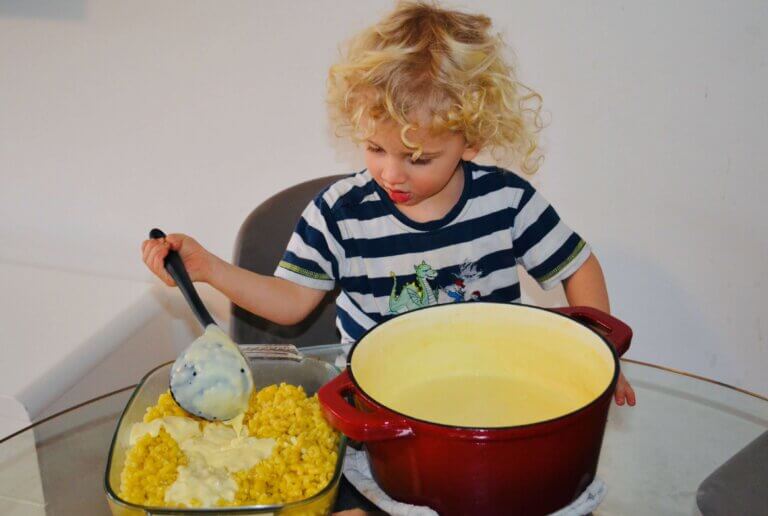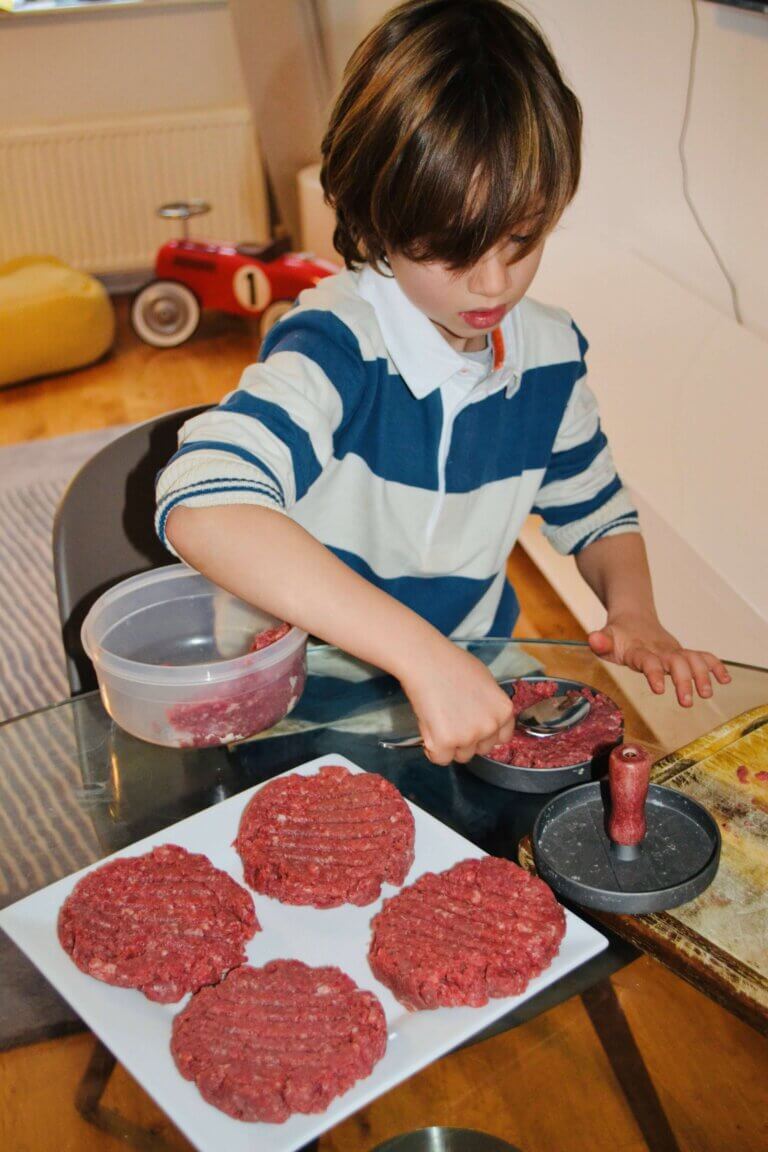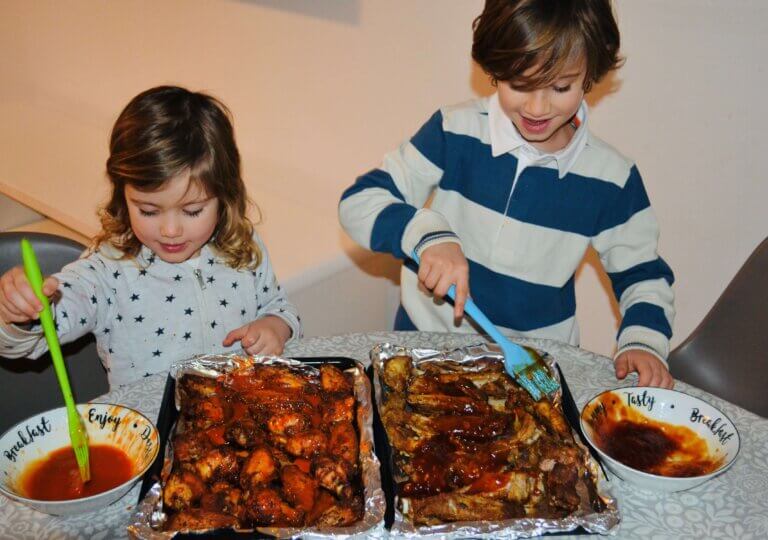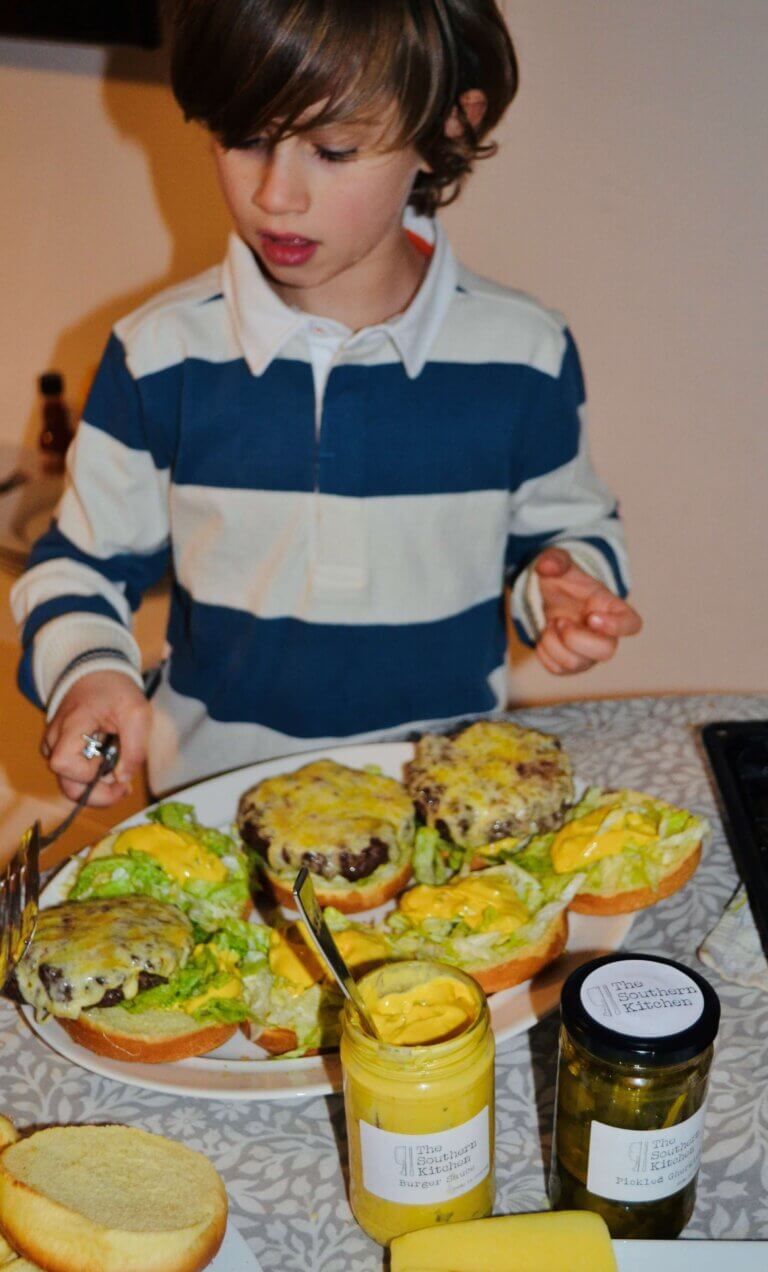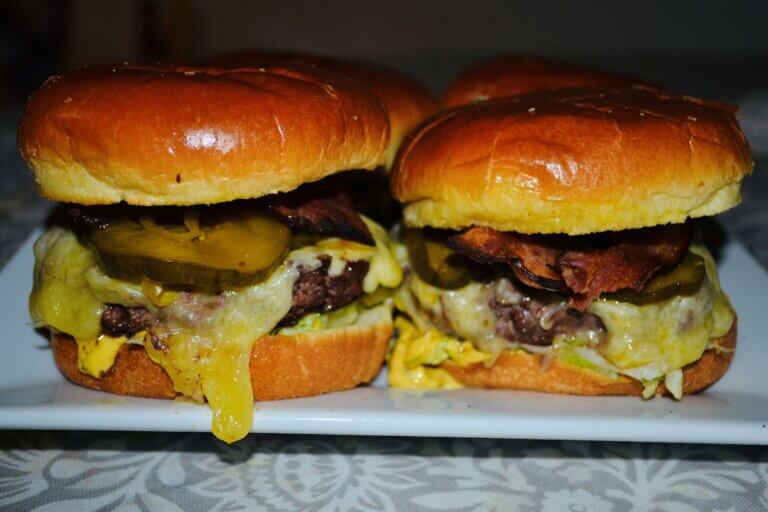 1kg of chuck
250g rib eye
Brioche buns
Streaky bacon
Lettuce
Burger sauce
American cheese
Freeze the meat for 20 mins before chopping into small pieces and then blitzing in a food processer until the right texture.
Place the burger meat into moulds approx. 200g each for large burgers, and refrigerate until an hour before cooking.
When patties are removed from fridge give them a good sprinkle of sea salt and allow to get to room temp prior to cooking.
Place the patties under a pre-heated grill for approx. 4 mins each side for medium adding the cheese slices for the last minute.
Dress the burgers with the lettuce, bacon, pickles and sauce and serve.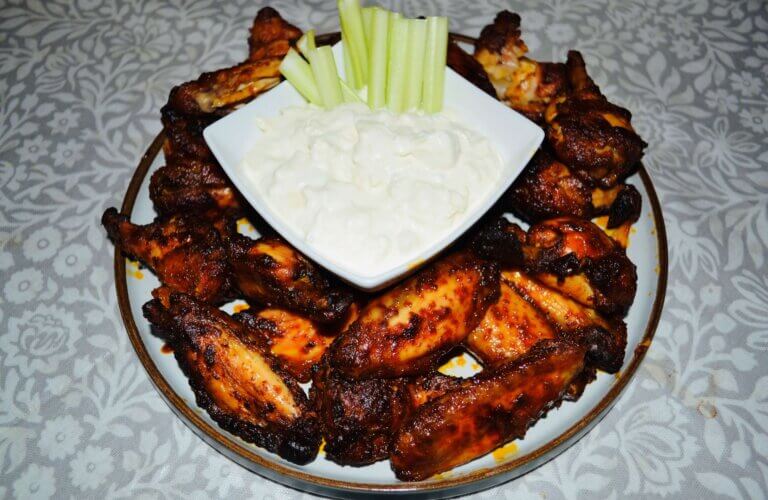 1kg chicken wings separated into wingettes & drumettes
Dry Rub
1 tsp garlic powder
1 tsp paprika
½  tsp onion powder
1 tsp salt
½  tsp pepper
½ tsp Cayenne powder
½  tsp cumin
1 tbsp sugar
Wet marinate
50g unsalted butter melted
½ cup Frank's Original Red Hot Sauce
1 tbsp brown sugar
½ tsp salt
Blue Cheese Dip
1  cup crumbled gorgonzola
½ cup sour cream
3 tbsp mayo
1 clove garlic, minced
1 tsp salt
1 tsp black pepper
Celery sticks
Split the wings if necessary into wingettes and drumettes and mix well with the dry rub ingredients – leave for a few hours
When ready to cook bake in a pre-heated oven to 150 C for 1 hour before removing and turning the heat up to 200 C
Toss the wings in the wet marinated and return to the hot oven for another 15 mins tossing once during cooking.
Serve alongside the blue cheese dip and celery sticks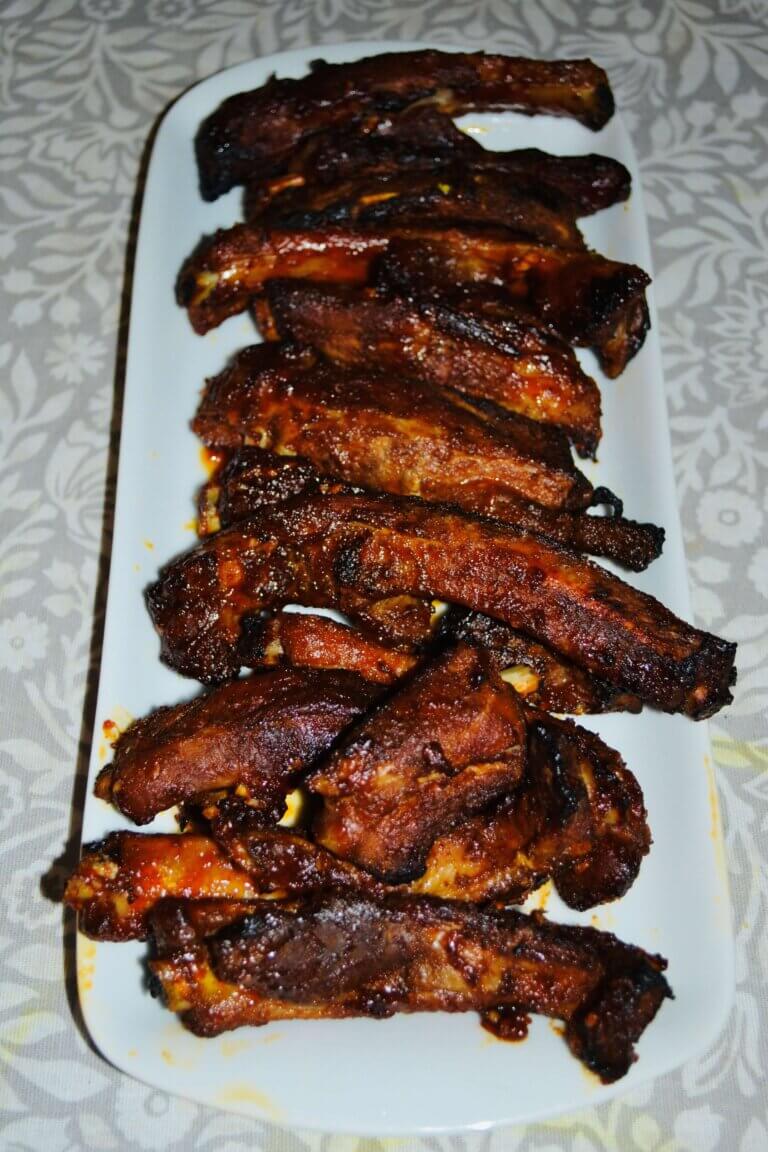 2kg pork ribs
Dry rub
2 tsp garlic powder
2 tsp paprika
1 tsp onion powder
2 tsp salt
1 tsp pepper
½ tsp Cayenne powder
1 tsp cumin
2 tablespoons olive oil
Wet marinate
1 cup of barbecue sauce
6 cloves garlic. minced
2 tbsp olive oil
1 tbsp Worcestershire sauce
1 tsp salt
Mix the dry rub spices together well and toss the ribs well in mixture – leave to marinate for a few hours.
Place the ribs on a rack in a baking tray and 2 cups of water to the tray. Cover the tray in tin foil and cook in a pre-heated oven at 150 C for 2 hours.
Remove from the oven and increase the heat to 180 C. Toss the ribs in the wet marinate and cook for another 30 minutes turning half way through.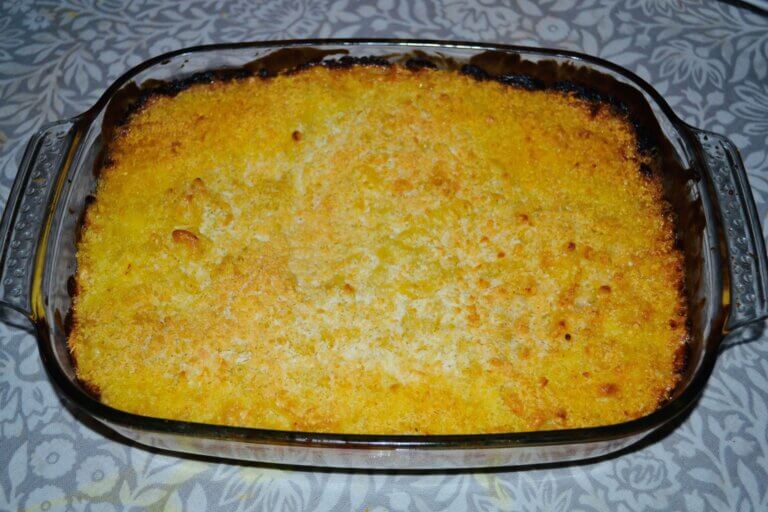 500g of macaroni, cooked
1 tbsp olive oil
50g unsalted butter
4 tbsp all-purpose flour
4 cups whole milk
1 cup heavy whipping cream
3 cups cheddar cheese, grated
2 cups Gruyere cheese, grated
Salt and pepper
1 cup panko crumbs
½ cup Parmesan cheese, grated
Cook the pasta taking off 2 mins from the cooking instructions, drain and toss in the olive oil and put to one side.
Make a roux by melting the butter in a heavy bottom pan and then whisk in the flour and cream but by but until smooth and season.
Add the grated cheddar and gruyere and take off the heat but allow to stand for a few minutes so the cheese melts
Pour the sauce over the macaroni and combine and top with the panko crumbs and parmesan
Bake in a pre-heated oven to 180 C for 40 min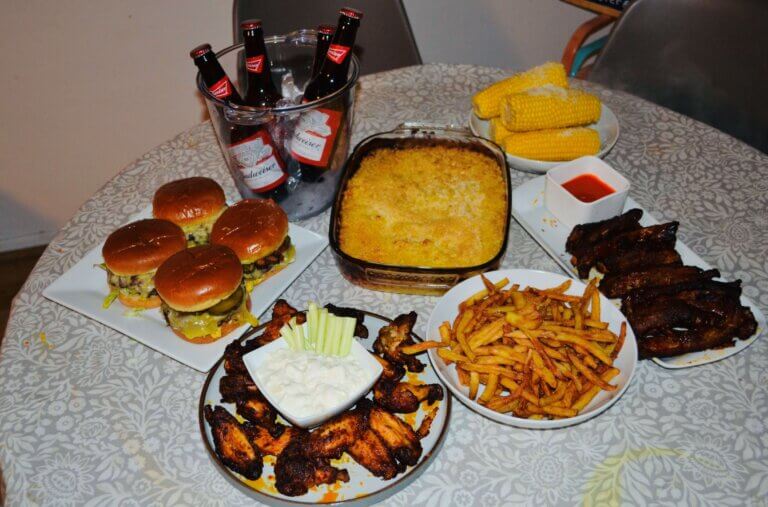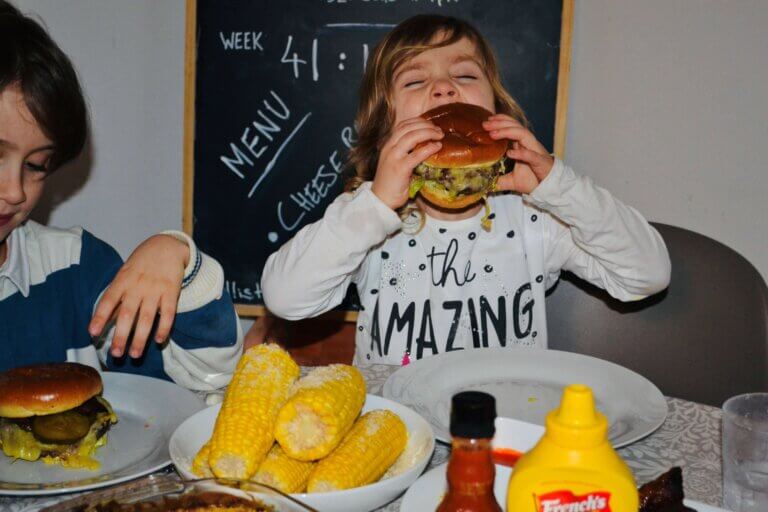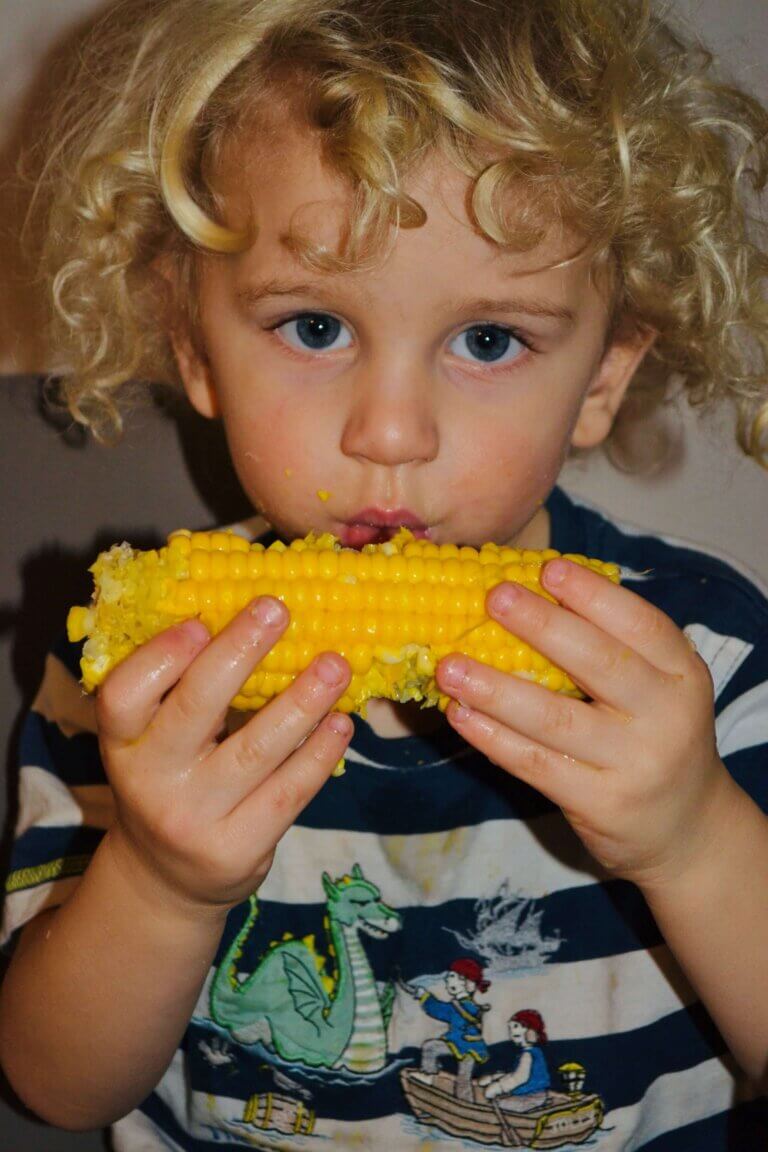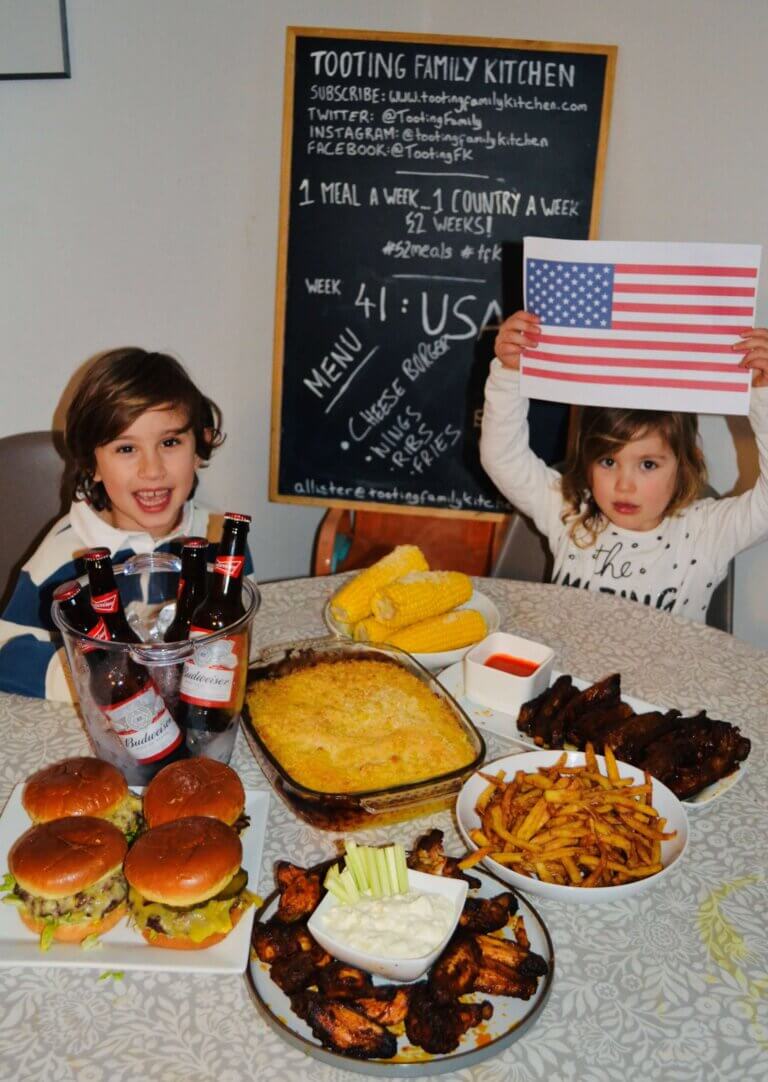 Thank you America, that was epic! Can't wait to explore more of your cuisine.
Next week we are excited to head to China!!! … please don't forget to SUBSCRIBE (scroll to bottom) & SHARE and if you have any International Food ideas or recipes from around the world you wish to share please do drop us a line
Check out other destinations here.
You can also follow us on Instagram, twitter and Facebook
See you next week!
Tooting Family Kitchen
#tootingfamilykitchen #getkidscooking #familycooking #homecooked #worldfood #americanfood #usa #kidscooking #getkidscooking #familycooking #internationalfood #CookingBuddies