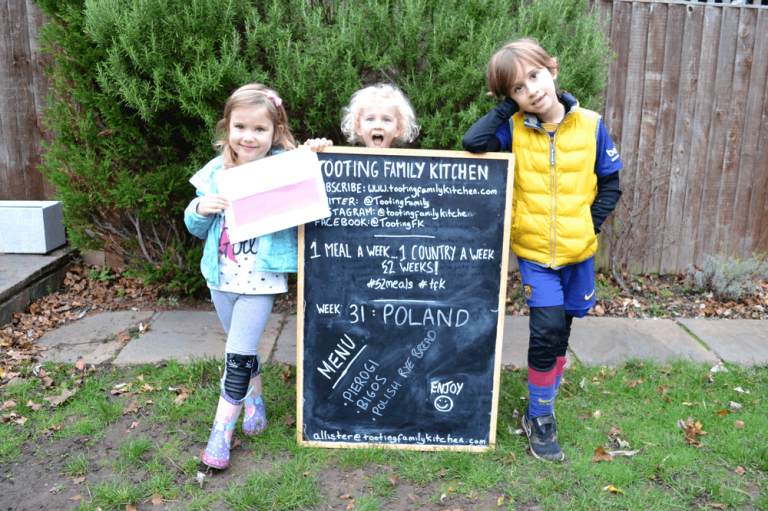 Thank you for joining Tooting Family Kitchen for Week 31 of our 52 Meals Challenge. If you are hitting our blog for the first time, welcome! We are on a culinary journey, exploring different cuisines from around the world to get kids cooking and learn about different International Cuisines and Cultures – celebrating Diversity through Food.
We have set ourselves a challenge to cook 52 Meals from 52 Countries in 52 Weeks, sharing our family cooked recipes and experiences as we go. If you like our content please do share and subscribe (at bottom of the page) to ensure you don't miss out on future family cooking destinations – we promise we won't spam you, just a weekly reminder when we publish our latest International recipes 😊
This week we head to Poland which has caused a lot of excitement in our household, particularly from our 4 year old daughter Abigail. A year ago she was very upset to learn that her best friend Martyna would not be accompanying her from nursery to primary school as she would be going to live in Poland where her parents are from. It's fair to say Abigail's relationship with 'silly' Poland got off to a rocky start, but food brings people together, all is forgiven and we have been reminded many, many times this week by a joyous Abigail, that Martyna is in Poland….so Martyna, this is for you from Abigail! 😊
There are approximately 800,000 people of Polish nationality in the UK, making them one of the largest ethnic minorities in the country with the Polish language being the second-most spoken language in England. Where we live in Tooting there is a big Polish community and you are never far away from a Polish supermarket, restaurant or Polish conversation, which just adds to the amazingly diverse and vibrant feel to this corner of South West London. My Dad is a big fan of Polish food (especially Polish Tripe Soup!) and we are regulars at Wroclow (or were pre-Covid), a great little authentic Polish restaurant sitting between Balham and Tooting. They get a lot of business from the Polish Church across the road at which you can always guarantee a full house – 90% of Polish claim themselves to be 'believers' compared to a mere 30% in the UK!
So its fair to say that we are very familiar with the Poles in the UK, but what about Poland? Ryanair is doing their best to educate us and if there was an award for an airline taking big groups of people to towns and cities whose names they can't pronounce they would surely be the winner. For a mere €11.4 one can pop over to such destinations as Olsztyn-Mazury, Bydgoszcz, Szczecin and Rzesow and check out what this massive country has to offer. Unfortunately it is sometimes the hardships the Polish people have endured in their often tragic modern history that is at the forefront of people's minds, but this mustn't overshadow the amazing achievements that have been accomplished in this country, or the beauty that comes from its scenery, architecture, culture and traditions, along with its food and drink of course!
There are 16 World Heritage Sites in Poland and Krakow's historic centre was on the very original list of 12, compiled in 1978. In fact it was one of only 2 cities on the list, the other being the City of Quito in Ecuador. The stunning scenery is endless from the breath-taking High Tatra Mountains and the wilderness of Białowieża National Park with its free roaming bison, to the wild and windswept dunes of the Baltic Coast, home to Europe's longest pier. Poland is considered to be the most religious European country with 86% identifying as Roman Catholic. Indeed the first non-Italian Pope since the 16th Century was Polish born Karol Jozef Wojtyla who went on to be Pope John Paul. Not sure if this can be attributed to a sporting or religious achievement, but he attracted more people to the Nou Camp than Lionel Messi on an infamous visit in 1982 with 120,000 in attendance.
The Polish have a strong sense of family and unity. They marry young, with the average age being around 27 and receive an award for being married for 50 years…not sure what happens after that milestone has been hit! They are also an innovative bunch and are responsible for a number of discoveries and/or inventions that have had a huge impact on the world today. Need protection from the rain? Or perhaps something a little bit more dangerous? Kazimierz Żegleń and Józef Hofmann can take some credit for bullet proof vests and windscreen wipers, and on the theme of protection, Marie Curie needs no introduction with her discovery of polonium and radium and her subsequent contribution to cancer treatment! But Polish innovation isn't limited to protection. Polish born Jack Tramiel (born Idek Trzmiel) was the man behind the highest selling single computer model of all time…the legendary Commodore 64! If you are fed up with updating your Mac, the word is that there is a C64 still powering an auto repair shop in Gdansk.
The Polish love their food and drink. Their food is hearty, comfort food and served in big portions. They love a beer too and sit 5th in world for beer consumption at 98.2 litres a year per capita…Vodka is also said to originate from Poland although this is up for BIG debate. Expect lots of pierogi (dumplings) with various fillings and coated in lashings of butter and/or sour cream. Expect big hearty stews (like Bigos) and thick soups with huge chunks of freshly baked bread. Expect pork cutlets the size of a plate, coated in bread crumbs…and if all this doesn't take your fancy, Poland is the 8th cheapest place in the world to buy a Big Mac!
We hope we have done Polish food justice with our cooking today.
Smacznego!
Tooting Family Kitchen cook Pierogi, Bigos, and Polish style Rye Bread.
Guess the Bigos ingredients...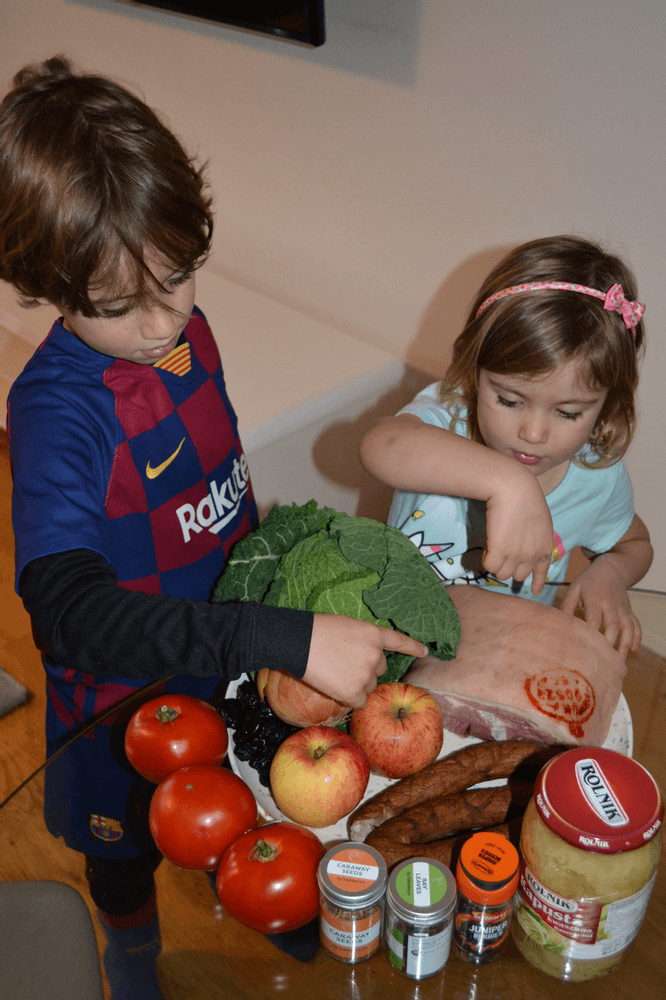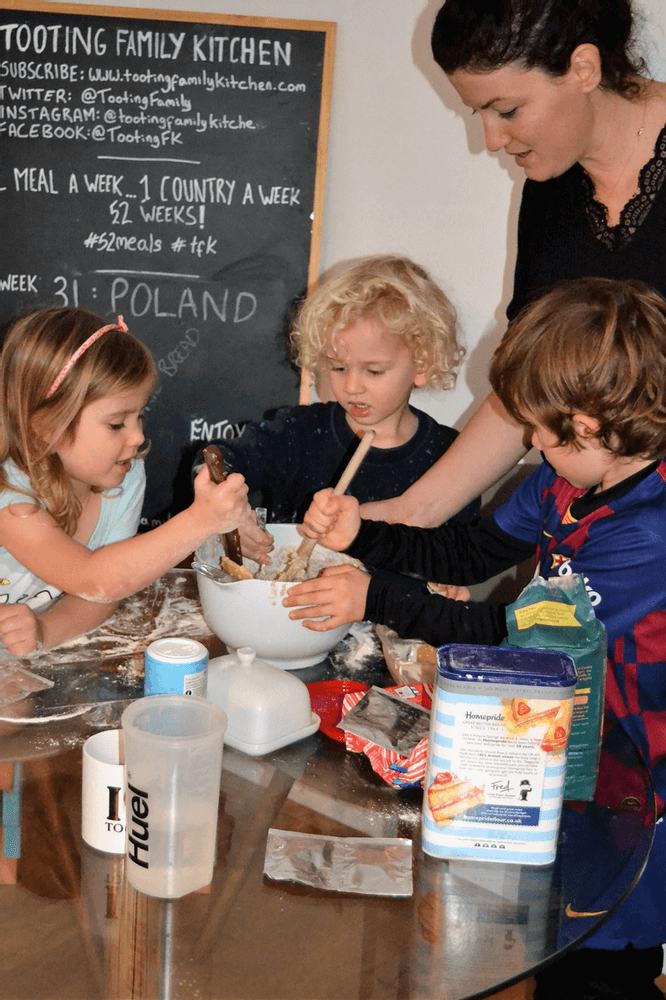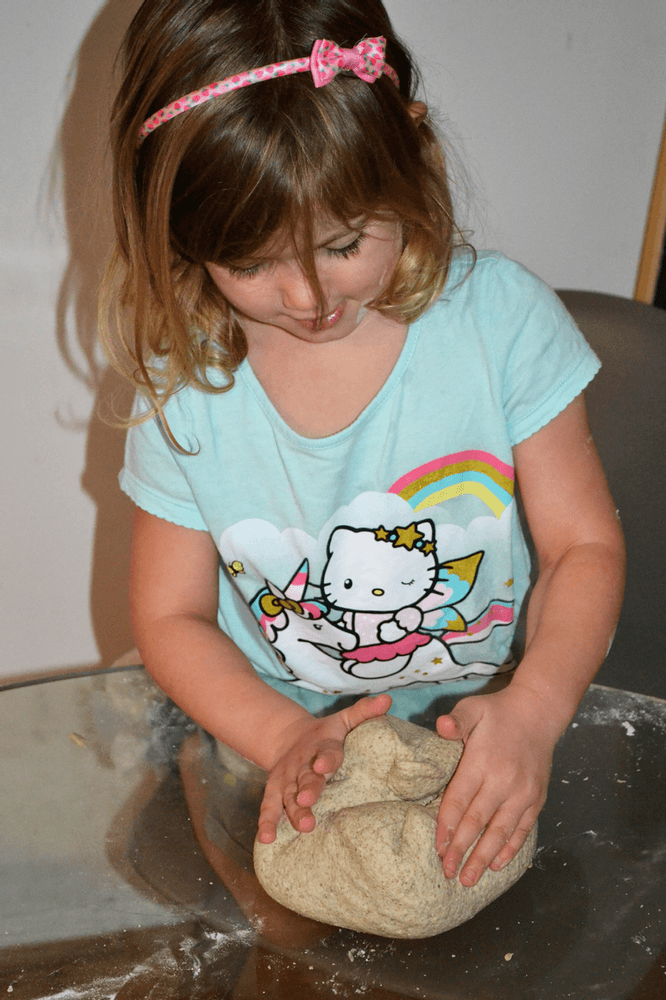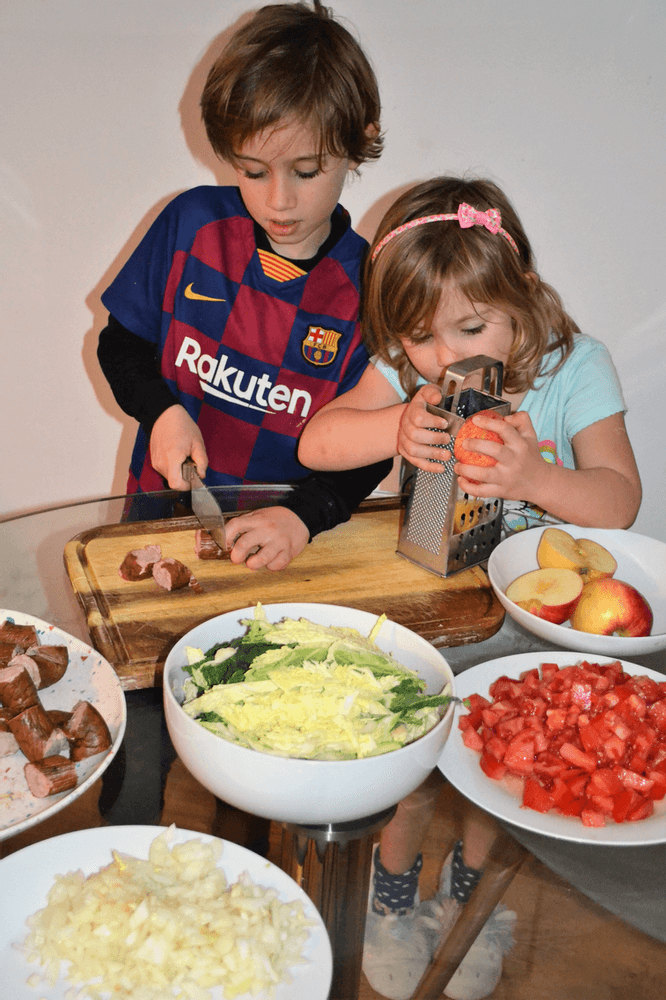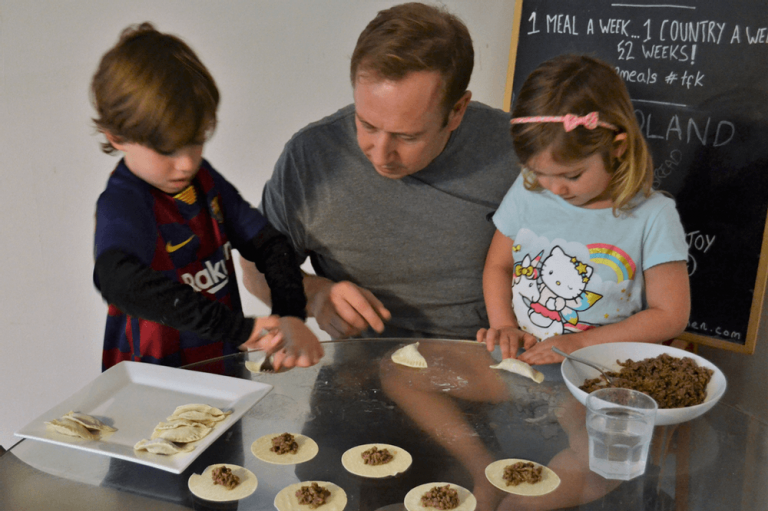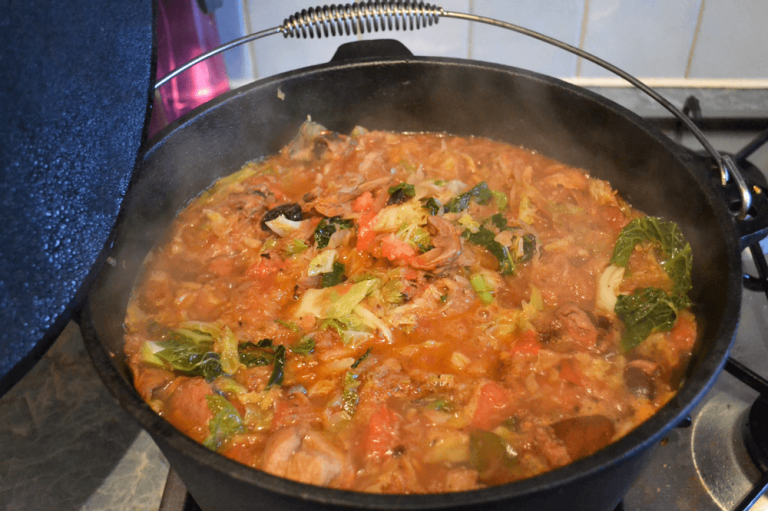 Head baker looking chuffed!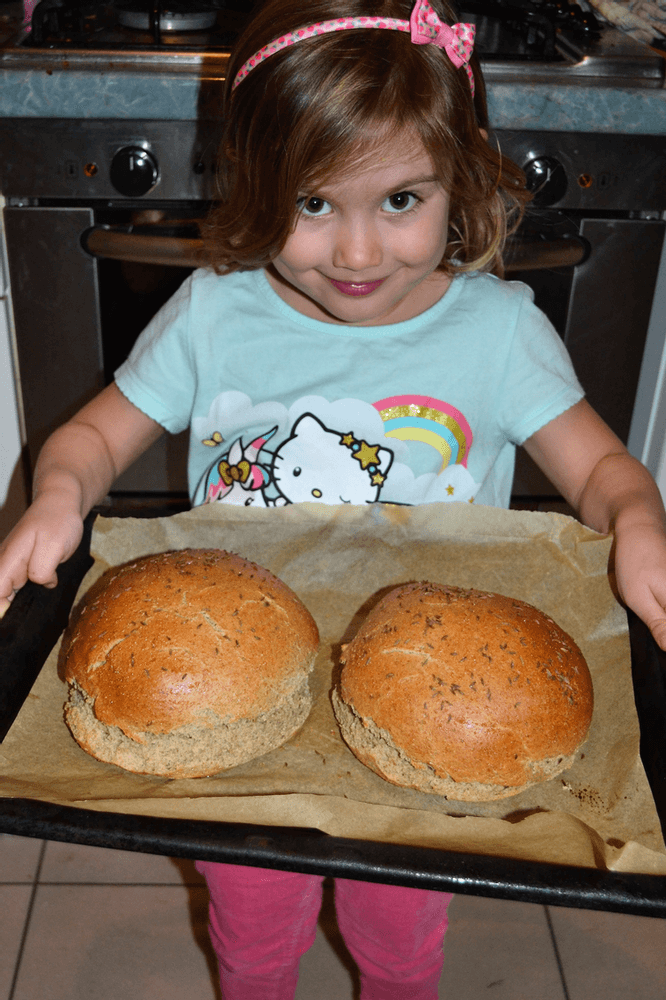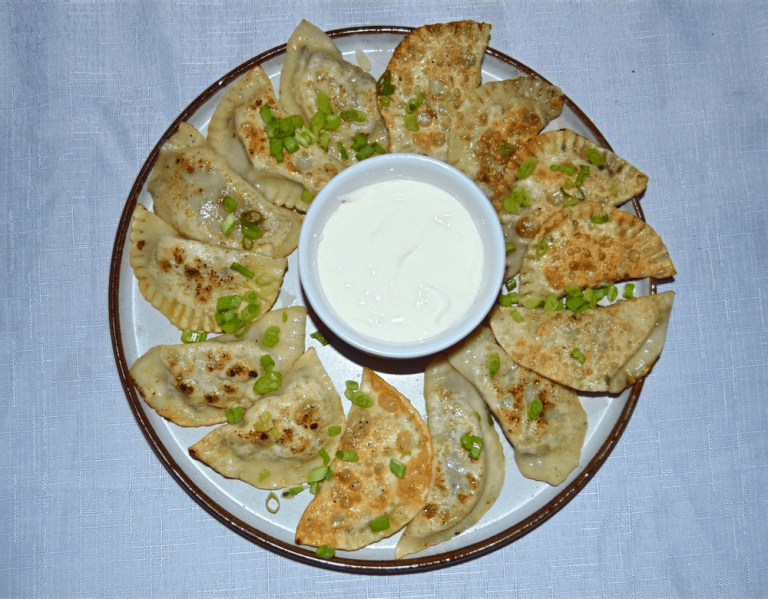 Dough
2 large eggs
1/3 cup water
1/2 teaspoon salt
2 plain flour
Filling
250g minced beef
1 onion, finely chopped
1 cup of beef stock
Salt and pepper
1 tsp of cumin (optional)
Whisk together the eggs, water and salt and then add the flour mixing well until combined and then knead until firm. Cover with a damp cloth and rest for 30 mins before rolling out to 8cm discs at 1mm thick.
Fry the beef until browned all over and then drain the fat. Return to the heat and add the onions, seasoning and cumin and continue to fry for 5 mins until the onions are translucent. Add the stock, bring to the boil and simmer for approx. 10 mins or until the excess liquid has evaporated and the mince is thickened slightly – put the mixture to one side and allow to cool.
When ready to assemble, place a heaped tsp of the mixture into each disc of dough. Seal the edges with water and fold in half squeezing the air out with your fingers and crimping the edges together with a fork.
When ready to cook boil for approx. 3 mins or until the dumplings float to the surface and then fry in butter for 2 mins until browning slightly. Serve scattered with chopped spring onions and sour cream.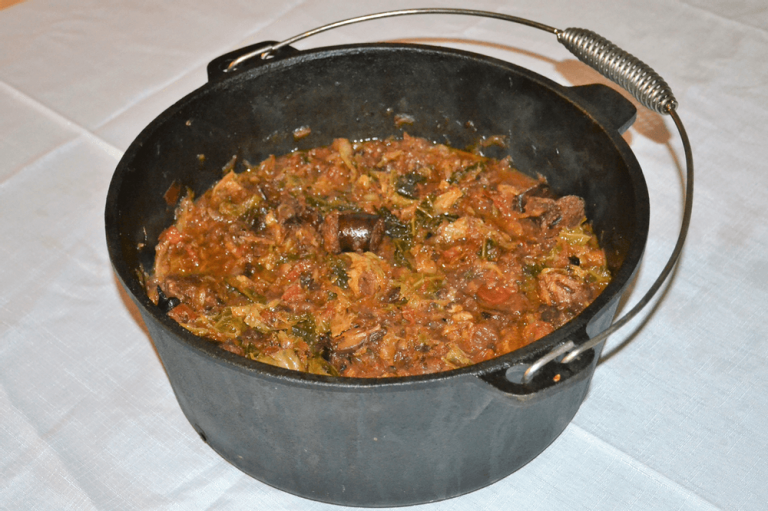 500g pork shoulder, chopped into 1 inch pieces
500g smoked kielbasa sausage, chopped into 1 inch pieces
1 onion, finely chopped
2 tsp caraway seeds
2 tsp of juniper berries, crushed
½ cabbage, shredded
500g drained sauerkraut, rinsed and drained
2 apples, grated
30g of dried porcini mushrooms, soaked in
300ml of hot water
200g prunes, pitted and chopped
3 large tomatoes, diced
1 tbsp tomato paste
2 bay leaves
150 ml of masala wine
500ml chicken stock
Heat some oil in a heavy based pan with lid, sprinkle some salt on the pork shoulder and brown off on all sides. Put on a plate to one side and repeat the process with the sausage before removing.
Chuck the caraway seeds and juniper berries into the remaining oil/fat and fry for a few seconds and then throw in the onions. Cook until translucent and then add the cabbage, cover and continue to fry for another 5 mins, stirring occasionally.
Turn the heat up and add the meat back to the dish along with the mushrooms and soaking liquid, sauerkraut, apples, prunes, tomatoes, tomato paste and bay leaves and combine before adding the wine and cooking for a couple of minutes. Add the stock and bring to the boil before lowering the heat and simmering for 1 hour. When finished simmering remove the lid and continue to cook until the excess liquid has evaporated but the dish remains moist.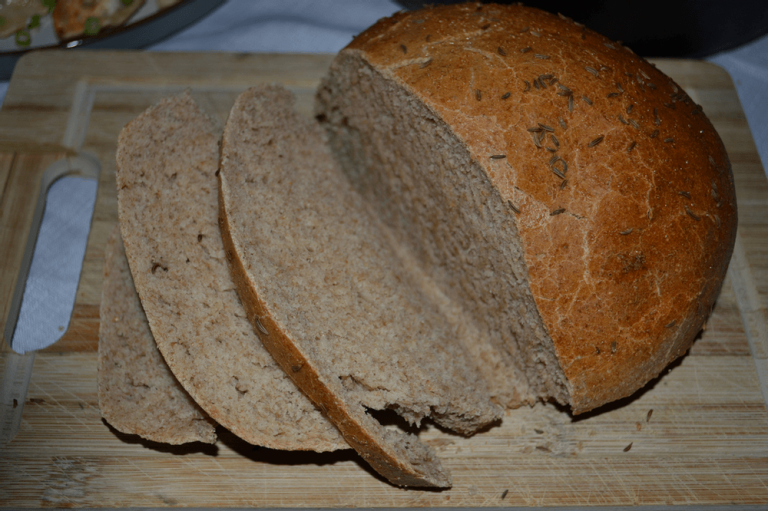 4 tablespoons flour (medium rye)
3 tablespoons milk (warm)
4 cups flour (medium rye)
4 cups flour (all-purpose)
1 tablespoon salt
1 package or 2 1/4 teaspoons yeast (instant)
2 tablespoons butter (softened)
2 1/2 cups water (warm)
1 large egg white (room temperature, beaten)
1 tablespoon caraway (seeds)
Mix together the 4 tablespoons rye flour and milk, cover with plastic and set in a warm place to ripen for two days or until it smells pleasantly sour.
In a large bowl, combine 4 cups rye flour and the all-purpose flour, salt, yeast, butter, water, and starter. Knead for 10 minutes by hand.
Place the dough in a clean, greased bowl, cover with plastic, and let it rise in a warm place until doubled, about 1 hour.
Punch down the dough, knead it for 1 minute and divide it in half.
Shape each dough half into a round on two parchment-lined baking sheets. Cover each round with oiled plastic and let them rise 30 minutes or until almost doubled.
Brush the risen rounds with egg white and sprinkle them with caraway seeds. Bake for 40 minutes at 180C.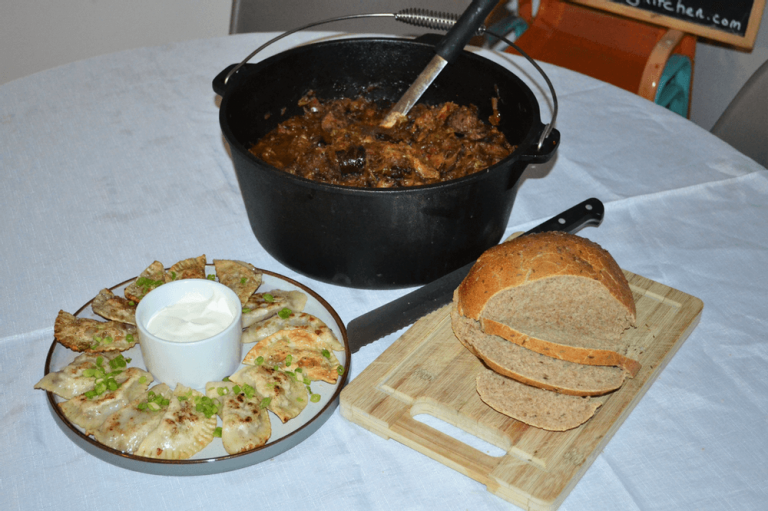 Thank you Poland, that will keep the cold out!