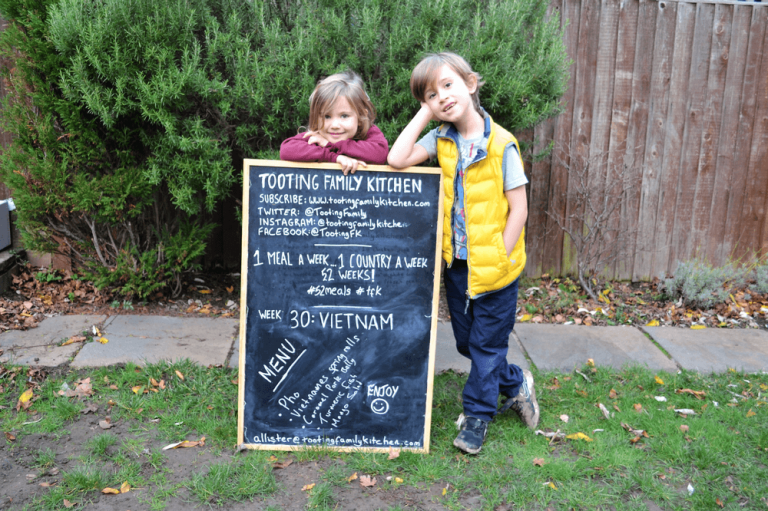 Thank you for joining Tooting Family Kitchen for Week 30 of our 52 Meals Challenge. If you are hitting our blog for the first time, welcome! We are on a culinary journey, exploring different cuisines from around the world to get kids cooking and learn about different International Cuisines and Cultures – celebrating Diversity through Food.
We have set ourselves a challenge to cook 52 Meals from 52 Countries in 52 Weeks, sharing our family cooked recipes and experiences as we go. If you like our content please do share and subscribe (at bottom of the page) to ensure you don't miss out on future family cooking destinations – we promise we won't spam you, just a weekly reminder when we publish our latest International recipes 😊
I have really been looking forward to cooking Vietnamese food for week 30, not just because it is one of our favourite cuisines, but also because I have felt a strong awareness of Vietnam for as long as I can remember. My parents have a lot of cool stories to tell from their pretty adventurous lives, but if there were to be 2 artefacts from our early family homes that still stand out in my memory and reflect this, it would be my Dad's Heavyweight Boxing trophy and my Mum's certificate of appreciation from General Creighton W. Abrams, for her contribution to the morale and welfare of soldiers during the Vietnam War. General Abrams later became Chief of Staff of the US Army until his death and the infamous US Tank, the M1 Abrams, which is still in service today, is named after him.
My Mum was a singer in the 60s and 70s and in 1971 she had the opportunity to travel to Vietnam and tour for a couple of weeks to entertain US and Australian troops who were stationed there. Usually doing 2 gigs a day she toured various locations singing on an aircraft carrier and also deep in the jungle, accompanied by the distant sound of gunfire. My favourite story is when she was with a couple of other female artists, travelling around in an armoured vehicle when they persuaded the military escort to nip behind enemy lines to visit a shack selling trinkets made from brass. She described the rather nervous armed escort hurrying them up to get back to the 'safe zone'…it really takes the stereotype of 'frustrated male accompanying female shopping' to another level and I can feel that soldiers pain!
Despite the well known suffering and horrors on all sides of the Vietnam War, I know my mum's presence would have had a positive impact with those she came into contact with and this makes me proud. Although my Mum had no experience with Vietnamese food at the time as it was strictly forbidden, she has always remarked on how friendly and open-hearted the Vietnamese people she met were and seeing the country in more peaceful times (and exploring their cuisine) has always been something she wanted to do and has since achieved with my Dad. I am reliably informed that shopping remained a frustrating affair – albeit a little less dangerous!
My Mum's Certificate of Appreciation signed by
General Creighton W. Abrahams
Touching down in Saigon with the Australian Air Force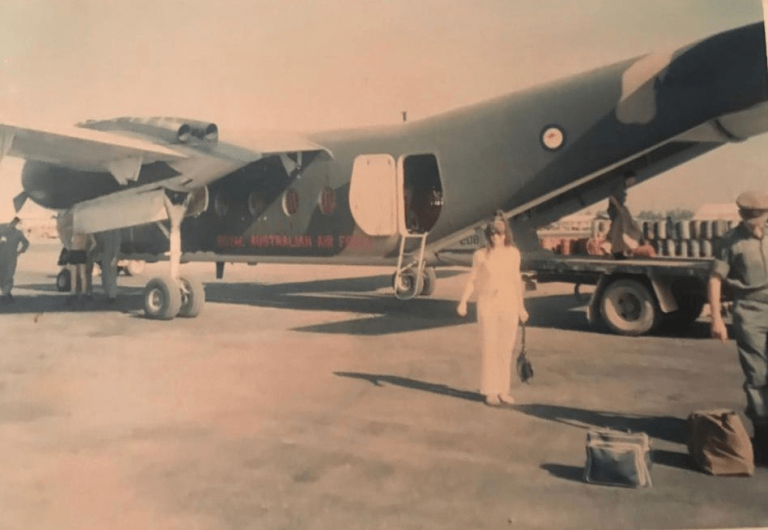 Vietnam is clearly a country that has so much to offer and is fast catching up with Thailand as a 'must go' destination as more people become aware of its stunning beaches, incredibly rich heritage and culture and delicious food, along with its beautiful and diverse natural landscapes that are home to 16% of the worlds species…have you ever heard anyone return from Vietnam and say they were underwhelmed?
For a country whose history is characterised by so much fighting, war and oppression, it is incredible, and testament to the character of the people, that they have preserved such strong traditions and customs over the centuries. Many of these are related to ancestor worship, religion and celebrations (New Year and marriage in particular) but they also transcend the arts. In Vietnam there are approximately 50 national musical instruments, but although the monochord zither has yet to take off in the western world, speed dating is accredited by some as being derived from an interesting Vietnamese tradition. Vietnamese 'Love Markets' have evolved over the decades to become a centralised meeting place for young single villagers from remote regions in the north of the country. Legend has it that the Love Market started when a couple from different tribes fell in love, but the union was strictly forbidden which resulted in fighting. The couple felt guilty and to stop the bloodshed they separated, but agreed to meet once a year in Khau Vai on the 26th day of the 3rd lunar month, which has evolved into the annual Love Market held there now.
Unique traditions aside though and there really is little to separate the Vietnamese to us Brits …in some respects! They love football and a tipple! In a recent survey 80% of Vietnamese people said they would watch the World Cup instead of going to work and a unique beverage to Vietnam is Snake Wine, a boozy drink made by infusing a whole snake in rice wine! Who doesn't like watching the footie with a large glass of Snake Wine?! I'm pretty certain the majority of Vietnamese would grab a chilled beer though 🙂
My old school mate Jon moved to Vietnam 15 years ago where he settled and now lives with his wife and children. I asked Jon what it is was about Vietnam that was so attractive. He told me that Vietnam has it all, but what appeals to most people when they come is the sheer youth, vibrancy and energy about the place. It is a young country with a young population and it's on the up. People are optimistic about the future and working hard to do better than previous generations who suffered through harder times in the not so distant past. Jon told me that society is still very family orientated there, and of course food is a massive part of that. Not just for families however; street food and even regular restaurants are highly affordable. Every morning and night the endless eateries are packed with punters. It's very common to 'eat out' for breakfast and have noodles or broken rice with pork and a fried egg. Meat will be grilled over hot coals right on the pavement. Thit Kho Truong, braised pork slow cooked with hard boiled eggs, is a very special dish, with most families (including Jon's) making a huge pot for the lunar new year which is served with white rice and pickled mustard green, it's the nations roast dinner!
We hope we have done Vietnamese food justice with this weeks feast!
Tooting Family Kitchen cook Beef Pho, Nem Ran, Braised Caramel Pork Belly, Turmeric and Dill Fish and a Mango Salad.
Checking out the Nem Ran ingredients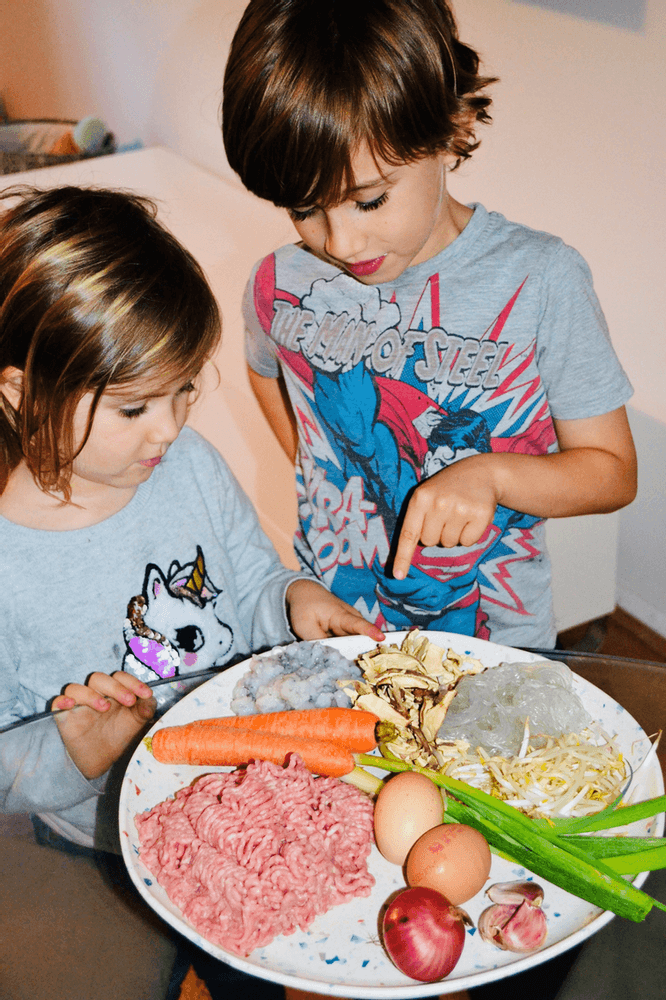 The stock before 8 or so hours of simmering...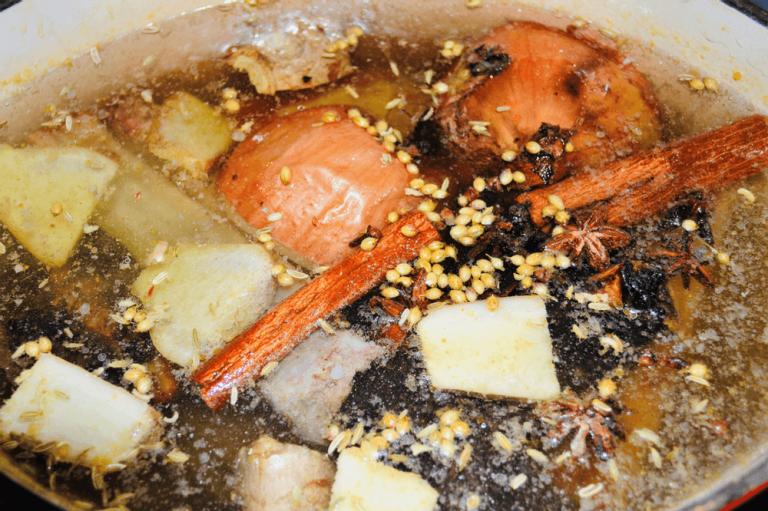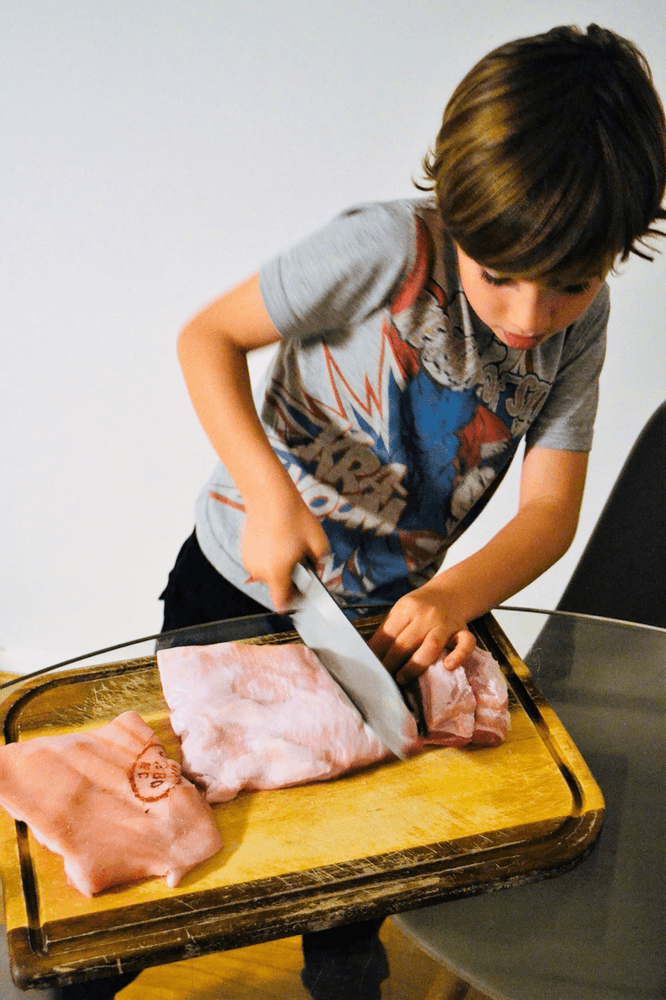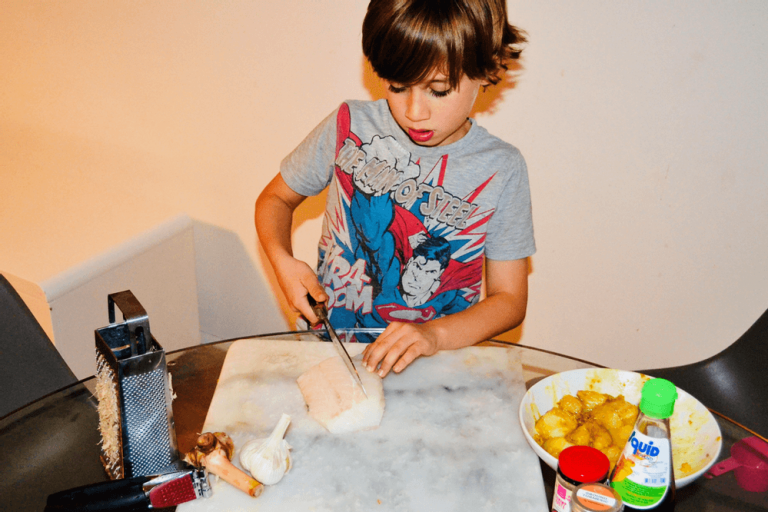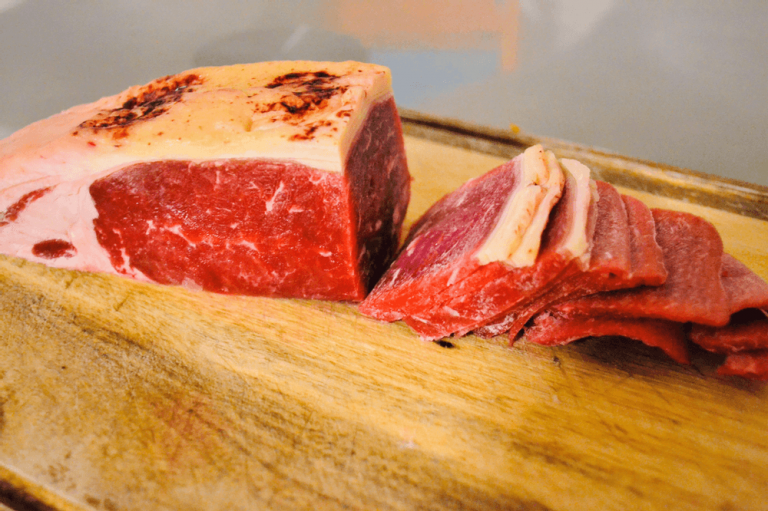 Our Pho ingredients to add to the stock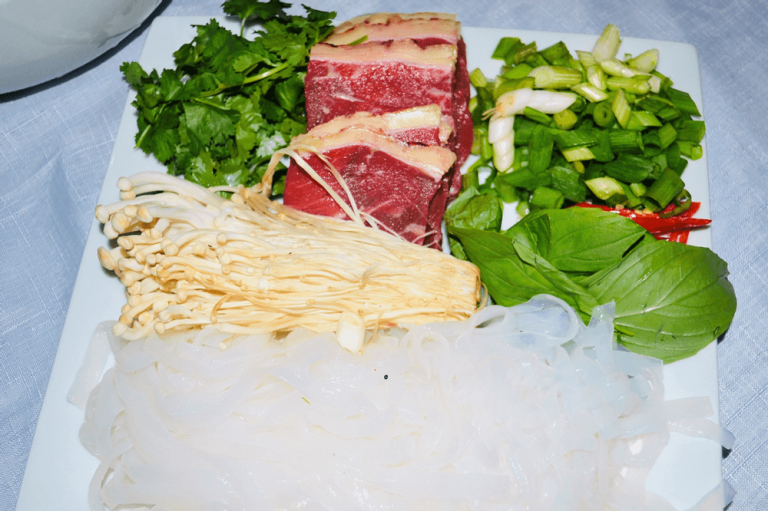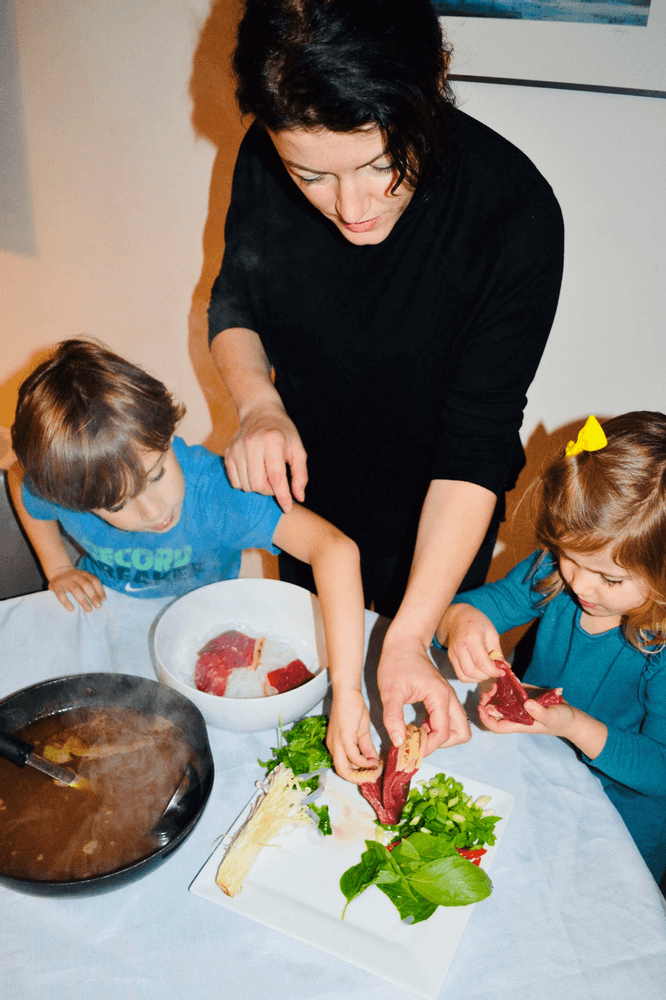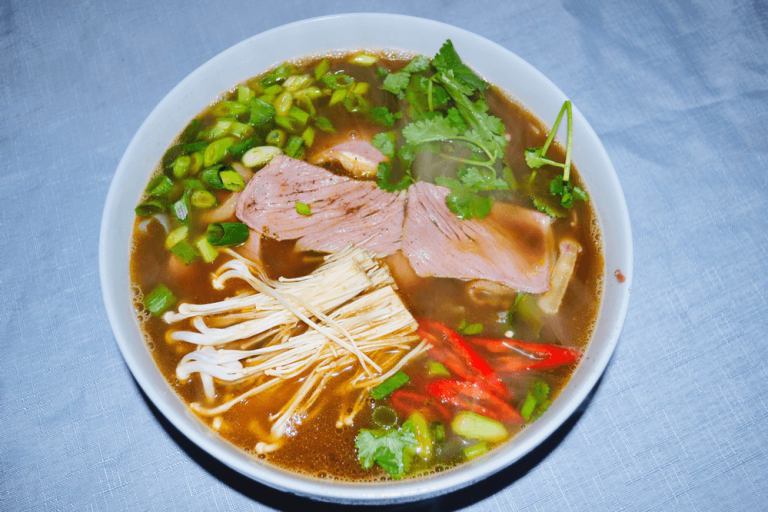 Stock
2kg beef bones
2 large onions, chopped in half
3 inch piece of ginger, roughly chopped
2 cinnamon sticks
5 star anise
4 tbsp fish sauce
1 tbsp cloves
1 tbsp pepper corns
1 tbsp fennel seeds
1 tbsp salt
3 litres of water
Pho
500g Sirloin steak, thinly sliced (easiest to do when frozen)
200g flat rice noodles (if dry ensure they are cooked first)
Handful of coriander leaves
Handful of Thai basil
2 red chillies, sliced
3 spring onions, diced
Handful of Enoki mushroom
Roast the bones in a pre-heated oven to 180C for 45 mins tossing in onions half way through. When don't add to a large pot with lid and all the remaining ingredients and bring to the boil. Gently simmer for as long you have got 😊 Topping up with water if needed and scooping away the impurities that float to the top. We managed around 8 hrs! Put the stock through a fine sieve and discard the bones, onions etc. Bring the stock back to the boil and simmer for another 10 mins and check for seasoning (this can now be stored until ready to serve the pho.
Prepare the remaining in ingredients and get ready to serve. In each serving blow place a handful of noodles with some of thinly slice raw been on top. Bring the stock to the boil and ladle over the noodles and soup (which will cook the meat) and then top with the remaining ingredients (to your likely).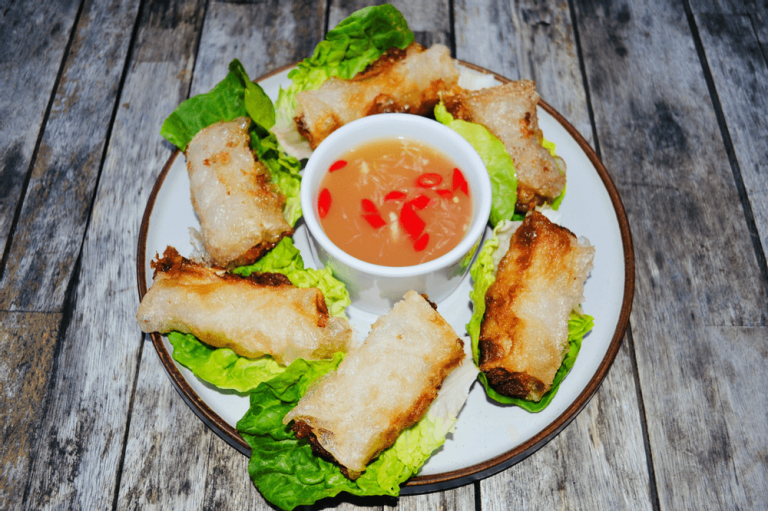 200g of minced pork100g of raw prawns, finely diced
2 shallots, finely chopped
4 garlic cloves, minced
2 carrots, grated
I cup of glass noodles, soaked in water for 5 mins
Handful of dried porcini mushrooms, soaked in hot water for 10 mins and then drained and chopped
2 large handfuls of bean shoots
2 eggs
4 spring onion, finely|
chopped
Salt and pepper
1 packet of rice papers (approx. 20)
Mix all the ingredients together (aside from the rice papers) and leave to rest for at least 15 mins.
When ready to make the spring rolls soak one rice paper at a time in warm water until pliable. Add a heaped tbsp of mixture and fold the outside edges in before rolling up tightly and placing to one side until you have used up all the mixture.
When ready to fry heat a litre of sunflower oil in a large pan and fry in batches of around 5 or 6 until golden brown and cooked through (approx. 4 mins). Drain in kitchen paper and serve alongside dipping sauce garnish with some iceberg lettuce.
4 limes, juiced
2 tbsp sugar, dissolved in 50ml of warm water
4 cloves garlic, minced
6 tbsp fish sauce
3 birds eye red chillies, chopped
Combine all the ingredients and set aside letting the flavours some together
Braised Caramel Pork Belly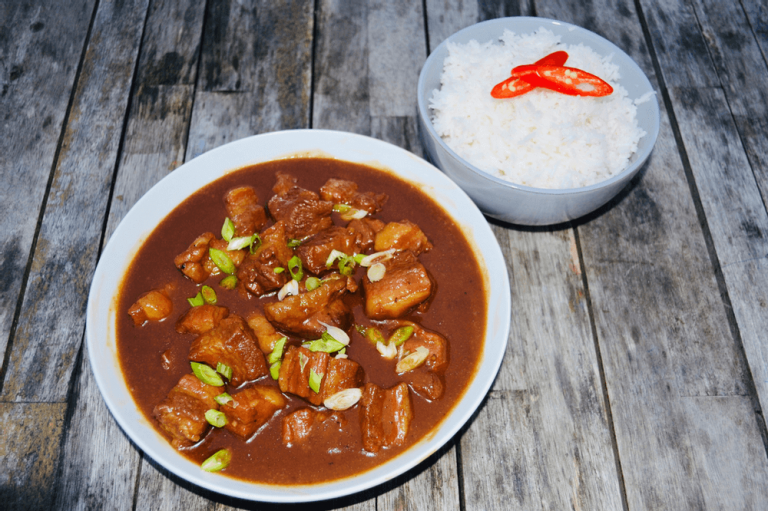 1kg of pork belly
3 inches of ginger, roughly chopped
200ml of coconut milk
Marinade
1 tbs sugar
1 tsp salt
1 tsp pepper
1 tsp garlic powder
Caramel
6 tbsp sugar
300ml of hot water
In a large pan bring water to the boil and blanch the pork belly with the ginger for around 5 mins whilst you mix the marinade ingredients together. Allow the pork belly to cool slightly and trim off the skin and any excess fat and cut into 3cm chunks. Cover all over with the marinate and leave to one side.
To make the caramel place the sugar into a clean pan on a medium heat and leave for a couple of minutes before gently stirring, keep stirring until all the sugar is dissolved and it has turned a caramel colour, add the water and continue to stir and the sugar dissolves again and thickens.
Add the pork to the pan and coat well in the sauce and fry for a couple of minutes before adding the coconut mil and bringing to the boil and allowing to simmer for approx. 30 mins until the sauce has thickened and reduced. Check for seasoning and serve with plain rice.
Turmeric Fish with Dill (Cha Ca)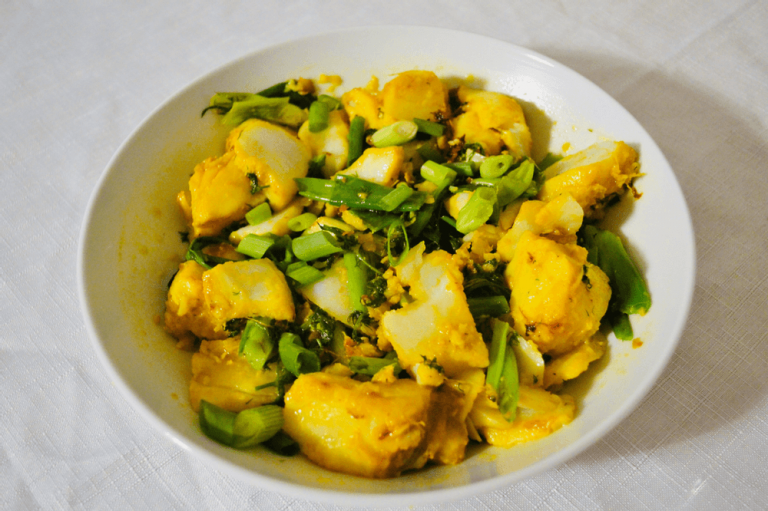 Marinade
2 cod loins (approx. 400g)
1 tsp fish paste
1 tsp turmeric powder
4 cloves of garlic, minced
1 inch galangal, grated
1 shallot, finely chopped
1 tbsp fish sauce
2 tbsp of oil
Remaining ingredients
6 spring onions, chopped
Good handful of dill
Handful of roasted noodles
Chop the fish into bite size pieces and combine marinade ingredients. Leave to marinate in the fridge for at least an hour.
When ready to cook fry the fish in a little oil for approx. 2 mins on each side or until just cooked through. Remove to a clean plate and put the pan back on the heat with a little more oil and stir fry the white part of the onions for 2 mins before adding the green part for a further minute.
Toss in the dill for a few seconds and then carefully add in the fish and bring the dish together until the dill has wilted. Sprinkle the nuts on top and serve alongside rice noodles.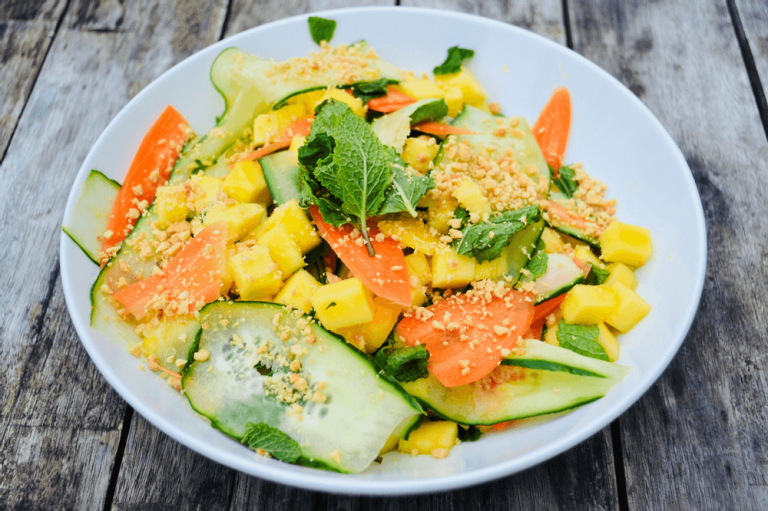 1 large mango (2 medium), peeled and cubed
2 carrots, cut into ribbons
½ cucumber, cut into ribbons
1 handful of torn mint leaves
3 tbsp of chopped roasted peanuts
3 tbsp of dipping sauce to dress
Combine all the ingredients and top with the chopped peanuts. When ready to serve dress the salad with some of the dipping sauce.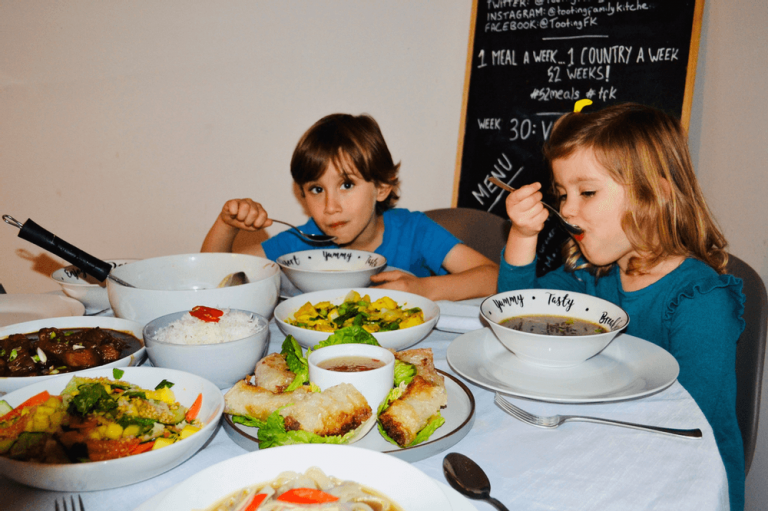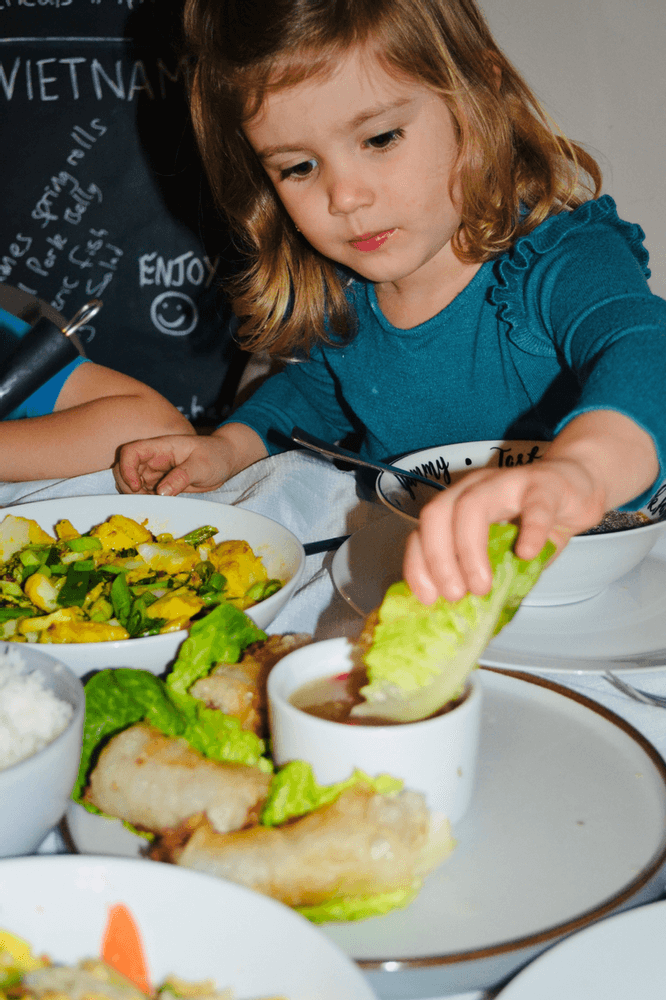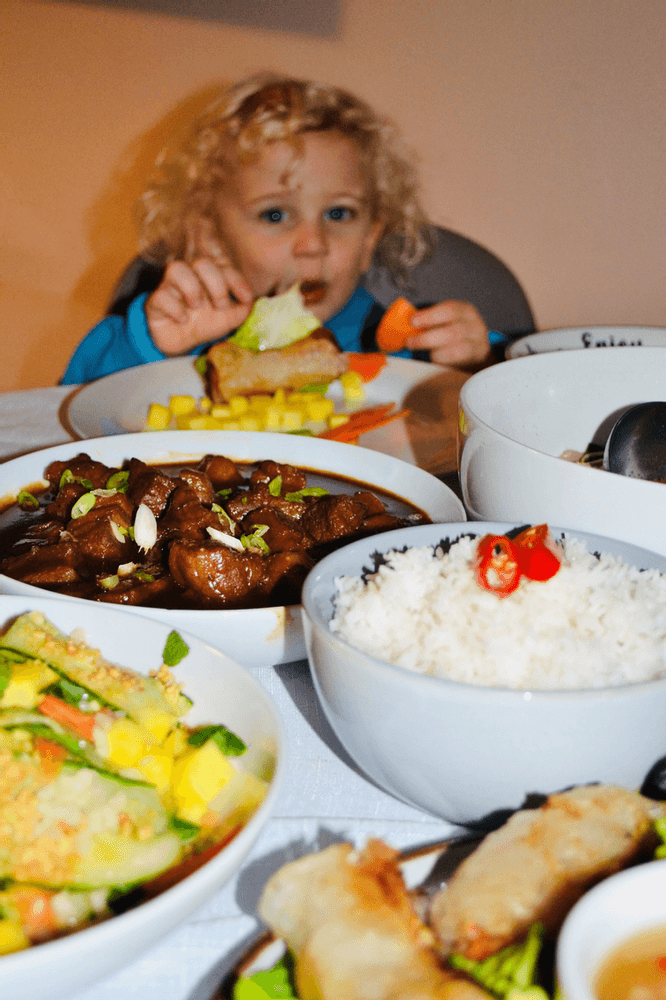 Thank you Vietnam, that was epic!