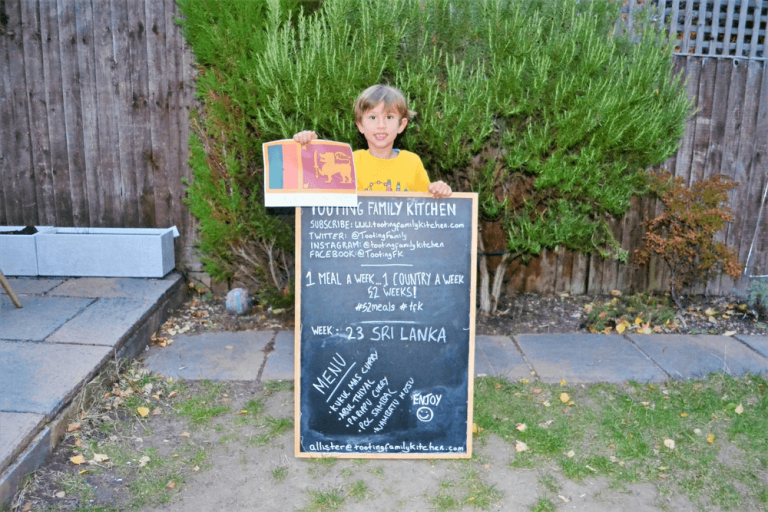 Thank you for joining Tooting Family Kitchen for Week 23 of our 52 Meals Challenge. If you are hitting our blog for the first time, welcome! We are on a culinary journey, exploring different cuisines from around the world to get kids cooking and learn about different International Cuisines and Cultures – celebrating Diversity through Food.
We have set ourselves a challenge to cook 52 Meals from 52 Countries in 52 Weeks, sharing our family cooked recipes and experiences as we go. If you like our content please do share and subscribe (at bottom of the page) to ensure you don't miss out on future family cooking destinations – we promise we won't spam you, just a weekly reminder when we publish our latest International recipes 😊
Without knowing anything about Sri Lanka you just know a country that also goes by the names, 'The Land of Serendibity', 'The Pearl of the Indian Ocean' and 'The Tear Drop of India' is going to be worth a visit. You then find out about its breath-taking natural beauty and bio-diversity, incredible wildlife and amazing gastronomy and it moves further up the list. When you finally hear that they make a damn good cup of tea, that honeymoon is practically booking itself! Sri Lanka is one of two exotic island countries neighbouring India, the other being the Maldives. It is a tropical island, packed full of vegetation and incredible wildlife and since the famous Italian explorer Marco Polo described it as 'the best island of its size in the world' (over a nice mug of tea I'm sure), it's tourism industry has just been heading in one direction!
Sri Lanka has always managed to evade me, although I feel like I have been 'planning' a trip there for a good decade of my life. It ticks so many of the boxes that I would look for when visiting a country on a (very special) holiday, especially when I have always considered that the Maldives may be a bit too luxurious and limited for me (especially after hearing about the trips of friends). I have considered Sri Lanka to be the kind of place that would offer those endless beaches, palm trees, elephants, incredible history and ruins, welcoming people and incredible food, with the freedom to explore in your own way and not necessarily have it all packaged up for you with a big bow for the 'platinum service'…with the prices to match! I am convinced that when I eventually have the opportunity to go it will become a regular fixture in our travels.
When speaking to close family and friends who have been to Sri Lanka many times, they talk about the welcoming nature of the people. It is a hugely multi-cultural place given its rich and colourful history and the main religions are Buddhism, Hinduism, Islam and more surprisingly Catholicism. Their flag (which dates back to 162 BC) is thought to be the only one in the world which recognises different beliefs. The larger part of the population are Sinhalese and speak 'Sinhala' which means 'Lion's blood'. It sounds pretty scary but I'm assured they are not. It was also the first country in the world to have a female prime minister, in Sirimavo Bandaranaike, who served for 3 terms. If there would be any one fact or piece of advice to take away however, it would that in Sri Lanka a shake of the head (perhaps more of a wobble) actually means 'yes'.. particular important to know when getting drinks topped up!
Although sadly not familiar with the country I have become familiar with their food through the rise of Sri Lankan restaurants here in London. Brits love a curry and whilst the curry scene has been largely dominated by Indian and Pakistani restaurants, Sri Lanka has been a more recent introduction to the food scene, enjoying huge success. The central feature of Sri Lankan food tends to be rice which is served alongside a number of curries made from fish and chicken and vegetables, lentils and fruit. Dishes tend to be accompanied by relishes and sambols with coconut being a very common feature. Sri Lankan food is always bright, vibrant and packed full of punchy flavours. We love it and hope we have done Sri Lankan food justice in our family feast today!
Tooting Family Kitchen cooks Kukul mas curry, Ambul thiyal, Wambatu Moju, Parippu Curry and Pol Sambol.
Preparing the roasted Sri Lankan curry powder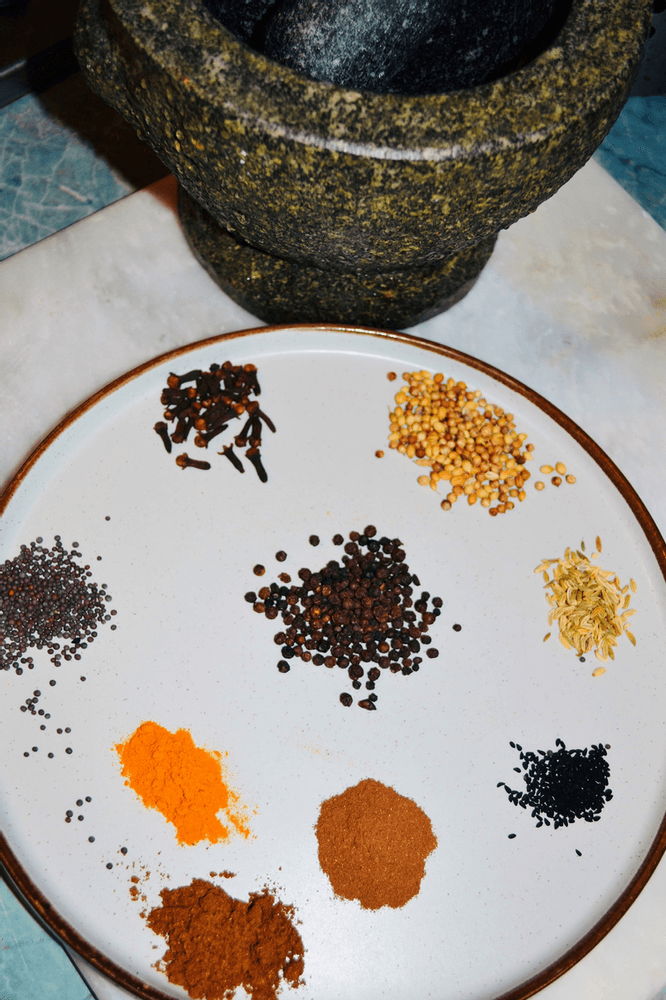 Checking out the ingredients for our Sri Lankan style chicken curry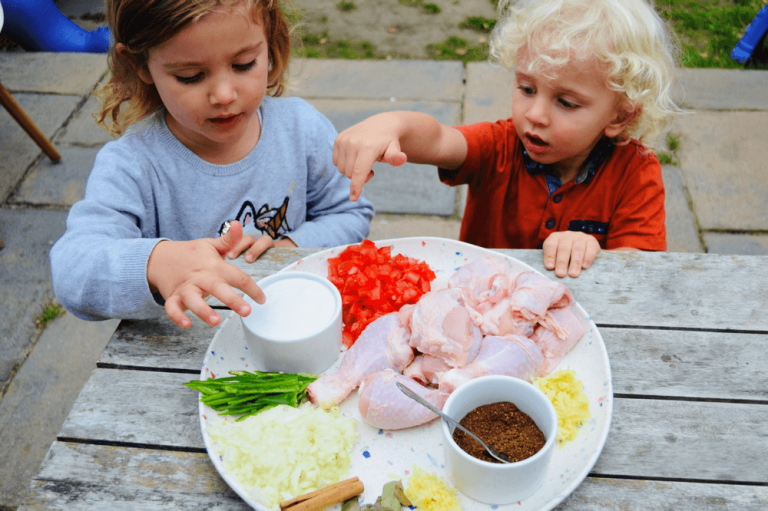 ...and our Sri Lankan style sour fish (tuna) curry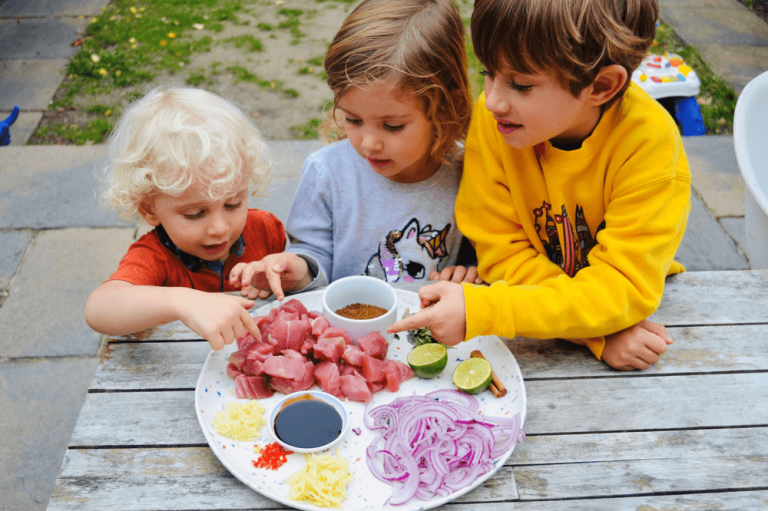 Getting the fresh coconut grated for our Pol Sambol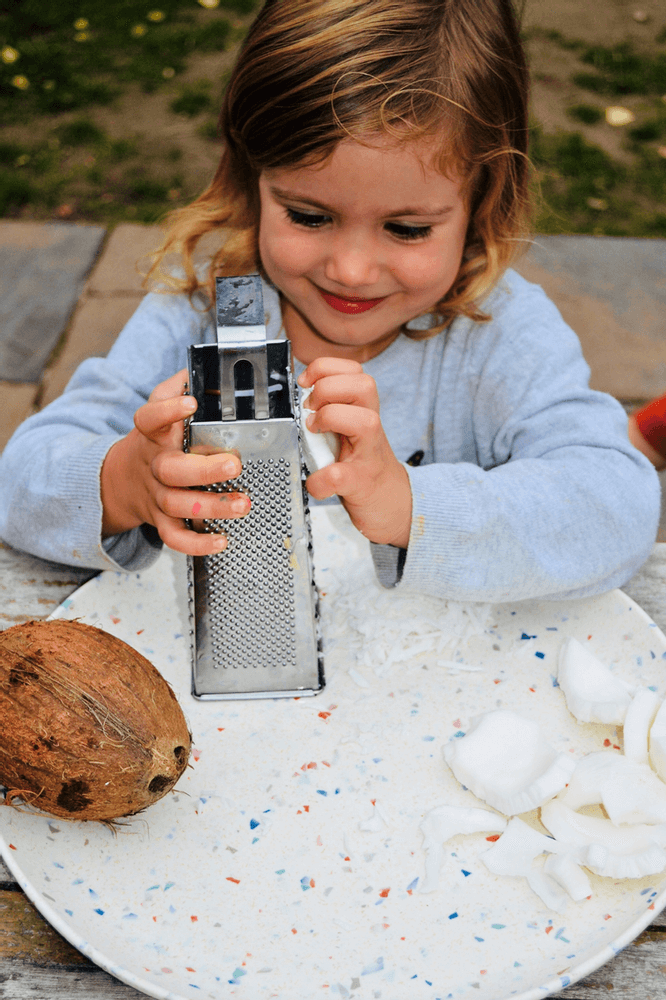 Pol Sambol - good way to relieve stress!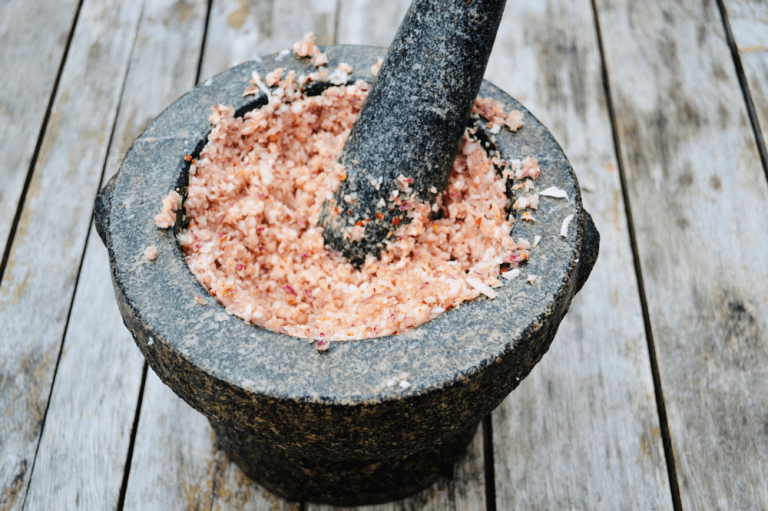 Our fish curry smelling good!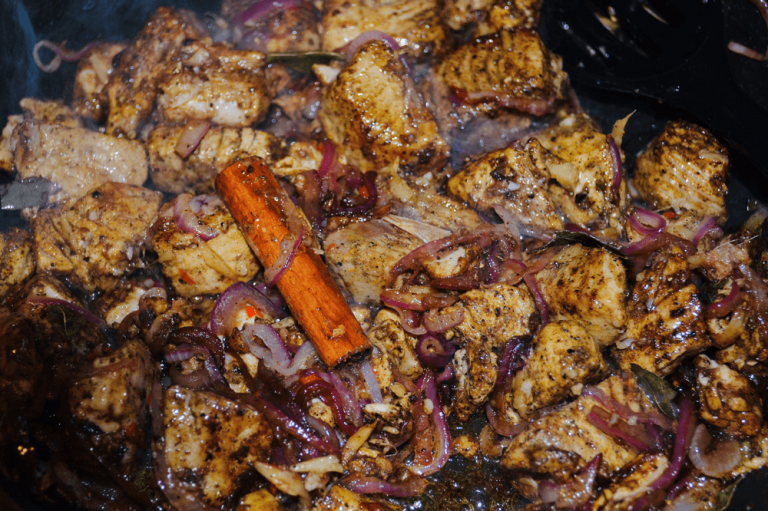 Aubergine relish taking shape
Kukul mas curry (Sri Lankan style chicken curry)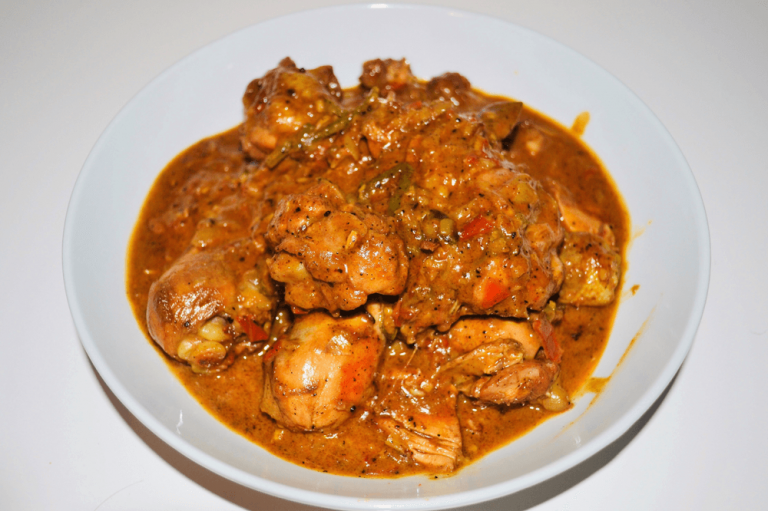 Chicken Curry
3 tbsp coconut oil
1 onion, finely chopped
5 cloves of garlic, minced
1 inch ginger, grated
Handful of curry leaves
1 cinnamon stick
3 tbsp of Sri Lankan curry powder (see recipe)
1 tsp turmeric
3 medium tomatoes finely chopped
2 green chillies de-seeded and finely chopped
1 tbsp vinegar
1 tbsp brown sugar
1 cup coconut milk
Sri Lankan curry powder
1 cinnamon stick
1 tbsp coriander seeds
1 tbsp. cumin seeds
1 tbsp black peppercorns
1 tbsp black mustard seeds
2 tsp of fennel seeds
8 cloves
10 cardamon pods (just the seeds)
6 dried chillies
Toast all of the spices for the Sri Lankan curry spice in a dry frying pan for a minute until starting to smoke and you can smell the aromas. Remove allow to cool and grind in a spice grinder or pestle and mortar.
Heat up the coconut oil in a heavy bottom pan with lid and fry the onion for a couple of minutes before adding the garlic and ginger and continue to fry until translucent. Add the Sri Lankan curry powder, turmeric and curry leaves and cook for a minute before adding chicken and ensure will coated in mixture.
Continue to fry the chicken for 2 or 3 minutes and then add the tomatoes, chillies, sugar and vinegar. Cook for 10 minutes and allow the tomatoes to break down and then add the coconut milk and bring to the boil and simmer with the lid on for around 25 minutes.
Alter the consistency with a little water if you want more sauce and/or slat/sugar/chilli powder/vinegar according to taste. You can also cook for longer if you prefer the sauce thicker.
Ambul thiyal (Sri Lankan sour fish curry)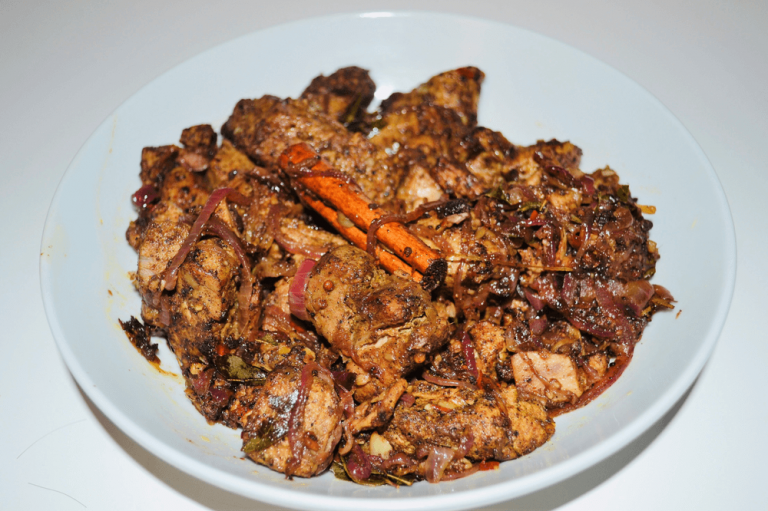 2 tbsp coconut oil
500g fresh tuna steaks
1 red onion, sliced
4 cloves of garlic, minced
1 inch ginger, grated
Handful of curry leaves
2 tbsp of Sri Lankan curry powder (see previous recipe)
1 tsp chilli powder
1 tsp black pepper
1 cinnamon stick
2 green chillies de-seeded and finely sliced
1 tbsp tamarind paste
1 tsp of sea salt
Juice of ½ lime
Chop the tuna into bite size chunks and marinate in the Sri Lankan curry powder, chilli powder and black pepper.
Heat the oil in a in a frying pan, add the curry leaves and cinnamon stick for a few second before adding the onion and frying for 2 minutes before adding the chillies, garlic and ginger and continuing to fry for a couple more minutes
Gently mix in the fish and add a splash of water to make easier to combine. Add the tamarind paste and sea salt and lime juice and fry on high heat for another couple of minutes (more depending on how well done you like tuna).
Wambatu Moju (Sri Lankan style aubergine relish)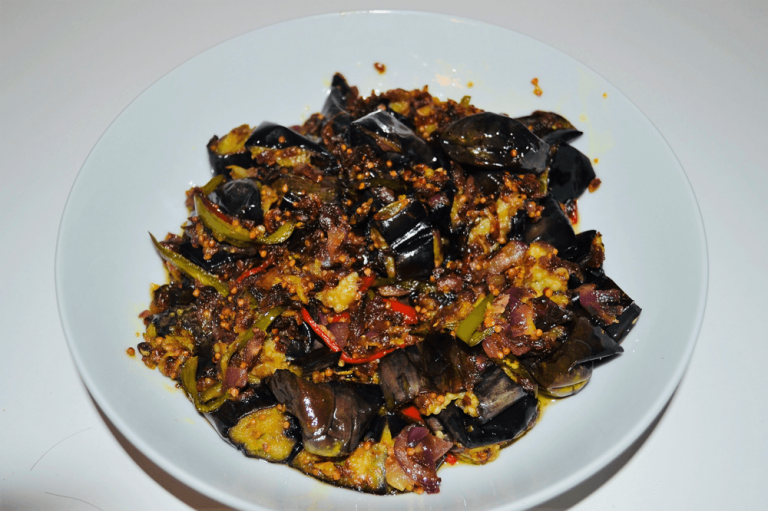 500g baby aubergines (chopped into bite size chinks)
50ml sunflower oil
1 tsp turmeric
1 tsp salt
2 tbsp mustard seeds
6 tbsp vinegar
2 red onions, sliced
4 cloves of garlic, minced
Handful of curry leaves
1 tbsp of Sri Lankan curry powder (refer to chicken curry recipe)
1 tbsp sugar
1 tsp turmeric
Prepare the aubergines by washing them, cutting into bite size chinks and tossing the pieces in the turmeric and salt, leave to one side.
Heat the oil and fry the aubergines in batches for approx. 2 minutes each side and leave to one side
In the same pan fry the onions until turning golden brown and then stir in the curry leaves, chilli powder and garlic and continue frying for another 2 minutes.
Stir in the aubergine, vinegar, mustard seeds and sugar and season to taste and cook on medium heat for another 15 minutes ensuring you stir regularly so that it doesn't stick to bottom of pan. The consistency of the aubergine should be sticky.
Parippu Curry (Dhal curry)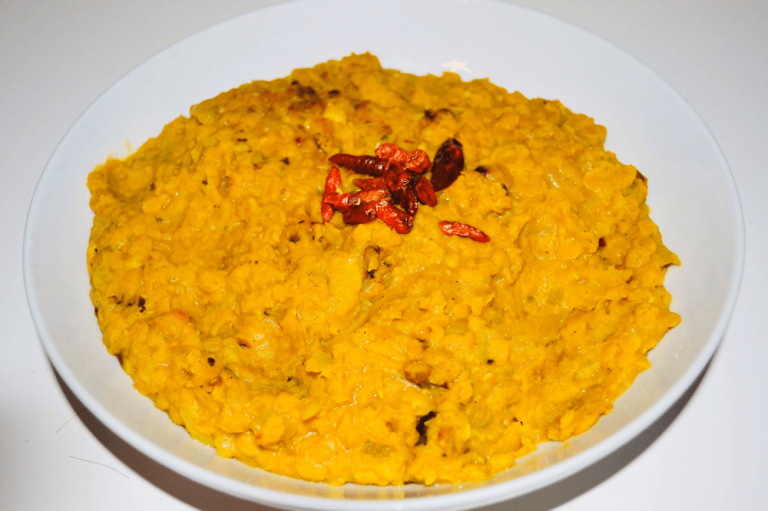 1 cup of red lentils, washed and drained
2 tbsp coconut oil
2 onions, finely chopped
3 cloves of garlic, minced
1 green chilli – de-seeded and finely chopped
Handful of curry leaves, crushed
1 tsp of turmeric
3 cloves
½ tsp of cumin seeds
½ tsp fenugreek seed
1 tsp mustard seeds
1 tsp chilli powder
1 cup of coconut milk
1 cup of water
1 lime
Salt and pepper to taste
Boil the lentils with turmeric, cloves, chilli powder and crushed curry leaves. After around 15 minutes the colour of the lentil should change to yellow at which point remove to a bowl.
Heat the oil in a heavy bottom pan and fry the cumin, fenugreek and mustard seeds until starting to pop, add the onion and cook for 2 minutes before adding the garlic, ginger and green chilli and continue to fry for 2 minutes.
Stir in the lentils and mix well continuing to fry for 2 or 3 minutes before adding coconut milk and salt, bringing to the boil and simmering for a couple of minutes.
Remove from the heat and stir in the lime juice.
Pol sambol (Coconut sambol)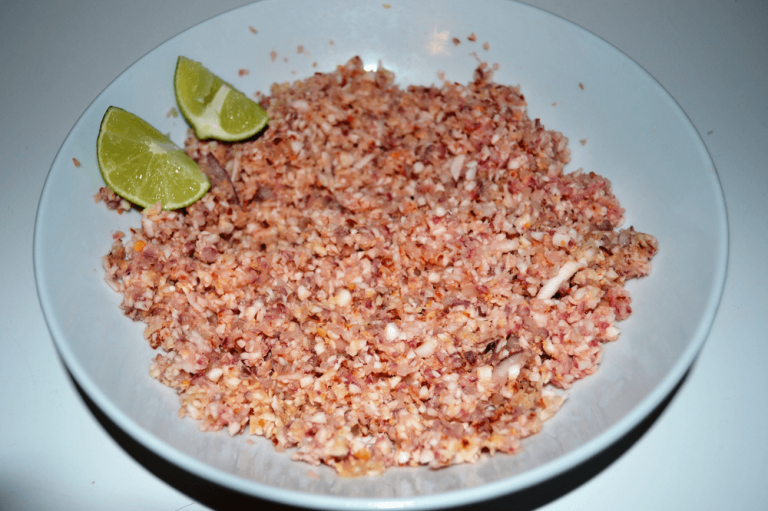 1 fresh coconut with the white flesh grated
1 red onion, finely chopped
2 tbsp chilli flakes
1 tsp salt
2 tsp sugar
Juice of 1 lime
Using a pestle and mortar or food processor combine all the ingredients adding the lime juice at the end. Taste and add more chilli, lime juice or sugar as required.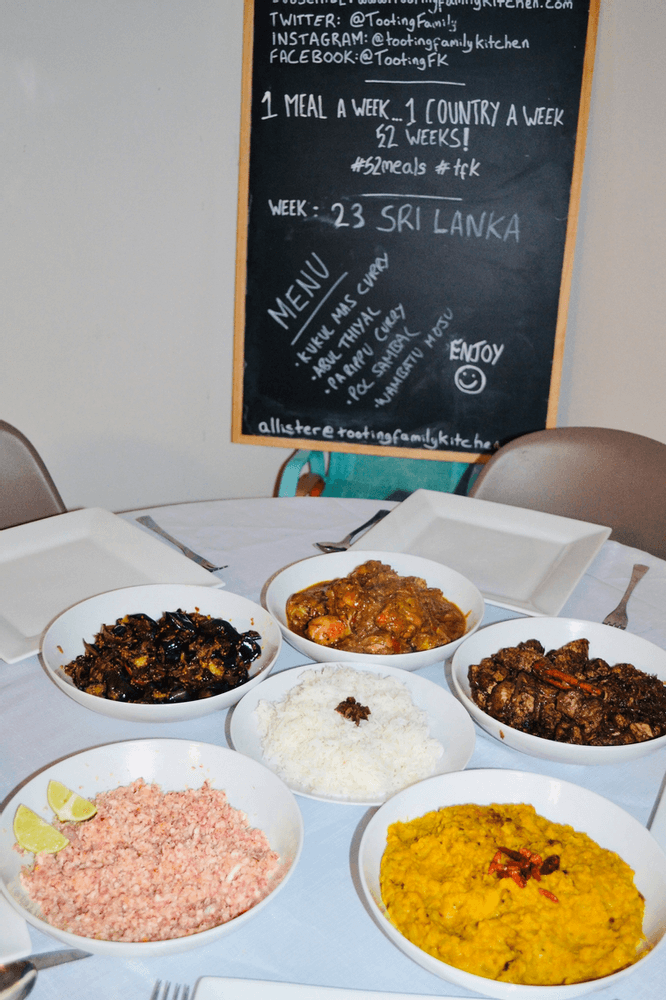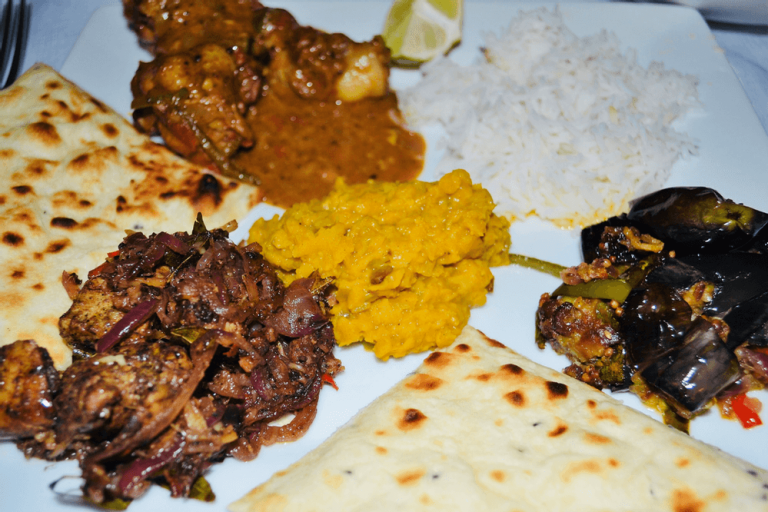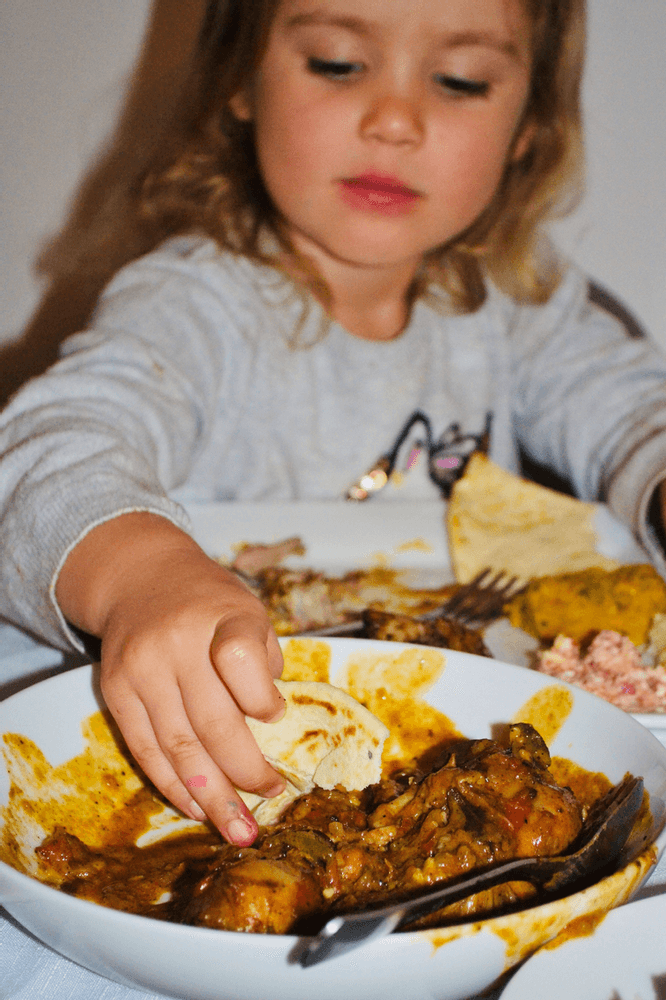 The Sri Lankan style chicken curry a definite hit!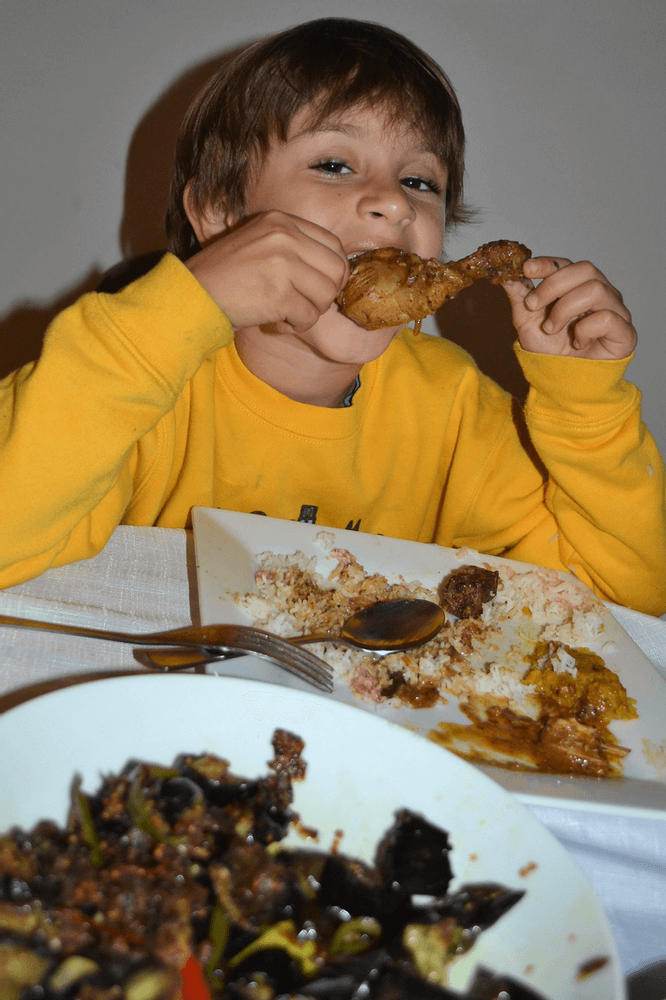 Thanks Sri Lanka - that was epic!