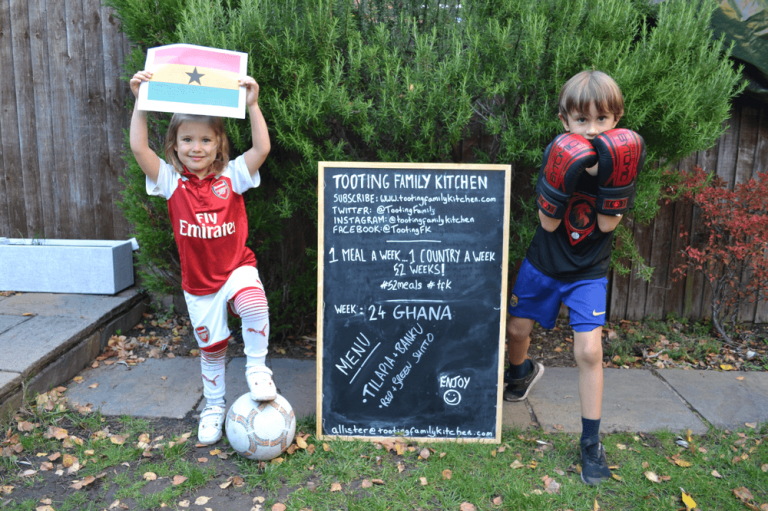 Thank you for joining Tooting Family Kitchen for Week 24 of our 52 Meals Challenge. If you are hitting our blog for the first time, welcome! We are on a culinary journey, exploring different cuisines from around the world to get kids cooking and learn about different International Cuisines and Cultures – celebrating Diversity through Food.
We have set ourselves a challenge to cook 52 Meals from 52 Countries in 52 Weeks, sharing our family cooked recipes and experiences as we go. If you like our content please do share and subscribe (at bottom of the page) to ensure you don't miss out on future family cooking destinations – we promise we won't spam you, just a weekly reminder when we publish our latest International recipes 😊
Exciting week this week as we return to Africa for the 4th time following our previous visits to Nigeria, Ethiopia and South Africa, to check out Ghana and Ghanaian food.
The Office for National Statistics estimates that the Ghanaian-born population of the UK was 114,000 in 2019. Along with the large immigrant population from Nigeria, the influence on London is huge and the diversity that it brings, adds to what makes London such a great city. South London in particular is home to the largest black population by far and the heart and soul of this amazingly vibrant place to live, is down to its multi-cultural population, the amazing people that live here and the influence they have on music, the arts, culture, and food. With music alone Ghana has brought us some incredible artists such as Stormzy, Dizzee Rascal, Tinchy Stryder and Sway who were either born in Ghana or descendants of Ghanaian parent/s. Take me out of South London for too long and dare I say it…I get bored! Interestingly, I am typing this in my Streatham office, where the local MP, Bell Ribeiro-Addyis, is Streatham born but also a descendant of Ghanaian parents.
When I think of Ghana my first thought often goes to sport and being a big boxing and football fan, the last couple of weeks have proven to be pretty damn exciting! Firstly I watched the Ghana-born, British Light-Heavyweight boxer (and future world champion), Joshua Buatsi, continue to build on his unblemished professional record in a cracking contest against gutsy Croatian, Marko Calic. Next up, in the ever exciting climatic closure to the Premier League transfer window, the mighty Arsenal FC only went and signed the brilliant Ghanaian midfield enforcer, Thomas Partey! I should add that Arsenal has a strong track record of signing Ghanaian players. Daniel Boateng, Emmanuel Frimpong, Danny Welbeck and Rachel Yankey, MBE have all donned the Arsenal colours with Danny Welbeck and Rachel Yankey (along with Anita Asante), getting capped for England too – all are Ghana born or are descendants of a Ghanaian parent or parents.
If football and boxing doesn't float your boat perhaps kickboxing will – do you know who took on Lionel Graves at London's York Hall beating him with a Round 1 TKO on 28th August 2018? Idris Elba of course! Idris Elba is London born to a Ghanaian mother and a more popular figure is difficult to find in Britain at the moment. A hugely successful actor, writer, producer, rapper, singer, songwriter and DJ and recipient of the appointment, Officer of the Order of the British Empire (OBE) in the 2016 New Year Honours for services to drama, there is no stopping this man, although these awards pale into insignificance with the 'Sexiest Man Alive' award from People Magazine in 2018 and the unforgettable 2017 honour of 'Rear of the Year'!
Through my 'real job' job I am fortunate to often meet new people of all nationalities (outside of Covid) over coffee, lunch or a post-work drink. Sometimes these meetings can be pretty dry, but I have to say that when meeting a Ghanaian I always have more of a spring in my step as I'm heading towards Starbucks. It's always an enjoyable encounter although more often than not we get side-tracked and end up talking about something completely outside the parameters of the meeting. I have found people from Ghana to be full of life with big personalities and more often than not, accompanied with an infectious laugh. They are just nice people and it's not just me that thinks this, according to the Global Peace Index, Ghana is the most peaceful nation in Africa and 40th in the world! If you are still not buying into this I have 2 words…'Kofi Annan'…look up 'nice' in the dictionary and it may as well say his name. The Ghanaian former Secretary-General of the United Nations from January 1997 to December 2006 won the Nobel Peace Prize in 2001, along with the UN for their work in creating a more peaceful world. If I was hosting my dream dinner party there would definitely be places for Kofi Annan, Idris Elba, Joshua Buatsi, Thomas Partey and Danny Welbeck at my table…what a line up!
So what is it about Ghana that leads to this sporting talent, good looks and being so nice! Some may jump to the conclusion that with it being the world's second largest producer of cocoa beans, it's down to chocolate, but my extensive research this week suggests something different…Shitto! Shitto is the word for pepper in the Ghanaian language of Ga and commonly refers to the hot pepper sauce that is ubiquitous to Ghana and can often be found in the world food isles of supermarkets here in the UK. Although a traditional shitto is a deep red colour, various sauces can be made and a green pepper variety is also popular. It is a common accompaniment to many of their popular foods including chicken, tilapia, rice and banku and a fierce rival to the Ata Din Din we cooked up for our Nigerian Feast!
All this chat about competitive sports and shitto can only lead to one thing. If my eldest kids are going to reach the sporting heights of Joshua Buatsi and Thomas Partey in the ring or on the field, or if I'm ever going to emanate any of Idris Elba's accolades, or indeed, if any of us are going to have the peaceful vibes of Kofi Annan, we need to nail a good shitto recipe! The heat is (literally) on and this week Sam takes on Abigail in our shitto contest, being judged by Idris Elba himself!
In the Red corner representing Thomas Partey, we have...Abigail!!! In the Green corner representing Joshua Buatsi, we have...Sam!!!!
Looking a little pensive as they check out their ingredients!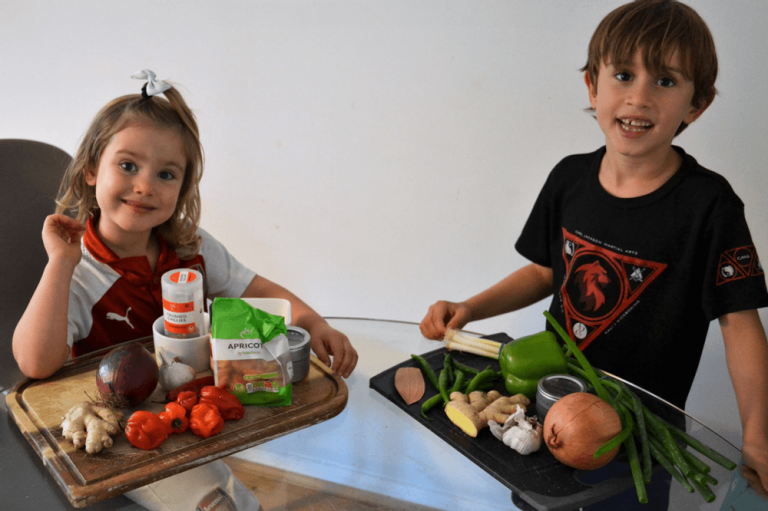 Green Shitto bubbling away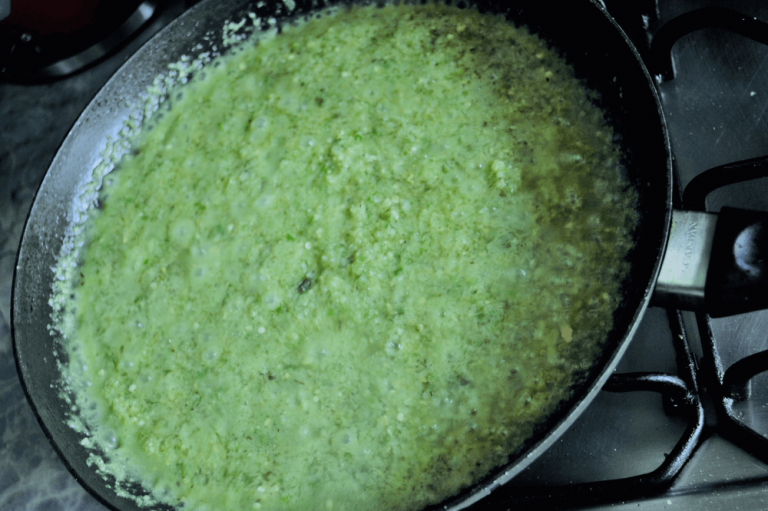 The finished articles...ready for tasting!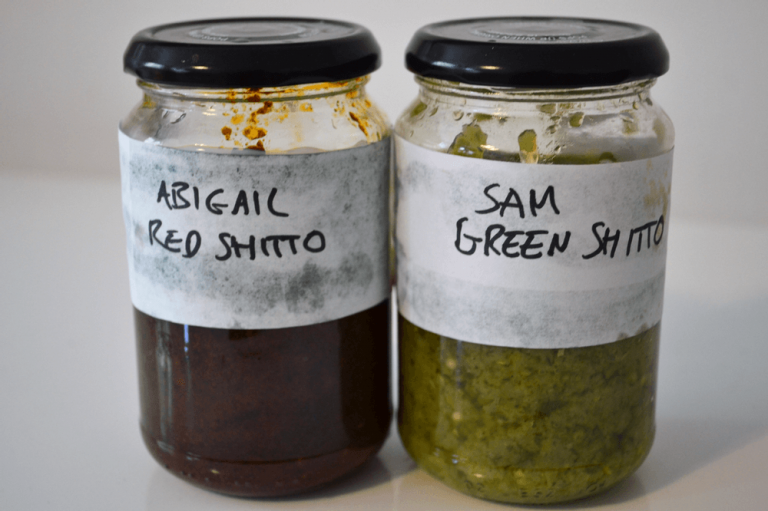 **Unfortunately Idris couldn't make it so I had to step in**
And the winner is??? It's a draw...of course it's a draw!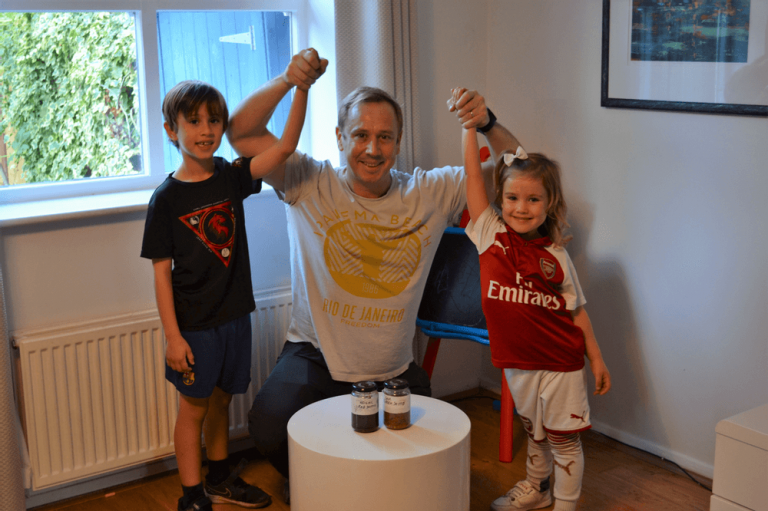 Finally our Ghanaian Feast of Tilapia and Banku with Shitto.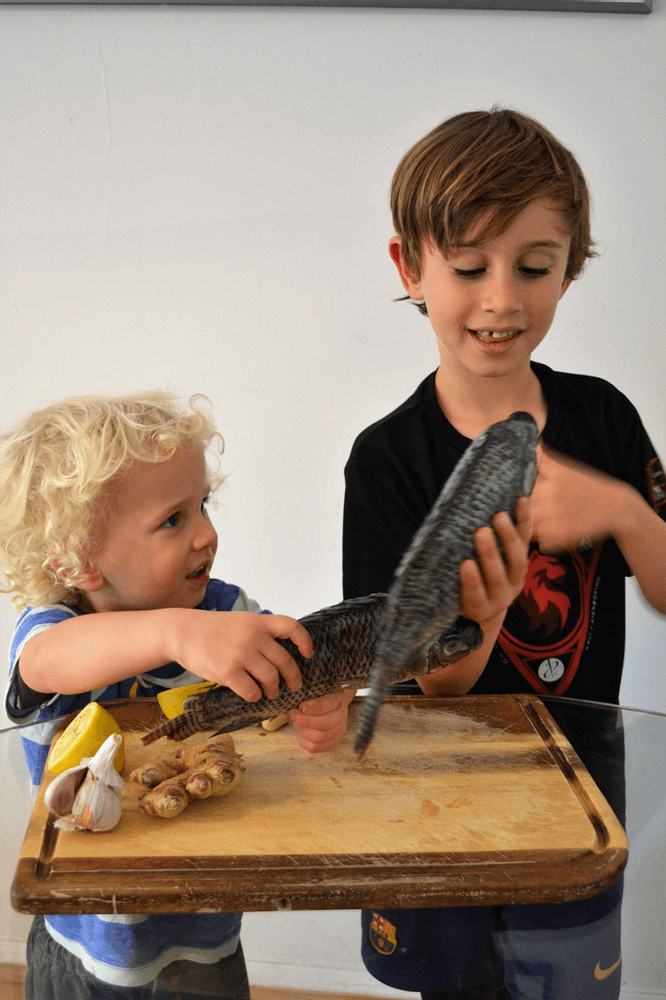 Getting the banku ready for shaping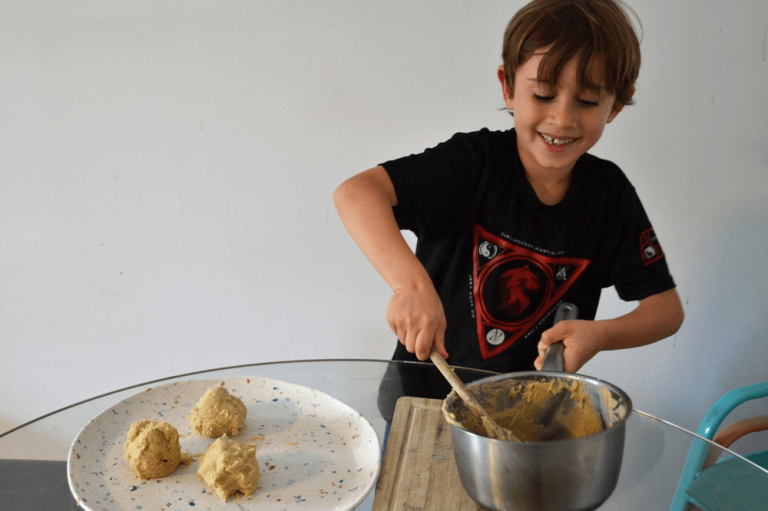 Banku is a widely eaten Ghanaian dish which is cooked from a mixture of fermented corn and cassava dough. You can ferment the corn flour yourself or buy already fermented corn dough and cassava dough or buy ready mixed banku mix. We used a banku mix of approx 1 cup of corn dough and 1/2 cup of cassava dough
1 cup corn dough
1/2 cup of cassava flour
1 tsp salt
1 1/2 cups of water
Mix the corn and cassava dough together with the salt and water until smooth and then heat in a heavy bottoms sauce pan over a high heat stirring continuously.
Reduce the heat and continue to stir as it thickens. You may need to add more water to achieve the right consistency. The mixture should be easy to form into balls and keep their shape but not be too solid. The whole process should take around 15 – 20 minutes.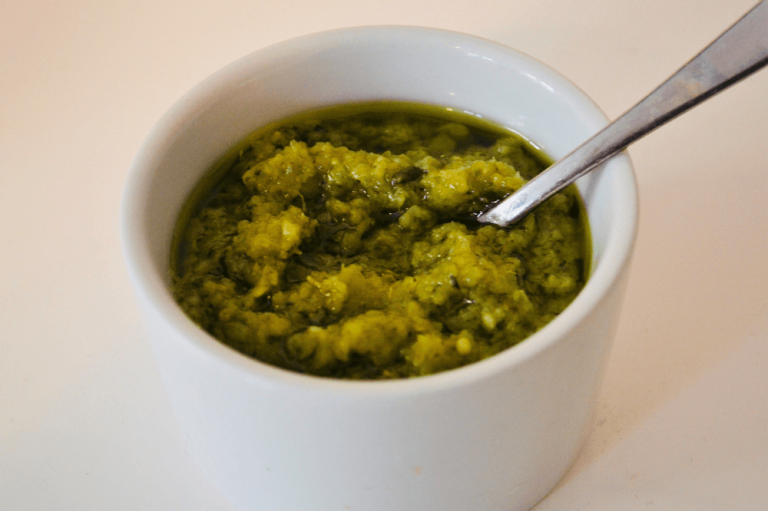 8 green rocket chillies
1 green bell pepper, chopped
4 green scotch bonnet chillies
8 cloves, minced
2 inch ginger, minced
2 teaspoons dried rosemary
1 large onion, chopped
4 spring onions, chopped
2 teaspoons coriander seeds
1 bay leaf
100ml vegetable oil
salt as required
Put all the chillies and green pepper, garlic ginger, onions and herbs/spices into a blender with a little water and blitz into a paste.
Heat up the oil in a frying pan add a bay leaf and gently fry the mixture for around 10 minutes until the oil rises to the top. You can add a stick cube, salt depending on taste.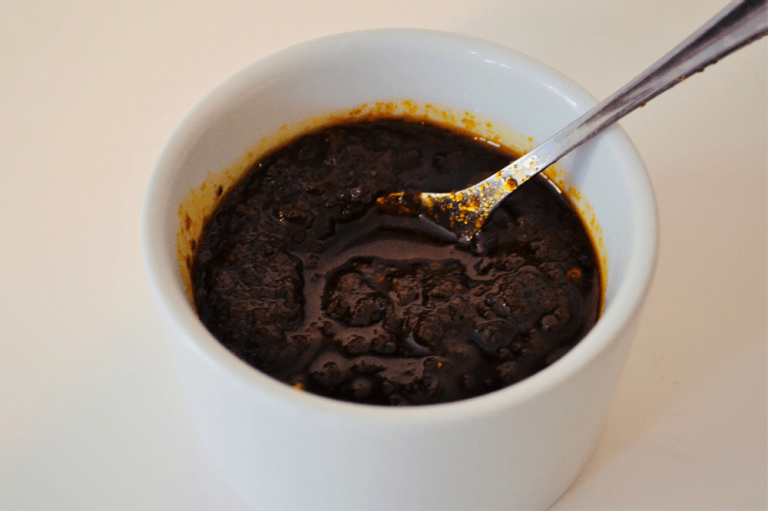 100ml of vegetable oil
3 scotch bonnet chillies, chopped
Handful of dried apricots
1 red onion, chopped
6 cloves garlic, minced
1 inch of ginger, minced
1 tsp smoked fish powder
1 tsp dried shrimp powder
1 tsp. chopped rosemary
1 tbsp of chilli flakes
1 tsp. chopped thyme
2 tbsp tomato paste|
1 tbsp brown sugar
1 tsp ground cloves
Salt to taste
Soak apricots in warm water for 30 mins and then finely chop.
Heat the oil in a heavy bottom pan and fry the onions until going golden brown, add the chillies, garlic and ginger and apricots and continue to fry for a couple of minutes – allow mixture to cool.
When cool blitz in a food processer and add the spices, herbs, oil and sugar until a relatively smooth paste is formed. Return the mixture to the pan and stir in the cloves and fish and shrimp powder and simmer away from approx. 15 mins adding salt to taste.
Boom! Tilapia with banku and shitto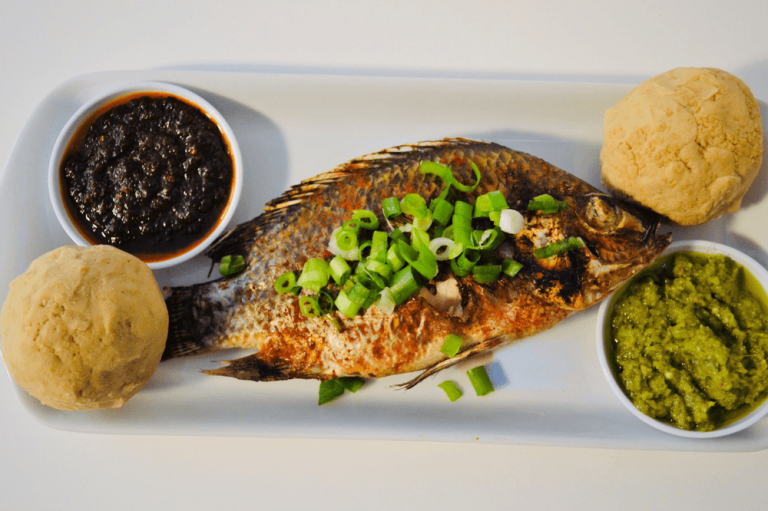 2 large tilapia
1 lemon, juiced
Paprika
1 inch ginger, minced
2 cloves garlic, minced
Sea salt
Marinade the tilapia with the lemon juice, garlic and ginger, paprika for at least an hour in the fridge.
Remove the fish from the fridge and season with the salt. Grill for 6 or 7 minutes on each side or until cooked through. Serve garnished with spring onions alongside the banku and shitto.
Let's get stuck in to this Ghanaian Feast!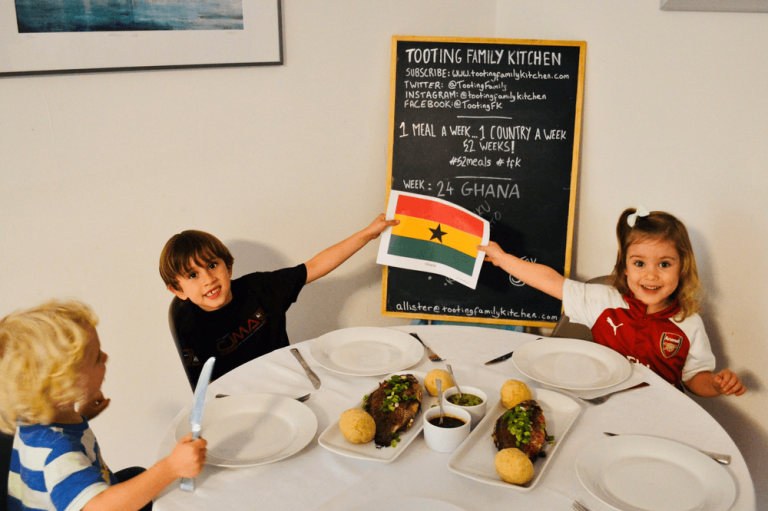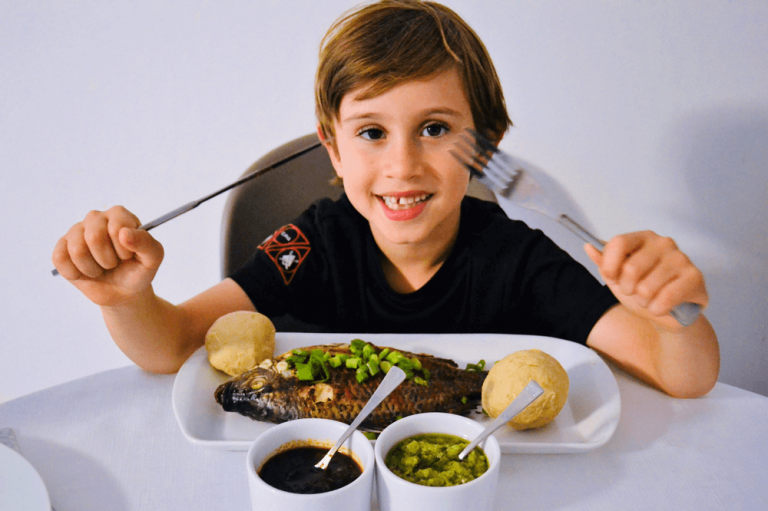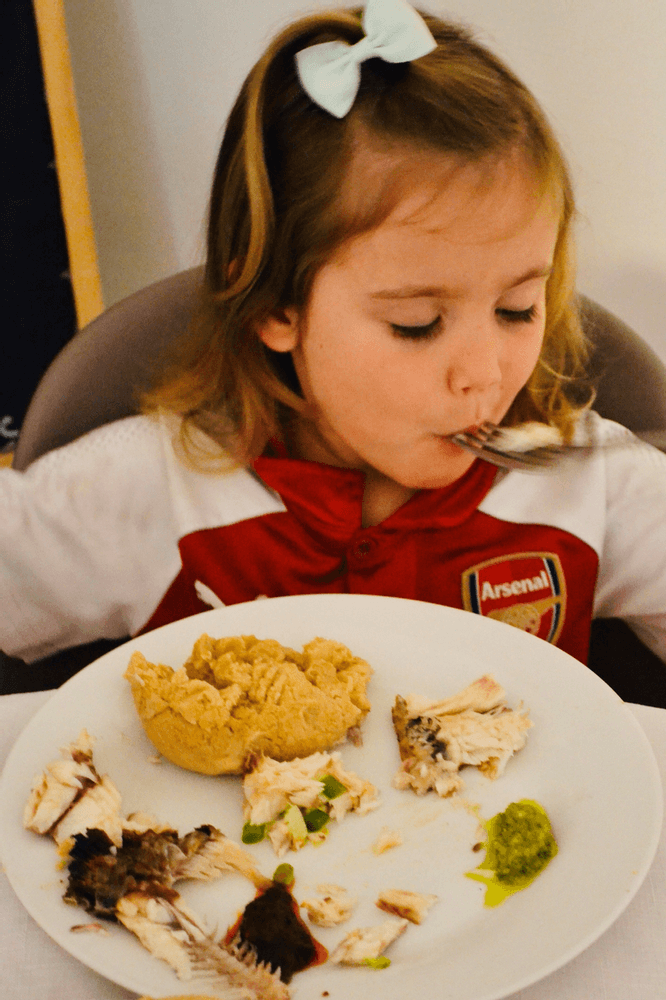 Thank you Ghana - that was epic!!!