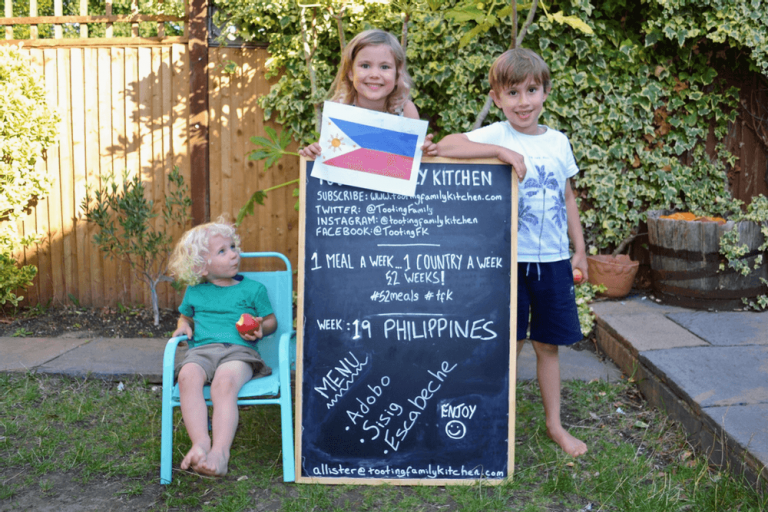 Thank you for joining Tooting Family Kitchen for Week 19 of our 52 Meals Challenge. If you are hitting our blog for the first time, welcome! We are on a culinary journey, exploring different cuisines from around the world to get kids cooking and learn about different International Cuisines and Cultures – celebrating Diversity through Food.
We have set ourselves a challenge to cook 52 Meals from 52 Countries in 52 Weeks, sharing our family cooked recipes and experiences as we go. If you like our content please do share and subscribe (at bottom of the page) to ensure you don't miss out on future family cooking destinations – we promise we won't spam you, just a weekly reminder when we publish our latest International recipes 😊
I am a huge fan of Southeast Asian food and when we started Tooting Family Kitchen this was perhaps the region of the world I was most excited to explore. Historically, I have been most familiar with the cuisines of Thailand and Vietnam, so our first culinary destination of Malaysia was as exciting as it was educational and we have been looking forward to returning to Southeast Asia ever since.
The Philippines is a country I knew little about outside of the fact it consists of a LOT of Islands (approximately 7500), they have a pretty controversial president and of course, it is the birth place and home of the living legend that is Manny Pacquiao (Pacman), arguably one of the greatest boxers of all time. Quite randomly, I also heard a few years back that it held the world record for the most simultaneous breast-feeding women at 4000, in an effort to raise awareness in the country and they made the biggest pair shoes (at 17 feet)…feel free to check if these are up to date.
In England (as is the case in many other countries), you are most likely to come across someone from the Philippines in your time of need and perhaps unknowingly, most of us are more likely to be familiar with Filipino people than the territories of the Philippines itself. This is due to the fact that 11% of the population work abroad and the Philippines supplies more nurses to work overseas than any other country. An incredible 25% of all overseas nurses come from the Philippines making it very likely that you or me, or one of our loved ones will be, or has been, looked after by a Filipino nurse or carer…so to all the Filipino nurses, doctors and carers..thank you!
Whilst the caring and healing aspect of nursing is likely to resonate positively with most, what perhaps is more divisive is boxing, but the Pacman's influence on the country just can't be ignored. The only 8 weight world champion in history (so far) creates so much passion in the Philippines that when he fights the whole country stops in unity to support and celebrate. Filipino's are so filled with adoration for their beloved national son that it is reported by the Philippine National Police that street crime drops to 'zero' in the centre of Manila when the Pacman is in the ring and the same for most of the country. Zero crime!! Some definite food for thought here for Sadiq Khan.
The Philippines is one of the world's fastest growing countries and is the 2nd most populous in South East Asia. It's capital Manila is reported to be more densely populated than any other city on the planet with approximately 55,000 people per square mile. Throw in the fact that there are between 120 and 175 individual languages spoken in the country and it can be a pretty chaotic place! Filipinos however are a happy bunch and like us Brits are absolutely hilarious with a cracking sense of humour (if I say so myself). It's pointed out by some that this admirable trait is something that helps them to deal with some of the problems they also experience through poverty and natural disasters, specifically regular typhoons and even volcanic eruptions. If by chance you wanted to call your children Bing, Bong, Bogie, Bumbum or Ballsy, without standing out, the Philippines is also the place to go. If only I knew this 6 years ago!
Unsurprisingly when looking at the huge amount of ethno-linguistic groups living across the Philippines, as well as its rich cultural history, the cuisine is hugely diverse. One thing that did strike me (at least when researching the dishes that I did), was the lack of spice in the form of chillies, that I associate with so many other countries in the region. Of course it exists and I have read about the Bicol region where it is quite prevalent, but when looking at some of the most popular dishes it seems to me to be a characteristic particular to Filipino Cuisine. In no way is this a negative thing and choosing our menu for today was a serious challenge! Lechón (a whole roast suckling pig), is something I have enjoyed many a time, especially in Spain at Christmas. Lonnanisa (a Philippine sausage) sounded amazing and Dinuguan (a pork blood stew) is sure to be something I will cook in the near future, but in the end we went for what many consider to be their national dish, Chicken Adobo, along with a Filipino Sweet & Sour Fish and Pork Sisig.
We hope you enjoy our Filipino Feast and hope we have done Filipino cuisine justice.
Tooting Family Kitchen cooks Filipino Sweet & Sour Fish, Sisig and Chicken Adobo.
Checking out the new ingredients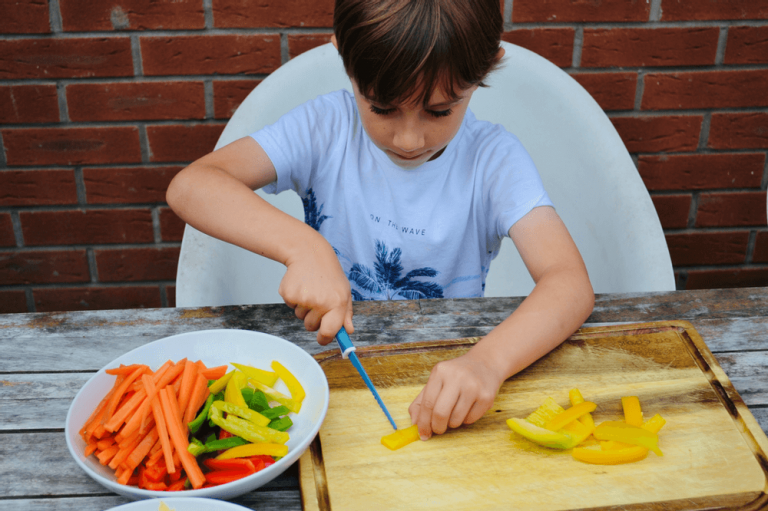 Checking out the new ingredients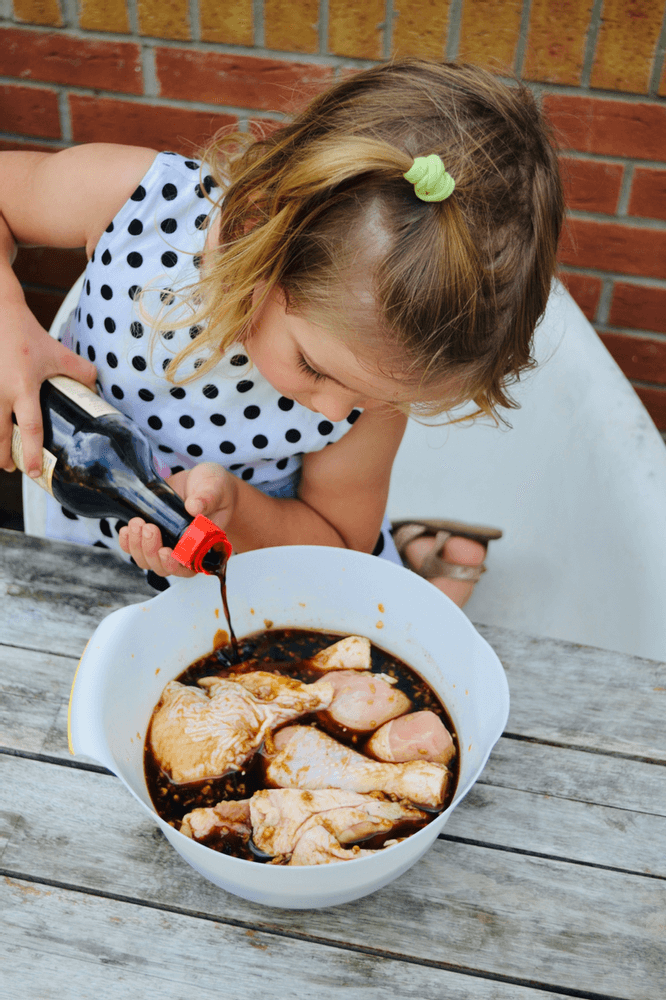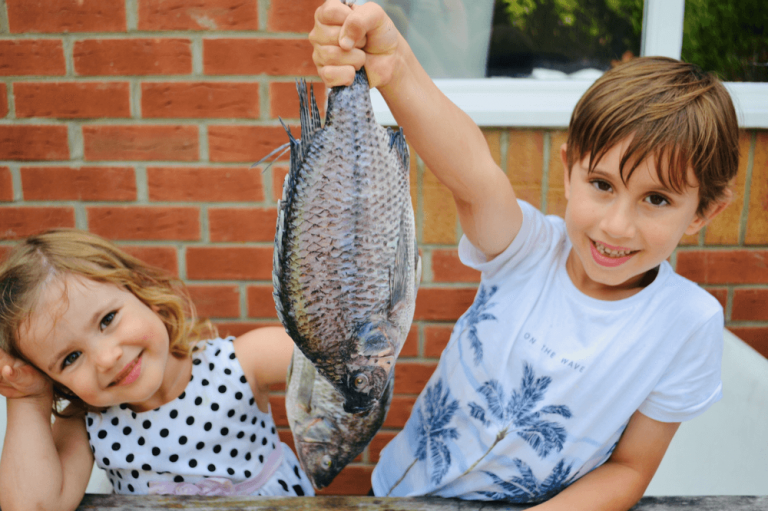 The Chicken Adobo is looking good!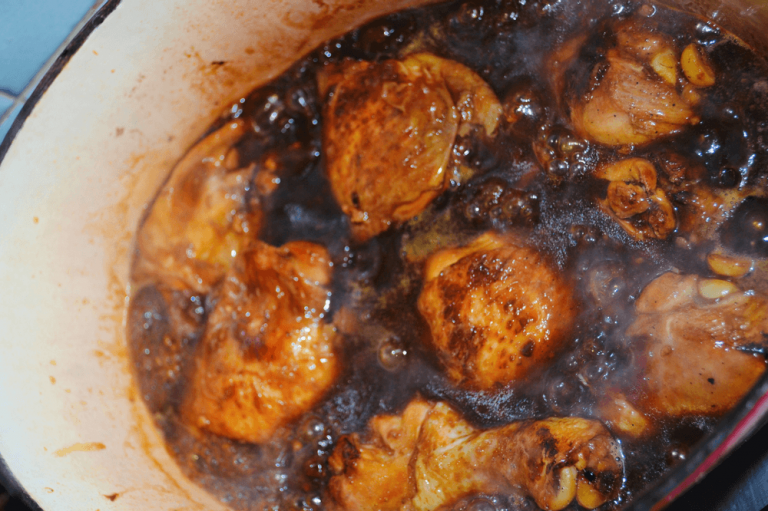 Need a bigger frying pan for these Tilapia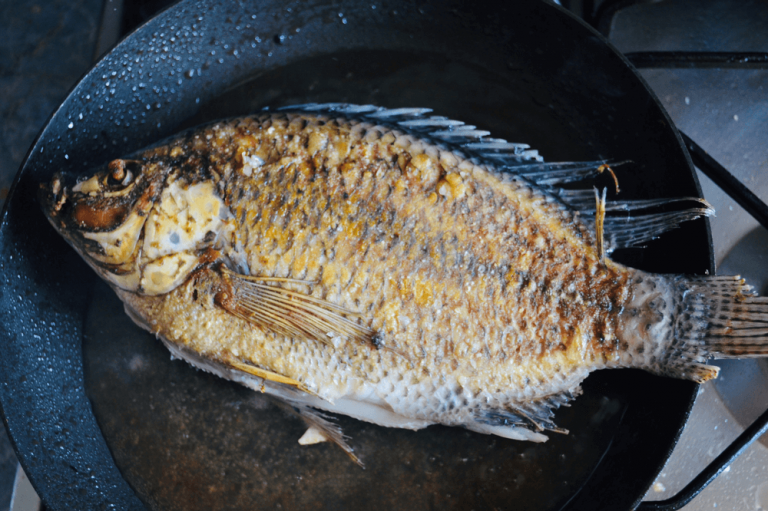 Escabeche - Filipino Sweet & Sour Fish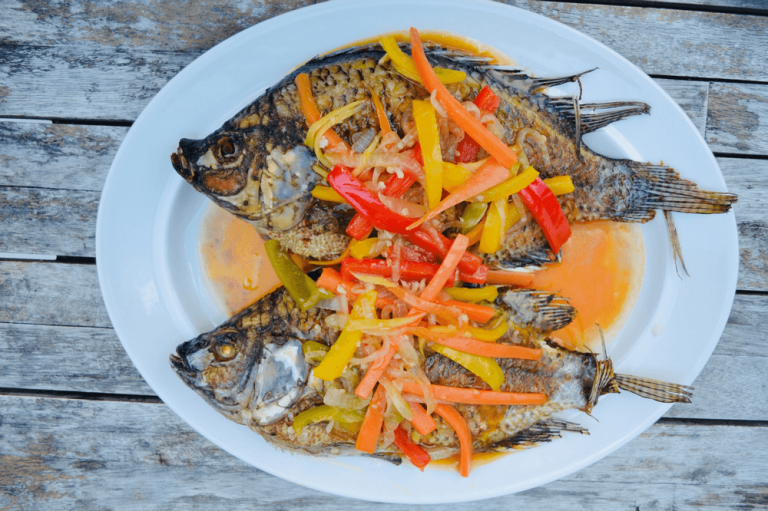 2 Tilapia (approx. 600g each)
Salt and pepper
½ cup Canola oil (or similar)
5 cloves garlic, minced
4 inch piece of ginger cut into matchsticks
1 onion, sliced
2 carrots cut into match sticks
2 bell peppers (mixed colours) cut into strips
½ cup of white vinegar
2 tbsp corn starch (mix with a little water to make a paste)
3 tbsp sugar
2 tbsp ketchup
Pre-heat oven to 180C and heat the oil in a frying pan or skillet. Season the fish generously with salt and pepper and once the oil is hot fry the fish for 2 mins on each side until golden brown and transfer to a baking tray. Place in the over for approx. 10 mins or until cooked through. (many recipes will for the fish to be fried until cooked through however it can be difficult because of the size of the fish and wanting to serve at the same time)
In a saucepan fry the onion in 2 tbsp oil for 2 mins and then add the garlic and ginger and continue frying for another 2 min. Toss in the chopped peppers and carrots and fry for another 2 minutes before adding the vinegar, cornstarch paste, sugar and ketchup. Let the sauce simmer and thicken and check for seasoning. You will want the vegetables to retain a little bite.
Pour the sauce over the cooked fish and serve with white rice.
Escabeche - Filipino Sweet & Sour Fish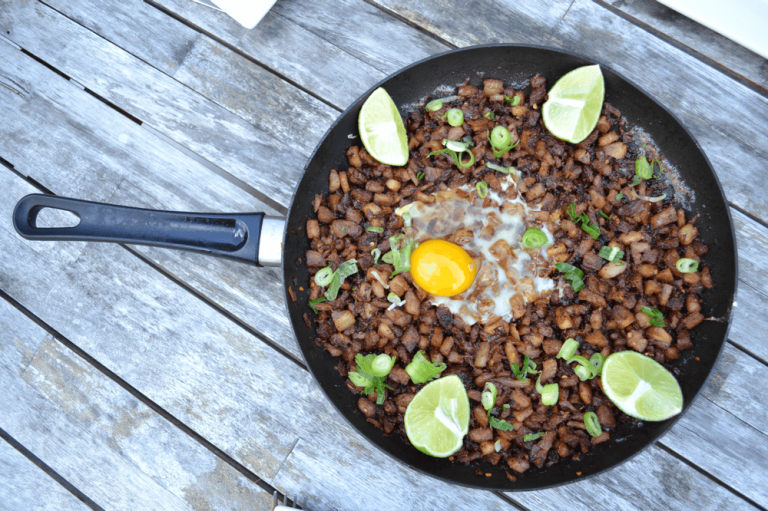 1kg pork belly
3 tbsp butter
1 onion, finely chopped
4 cloves garlic, minced
1 thumb of ginger, minced
200g of chicken livers
4 tbsp soy sauce soy n sauce
2 tbsp chili flakes
½ tsp garlic powder
Salt and pepper
1 large and fresh egg
2 chopped spring onions for garnish
2 limes, for garnish
Simmer the pork belly in water for approx. 1 hour – remove and drain fully and grill the pork belly until crisp up on outside and nicely golden. At this stage dice up the meat into small pieces.
Heat the butter and gently fry the onions until translucent then add the garlic and ginger and continue to cook for another 2 minutes.
Crush the chick livers into the pan until well combined and then add the pork belly and fry, stirring occasionally for approx. 10 minutes.
Add the soy sauce, chilli flakes, garlic powder and seasoning and combine well
Crack an egg onto the mixture and remove from heat – serve garnished with spring onions and lime wedges.
Escabeche - Filipino Sweet & Sour Fish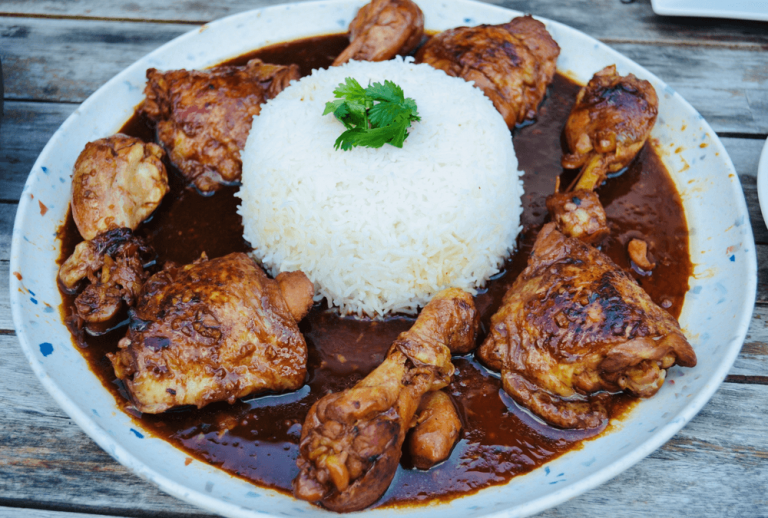 1kg chicken pieces (thigh and drum sticks)
2 tbsp oil
½ cup of cider vinegar
½ cup soy sauce
8 cloves garlic, minced
2 tbsp sugar
1 tbsp black pepper
1 tsp of garlic powder
1 bay leaf
½ cup of water
Mix the vinegar, soy, garlic, sugar, pepper, garlic powder and bay leaf and marinate the chicken (ideally overnight).
Heat the oil in a heavy bottom pan and remove the chicken reserving the marinade. Allow any excess to drip off and fry the chicken pieces for a 2 mins on each side or until nicely browned off before adding the marinade and water. Bring to the boil and then lower the heat allowing to gently simmer for around 30 mins.
At this stage you can remove the chicken and alter the consistency of the sauce to your preference. Serve with white fluffy rice and the sauce poured over the chicken.
Our Filipino Feast is served!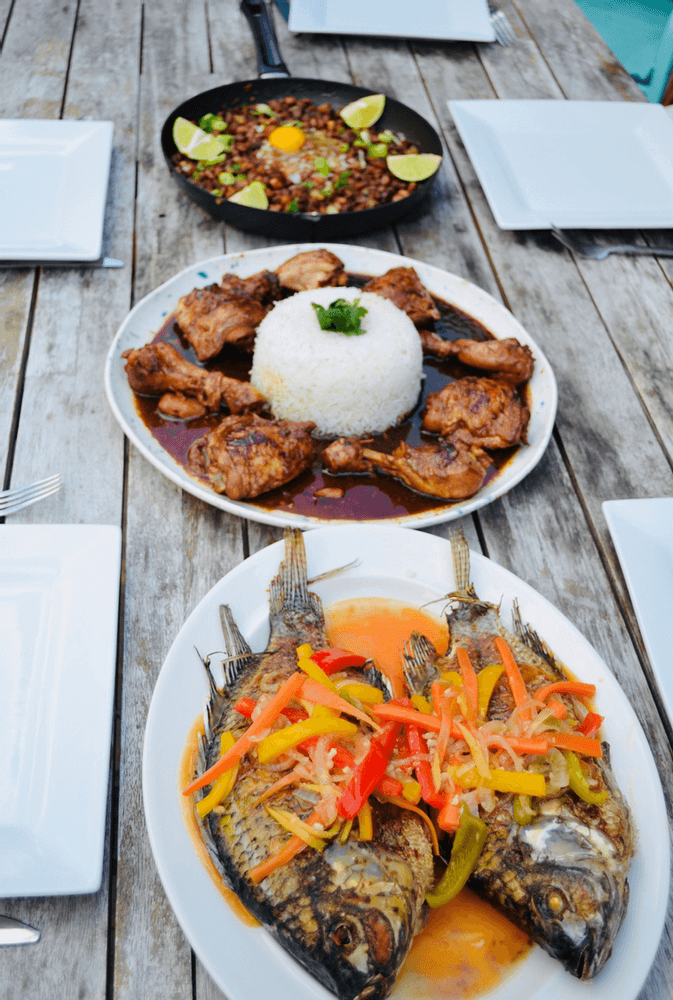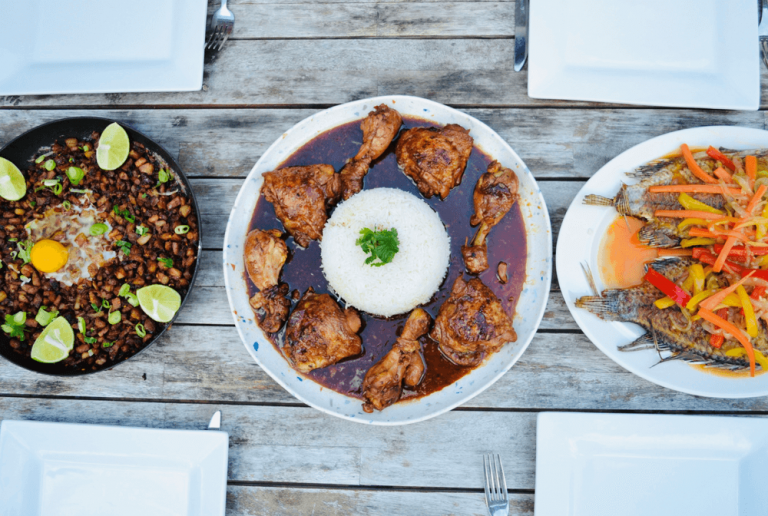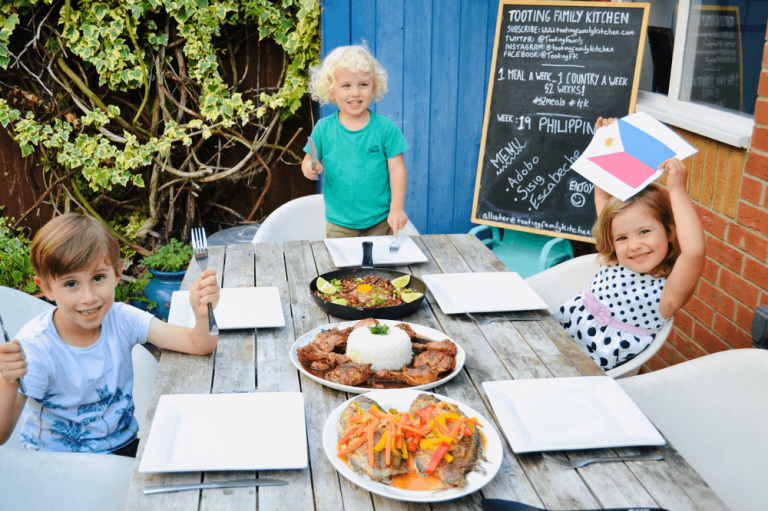 The Adobo going down well with this one...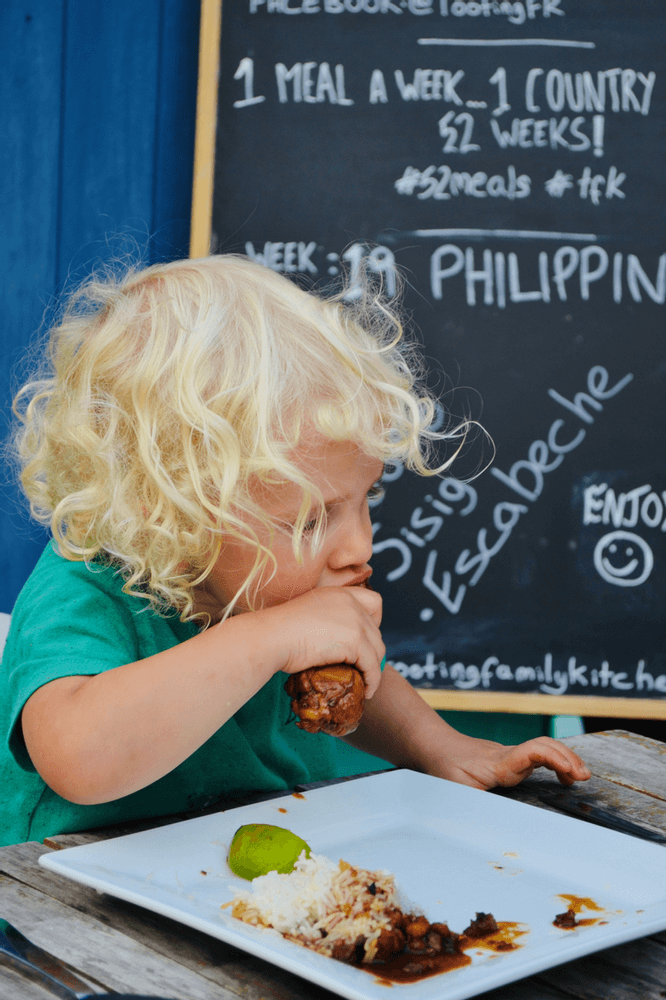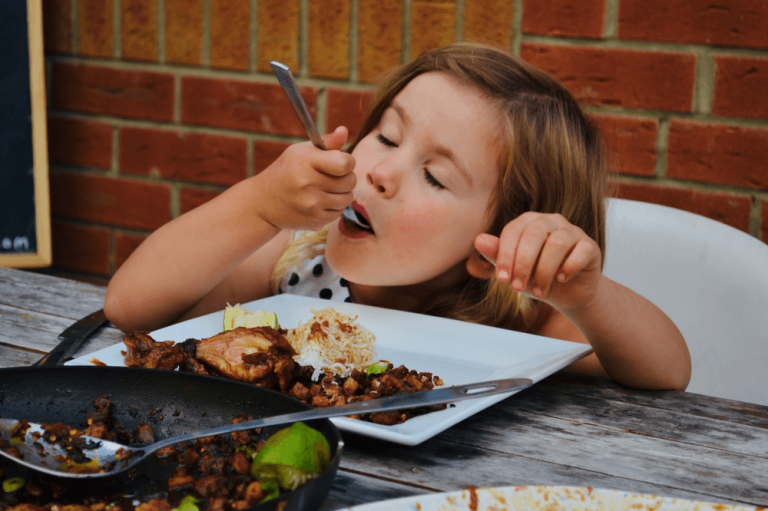 Thank you Philippines - that was brilliant!