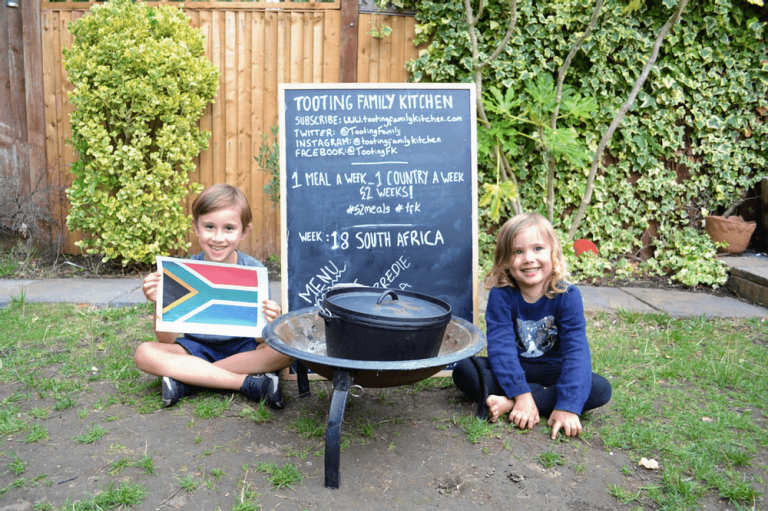 Thank you for joining Tooting Family Kitchen for Week 18 of our 52 Meals Challenge. If you are hitting our blog for the first time, welcome! We are on a culinary journey, exploring different cuisines from around the world to get kids cooking and learn about different International Cuisines and Cultures – celebrating Diversity through Food.
We have set ourselves a challenge to cook 52 Meals from 52 Countries in 52 Weeks, sharing our family cooked recipes and experiences as we go. If you like our content please do share and subscribe (at bottom of the page) to ensure you don't miss out on future family cooking destinations – we promise we won't spam you, just a weekly reminder when we publish our latest International recipes 😊
I feel I have spent a life time planning a trip to South Africa but year after year it has managed to evade me for one reason or another… it won't do forever though! It is a huge and extremely diverse country that seems to have everything you could possibly wish for in a holiday rolled into one…and more. Its rich natural history, geographical positioning and international culture make it a hugely popular destination and it's no wonder so many couples are tempted to elope, or honeymoon there. It's that place for a really special holiday…a life changer…when the Costa Del Sol just won't do! You just know a 2 week action packed trip to South Africa is going be an experience you will never forget and will never regret…next year!
Occupying the southern tip of Africa with a huge 1,770 miles of dramatic coastline taking the full force of the South Atlantic Ocean one side and the Indian Ocean the other side it is a country of varying climatic conditions all of which make a contribution to its beautiful scenery and incredible wildlife. The temperate interior plateau, subtropical northeast, desert of the northwest and relatively pleasant Mediterranean feel of the southwest all offer something completely different…throw in 11 official languages, 3 capital cities and it makes for a very interesting place! Want to stare a great white shark in the face? No problem! Want to do the world highest bungee jump? No problem! Want to ride an ostrich? No problem (for those under 75kg)!
South Africa is part of the 5 emerging national economies with significant regional influence known collectively as the BRICS (Brazil, Russia, India, China and South Africa). It enjoys a relatively stable economy backed by its huge natural resources, tourism, fertile lands and intellectual capital and since the end of apartheid has enjoyed more political equality. Sadly this has not always transcended into peace and harmony and rates of poverty, crime and wealth inequality are ranked amongst the highest in the world. It is a country with a very young population (it is reported that the youth (aged 18 – 34) make a up a 3rd of the population) and there is hope amongst many that this generation will take the lead in guiding this incredible country with so much to offer forwards, to true reconciliation, peace and prosperity for all – in a country where 2 Nobel Peace Prize winners (Nelson Mandela and Archbishop Desmond Tutu) lived on the same street this feels inevitable.
South Africa's cuisine is as diverse as its population. Throw in the fact it has the world's largest beer brewery and is one of the top 10 wine producers on the planet and you know you are in for a treat. Food has evolved into a fairly unique mix of external culinary influences such as Dutch, French, Indian and Malaysian and of course the food, cooking styles and recipes from its indigenous peoples.
I was mightily tempted to cook so many South African inspired dishes for this weeks post. I wrestled with replicating an authentic braai, including some of their famous boerewors. I love a curry and at some point will definitely cook a Cape Malay Curry and Bunny Chow looks as good as it does delicious! In the end though we were delighted to settle on Bobotie (which is often considered the national dish), Tomato Bredie (slowly stewed in a cast iron pot over hot coals) and CHAKALAKA…just because it's a really cool name and so difficult to say without shouting (or putting in capitals).
Tooting Family Kitchen cook Bobotie, Tomato Bredie and CHAKALAKA!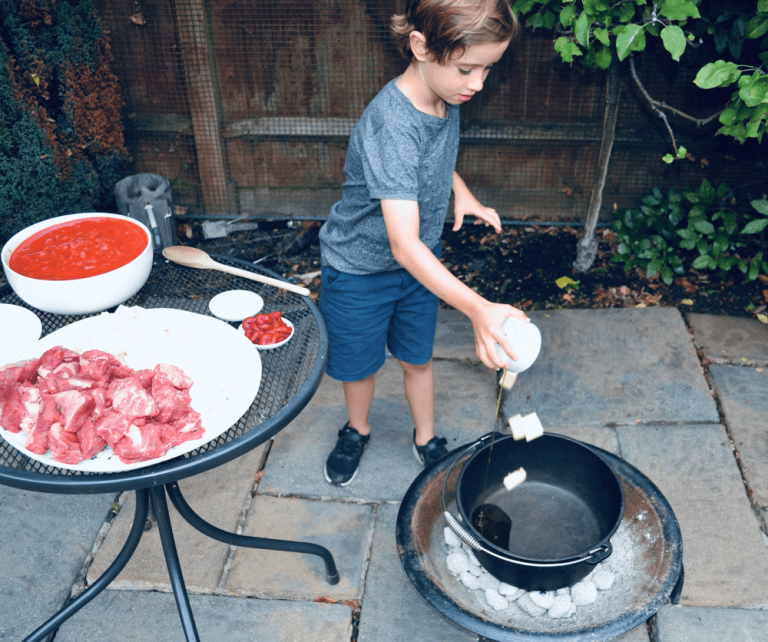 Always start with the onions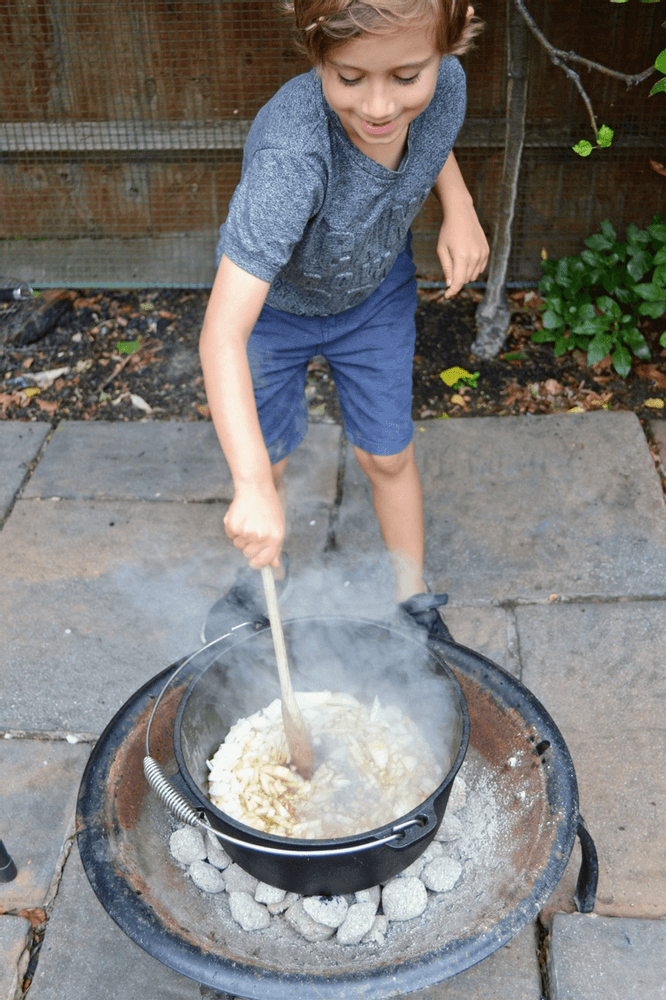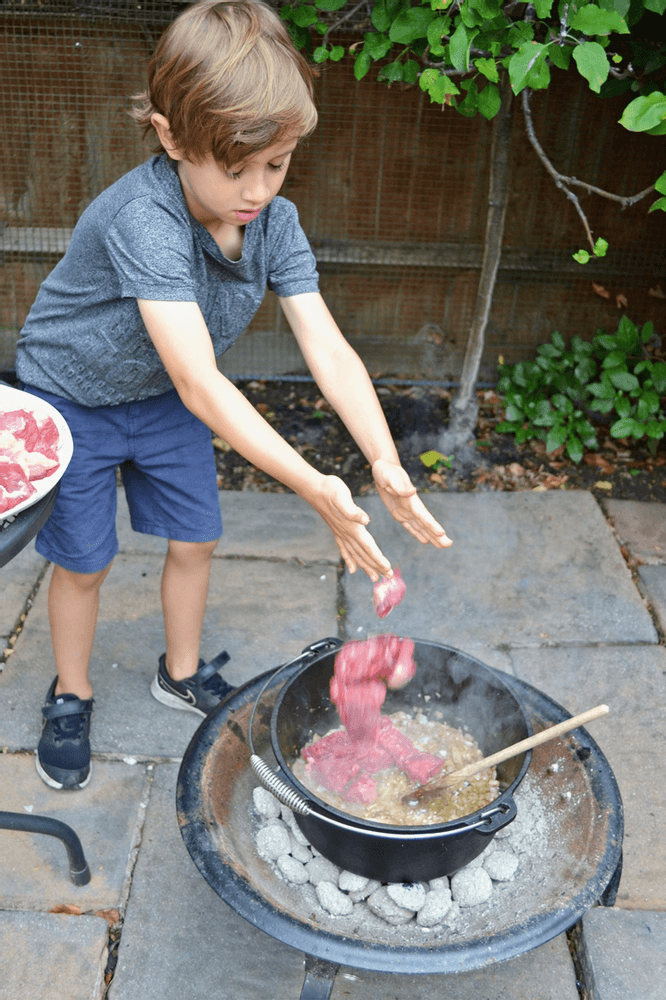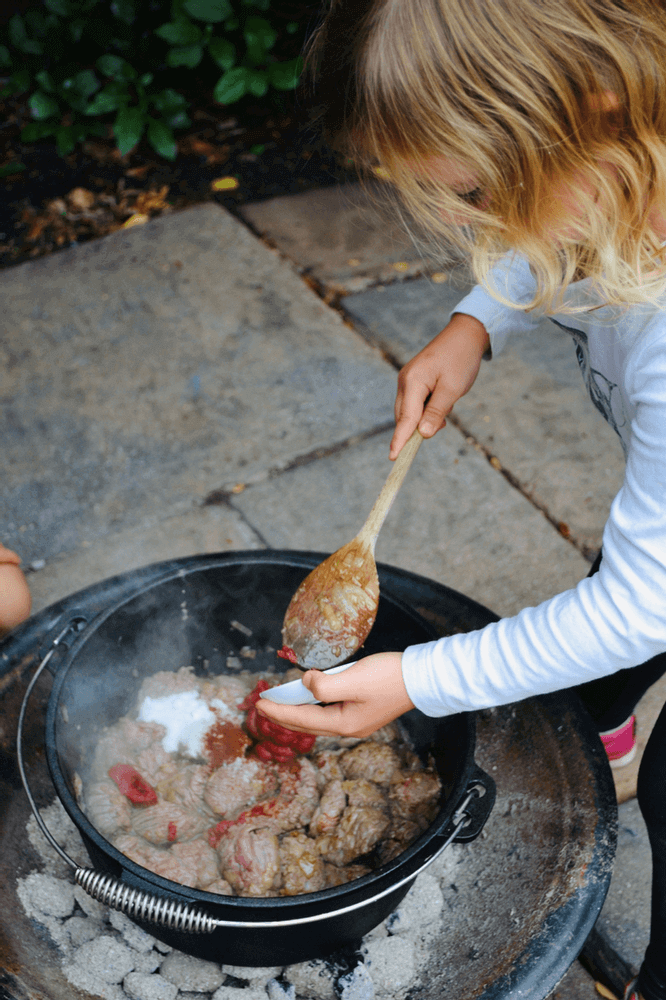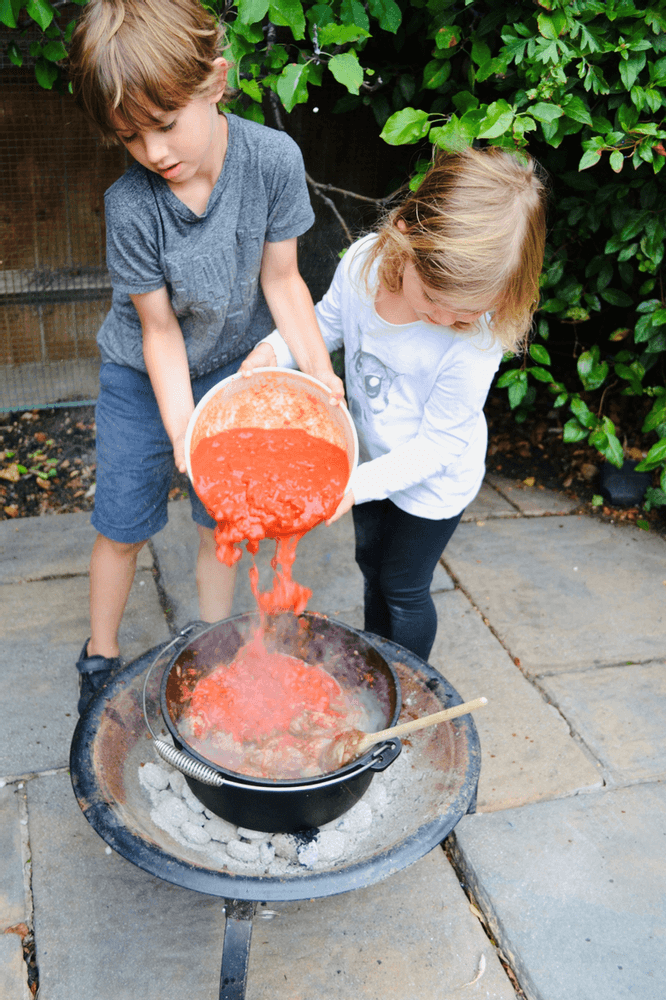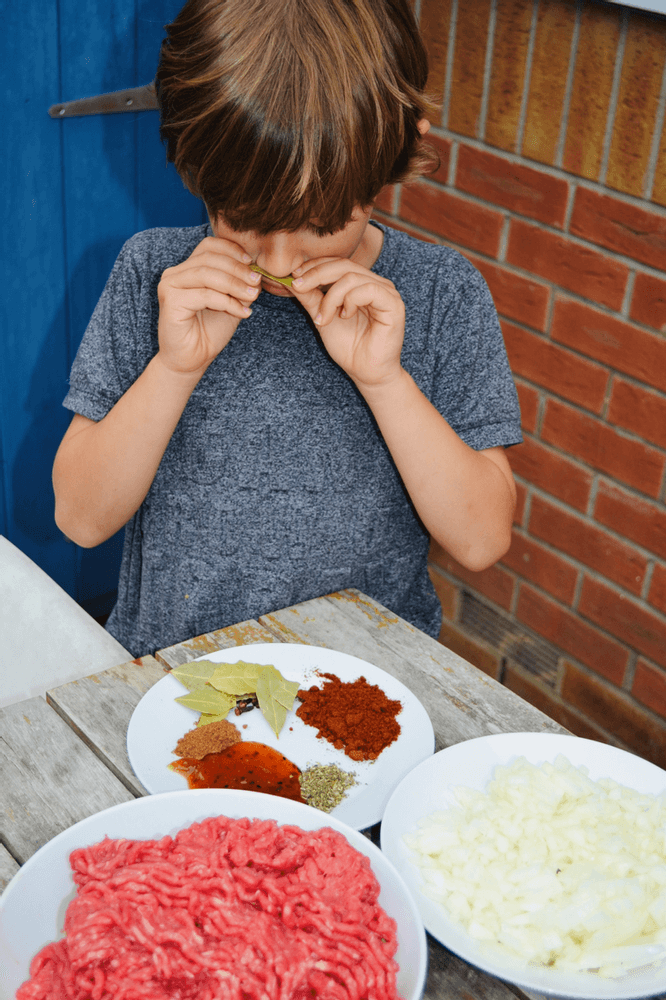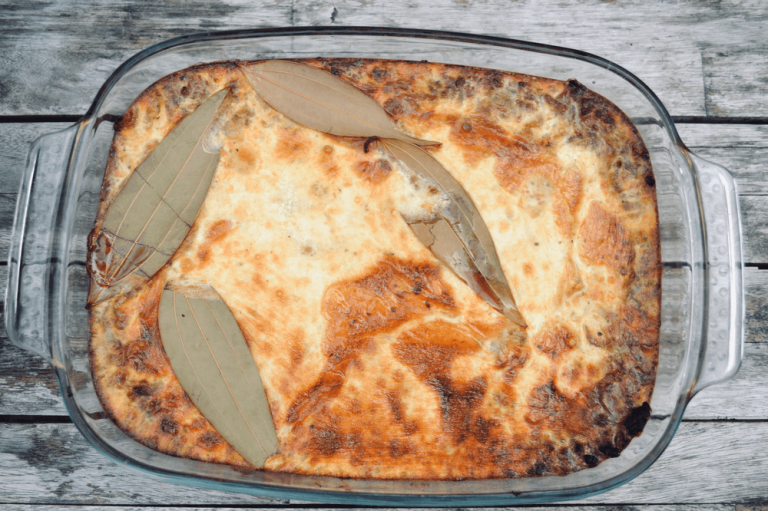 3 slices white bread (soaked in milk)
1kg of minced beef
3 medium onions, finely chopped
2 tbsp butter
4 cloves of garlic, minced
½ cup of sultanas
3 tbsp mango chilli chutney (or similar)
1 tbsp mild chilli powder
1 tsp all spice powder
6 bay leaves
2 eggs
1 cup of milk

Fry the onions until translucent and add garlic continuing to fry until onions start to brown. If the pan is big enough add the beef otherwise remove onion and fry beef (in batches if necessary) until browned off. Add the onions back into the mix and stir in the sultanas, spices and bay leaves along with seasoning and cover and simmer for 15 minutes given a stir half way through.
Squeeze the excess milk from bread (retain this for topping) and mix into the mince before putting the mixture into an oven proof dish and pressing down so flat across the surface.
When ready to bake pre-heat oven to 180C and beat the eggs with the milk and seasoning. Pour over the mince and gently place bay leaves on top. Bake in the oven for approx. 40 mins or until turning golden brown.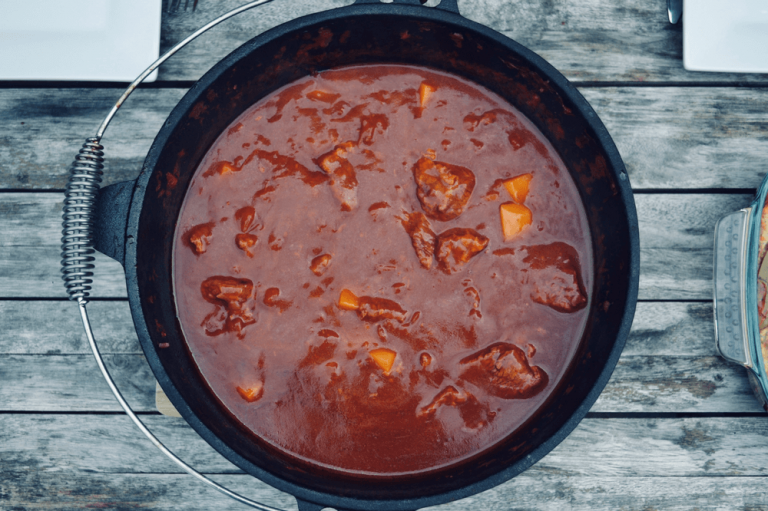 1.5 kg beef brisket
2 large onions, finely chopped,
4 cloves of garlic, minced
2 tbsp butter
1 tbsp olive oil
5 x (400g) tins of chopped tomatoes
3 bay leaves
2 tbsp tomato paste
1 tbsp sugar
1 tbsp mild chilli powder
4 potatoes, peeled and cubed
2 tbsp cornflour (made into a paste)
Salt and pepper
Fry the onions in the butter and oil until translucent before adding garlic and continuing to fry and starting to turn brown. Add this stage add the beef and salt and fry until browned off all over.
Add the tomato paste, sugar, chilli powder, bay leaves and seasoning give a stir before adding the tomatoes and cooking gently for 2 hours.
Add the cubed tomatoes and cornflour paste and simmer for another 30 mins – if drying out add a little water.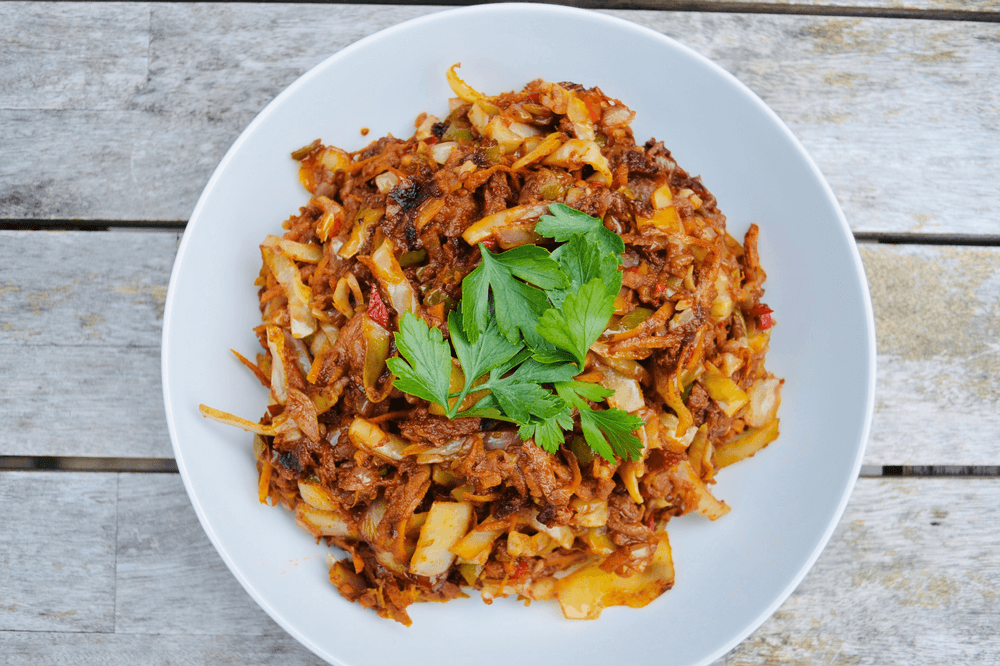 1 medium white onion, finely chopped
1 medium red onion finely chopped
4 cloves of garlic, minced
2 red chillies, finely chopped
1 green bell pepper, chopped
2 inch fresh ginger, grated
5 carrots, shredded
1 cup of white cabbage, shredded
3 large tomatoes, chopped
1 tbsp tomato paste
1 tbsp of mild chilli powder
½ tsp of cayenne pepper
½ tsp of coriander powder
½ tsp of cumin powder
Cinnamon stick or ½ tsp of ground cinnamon
½ tsp of fenugreek powder
4 tsp ground cloves
2 tbsp vinegar
Seasoning
Fry the onions until translucent before adding the peppers, chilli, garlic and ginger and continuing to fry for a couple of minutes.
Add the carrots, cabbage, tomatoes and tomato paste and continue to fry for another couple of minutes before adding all the spices and combining well. Cover and cook on a gentle heat for approx. 5 minutes. Check for seasoning and add vinegar before covering and cooking for another 5 mins. Top with some coriander and serve hot or cold.
Looking forward to tucking in!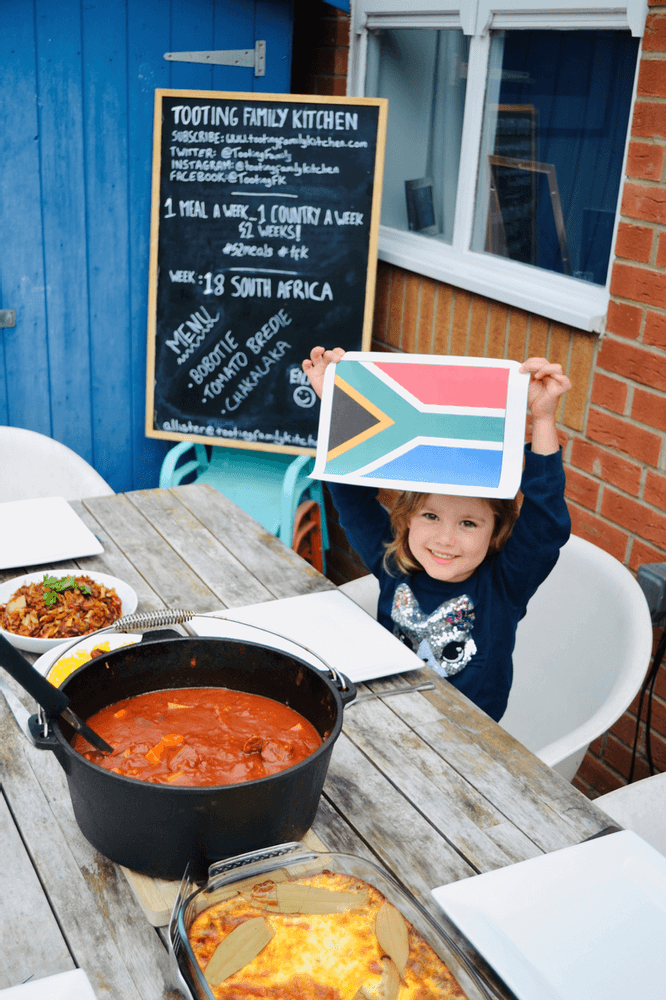 Tomato Bredie going down well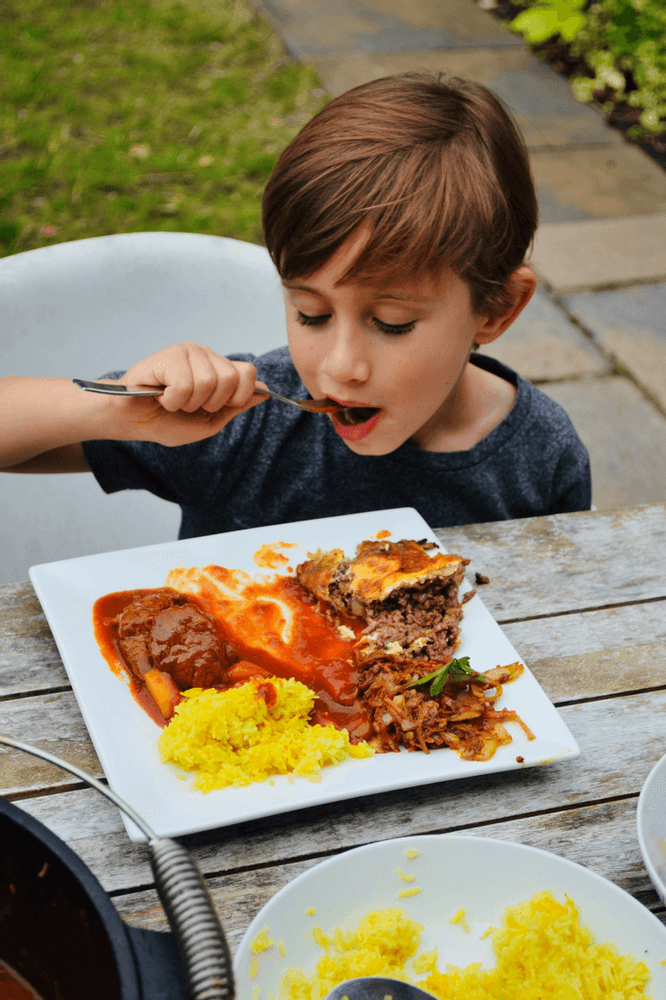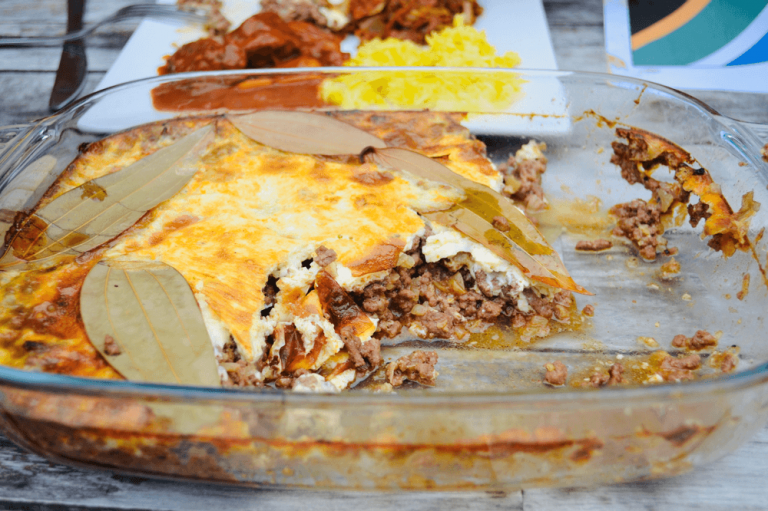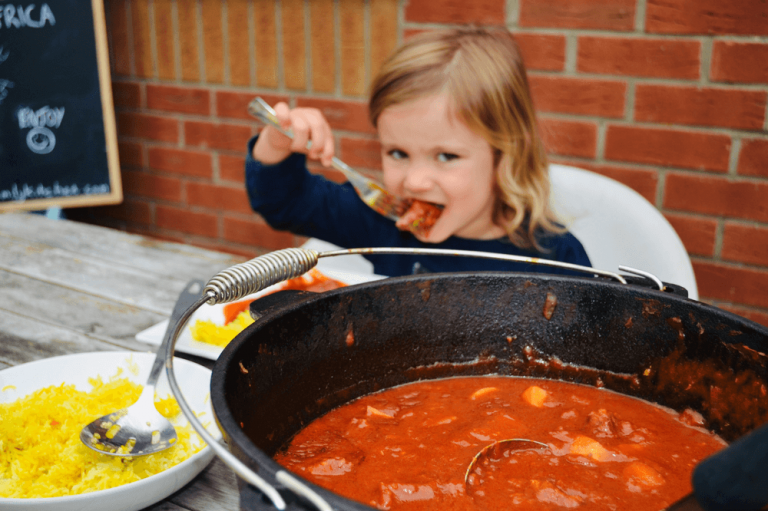 Thumbs up for South Africa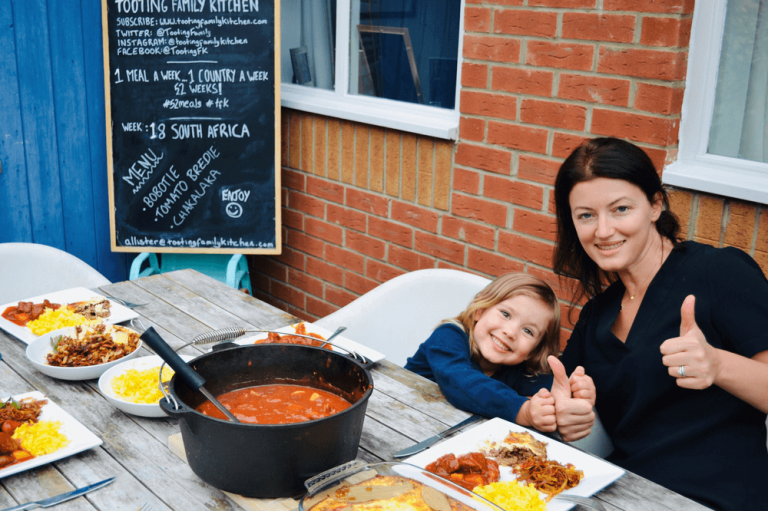 South Africa - that was delicious!