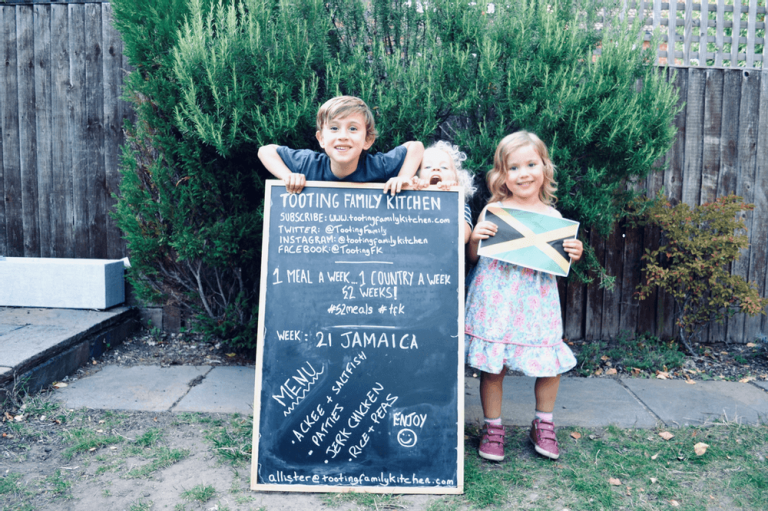 Thank you for joining Tooting Family Kitchen for Week 21 of our 52 Meals Challenge. If you are hitting our blog for the first time, welcome! We are on a culinary journey, exploring different cuisines from around the world to get kids cooking and learn about different International Cuisines and Cultures – celebrating Diversity through Food.
We have set ourselves a challenge to cook 52 Meals from 52 Countries in 52 Weeks, sharing our family cooked recipes and experiences as we go. If you like our content please do share and subscribe (at bottom of the page) to ensure you don't miss out on future family cooking destinations – we promise we won't spam you, just a weekly reminder when we publish our latest International recipes 😊
I have been really excited to return to the Caribbean since our Barbados themed feast in Week 9. When people think of Jamaica they think of a place that has mastered the art of chilling out! A beautiful tropical paradise with the ultimate laid back vibe and all year round tropical climate! Funny how my first memorable thoughts of Jamaica are from the infamous 1993 film 'Cool Runnings' based on Jamaica's entry into the 1988 Winter Olympics by fielding a bobsled team…"Feel the Rhythm, feel the rhyme, get on up, it's bobsled time!" Unsurprisingly they came in last (on their borrowed bobsleigh) but what a cool thing to do and although in the film they are depicted as being outcasts amongst the more experiences Winter Olympians, I have read that in actual fact they were extremely warmly received and were regularly mobbed by applauding fans…amazing!
Cool is probably the best adjective to describe most things Jamaican…Usain Bolt – Cool! Bob Marley – Cool! Reggae Music – Cool! Beaches and rum punches – Cool! And if we can't agree on all of these there will be no disputing Shaggy – Super Cool! One look at their iconic national flag and you immediately think 'Cool' and you know what, it is! The present design of their flag emerged from a national competition when members of the public were encouraged to send in their ideas. The green represents the lush landscape, the yellow for the golden sunshine and the black represents the strength and creativity of the Jamaican people…very very cool! So what is the secret to the laid back vibe? Could it be that Jamaica has more churches per square mile then any other location? If religion is not your thing perhaps it's the fact that it has more rum bars per square mile than anywhere else in the world? And if drinking is not your thing could it be that Jamaica produces more music per capita than anywhere else in the world and of course are the undisputed Kings of Reggae? Whatever it is, they have perfected being cool!
This culture and way of life seems to be the perfect backdrop of creativity and of course the legend that is Bob Marley needs no introduction, nor does Reggae music which originated in Jamaica. What is worth highlighting, is that many other genre's of music have been influenced and have evolved from music created in Jamaica. It was a Jamaican DJ, 'DJ Kool Herc' who was credited for officially originating hip hop music through his "Back to School Jam" in 1973. It doesn't end with music though and our very own 'James Bond' novels (all 13 of them) were created and written in Jamaica by Ian Fleming, who was completely in love with the country that he called his home and in fact two of the Bond films (Dr. No and Live and Let Die) were made there too.
Talking about religion, rum bars and music takes me back to our Big Greek wedding and perhaps unsurprisingly it was our friend Theresa (who was born and grew up in Jamaica) that was first to hit the dance floor and take it a step further by grabbing the mic when the band were winding down to inject some energy back into the party by belting out a tune with the pitch, tone and confidence of a professional. It was cool, very cool!
We asked Theresa about her upbringing in Jamaica and what is was like from a culinary perspective and got some top tips for our cooking today. She told us that Sunday evening was the best meal of the week and like many Jamaican families they would start the preparation on a Saturday evening by soaking the peas and marinating meat. A typical Sunday dinner for most Jamaican's would be rice and peas and chicken and that although they say peas they actually use kidney beans. Jerk chicken, which is perhaps the first thing we associate with Jamaica here in the UK, is something that is usually done at family parties or bbqs and saltfish & ackee (which is regarded by many as the Jamaican national dish) was sometimes prepared for breakfast and served with fried dumplings.
For our Jamaican style family feast we have attempted saltfish & ackee, jerk chicken, rice and peas, Jamaican style patties and fried plantain and we hope we have done Jamaican food justice!
Tooting Family Kitchen cooks Ackee & Saltfish, Jerk Chicken, Rice & Peas, Patties and Plantain.
Checking out the ingredients for our jerk chicken.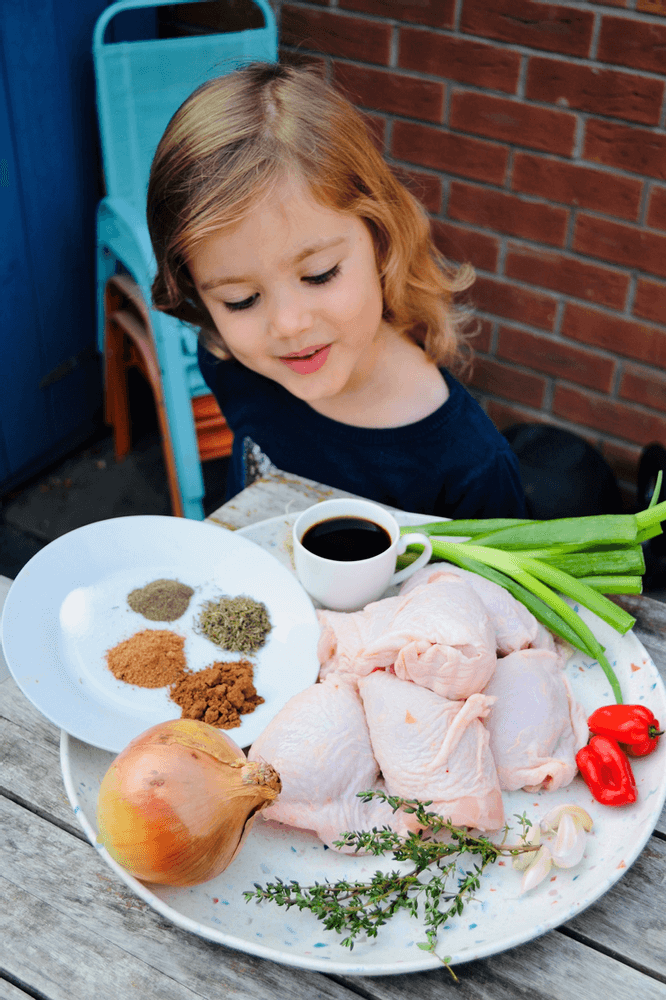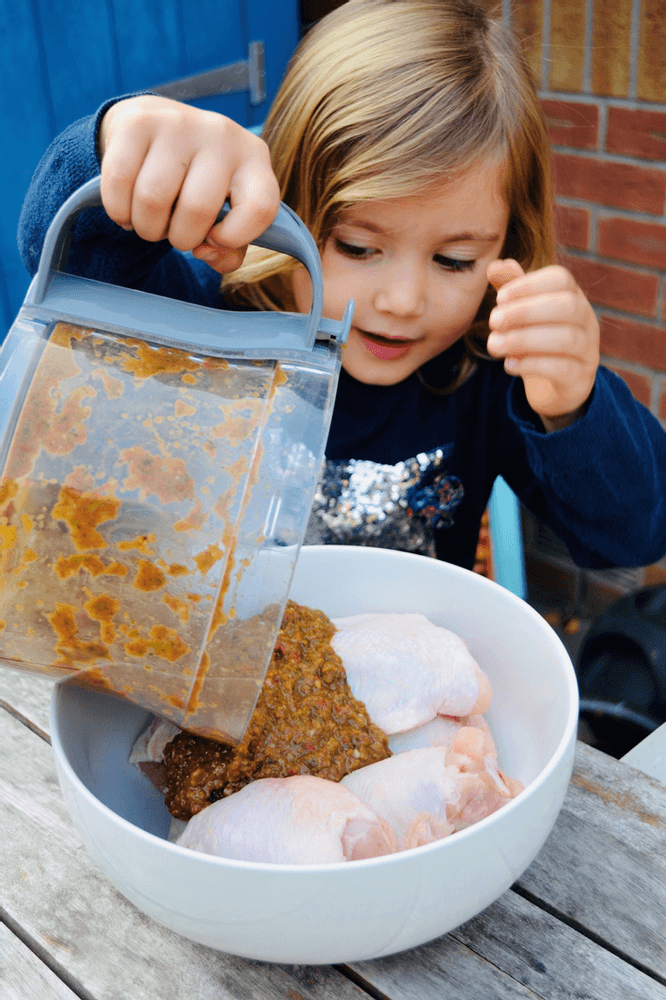 Adding the ackee to the saltfish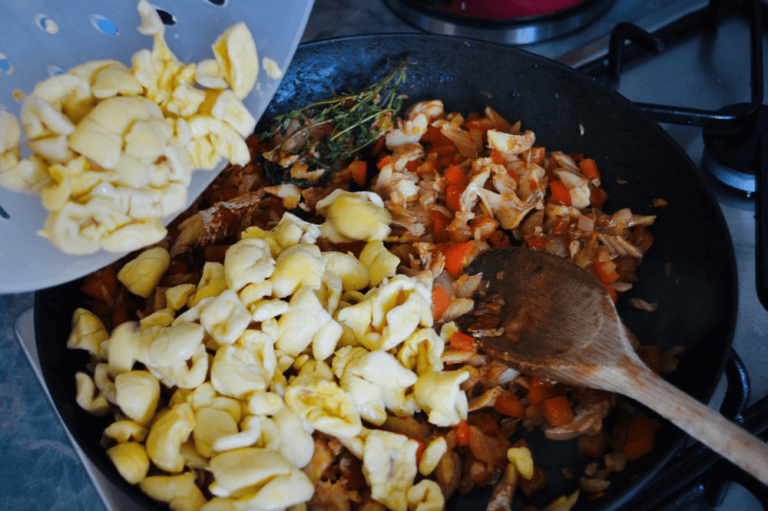 Jerk chicken - fresh from the oven!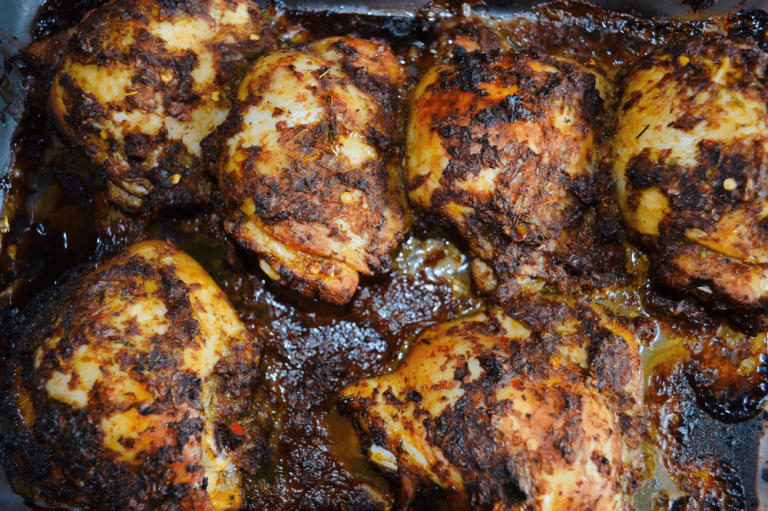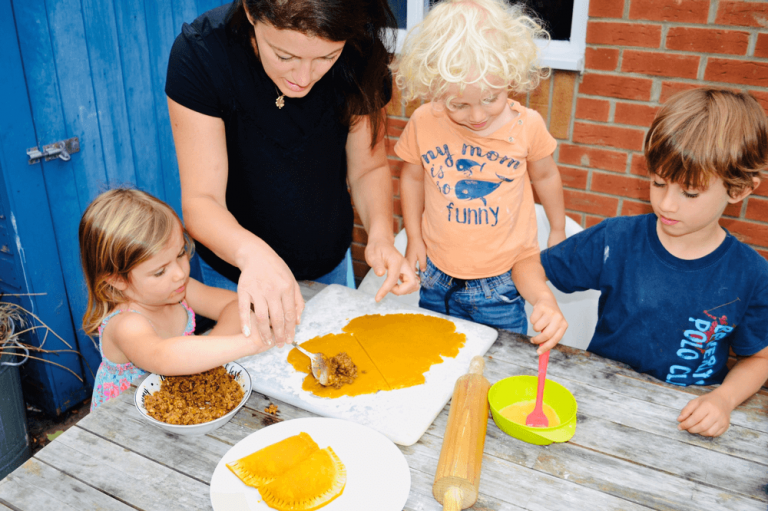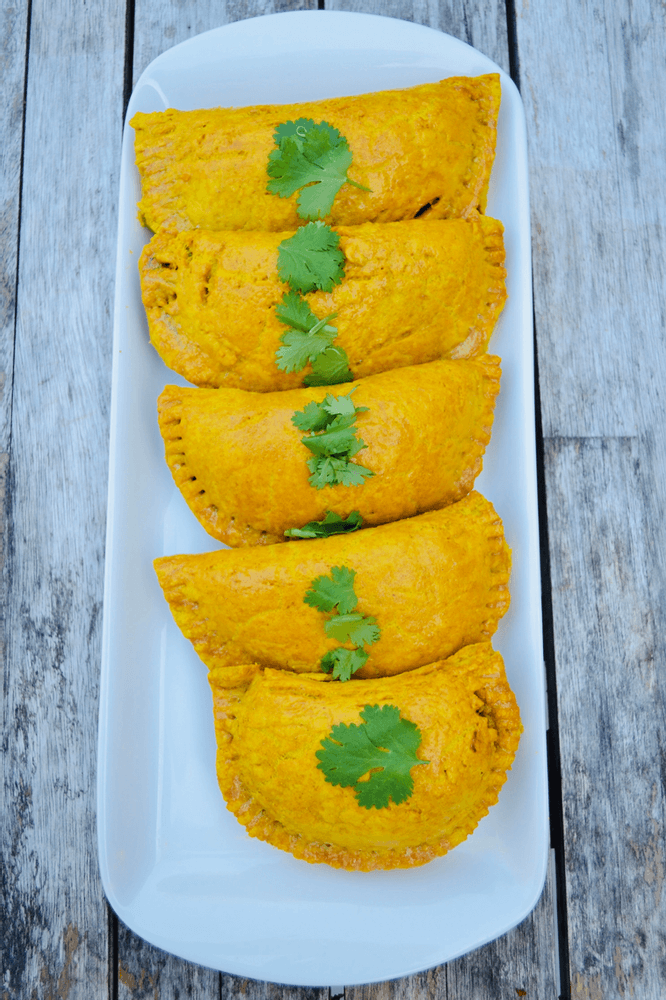 Pastry
300g of plain flour
1 tbsp if turmeric
1tbsp of madras curry powder
1 tsp of salt
175g of chilled unsalted butter
1 large egg
Filling
400g of lean beef mince
1 onion, finely chopped
4 cloves garlic, minced
3 tbsp olive oil
3 sprigs of thyme
2 tbsp. madras curry powder
2 tbsp chives, finely chopped
½ scotch bonnet chilli (according to taste)
1 tsp of brown sugar
200 ml of beef stock
1 slice of bread, crumbed
1 large egg – whisked for egg wash with 1 tsp of water
Salt and pepper to taste
Sift together the flour, turmeric, curry powder and salt and combine start to combine with the butter in a large bowl adding a little bit of cold water until it starts to form into a dough. When right consistency is achieved leave covered with a damp tea towel for 30 mins whilst you make the filling.
Heat the oil in a large pan and start to fry the onion. After 2 mins add the garlic and continue to fry for another 2 mins before adding the spices, chives and thyme and chilli. Cook for another min and add the beef breaking up into the mixture and cooking until it is fully browned off.
Add the beef stock and sugar and bring to the boil before reducing to a gently simmer and allow to bubble away for approx. 10 min until the mixture is getting nice and thick. At this stage stir in the bread and leave to simmer for another 5 – 10 minutes until all the moisture has been absorbed. Leave the mixture to cool.
Roll out the pastry on a flour dusted surface to about 3mm and cut into spheres the size of a side plate (should get 5 or 6). Place a couple of heaped tbsp of mixture into each one, wet the outside edges of the pasty, fold over and combine, crimping with a fork.
Brush each pattie with egg wash and bake in a pre-heated over to 180c for 15 – 20 minutes or until cooked through and nicely golden brown.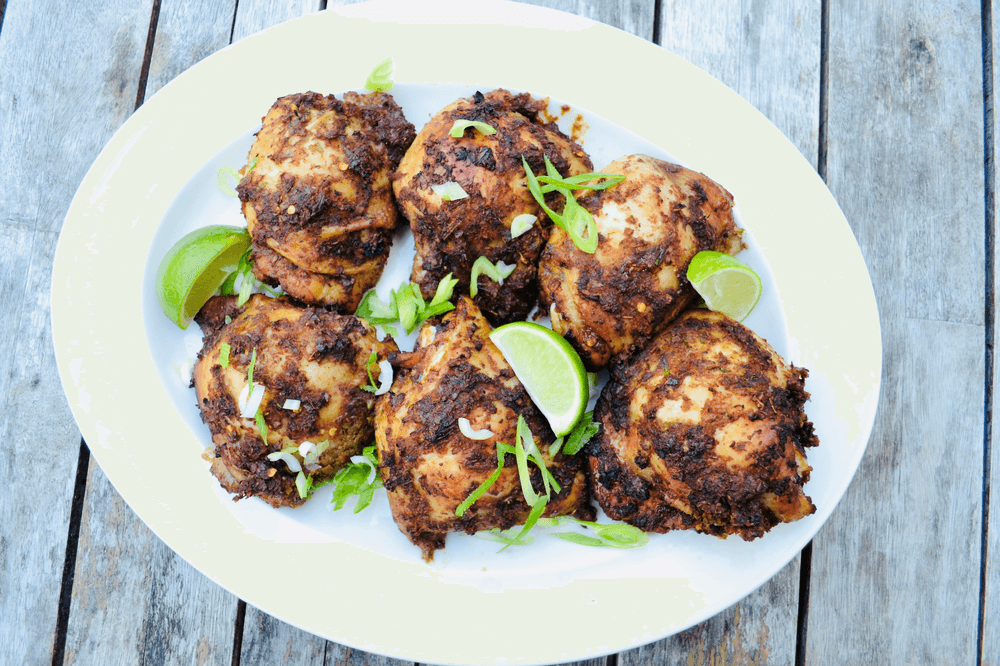 1kg of chicken thighs/drumsticks/legs
3 x spring onions, chopped
1 x onion, chopped
1 scotch bonnet chilli, chopped
3 cloves of garlic, chopped
1 tbsp all spice powder
1 tbsp of dried thyme
1 tbsp black pepper
1 tsp of ground nutmeg
1 tsp of salt
½ cup of soy sauce
1 tbsp vegetable oil
1 tsp browning (optional)
Combine the onions, chilli, garlic, all spice, thyme, pepper, nutmeg and salt in a food processer and blitz before slowly adding soy sauce and oil steadily to the mixture until a smooth consistency is achieved. Cover the chicken in the mixture and leave to marinate in the fridge overnight.
When ready to cook bring to room temperature and bake in a pre-heated oven to 180C for approx. 35 minutes or until cooked through. Great done on an open grill too of course depending on weather 😊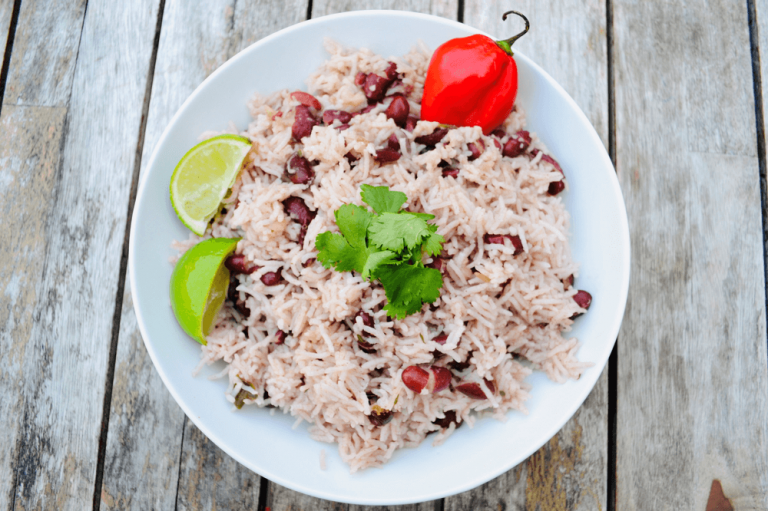 1 cup dried kidney beans, soaked overnight
3 cups of water
1 onion, chopped
3 spring onions, chopped
4 cloves of garlic, minced
4 sprigs of thyme
2 tsp of all spice
1 scotch bonnet chilli
1 tin of coconut milk
1 tsp black pepper
2 cups of white long grain rice
In a large saucepan with lid put in the drained kidney beans, water, onions, garlic, thyme, all spice, black pepper and bring to the boil before lowering the heat and gently simmering. Add the coconut milk and continue to cook for an hour when the beans should be tender. Stir in the rice and simmer again for approx. 25 mins until the water has been absorbed. Remove from the heat keeping the lid on and allow to steam for a further 10mins. Remove thyme stems and scotch bonnet and gently fluff up the rice with a fork seasoning to taste.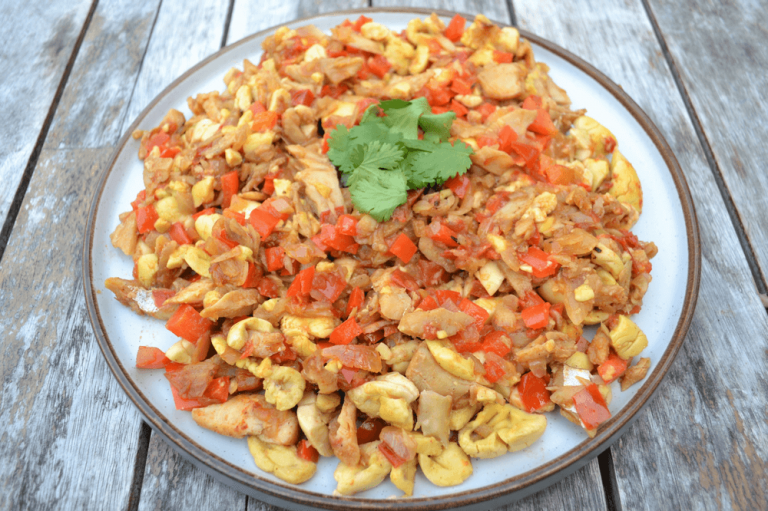 250g saltfish
1 tin of ackee
3 tbsp oil (coconut works quite nice but olive oil is fine)
1 onion, chopped
1 red bell pepper, chopped
1 tomato, chopped
1 tbsp tomato paste
½ scotch bonnet chillies, finely chopped (more or less according to how hot you want it)
3 cloves of garlic, minced
3 sprigs of thyme
½ tsp black pepper
Soak saltfish overnight changing water once. Next day boil it for 4 or 5 minutes until cooked through and flake the fish apart into bite size pieces.
Heat the oil and fry the onions for 2 mins and then add garlic for a further 2 mins before adding the pepper and tomato. Combine and then reduce heat and cover the pan and leave to cook for approx. 5 mins until soft.
Remove the lid and increase the heat and add the salt fish and tomato paste, chilli and thyme and gently combine.
Finally drain and rinse the ackee and very gently combine with the saltfish so the ackee does not break up. Leave to heat through for a further 5 mins on a gentle heat and covered. Give a good grind of black pepper and serve.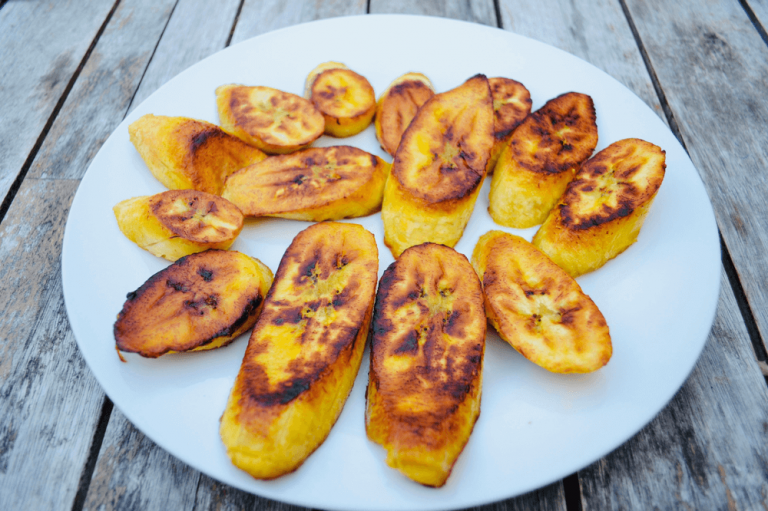 Our Jamaican themed feast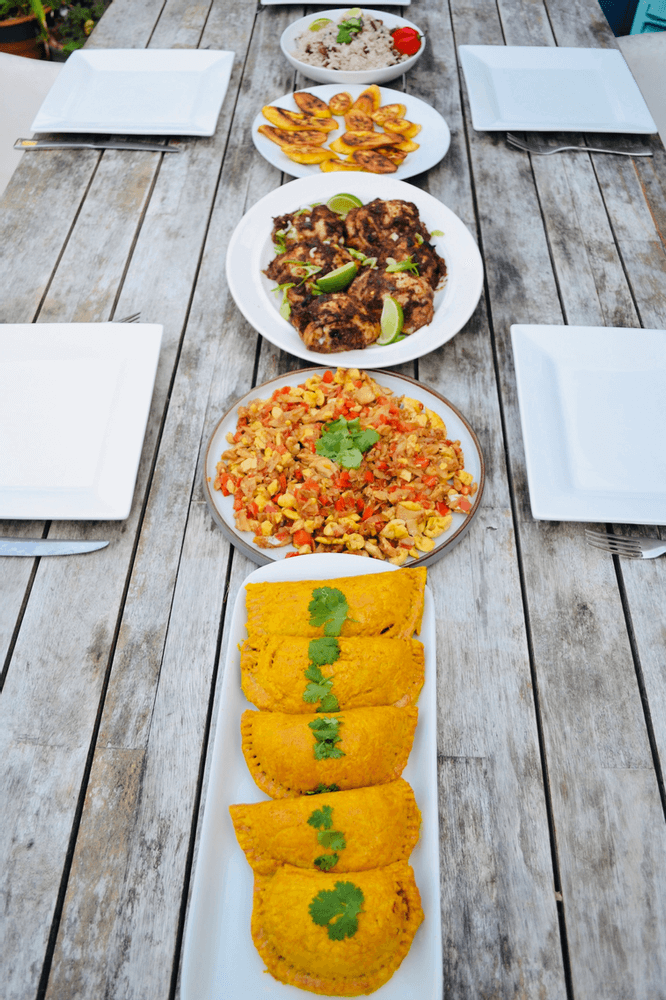 Ackee & Saltfish, Jerk Chicken with Rice & Peas, Jamaican style patties and fried plantain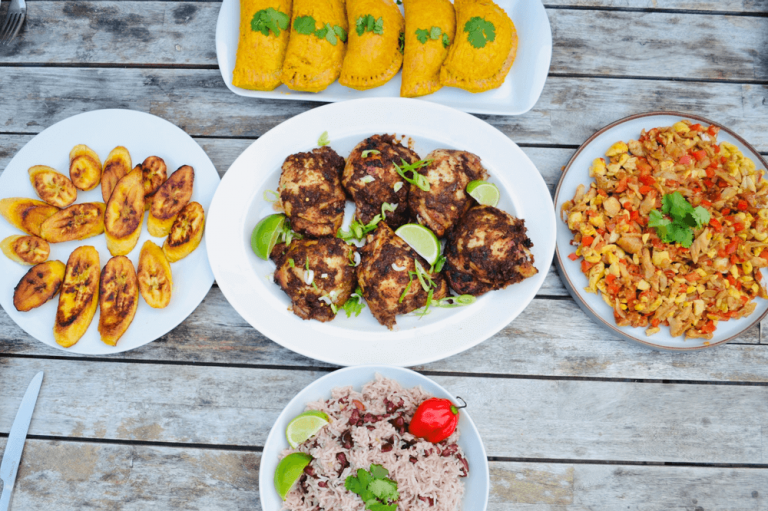 Can't wait to get stuck in!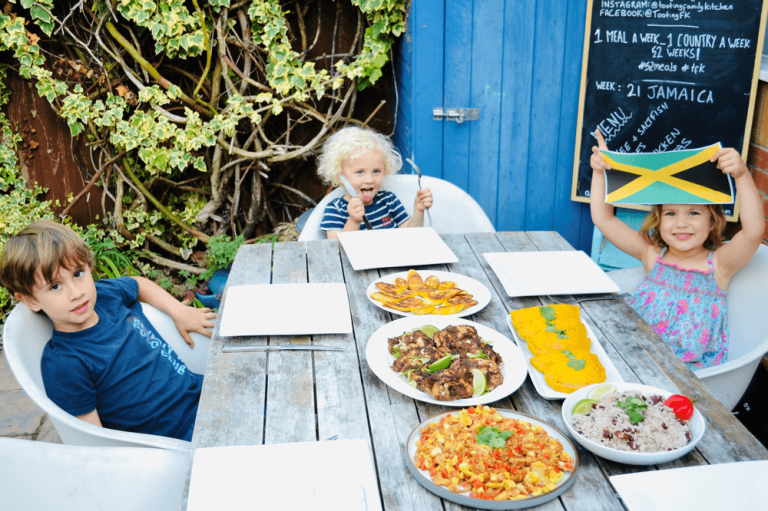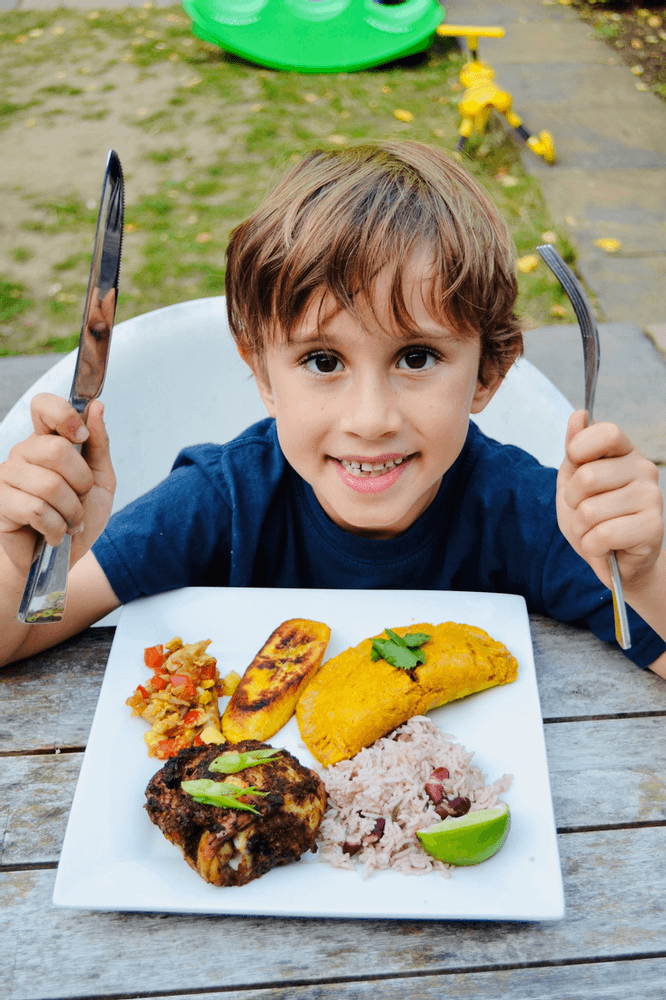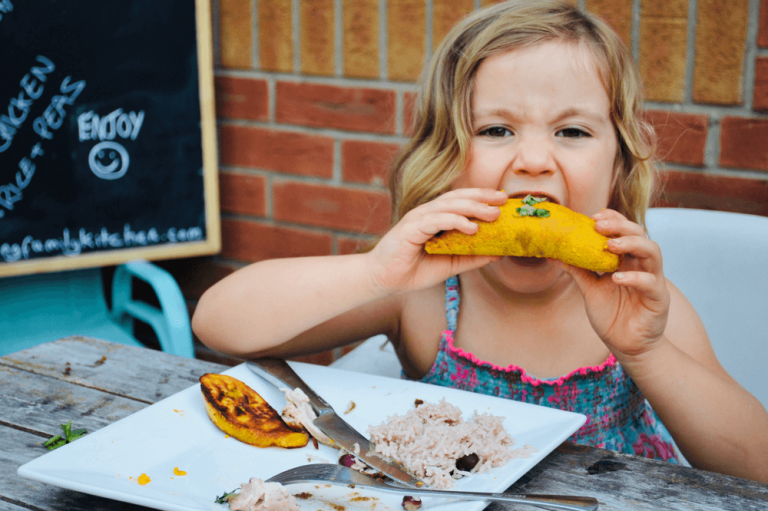 The Jamaican 'Cornish Pasty'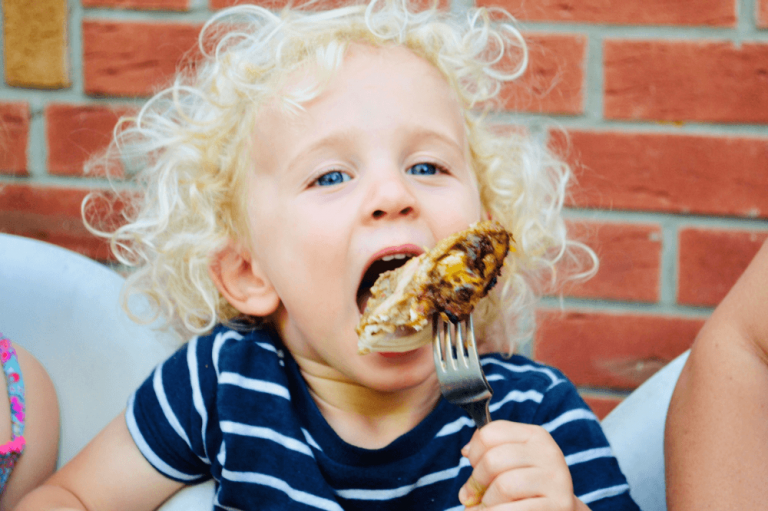 Red Stripe of course - loved this food!