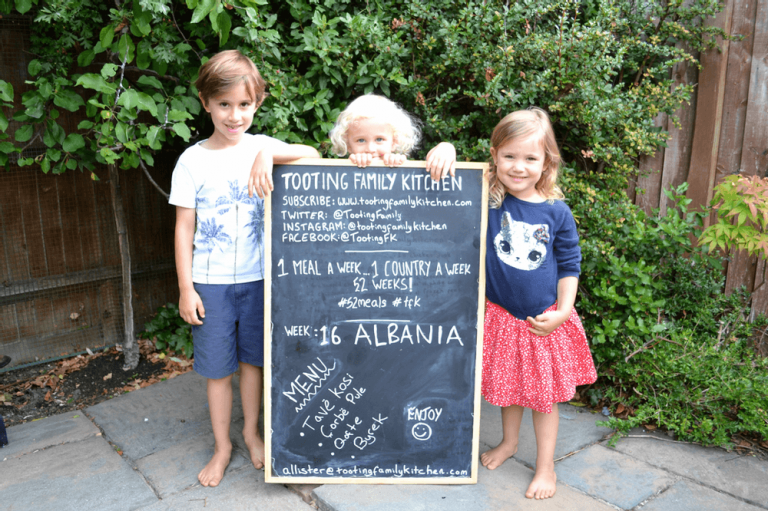 Thank you for joining Tooting Family Kitchen for Week 16 of our 52 Meals Challenge. If you are hitting our blog for the first time, welcome! We are on a culinary journey, exploring different cuisines from around the world to get kids cooking and learn about different International Cuisines and Cultures – celebrating Diversity through Food.
We have set ourselves a challenge to cook 52 Meals from 52 Countries in 52 Weeks, sharing our family cooked recipes and experiences as we go. If you like our content please do share and subscribe (at bottom of the page) to ensure you don't miss out on future family cooking destinations – we promise we won't spam you, just a weekly reminder when we publish our latest International recipes 😊
Albania is a very special destination for us as it is the birthplace of my wife Esmeralda, and where she spent half of her life growing up until she came to London to study all those years ago. I have had the pleasure of visiting Albania many times over the years and experiencing Albanian hospitality first hand, mostly through my wonderful parents-in-law and my good friend, brother-in-law and ex-flat mate, Miri. Unfortunately this year has been a tremendously sad year for us as my father-in-law Martin, unexpectedly passed away. I would like to dedicate this weeks post to him and remember him for all the hospitality and great Albanian food he has shared with me over the years, side by side with his loving wife, my mother-in-law Leze.
Martin was a great man of the 'old school', who lived through tough communist times and worked hard as a geologist to create a good life for his family, sending all 5 of his children to university in London. I never saw him complain, I never saw him do anything dishonest and I never saw him lose his temper and by UK standards there can be a lot to complain about in Albania. He would help anyone and was loved by many, forming a connection with so many people he met, even briefly and with language barriers…he was just impossible to dislike and his calm, humble, honest and respectful persona resonated with many. He was a man of very rare values that many of us aspire to be more like in our day to day lives (especially when things get stressful) and he will be missed tremendously, but we know that he left us with a full heart and with many, wonderful memories.
Martin Gecaj
A proud man on the proudest of days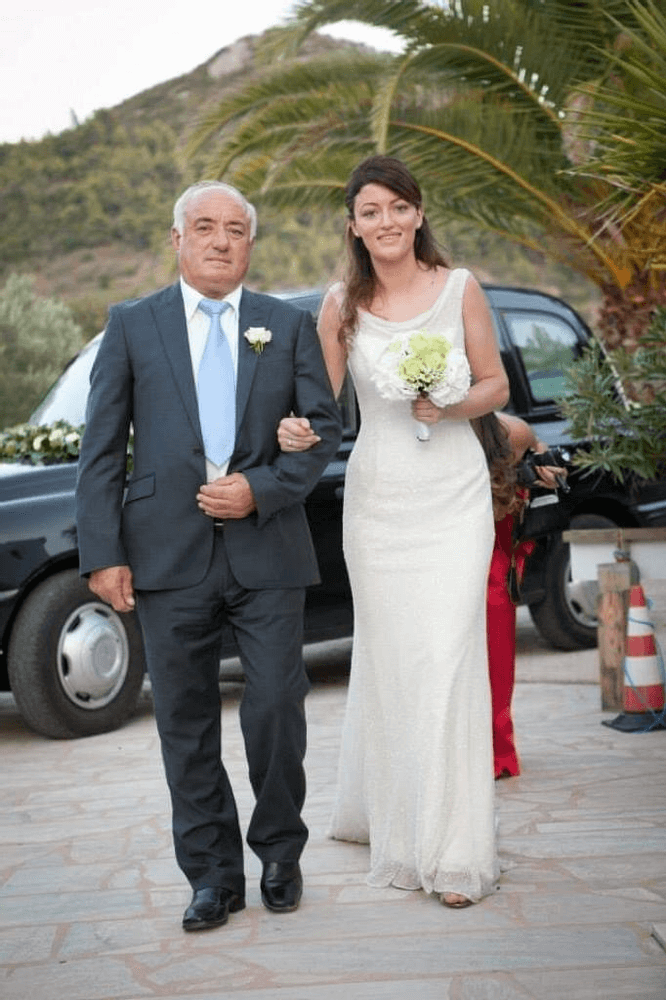 My first experience of Albania was at the age of 8 or 9. My parents, brother and I were on a long camping trip around Europe (which has influenced some of our other European meals) and had driven across, around and through France, Spain, Portugal, Italy and Yugoslavia, as it was known then, on our way to Greece before arriving at the Albanian border. The atmosphere generally across the Balkans was very tense at the time, although we had no idea of the horrors that were about to be unleashed. Similarly there was an edgy feel at the border, but I think the general concept of coming from England and staring into the 'unknown' that was this small, mysterious, communist country, beyond the barbed wire and stony faced armed guards, looking at us and our number plates suspiciously, added to the drama. I never thought in a million years that my future wife was playing the other side of that barbed wire and that I would become part of such a warm family sitting across that border a few hundred miles away.
When I speak to Esmeralda about her childhood during communist times she has positive things to say and she's not a communist (I'm fairly convinced of this)! They played outside, they had fun, the neighbourhood kids came together and they created happy memories. Life was simple and healthy and in many ways what we and many of our friends wish for our kids today, but what is so hard to achieve in modern society. The simple lifestyle is reflective in their cuisine and often their eating habits. It would always make me laugh when Esmeralda and her sisters would get together in the early days of our relationship and in situations where you may expect someone to bring a pizza and a bottle of wine, perhaps some ice cream or a big bag of sharing crisps, they would bring a big bag of pomegranates, meticulously picking out the seeds one by one and would be in absolute heaven! On really special occasions they would throw in a few bags of sunflower seeds too and nibble away until there was a huge pile of discarded shells on the table…thank goodness for great brothers-in-law and pubs!
Fortunately the men of the family have a little more in common with my eating habits and one of my first significant memories of Albania was reflective of this and their hospitality. On arrival to the country and their family home, I was told by Esmeralda that she would stay at home and I would pop out with Martin to pick up dinner. "What is it" I asked?…"lamb" the response. I mean, it's fair to say I was expecting something a little more rustic than popping down to Waitrose and picking up a pretty, rolled and trussed leg with a nice little sprig of rosemary tied to it, but what I perhaps was not expecting was swinging the car into someone's yard and collecting a massive, whole lamb (including the head), in one piece, that had been slaughtered that morning (in the yard) and had been slow cooking over open coals all day. Even the offal was wrapped in intestines and stuffed inside with cornbread to soak up the juices…it was truly magnificent. Any anxiety I had was immediately swept away and I felt totally relaxed and completely at home! We hastily returned to the apartment and got this big dead weight wrapped in bin-liners up to the 9th floor, hoping that no neighbours saw us and got the wrong idea! The rest was a meat filled blissful blur, to be repeated on several trips. This was the Albanian way, introduced to me by my father-in-law Martin, and I loved it!
This week it makes me happy to share our Albanian feast, in Albania, eating at the same table at which I tucked into that delicious lamb with Martin and ate with him on many occasions, this time with my 3 young children by my side. Martin was a traditional man and we have cooked up some simple and humble dishes made using basic ingredients, that have been staples in Albanian households over the years. Tavë kosi is a national dish of lamb and rice baked with a mixture of yogurt and egg; Byrek, If there is ever a dish an Albanian will bring to a house party this baked, filled flaky pastry with various fillings is it; Qofte, an Albanian type of meat ball and 'Corbe me pule' a type of Albanian soup.
We hope you enjoy our Albanian Family Feast and if you ever have the chance to visit Albania, do go and check it out…you might be surprised!
A few of the ingredients for todays feast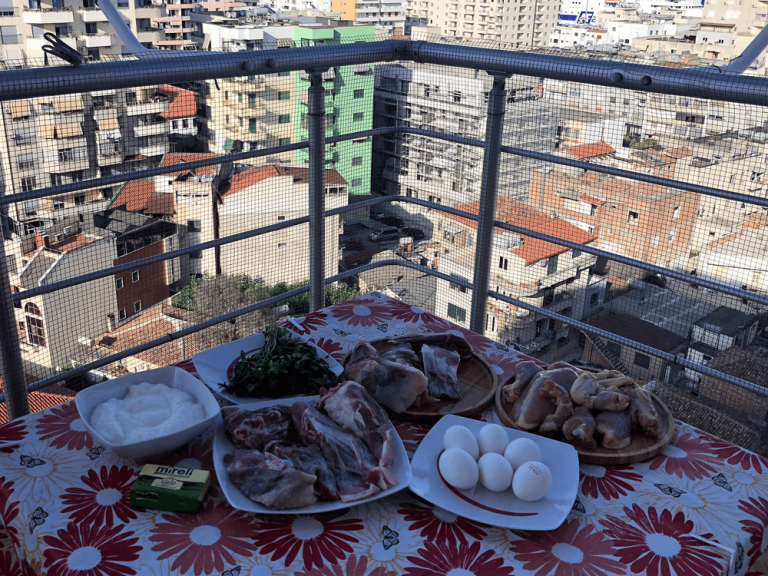 Teaching the grandkids the art of byrek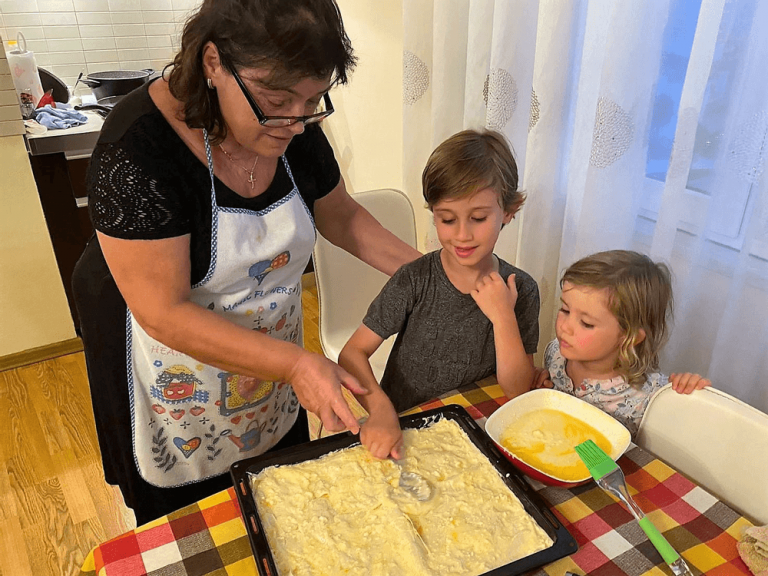 Teta (Auntie) Arta taking the Qofte lesson
Let's get these beauties frying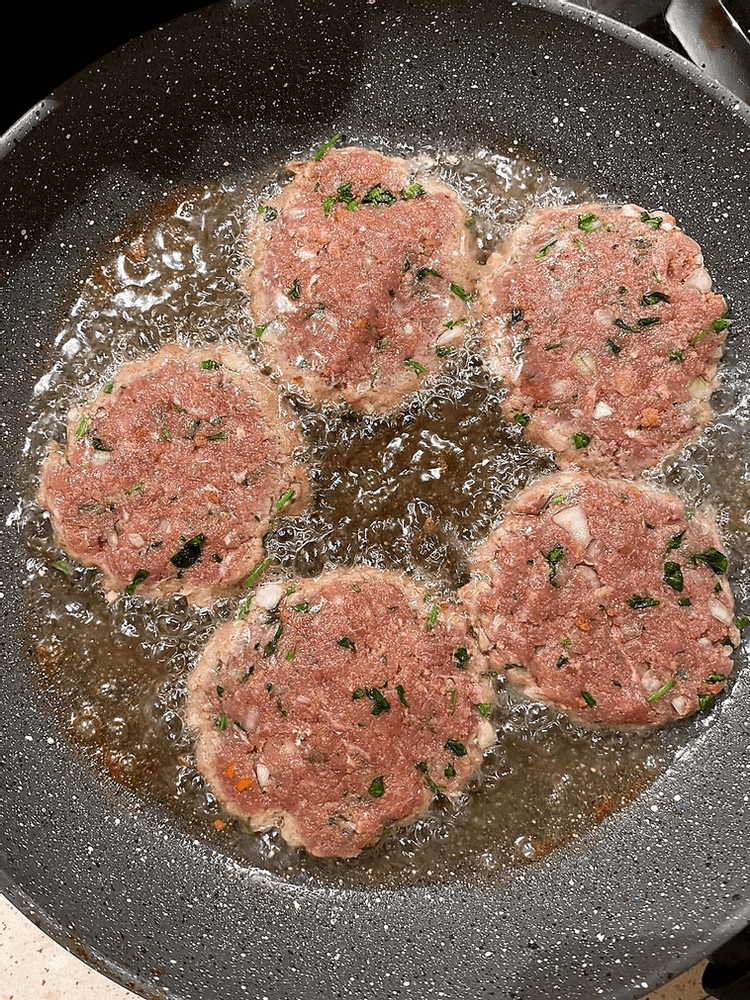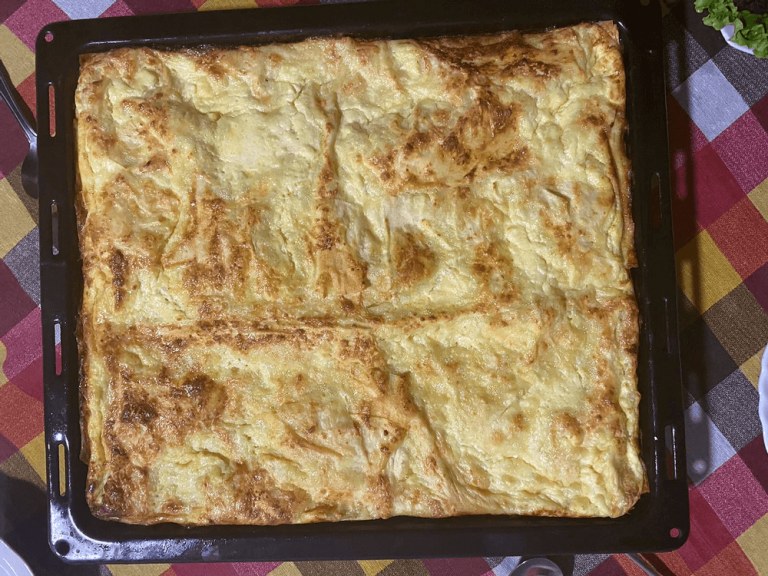 5 eggs
100g cooking butter (melted)
300g feta cheese (crumbled)
500g Greek yogurt
1 packet of ready rolled filo pastry (12 sheets)
2 tablespoons olive oil
Gently whisks the eggs in a bowl.
Add the cheese, the yogurt, the melted butter and mix well together.
Oil the base of the tray as well as the sides so the filo pastry does not stick.
Place two pastry sheets on top of each other on the tray. Spread some filling all along the top sheet.
Add another two pastry sheets and spread some of the filling again.
Repeat the process until you use all the sheets.
Bake in a preheated oven until golden brown, about 30 minutes.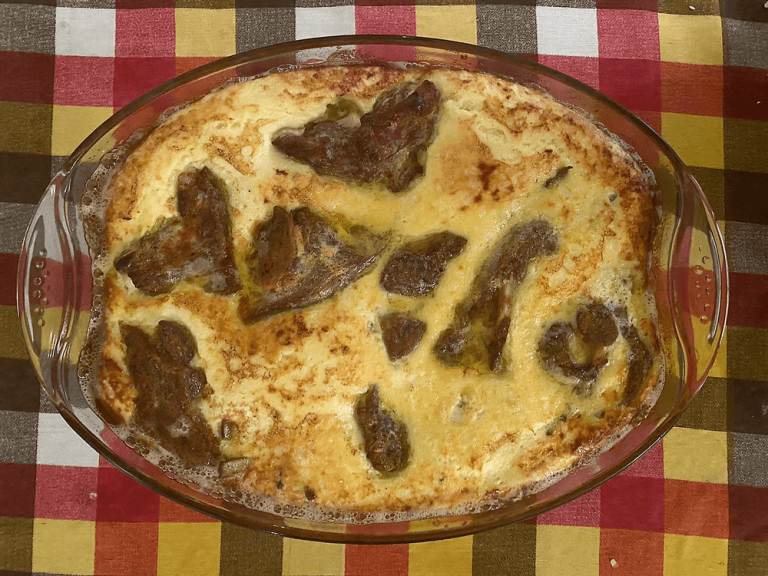 1 kg lamb chops (or 1 lamb shoulder thickly sliced)
100gr cooking butter
4 tbsp flour
500gr Greek yogurt
6 eggs
1/2 a cup of rice
5 medium garlic cloves
1 tsp of oregano
1 tsp of salt
Boil lamb chops for about 30 minutes adding a little bit of salt and the butter. Towards the end of these 30 minutes, turn the oven on at 180 degrees.
Boil the rice for 7 mins (half cooked) and place it in the baking tray.
Add the lamb chops and 2 cups of lamb broth to the tray. Rice will absorb all the lamb broth. Add oregano to lamb chops as desired.
Whisk the eggs in a large bowl. Add the flour and mix them together. Add the yogurt and mix everything together again.
Crush the garlic and add it to the eggs-yogurt mixture, continue whisking to ensure the garlic is distributed equally.
Once the mixture is ready, add it on the baking tray on top of the lamb chops.
Bake at 180 degrees for about 45 minutes.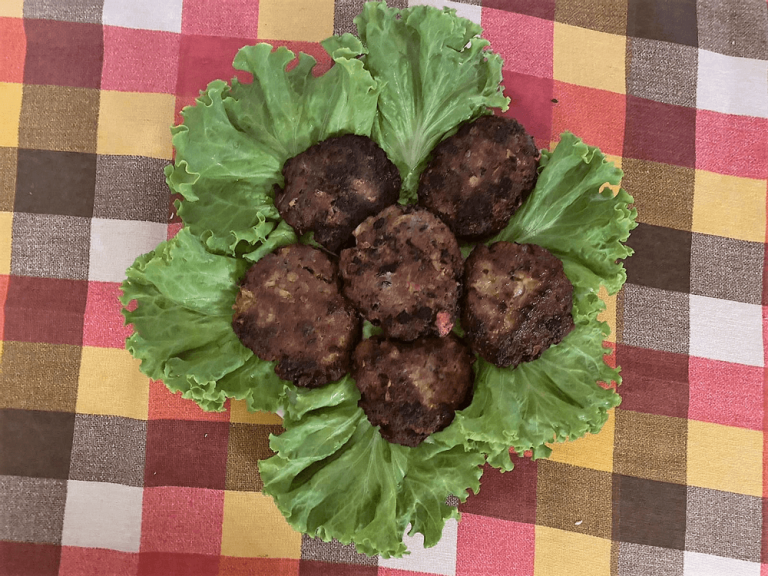 1 kg ground beef
2 medium onions chopped as finely as possible
5 garlic cloves crushed
2 eggs
2-3 stale bread slices
2 bunches of parsley chopped very finely
½ tsp. black pepper
1 tsp. Salt|
Oil for shallow frying
Soak the bread in water for a few seconds, squeeze as much water as possible and put it in a large bowl.
Add all the rest of the ingredients in the same bowl. Mix well using your hands to evenly blend all the ingredients.
Cover the bowl with cling film and refrigerate the mixture for 15-20 mins.
Once this is done, take some mixture into your hand and shape it into a small ball. Flatten it out to make it into a burger shape. (Qoftes can be made into a sausage shape also).
Heat oil in a pan and fry the qoftes for around 5 minutes each side over a medium heat until they are brown on all sides.
Remove from the pan and drain on paper towels.
Çorb Pule (Albanian chicken soup)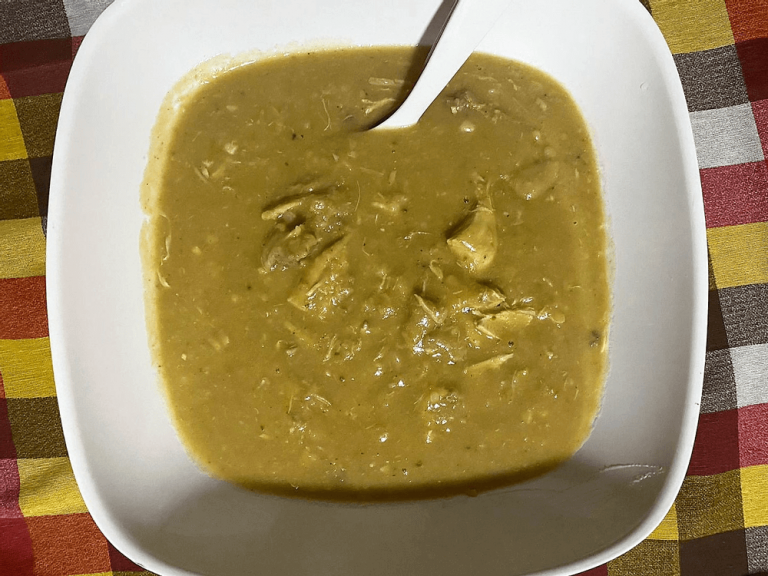 300 gr corn flour
4 tbsp of butter
1 whole chicken cut into pieces
1 bulb of garlic
1 tsp salt
In a large pan, add all the pieces of chicken and cover them with water. Bring the pan to boil and let it boil for around 30mins.
In another pan over medium heat, add the butter and the flour and keep stirring it until it reaches a reddish-brown colour.
Once the chicken has boiled for around 30 mins, add the chicken broth over the oil-flour mixture and keep mixing it until the mixture becomes all smooth like a soup.
Let it boil for about 10 mins and then add the pieces of chicken.
Let it boil for another 2-3 minutes and the soup will be ready.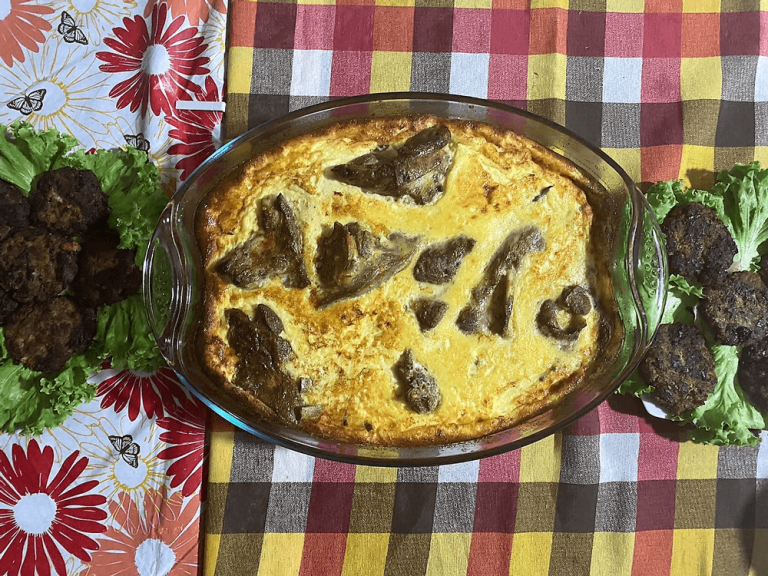 Our Albanian Family Feast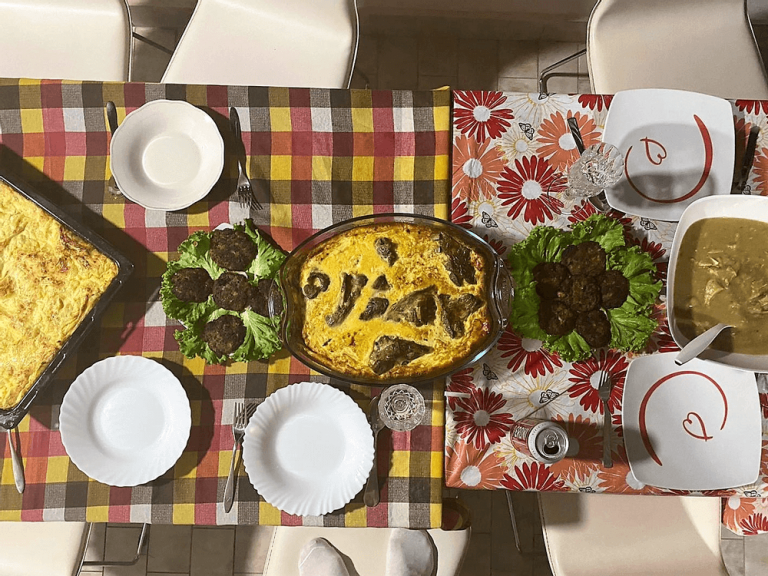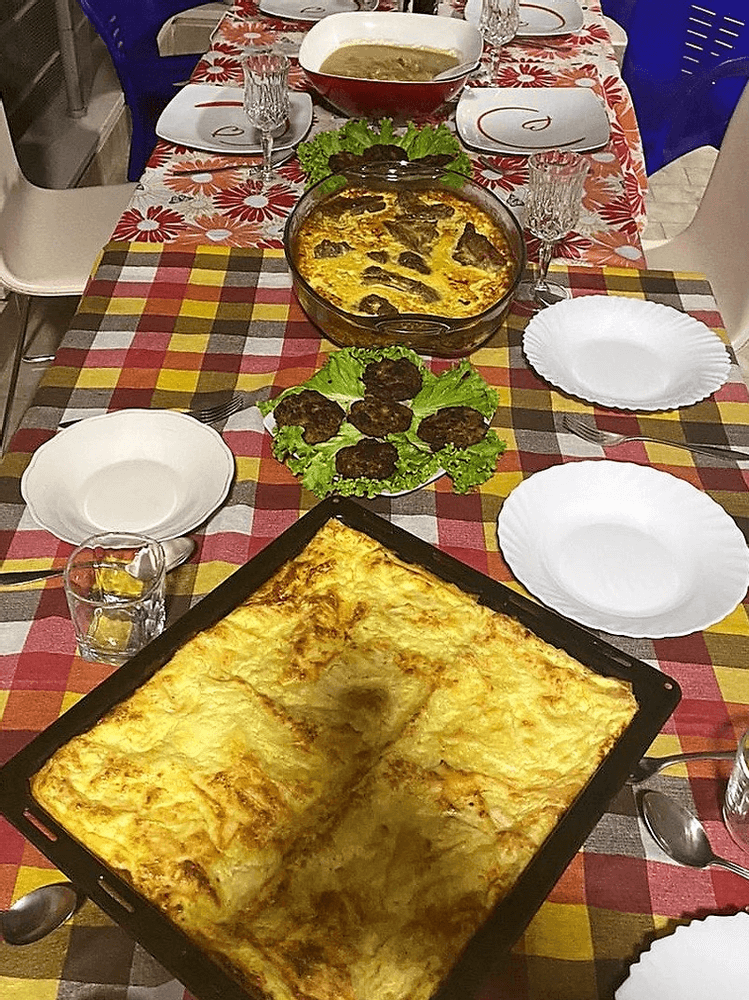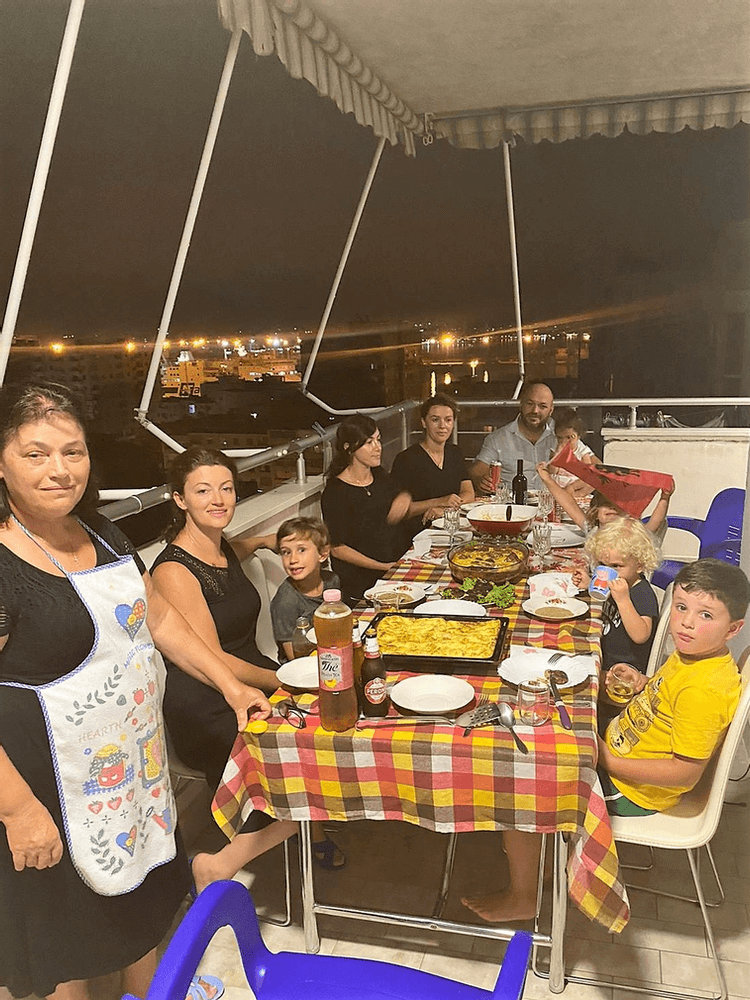 Lets start with the Byrek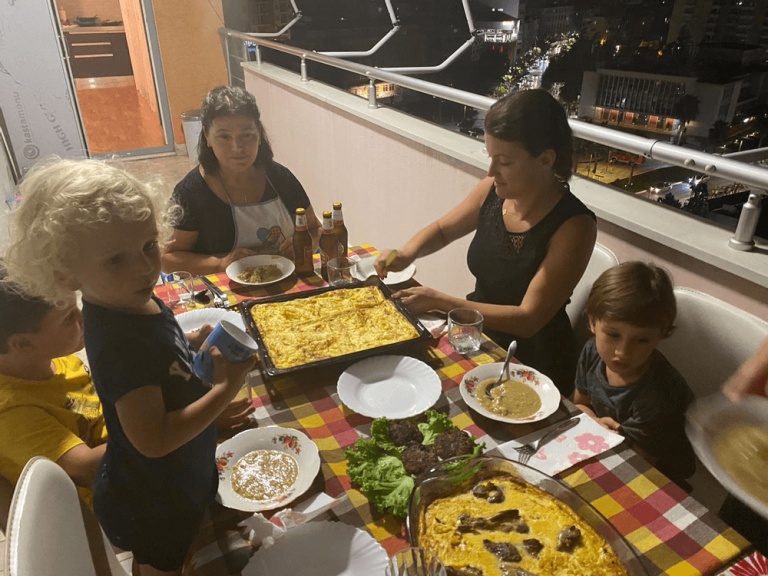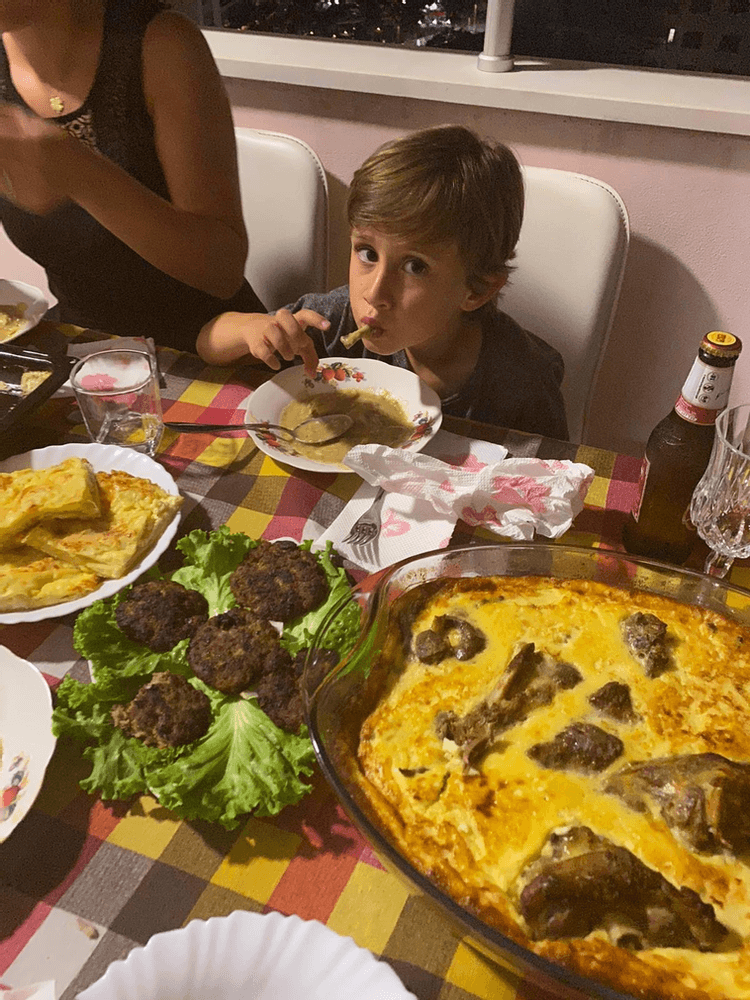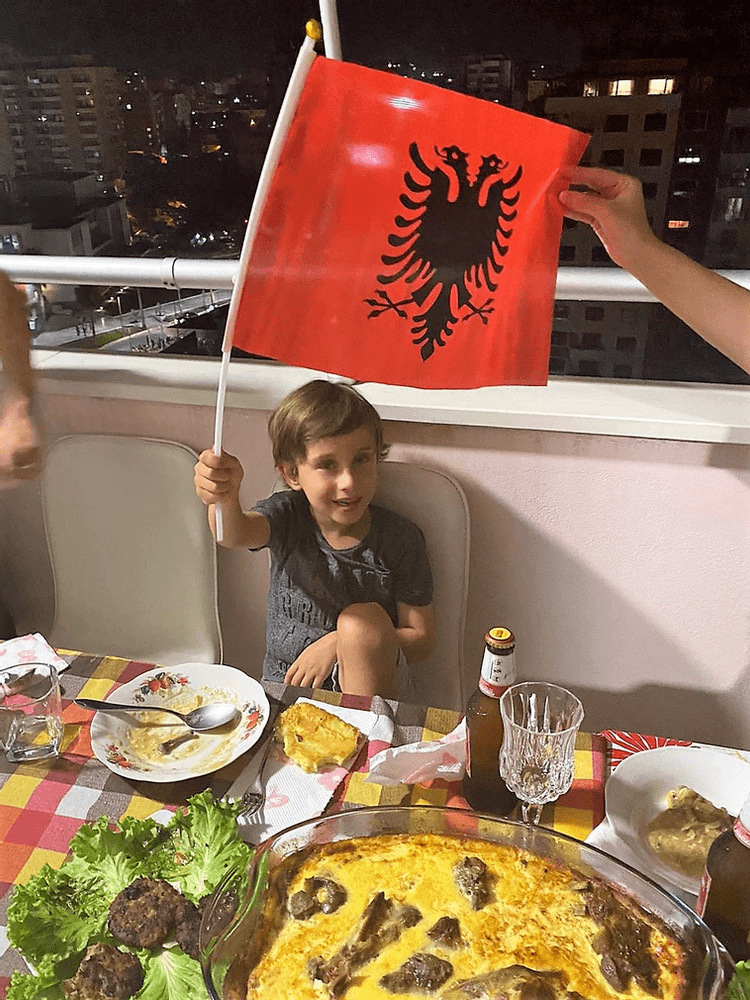 Thanks Albania - that was epic!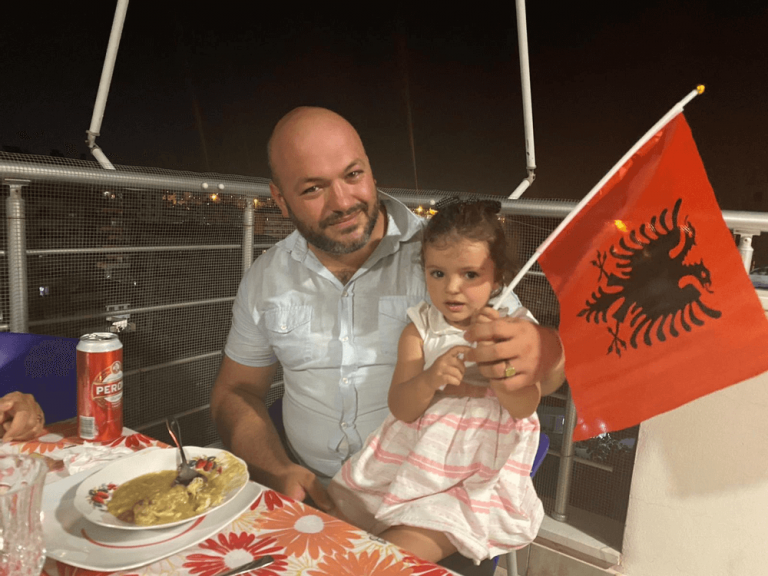 And of course - a raki to finish off. Cheers!