Fun Family Cooking the Belgian Way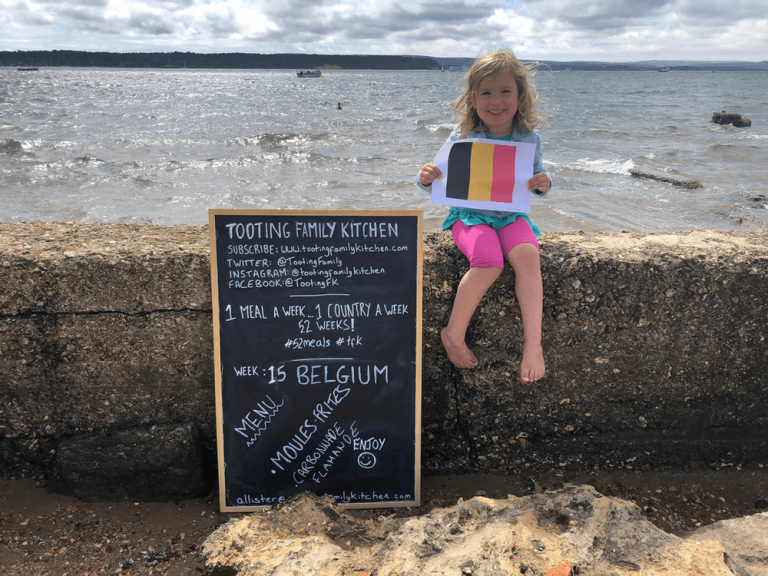 Thank you for joining Tooting Family Kitchen for Week 15 of our 52 Meals Challenge. If you are hitting our blog for the first time, welcome! We are on a culinary journey, exploring different cuisines from around the world to get kids cooking and learn about different International Cuisines and Cultures – celebrating Diversity through Food.
We have set ourselves a challenge to cook 52 Meals from 52 Countries in 52 Weeks, sharing our family cooked recipes and experiences as we go. If you like our content please do share and subscribe (at bottom of the page) to ensure you don't miss out on future family cooking destinations – we promise we won't spam you, just a weekly reminder when we publish our latest International recipes 😊 Next week is a special one for us as we visit family in Albania from where we will be cooking a BIG Albanian Family Feast! 
This week we have left our little Tooting Family Kitchen and are getting the kids cooking from the parents/grandparents house in the wonderful Poole Quay, from where we will be cooking our Belgian Feast (and eating a tonne of fish and chips)! Although I have been to Belgium on numerous occasions it has usually been commuting back and forth to Germany when I was stationed there for a few years. I got to know the Antwerp ring road very well and its fair to say that although we spent a LOT of time in each other's company it was a relationship that was never going to blossom. It was also the scene of a rather strange joint training exercise with the Belgium Armed Forces where we were made to lie down in a shallow pit with what was effectively a large cushion on our back, whilst a tank drove over us, so that we would feel the pressure but not get injured….next up we crouched in a man hole facing the tank ducking at the last minute as the tracks went over us! All very odd and not quite sure what it was training us for – I remember hoping at the time, as a young new soldier, that ducking tanks was not a common eventuality!
Fortunately though, for all the hours spent in mind numbing traffic and all those times being run over by tanks, I have also had the absolute pleasure of spending a weekend in Bruges, the capital of West Flanders in northwest Belgium. Bruges is a stunning little city distinguished by meandering canals, cobbled streets and beautiful medieval buildings. It's often the case that cities don't live up to what's on the front of a post card but Bruges really does and it presented the perfect backdrop to experience their cuisine – and forget about the tanks!
It is sometimes said that Belgian food is served in the quantity of German cuisine but with the quality of French food. I think this could be a fair comment depending on how one interprets it. I love German food, especially in the winter! It is comfort food at its best and goes so much further than the 'bratwurst'! Huge knuckles of pork, hearty soups, piles of braised vegetables and potatoes washed down with the best German beers is always going to keep the cold out – add the refinement and culinary attributes of good French cooking and it's a winning combination!
There is one thing in particular that is widely thought to originate from Belgium that deserves applause above all else. It is something that has brought happiness to people of all ages, all races, all cultures, all nationalities. It has put a smile on the face of screaming kids, it has cheered up the most miserable souls and people have built their businesses around this wonderful creation…the chip! At this point any French followers of this blog are likely to stop reading now and I appreciate this is an ongoing dispute, they are called 'French Fries' in many places after all…however…the earliest evidence points to them being eaten in Belgium in 1680 and it is argued that American soldiers during the First World War called them "french fries" because the Belgian soldiers who introduced them to the dish spoke French, so for me…Belgium, I salute you!
In addition to the chip (although I think I could stop this blog right here and Belgium would have enough appreciation for this magnificent creation on its own) this tiny country (one of the 100 smallest in the world) has a huge beer tradition and has more distinct types of beer per capita than anywhere else in the world. So important is beer to the countries culture that it is protected by the UN having been declared a World Cultural Heritage by UNESCO…I mean seriously?! A country that is responsible for creating chips and has beer as a World Cultural Heritage deserves to be taken very very seriously. As well as being drunk, beer has an influence on many Belgium dishes and in particular what is often considered a national dish, Carbonnade Flamande, a Belgian beef and onion stew made with beer. But perhaps the most famous dish that is recognised as originating from Belgium and is also considered their national dish is of course Moules-frites! Voted the 2nd favourite dish in France (after Magret de Canard) this is a seriously popular global dish and once again I raise a glass to Belgium…who consume 25 – 30 tonnes of these wonderful molluscs every year. Ironically I usually steam mussels in beer when I cook them but most recipes for Moules-frites use white wine which I have used today.
Is it any wonder that Belgium is home to the headquarters of NATO and the European Union? It's like someone has said "right, where shall we locate our HQ's" … "well, we are going to have a LOT of very boring meetings…who does the best chips and beer?"… "Belgium it is!".
We hope you are enjoy our Belgian Family Feast of Moules-frites and Carbonnade Flamande!
Checking out the ingredients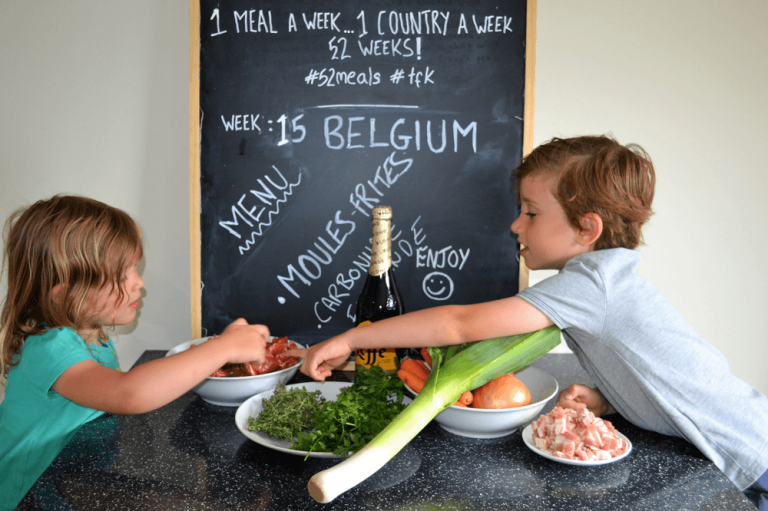 Getting the beef marinating...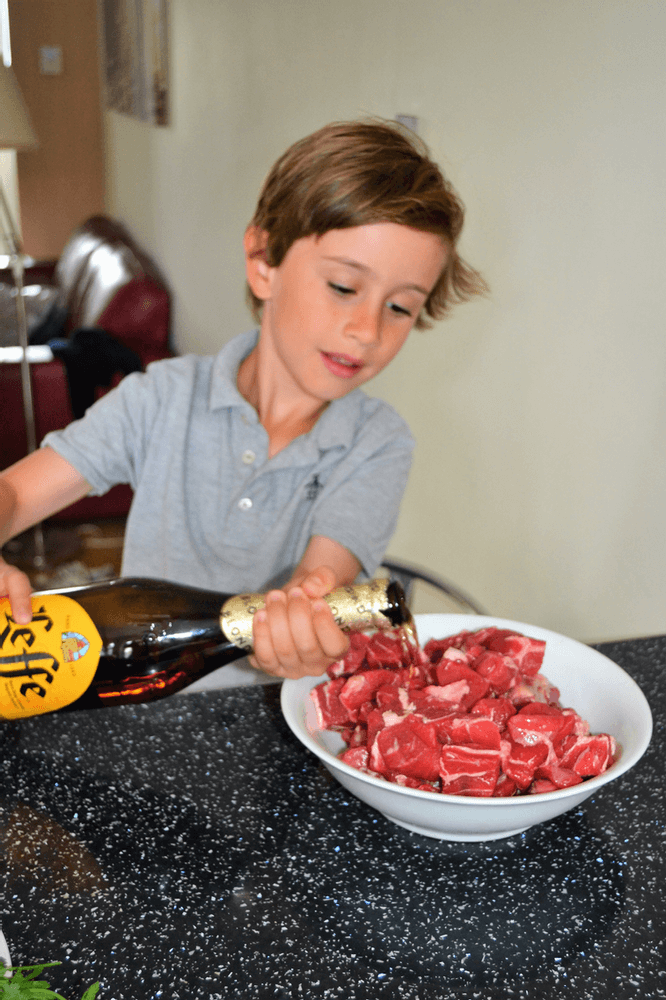 Cleaning and checking the mussels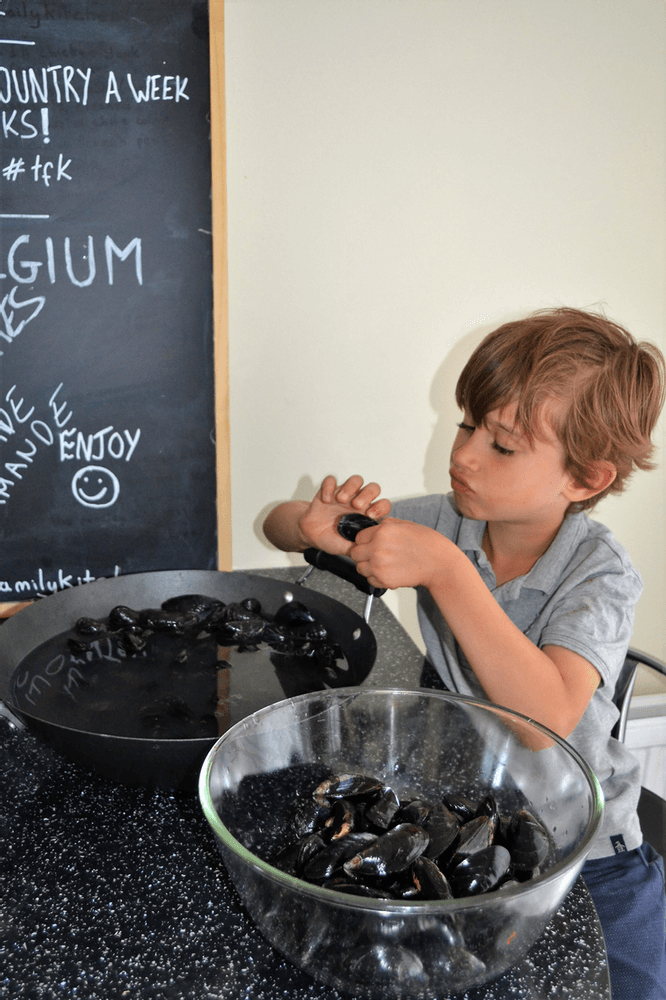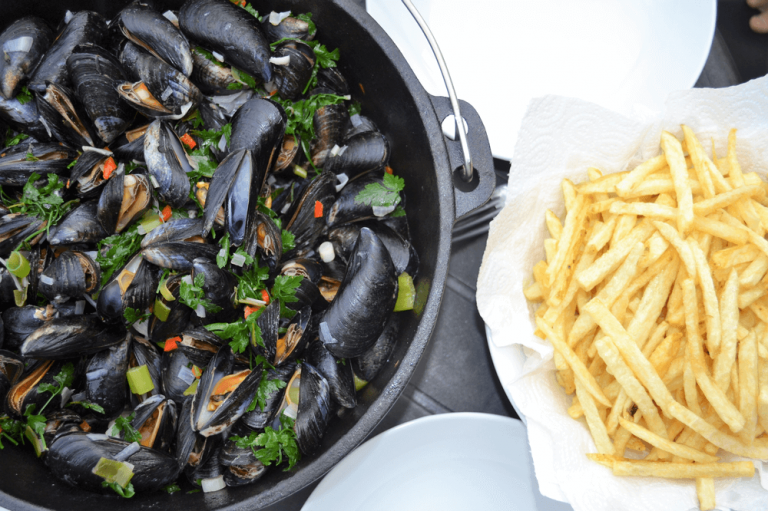 2kg mussels, cleaned
Extra-virgin olive oil
4 shallots, finely chopped
5 cloves of garlic, thinly sliced
4 spring onions, chopped
2 red chillies, de-seeded and chopped
Salt and pepper
1 glass of dry white wine
I bunch of parsley, chopped
4 heaped tbsp crème fraiche
4 large Maris Piper potatoes
1 litre of Sunflower oil
Heat 4 tbsp. of olive oil in a heavy bottom pan with lid. Gently fly the shallots for a couple of minutes and then add spring onions, chillies and garlic and fry for a further 2 or 3 minutes – add the mussels and toss in the mixture and place the lid and allow to cook for a couple of mins until the shells start to open.
Throw in the wine and seasoning and give a quick stir before replacing lid and allowing to cook for 2 or 3 further mins until the shells are fully open
Drain the mussels through a colander retaining the liquid to which stir in the crème fraiche and simmer for a couple of mins. Pour of over the mussels along with the chopped parsley
For the frites chop the potatoes into sticks approximately 5mm thick. Soak for 30 mins to get rid of some of the starch and then dry before frying in hot sunflower oil for approx. 15 mins or until they are going golden brown. Toss in sea salt and serve.
Carbonnade Flamande (Beef and beer stew)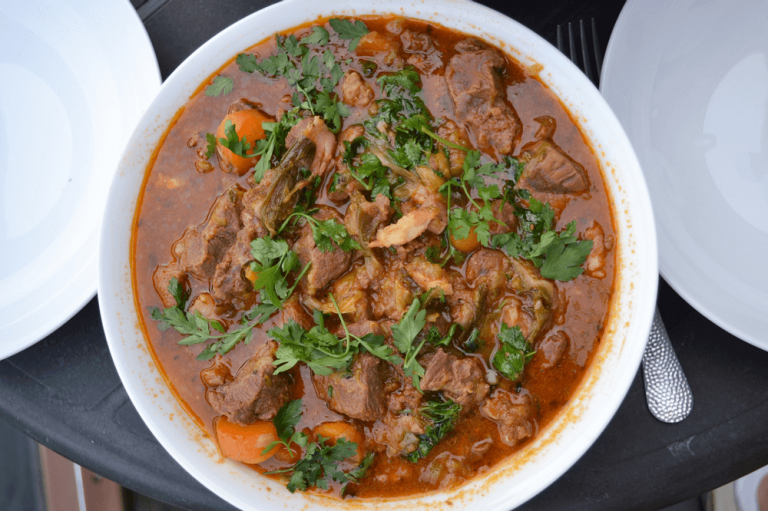 1kg of stewing beef (we used shin)
500ml of dark Belgium ale
250g of pancetta or diced smoked bacon
2 onions, finely chopped
3 cloves of garlic, minced
3 medium carrots chopped
1 large leak, chopped
2 tablespoons olive oil
2 tablespoons flour
2 cups of beef stock
2 bay leaves
4 springs of fresh thyme
1 Cup chopped parsley plus more to garnish
Salt and pepper to taste
Cut the stewing beef into 1 inch pieces if not already chopped and marinade in the ale, garlic and bay leaves (ideally overnight). Remove from the liquid (retaining the liquid) and in a heavy bottom pan with lid fry on all sides until brown (may need to do this in batches).
Put the beef to one side and fry the chopped bacon until starting to brown, remove and keep to one side with the beef.
Add a little more oil to the pan if necessary and fry the onions, carrots and leaks and starting to soften before adding the beef and bacon and flour and cooking off the flour a little. At this stage add the remaining marinating liquid and beef stock along with the thyme and some salt and pepper and bring to the boil (feel free to also add a splash more Belgium ale) before gently simmering for at least 2 hours. Add more stock/ale/water if starting to dry out too much
Check for seasoning and serve garnished with the parsley.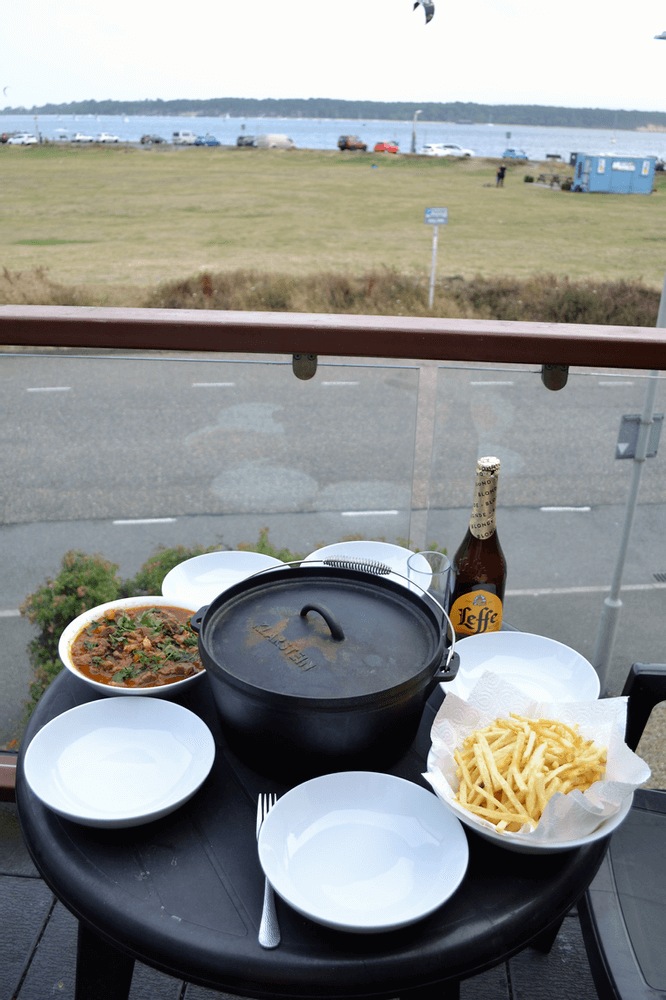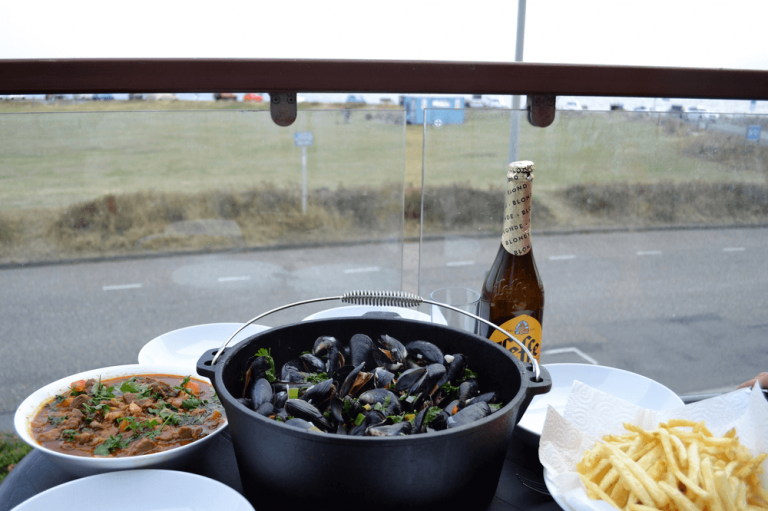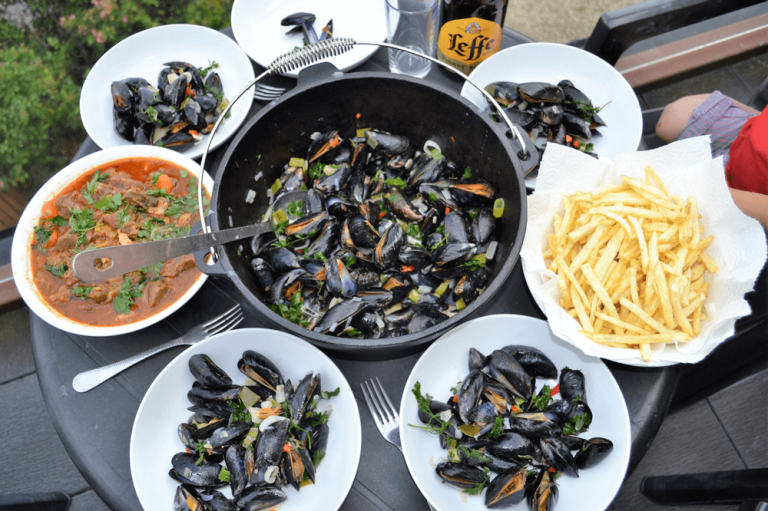 Joe's favourite have to be mussels!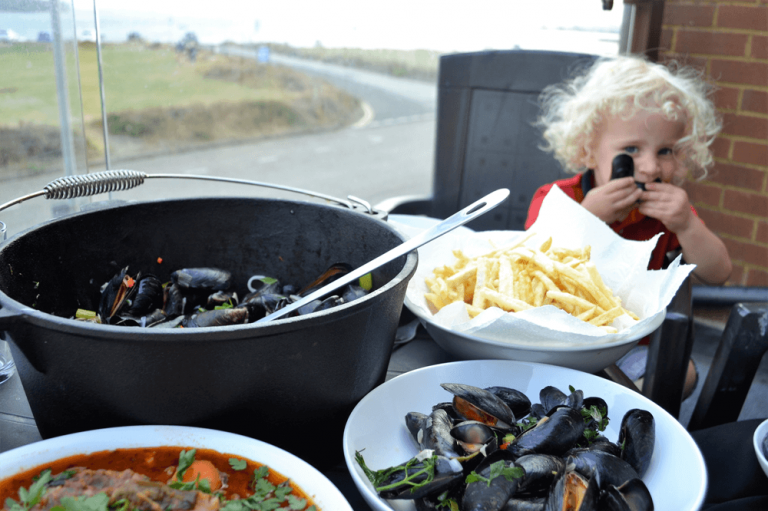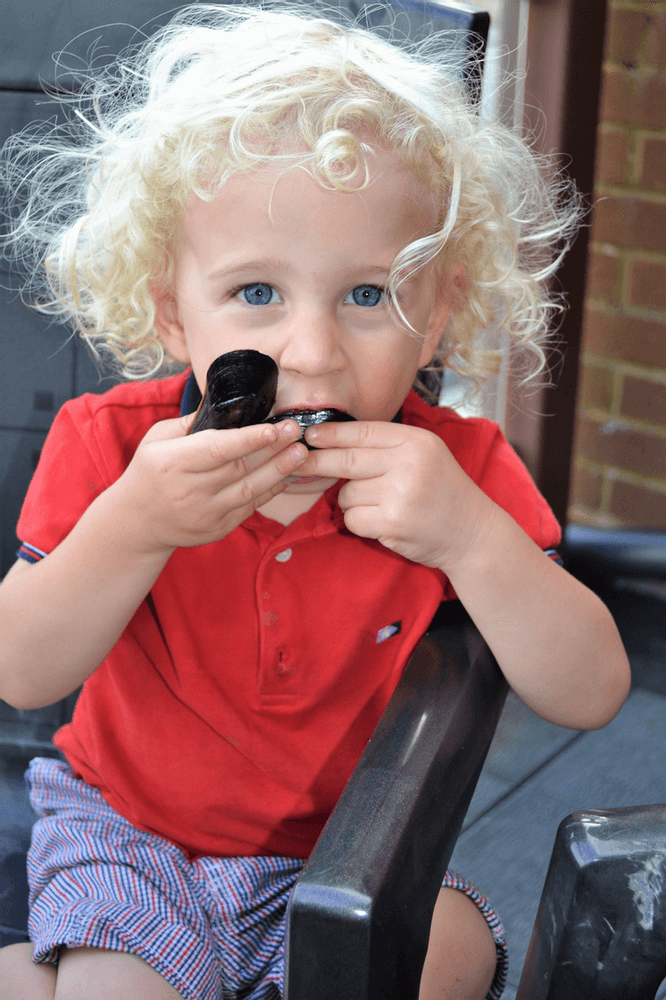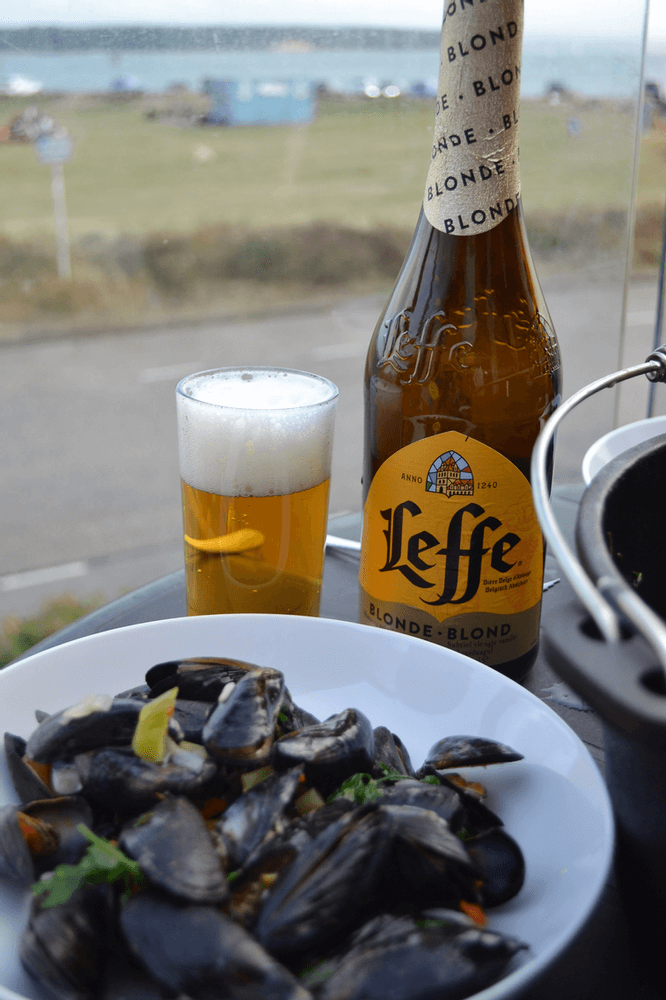 Time to get stuck into the stew!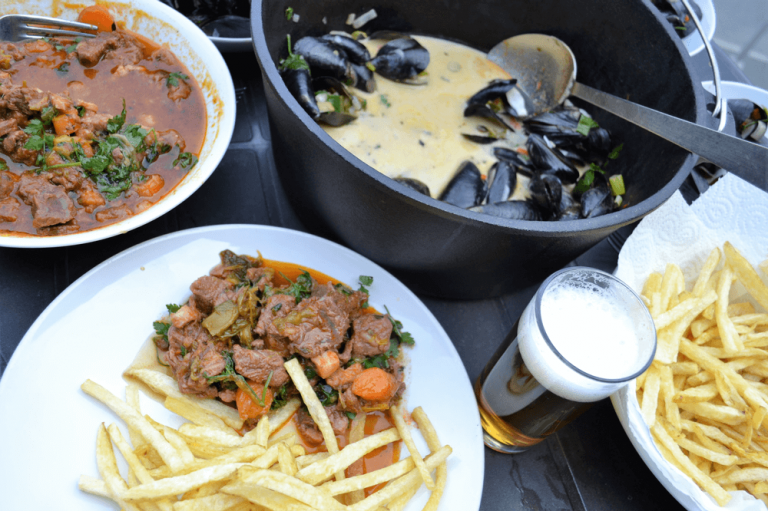 Thanks Belgium - that was great!