Fun Family Cooking the Iranian Way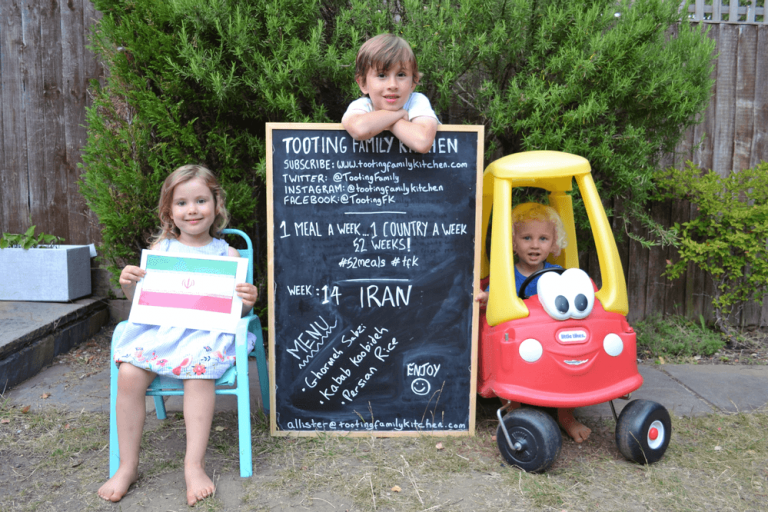 Thank you for joining Tooting Family Kitchen for Week 14 of our 52 Meals Challenge. If you are hitting our blog for the first time, welcome! We are on a culinary journey, exploring recipes from around the world to get kids cooking and learn about different International Cuisines and Cultures – celebrating Diversity through Food.
We have set ourselves a challenge to cook 52 Meals from 52 Countries in 52 Weeks, sharing our family cooked recipes and experiences as we go. If you like our content please do share and subscribe (at bottom of the page) to ensure you don't miss out on future family cooking destinations – we promise we won't spam you, just a weekly reminder when we publish our latest International recipes 😊 Next week we are returning to Europe for the first time since we cooked our Portuguese Family Feast to visit Belgium and continue on our quest to get our kids eating adventurous food.
I am a big fan of Middle Eastern food in general and a regular eater of Lebanese , Iraqi and Kurdish food as well as Oman (after our amazing Lamb Shuwa) however I have been less acquainted with Iranian food so have been extremely excited about this weeks visit. I knew Iranians are big fans of a kebab and so of course I immediately have a natural affinity with them, however I was very inquisitive to investigate what else this intriguing country has to offer.
I have not been to Iran although, during Operational Tours with the British Army I spent a considerable amount of time in neighbouring Iraq, some of which was spent at various points along the border and at a border crossing point with Iran. It was interesting times sleeping out in the open in what some respects, is a bit of a giant minefield littered with shells and mines (many of them unexploded) from the 8 year Iran-Iraq war of the 80s. There was no sophisticated way to deal with these and when digging our shell scrapes (holes in the sand) in which to sleep at night, if we discovered a cluster we would either dig a new hole or hit the deck in someone else's shell scrape whilst another soldier (preferably a sniper) would take a pot shot at it to set it off from some high ground.
Food was generally 'boil in the bags', processed beans and sausages or similar, which are heated up over a camping stove in a tin of water, so many an evening were spent gazing across the border into Iran, wondering what culinary delights were being tucked into! It was also the scene of one of the most ironic and surreal experiences of my life when one day (shortly after my 'boil in the bag') amid the hustle and bustle of Iraqi's and Iranian's crossing back n forth over the border, I saw something I really was not expecting…an Asda 'Asda Price' delivery lorry, and just as I was picking my jaw up off the floor along popped Tesco's! I don't know where they were heading in Iraq but I am pretty sure there were no Tesco's or Asda's!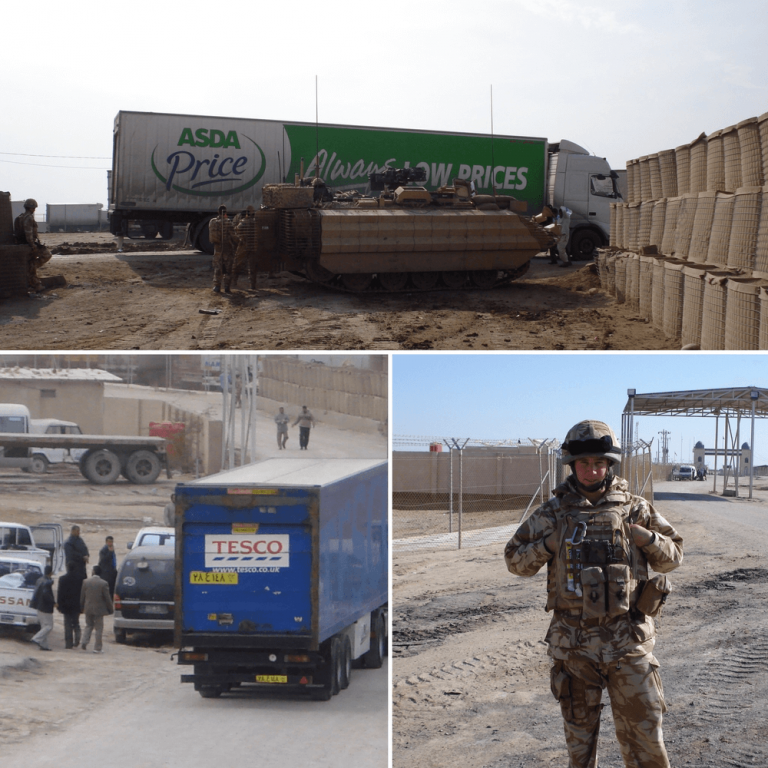 Iranian food is incredibly diverse and reflective of its varied terrain of desert, coastlines and fertile lands. The influences on its dishes are vast coming from Turkey, Central Asia as well as its own Azerbaijani and Turkish population and many others. There are however the staples of bread, rice, kebabs and stews which are taken VERY seriously! It's not unusual in Tehran to have a kebab menu 2 or 3 pages long and this alone has made me want to get on the next flight! Rice too – we will get to the recipe later but creating a Tah-Dig on the rice (essentially scorching the bottom to create crispy bits) frustrated me a little at first due to it's complexity (I thought I had my hands full enough at the time), but even though our version is amateurish to an Iranian Chef I'm sure, it was damn tasty and rice without a Tah-Dig just wont be the same in future!
I was most excited about the stew though. I read about Ghormeh Sabzi in several places and its often referred to as the national dish. The first thing that struck me was it's colour – a beautiful deep green and when looking at recipes I realised that I have never even got close to utilising the amount of herbs required for this in just one dish. There is also a Ghormeh Sabzi day I read! With the last Saturday of each November being dedicated to it…although this is an unofficial holiday and declared by Iranian expats to familiarize people with Iranian cuisine…good enough for Tooting Family Kitchen!
Whilst it is not the last Saturday of November we will get in there early and wish you all a Happy Ghormeh Sabzi Day! We hope you enjoy our Iranian Food as much as we did and we can't wait to start making our way down a BIG list of kebabs and stews and perfecting that Tah-Dig!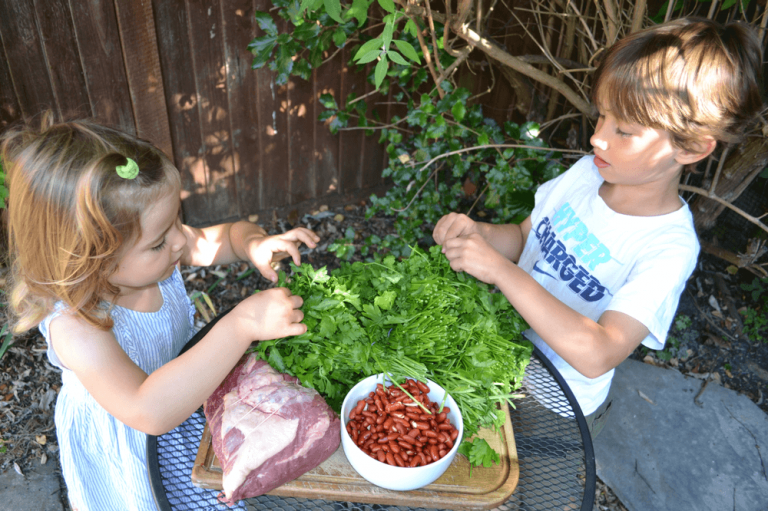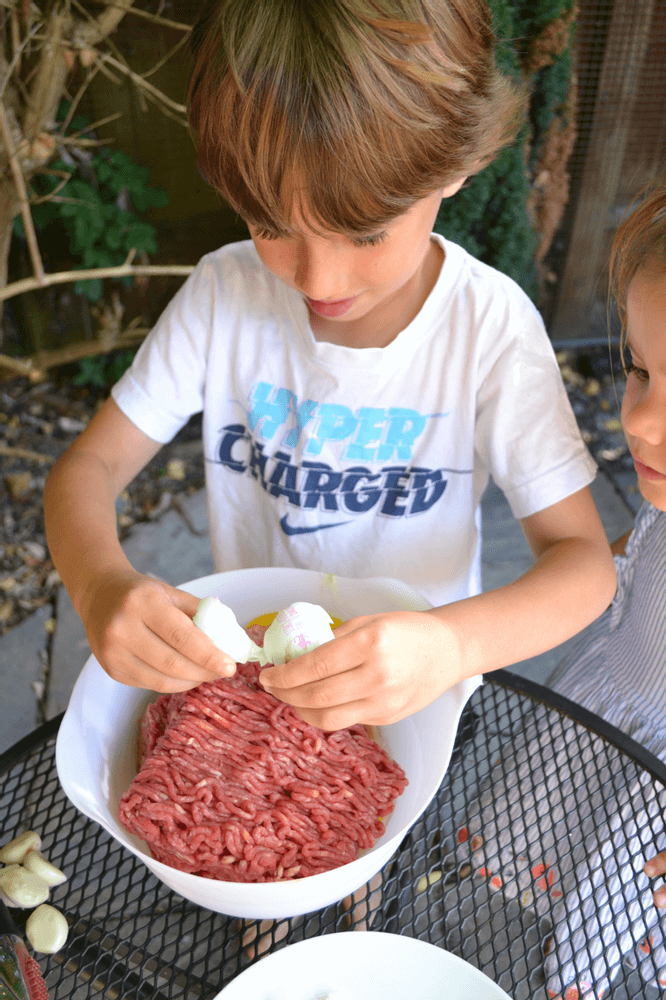 Love getting their hands dirty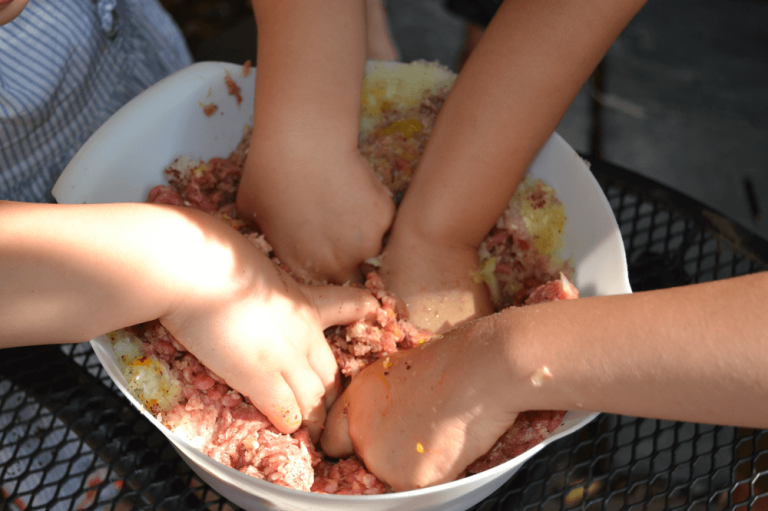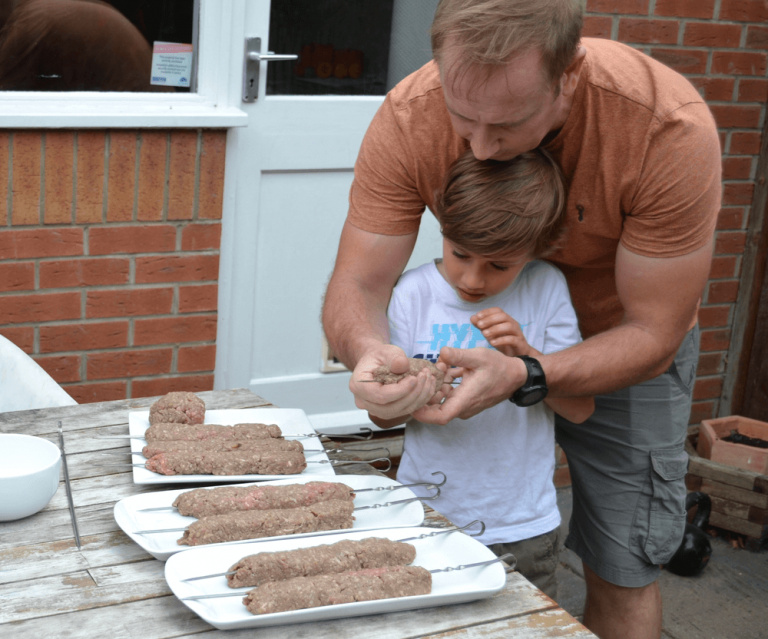 This Ghormeh Sabzi is looking and smelling great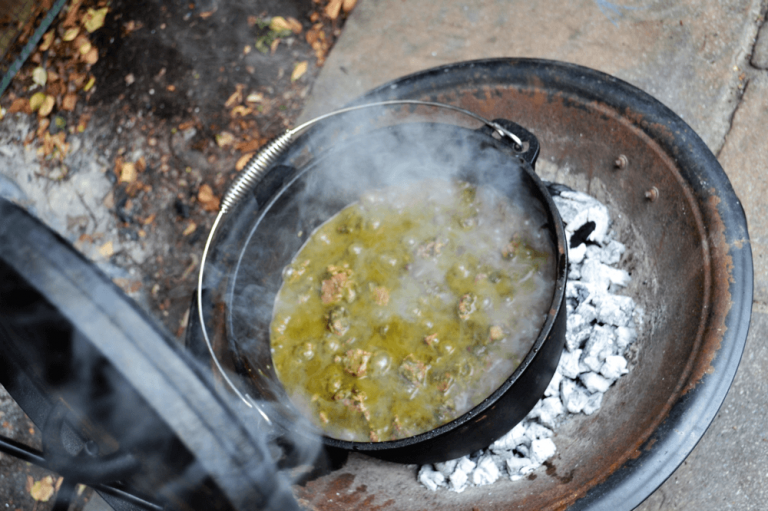 Getting the kebabs grilling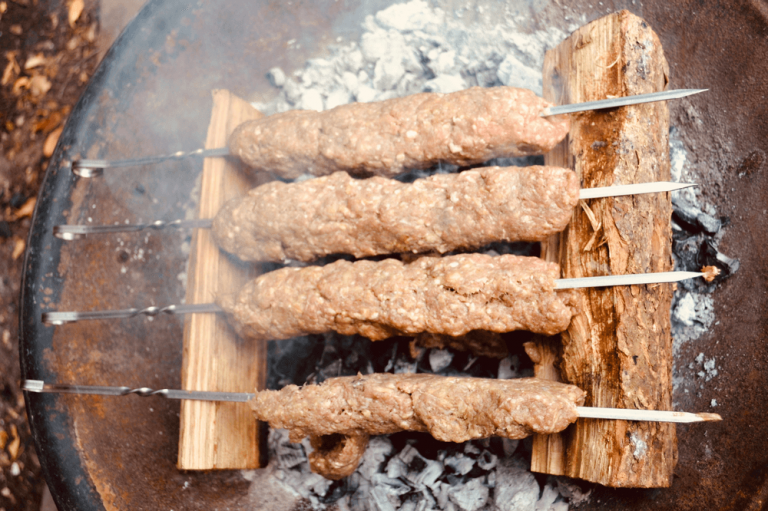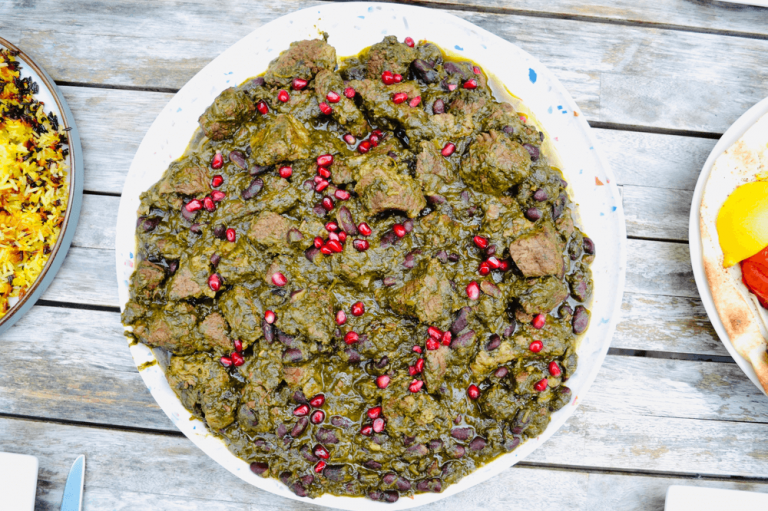 1 – 1.5kg of beef brisket (or similar stewing beef)
2 onions, finely chopped
1 cup red kidney beans (soak these overnight)
3 bunches parsley
3 bunches coriander
1 bunch of chives
4 scallions
1 tbsp fenugreek powder
Juice of half a lemon
1 tsp turmeric
Vegetable oil
Salt and pepper
Pomegranate seeds (for garnish)
Remove the ends of the storks from the herbs and roughly chop before gently frying in a heavy bottom pan with lid in 2tbsp of vegetable oil for around 10 minutes ensuring it does not burn,
Set aside then in the same pan fry the onions adding a little more oil if necessary for a further 10 mins or until starting to go golden brown. Remove and set aside with the herbs.
Season the meat with salt and in the same pan fry until sides are starting to brown (may need to do this in batches). When done add the herbs, onions and turmeric along with red kidney beans and lemon juice. Cover with water and bring to the boil and then cover and simmer for at least 2 hours (checking to ensure it does not dry out)
Check for seasoning and garnish with pomegranate seeds (optional) and serve with the Persian style rice.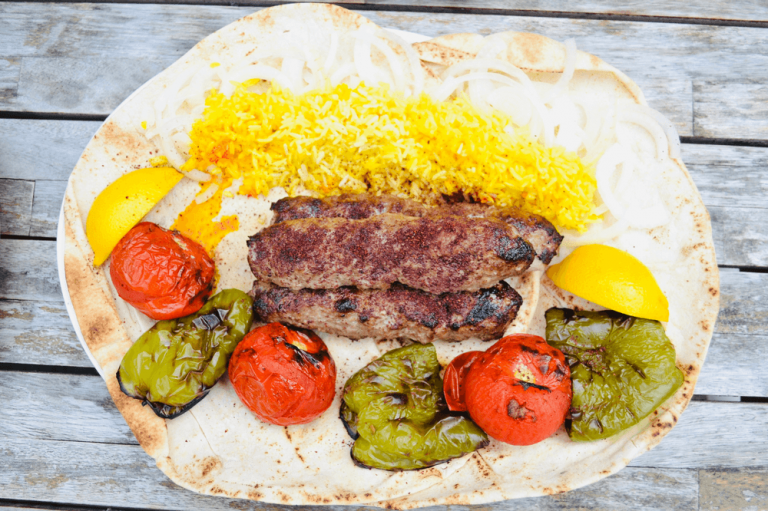 600g minced beef
600g minced lamb
1 large white onion, chopped
5 garlic cloves, minced
2 eggs
1 tsp salt
1 tbsp sumac
1 tsp turmeric
2 tsp ground blackpepper
4 ripe tomatoes
2 green peppers
Olive oil
Place the chopped onion in a food processor and blitz until quite smooth. Place contents in a sieve and push out excess moisture with a fork and keep remaining onion paste in large boil.
Add the beef, lam, garlic, eggs, spices and salt and combine kneading together until smooth. Refrigerate the mixture for a couple of hours.
Separate the mixture in tennis ball sized portions and from the end of a skewer (ideally thick metal ones to prevent meat falling off) thread the meat onto each one working from the top of the skewer to the bottom.
Grill over hot coals so that the skewers are suspended over the heat and the meat is not touching a grill (it will come off easily) and continuing rotating until cooked – approx 5 mins.
The tomatoes and green peppers will take approx 20 mins to grill so give them a brush with the olive oil and sprinkle of sea salt and get grilling before.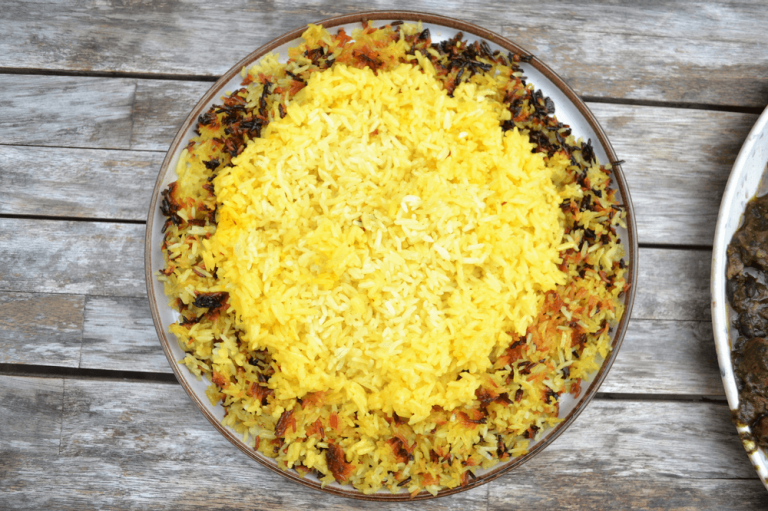 4 cups basmati rice, soaked and rinsed
10 cups of water
1 cup canola oil
2 tablespoons salt
1/2 tsp turmeric
Saffron (optional)
 Fill a heavy bottom pan with lid with the 5 tbsp of the oil, water and salt and bring to the boil. Add the rice and simmer for 4 mins giving a stir at the beginning.
Drain the rice and in the same pan heat heat remainder of the oil with 2 tbsp of water and the turmeric. When hot add the rice and form into a pyramid and place the lid on until the rice starts to steam (approx 5 mins). At this point place a tea towel over the pan and replace the lid tightly turning the heat very low and allow to simmer for approx 45 mins.
Soak a tsp of crushed saffron in a cup of warm water and mix with a few tbsps. of the rice – it should go a bright yellow colour.
Scoop the rice from the pot trying not to touch the Tadig at the bottom and serve on a platter in a pyramid shape. Being amateurs we then broke up the Tadig and served around the base of the dish (a more traditional/expert way would be to serve whole)!
At this stage you can serve of garnish/make patterns in the rice with the saffron infused rice.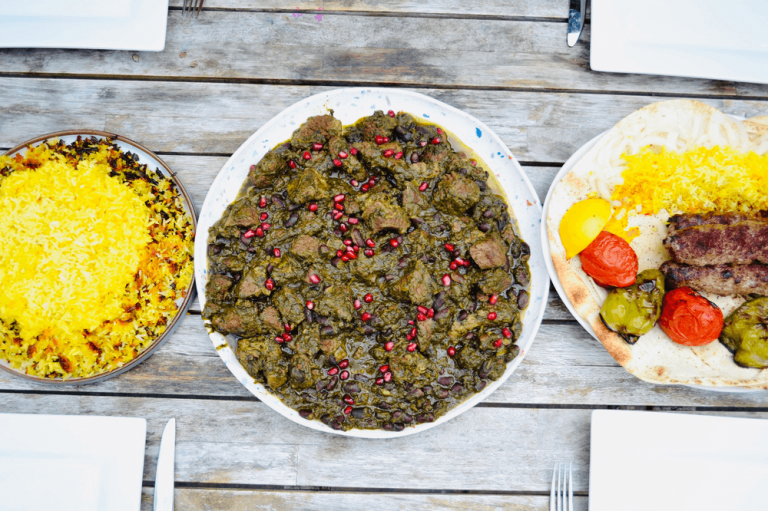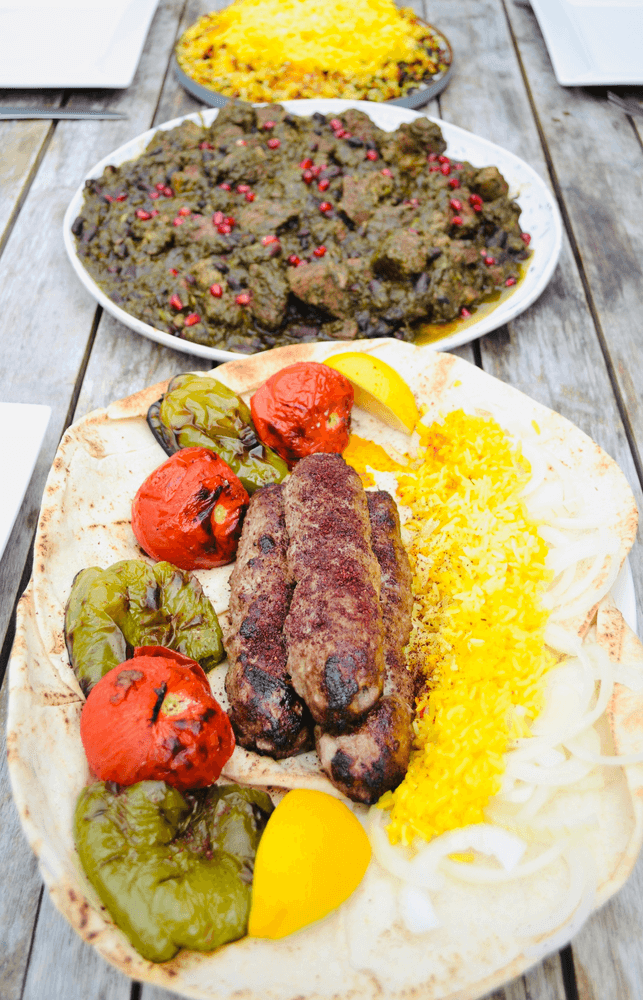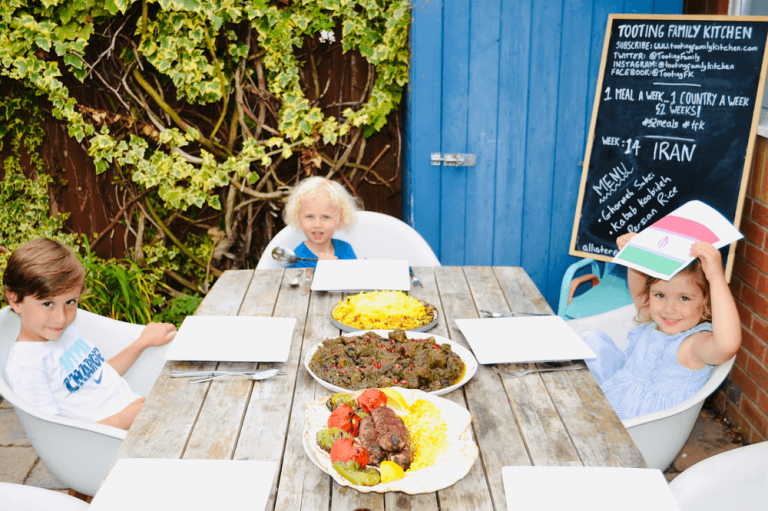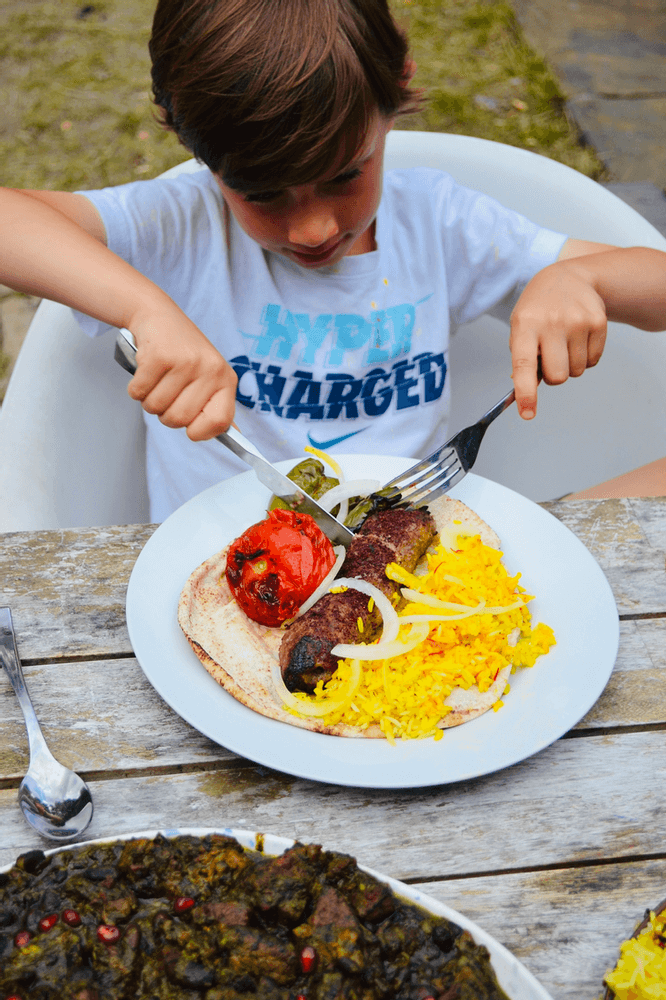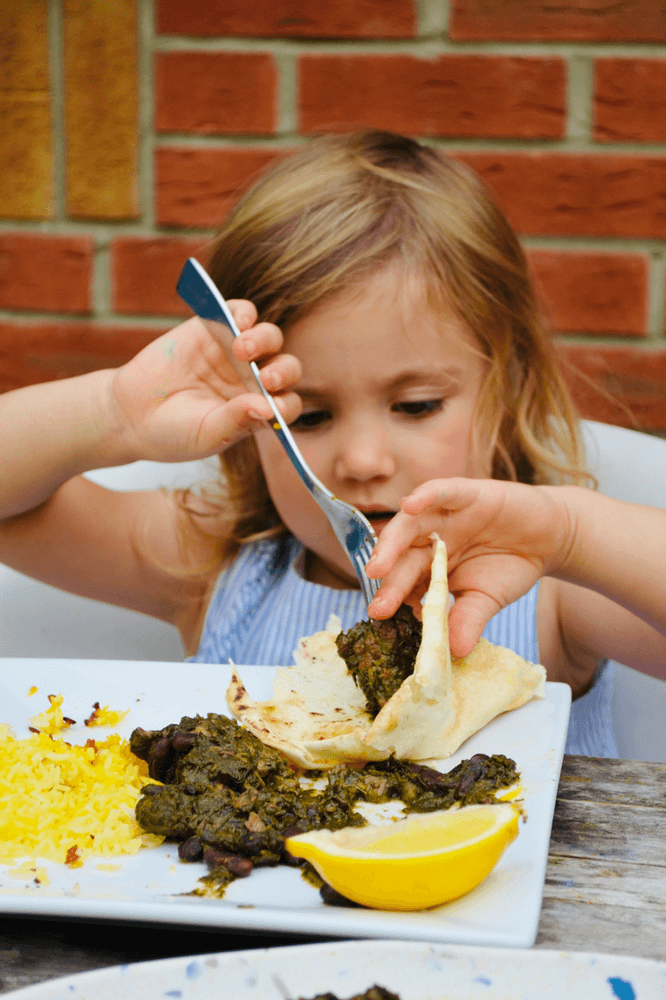 Iran - that was brilliant!