Fun Family Cooking the Ethiopian Way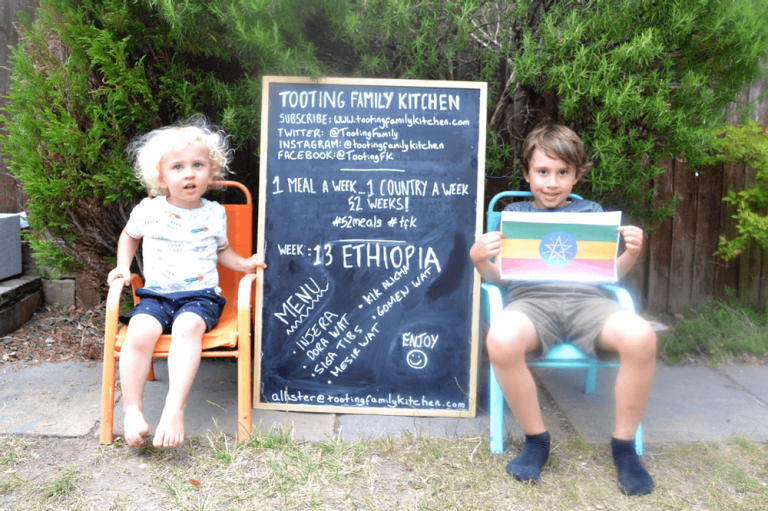 Get kids cooking an Ethiopian Feast
Thank you for joining Tooting Family Kitchen for Week 13 of our 52 Meals Challenge. If you are hitting our blog for the first time, welcome! We are on a culinary journey, exploring recipes from around the world to get kids cooking and learn about different International Cuisines and Cultures – celebrating Diversity through Food.
We have set ourselves a challenge to cook 52 Meals from 52 Countries in 52 Weeks, sharing our family cooked recipes and experiences as we go. If you like our content please do share and subscribe (at bottom of the page) to ensure you don't miss out on future family cooking destinations – we promise we won't spam you, just a weekly reminder when we publish our latest International recipes 😊 Next week we are returning to the Middle East for the first time since we cooked our Traditional Omani Lamb Shuwa to visit Iran and continue on our quest to get our kids eating adventurous food.
I have been looking forward to returning to Africa since our delicious visit in Week 7 to cook a Nigerian Family Dinner and it only seemed fair to cross over to the East Coast this time. I have always been intrigued by Ethiopian food and my first memorable exposure to it was watching a Simpsons episode where Marge and the family learnt how to 'rip and dip' whilst tucking into some delicious looking Ethiopian dishes! Since that enriching cultural experience my interest was peaked, but it still took me a long time to get round to trying it.
Ethiopian food seems to be a staple of the many amazing food markets in London these days and this is generally where I have seen it whilst perusing lunch options. It is a firm favourite of my father who has been a regular to The Ethiopian food stand at St Katherine's Dock and its reputation has been growing globally for years. It always stands out to me as the most colourful food in a market, but whilst it has always been up there as one I really want to try, I have always seen it as a gamble over my tried and tested usual (Thai, Japanese and Indian) food vendors over my semi-hard earned lunch break. Perhaps I was a little intimidated by how distinctive it looks (distinctive looking foods invariably are really good or really bad), or perhaps it was the fact so much of the food was vegan/vegetarian and I am a big meat/fish eater, but eventually the overbearing influence of my life mentors, Marge Simpson and my Father, won me over and I am happy to say it was as delicious as it was distinctive.
Ethiopian Food is usually characterised as spicy curries/stews 'Wat' made from vegetables and meats which are served on a type of pancake called 'Injera' made from fermented Teff flour, which acts as a platter for the food. The food is usually eaten with ones right hand by ripping off bits of Injera and scooping up the food…'rip and dip'. A wonderful Ethiopian custom which is a symbol of friendship or love whilst eating is 'Gursha', which is the act of putting some rolled Injera into another's mouth – the larger the Gursha the stronger the friendship. TIP: Please ensure those around you know that you are performing Gursha as it may take someone by surprise if approaching another diner at Greenwich market…in hindsight I should have explained the custom first.
Joking aside, the whole concept of Ethiopian food and culture surrounding their cuisine is about sharing and we love this. From the communal Injera platters to the tradition of Gursha and literally feeding loved ones, it embodies joy, warmth and love and is really quite special. The simplicity of eating everything, with your (right) hand with the Injera on which it is served makes it an exciting dining experience and the flavours, much of which comes from the traditional Ethiopian Spice Mix 'Berbere' are fiery and potent and go so well with the sourness of the Injera. Next time you pass that Ethiopian restaurant or market trader, stop and try it…you wont be disappointed!
This was an amazing dining experience we wont forget and we hope we have done Ethiopian cuisine justice with our family cooked meal of Injera with Doro Wat, Siga Tibs, Mesir Wat, Kik Alicha and Gomen Wat (2 x meat and 3 x vegetable stews). Also massive thanks to Aster Ketsela Belayneh who's book The Recipe of Love gave us so much inspiration for our cooking.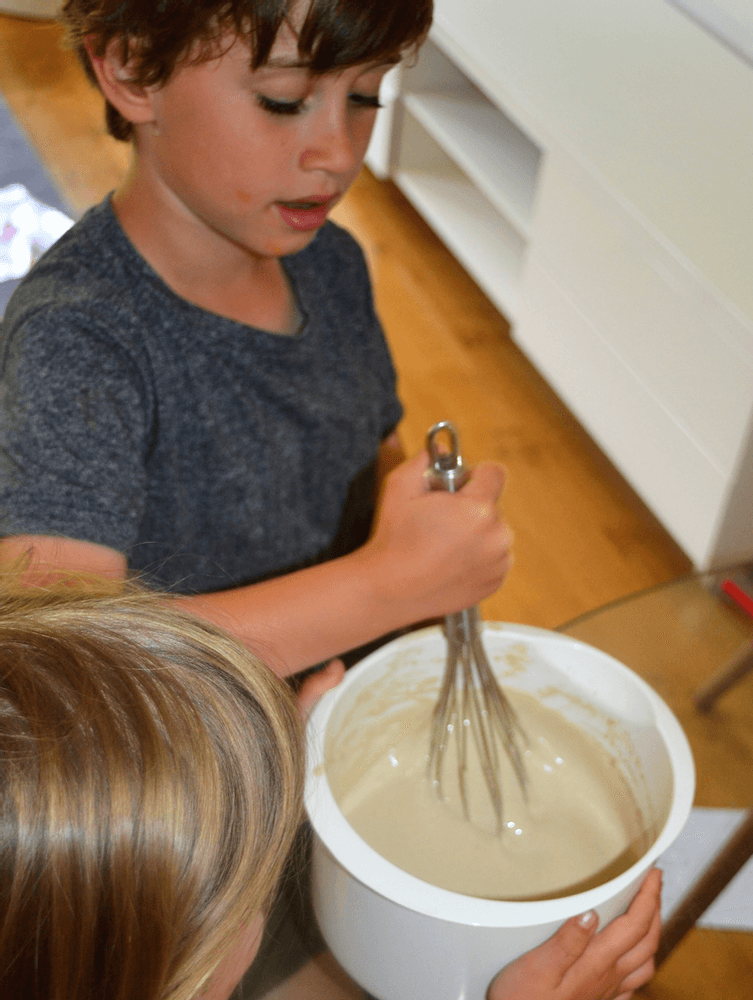 Whisking up the Injera batter
1 cup of Teff flour and 1 cup of wheat flour (traditional recipes would be all Teff but easier to cook this way for beginners!
3 cups of water (can use yeast but we didn't)
Combine the flour and water, cover with cling film and pierce a few times to let air circulate and leave to ferment for 4 or 5 days. You will notice what looks to be a bit like mould form on the top which is normal. When ready to cook drain off the water/liquid and foam that has appeared on top and you will be left with a thick pancake like mixture. Stir well.
Bring a cup of water to the boil and add a few heaped tbsps. of the mixture and whisk until you have a thick paste. Add this back to the mixture and whisk in slowly adding water until you have the right consistency (like a pancake batter) should not need more than 1 cup.
Heat a frying pan and brush with a little oil. Pour a cup of the mixture in and fry until bubbles start to appear and pop then place a lid on the pan until cooked through, a couple of minutes. Repeat the process.
Berbere – Ethiopian Spice Mix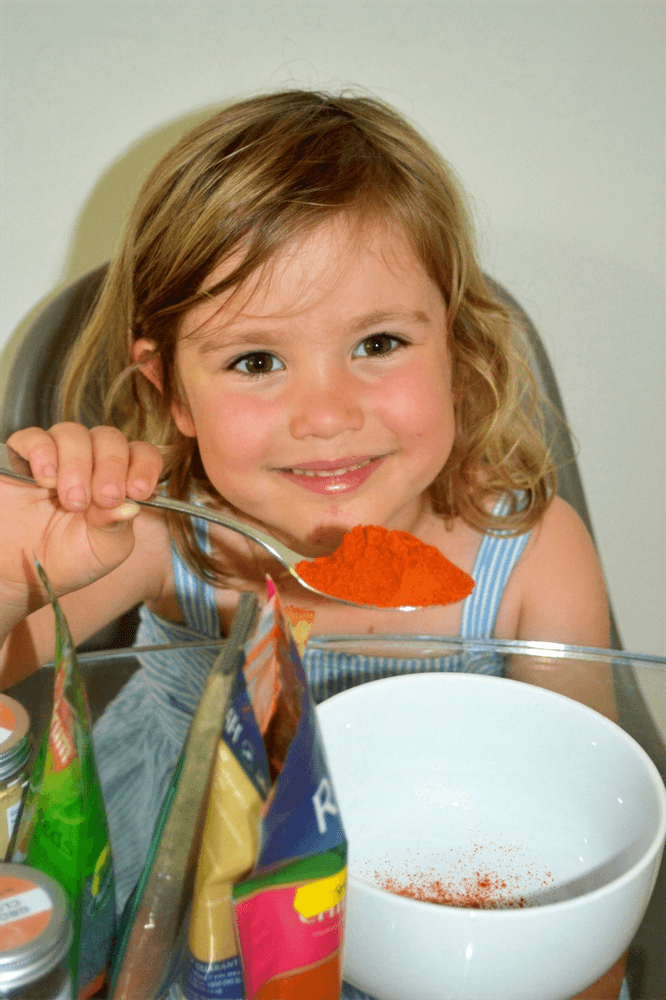 Mixing up the spices for the Ethiopian Berbere
We followed this fabulous recipe from Great British Chef's but there are others out there and you can also order Berbere spice online .
2 tbsp of dried bird's eye chillies
1 tsp black peppercorns
2 tsp coriander seeds
2 tsp cumin seeds
1 tsp cardamom pod
2 tsp fenugreek seeds
1/2 tsp cloves
1 tsp flaky sea salt
2 tsp smoked paprika
2 tsp sweet paprika
1 tsp ground ginger
1 tsp ground cinnamon
1 tsp ground nutmeg
Toast the chillies and whole spices in a hot, dry pan until fragrant
Transfer the spices to a spice grinder and blend to a powder
Add the rest of the spices and blend again to combine
Store in an airtight container. This recipe will keep for 6 months, but is best used within 2 weeks of making for a more vibrant flavour
Cooking the Ethiopian Stews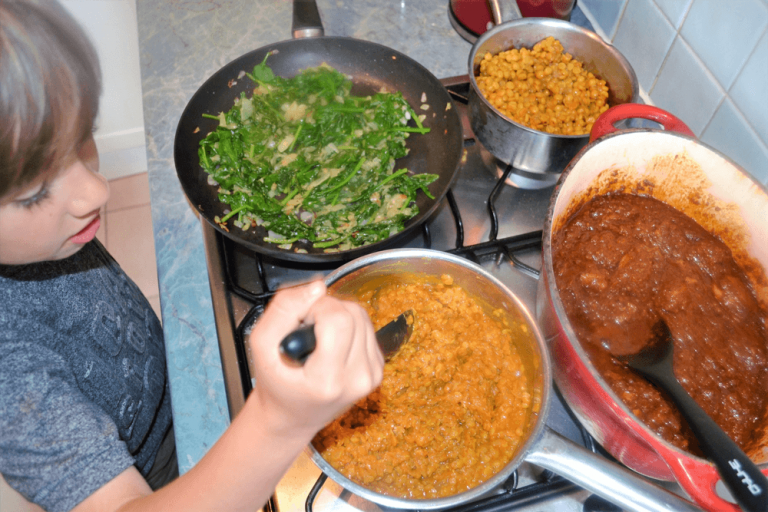 Keeping an eye on the Wat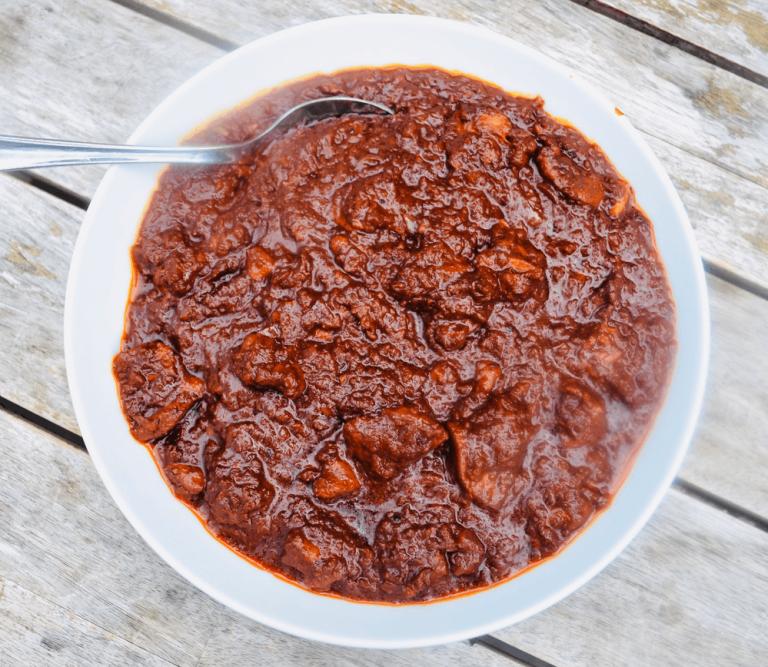 Super spicy Ethiopian Chicken Curry/Stew
1kg of chicken thighs cut into bite size pieces
2 lemons, juiced
1 white onion, roughly chopped
6 red onions, finely chopped or minced
4 tbsp of berbere mixture
1/2 cup of olive oil
3 tbsp butter/ghee (traditional way would be to make your own spiced butter)
4 tbsp ginger and garlic mince
1 tbsp all spice
1 tbsp nutmeg
1 tbsp tomato paste
1 tbsp black pepper
2 tbsp salt
4 hard boiled eggs, sliced
Marinate the chicken in the lemon juice and white onion, ideally over night.
Blitz the red onions in a food processor and gently fry until golden brown, gradually adding the oil.
Add the butter and garlic and ginger paste and continue to fry for a couple of minutes before adding the spices and mixing with the tomato paste.
Drain the chicken and fry into the mixture coating on all sides for a couple of minutes before adding 2 or 3 cups of water and allowing to simmer with a lid on for 30 minute.
Remove lid and add lemon juice and eggs and cook for a further 10 mins.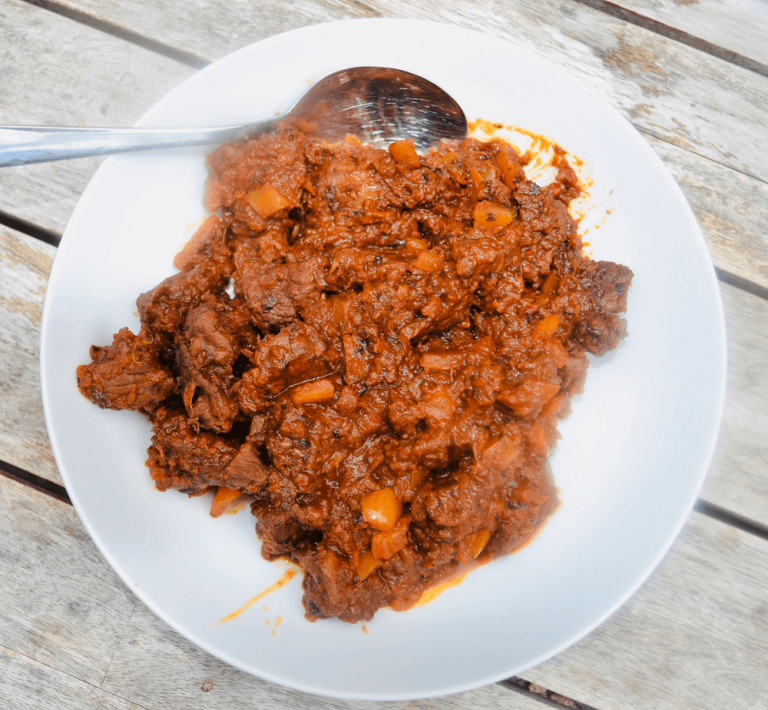 An Ethiopian Beef Stew/Curry
500g of beef, rib eye (or non braising beef works very well)
1 tbsp salt
1 yellow pepper, chopped
1 large white onion, finely chopped
2 tbsp honey
2 tbsp berbere spice mix
2 tbsp tomato paste
2 tsp fenugreek powder
1 tsp ground cloves
1tsp black pepper
Season the beef with the salt and brown off in a large pan and remove from heat.
In the same pan add a little more oil and fry the onions and peppers until golden brown.
Add the beef and mix well and then add the remaining ingredients and continue to cook on medium heat for a further 10 mins. If dish is looking very dry when cooking can add a splash of water but not too much.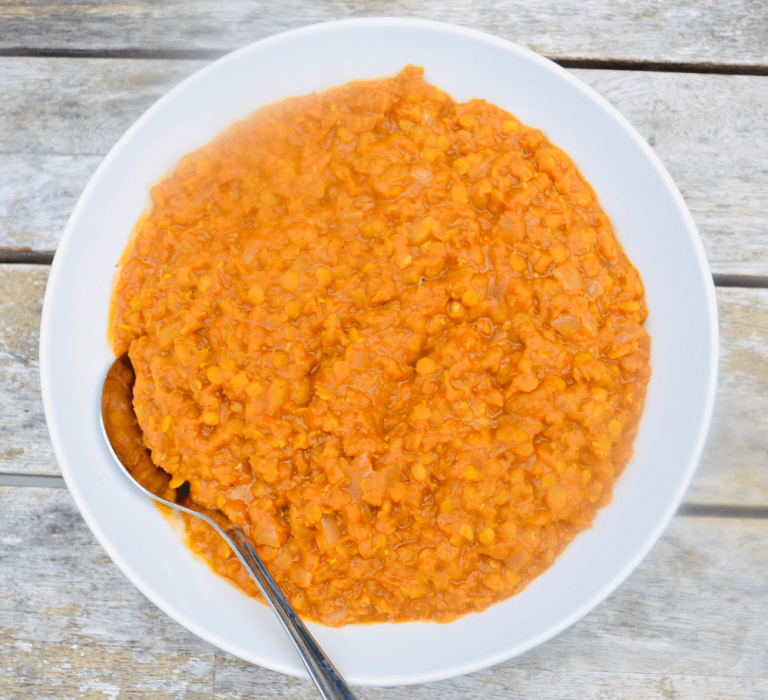 Ethiopian Red Lentil Stew
2 cups of red lentils
2 tbsp of butter
1 large white onion finely chopped
3 tbsp for garlic and ginger paste
2 tbsp Berbere spice mix
2 tbsp tomato paste
Salt and Pepper
Fry the onion in a large heavy bottomed pan until translucent and then add the garklic and ginger and continue to cook.
Add the spice mix and tomato paste and salt and then stir in the lentils along with 4 or 5 cups of water – may need to top up.
Next add the spices and tomato paste along with 2 teaspoons of salt. Mix well, then add the lentils and 6 cups of water. Cover and bring to boil and simmer on low heat for 20 minutes.
Uncover and cook for a further 10 mins until desired consistency is reached.
1 cup of split yellow peas soaked over night
2 cups of water
2 tbsp of olive oil
1 onion finely chopped
4 tbsp ginger and garlic paste
2 tbsp berbere spice mix
1 tsp turmeric
Salt and pepper
In a heavy bottom pan fry the onion in the olive oil until translucent and then add the garlic and ginger paste continuing to fry for 2 mins
Add the spices ands tomato paste and mix well before adding rinsed split peas, water and seasoning.
Bring to the boil and cover and simmer gently for around 30 minutes, topping up with a little water if necessary. Check consistency and cook for longer if necessary
Check for spice and seasoning and if preferred you can mash the dish a little or leave as it is.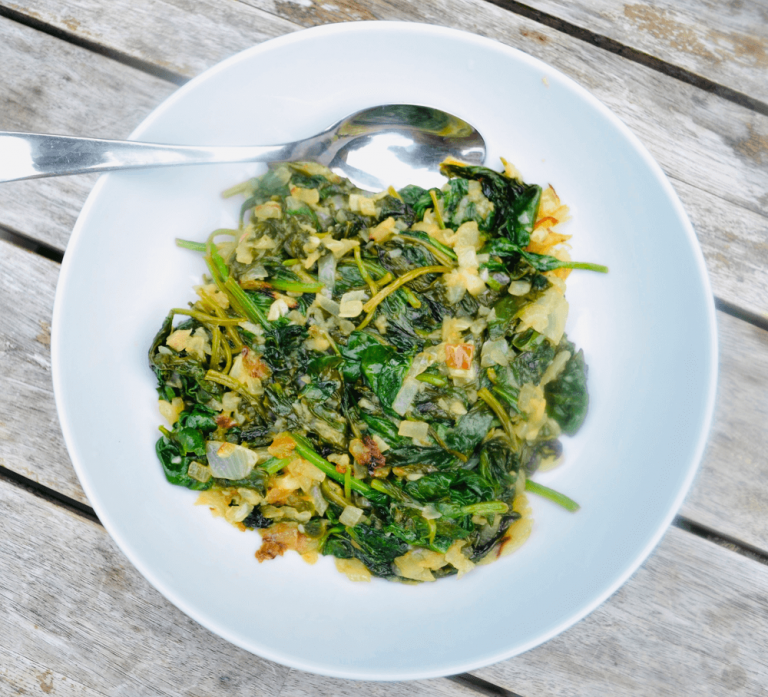 3 tbsp olive oil
1 large onion
2 tbsp of garlic and ginger paste
2 packs of baby spinach leaves
1 tbsp salt
2 tsp Berbere spice mix
1 tbsp lemon juice
Heat the oil in a large pan with lid and gently fry the onions until starting to brown before adding the ginger and garlic and continuing to cook for 2 mins.
Add the spice mix and fry for another minute before adding the spinach leaves and a splash of water – cover and allow the spinach to wilt before stirring the mixture together,
Check for seasoning and toss in the lemon juice.
Our Ethiopian Family Feast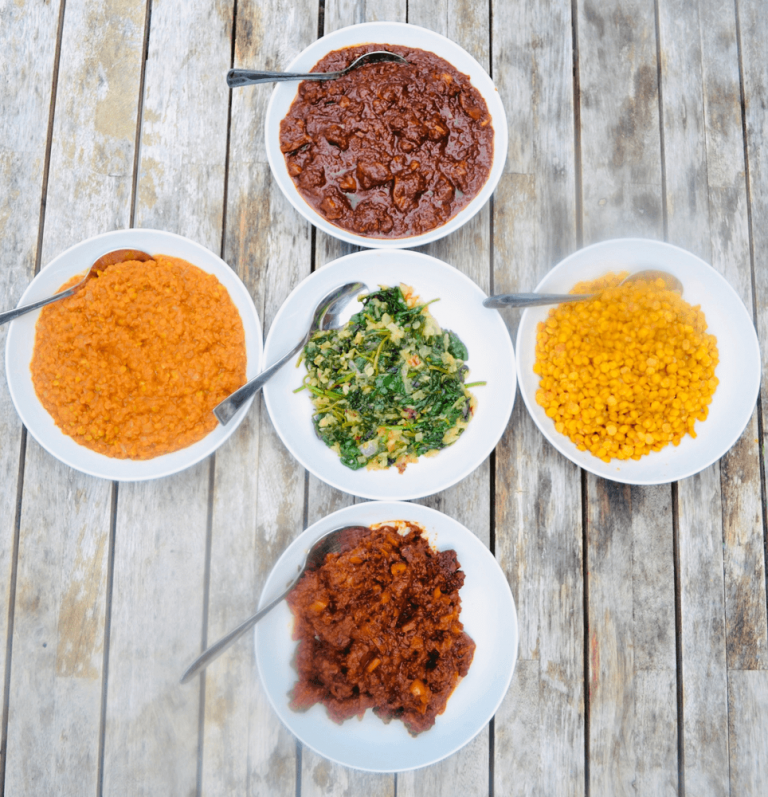 2 meat and 3 vegetable Ethiopian dishes
Family Cooked Ethiopian Feast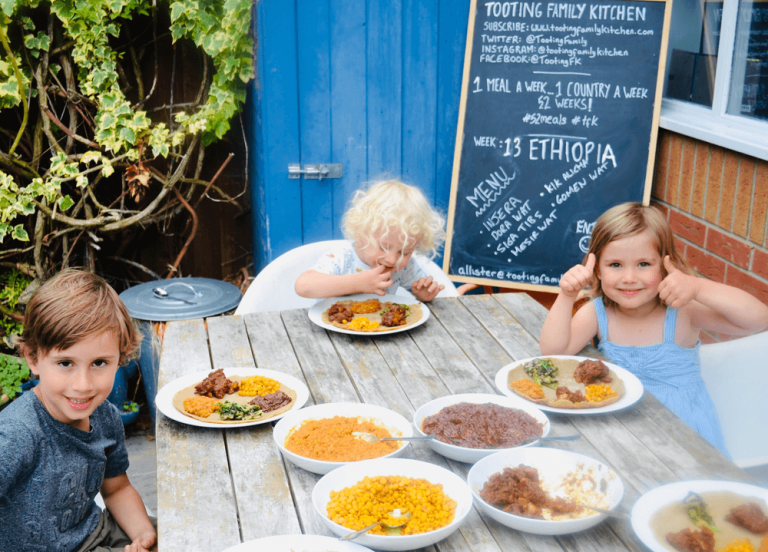 Enjoying their family cooked Ethiopian Feast
Tucking into the Doro Wat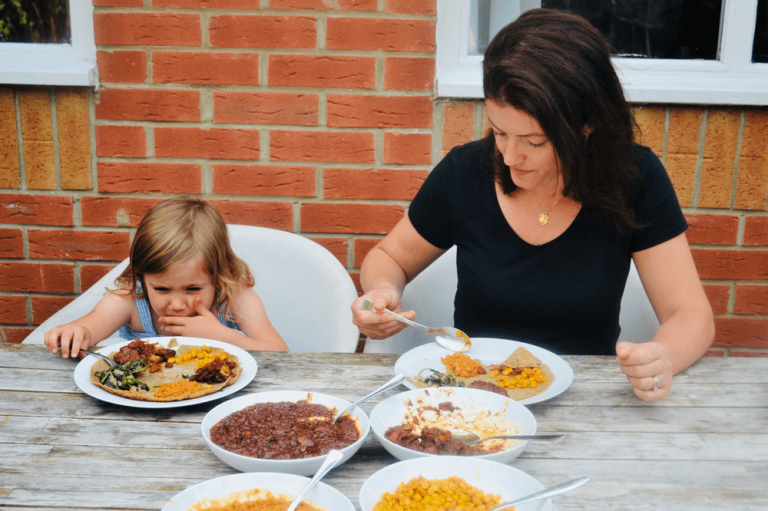 She found the Doro Wat a little too spicy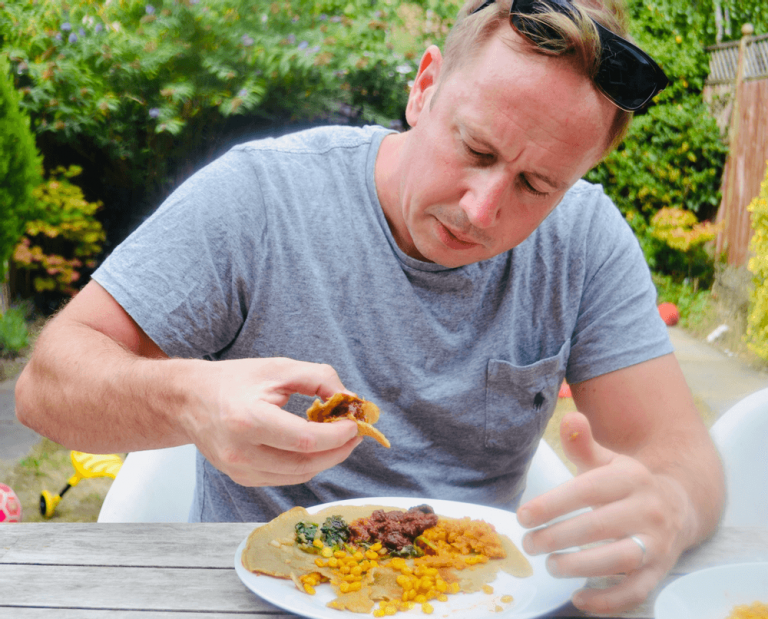 Doro Wat with Injera is just great!
Injera with the split-pea stew was a favourite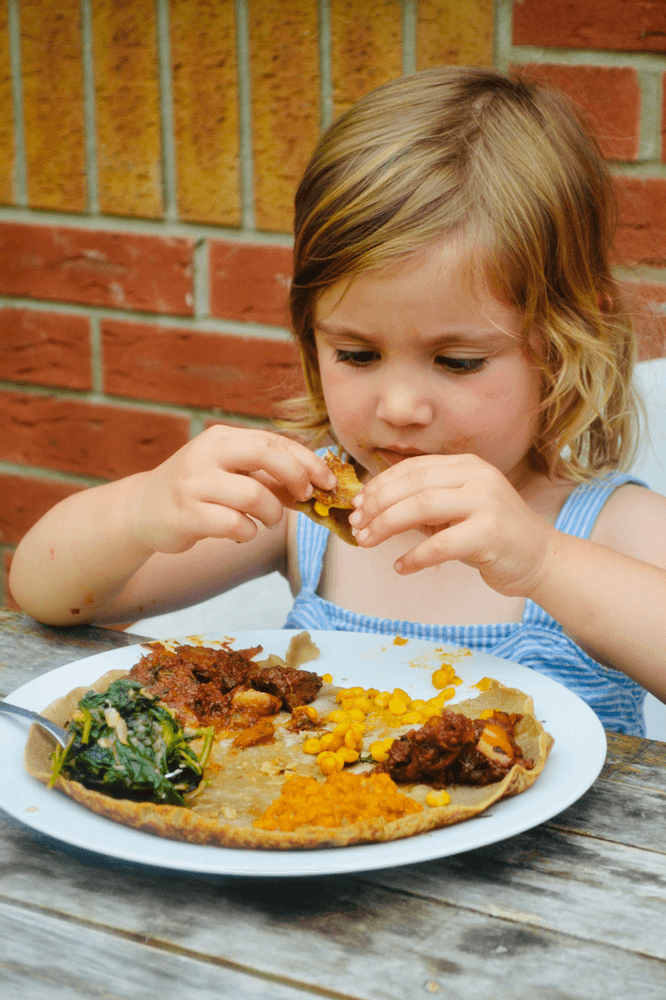 The spice has settled down a little!
Gursha didn't work out so well here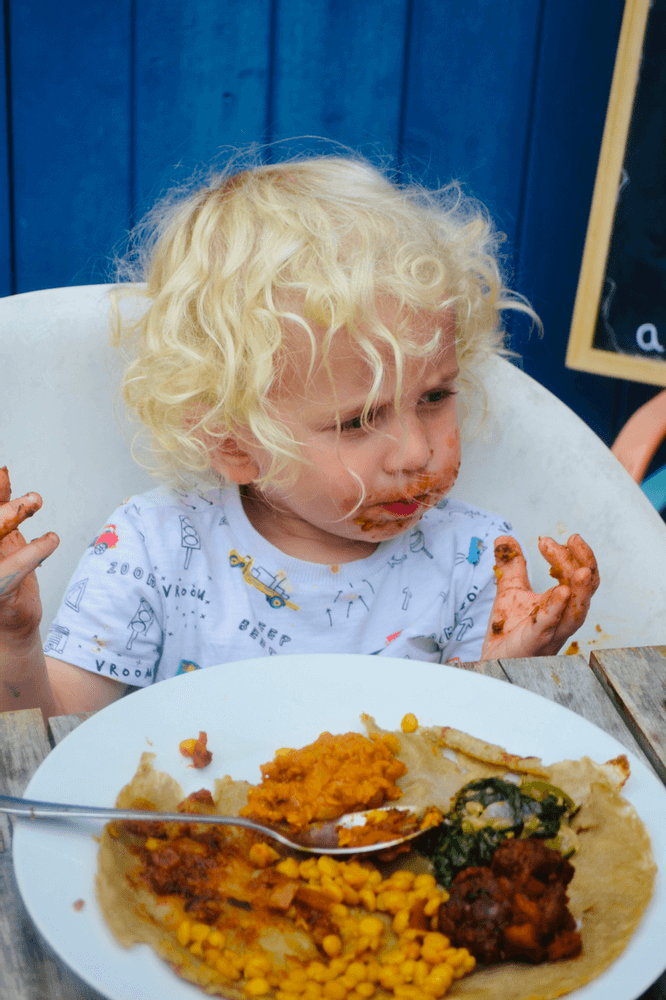 Thank you Ethiopia – that was epic!