Fun Family Cooking the Portuguese way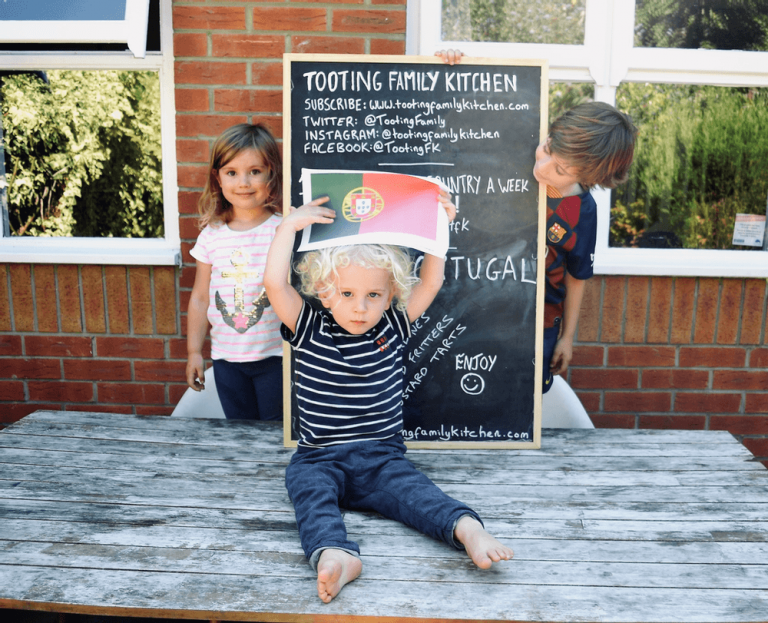 Fun Family Cooking in Portugal
Thank you for joining Tooting Family Kitchen for Week 12 of our 52 Meals Challenge. If you are hitting our blog for the first time, welcome! We are on a culinary journey, exploring recipes from around the world to get kids cooking and learn about different International Cuisines and Cultures – celebrating Diversity through Food.
We have set ourselves a challenge to cook 52 Meals from 52 Countries in 52 Weeks, sharing our family cooked recipes and experiences as we go. If you like our content please do share and subscribe (at bottom of the page) to ensure you don't miss out on future family cooking destinations – we promise we won't spam you, just a weekly reminder when we publish our latest International recipes 😊 Next week we are hitting East Africa for the first time as we head to Ethiopia and cook up some traditional Ethiopian dishes and continue our quest to get our kids eating adventurous food.
Like so many people I had a trip booked this year that I was not able to go on due to Covid, a weekend away in Lisbon, Portugal. Perhaps for that reason Portugal should have been the first destination of family cooking for Tooting Family Kitchen but I think that would have rubbed salt in the wounds a little, so we visited neighbouring Spain instead – if you missed it check out our Family Cooked Spanish Paella.
I was incredibly excited about the trip to Portugal. It is a country that has evaded me for decades, despite having some very fond memories of the country from family holidays as a child. On an extended school summer break we rented out our family home, packed the car up and for 8 weeks drove around Europe covering a lot of ground throughout France, Spain, Portugal, Italy, the former Yugoslavia and Greece – it was tough going for a family of 4 (I was 9 and my brother 11) and the accommodation was not 5*, but the experience was amazing and we always ate well, especially in the evenings, exploring endless rustic and traditional recipes from around Europe.
Portugal was a particular highlight of that summer trip and we did it properly. We took in pretty much every inch of the countries coast line, often sleeping rough on cliff tops and running down to deserted bays in the morning for a wash, before a family cooked breakfast and then packing the tents, stove and camping table away and hitting the road again. The west coast was simply stunning – beach after beach after beach of breath-taking sea battered coast line from where the Atlantic hits Europe.
In addition to the amazing dramatic scenery, I also have incredibly fond memories of Portuguese food and the many Portuguese regional recipes we were so lucky to experience, although the 2 went together more often then not. It was pre-internet so there were no online reviews or recommendations to follow and a lot of the dining experiences were calculated gambles, but despite being a family of 'eaters' with relatively high expectations, we always ate well and can barely remember one bad Portuguese meal, not even an average meal…the food was consistently amazing! The fact that we simply stumbled on all these places and had all of these incredible dining experiences made them all the more special – they were not posh, they were rustic, but the food and produce was as good if not better than many of the Michelin starred restaurants dotted around the world today.
For me I think this is what defines Portuguese cuisine, the consistency. We had some amazing national dishes such as Bacalao, but when I talk about the food there, it is not necessarily about a single Portuguese dish, the way I might talk about a Spanish Paella or Italian pasta, but more the fact that you know you are just going to eat damn well…whatever you order…it's kind of like living in a Rick Stein documentary and I was really really looking forward to making the next episode!
The Portuguese clearly have high standards when it comes to food and drink. I think you can see that when you walk past the occasional Portuguese Deli or Patisserie here in London. They always look incredible, even the most simple looking tart or sandwich in the window manages to look sublime and you just know if you were to go in you would not be disappointed. For this reason I'm slightly nervous about publishing this weeks post, but we did our best and hope we did the amazing gastronomy of Portugal justice with our family cooked recipes of Pork and Clam Stew (Porco Alentajana), Grilled Sardines with a Green Pepper Salad, Salt Cod Fritters and of course Portuguese Egg Tarts (Pastéis de Nata).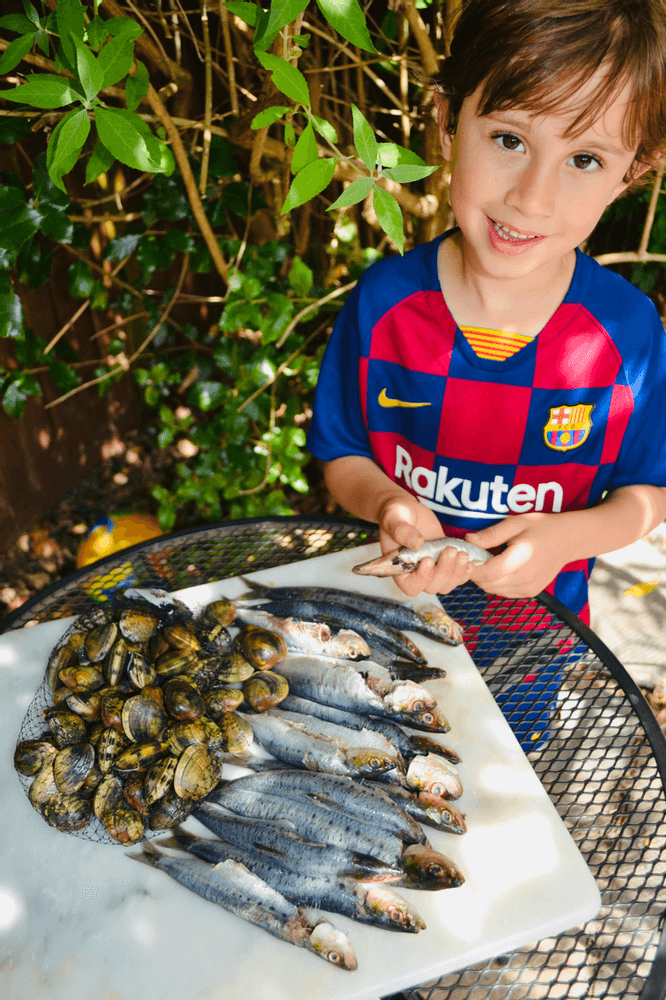 Get kids cooking – Sam checking out the produce!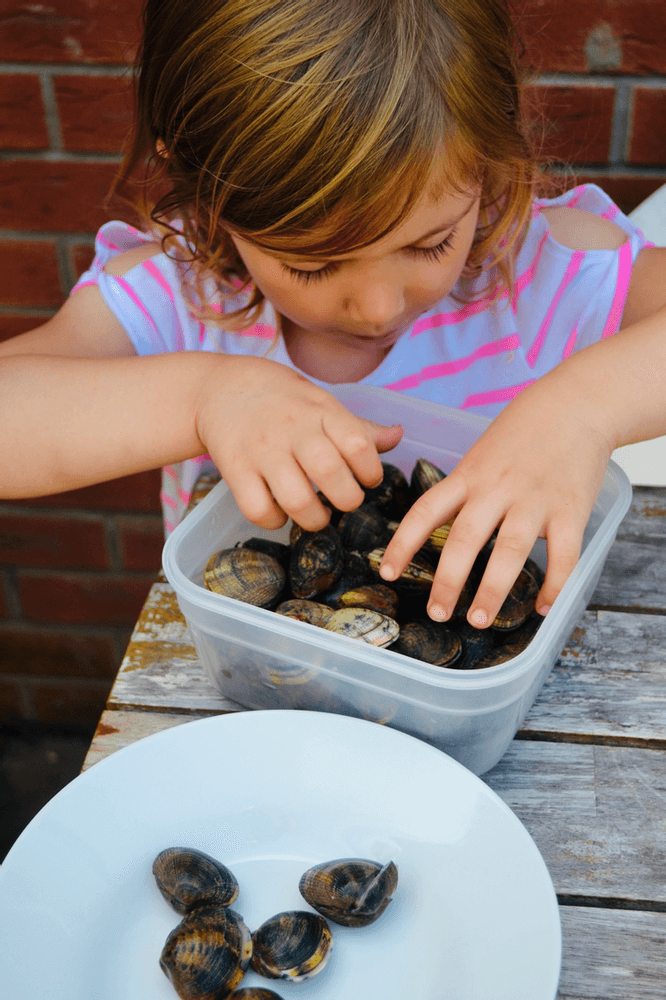 Searching for broken clams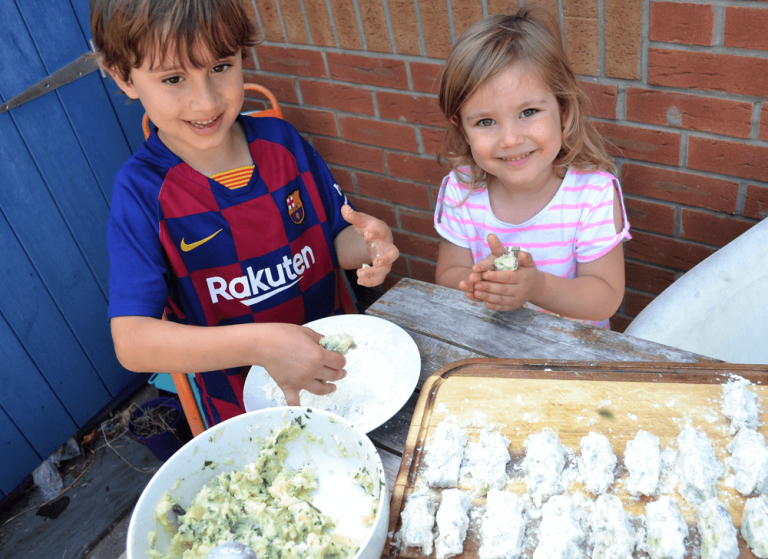 Getting the kids cooking the Portuguese Salt Cod Fritters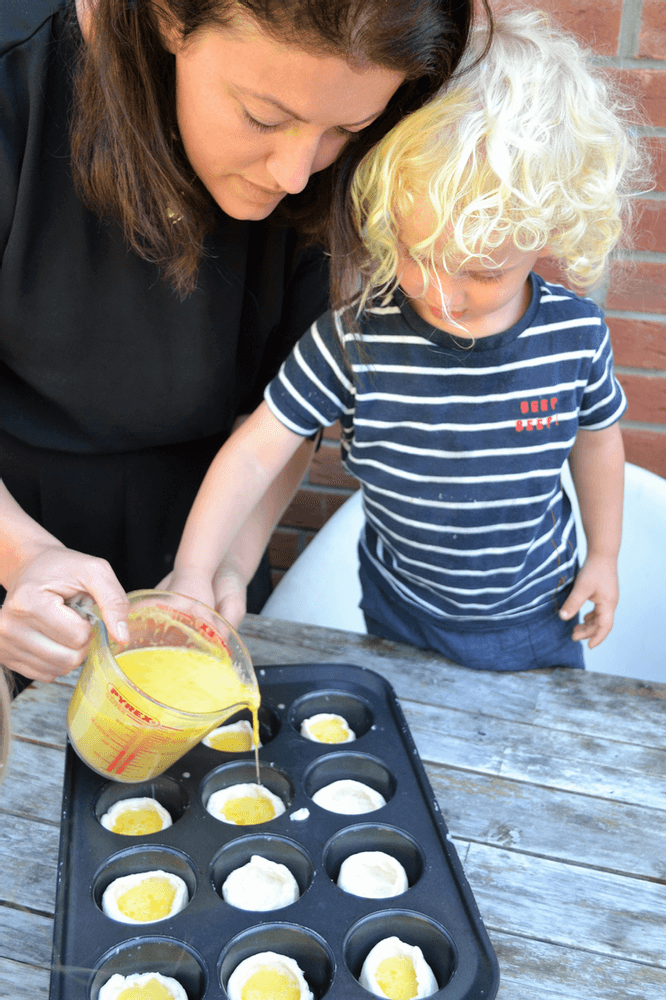 Cooking Pastéis de Nata with the family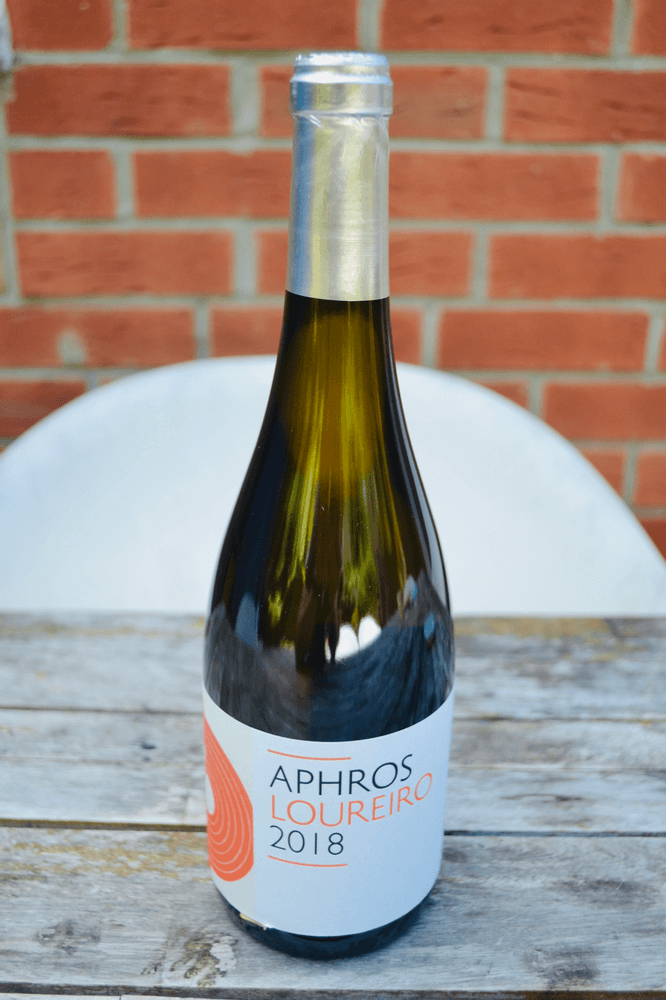 Portuguese wine to accompany our Portuguese feast
We had to a get a nice Portuguese white wine to wash down all this seafood and fish. Fortunately The Wine Tasting Shop were on hand again to point us in the direction of this beautiful Aphros. There is a cracking story about the original creator of the wine/vineyard having a life changing encounter with a Buddhist monk which prompted him to give up his lucrative furniture business and start producing wine.
Grilled Sardines with Green Pepper Salad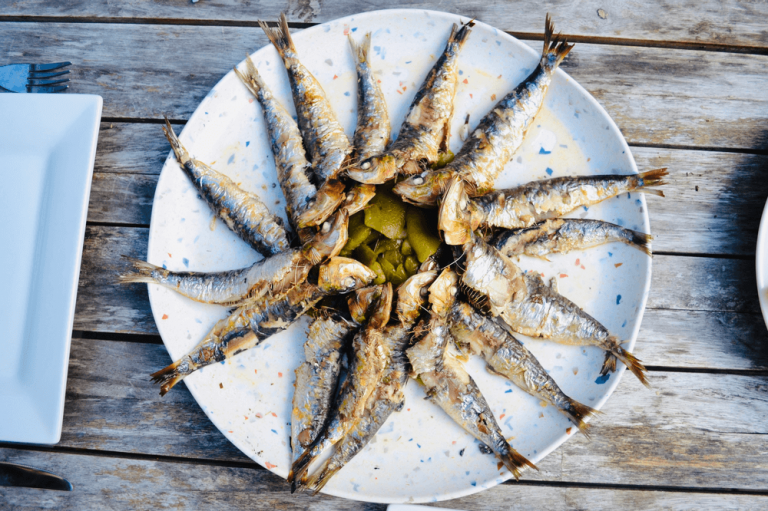 A family cooking favourite
12 whole sardines (or approx. 3 – 4 per person)
Sea salt – good quality
Pepper to taste
Olive oil
4 large green peppers
1 clove garlic, crushed
Toss the peppers in a little olive oil and roast in a hot oven until the skins start to blister and turn black in parts (approx. 25 mins) then put them into a sealed bag to steam for 10 mins. After this peel and de-seed and cut into strips and toss with the roasted garlic.
Coat the sardines in a little olive oil and sprinkle with some good quality sea salt. Grill under a very hot grill or on a hot bbq for approx. 5 mins one side before flipping over and grilling for a further 3 mins or until crisped up on the outside with tender flesh.
The green peppers and garlic with olive oil and season with salt and pepper and serve with the hot sardines.
Salt Cod Fritters with Quick Pepper Sauce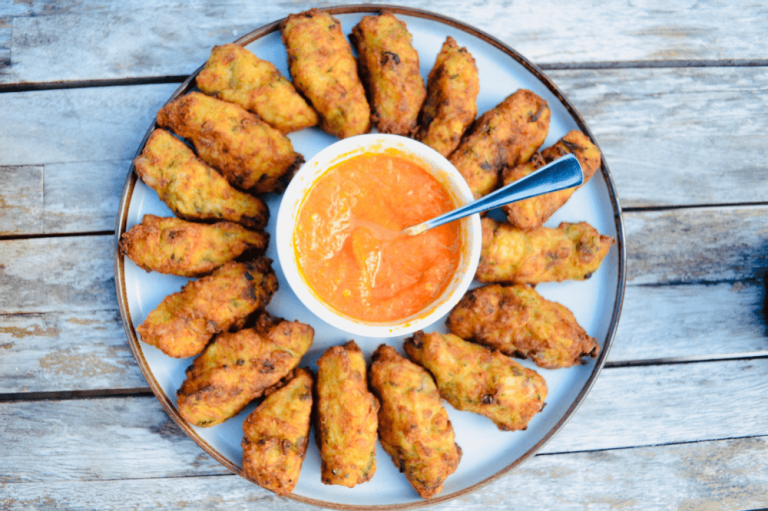 Portuguese inspired recipe for Salt Cod Fritters
400g of salt cod (soak in water over night changing water twice)
400g of potatoes
1 litre of whole milk
1 onion, chopped
3 bay leaves
1 tbsp flour + extra for
dusting
1 bunch of flat leaf parsley, chopped
Black pepper
Sunflower oil for frying
Quick pepper sauce:
2 orange and or red peppers
5 cloves garlic
5 tbsp of quality canola oil
Roast the peppers and garlic in the oven (can be done with the pepper for the green pepper salad). Remove skins and seeds (from peppers) and blitz the garlic and peppers in a food processor until smooth. Add a tsp of sea salt and drizzle in the canola oil whilst pulsing with the blender until emulsified, check for seasoning and refrigerate until ready to serve.
Put the drained salt cod into a heavy bottom pan and cover with milk, onion and bay leaves. Bring to the boil and then gently simmer for 5 mins before gently removing the cod and allowing to cool. Place the potatoes in the milk and simmer for 20 minutes until cooked all the way through and tender.
Whilst the potatoes are cooking remove the skin from the fish and gently flake the flesh with your fingers. Add the cooked potatoes to the fish (reserving the liquid) and mash together along with the flour, pepper and parsley adding a spoonful or 2 of the poaching liquid to create right consistency to be able to mould into shape without being too sloppy.
Take a heaped tbsp of mixture and mould into a croquette shape and dusting with a little flour. Repeat until the mixture is all used up. These can be sored in fridge, frozen or cooked right away.
Heat up at least a litre of sunflower oil (making sure not to fill heavy bottom pan more than half way if not using deep fryer) until it browns a breadcrumb in 5 secs. Fry the fritters for 3 or 4 minutes until golden brown. Remove with a slotted spoon and drain on some kitchen paper before serving with the quick pepper sauce.
Portuguese Pork and Clam Stew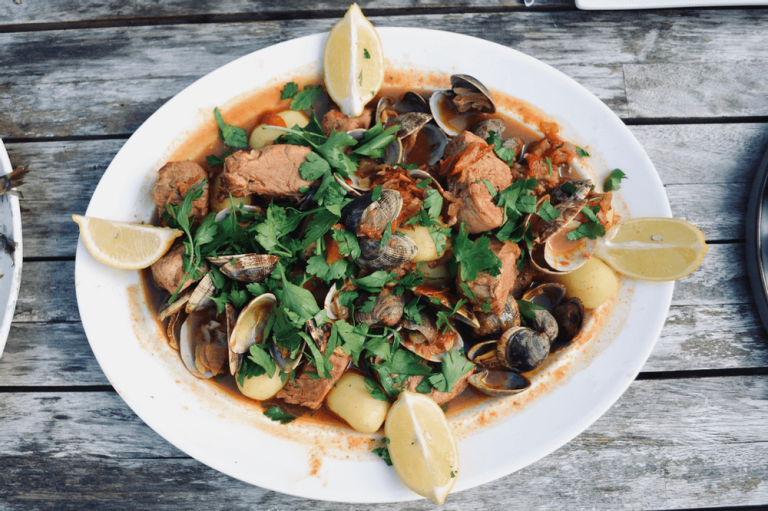 Portuguese Pork and Clam Stew (Porco Alentajana)
1kg pork tenderloin
1kg clams (cleaned and any that are open or broken discarded)
White wine
2 onions
1 x bulb of garlic
3 tsp smoked paprika
2 bay leaves
3 large tomatoes
1kg of new potatoes, chopped
2 tbsp Tomato paste
Bunch of coriander
Lemons to garnish
Parsley, chopped to garnish
Chop the pork in chunks approx. 3cm long and put in a container or zip lock bag with a cup of wine, 2 cloves of minced garlic, 1 tsp of smoked paprika, 1 crumbled bay leaf and 1 tsp pepper and leave to marinate (ideally overnight).
Remove meat and reserve marinate and fry on all sides in a heavy bottom pan with lid until it has some colour on all side (you will need to do this in batches). Remove the meat to a bowl and then add a chopped onion and fry for a few minutes until translucent before adding 8 cloves of minced garlic and continuing to fry for a minute. Add the tomatoes paste and then the tomatoes and fry for a further minute before adding the meat and coating well. Cook for a minute or 2 and then add meat and potatoes along with the meat marinade, a further glass of wine, a bay leaf, 2 tsp of smoke paprika and a bunch of chopped coriander cover tightly and simmer for 20 minutes.
Remove lid and chuck in the clams and mix in gently, replace the lid and cook for a a further 5 – 10 minutes until all the clams are open (throw away any that are not) and cooked through and the pork is tender – serve the dish garnished with lemons and chopped parsley and alongside some crusty bread.
Simple Portuguese Egg Tarts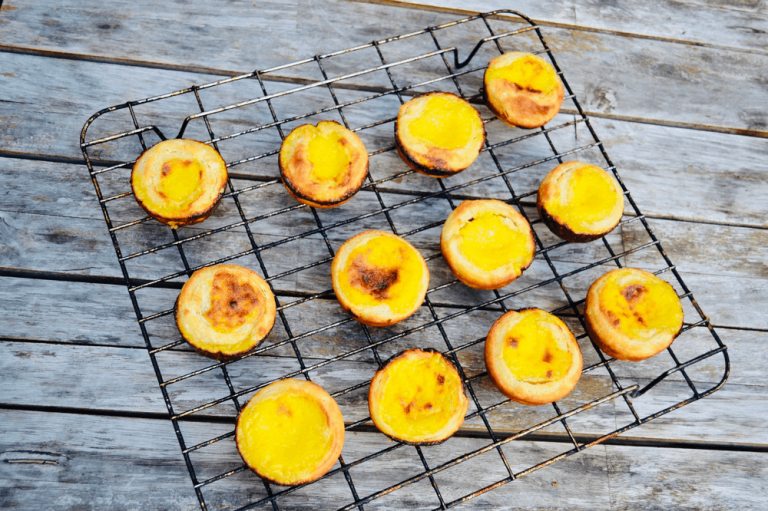 Portuguese Egg Tarts (Pastéis de Nata)
500g puff pastry
6 large egg yolks
60ml whole milk
40g plain flour
160ml of water
240g of caster sugar
1 cinnamon stick
1/2 tsp vanilla extract
Preheat the oven to its highest setting, or at least 230C/210C Fan/Gas 8.
On a floured surface roll the pastry out into a big rectangle approx. 1mm and roll tightly lengthways whilst brushing lightly with water before cutting into discs of approx. 2cm
Add the flour and the whole milk into a bowl and whisk them together until is smooth. Set aside for later.
To make the sugar syrup, add the water, sugar and cinnamon into a big saucepan and gradually heat to 100 degrees C without stirring. At the same time in a smaller pan add the additional milk and bring it to the boil. When it is boiled pour it over the flour-milk solution you made at the start whisking it at the same time. Add 1/2 a teaspoon of vanilla extract.
Once the sugar-water solution reaches 100 degrees C, remove the cinnamon stick and gently pour it into the flour-milk solution, mixing it all the time. Once it is all in keep stirring it for another 10 mins until it has cooled down (it should still be warm but not hot). Add the egg yolks and give it a good whisk. Pour the mixture through a sieve into a jug, cover with cling film and set aside.
Place the discs into the holes of a muffin tin and message them into each compartment making sure there are no holes.
Fill the pastry cases with the custard until they are almost full.
Bake for 20 minutes, or until the pastry has risen and the surface of the custard is scorched. Set aside to cool for at least 10 minutes before serving to allow the custard to set slightly.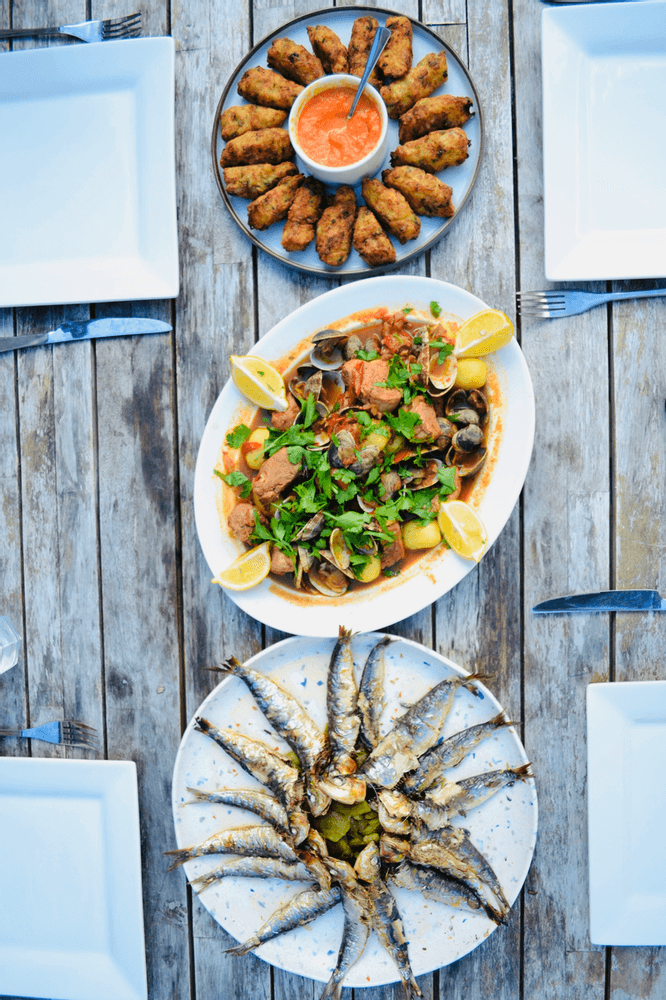 Our Family Cooked Portuguese Family Feast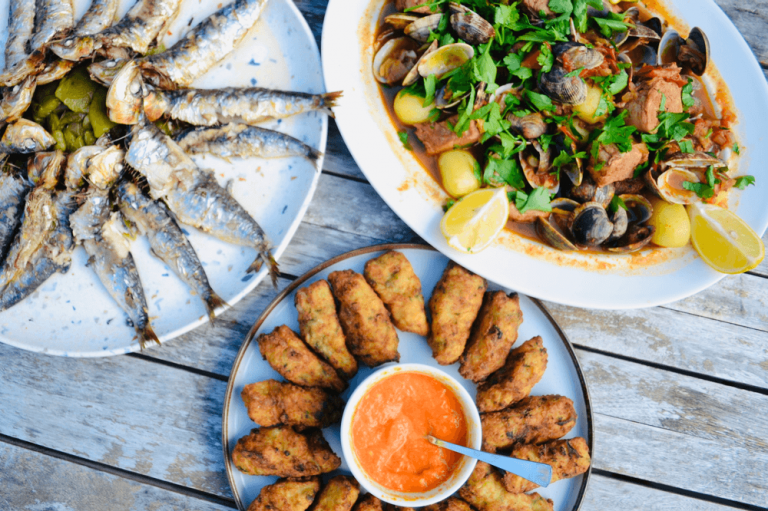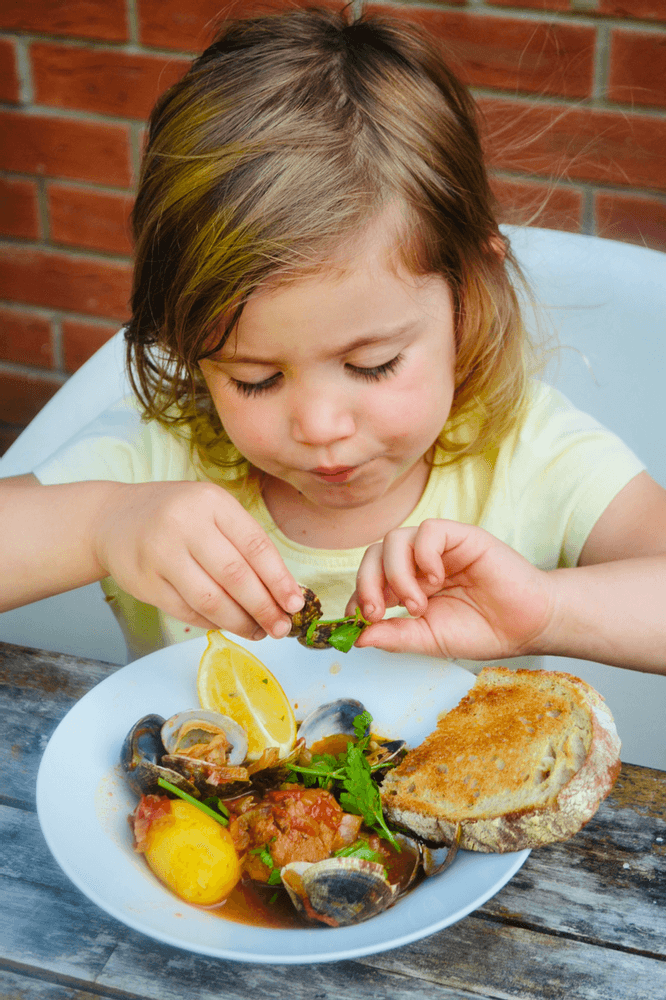 Trying to get kids eating adventurous food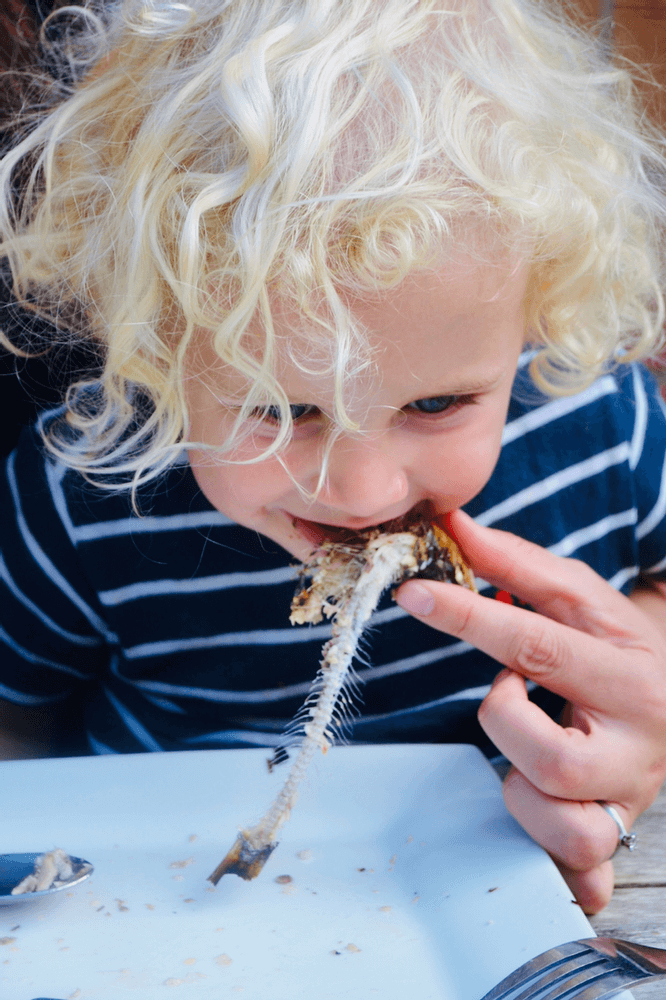 Adventurous eating 2 year old with his first sardine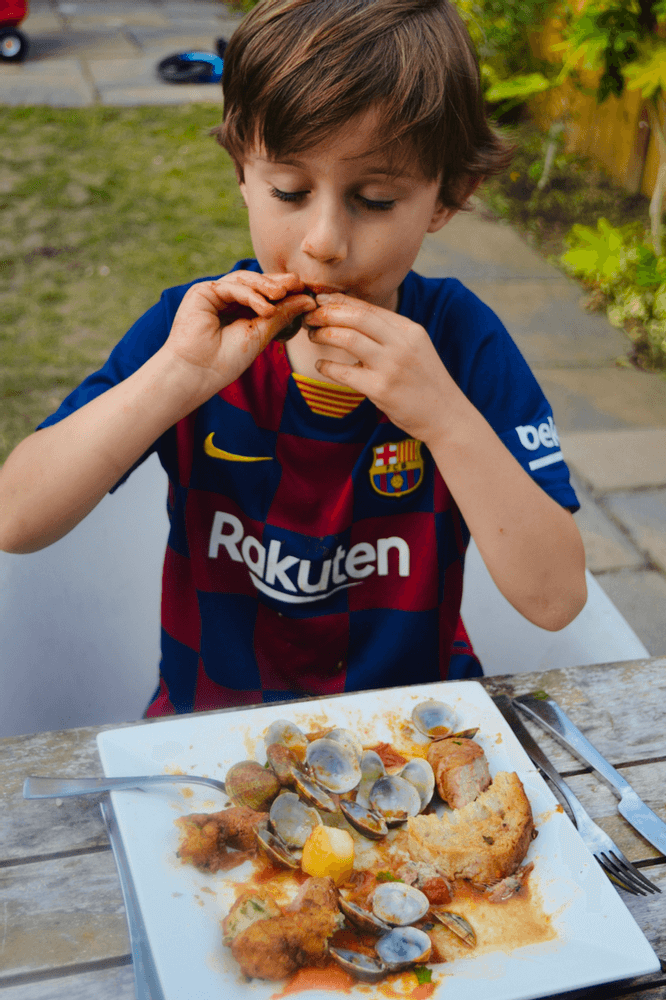 Exploring International food ideas – seafood is a favourite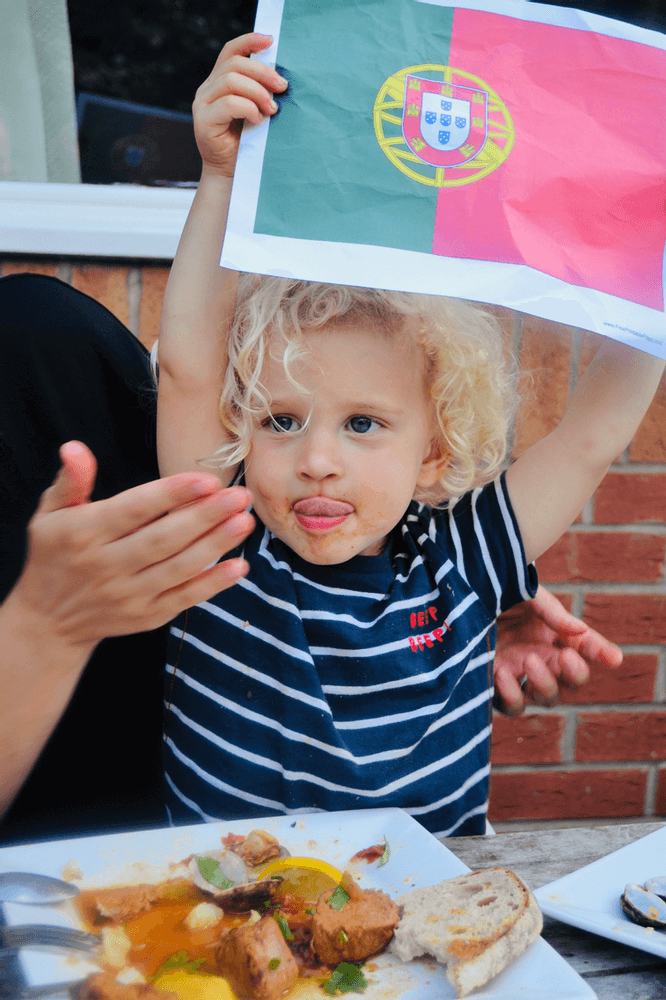 A lick of the lips for our Portuguese family feast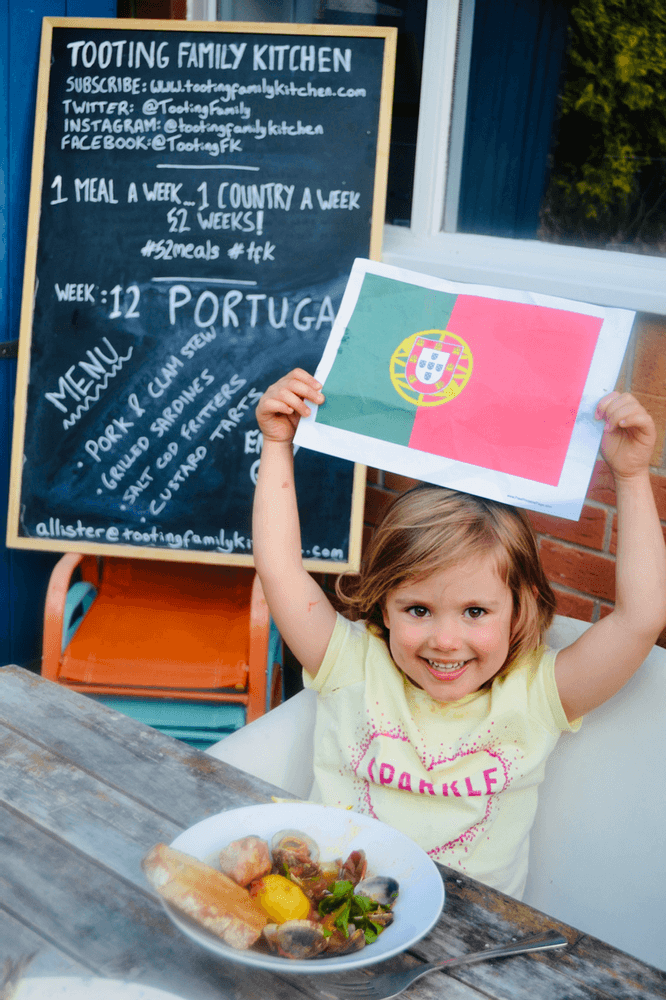 Bravo Portugal – that family cooked Portuguese meal was amazing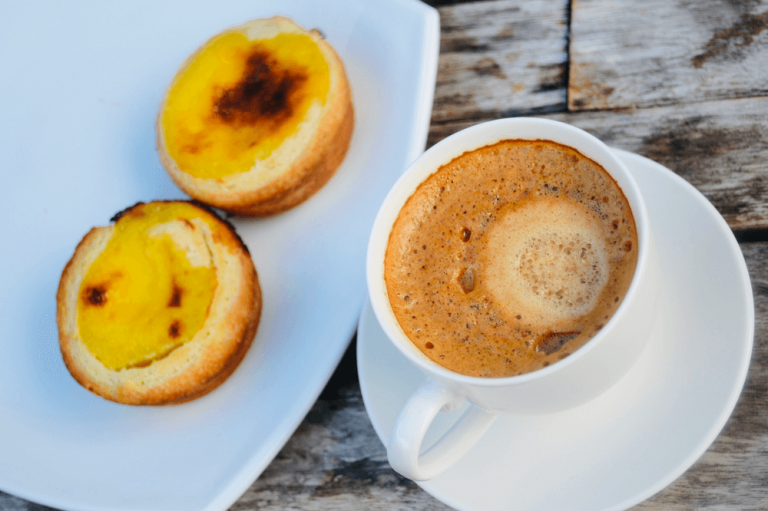 Time to relax the Portuguese way