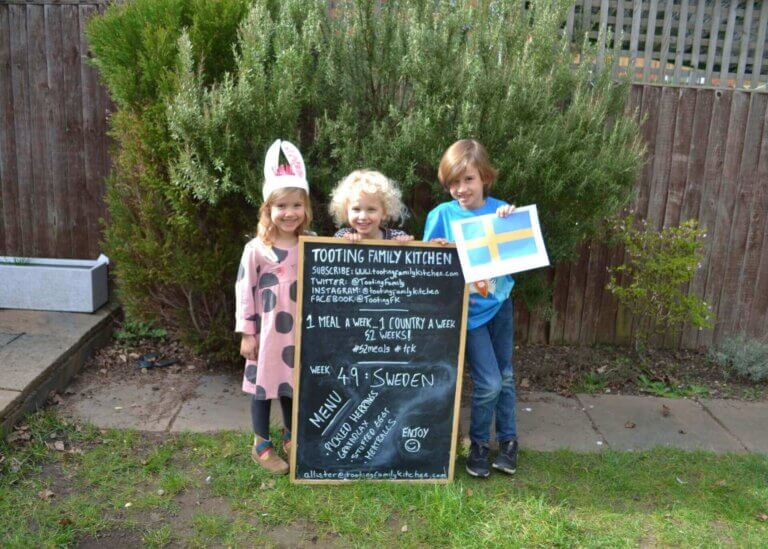 Week 49 and of course we could not finish our 52 Meals journey without heading to Scandinavia! This week we are incredibly excited to check out Sweden, crack open the aquavit, prepare a smorgasbord of delights and rustle up some reindeer meatballs to celebrate Sweden and all things Scandinavian!
Growing up I always felt a bit of an affinity with Sweden! Abba and Volvos were a big part of my childhood and I have many warm memories of the needle hitting the vinyl at family gatherings and parties with Abba always spelling happiness and fun…and me not having to go to bed early! By the same token our family cars were always Volvos and having been a passenger in the back of 2 x 1980s Volvos for 2 x round Europe trips I got to know them pretty well. If Ikea was fully rolled out in the 80s, I think there would have been a strong case for dual nationality! It was a sad day when I found out that not every Swede will brush their teeth to Mamma Mia in the morning before driving to work in their Volvo past the Ikea which is inevitably on every corner…but I like to cling on to my happy stereotype.
Of course, there is more to Sweden than Abba, Ikea, and Volvo and if there is one thing that defines the country it is its land mass in comparison with its population. Sweden is one of the largest countries in Europe and despite all the space (most of which is stunning), it has a small population of around 10 million residents. This is not a lot of people with which to share its dense forest which covers 2/3 of the country with its 300,000 free roaming moose, or indeed the rugged peaks of the Sarek National Park with its imposing glaciers and given there is approximately 1 lake for every 100 residents (most of which are pristine and safe for swimming), there are certainly enough to go around! They look after their land and in fact as a nation they are so good at recycling (99% of the countries waste is recycled), they are even now importing other countries waste to recycle.
The Swedes are a generous bunch, and they are one of the highest donors in the world to humanitarian causes each year, donating around 1% of GDP. They have chilled out a lot since the 11th century and fortunately for us their days of raiding and pirating around Europe during the Viking period are well behind them! These days Sweden likes to remain neutral in conflict having not been involved in a war for 2 centuries. A freedom loving country, they also believe in an individual's right to roam "allemansrätten", which gives everyone full access to walk, camp, ski, or ride on any public land. If there is a nation that is going to break Sweden's peaceful resolve though, it is North Korea. The 2 countries have an unresolved debt from 1974 when Kim II-Sung bought 1000 Volvos. 40 years later the North Korean's are still ignoring the invoices for the 2.7 billion SEK debt. Given some sources have Sweden as the 3rd largest arms exporter per capita (after Israel and Russia), the next global flare up may come from an unlikely source!
Sweden is a very innovative and creative country which rarely follows the status quo when it comes to design, innovation, and marketing. It has the highest number of patents per capita in Europe and has been responsible for such life changing inventions as the 3-point seat belt, which is said to have saved 1 million lives. An interesting concept is 'speed camera lottery', a Swedish experiment in which drivers with a track record of driving under the speed limit were entered into a lottery in which the prize fund was made up of all the fines accumulated from those who had broken the limit. My absolute favourite though has to be the Swedish phone number…it was the only country in the world to have its very own phone number! All anyone had to do was dial it up and quite literally get put through to a random Swede to answer any of your Sweden related questions! Sadly, it does not exist anymore otherwise this post would have definitely taken on a different slant!
Fortunately for me I have a good friend, Toddy, who grew up in Sweden and so was on hand to fact check! I have always recognised Toddy as British first and foremost, but it also amazed me when doing a little reading for the post just how many of the Swedish characteristics were really applicable to him. The peaceful resolve, the impartiality, the generous nature (not least because he sent me the bottle of aquavit, I am about to crack open) and the fear of badgers (Swedes are not fans of badgers apparently) …I guess some things will never leave you! I asked Toddy about the food and lifestyle where he lived in the beautiful coastal town of Varberg. He did not disappoint telling me about the amazing seafood, the healthy lifestyle, and the refreshing cleanliness of the place. His Mor Mor's (Grandmother's) homecooked meals of fish, often plaice, collected by his grandfather straight from the fishing boats sounded like the perfect food memories. And the Kebabrulle, a type of Kebab made by refugees in Sweden, which were a particular hit with Toddy and his brother Chris, sounded delicious…a far cry for the Ikea meatballs you tend to read about most online (although 1,836,000 are said to be eaten daily)!
Finally, and following Swedish tradition, time for a quick rendition of Helan Går, the popular Swedish drinking song, before a shot of aquavit.
Skål!
Tooting Family Kitchen cooks Gravlax, Pickled Herring, Stuffed Eggs, Rye Bread and Reindeer Meatballs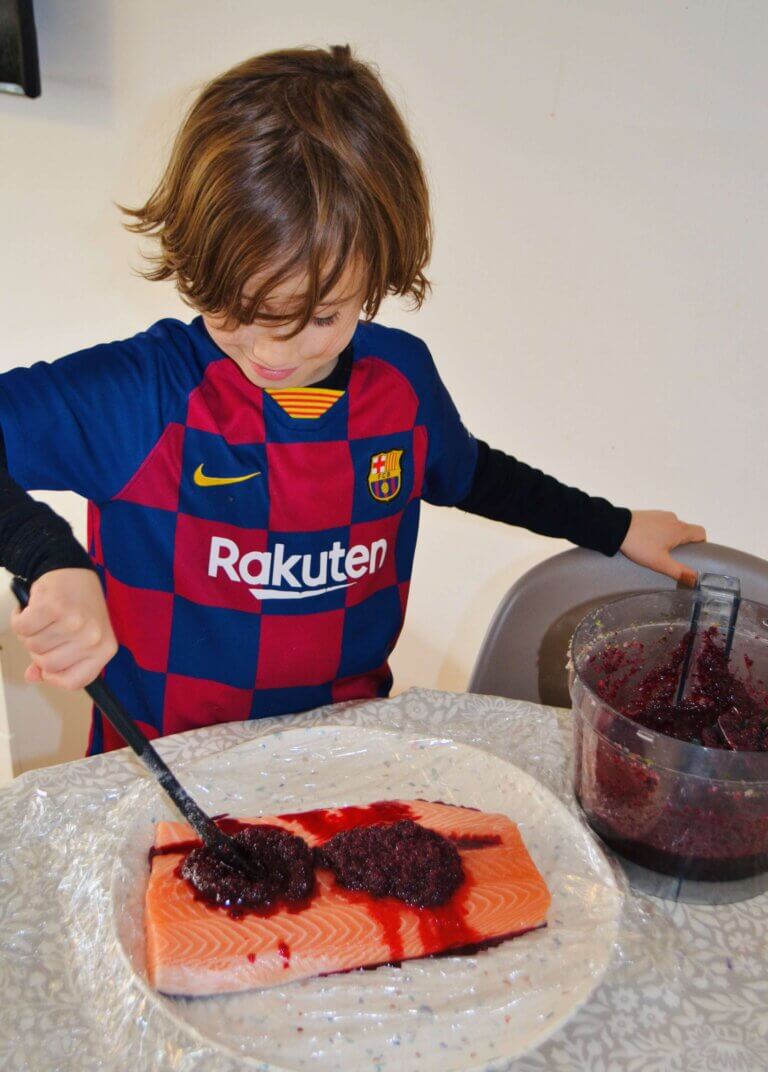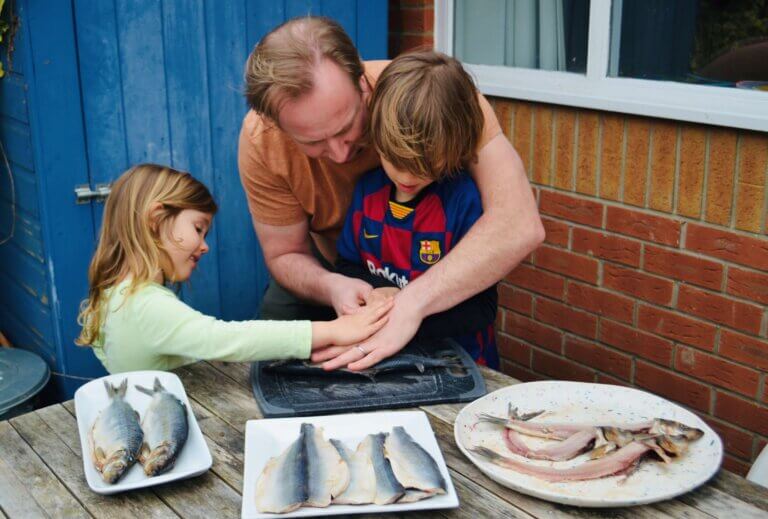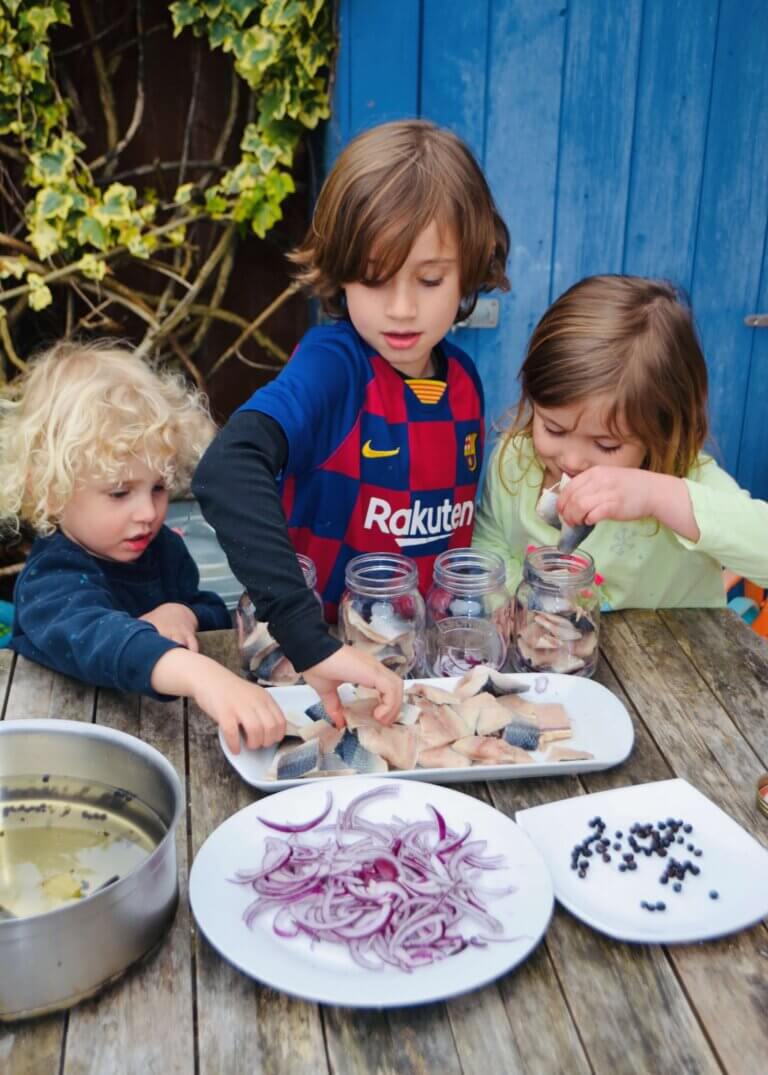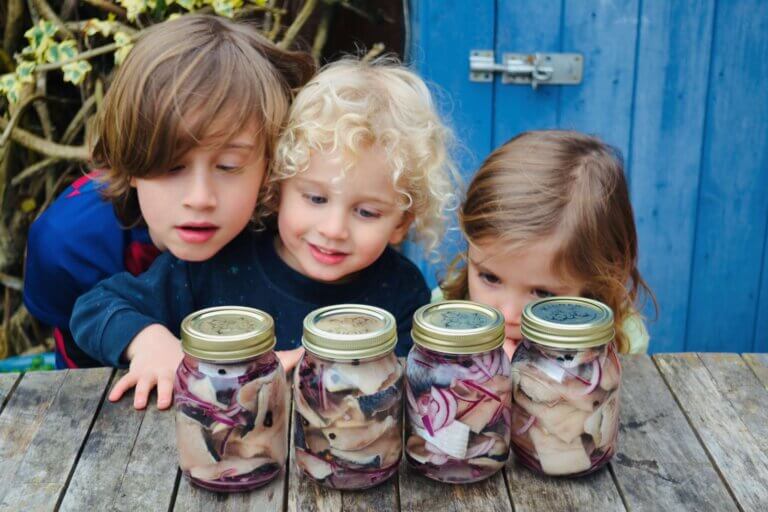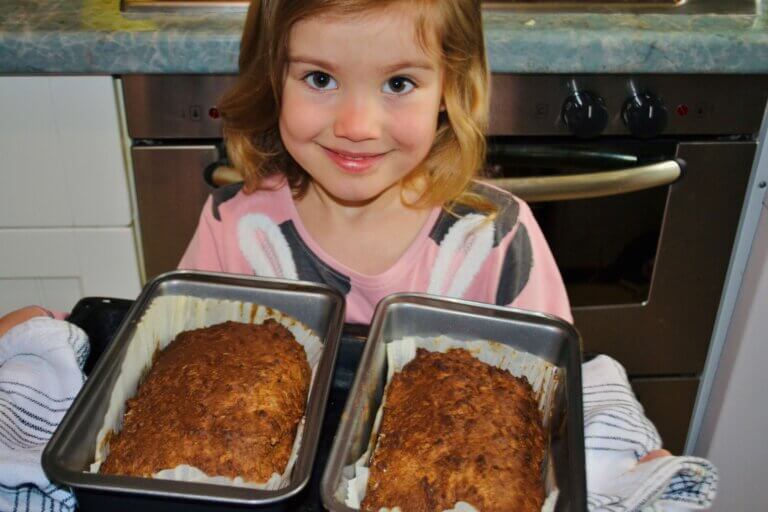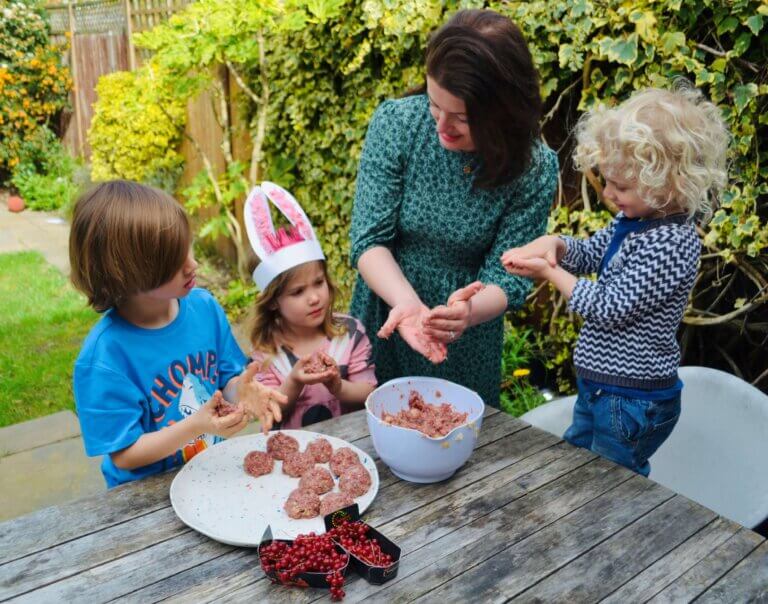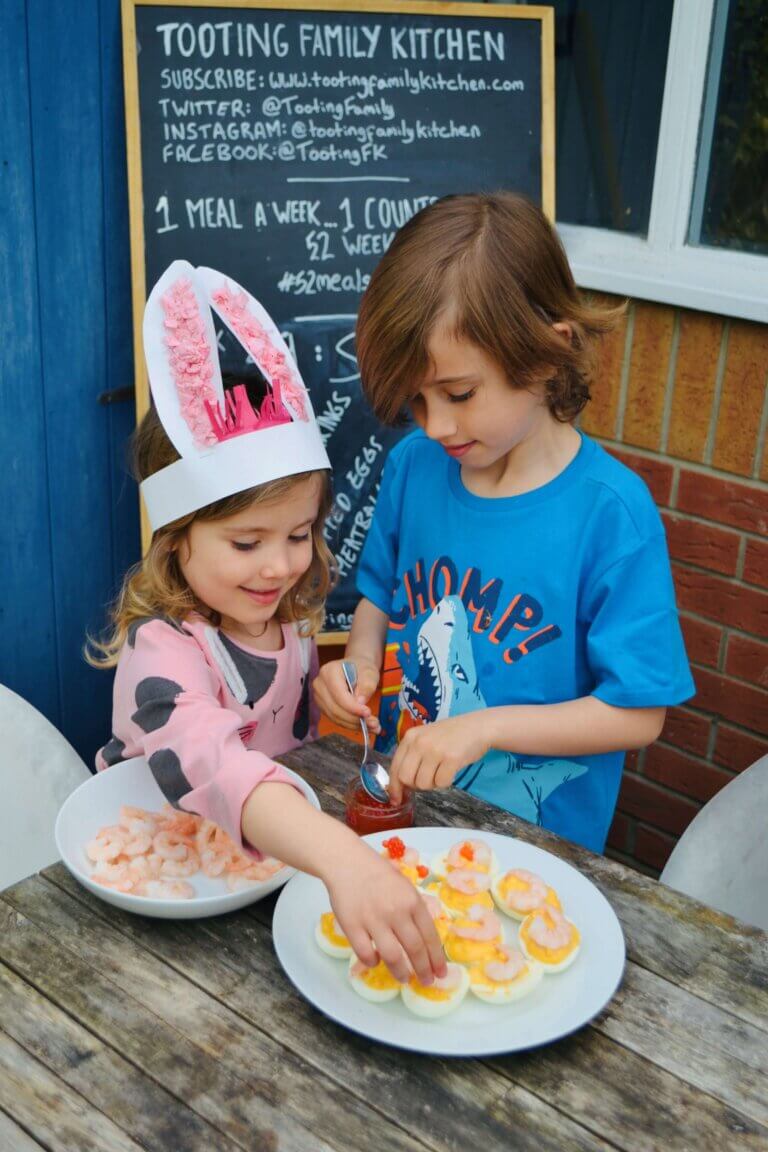 Meatballs
2 tbsp butter
1 onion, finely chopped
700g reindeer meat, minced
300g pork mince
3 slices of white bread, crumbed
½ cup of milk
1 egg
2 tsp salt
1 tsp black pepper
Handful of dill, chopped
Lingonberry sauce
300g of fresh or frozen lingonberries (we substituted red-currants)
1 orange zest and juice
½ cup of sugare
¼ cup of water
For the lingonberry sauce sauce add all the ingredients to a pan and simmer for approx. 15 mins until the mixture has thickened slightly into a sauce.
In a frying pan melt the butter and gently fry the onions for about 5 mins until translucent. Remove to a plate and put to one side to cool. Whilst frying soak the breadcrumbs in the milk
In a large bowl and the reindeer meat, pork, soaked bread crumbs, egg and slat and pepper and combine well with you fingers finally adding the cooled onion.
Make the mixture into evenly sized (golf ball) meatballs and place in the fridge to set until ready to cook.
Dust each meatball in flour and gently fry each one until browned off all over before poaching in gravy for another 15 mins or until cooked through
Serve scattered with chopped dill alongside the lingonberry sauce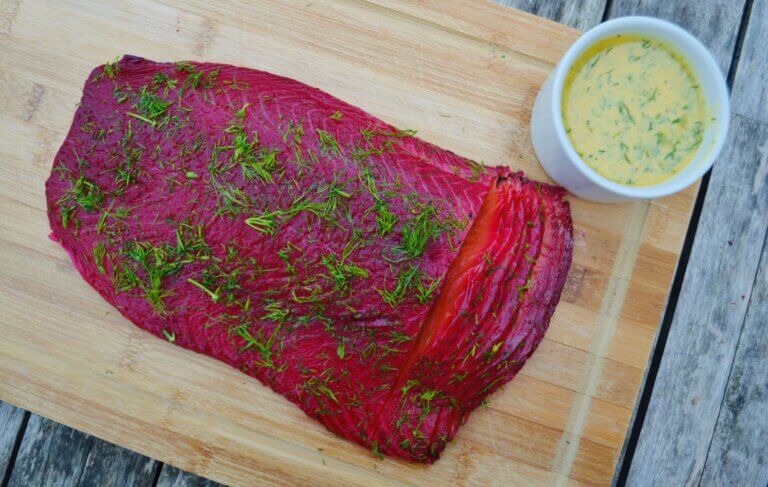 Gravlax
1kg loin of salmon, pin bones
2 uncooked beetroot – cleaned but no need to peel and roughly chopped
1 lemon, zest
1 tbsp black peppercorns
1 tbsp juniper berries
1 bunch of dill, roughly chopped
250g sea salt
200g sugar
 Dill & mustard sauce
1 small bunch of dill, roughly chopped
3 tbsp Dijon mustard
2 tbsp honey
2 tbsp cider vinegar
2 tbsp olive oil
1 tsp soft brown sugar
Put the beetroot, lemon zest, salt and sugar into a food processor and blitz until smooth.
Mix in the juniper berries, peppercorns and dill.
Place the salmon skin side down on 2 long pieces of cling film and pour over the curing mixture making sure it is evenly spread over the salmon.
Wrap tightly in the cling film and place into a container in the fridge. Make sure to turn the salmon ever 12 hours and leave to cure for 2 – 4 days. When finished remove cling film and wipe away the curing mixture. Thinly slice and serve with the dill and mustard sauce and the rye bread.
For the dill and mustard sauce blitz all the ingredients in a blender until smooth.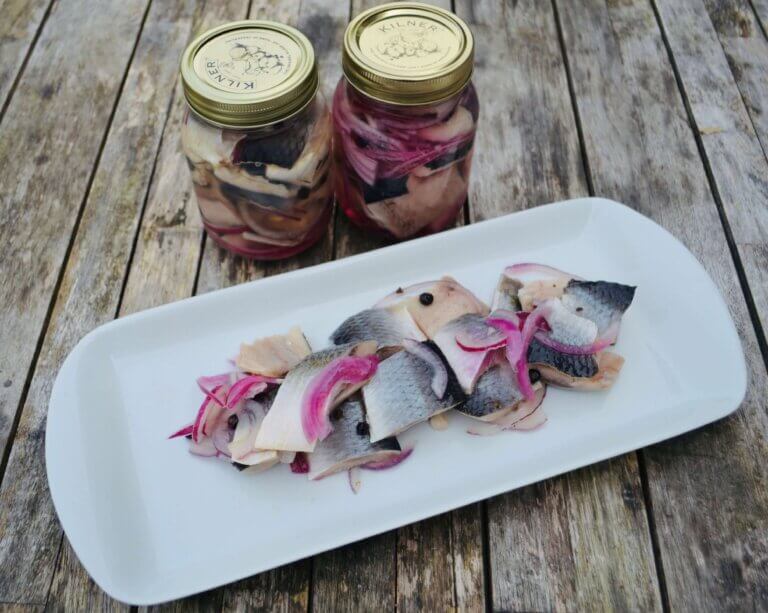 8 fillets of herring, chopped into bite size pieces
2 red onions thinly sliced
3 tbsp juniper berries, lightly crushed
3 tbsp black peppercorns
1 ltr of pickling vinegar
1 ltr of water
1kg of sugar
5 bay leaves
Combine the pickling vinegar, water, sugar, and peppercorns in a large pan and bring to the boil. When all the sugar has dissolved talk off the heat and leave to one side to cool.
Place the chopped herrings, onions and juniper berries evenly between sterilized jars and pour over the cooled pickling liquid.
Leave for 3 day in the fridge before serving.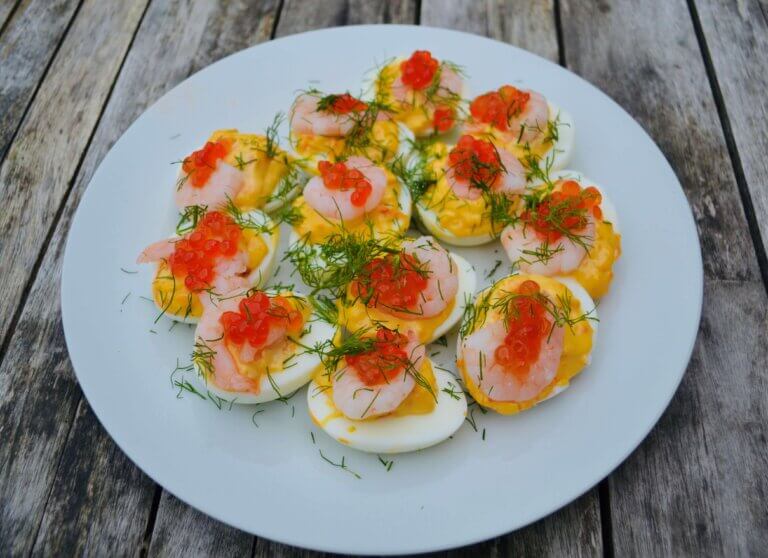 Stuffed eggs
6 eggs
4 tbsp mayonnaise (see may recipe)
3 tbsp sour cream
1 tsp Dijon mustard
Dash of hot sauce
200g cooked prawns
1 small jar of salmon roe
Handful of chopped dill
1 lemon, segments to garnish
Mayonnaise
2 egg yolks
1 tsp Dijon mustard
1 tsp salt
300ml canelo oil
1 tbsp lemon juice
Make the mayonnaise in advance but vigorously whisking the egg yolks before adding the salt and mustard and then gradually adding the oil (very slowly) as it emulsifies. Stir in the lemon juice at the end.
Place the eggs in a saucepan full of cold water and bring to the boil and cook for a further 8 mins. Remove and immediately place into another bowl of iced water for 5 mins.
Remove the eggs, peel and cut in half and scoop out the yolks putting to one side.
Mix the mayonnaise with the sour cream, mustard, hot sauce and then stir in the egg yolks.
Place a tbsp of the mixture into each egg half and top with a cooked prawn and little bit of salmon row. Scatter with the chopped dill and garnish with lemon segments.
Scandinavian style rye bread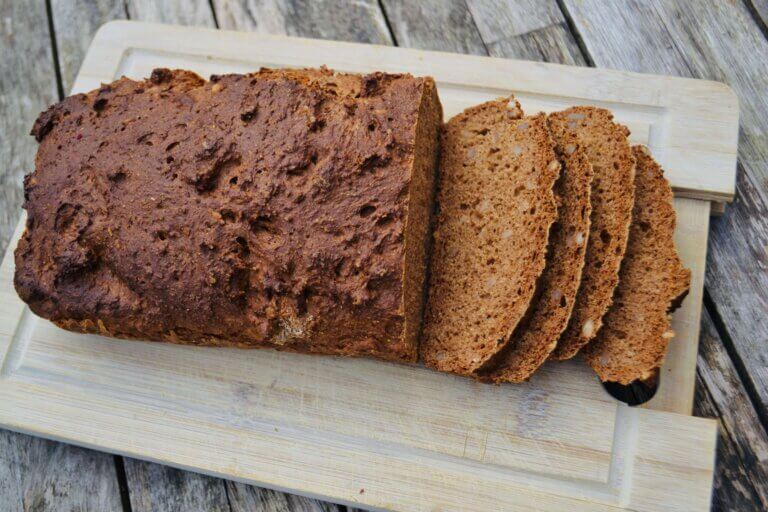 3 cups of wholewheat bread flour
2 cups of sifted wholewheat rye flour
2 tbsp bicarbonate of soda powder
3 tbsp each of linseed and sunflower seed (oy whatever your preference is)
1 tsp salt
5 tbsp melted butter
3 tbsp golden syrup
450ml of buttermilk
450ml of sour cream
Sift the flours into a large boil and mix with the salt, bicarbonate of soda and seeds then gradually add the melted butter, syrup, buttermilk and sour cream mixing well with a wooden spoon until you have smooth, quite thick batter.
Pour the mixture into 2 greased loaf tins and place in a pre-heated oven for 1hr15 mins on 180 C or until cooked through.
Remove from the oven and leave in the tins for 5 mins before removing the bread and allowing to cool on a wire rack.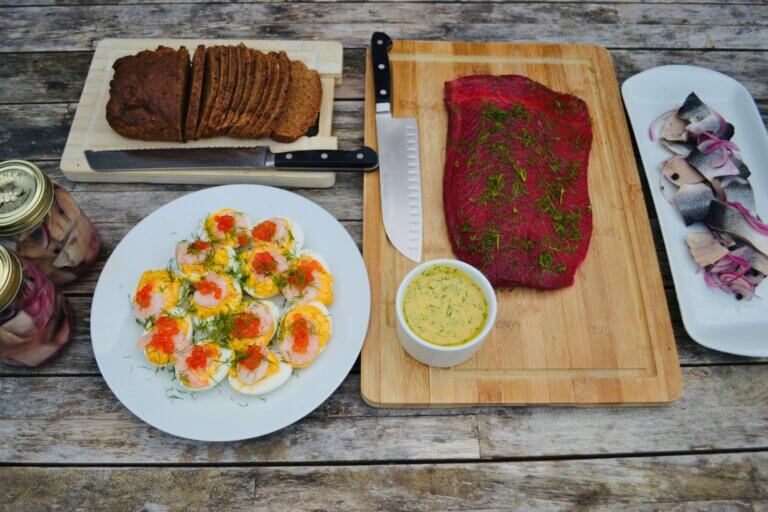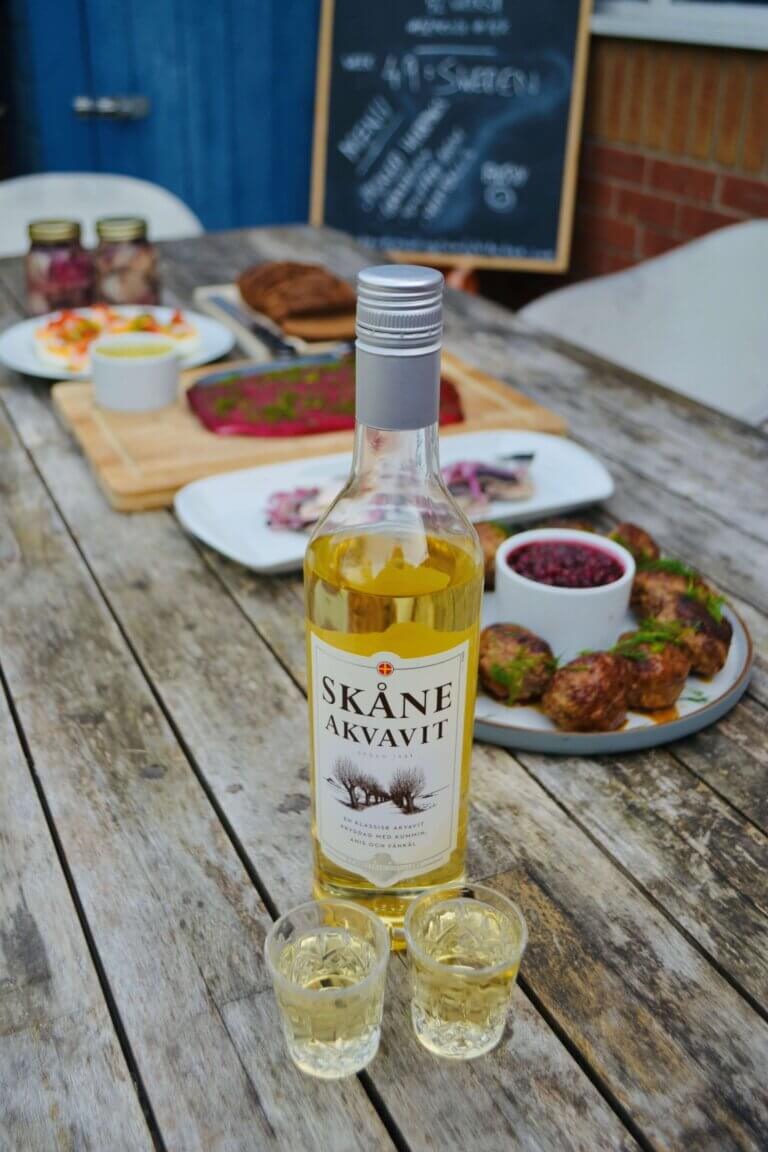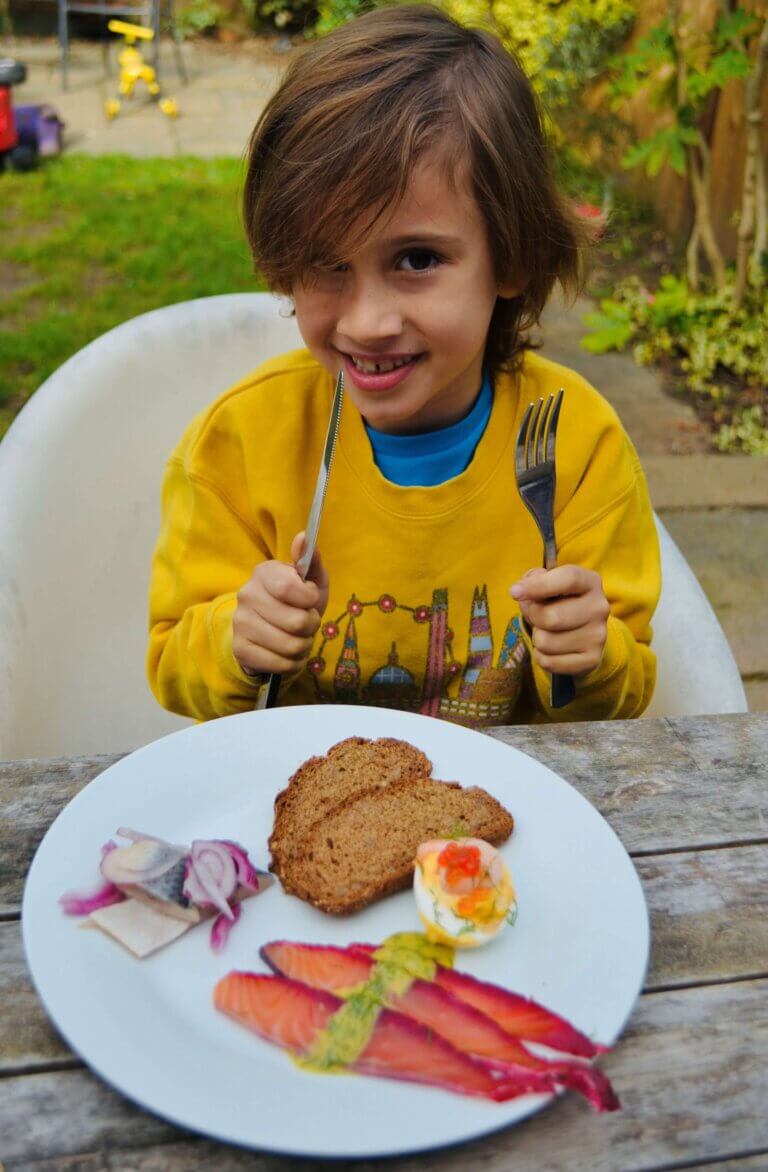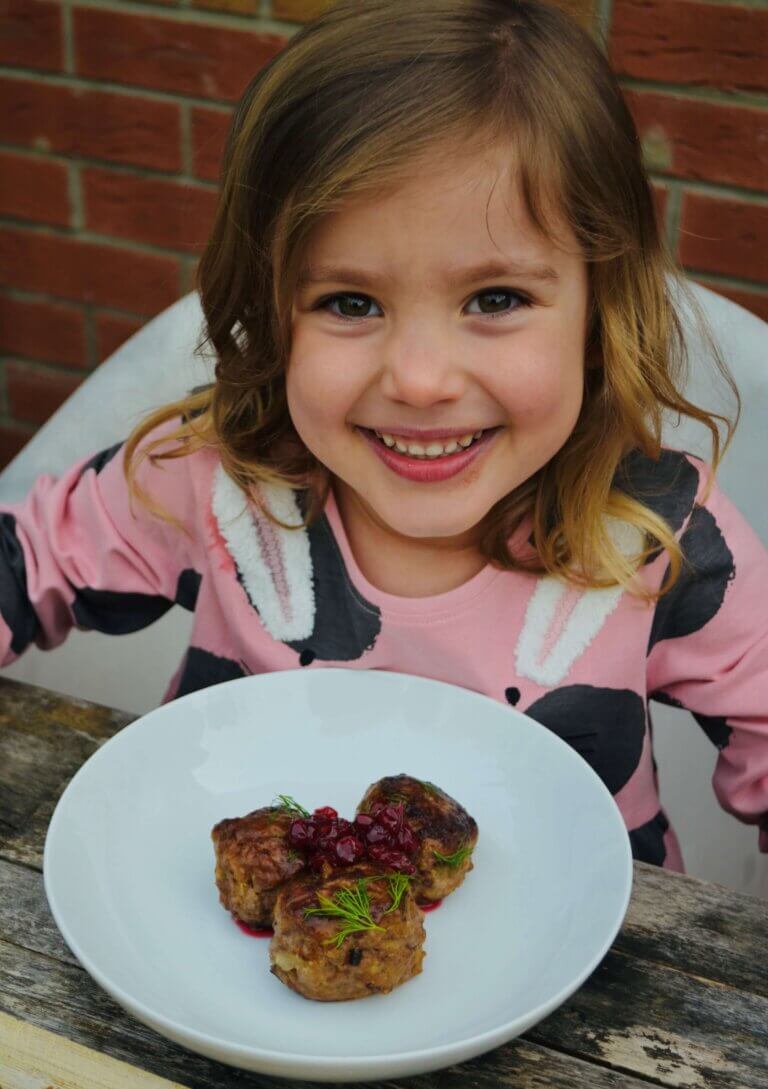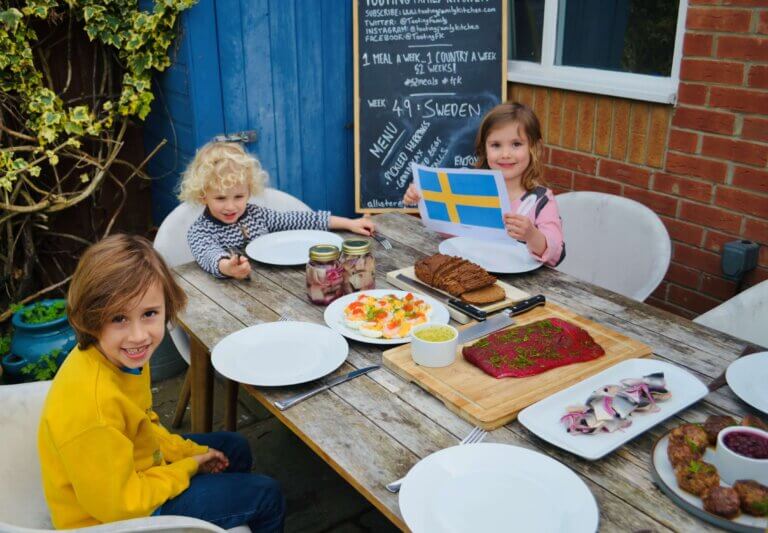 Thank you Sweden, that was epic! 
Next week we are excited to head to Madagascar!!! … please don't forget to SUBSCRIBE (scroll to bottom) & SHARE and if you have any International Food ideas or recipes from around the world you wish to share please do drop us a line
Check out other destinations here.
You can also follow us on Instagram, twitter and Facebook
See you next week!
Tooting Family Kitchen
#tootingfamilykitchen #getkidscooking #familycooking #homecooked #worldfood #americanfood #usa #kidscooking #getkidscooking #familycooking #internationalfood #CookingBuddies