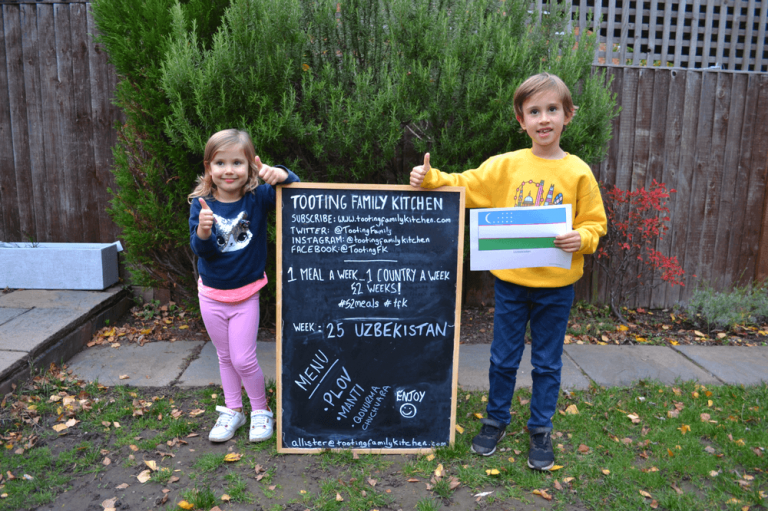 Thank you for joining Tooting Family Kitchen for Week 25 of our 52 Meals Challenge. If you are hitting our blog for the first time, welcome! We are on a culinary journey, exploring different cuisines from around the world to get kids cooking and learn about different International Cuisines and Cultures – celebrating Diversity through Food.
We have set ourselves a challenge to cook 52 Meals from 52 Countries in 52 Weeks, sharing our family cooked recipes and experiences as we go. If you like our content please do share and subscribe (at bottom of the page) to ensure you don't miss out on future family cooking destinations – we promise we won't spam you, just a weekly reminder when we publish our latest International recipes 😊
This week we make our first foray into Central Asia to check out Uzbekistan and cook up an Uzbek Family Feast!
Uzbekistan, along with the other 'Stans of Kazakhstan, Kyrgyzstan, Tajikistan and Turkmenistan, to a certain extent feels like it is shrouded in mystery to many of us here in the UK. It is largely untouched by mass tourism, and despite being the most visited of the 'Stans, along with Kazakhstan, it still only attracts around 1000 or so visitors each year from the UK, compared to a whopping 8.5 million in Spain! Some may say that because of the fact it ends in 'Stan and borders Afghanistan, it can be associated with negative connotations of being unsafe, but in fact Uzbekistan is considered to be one of the safest countries in the world. I think it's much more likely that it is one of only 2 double landlocked countries on the planet and us Brit's do love a beach! Yep, you have to travel a hell of a long way to reach the ocean and any ideas of following the rivers can be cast to one side immediately, as there is not a single river that leads to the sea in the country… Hats off to Vadim Menkov – one of Uzbekistan's most recognised sportsmen. Never would have guessed he's a highly decorated sports canoeist.
Uzbekistan was of course a Soviet Republic and like many of the former Soviet Republics, Uzbekistan has continued to forge its own identity in the 20 years since gaining its independence. It is at the heart of central Asia and is the most populous country with approximately 33 million inhabitants, with most of the population living in rural areas. The vast majority of the population are ethnic Uzbeks and Uzbek is the official language, although Russian is widely spoken too. It is a secular state with approximately 90% of the population identifying as Muslim, with the majority being Sunni Muslim. Uzbek's are known to be tough and resilient and in sports they have made a name for themselves in combat disciplines, especially wrestling, judo and boxing but even in cycling, 'The Terror of Tashkent' Djamolidine Abdoujaparov, multiple winner of the Green Jersey point contest in the Tour de France, earned his nickname for his fearless and often dangerous cycling.
So, given it is unlikely that any of us will be visiting Uzbekistan given current statistics, what is the cross over into our daily lives? Well, it is highly likely some of the clothes in your wardrobe will have their roots (literally) in Uzbekistan, being the second largest exporter of cotton in the world. Perhaps the gold you are wearing around your neck comes from Uzbekistan, being one of the largest producers and exporters in the world and if you are partial to a bit of uranium, it ranks 7th in the world in its production. I think Uzbekistan is a country that will become a popular destination for travellers. Type Uzbekistan into 'google images' and it is clear why – it is a stunningly beautiful country that sits at a historic crossroads with beautiful ancient cities that have stood for centuries under various ancient empires along old spice routes. And don't let Covid put you off – if you contract the virus in Uzbekistan you could be granted nearly £2500.
Our good friend Shohista as a little girl with her mother in Uzbekistan.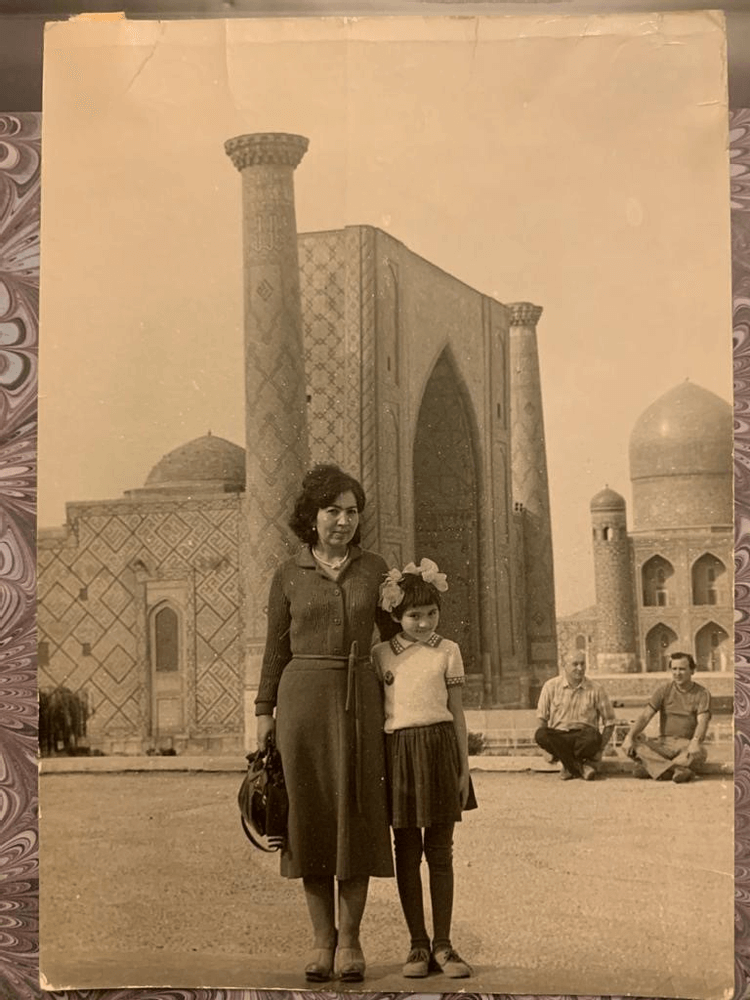 We are fortunate to have a very close Uzbek friend and fantastic godmother to our daughter in Shohista. Shohista was born and raised in Uzbekistan before coming to live in the UK and pursuing her career as a consultant eye surgeon. She told us what an important part of Uzbek culture meals are. "Most people live with three or four generations together, so family meals are a big gathering and are usually three courses with a constant supply of tea. The elders sit at the top of the table and start the meal, the youngest ones wait until all the older people have started their meal. The meal is always finished with Dua, thanking the god for the food, after everyone has finished. The table should always have the bare minimum of bread and tea, along with fresh or dried fruit according to the season. Starter is always a soup and the main course is usually Plov, served with a salad or yogurt/pomegranates in the winter. Other popular dishes are manti, chuchvara, lagman, hanum, jarkop and dimlama."
I followed Shohista's lead on cooking Plov (along with Manti and Chuchvara) – how could I not? Legend has it that it was invented by the cooks of Alexander the Great and an Uzbek master chef is held to be able to cook enough plov in one cauldron to serve a thousand men! The Uzbek 'Jamie Oliver', Chustiy is a national celebrity and a World Record holder for his plov. I think I have found my new calling in life!
Tooting Family Kitchen cook Plov, Manti and Qovurma Chuchvara
Let's get filling the Manti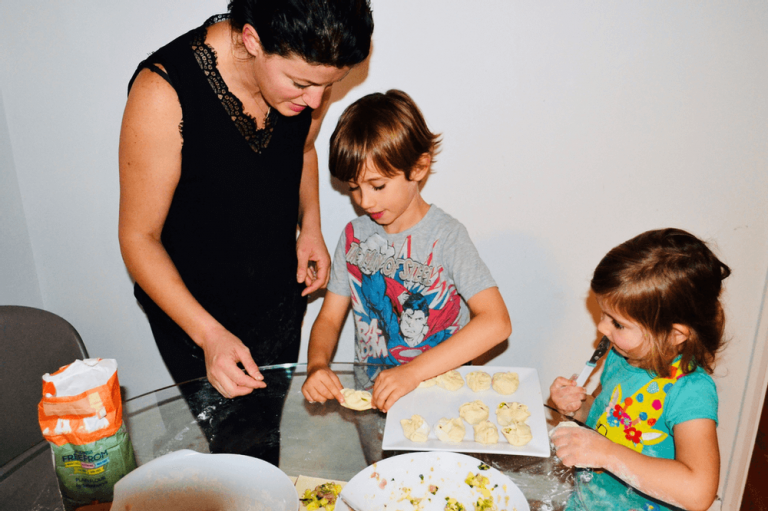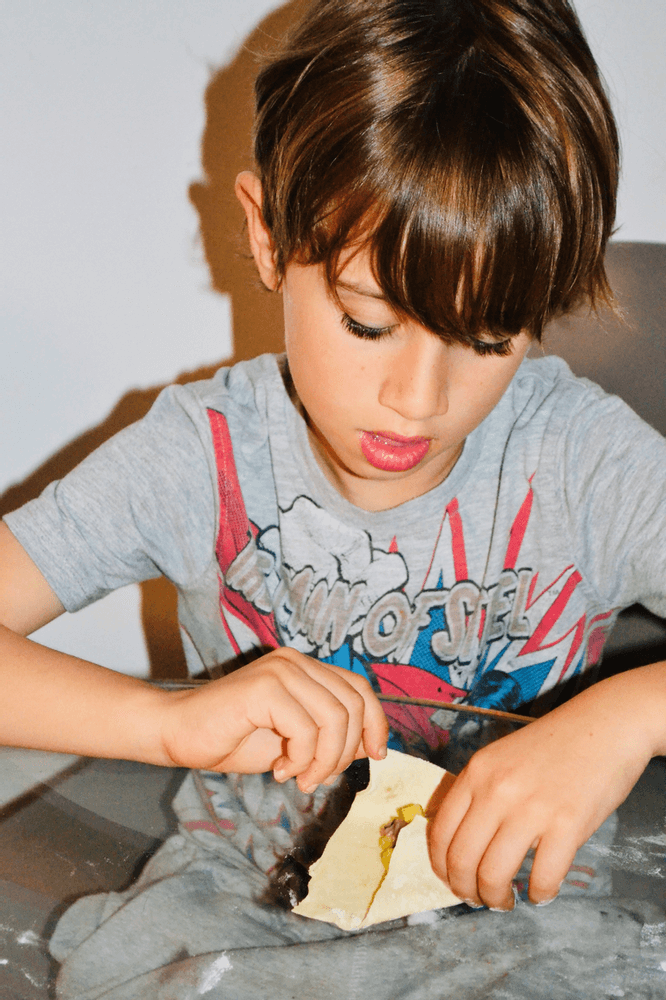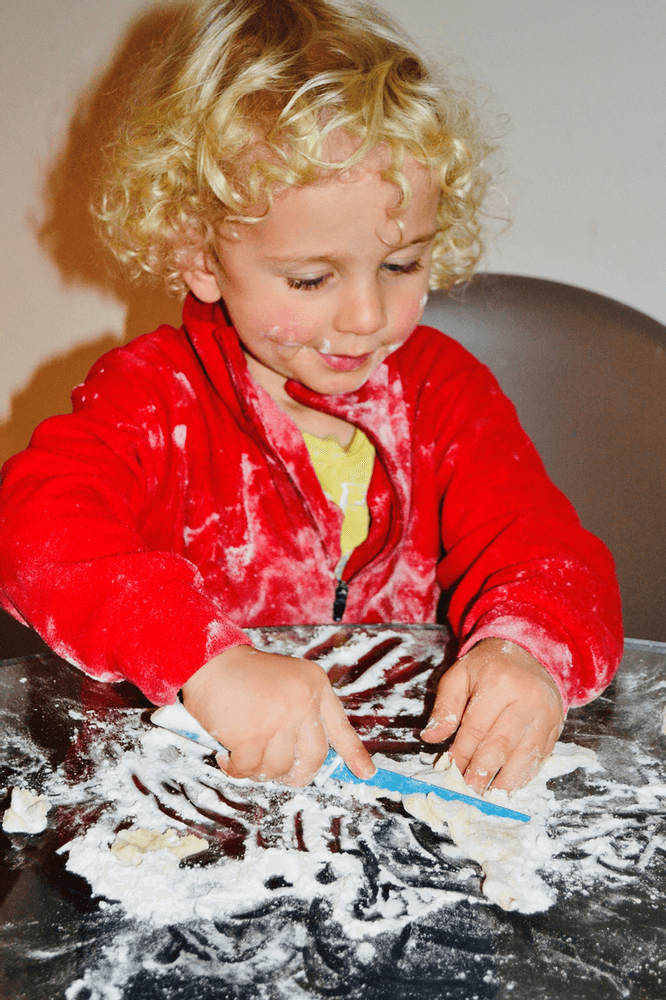 Manti is ready for steaming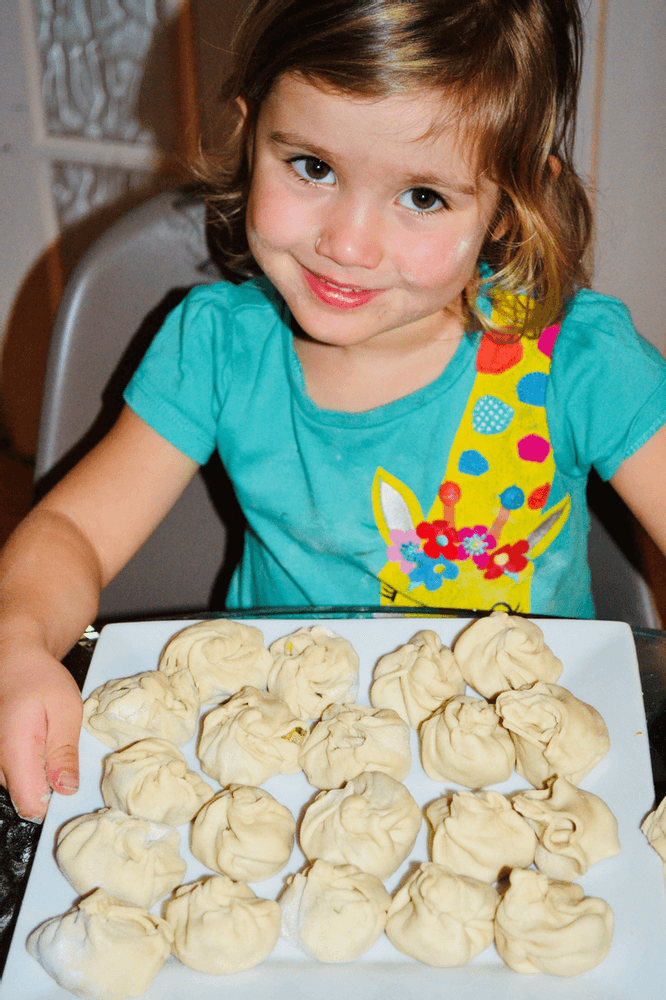 The chuchvara ready for frying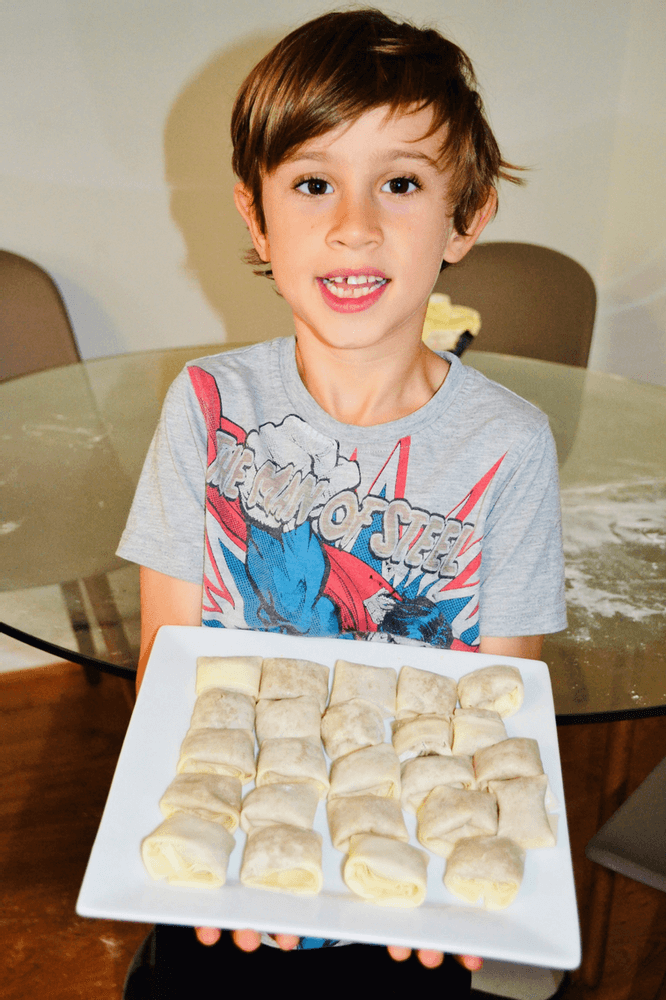 Checking out the Plov ingredients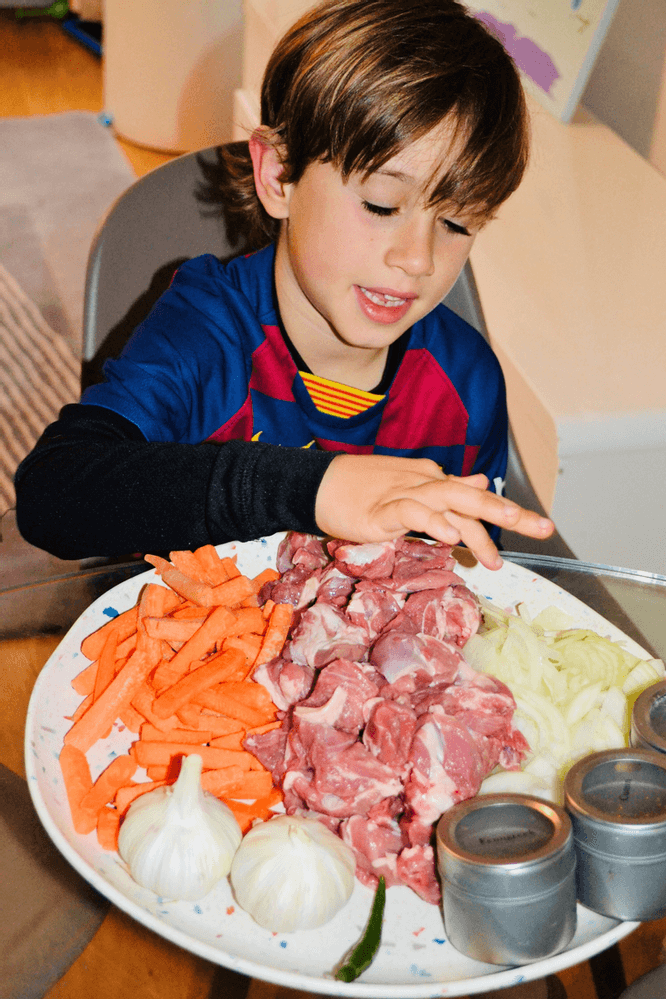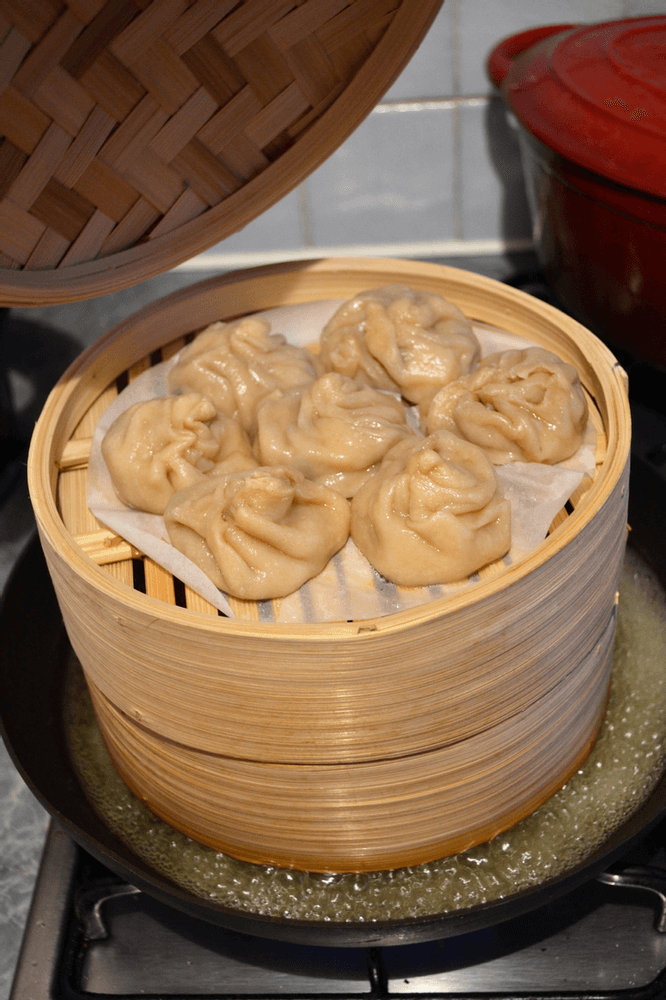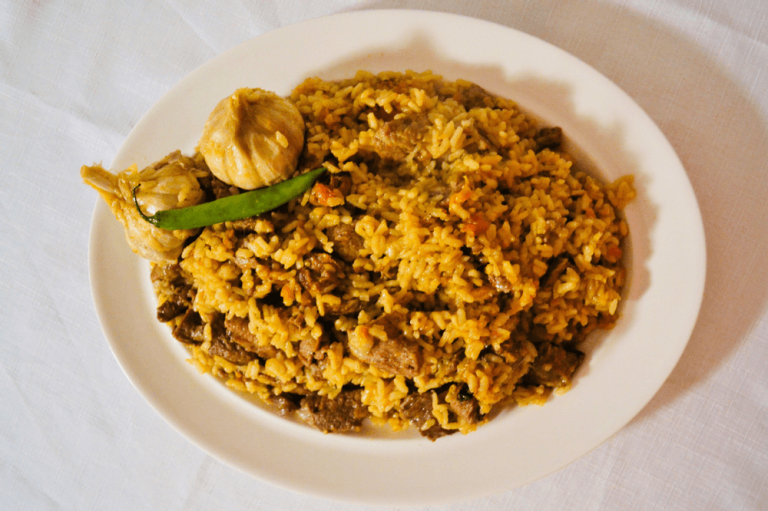 1kg of lamb shoulder, cut into 2 inch pieces
50ml of olive oil
2 large onions, sliced
5 carrots, cut into sticks
2 cups paella rice
2 whole heads of garlic
1 green chilli
2 tablespoons cumin seeds
3 tbs raisins
1 tbsp black pepper
1 tbsp salt
2 cups boiling water to cover
Heat the oil in a heavy bottom pan with lid and brown off the lamb in batches removing to one side. When done fry the onions in the same fat/oil until stating to brown and then add the carrots and gently fry for another 10 mins until the carrots soften. Stir in the cumin seeds, raisins and salt and pepper and then mix in with the meat.
Add water/stock until the mixture is just covered, bring to the boil and then reduce to a simmer and cook until the water has nearly evaporated (approx. an hour) and the lamb is beautifully tender.
Add the rice carefully on top of the mixture to form an even layer and then gently pour over the 2 cups of boiling water which should just about cover the rice by a cm or 2. Do not stir but gently simmer with the lid on for approx. 20 minutes until the water has been absorbed and the rice still has a little bite to it.
Stir the rice and meat gently together and serve with the heads of garlic and chilli on top.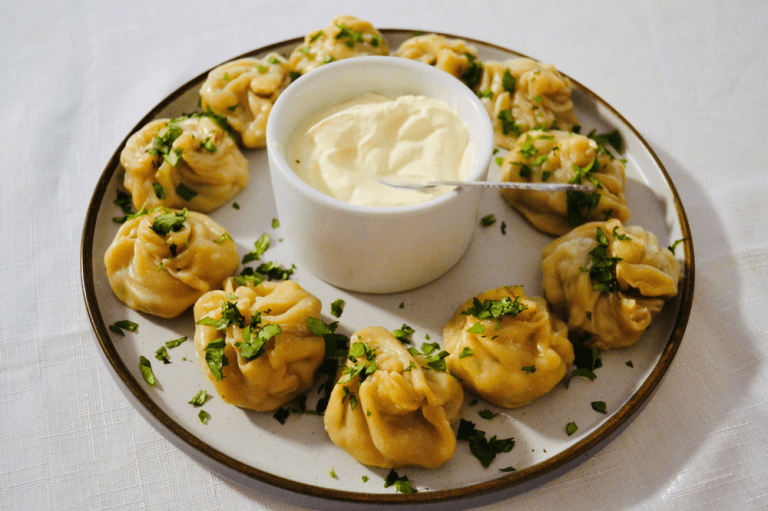 For the dough
3 cups of plain flour
1 cup of water
1 egg
1 tsp salt
For the filling
500g chicken thighs, diced very finely
500g potatoes, peeled and cubed v.small (can use squash/carrots)
1 small onion, finely chopped
2 tbsp butter, soften or frozen and grated
2 cloves of garlic, minced
1 tsp salt
1 tsp black pepper
1 tsp ground cumin
Handful of chopped
coriander
Mix the water, egg and slat and then combine with the flour mixing well. Kneed the dough for approx. 10 minutes until dough consistency and then rest for 20 minutes.
Make the filling by combining the chicken and potato cubes (soak these in water for 15 mins), onion, butter, garlic, seasoning, cumin and coriander in a large bowl.
Flour a working surface and cut the dough in half leaving one half in the bowl. Roll the dough out as thin as you can get it and then fold over and roll again. Do this a few times and finally cut into squares of about 3 inches.
Place a tbsp of filling into the middle of each square, take the corners and pinch together and when all together twist around making sure there are no holes.
Steam these for approx. 30 – 40 minutes or until the meat is cooked through and serve with sour cream and scattered with some left over coriander.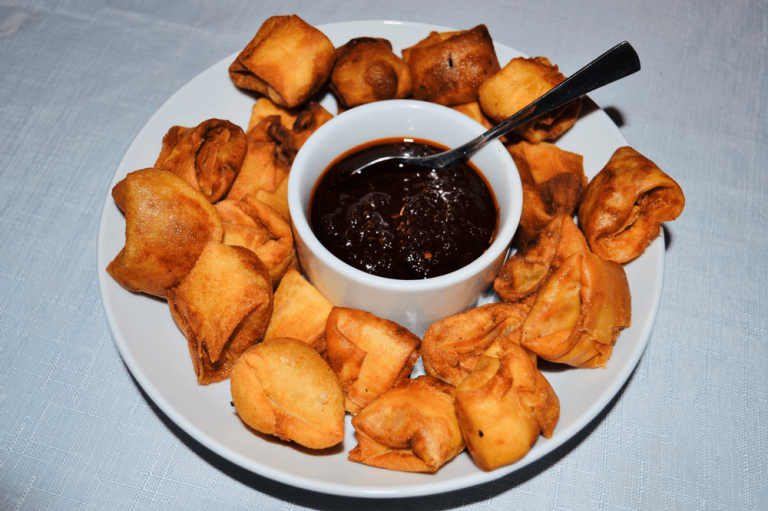 For the dough
2 cups of plain flour
150 ml of water
1 tsp of salt
Filling:
400g of lamb mince
2 large onions, diced
50 gr butter
1 tsp cumin
1 tsp salt
1 tsp black pepper
1 litre of vegetable oil for frying
Make a very stiff dough by combining the water and slat and gradually adding the flour until the right consistency is achieved and then allowing to rest, covered for 20 minutes.
Whilst resting fry the onions in butter and allow to cool and then mix with the lamb mince, cumin and seasoning.
Roll the dough out as thin as you can get it (approx. 1mm) and cut in to 5cm squares. Putting a tsp mixture in the middle of each.
Fold the wrapper in half to make a rectangle and then in half again the same way and the twist it around to make a ring and pinch ends together. When completed and ready to cook heat the oil in a deep heavy bottom and deep fry until golden brown – should only take a couple of minutes. Drain on kitchen paper and serve.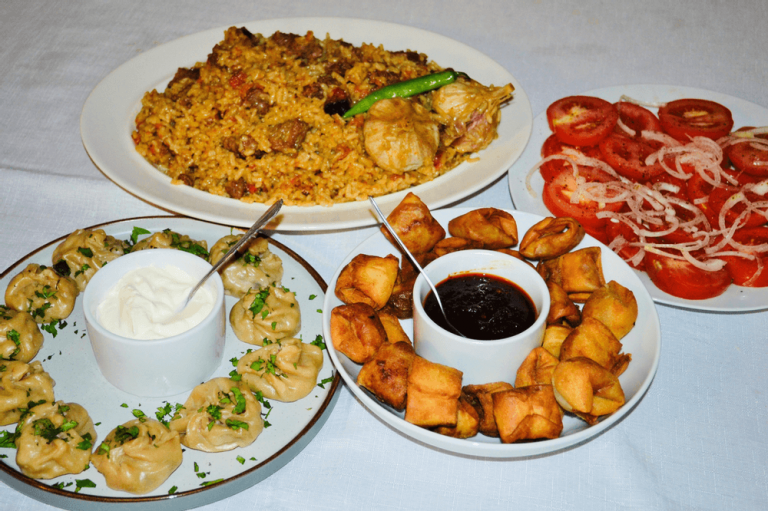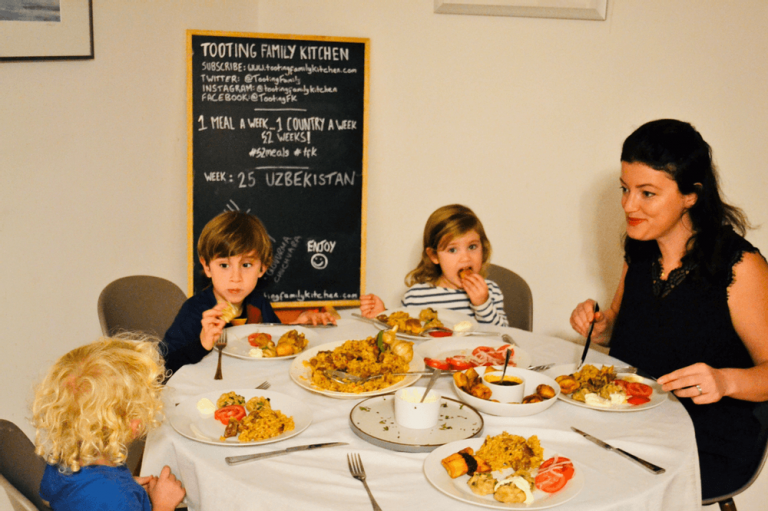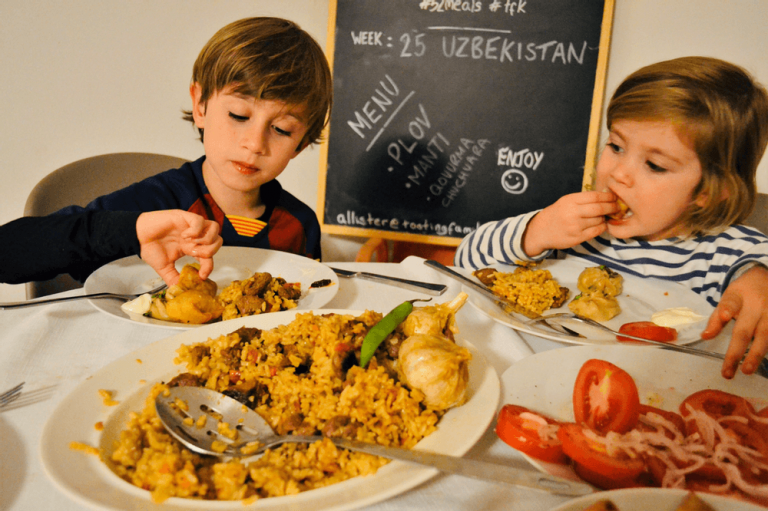 Uzbekistan - that was delicious!