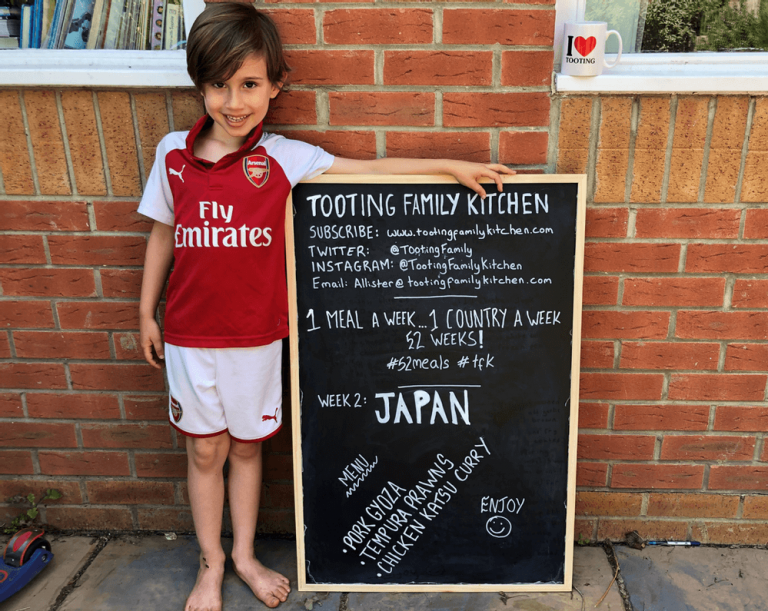 Thank you for joining us on Week 2, Meal 2, of our 52 meal challenge which takes our exploration of International food ideas and family cooked recipes to Japan, the Land of the Rising Sun, to sample a few of its culinary delights, hopefully learn something new and to get kids cooking!
Although I have never been to Japan I have always found Japanese food to be as beautiful as it is delicious. For very special occasions Nobu, Zuma and Roka have always been firm dining favourites of ours and in more recent years (post kids), we can often be found dunking sushi at IKI Robata Grill & Sushi Bar, slurping ramen noodles at KOI Ramen Bar or tucking into a Katsu Curry at Hinata, all in our very own Tooting & Broadway Markets and always with a side portion of Gyoza…a firm family favourite dish!
One of my oldest friends Ashley, lives in Osaka where he runs an English language school with his wife Kumi. He explained to me the importance of Tsukemono (Japanese pickles), with daikon (a long white Japanese radish) in particular, being used frequently in Japanese dishes. Although I have used radish in this recipe, the flavour of daikon is very different and more similar to turnip if you want to try, but do experiment with pickling – it's easy and a lot of fun for the kids! Ashley was a great source of Japanese food inspiration for this weeks family cooking recipes and we spoke a lot about Japanese regional recipes…I just wish I could include everything!
Our version of Japanese pickles - a 'must have' for so many Japanese dishes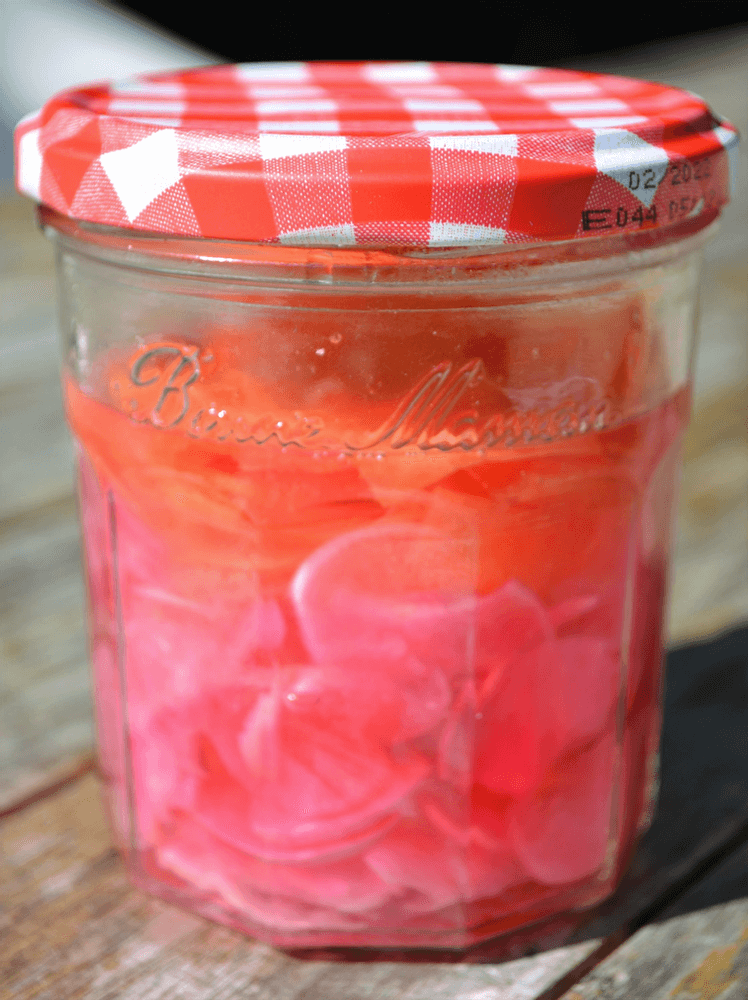 I also spoke to my good friends Louis and Ami, who live in Tooting but spent many years living and studying in Japan and eating Japanese food of course! Louis and Ami spoke to me about the importance of table etiquette in Japanese culture and have inspired this week's quiz questions (answers next week).
Questions for the kids:
You are dining with a friend in Japan, have finished your drink and want a top up. Do you a) Top up your drink yourself b) Wait for your friend to top up your drink c) Click your fingers
Before eating in Japan it is courteous to put your hands together in the "Namaste" gesture and say a) itadakimasu b) konbanwa c) konnichiwa
When eating in Japan with chopsticks you should avoid placing them down in a) The V shape b) The X shape c) They shouldn't be touching
The dishes – Pork Gyoza, Tempura Prawn with Nobu inspired Chilli Mayo and Chicken Katsu Curry
Preparing the Gyoza wrappers for our first Japanese inspired recipe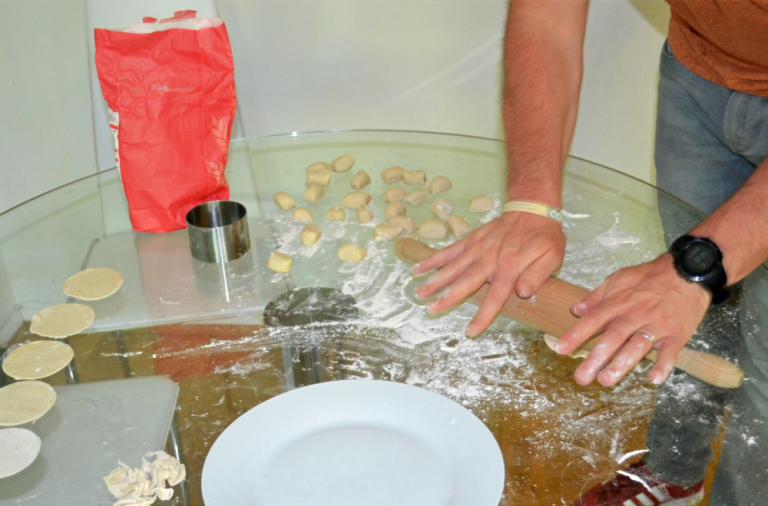 A great way to get kids cooking and excited about eating adventurous food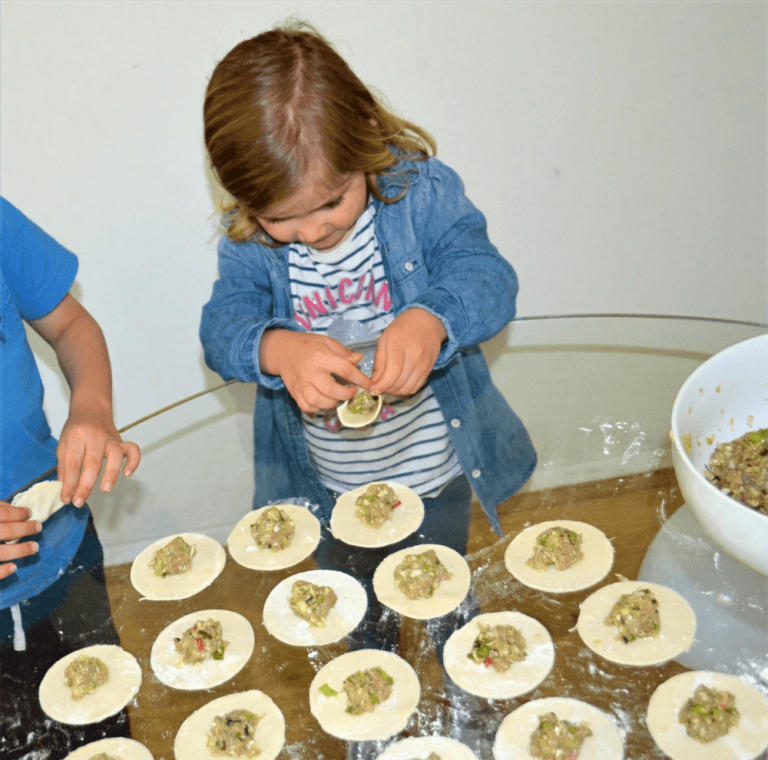 Making the panko chicken for the family cooked chicken katsu curry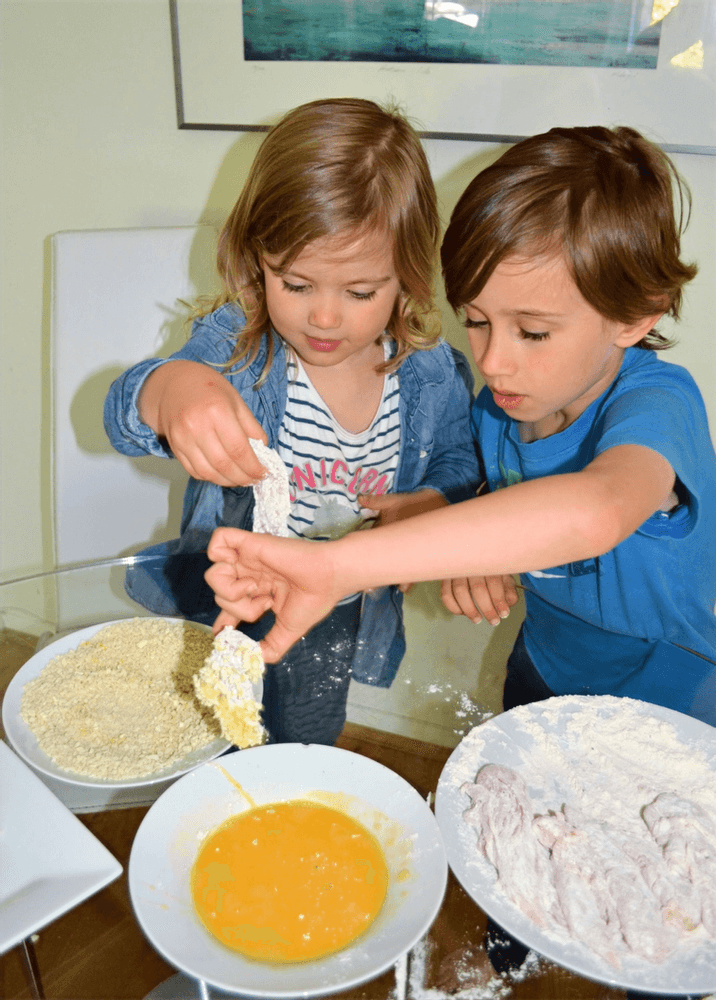 Our Japanese inspired recipe of Pork Gyoza topped with chives and drizzled in dipping sauce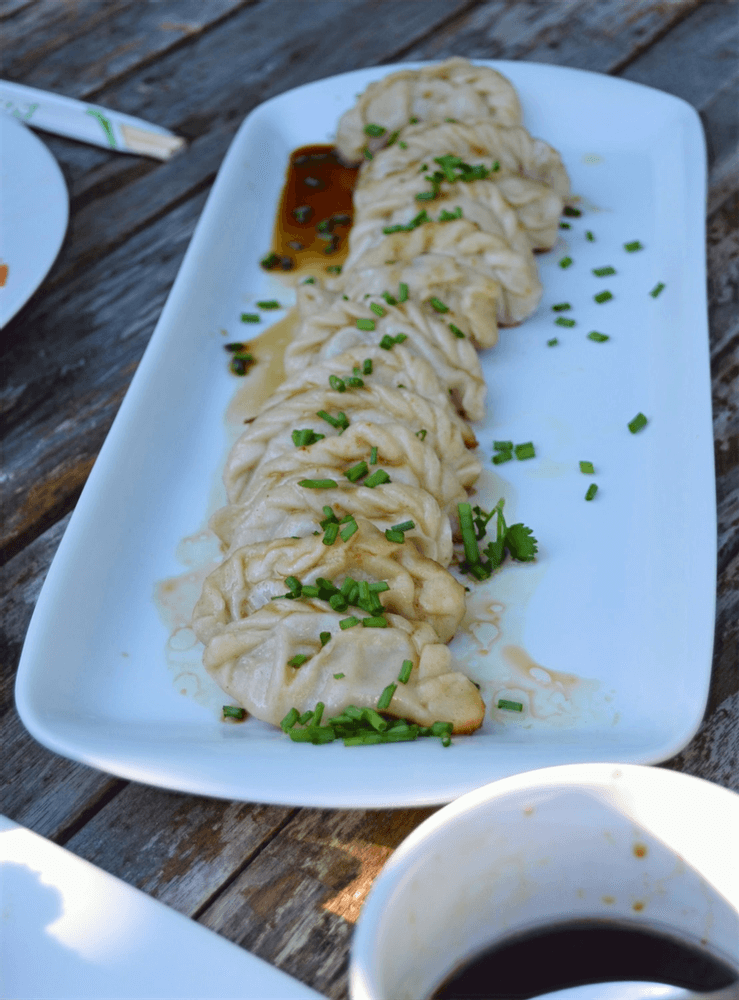 100g cabbage, chopped (I used a mix of pointy and chois sum but can use any)
1 small leak (optional)
4 spring onions, finely chopped
5 garlic cloves, minced
4 cm ginger, finely chopped
150g minced pork
3 tbsp soy sauce
2 tsp sesame oil
30 gyoza wrappers – there are plenty of YouTube videos on how make these but to be honest much easier to just buy the packs of frozen ones!
Dipping sauce: combine 2 tbsp of soy sauce,1 tbsp of rice vinegar and 1 tsp of sesame oil
Combine the cabbage, leak, spring onion, garlic and ginger (keeping back ¼ of the spring onions for garnish (or chives) and give it a few blasts in a food processer.
Mix in a bowl with the pork, sesame oil and soy sauce (even amount of pork and vegetables) and put in the fridge.
Spoon 1 tsp of the mixture into the centre of each gyoza wrapper and wet the edges to seal. Fold the gyoza wrapper in half and pleat the edges. Lightly dust in corn starch to stop sticking.
Heat up some oil in a wok or a pan with a lid and fry until one side of the gyoza has become golden and crisped up a little and then add a glug of water, cover and steam until the water has evaporated.
Serve with a sprinkling of finely diced spring onion or chopped chives and dipping sauce.
Tempura Prawns tossed in a Nobu inspired Chilli Mayo - a family favourite recipe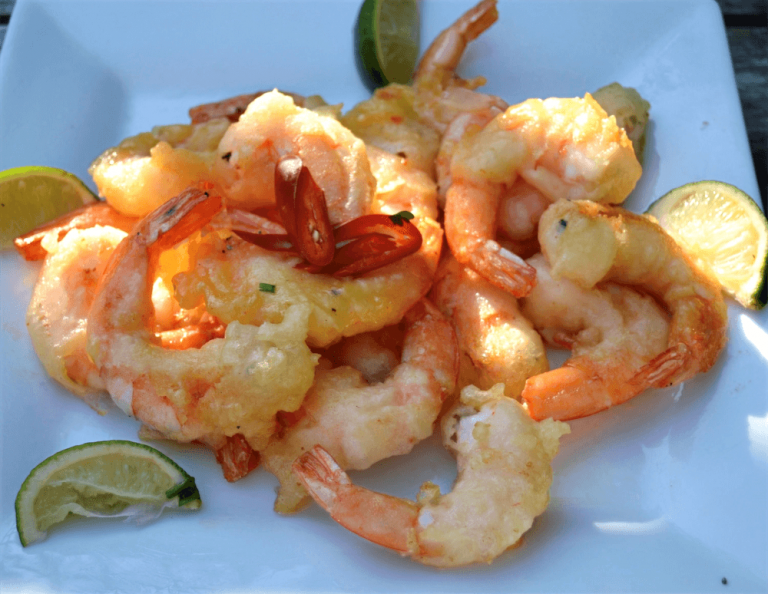 20 raw jumbo king prawns peeled and de-veined with the tails left on
Tempura batter
Chilli mayo
1 x red chilli, chopped
2 x lime
100g plain flour
½ tsp salt
200ml ice cold lager (or sparkling water or water)
1ltr vegetable oil
1 egg yoke
1 tsp rice vinegar
75ml of grapeseed oil
Squeeze of lime juice
1 tbsp of siracha (or similiar chilli and garlic sauce)
Whisk together the plain flour, salt and lager for the tempura batter ensuring that it still has some small lumps in it and heat the oil in large pan.
Whisk together the egg yoke and rice vinegar and then VERY gradually start adding the grapeseed oil continuously whisking.
When a silky mayonnaise consistency is achieved whisk in the siracha and lime juice.
Test the oil with a small piece of bread (should brown in 5 or so seconds), dip each prawn in the tempura batter from the tail and gently place in oil.
Fry for 2 or 3 minutes (until pale golden colour), may need to do this in batches. Remove with a holed spatula and place on kitchen paper.
Gently toss the cooked prawns in the chilli mayo and garnish with the chilli and lime wedges.
Chicken Katsu Curry - one of our kids favourite recipes from around the world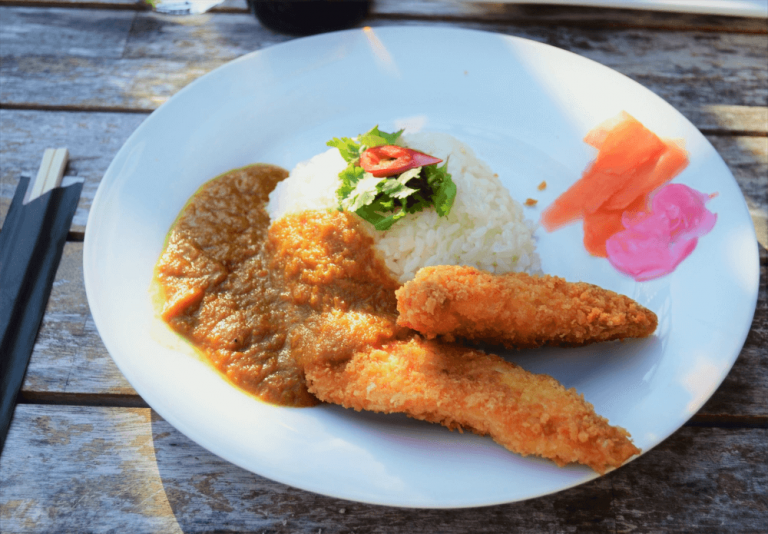 12 pieces of panko'd sliced chicken breast
Katsu Curry Sauce
Japanese rice
Japanese pickled carrot and radish
1 x red chilli
Coriander, handful to garnish
2 onions, finely chopped
1 x small leak, finely chopped
1 large carrot carrot, finely chopped
1 stick of celery, finely chopped
3 cloves of garlic, minced
5cm of ginger, finely chopped
2 tsp of mild curry powder
1 tsp turmeric
½ tsp of cumin
800 ml of chicken stock
200 ml of coconut milk
2 tbsp of soy sauce
1 tsp of honey or sugar
400g chicken breasts cut into strips
1 cup of plain flour
2 eggs lightly beaten
150g of panko breadcrumbs
1cm of sunflower oil
100ml rice wine vinegar
1 tbsp sugar
1 carrot
5 radish
Mix the vinegar and sugar until the sugar is dissolved (easier if you heat in a pan and leave to cool). Place in a jar with finely sliced carrot and radish (ideally) using a mandolin and leave for 2 hours or overnight.
Fry the onions, carrot, leak and celery for a few minutes until translucent and add the garlic and ginger for another 2 mins.
Add spices to pan, cook for a minute and add chicken stock, bring to boil and simmer for 15 mins, leave to cool slightly and blend in a food processor until smooth.
Pour mixture back into a saucepan and add coconut milk, soy sauce and honey/sugar. Put the lid on the pan and gently simmer for 30 mins or until the sauce is thick and smooth.
Slice chicken breasts long ways, separate flour, eggs and breadcrumbs into 3 x bowls and coat each piece of chicken in flour before submerging in egg and then coating in panko.
Fry for approx. 3 mins each side until breadcrumbs are golden and chicken is cooked through.
Place the cooked rice into a mould and gently place on a plate along with the chicken, top with the curry sauce.
Garnish the dish with some coriander, chilli and pickles.
Our Family Cooked Japanese Family Feast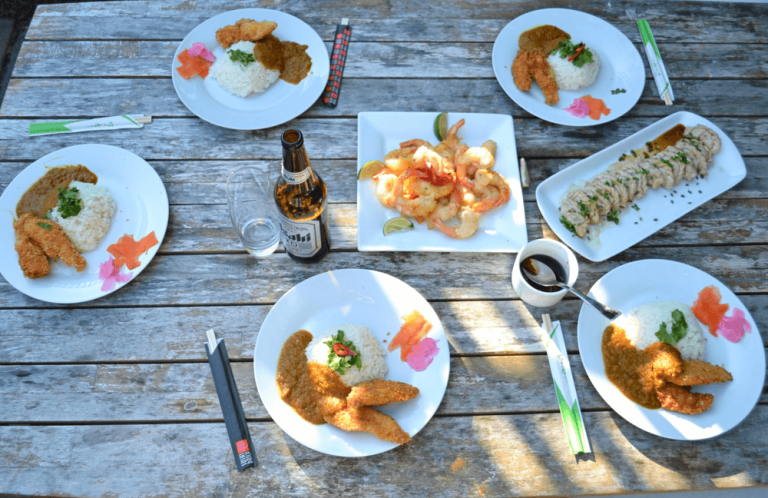 Japanese food inspiration for family cooking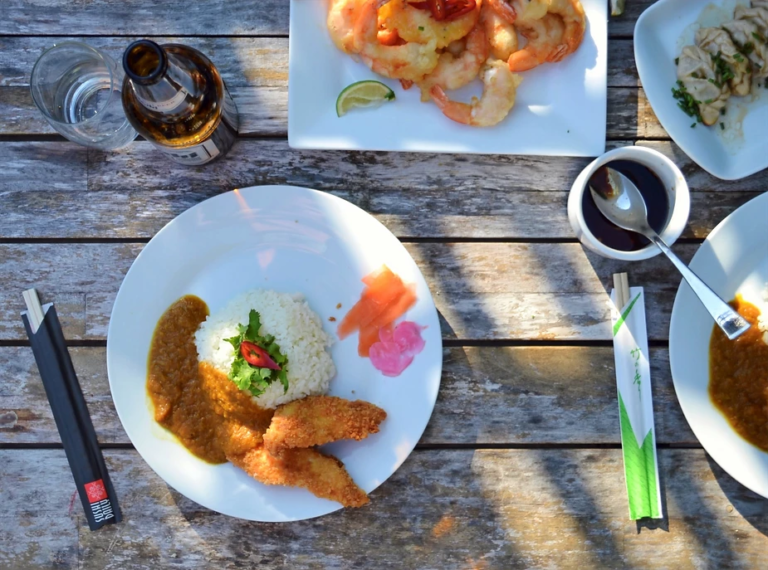 Getting kids cooking and eating in adventurous ways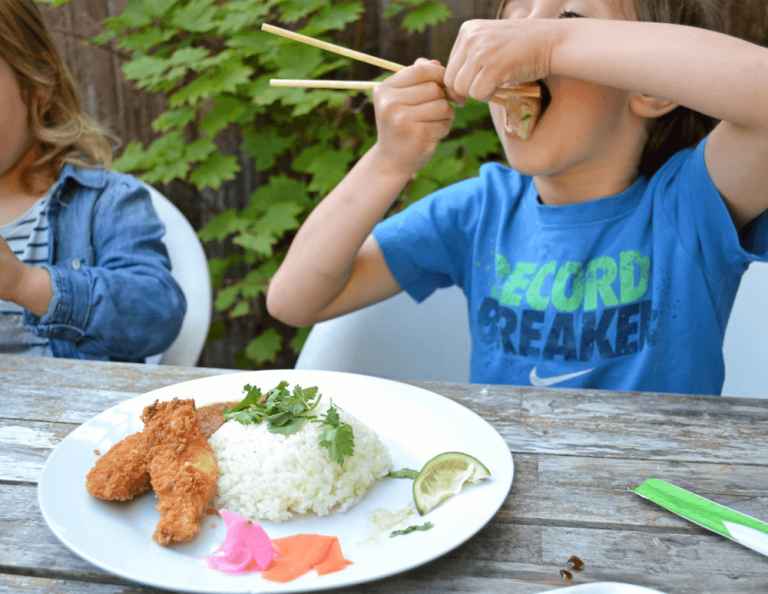 Thank you, Japan! We hope you are enjoyed our family cooked take on Japanese food